update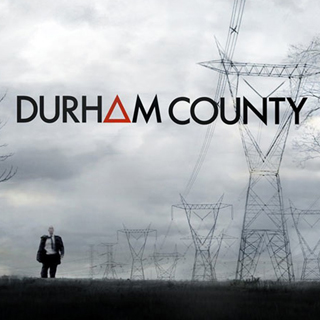 Season 1
Monday, May 7th, 2007

1: What Lies Beneath

Mike Sweeney has moved his family to Durham County after his partner was killed. His new neighbor, Ray Prager, who is his old nemesis from high school. Sadie is trying to fit in at school, while wanting to be like her father and dealing with the illness of her mother. Ray Jr. wants to be something that his father doesn't approve of.

Monday, May 14th, 2007

2: The Lady of the Lake

A recent murder hits Mike hard. Sadie has to prove herself to get in with the cool kids. Ray is going crazy since his wife Traci has left him.

Monday, May 21st, 2007

3: Divide and Conquer

Mike Sweeney finds it more and more difficult to hide a painful secret. Ray Prager crosses paths with a serial killer and another woman dies.

Monday, May 28th, 2007

4: Guys and Dolls

Evidence mounts against Ray Prager and Detective Sweeney brings him in for questioning. Before long it's Sweeney who's under suspicion as Prager weaves a net of suspicion around his old rival.

Monday, June 4th, 2007

5: The Dark Man

Ray Prager gets close to Audrey Sweeney so he can manipulate Mike Sweeney's family. Mike and Audrey reach a boiling point while she staunchly defends Ray.

Monday, June 11th, 2007

6: Life in the Doll House

Mike Sweeney is face to face with his worst fear - his dark secrets are about to come out while Ray Prager spins violently out of control.
Season 2
Monday, July 13th, 2009

1: Little Lost Children

Mike Sweeney has been promoted to a new position as Homicide Detective. His family has been split by serial killer Ray Prager, who is in lockdown after killing two women and traumatizing (possibly raped) Mike's daughter, Sadie. Meanwhile, at work, Mike is assigned a case of a possible homicide of a baby and takes it to forensic psychiatrist, Pen Verrity to help him understand how the murder happened.

Monday, July 20th, 2009

2: Ray Loves Sadie True

Detective Sweeney comes under suspicion of police brutality. Meanwhile a new case keeps him busy while he struggles to help Sadie prepare for the coming trial. Doctor Verrity tries to protect her son Mark from her husband and tries to deal with the death of their daughter. Audrey begins a relationship with another doctor and her not-yet ended relationship with Mike may cost her life.

Monday, July 27th, 2009

3: The Fish In The Ocean

Mike and Tom take a closer look into Bonnie Verrity's death against Roxy's orders. Meanwhile Pen and Jonathan Verrity's fight over custody of Mark comes to a head. Sadie worries about testifying in Ray's upcoming trial and beings an investigation into her father when Ray tells her about an old secret about him.

Monday, August 3rd, 2009

4: Daddy Hurt Mommy?

New revelations into Bonnie's death are made as the investigation continues and both parents become suspects. Mike tries to stay professional while Pen draws him deeper into her web, and begins to behaves erratically and dangerously. Sadie's credibility becomes an issue when she is accused by boys from school, which may hurt her at Ray's trial. Ray Jr. learns what made his father so unstable and gets news from his mother.

Monday, August 10th, 2009

5: Boys Do Things

With three murder investigations on his plate, and his family in turmoil, Mike attempts to keep his head about him. Sadies investigation into Lissies death turns up some startling evidence causing her to doubt her own father. Rays friends go to extreme measures to help him. Pen continues to lose her mind, leading to potentially deadly consequences.

Monday, August 17th, 2009

6: Surviving The Fall

Things come to a head for everyone in Durham County. Mike tries to convince his daughter that he did not murder Lissie; Pen tries to convince Mike that she did not drown her daughter; Ray tries to convince Pen that he is not a murderer. Ray Jr. and Sadie butt heads over Rays trial. Audrey tries to reconnect her family. Tom tries to continue the investigations despite Mike and Glenns efforts to cover themselves. Jonathan awaits the return of his son from his potentially murderess wife. Some will cry and some will die in the shocking season finale.
Season 3
Monday, October 25th, 2010

1: Homelands

Mike and his wife are expecting a baby soon; Sadie is about to graduate from the academy; Roy Sr. can't be found.

Monday, November 1st, 2010

2: Family Day

Mike questions Ivan about Katya's disappearance; Ivan confesses his crime to Miro.

Wednesday, November 10th, 2010

3: Distance, Hunting and Home

Mike suspects Miro is involved in a gang war with the Chinese, and suggests to Sabina that they use Ivan to get information on Miro.

Monday, November 15th, 2010

4: Survivors

Both Ivan and Sadie are livid when they see Mike leave Eva's house after spending the night with her. Holding on by a thread, Mike throws himself into his work and takes Ivan up on his offer to deliver information about Miro to the cops. Still unsure whom to trust, Mike unfreezes Miro's accounts and releases Eva's computer to Ivan in order to give Miro the resources to follow through with his plan to hijack a meth shipment on its way to the Chinese. Mike is not taking any chances - he tells Ivan to deliver the details of the shipment or he's arresting him.

Monday, November 22nd, 2010

5: The World Ends

Still consumed by grief, Mike tries to lay blame on Ivan for Audrey's death but the autopsy confirms he was not responsible. As Maddie continues to take the reins with baby Charlie, appointing Ivan as godfather, Sadie is riddled with anxiety over her own pregnancy and her father's inability to comfort the family as they grieve Audrey's passing. Meanwhile, Ivan sets Miro up to take the fall for Katya's death and informs Mike that he found her wedding rings in Miro's car. Frustrated, Mike pushes Ivan to find out where Miro is hiding the drugs he lifted off the Chinese.

Monday, November 29th, 2010

6: Sanctuary

After spending the night purging his feelings about Sadie's work on the force, Mike stumbles into the station and tells Sabina and Samuel of Ivan's drunken confession the night before. Meanwhile, Ivan awakens to find Miro and his men in the upstairs washroom with Eva who has been raped and beaten. When Ivan confesses to Miro he sold him out to the cops, Miro threatens to shoot Eva if Ivan doesn't show him where Katya's body is buried so he can destroy the evidence.