update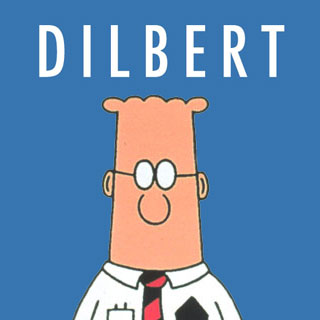 Season 0
not specified

1: Making Dilbert Work

not specified

2: Dogbert Speaks

not specified

3: You're Not the Boss of Me

not specified

4: Marketing or Felonious Activity: You Decide

not specified

5: Catbert: Feline or Pure Devil
Season 1
Monday, January 25th, 1999

1: The Name

Dilbert is tasked with naming a product that hasn't even been designed yet, and the stress (brought on by a recurring nightmare) makes Dilbert think he's turning into a chicken.

Monday, February 1st, 1999

2: The Prototype

Dilbert and Alice must work together to stop a rival team led by the legendary "Lena" from stealing their ideas and presenting them to the Pointy-Haired Boss as her own.

Monday, February 8th, 1999

3: The Competition

Dilbert is fired from his job when he is suspected of being a spy for a rival company (which was a rumor cooked up by Dogbert's online newsletter) and gets hired at a company that actually treats their workers like people.

Monday, February 15th, 1999

4: Testing

The Gruntmaster 6000 prototype is put to the test by evil-masked test engineer Bob Bastard. Meanwhile, Dogbert joins the space program and learns government secrets.

Monday, February 22nd, 1999

5: Elbonian Trip

Dilbert, Alice, Wally, Dogbert, and the Pointy-Haired Boss take a business trip to Elbonia. Alice and Dilbert attempt to free the Elbonian people (Alice adopts an Elbonian baby while Dilbert introduces the workers to human rights) while Wally becomes a prophet.

Monday, March 1st, 1999

6: The Takeover

Dilbert and Wally become majority shareholders of their company after Dogbert manipulates the stock market.

Monday, March 22nd, 1999

7: Little People

Dilbert discovers that the office is inhabited by a race of former employees who have been "downsized" (literally shrunken down to size after they've been laid off) after finding all of his belongings used, the dry-erase markers disappearing, and X-rated websites on his computer.

Monday, April 5th, 1999

8: Tower of Babel

The repetitive passing-on of the same cold strain in Dilbert's office causes it to mutate and turns the coworkers into monsters. Rather than eliminate the virus, the company decides to start fresh by moving everyone to a new office, which Dilbert is tasked with designing in exchange for a new office.

Monday, April 26th, 1999

9: Y2K

On the eve of the new millennium, everyone — except Dilbert — is making New Year's plans. While assuring everyone that the company is prepared for Y2K, Dilbert discovers that the computer mainframe's main processor isn't Y2K-compatible and all the company's systems will crash if it isn't fixed. Dilbert is rewarded for discovering this by being assigned to fix it, and he discovers that the system's original programmer was Wally. But have years of drudge work dulled his brain too much to be able to tackle this crucial task?

Monday, May 3rd, 1999

10: The Knack

Dilbert loses "the knack" for technology when he gets management DNA from accidentally drinking from the Boss' cup. His resulting missteps send the world back to the Dark Ages.

Monday, May 10th, 1999

11: Charity

Dilbert questions the idea of charity and is forced to be the coordinator for the "Associated Way" charity drive.

Monday, May 17th, 1999

12: Holiday

Dilbert thinks there are too many time-wasting holidays; Dogbert concurrently convinces Congress to abandon all holidays in favor of a "National Dogbert Day".

Monday, May 24th, 1999

13: Infomercial

The pre-production, non-lab-tested Gruntmaster 6000 is scheduled to be tested by a Texan family whose ill treatment of it threatens to destroy the world. Meanwhile, the Boss begins predicting the future while asleep after injuring his head while making a commercial for the Gruntmaster 6000.
Season 2
Tuesday, November 2nd, 1999

1: The Gift

Dilmom's birthday is coming up! In search of the perfect gift, Dilbert and Dogbert go shopping, but an unspeakable event in Dilbert's childhood has him afraid to set foot in that horrible monstrosity known as The Mall.

Tuesday, November 9th, 1999

3: The Shroud of Wally

Dilbert has a near-death experience at a gas station, and finds that the afterlife is exactly like the office. Meanwhile, a group listening to a multi-level marketing speech become hypnotized, and through a bizarre accident caused by a crashing space shuttle and the birthday kit create a religion based on Wally. Dilbert and Dogbert manage to cover up the crash, while Wally turns away his followers with his odd habits.

Tuesday, November 16th, 1999

5: Art

Dilbert is assigned to create a digital work of art. The result, the "Blue Duck," ends up appealing to the lowest common denominator of society and destroys the value and popularity of classic artworks.

Tuesday, November 23rd, 1999

2: The Trial

Dilbert is sent to prison after the Pointy-Haired boss frames him for a fatal traffic accident that kills multiple nobel prize winners. Once inside, he applies his knowledge of mathematics and engineering to prison life and takes over his cell block.

Tuesday, December 7th, 1999

4: The Dupey

Dilbert's attempts to design a children's toy go horribly awry when the toys gain sentience and mutate into hideous but benevolent creatures that want independence.

Tuesday, January 18th, 2000

7: The Security Guard

After a heated debate, Dilbert and the building's security guard trade jobs to see who can do the other's job better. Dilbert quickly finds himself in over his head when he discovers an illegal casino being run underneath the building.

Tuesday, January 25th, 2000

8: The Merger

The Pointy-Haired Boss decides that the company needs to merge with another, and unwittingly chooses a company of brain-sucking extraterrestrials.

Tuesday, February 1st, 2000

6: Hunger

Dilbert tries to end world hunger by creating a new, safe, artificial food, but it tastes so bad that even people dying of starvation refuse to eat it – until Dilmom gets involved.

Tuesday, February 8th, 2000

9: The Off-Site Meeting

Dilbert's home is chosen as the location for an off-site meeting when a environmentalist sues his company because of their deforestation policies.

Tuesday, February 15th, 2000

10: The Assistant

In an effort to conceal the fact that there are engineering jobs elsewhere, Dilbert is unwillingly promoted to management and given an assistant, sparking a showdown with the other engineers.

Tuesday, February 22nd, 2000

13: The Return

Dilbert tries to buy a computer online but gets the wrong model, leading to an unpleasant surprise when he tries to return it to Comp-U-Comp headquarters.

Tuesday, May 30th, 2000

12: The Virtual Employee

Dilbert and his co-workers find an empty cubicle and start dumping their obsolete computer equipment into it. To keep the marketing department from claiming the cubicle, they hack into the human resources database and create a profile for a fake engineer named Todd. The plan backfires when Todd is named project leader and develops a messianic reputation.

Tuesday, June 6th, 2000

16: Pregnancy

Ratbert accidentally sends Dilbert's model rocket into space. When it returns with samples of DNA from aliens, cows, hillbillies, engineers, and robots, it rectally impales Dilbert, impregnating him. Part one of a two part episode.

Tuesday, June 13th, 2000

17: The Delivery

Dilbert's pregnancy turns into a media circus as the various "parents" of his baby sue for custody, with Steve Austin presiding over the hearing. Part two of a two part episode.

Tuesday, July 11th, 2000

11: Company Picnic

The annual company picnic is coming up and with it the yearly softball game between Marketing and Engineering. Dilbert becomes involved in a Romeo and Juliet-esque relationship with the new girl from Marketing.

Tuesday, July 18th, 2000

15: The Fact

Dogbert becomes rich and famous by writing a best-selling book about an imaginary disease, "Chronic Cubicle Syndrome", and Dilbert finds himself saddled with the job of devising a cure.

Tuesday, July 25th, 2000

14: Ethics

After the company employees are forced to take ethical training classes, Dilbert is put in charge of designing a nationwide Internet voting network. His scruples are put to the test when an attractive female representative of a tobacco special-interest group tries to seduce him.