update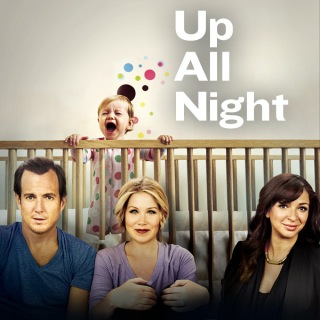 Season 0
2: S01 Parenting tips

Thursday, September 8th, 2011

1: Sneak Peek
Season 1
Wednesday, September 14th, 2011

1: Pilot

Reagan Brinkley tries to adjust to her new life as she returns from maternity leave to her job as a talk show executive producer to support her stay-at-home husband and their baby.

Wednesday, September 21st, 2011

2: Cool Neighbors

Reagan and Chris obsess over their new neighbors; baby Amy takes a liking to Calvin, but not Ava.

Wednesday, September 28th, 2011

3: Working Late and Working It

Chris tries to get Reagan to spice up their relationship; Ava is upset that her ex-boyfriend is getting married.

Wednesday, October 5th, 2011

4: New Car

Reagan and Chris look for a practical family car that still has style; Ava finds preparing for serious talk-show topics exhausting.

Wednesday, October 12th, 2011

5: Mr. Bob's Toddler Kaleidoscope

Reagan worries her busy schedule is interfering parenting; Chris gets involved in Amy's playgroup; Ava stresses about not spending enough time with Reagan.

Wednesday, October 19th, 2011

6: Birth

See how it all began by watching Chris and Reagan prepare for the birth of their little bundle of joy, Amy!

Wednesday, November 2nd, 2011

7: Parents

Reagan wants to set an example for her daughter by trying to get along with her own parents. The untimely death of a crew member inspires Ava to reexamine her relationship with the staff. Meanwhile, Chris vows to make some lifestyle changes when he starts to fear that his life may be cut short too.

Wednesday, November 9th, 2011

8: First Night Away

Reagan and Chris have a romantic night away to reignite the spark in their relationship. While babysitting Amy, Ava connects with the Brinkley's neighbor, Kevin, a single dad who is the complete opposite of her ostentatious boyfriend, Julian.

Wednesday, November 16th, 2011

9: Hiring and Firing

Reagan's inability to fire a less-than-stellar assistant, Nancy, leads Ava to question whether she has lost her edge. Meanwhile, Reagan and Chris hope to find a babysitter that will give him some much-needed parental relief.

Wednesday, November 23rd, 2011

10: Week Off

When the Ava show takes a break, Reagan is thrilled to spend the week at home with Amy, but her type-A personality and defiant sense of justice upset the delicate balance of Chris's neighborhood social life. Meanwhile, Ava tries to win over Kevin's daughter by giving her vocal lessons for a performance at school.

Wednesday, December 7th, 2011

11: First Christmas

Reagan goes to great lengths to give Amy a perfect Christmas while Ava's relationship with Kevin hits an obstacle.

Thursday, January 12th, 2012

12: New Year's Eve

Reagan's extreme competiveness comes out at a New Year's Eve game night, much to Chris's embarrassment. Meanwhile, Kevin worries that Ava is ashamed of him and Missy brings an unexpected date to the party.

Thursday, January 19th, 2012

13: Rivals

Reagan and Ava are thrown into a spiral when rival talk-show host and former friend of the show, Shayna, is suspected of stealing their show ideas. At home, Reagan develops some jealous feelings towards Chris's new female friend.

Thursday, February 2nd, 2012

14: Preschool Auction

Reagan wants to secure a spot at a prestigious preschool for Amy and tries to win favor by organizing a charity auction with Ava's help. Elsewhere, Chris and his brother find that they haven't outgrown their competitive ways from childhood.

Thursday, February 9th, 2012

15: Day After Valentine's Day

When Ava and Kevin have an epic blow-out, Reagan and Chris find themselves wistful for relationship drama and unintentionally end up creating some of their own.

Thursday, February 16th, 2012

16: Travel Day

It's Reagan and Chris versus the airport when they travel with baby Amy for the first time. Ava agrees to be the minister for the wedding of her former band mate, Amanda, and past tensions come back to haunt them. Meanwhile, Kevin deals with Ava's feelings on marriage.

Thursday, February 23rd, 2012

17: First Birthday

A moment of weakness with his uncomfortably enthusiastic neighbors leads Chris to agree to host a joint first birthday party for Amy, and Reagan to accuse him of being a pushover. Ava takes it upon herself to take the birthday party to the next level, while Nancy sees this as an opportunity to look for a man.

Thursday, March 1st, 2012

18: New Boss

A new boss takes the reins of Ava's show after it's acquired by Ava and Reagan's idol. Elsewhere, Chris and Reed try to restore an old motorcycle.

Thursday, March 8th, 2012

19: Couple Friends

Reagan and Chris try a little too hard to befriend a fun couple, Justin and Lawrence, who have a young child. Meanwhile, Ava's feud with Luke over her show's business dealings gets uncomfortably personal.

Thursday, March 15th, 2012

20: Baby Fever

Chris pulls out all the stops to convince Reagan to have another baby. Meanwhile, Ava's decision to join a mentorship program, started by Yvonne Encanto, has less than stellar results and Missy is worried she's cheating on Ava by helping Luke.

Thursday, March 22nd, 2012

21: Daddy Daughter Time

When Chris gets a segment on the Ava show, Reagan starts to realize how much she needs her own space at work. Meanwhile, Ava's dad visits with his family, who are more interested in meeting celebrities like Sharon Osbourne, Ava's rival, than spending time with Ava.

Thursday, March 29th, 2012

22: Letting Go

Reagan and Ava's changing responsibilities at home, a newly walking Amy and Julian's most recent gift to Ava, a dog, threaten to interfere with the booking of their dream guest - music legend Stevie Nicks. Meanwhile, Chris might be in over his head when he is "promoted" to a younger hockey league.

Thursday, April 5th, 2012

23: Hey Jealousy

With Reagan working more closely with Luke, Chris starts to show signs of jealousy, but it takes his buddy Reed's bad advice to send him into a full-blown panic. Meanwhile, Ava is surprised to learn that her rival, Shayna, will be competing against her in a 10K run for charity and enlists the help of celebrity trainer Gideon Kirk.

Thursday, April 12th, 2012

24: The Proposals

Reagan loses her engagement ring, and Chris sees it as a chance to give her a proper proposal. Meanwhile, Julian helps Kevin in his efforts to reunite with Ava.
Season 2
not specified

16: TBA

not specified

12: TBA

Note: First episode shot as a multi-cam.

not specified

13: TBA

not specified

14: TBA

not specified

15: TBA (Season Finale)

Thursday, September 20th, 2012

1: Friendships & Partnerships

Reagan and Ava's friendship is tested following the news of the show's cancellation. Meanwhile, Reagan hires her brother Scott to help remodel their bathroom, and Chris decides to re-enter the working world.

Thursday, September 27th, 2012

2: Home/Office

Reagan adjusts to being a stay-at-home mom and learns about the quirks of the neighborhood. Meanwhile, Chris and Scott work on launching their business, and Ava runs into her former accompanist, whom she may have mistreated on the path to success.

Thursday, October 4th, 2012

3: Swingers

Reagan and Chris try to prove they're not boring. Elsewhere, Ava gets rid of clutter with help from Scott and meets her biggest fan.

Thursday, October 11th, 2012

4: Jerry Duty

After Chris runs into his annoying college roommate Jerry, he is roped into attending a party and brings Ava along to keep him sane and hopefully find her a match. Meanwhile, Reagan reluctantly helps Scott throw a raucous sleep over for his son and his friends.

Thursday, October 18th, 2012

5: Another Saturday Night

Reagan and Chris realize it has been months since their last night out and decide to paint the town with Ava and Jerry. Meanwhile, on Chris' advice Scott tries his hand at dating again.

Thursday, October 25th, 2012

6: Ma'am'd

After failing to get Chris's attention, Reagan worries that she is losing her romantic touch. A visit to the dentist gives her a much needed confidence boost. Meanwhile, when Ava learns her neighbors aren't so fond of her, she teams up with Walter to give the neighborhood a haunted house like they have never seen before.

Thursday, November 15th, 2012

7: Thanksgiving

After their flight is cancelled, Chris and Reagan are forced stay home for Thanksgiving.

Thursday, November 29th, 2012

8: The Game of Life

Reagan, Chris and Scott get invited to join Gene and Terry at their mountain cabin for their annual "Family Funlympics." Meanwhile, when Reagan decides she needs to leave the cabin to go and check up on Ava, she is shocked to learn that Ava has new friends.

Thursday, December 6th, 2012

9: I Can't Quit You

While Reagan secretly hangs out with her ex-sister-in-law Connie, Chris and Scott compete for jobs against Scott's ex-father-in law. Meanwhile, Ava takes a fan and her family on an unusual "Hollywood" tour.

Thursday, December 13th, 2012

10: First Snow

Regan and Chris' attempt to take Amy to see snow for the first time turns into an unexpected misadventure. Meanwhile, Ava gets some help from Scott when she has trouble planning for Christmas gifts on a budget.

Thursday, December 13th, 2012

11: The Wedding

In a look back at Chris and Reagan's wild wedding day, the newlyweds-to-be end up holding a big event for friends and family after deciding not to elope to Las Vegas at the last second. Things don't quite as they dreamed when big news from Ava and even bigger news from Scott begin to derail the big day before it even starts. (Note: Final episode shot in single-camera format.)