update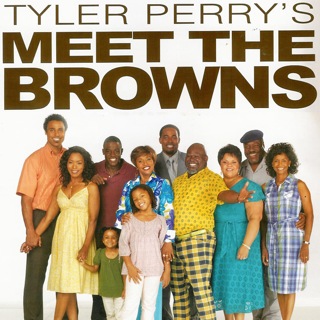 Season 1
Wednesday, January 7th, 2009

1: Meet Brown Meadows

A lively but surly fellow named LeRoy Brown (David Mann) attemps to open and operate a retirement home in the sitcom spun off from "Tyler Perry's House of Payne." First up Brown gets help in his venture from a doctor (Lamman Rucker).

Wednesday, January 7th, 2009

2: Meet London and the Competition

Brown tries to fill a handyman position and settles on a fellow aspring to become a lawyer. Meanwhile, Sasha decides to work as a nurse for Brown. Also arriving, an alluing but dim-bulbed heiress named London Sheraton (Arielle Venderberg).

Wednesday, January 14th, 2009

3: Meet the Dependents and the Divas

When two troubled orphans arrive at the Brown home, Sasha and Will ponder whetherto be their froster parents or not. Meanwhile, diva duo London Sheraton and Miss Daisy take part in a battle of wits when they appear on a local television program.

Wednesday, January 14th, 2009

4: Meet Your Family

Chaotic actions in the house prompt Brown to organize and surprise "family day" for the residents. Lo and behold, the sole family arrival is the Colonel's estranged daughter.

Wednesday, January 21st, 2009

5: Meet Your Maker

Ms. Edna grows despondent in the wake the gang stages a retrospective of her life to cheer her up. Elsewhere, Brown questions Jesus' sexual orientation.

Wednesday, January 21st, 2009

6: Meet the Babies

Brianna's pregnant teen friend arrives. But when she goes into labor, Brown must deliver the baby all by himself. Elsewhere, Miss Daisy vanishes.

Wednesday, January 28th, 2009

7: Meet the Dangerous & the Deadline

Sasha's past comes back to haunt her when an old abusive boyfriend, Teddy, is released from prison and comes to see her. When she rejects him, he abducts her. But Teddy underestimates Cora. Cora is Madea's daughter, after all. Meanwhile: London loses Brown's winning raffle ticket for a Couple's Cruise to the Bahamas and he only has until midnight to find it. Brown enlists everyone to help him find the ticket. Each resident woos Brown in hopes to be chosen to go on the cruise with him

Wednesday, January 28th, 2009

8: Meet the Faithless and the Faithful

Brown enters a Gospel Choir contest. He's lost the contest six years in a row to the flamboyant Deacon C. Cecil Cleveland of the Greater Mount Mariah Missionary Built on a Rock Baptist Church. This year, Brown thinks he has a secret weapon, the legendary Mother Martha Lane. But the 93 year-old Mother Lane ?goes home? before the competition. Yes, that ?home?.

Wednesday, February 4th, 2009

9: Meet the Truth

Brianna has been acting out a lot at school and is suspended for threatening some kids who were bullying Joaquin. Sasha, Will, and Carmen try to find out what is bothering her. Will and Carmen aren't successful, but Sasha finally uncovers Brianna's secret: Brianna reveals to Sasha that she was sexually abused by her mother's boyfriend. Meanwhile: Two geeky frat boys from the house next door (they couldn't get into a real frat) steal Pop Brown's portrait from Brown's house as a prank. Their faculty advisor, Russell Merriweather, makes the boys work for Brown to make up for their prank. Everyone in the house puts the poor boys to work. Russell asks Cora out on a date. Edna and London convince Cora to dress too sexily, and the date backfires. Russell liked the real, down-to-earth Cora. They agree to try again.

Wednesday, February 4th, 2009

10: Meet the Future

Cora and Russell have gone on several more dates. Cora is very smitten with him. London, Daisy and Edna spy on Cora and Russell whenever he comes over. Brown becomes afraid that Cora will fall in love with Russell, move away, leaving him all alone. Brown interrogates Russell, and Russell is scared away. Will and Sasha are caught off guard when Carmen Martinez comes and announces that a former foster family of Brianna and Joaquin's has decided to adopt them. Sasha and Will had grown very close to the kids and are shocked. At first, the kids are excited about moving to a fancy new house and having their own rooms, etc. but they realize how close they?ve grown to Brown, Cora, Will, Sasha and all the residents, and don't want to leave. However, it's too late. Carmen takes them off to their new family. As the episode ends, Will tells Sasha that they?re going to try to get them back.
Season 2
Wednesday, May 27th, 2009

1: Meet The Parents and The Plants

Will and Sasha try to find a way to get Brianna and Joaquin back, before the Turners adopt them. Brown and the Colonel hatch a plot of their own to get the kids back, once and for all. Brown also thinks the frat boys next door are growing marijuana and leaps into action

Wednesday, May 27th, 2009

2: Meet The Profits

Brown starts charging the residents (and Cora) for amenities around the house ? and it gets WAY out of hand: pay toilet, vending machine in the kitchen, parking meters, etc. The residents plot their revenge on Brown. Meanwhile, Will feels threatened when Sasha is offered a job that pays more than he makes.

Wednesday, June 3rd, 2009

3: Meet The Class

Cora gets a job substitute teaching, thinking she'll be teaching "little angels". But she is tested when she's assigned some of the toughest students in the school. Meanwhile, Brown and London compete in a "fashion showdown" for a NY designer.

Wednesday, June 3rd, 2009

4: Meet Mommie Dearest

Brianna and Joaquin's mother (Tanya) returns from jail. She finds out Will and Sasha are planning to adopt the kids, but she's determined to get them back so she can live off the welfare checks from her kids. Meanwhile, the Colonel starts taking the "little blue pill" to improve his romantic life only for Brown to accidentally take a handful and he's up all night.

Wednesday, June 10th, 2009

5: Meet the Matchmaker

Will and Sasha are determined to fight Tanya, and keep her from taking the kids. Meanwhile, London and Jesus continue their love/hate relationship.

Wednesday, June 10th, 2009

6: Meet Career Day

Will convinces Brianna to let him come to ?Career Day? at her class, since her real father is in prison. She agrees, but is terribly disappointed when Will can't come because of an emergency at the hospital. Brown tries to fill in for Will, and it's?interesting. Brown decides to change his flamboyant ways, after his Career Day appearance, and acts and dresses much more conservatively.

Wednesday, June 17th, 2009

7: Meet the Cousins

Will has a lot of explaining to do when Sasha discovers photos on his cell phone from a bachelor party. Meanwhile, Mr. Brown searches his family tree and finds out that Mrs. Daisy's ancestors owned his family.

Wednesday, June 17th, 2009

8: Meet the Body

Brown gives Edna an ultimatum: no more men. But one can't leave...he died in her room. She tries to get rid of the body before Brown finds out. Meanwhile, Brianna rejects Sasha's mothering efforts, when Sasha buys her a fancy dress for the upcoming legacy ball.

Wednesday, June 24th, 2009

9: Meet the Mexican

Jesus gets himself in trouble when he lies to his father Francisco who is about to visit, telling him that he is a successful lawyer, who owns a house and servants. Meanwhile, London is expecting a visit from her wealthy father, and is heartbroken when he doesn't show up.

Wednesday, June 24th, 2009

10: Meet the Entrepreneur

Will gets very cold feet about being a father to Brianna and Joaquin. He vents to Brown about his doubts, but Brianna overhears him. She and Joaquin, thinking they're not wanted, run away. Brown is convinced by everyone to market the secret family barbecue sauce recipe. Brown's very excited about the prospect of getting rich off the sauce. But he loses the recipe and scrambles to recreate it.

Wednesday, July 1st, 2009

11: Meet the Ex

Will's gorgeous (and very free-spirited) socialite ex-girlfriend shows up as a donor for a charity benefit that he is chairing. Sasha is jealous of her, until she realizes who Lynn is really attracted to...Sasha. Edna is considering plastic surgery, so London steps in and convinces her and the ladies to throw a "Botox Party".

Wednesday, July 1st, 2009

12: Meet the E.R.

Brown is shot in the butt during a robbery at a convenience store, hurting his pride more than his bottom. But he milks the situation and has the residents wait on him hand and foot, until they rebel. Edna has a health scare and decides to change her sensual ways.

Wednesday, July 8th, 2009

13: Meet the Secret

Joaquin's little league coach turns out to be a pedophile. When Cora tries to convince Brown to get a will, he thinks she's out to kill him. Note-This episode and a couple others had the child abuse number before the credits.

Wednesday, July 8th, 2009

14: Meet the Intervention

Brown gets hooked on the lotto and the family and the residents plan an intervention. Brianna freaks out when a boy, Jamal, makes an innocent pass at her.

Wednesday, August 12th, 2009

15: Meet the New Job

Cora is given a full-time teaching job at the high school by the attractive principal, Mr. Hughes, and is immediately challenged when troublesome Angie shows up to class, drunk. After discovering he's lost his nest egg, the Colonel has to try to get a job

Wednesday, August 12th, 2009

16: Meet the Gold Digger

Brown meets his soul mate, but she may be after more than his heart. Brianna gets arrested for shoplifting at the mall

Wednesday, August 19th, 2009

17: Meet the Cougars

Brianna is plagued with boy troubles, as her young beau falls for Sasha. Meanwhile, when Edna's date for the theater falls ill, his nephew goes out with her instead.

Wednesday, August 19th, 2009

18: Meet the Thief

A local burglary prompts the Colonel, Will and Jesus to launch a neighborhood watch group. Elsewhere, Brown treats a sick Cora, with nauseating results.

Wednesday, August 26th, 2009

19: Meet the Sweet Tooth

Sasha helps Cora lose weight; Brown convinces residents to sell candy to try to win a vacation.

Wednesday, August 26th, 2009

20: Meet the Matrimony

Edna returns home with news that she's engaged; Will agrees to appear on a calendar at the hospital for charity.

Wednesday, September 2nd, 2009

21: Meet the Man and the Mouse

Fed up with their lack of privacy, Will and Sasha decide to move out of Brown Meadows. Brown and the Colonel go to war in the house against a mouse.

Wednesday, September 2nd, 2009

22: Meet the Real Dad

Brianna and Joaquin's dad gets out of prison, and shows up at the house. Brianna must face who her father really is, not who she's imagined him to be all these years. The Colonel reveals to Brown that he has fallen for Edna, and with Brown's help the Colonel makes his move.

Wednesday, September 9th, 2009

23: Meet the Hubby

When her friend arrives, Edna asks Brown to pose as her husband. Elsewhere, London and Brianna attend a concert together in secret, which causes tension between London and Sasha.

Wednesday, September 9th, 2009

24: Meet the H.B.I.C

Cora and Sasha have a domestic power struggle when they clash over who rules the household. Elsewhere, Brown Meadows has a safety check when Brown runs an emergency-preparedness drill.

Wednesday, September 16th, 2009

25: Meet the Troublemaker

A student who is being bullied brings a gun to Cora's classroom. London is saddened when she realizes her probation is almost over and she'll be leaving Brown Meadows.

Wednesday, September 16th, 2009

26: Meet the Naked Truth

An overwhelmed Sasha has a night out and comes home tipsy to Brianna's shock. Brown and the Colonel attend an art class but to Brown's surprise Colonel is the model.
Season 3
Wednesday, November 4th, 2009

1: Meet the Two Left Feet

Will takes secret Salsa dancing lessons so he can take Sasha to a party, but Sasha thinks he's cheating on her. The Colonel and Edna decide to move out of Brown Meadows and move in together.

Wednesday, November 4th, 2009

2: Meet the Lessons

The family finds out that Brianna is taking birth control pills and problems arise. Meanwhile Cora is attracted to her school's new principal, who was her old high school friend, and decides to spend some time with him and gets more than she bargained for in a spin class.

Wednesday, November 11th, 2009

3: Meet the Disorderly

Brianna and her friend Simone decide to sneak out and go a frat party. Simone almost gets raped and Brianna wants to keep it a secret to save herself. Meanwhile Brown decides to fire Jesus to save money.

Wednesday, November 11th, 2009

4: Meet the Mom

Will gets sick and his mother, Vera, shows up and problems arise between Sasha and Vera on the best remedy method for Will's recovery. Meanwhile Daisy comes up missing and Brown, Cora, Edna and the Colonel realize her mental condition is deteriorating.