update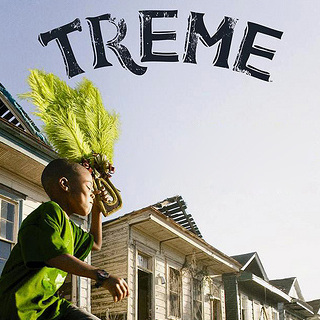 Season 0
not specified

3: The Art of "Treme"

A Tulane University symposium dedicated to "Treme" featuring co-creators/executive producers David Simon and Eric Overmyer, and cast member Clarke Peters.

not specified

4: Behind "Treme": Food for Thought

New Orleans chefs and restaurateurs John Besh and Alon Shaya discuss local cuisine and its importance to the cultural tradition of the city.

not specified

5: Behind "Treme": Clarke Peters & the Mardi Gras Indians

Clarke Peters (Albert Lambreaux) and Otto DeJean (George Cotrell on "Treme" and a Mardi Gras Indian Chief) discuss the rich tradition of the Mardi Gras Indians in New Orleans.

not specified

6: Behind "Treme": Chef Dinner

Great real-life chefs gather to discuss their one-of-a-kind dinner scene in "Treme".

not specified

7: Behind "Treme": Neville Brothers

The Neville Brothers share the history of the New Orleans anthem "Hey Pocky Way" and its place in the city's vibrant music scene.

not specified

8: Behind "Treme": David Simon

"Treme" creator David Simon opens up about the acclaimed series, his previous HBO works "The Wire" and "Generation Kill", and more.

Friday, March 26th, 2010

1: Making Treme

A behind-the-scenes look at the all-new HBO original series "Treme" featuring clips from the show and interviews with the cast and crew.

Thursday, April 15th, 2010

2: Treme: Beyond Bourbon Street

This is another promotional making of featurette that features many of the show's actors and writers talking specifically about post-Katrina New Orleans. They talk about the Treme, which is one of the oldest neighborhoods and it's importance to the African American community.
Season 1
Sunday, April 11th, 2010

1: Do You Know What It Means?

In the small New Orleans neighborhood of Treme, they are about to celebrate the first "second-line parade" since the town was struck by Katrina and many of the local musicians and residents are reunited, but even more have not yet returned.

Sunday, April 18th, 2010

2: Meet De Boys on the Battlefront

LaDonna finally receives news about her brother, who is missing. Albert is forced to take the law into his own hands.

Sunday, April 25th, 2010

3: Right Place, Wrong Time

While Davis trades piano lessons for his freedom, Albert makes an unnerving discovery and Annie gets a gig on her birthday.

Sunday, May 2nd, 2010

4: At the Foot of Canal Street

Antoine holidays with his kids in Baton Rouge while LaDonna and Toni look into a local case of mistaken identity. Davis and Creighton decide to take their pain to the masses, while Sonnie leaves Annie for a gig in Texas and Albert accepts an invitation for dinner.

Sunday, May 9th, 2010

5: Shame, Shame, Shame

As the city celebrates the return of many displaced residents with another second line parade, Albert presses a Councilman to reopen housing projects and Davis recruits some local musicians to put out a campaign CD.

Sunday, May 16th, 2010

6: Shallow Water, Oh Mama

Toni seeks help from a former cop in helping her figure out Daymo. Albert is angry about the lack of lodging, while Davis raises his profile with a television appearance.

Sunday, May 23rd, 2010

7: Smoke My Peace Pipe

While Janette hits the road with her cooking skills, LaDonna and Toni are given hope by a judge's sudden ultimatum and Antoine loses a mentor but gains a job.

Sunday, June 6th, 2010

8: All on a Mardi Gras Day

As New Orleans gears up for its first Fat Tuesday since Katrina, Albert (Clarke Peters) is sent a less-than-celebratory message by the NOPD. Sonny (Michael Huisman) leaves Annie (Lucia Micarelli) to her own devices; LaDonna (Khandi Alexander) puts her bad news on hold; the Bernettes make a Mardi Gras appearance, though Creighton's (John Goodman) heart isn't really in it.

Sunday, June 13th, 2010

9: Wish Someone Would Care

Davis (Steve Zahn) concocts a remedy for the post-Mardi Gras blues; Annie makes a decision that Sonny takes personally; Janette's (Kim Dickens) latest chef's gig gets bogged down; Antoine (Wendell Pierce) becomes LaDonna's unexpected benefactor; Colson (David Morse) warns Albert to avoid trouble on St. Joseph's night; Creighton is inspired by a classic novel set in old New Orleans.

Sunday, June 20th, 2010

10: I'll Fly Away

Toni's (Melissa Leo) concerns about Creighton turn to anger; Albert and the Indians suit up for St. Joseph's night; Antoine gambles away a big payday; Davis tries to convince Janette to stay put; Annie weighs her future options. A funeral procession offers its mourners a chance to reflect on the events of the last year in New Orleans.
Season 2
Sunday, April 24th, 2011

1: Accentuate the Positive

New Orleans' recovery continues as Season 2 begins on Nov. 1, 2006, 14 months after Hurricane Katrina, but the rise in crime gives Colson and the police department all they can handle. Meanwhile, Sofia's emotional distance worries Toni; Albert must find a new place to stay; Annie returns from a national tour; and Delmond debuts his new album in New York, where Janette works in a trendy restaurant. The Dirty Dozen Brass Band perform.

Sunday, May 1st, 2011

2: Everything I Do Gonh Be Funky

Despite her reluctance to take on new cases, Toni helps a Massachusetts man who wants to know what happened to his son after Katrina. Meanwhile, Albert plans to cook a Thanksgiving turkey whether or not he has a place to do it; Annie learns the quirks of Davis' music-cataloging system; Antoine considers forming his own band; and Nelson gets acquainted with the local business community.

Sunday, May 8th, 2011

3: On Your Way Down

Toni's investigation of a post-Katrina casualty gets more confusing at every turn; a routine closing at the bar for LaDonna becomes a disaster; Janette is forced to make a quick trip back to New Orleans to tend to a housing crisis; Nelson ups the ante in his business deal with Robinette; Antoine practices with his new band; Sonny turns to another musician for help when his home is vandalized.

Sunday, May 15th, 2011

4: Santa Claus, Do You Ever Get the Blues?

Aunt Mimi and Davis form a record company and sign rapper Katey Red; Janette makes her dramatic departure from Restaurant Brulard; Antoine reluctantly lands a teaching job.

Sunday, May 22nd, 2011

5: Slip Away

Lt. Colson worries about the quality of the police department's investigations as citizens and activists prepare for an anti-violence march in January 2007. Meanwhile, Aunt Mimi helps Davis woo a rapper for their CD sampler; Harley encourages Annie to start writing her own songs; Nelson and Ligouri take the next step in New Orleans' redevelopment; Delmond searches for an elusive sound; Albert gets fed up with red tape; and Janette hopes her New York connections can land her a new job.

Sunday, May 29th, 2011

6: Feels Like Rain

News of Jacques' troubles reaches Janette; Nelson does a favor for Oliver Thomas; Antoine names a deputy. Also: performances by John Hiatt; and Henry Butler.

Sunday, June 5th, 2011

7: Carnival Time

As Carnival arrives in New Orleans, Albert unveils his new plumage, and Delmond discovers a new sound; Annie heads to a rural celebration with Harley (Steve Earle), while Davis looks for an alibi to party in town; Hidalgo combines business with pleasure on a Zulu float; Toni and Sofia struggle with their memories of Creighton; Antoine club-hops with his sons, while LaDonna avoids the fracas; and Cornell offers Sonny a second chance away from all the revelry; in New York, Chef Ripert gives Janette time off to attend to personal business and Fat Tuesday

Sunday, June 12th, 2011

8: Can I Change My Mind?

Davis' band debuts, but Annie is hesitant to perform her new song. Meanwhile, Delmond runs his fusion sound by Dr. John; Nelson makes a deal with the city; Sofia falls in with the wrong crowd; and Janette mulls moving to a less intense job. Performers include Susan Cowsill and Leroy Jones.

Sunday, June 19th, 2011

9: What Is New Orleans?

Davis is upstaged by an up-and-coming rapper; Albert's attention to detail irks Delmond; Nelson makes the best of a frustrating situation; Toni questions murder witnesses; Colson moves to the homicide division; LaDonna faces a difficult choice; Annie experiences the good and bad of New Orleans; Antoine changes his tune on his teaching gig. Cowritten by George Pelecanos and David Simon.

Sunday, June 26th, 2011

10: That's What Lovers Do

Janette gets a new nickname; Toni relies on Colson for another favor; Sonny finds an unlikely reason to go to the docks; Antoine pays a price for his on-stage antics; Albert and Delmond travel to make their record.

Sunday, July 3rd, 2011

11: Do Watcha Wanna

Jazz Fest takes center stage in New Orleans, giving Treme residents a welcome respite from a challenging year.
Season 3
Sunday, September 23rd, 2012

1: Knock With Me, Rock With Me

Season 3 begins in the fall of 2007, as the neighborhood is shocked by police officers' response to a brass-band procession for a fallen musician. Meanwhile, Delmond and Albert experience different reactions to their new album; Toni finds a new ally in her ongoing crusade for justice; LaDonna is uncomfortable in her temporary lodgings; and in New York, Janette is reunited with Enrico Brulard.

Sunday, September 30th, 2012

2: Saints

Antoine's students show interest and Annie's demo hits the mark; Sonny and Linh show interest, but no marks are hit; L.P. Everett's new case has smoke and fire; heat at the in-laws' house forces LaDonna to move; Hidalgo discovers a new angle; Janette's resistance slips; Albert learns he has chronic obstructive pulmonary disease.

Sunday, October 7th, 2012

3: Me Donkey Want Water

Janette, Aunt Mimi and Annie commit to new deals, with varying degrees of enthusiasm. Toni may have found the killer she seeks, but Terry is still looking for his; L.P. meets his victim's family; Antoine plays his bone in Texas; Sonny plays his music closer to home.

Sunday, October 14th, 2012

4: The Greatest Love

Antoine does a good deed, and a homeowner suspects Nelson's deeds may not be so good. Davis fails to sign "Sugar Boy" Crawford for his opera, but Delmond gets his father to sign up for assistance from New Orleans Musicians' Clinic. L.P. learns that his headless skeleton wasn't always so.

Sunday, October 21st, 2012

5: I Thought I Heard Buddy Bolden Say

Antoine does the "Cupid Shuffle," as Desiree's mother's house collapses. Annie's visiting parents learn about her record deal. Albert's kids learn about his lymphoma. Toni learns about Sofia's boyfriend. Sofia gets stopped by Officer Billy Wilson, prompting Toni to appeal to NOPD captain Marcus Grayson. Janette has a reunion.

Sunday, October 28th, 2012

6: Careless Love

Sonny rushes, but still misses the boat. Fats Domino tickles Davis' fancy and a few of the ivories. Antoine seeks reading help for Jennifer. Janette endures corporate hell. Toni and L.P. get a witness. Desiree gets a new ally.

Sunday, November 4th, 2012

7: Promised Land

It's Carnival time: Toni finds Judge Gatling dispensing judicial orders and potables at Galatoire's. Janette seeks counsel from Emeril Lagasse and deconstructs crawfish etouffée with Al Roker. Sonny falls on the wagon. As Nelson schmoozes, Annie sits in with the Neville Brothers at the Washington, D.C. Mardi Gras Ball.

Sunday, November 11th, 2012

8: Don't You Leave Me Here

Desautel's on the Avenue opens softly. Sonny pawns instruments to buy jewelry. LaDonna gets threats from a stranger and support from Albert. Sofia gets evicted for her own protection. Terry finds a case collapsing and his popularity declining. Desiree confronts Robinette.

Sunday, November 18th, 2012

9: Poor Man's Paradise

Janette's restaurant is the talk of the town, but the popularity of a signature dish has her chefs feeling the heat in the kitchen. Meanwhile, Colson's strained relationship with the rest of the police department comes with a personal risk; Desiree confronts Nelson about his demolition contracts; Annie begins to tire of Davis' sulky attitude; Albert meets the jazz center's benefactors; and LaDonna finally finds out what's behind all the threats she's been getting.

Sunday, November 25th, 2012

10: Tipitina

Davis and Cheeky Blakk go "full ghetto" on Davis' goodbye to the musician's life. Tim Feeny reveals himself and his intentions to Janette when he finds out that she's throwing an unauthorized benefit for Gigi's. Delmond parts ways with the powers that be. Toni sees hope that Joey Abreu's killer may be prosecuted.
Season 4
Sunday, December 1st, 2013

1: Yes We Can

Batiste helps a student in a sticky situation. Lambreaux teaches LaDonna the true meaning of "Mighty Kootie Fiyo." Hidalgo meets musician turned activist Davis McAlary. Sonny goes to "see a man about a horse," instead finds trouble. Manager Marvin Frey questions Annie's ambitions; she questions his intentions. Delmond gigs with the great Ellis Marsalis. No longer on the Avenue, Desautel is stumped about what to call her new restaurant. Colson asks to be transferred to a new district. Sofia votes yes to her mother's new living arrangement. Bernette bails out a friend. Obama is elected.

Sunday, December 8th, 2013

2: This City

Lambreaux takes Davina on a tour of his old neighborhood. Violence in the streets finds its way into Batiste's classroom. Desautel learns the hard way what's in a name; Bernette learns all is not as it should be at Orleans Parish Prison when she meets the parents of a deceased inmate. Annie takes in a show at One Eyed Jacks; takes home the lead singer. Delmond turns down a gig to be close to home and family. Tensions at work translate to tensions at home for Colson and Bernette. Hidalgo takes McAlary on a dinner date to talk business; LaDonna has a dinner date of her own with Lambreaux.

Sunday, December 15th, 2013

3: Dippermouth Blues

Desautel brings in the New Year with Davis and Jacques; Davis embarks on a mission to bring music back to Rampart St. Batiste gets a taste of Hollywood South; Annie gets the message "loud and clear" from her manager Marvin Frey. Delmond is inspired to work on a new piece. Lambreaux goes for a night out and over does it. LaDonna takes Alcide and Randall to visit her momma in Baton Rouge. Bernette wants to proceed with a case against Orleans Parish Prison; Colson wants to tell all that he knows.

Sunday, December 22nd, 2013

4: Sunset on Louisianne

Batiste receives bad news in the band room; Bernette receives a surprise but helpful package; Lambreaux receives a blessing. Davis reaches a mid-life milestone; Delmond plays a song for his Daddy; Annie gives in to her manager. Colson pays a visit to his boys on their home turf; Hidalgo does some digging on McAlary's behalf. L.P. Everett returns to New Orleans and finds he has fans in unexpected places.

Sunday, December 29th, 2013

5: ...To Miss New Orleans

Davis gets a "job, job"; Colson gets his transfer too little too late. Batiste runs into a couple of old Mardi Gras friends; LaDonna and the boys do Mardi Gras day; Bernette and Sofia salute Creighton and carry out their Mardi Gras tradition; LP Everett experiences his second Mardi Gras in a row. Annie butts heads with Marvin Frey in the studio. Hidalgo cashes out -- but pays it forward.