update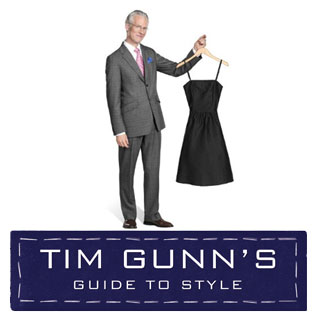 Season 1
Thursday, September 6th, 2007

1: Rebecca Pennino

Tim and accomplice Veronica Webb give Rebecca the proper tools and guidance to update her style.

Thursday, September 13th, 2007

2: JeAnne Swinley

JeAnne has just had extreme weight loss, so Tim gives her the tips and tools so she can shop for herself.

Thursday, September 20th, 2007

3: Nicole Appelman

Tim helps a wife and new mom find what fashion would best suit her.

Thursday, September 27th, 2007

4: Stephanie Lichten

A pediatrician who wants to have a more youthful look is helped out by Tim and Veronica.

Thursday, November 15th, 2007

5: Elena

Tim helps Elena, a young new mom, rid herself of a college look.

Thursday, November 22nd, 2007

6: Gina Scarda

Gina, a retired New York City police officer finds her personal style.

Thursday, November 29th, 2007

7: Lori Jones

Tim and Veronica help Lori regain her confidence after she suffers a major injury.

Thursday, December 6th, 2007

8: Karen Vito

Karen learns essential tips for dressing more age-appropriate.

Thursday, December 6th, 2007

10: Karen

Saturday, December 29th, 2007

9: Lori
Season 2
Thursday, October 2nd, 2008

1: Meredith's Makeover

Meredith seeks a style to call her own. A bubbly prep school grad, Meredith recently moved to Manhattan from Washington, DC to be with her high school sweetheart. After years of working in politics, Meredith's closet is ultra conservative and filled with matchy-matchy, gender-neutral suits for work or lumpy cable knit sweaters, old jeans and clogs for leisure. Now that she's in the fashion capital, Meredith knows her D.C. duds aren't cutting it and has decided it's time to find her own fashion voice. Fashion help from: Top fashion designer Gilles Mendel and hair stylist to the stars Roy Teeluck.

Thursday, October 9th, 2008

2: Angela's Makeover

Angela has a closet full of frilly ball gowns and baby doll dresses, however such items will not launch her into the business world. Leaving behind a successful career as a concert pianist and forging ahead as the CEO of her new luxury spa company, Angela has come to a turning point in her life and knows she needs to dress the part. Unfortunately, Angela's taste in clothes is governed by the deep insecurities she harbors about her body. Tim and Gretta's challenge is to persuade a reluctant Angela to see herself in a different way. Fashion help from: hairstylist Ted Gibson, fashion designer Reem Acra, and makeup artist Scott Barnes.

Thursday, October 16th, 2008

3: Ali's Makeover

In less than a year, Ali made the jump from being a single party girl to an Upper East Side wife and mother of twins. Her eclectic fashion choices of vintage, second-hand and bargain pieces, along with her obsessive desire to fit back into her size 0 party clothes, do not reflect her present status. Headstrong Ali clashes with Tim and Gretta as they try to persuade her to accept her postnatal figure and find a new style that is fitting for her new role in life. Fashion help from: fashion designer Carmen Marc Valvo and top hair stylist Oscar Blandi.

Tuesday, October 28th, 2008

4: Caroline's Makeover

A successful real estate agent, Caroline is just 25, but she deliberately dresses as if she's 50. She is convinced her boxy, outdated skirt suits exude professionalism in the world of high-stakes New York City realty. Caroline thinks she only needs help with clothes to wear out with friends or on date, but Tim and Gretta are not convinced. They believe that Caroline's work clothes are limiting her ascent up the career ladder, however, Caroline's resistance to change may limit their ability to help. Fashion help from: hairstylist Orlando Pita and makeup artist Bobbi Brown.

Wednesday, October 29th, 2008

5: Diana's Makeover

As the a long-time mentor, volunteer, and Board member at Minds Matter of NYC, a charity organization, Diana's heart is in the right place - but her wardrobe is another story. Diana is a shopaholic who lacks direction in her style choices. Her mantra is "If it's on sale, I'll take it." Her closet is overflowing with clothes to the extent that she can never find anything. Tim and Gretta intervene and help Diana scale down her clothing misfits and teach her the hard lesson of less-is-more. Fashion help from: hairstylist Tabatha Coffey.

Thursday, October 30th, 2008

6: Eliza Makeover

Eliza is a 34-year-old singer/songwriter who dresses like a rocker both on stage and off. Yet her overly tight, ripped jeans and leather jacket don't compliment her music, nor do they impress her husband's conservative family. With a big New York performance and the pressure of the in-laws, Eliza is ready to change her image. Fashion help from: hairstylist Sally Hershberger and fashion designer Kay Unger.

Thursday, November 13th, 2008

7: Ariana's Makeover

At 24 years old, Ariana just got the promotion of a lifetime. She is about to move to Chicago to become the head of marketing for her sister's start-up company, but her closet of old and worn-out clothing will not make the right impression. Tim and Gretta set out to sway Ariana from her ingrained belief that growing up with a single mother, clothes have to fall apart before you replace them. It is time for Ariana to learn that some clothes are worth the investment. Fashion help from: Fashion designer Angel Sanchez and makeup artist Gordon Espinet of MAC Cosmetics.

Thursday, November 20th, 2008

8: Erica's Makeover

At 5'11, Erica claims it's hard for her to find clothes that fit her properly, consequently she looks like she has outgrown her outfits and is awkward in her own skin. Erica is about to launch a veterinary hospital and marry her fiancé of 4 years. Knowing she will be in the spotlight, Erica seeks help in finding her personal style. Tim and Gretta, aided by guest star Tyson Beckford, help Erica with her shopping and size issue, leading her to discover a whole new side to herself.