update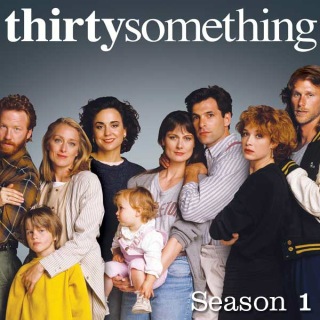 Season 0
not specified

2: The making of thirtysomething

not specified

3: Cultural Impact

not specified

4: The music of thirtysomething

not specified

5: Thirtysomething - the following years

Monday, July 16th, 2001

1: Inside "thirtysomething" Seminar

To commemorate the showing of the series on the Bravo Channel, the Inside thirtysomething Seminar brought together the show's creators, Edward Zwick and Marshall Herskovitz, along with actors Ken Olin, Mel Harris, Timothy Busfield, Melanie Mayron and Polly Draper for a round-table discussion of the show and its effect on the lives of themselves and the viewers, plus lots of reminiscing about favorite moments, etc. The two other principal cast members, Peter Horton and Patricia Wettig, join in via videotape. Film clips from several of the original episodes are also seen.
Season 1
Tuesday, September 29th, 1987

1: Pilot

Hope and Michael Steadman are still adjusting to parenthood while struggling with money problems and best-friend crises. After some intercut scenes of a courtship, wedding and pregnancy, we see married couple Michael and Hope Steadman at breakfast with their 7-month-old daughter Janey and their dog Grendel. At work, Michael tells off an important client over the phone, to the dismay of his good friend and business partner Elliot Weston. Both men realize that their fledgling advertising agency could be in danger of folding. Hope goes to meet her old friend Ellyn at a restaurant, but the occasion is ruined when Janey won't stop crying. Michael comes home to find Gary, his old friend from college, there with Hope. Arriving on the scene next is Michael's cousin Melissa, who is distraught because of a philandering boyfriend. From the conversation, it's revealed that Gary and Melissa have had a past romantic relationship.

Tuesday, October 6th, 1987

2: The Parents Are Coming, the Parents Are Coming

Hope's anxiety over her parents' impending visit taxes everyone's patience. Hope gets devastating news: Her parents are coming to visit in two days! The Steadmans hope Gary can fix their out-of-order bathroom in that time. Hope grows more and more frantic as the arrival approaches, and the news that Gary won't have the bathroom fixed only adds to her anxiety. Michael and Hope go to pick up Ruth and Ted Murdoch at the airport. On the way home, a palpable tension already is noticeable between Hope and her mother. Despite the parents' protests, Hope and Michael insist they take their master bedroom with its own bath. At night, Michael needs his razor but is afraid to enter in on Ruth and Ted. When they do let him in, Michael perhaps is thinking he's taking a look at Hope and himself thirty years down the line. Hope goes shopping with her mother and buys a dress she really doesn't like, but was afraid to disagree about with her mother.

Tuesday, October 13th, 1987

3: Housewarming

Michael and Hope race to renovate their crumbling mansion for a huge housewarming party.

Tuesday, October 27th, 1987

4: Couples

A night out with friends degenerates as Nancy and Elliot's marital woes become apparent.

Tuesday, November 3rd, 1987

5: But Not for Me

Gary and Melissa rekindle their affair; Michael and Hope's first date in months is a disaster.

Tuesday, November 17th, 1987

6: We Gather Together

Hope and Michael plan a quiet Thanksgiving but learn friends are counting on being invited.

Tuesday, December 1st, 1987

7: Nice Work If You Can Get It

Before a deadline, Michael and Elliot wrestle with a creativity block; Ellyn develops a crush on an associate.

Tuesday, December 8th, 1987

8: Weaning

Sensing baby Janey's decreasing dependency on her, depressed Hope decides to go back to work.

Tuesday, December 15th, 1987

9: I'll Be Home for Christmas

Michael and Hope argue about whether their infant's first holiday should be Christmas or Hanukkah. A famous photographer shows interest in Melissa's work.

Tuesday, January 5th, 1988

10: South by Southeast

It's a Hitchcockian nightmare as Gary falls in love; as the romance progresses, he begins receiving a series of threats against his life.

Tuesday, January 12th, 1988

11: Therapy

Elliot and Nancy seek professional help for their troubled marriage; Michael finds it hard to keep it a secret.

Tuesday, January 19th, 1988

12: Competition

Michael's jealousy is aroused when an important client make it clear he prefers Elliot. Meanwhile, Hope and Nancy try to come to terms with computers.

Tuesday, January 26th, 1988

13: Separation

Elliot temporarily moves in with Michael and Hope after separating from Nancy.

Tuesday, February 2nd, 1988

14: I'm in Love, I'm in Love, I'm in Love with a Wonderful Gynecologist

Competing for the attention of the same man jeopardizes the new found friendship between Ellyn and Melissa.

Tuesday, February 9th, 1988

15: Business as Usual

Michael's hopes for a joyous reunion with his father are destroyed when he discovers the real reason for the visit.

Tuesday, March 1st, 1988

16: Accounts Receivable

A rocky relationship between Michael and his brother Brad is further strained when Michael learns the family business is almost bankrupt.

Tuesday, March 15th, 1988

17: Whose Forest Is This?

Nancy and Elliot's separation takes its toll on their son; Elliot prepares for a blind date with a chiropractor.

Tuesday, March 22nd, 1988

18: Nancy's First Date

Melissa's burgeoning romance slows when she learns he doesn't want any more kids. Nancy has her first date since the separation.

Tuesday, April 12th, 1988

19: Undone

Michael's old girlfriend from college pays a visit.

Tuesday, May 3rd, 1988

20: Tenure

Gary evaluates the fate of his academic career as he undergoes tenure review at the college. Ellyn learns her building is going co-op, leaving her to decide whether to buy her apartment.

Tuesday, May 10th, 1988

21: Born to Be Mild

Ellyn and Woodman's weekend is ruined when they are forced to babysit Janey.
Season 2
Tuesday, December 6th, 1988

1: We'll Meet Again

As she and Michael argue about her working and having another child, Hope learns about some previous tenants of their house. Hope is making tentative moves toward returning to work full-time. Michael suggests, though, that there might be some problems in doing that and muses about having a second child. Hope, Melissa and Gary find an old trunk in the Steadman's basement full of letters and photos of previous residents, Sally and Roy McCauley. Hope gets lost in these, imagining the courtship of Sally Spangler and Roy, who goes to the South Pacific during World War II. Later Hope and Nancy find Sally's journal. There are more fantasy flashbacks about Roy and Sally getting married and him leaving for war. Later that night as Hope works in bed, Michael comes in and begins to get amorous. Hope, not wearing her diaphragm, stops him. Ellyn finds Hope at home crying. Hope has just read about Sally getting a telegram saying Roy is missing in action.

Tuesday, December 13th, 1988

2: In Re: the Marriage of Weston

Things get complicated between Elliot and Nancy as they moved toward finalizing their divorce. They both try to establish new relationships. Scenes of Elliot and Nancy's courtship are intercut with the present-day divorce preparations. Elliot has to get cash advances on his salary from an unhappy Michael. Nancy, using the last name Krieger, calls editor Jack Bronstein about her book. He's enthusiastic but says he can't recommend it yet--the story's a ""little weak."" Meanwhile Elliot's lawyer Adrian tries to talk business with him at a restaurant, but he's more interested in coming on to her. She declines to go out with him. Nancy is working at an office job, and a younger employee there, Terry O'Neil, seems to like her. Later when she and Jack are at her house working on the book, he kisses her. Nancy tells Melissa she's been carrying around her diaphragm! Later, Nancy has a physical encounter with Terry.

Tuesday, December 20th, 1988

3: The Mike Van Dyke Show

As Christmas and Hanukkah near, Hope suffers a minor injury and an unknown illness. Michael has a crisis of faith and imagines his life as a 1960's TV sitcom. Michael and Hope are negotiating over Christmas/Hanukkah celebrations. Mike starts watching TV and sees himself in an old black & white TV sitcom, with the Westons interrupting his plans to be with Hope. The next day at work, Elliot tells Mike he seems distracted. Michael gets a phone call--Hope has been in an accident with Janey. Rushing to the hospital, he finds Janey unhurt and Hope looking tired with some contusions on her face, but otherwise apparently OK. Mike watches the TV show again, this time with Santa in it. He drives Melissa to the synagogue and she encourages him to come on Friday. Michael returns home with a tree and finds Hope getting ill in the bathroom. He tells her to go to the doctor about the dizzy spells she's been having. Another flash to the TV show: Hope is missing on a wintry night.

Tuesday, January 3rd, 1989

4: Trust Me

Melissa and Gary consider having a child together. Gary volunteers his time at a social services center, where he is irritated by and attracted to a brusque administrator. Gary and Melissa's relationship seems to be drawing closer as they both have rejection at work in common, along with thoughts of parenthood for themselves now that Hope and Michael are expecting. Gary goes to a private social welfare agency, the Race Street Project, and meets with Susannah Hart there about a mentoring program for a local youth. Susannah is skeptical of Gary's commitment. Gary meets his charge, Curtis Caldwell, a Stanford-bound student who does not want to be in the program. At a wedding, Melissa meets Russell Weller, a painter who has noticed her at the galleries. He invites her to a party. Melissa goes to the party with Russell. When his good mood turns bleak after a phone call, she realizes that he's gay and has just heard about a friend contracting AIDS.

Tuesday, January 10th, 1989

5: No Promises

Ellyn tries to deal with the shock of her parents' divorce and her growing estrangement from Woodman. Ellyn is shocked to receive a call from her father asking her to lunch. With Hope and Nancy, she wonders why he's doing this for the first time in nineteen years. At work she has a disagreement with Woodman during a meeting. Ellyn meets her father, James. His conversation with her makes it obvious that he doesn't really pay attention to what she says. As they are leaving, he drops a bombshell: he and her mother Marjorie are getting divorced, and Ellyn should talk to her. At home, Woodman wonders what's upsetting Ellyn. She just wants to be alone and doesn't know how to act. Later when Ellyn meets with her mother, she wanders through her old house reminiscing about her emotionally distant father. Talking with Michael, Ellyn muses that she should have fallen for a guy like him.

Tuesday, January 17th, 1989

6: Politics

CAPSULE: Michael takes on a client that he, his wife and his friends find repugnant. Gary and Susannah's odd relationship continues to grow. At a diner with Hope, Gary, Elliot and Melissa, Michael returns a phone call to Jerry Kravitz, an old friend of his and Gary's from their college days at Penn. He wants the Michael & Elliot company to do some media work a Senate candidate he represents, Diana McKay. Mike has the first of several flashbacks seen throughout the show of himself, Gary and Jerry involved in demonstrations and campus politics. Gary goes to the Race St. Project and offers to help Susannah write up their grant application. A little attraction seems to be developing. Gary leans in as if to kiss her, but she pulls away. Michael & Elliot take on the McKay account, but Gary, Susannah and Hope let them know they think McKay is a terrible choice. Hope is not too impressed with Jerry either after a night of reminiscing with him and Michael. Susannah apologizes to Gary for the ""w

Tuesday, January 31st, 1989

7: Success

Melissa gets a job working with Carly Simon. Michael and Elliot face losing their business. Melissa is excited--Russell has shown some of her work around and he might be able to get her the job of shooting Carly Simon's next album cover! When he calls to confirm the good news, Ellyn is with her. Russell also tells her they're going to be a party for Carly and she can invite all the friends she wants. Melissa hides that last bit of information from Ellyn. Meanwhile Michael and Elliot are worried about their biggest account, Motherland Dairies, which has been sold and may drop them. The Michael & Elliot company plays Miles Drentell's DAA ad agency in basketball and loses. Mike relives the game in his imagination, making the winning layup. Later Michael and Elliot meet with the new owners of Motherland, who let them go. Mike is sure this is the end of their company, but Elliot still thinks there is hope. Russell and Melissa are at the Steadman's house.

Tuesday, February 7th, 1989

8: First Day / Last Day

Flashback scenes of Michael and Elliot meeting, working together, and forming their own company are interspersed with the present-day dissolution of the Michael and Elliot Company. The two have serious disagreements which threaten their friendship.

Tuesday, February 14th, 1989

9: About Last Night

Gary and Susannah try to figure out what to do when they finds out that she's pregnant. Nancy misses a publishing deadline for her book.

Tuesday, February 28th, 1989

10: Elliot's Dad

CAPSULE: Elliot gets involved with his wayward father. Ethan suffers an injury. Elliot goes to see his divorced father Charlie who is in town. Charlie introduces him to a woman friend, Roberta Sessions, in a bit of an awkward meeting. When they go to Elliot's sister Ruthie's house for dinner, she gets irritated because her dad won't stop talking business with her husband. Ruthie takes Elliot aside and warns him to not give their dad money or get involved in his schemes. She reveals that Dad never paid for her college like he promised. Charlie tells Elliot he regrets some things in the past, but just looks to the future now. Soon Charlie has Elliot involved in doing some presentation work for a business idea he has. Elliot has Ethan with him at Charlie's hotel room when Charlie shows up with a sitter and says he's taking Elliot out to dinner. Elliot goes reluctantly. While there, they run into Nancy out on a date with Matt Enwright. She and Elliot have a big fight about leaving Ethan w

Tuesday, March 7th, 1989

11: Payment Due

CAPSULE: Ellyn's work and personal life take a great toll on her, both physically and emotionally. Ellyn has been suffering from an unknown stomach ailment but she tells Woodman and Hope that's she's OK. But at a dinner at the Steadmans she shows a sharp burst of temper, then makes a drunken crack about Michael's business failing. Hope and Woodman both want to know what's been making Ellyn so crazy, but she doesn't give them any good answers. Ellyn goes to her doctor about the stomach trouble. He gives her a referral to a gastro-intestinal specialist; she throws it away. Meanwhile at City Hall, assistant district attorney Dave Callaman, an acquaintance of both Ellyn and Woodman, has been around asking about an investigation he's working on. But he has a personal interest in Ellyn and he asks her out. Ellyn goes bowling with him and tells Woodman she was talking to him about the investigation. Later at work he spies Ellyn and Dave having what appears to be an intimate moment. When Ellyn

Tuesday, March 21st, 1989

12: Deliverance

CAPSULE: Ellyn, Nancy, Hope and Melissa go on a cathartic camping trip. Melissa gets some camping equipment as a payoff for a photo shoot and the gang makes plans to take a camping trip to the Poconos. But Elliot gets a lead on some work, forcing Michael to have to tell Hope, who has been looking forward to the trip for months, that he can't go. Gary opts out of the trip, and Ellyn, despite her ulcer, decides to go. The four women set off in the car for the journey. On the trail to Parker Cave, Ellyn is gung-ho and pushing the group until they get to the cave, then she's afraid to go in. Nancy and Hope remember the scary old tour guide at the cave from their youth. Ellyn says she'll hike around the mountain cave--seven miles!--rather than go through. Hope decides that she and the others shouldn't leave her. They hike until nightfall, then they make a camp. Nancy's ghost story makes Ellyn more nervous. In the tent that night, Hope inadvertently reveals to Nancy that Elliot had an affair

Tuesday, April 4th, 1989

13: Michael Writes a Story

Michael takes a creative writing class, as does Nancy. Michael incurs Nancy's wrath when he writes about something he heard about her in confidence from Elliot. Also, Michael and Elliot get new jobs working for Miles Drentell at DAA.

Tuesday, April 11th, 1989

14: New Job

CAPSULE: Hope suffers a miscarriage just as Michael and Elliot begin work for Miles Drentell at DAA. Elliot and Michael are in Miles Drentell's office interviewing for jobs at DAA. While they are there Michael gets a phone call from Hope at her obstetrician's office: the doctor has done an ultrasound and it shows a case of fetal demise. Hope acts stoic about it. Later Elliot calls with good news--they got the jobs, with offices and great pay. Mike tells him about the miscarriage. Michael is reluctant to go in to DAA for his first day but Hope insists that he does. Mike and Elliot meet a fellow creative team, Angel Wasserman and Hollis Amato, who seem to be playing with the guys' heads a bit. In fact, they been assigned to the same account as Michael and Elliot, the Spingeri automobile. Michael returns home to Hope, who is glad to see him. The phone rings, and it's Elliot with some work, which secretly disappoints Hope. Hope talks with Val about working for Synergy. Val encourages her t

Tuesday, April 25th, 1989

15: Be a Good Girl

CAPSULE: Melissa must deal with her aging grandmother who wants her to take over her business. Melissa is preparing to go to her parents for a birthday dinner for herself, her mother Elaine and her beloved grandmother Rose, or Nana, who has runs a dress store for fifty-five years. Elaine thinks her mom needs to move in with her and her husband Murray, but Melissa thinks her mom treats Nana ""like Grandma Moses"", even though she has congestive heart failure! Ellyn, who is therapy now, comes to Melissa with a job offer from City Hall and Melissa takes it, even though she's quite busy. At her parents house, Melissa is taking a family portrait with a couple of other aunts included when Nana has a vivid flashback of a young girl skating. Her behavior worries the others, and they call a doctor. Soon, though, Nana is back at work, critiquing customers, when she has a pain attack. She asks Melissa not to call Elaine, but she does call her, along with a doctor. Nana also has another flashback of

Tuesday, May 2nd, 1989

16: Courting Nancy

CAPSULE: Nancy pursues her relationship with Matt, but Elliot makes a concerted effort to win her back. Elliot returns the kids to Nancy and has an awkward meeting with her new boyfriend Matt Enwright. At work Elliot and Angel are working closely pitching ideas. Mike asks if there is anything between the two but Elliot says they are just friends. Nancy excitedly gives the big news to Melissa, Ellyn and Hope: her book is going to be published! When Elliot comes by later to see Nancy, she tells him also. He's happy for her, but tells her he misses her and wishes they could get back together. Nancy doesn't know how to respond, but says she still doesn't trust him. Matt makes a date for dinner at Nancy's, but she makes it clear there will be no sex in her house. At DAA, Angel asks Michael about Elliot and Nancy's status. Michael discourages her from going out with him. Elliot tells Mike he's going to confess his affair with Cheryl Eastman to Nancy. Mike thinks it's a bad idea. At Nancy's,

Tuesday, May 16th, 1989

17: Best of Enemies

CAPSULE: Hope is writing an article that could affect Susannah's Race St. Project, driving a wedge between her and Gary. Gary and Susannah are proceeding with preparations for parenthood. Melissa doesn't care for Susannah at all and thinks the relationship won't be permanent. Meanwhile, Hope gets a nibble from the Philadelphia Inquirer about doing a story on the Race St. Project. After talking to Rosie at Race St., Hope goes to City Hall to see what Ellyn, fresh from her breakup with Woodman, has to say about the organization. After a few questions about the government's relations with Race St., Ellyn gets a little circumspect, then asks Hope to turn off her tape recorder for the rest of the conversation. Hope tells Michael about irregularities with grant money received by Race St. When Michael tells Gary about this, he's sure Hope and Ellyn must be mistaken. But when he talks to Rosie, she tells him some of the allegations are just practical things that a place like Race St. has to do
Season 3
Tuesday, September 19th, 1989

1: Nancy's Mom

CAPSULE: Nancy's and Elliot move closer to a reconciliation, to the disapproval of her visiting mother Eleanor. Elliot and Nancy are spending an evening at Michael and Hope's talking about Nancy's upcoming book. Nancy says her mother Eleanor, who is coming for a visit, is OK with her but still can make her crazy. When Nancy and Elliot leave, they kiss goodbye like a dating couple. When Eleanor arrives, she asks about Matt, but Nancy mentions that Elliot has been ""around."" Later Elliot has dinner with Nancy, Eleanor and the kids. Eleanor makes it clear she doesn't approve of Elliot or his marketing idea for a ""monster doll"" book tie-in. Later that night Eleanor refuses to go to bed and leave Nancy and Elliot alone, so he leaves and sneaks back in Nancy's bedroom window. Still later, Elliot is downstairs raiding the refrigerator when he runs into Eleanor. Nancy admits to her mother that she's seeing Elliot again. Eleanor still isn't ready to forgive him. She surprises Nancy by telling he

Tuesday, October 3rd, 1989

2: Love and Sex

CAPSULE: While she and Michael are having problems of their own, Hope gets involved in the love life of her teenaged babysitter. Hope and Michael arrive home early while their teenaged babysitter Lauren is there, saying they have some important matters to discuss. What they're really there for is some baby-making, though Mike has a little trouble at first. Lauren seems to admire Hope; she's read her article on the ozone layer. At DAA, Michael and Elliot are nervous about a presentation when Gary, dressed like a playground basketball bum, shows up just in time for Miles to see him. Gary tells the guys he and Susannah won't be marrying. Michael arrives home late. After some arguing about domestic matters, Hope says she can't ""switch gears"" and have sex. After shopping with Melissa and Ellyn, Hope comes back home to find Lauren on the front lawn with her boyfriend Bernard, music blaring, having a picnic. Hope is furious. Lauren profusely apologizes, saying she and Bernard are being kept a

Tuesday, October 10th, 1989

3: Mr. Right

CAPSULE: Ellyn and Melissa try using a video dating service. Melissa is unexpectedly attracted to a younger man she meets. Ethan must kiss a girl in the school play. Ellyn and Melissa are talking about using a video dating service, and despite the misgivings of others, they go in and give interviews at the service. They go through the books of available guys and find a cute one, William, whose profile and interview they like. Melissa is afraid to ask for his number, though; she'll wait, hoping he will contact her. Later when they return to the service, Melissa is dismayed to find that the list of guys interested in Ellyn is much longer than hers, and it includes William. Meanwhile, a good-looking young man named Lee Owens has come to paint Melissa's loft. He's spending a lot of time there, and there seems to be an attraction between the two. Also, Ethan is upset about having to learn to dance for the school production of ""Cinderella"" he's starring in. Even worse, he's supposed to kiss

Tuesday, October 24th, 1989

4: New Baby

CAPSULE: Susannah and Gary become new parents after a difficult delivery. Melissa has a hard time accepting Gary's new status. In a story told in reverse, the opening scene has Susannah in the hospital having a difficult delivery. Gary is there with her. We see earlier scenes of Susannah in pain, getting nauseous and being a little abusive to Gary. Gary calls Melissa but gets her machine. Michael is at the hospital with Gary. The doctor checks the dilating Susannah and sends Gary out. Still going backwards: The labor starts getting difficult. Gary calls and leaves a message for Melissa, apologizing for what happened earlier. Melissa is listening but doesn't pick up. Gary gets ready for the hospital as contractions are starting. Earlier, Melissa is at his outside his house. She's brought a present for them--a car, albeit an old junker. Melissa argues with Gary, saying he hasn't given her a thought lately, and she stalks off angrily. Back to the wedding shower: Susannah is looking a litt

Tuesday, October 31st, 1989

5: Legacy

Elliot and Michael have a close encounter with disaster on an airplane. Hope's employer, the magazine Synergy, is being taken over and will curtain its environmental watchdog activities. At a dinner party, Hope gets irritated with Michael and Miles' date. Nancy is ready to take Elliot back.

Tuesday, November 7th, 1989

6: Strangers

CAPSULE: Melissa must come to terms with the problems she has over the age difference with Lee. Their relationship is paralleled by a new one between Russell Weller and Peter Montefiore. Russell drops by Melissa's place and is surprised to find Lee there wearing a towel. Melissa takes Russell to DAA, where he meets Peter Montefiore. Melissa encourages Michael to talk up Peter to Russell; Michael didn't realize before that Peter was gay. Later Lee and Melissa are still in the throes of passion when he has to leave. Lee wonders why she never introduces him to her friends. Melissa tells him that they will go have dinner at the Steadmans soon. Mel photographs Russell painting. She's nervous about her friends meeting Lee and he's nervous about seeing Peter again. Melissa deliberately passes up a locksmith where she was going to get a key made for Lee. Melissa and Lee arrive at the Steadmans. She imagines all sorts of bad things even though everyone likes her new boyfriend. Peter and Russell

Tuesday, November 21st, 1989

7: Pilgrims

CAPSULE: Elliot reunites with his family, but Ethan is still full of anxiety which manifests itself as fear for his safety. Elliot moves back in his house with his wife and children on a busy morning as Thanksgiving is approaching. Ethan tries to get out of going to school. He's being a bit of a discipline problem, complaining that no one listens to him. He walks to school with his friend Nicholas and they talk about a recent spate of robberies that have occurred in the area. Nancy is at her mother Eleanor's new place. She's moved to the area from Indiana, and Nancy hopes she will come by for the holiday celebration. Elliot and Nancy are happy the family is back together, but at night, Ethan listens warily to the police sirens. Ethan asks his grandmother if his grandfather ever left her. She admits that he did, but came back. Nancy tells Hope and Melissa that Ethan has been obsessed with the recent robberies. Elliot tries to help Ethan with his reading; he balks at the help and then ru

Tuesday, November 28th, 1989

8: The Burning Bush

CAPSULE: Ellyn takes steps toward starting an affair with Jeffrey Milgrom. Hope begins work on an environmental project. Ellyn and Hope's present-day relationship is compared to the one they had in high school. Flashback: At Lower Merion High School in 1970, Hope and Ellyn are sneaking a smoke. Ellyn tells Hope she's going off to New York with bad boy Mark McCreary. The two girls circulate a petition opposed to a dress code. Present Day: Hope talks with Ellyn, saying that she's quit the magazine Synergy and might be working on an anti-incinerator project. She doesn't tell her friend that she's pregnant. At the gym's pool, Ellyn is swimming and meets Jeffrey Milgrom, an acquaintance from the Steadmans' dinner party. He's Hope and Michael's lawyer and he works with his wife Valerie. Ellyn drops off a batch of material about the incinerator and tells Hope she's seen Jeffrey at the gym the past few days. They're meeting for lunch. Flashback: Ellyn and Hope protest the dress code and wal

Tuesday, December 5th, 1989

9: New Parents

CAPSULE: Gary's decision to quit teaching and stay at home with his new baby causes a conflict between him and his mother. Gary and Susannah's new baby Emma cries for twelve hours and they can't figure out why. In the morning Susannah is reluctant to go to work, but Gary insists. She finds out there that the nearby homeless shelter might be closed to make way for condos, which gets her fighting spirit up. Gary's mother Eileen comes by while Hope is there and mistakenly thinks she is Susannah. After Susannah comes home late and the baby is put to bed, Gary tells his mother he's not going back to teaching; rather, he's going to be a househusband. His mother's reaction is simply, ""Oh."" During the next day or two, however, Eileen makes it clear that she's not thrilled with Gary's decision to quit teaching. They argue about his deceased father, who wanted badly for him to go to law school. Eileen tells Gary that he's avoided every big decision he ever had to make and should concentrate on g

Tuesday, December 12th, 1989

10: Michael's Campaign

CAPSULE: Michael crosses swords with the creative director at DAA. Hope gets more involved with her environmental project. At DAA, Michael and Elliot attend a ""war council"" on Minnesota Brands, a huge potential account who they've convinced to give their agency a try. DAA's creative director, Carl Draconis, doesn't even give them credit for this in a meeting about the account, however. Michael has a flashback to 1968. He tells his father he's running for vice-president at school. His father wonders why he isn't running for president instead. Back in the present, Michael comes up with a bold marketing strategy for Oh My Pies, a product of Minnesota Brands which has not been selling well. Draconis coldly shoots his idea down. But privately, Miles tells Michael to stay directly accessible to Minnesota Brands on this project. Meanwhile Hope is getting more involved in the anti-incinerator campaign, planning for a big meeting and finding office space for John Dunaway and his organization. M

Tuesday, January 9th, 1990

11: Pulling Away

CAPSULE: Michael is given more responsibility at DAA, causing friction between him and Elliot. Hope also has to take some responsibility with the anti-incinerator campaign. Michael and Eliot are excited: Miles loved their ideas for the Snap Happy/Oh My account and DAA will make a commercial to show to a focus group. In a very public way, Miles upbraids Carl Draconis for shooting down the guys' ideas. The next day, Michael and Elliot are stunned to find that Draconis has ""left"" the company ""to pursue other interests."" Miles tells Michael he will be the creative director on the account, and depending on his performance with it, he could be offered Carl's job as the agency's creative director. Michael inherits Carl's office and his assistant Page, who he and Elliot formerly referred to as the ""dragon lady."" Meanwhile, Hope goes with John Dunaway and Ricky Bianca to see a congressman to enlist his opposition to the incinerator, but they receive no encouragement. Elliot asks Michael if he c

Tuesday, January 16th, 1990

12: Another Country

CAPSULE: Just as her children's book is published, Nancy is diagnosed with ovarian cancer. On a typical madhouse morning at the Weston house, Nancy is experiencing some back pain. Later when she sees Melissa and gives her a copy of the new book dedicated to her, Nancy says the pain may be stress related. While at school to pick up the kids, she gets ill has has to rush to the bathroom. Dr. Silverman does an ultrasound for Nancy the next day. At home she tells Elliot that the doctor found ""something,"" an ovary that has dropped behind her uterus, and she wants to do a test. Dr. Silverman does the examination and says there might be a tumor. More definitive results will come on Monday. Both Nancy and Elliot are worried, but try to keep family life normal and for now aren't telling anyone the news. When Nancy comes to pick up Ethan after a basketball practice, he gets upset with her because she didn't watch him play. Nancy loses her temper and snaps at him, then quickly apologizes. Ethan s

Tuesday, January 23rd, 1990

13: Post-Op

CAPSULE: Nancy, family and friends deal with the aftermath of her cancer surgery. Nancy has come out of surgery and Elliot calls the Steadman house to tell Hope and Ethan the news--she's OK. Hope tells a stunned Melissa that Nancy had the operation. Nancy's mom Eleanor is there at the hospital, and soon her sister Deb arrives too. They're both glad to see Deb, who is a nurse, but a little of the familiar mother/daughter tension surfaces immediately. Ellyn comes by to see Nancy bearing a gift of banana bread (a running joke in this episode.) She appears to be extremely uncomfortable. Nancy comes home, to the delight of her children. Eleanor and Deb take up temporary residence at the Weston house and Ethan and Brittany go to stay with the Steadmans for a while. Nancy misses her kids, though, and wants to get back to a semblance of normality. Elliot is very solicitous, though, and wants her to take things very easily. Gary, Melissa, Hope and Michael discuss Nancy's condition. Nancy had a

Tuesday, February 6th, 1990

14: Once a Mermaid

CAPSULE: Ellyn restarts her affair with Richard, this time in earnest. Ellyn seems to be putting her flirtation with Jeffrey behind her, as she talks with Melissa about men and has a blind date with Billy Sidel arranged by Hope and Michael. Bur while leaving the gym one day there's a knock on her car window--and it's Jeffrey, who is willing to start the whole affair over again. She leaves him there, but later at home is thinking about him. Jeffrey calls and leaves a message for her to meet him tomorrow at a park. The next day Ellyn is there waiting in a torrential rainstorm, but before Richard arrives who should appear on the scene but Gary. Barely having avoided being seen, Ellyn lets Richard kiss her. At the sauna Ellyn and Melissa talk about the blind date. Ellyn reveals she's about to start up with Richard again, though she knows it could be trouble. Melissa tells her to do what she thinks is good for her. Ellyn and Jeffrey meet for dinner and he tells her some of his marital histo

Tuesday, February 13th, 1990

15: Fathers and Lovers

CAPSULE: Melissa has conflicts with Lee over finding him a new job and with her father over his plans to buy her building. At a dinner with her parents, the Steadmans and Lee, Melissa mentions that she's concerned about her building turning into condominiums. Her father Murray surprises her when he invites her to his office to propose that he co-sign a loan for her which would allow her to buy the building. Melissa runs across Lee's sketchbook and she's impressed with his drawings. She tells him he's overqualified to be a house painter and that she could help him. He says the drawing is just for fun. Later at DAA, Melissa is there when Courtney Dunton comes into Elliot's office with some portfolios of job applicants. Melissa gets the idea to suggest Lee for the job. Melissa tells Lee about the job opening for a trainee at DAA. He doesn't seem interested, but goes there to be interviewed. His interview with Courtney is awful; he has no background at all or desire to work in advertising.

Tuesday, February 20th, 1990

16: Her Cup Runneth Over

CAPSULE: Richard leaves his wife and takes his daughter and moves in with Ellyn. This new instant family experiences some rough times right away. Richard and Ellyn meet for a noontime rendezvous. It's been five weeks since he said he would leave his wife for her, but he promises today will be the day. At the Steadman house the talk is of their will. Melissa is supposed to be the new baby's godmother and is worried about what that entails. Valerie comes over with some paperwork concerning the will. She breaks down and cries, telling everyone that Richard has left her. She angrily blames Ellyn for selfishly ruining their family. Richard, Ellyn and his daughter Christy (Valerie's stepdaughter) check into a hotel room and awkwardly try to sort out living arrangements. Among the other women, the news about Ellyn is a hot topic. Ellyn's therapist asks her about her relationship with Christy--her presence has kept Ellyn and Richard from having sex for six and a half days. Ellyn gives Christy

Tuesday, February 27th, 1990

17: Good Sex, Bad Sex, What Sex, No Sex

CAPSULE: Against the background of an examination of the characters' sex lives, Melissa and Lee break up. Melissa and Lee's sex life is going great and she tells the other women about it, to their envy and amazement. They seem to be doing it all the time, unlike Gary and Susannah who are having a hard time fitting sex into their schedule with a new baby to take care of; in fact, he gets injured when he slips on a toy while attempting an encounter while Emma sleeps. Melissa and Lee are out with a couple of Lee's friends of his age, Stephanie and Robert. They end up going to a late-night rock club where a girl throws up on Melissa's shoes. At DAA the next day Melissa is worn out after the late night out. She tells Michael that the nightlife with Lee is boring. She begs off going out on the town with Lee again which causes some tension for a while which is succeeded by--sex! At the Weston's house, Nancy is concerned when she finds copies of Playboy under Ethan's bed. Elliot makes a candle

Tuesday, March 20th, 1990

18: The Other Shoe

CAPSULE: Nancy finds new support from another cancer patient, but their relationship threatens her closeness with her own family. Nancy has been receiving chemotherapy and as a result has been feeling ill a good bit of the time. The experience, along with the movie Fantastic Voyage, has given Ethan a new idea for another story to do with his mom, one in which a whole planet is sick. At her support group for cancer patients, Victory Partners, Nancy meets a woman named Beatrice Holden and they go out for coffee. Beatrice talks to her about getting a new circle of friends for support. She attends a meeting at Beatrice's place and finds the frank talk and even humor about death a new, liberating experience. As Nancy comes more under the influence of Beatrice, she becomes ""radicalized"" and starts talking about carcinogens and other cancer-related matters endlessly. At dinner with the Steadmans, Melissa wonders out of Nancy's presence why she's so mad. When Nancy puts forth opinions on carci

Tuesday, April 3rd, 1990

19: The Three Year Itch

CAPSULE: While in Washington, DC about a possible job, Hope almost cheats on Michael with John Dunaway. While Michael has gotten a big raise almost doubling his salary and lots of perks with his new job, Hope is disenheartened when the incinerator plan passes the city council after she made a presentation against it. Later she calls John Dunaway, looking for other ways to fight the incinerator and arranges a lunch meeting with him. At lunch she asks about a court challenge, but John is doubtful. At DAA Elliot tells Mike he should ask for a raise; Michael doesn't tell him he's already got it. That night in bed, Hope is kissing Michael, but momentarily imagines him as John. The next day John calls Hope with the news of a possible press relations job with an environmental organization in Washington, DC. When she senses Michael's lack of enthusiasm about the possibility they argue, she telling him that she always accommodates to his career. When Hope tells Ellyn and Nancy about going to Wa

Tuesday, April 10th, 1990

20: I'm Nobody, Who Are You?

CAPSULE: Resentment grows between the "haves" (the Steadmans) and the "have nots" (Gary and Susannah). Gary has put aside his ambivalence and is taking a job teaching Modern American Poetry. On the night before his first day on the job, Emma comes down with a fever and a terrible whooping cough. Frantic, Gary annd Susannah call up the Steadmans in the middle of the night. Hope tells them Emma probably has croup. The couple take the baby to the emergency room, where she's diagnosed with--croup. The bill comes to $704.75. Neither parent has insurance. In the morning Gary is reluctant to go to work but Susannah insists. Susannah is very reluctant to depend on Hope for help, but she calls her over anyway. Hope arrives with a humidifier and food. When she recommends their pediatrician, Susannah replies that they can't afford him. Hope talks to Ellyn and Michael about Gary and Susannah--are they really poor? Michael has been discussing a real estate deal with Miles, and he proposes investing

Tuesday, April 17th, 1990

21: Arizona

CAPSULE: Michael and Hope's relationship is deteriorating as they gather to attend her parents' anniversary celebration. Hope informs Michael they need to attend her parents' 40th wedding anniversary celebration in Arizona, but Michael says he needs to stay home for a while to attend to work. John Dunaway is in town and Hope invites him to stay at their house in her absence. Michael attends a dinner party at Melissa's where the guests joke about Hope having the hots for John. Michael returns home to find John looking very comfortable, seated in front of the fireplace with Grendel the dog at his feet. Michael immediately books the next flight to Phoenix. When Michael arrive earlier than expected in Arizona, it doesn't take long before festering tensions between him and Hope rise to the surface. She accuses him of working too much and ""checking out"" on his family. She tells him he's not proud of her for the things he should be, such as her work as a mother and with the ERC. Michael sneer

Tuesday, May 1st, 1990

22: Going Limp

CAPSULE: Elliot gets a chance to direct a public service announcement, but is he capable of doing the job? Ellyn comes to DAA with a request for them to film a public service announcement for the city's new promotional campaign. Elliot pleads with Michael to give him the job of directing it, and Mike agrees. At a meeting with City Hall officials, Elliot's presentation strikes many of them as too far-out, but Michael assures Ellyn things will be OK. Elliot impresses Mike by obtaining the services of the well-known actor Ron DeLisle, a Philadelphia native, for $7500, but one of the City Hall people complains to Miles about a lack of confidence in Elliot. Miles reminds Michael that this project is his responsibility. Ellyn confides in Mike that she thinks the upcoming shoot looks like a ""train wreck."" Michael reassures her, but alone, he repeats her assessment: it's a train wreck. Even Nancy is getting apprehensive about Elliot's ability to do the job. The night before shooting starts, Et

Tuesday, May 15th, 1990

23: Towers of Zenith Part 1: The Go-Between

CAPSULE: As Elliot grows more dissatisfied with DAA, Michael finds out something that could change everything about the company. Miles plans to take Michael to New York with him to meet with Bob Spano, head of Minnesota Brands, their largest client. In a meeting, Miles informs Elliot and Michael that a spokesman for another big account has been lost to another agency and he puts the blame squarely on Eliot. Later Michael ask Miles why he was so tough on Elliot. Miles picks up the phone and calls Elliot, giving him a perfunctory apology. In New York, Miles and Michael dine with Spano and Gus Hennesey from Minnesota Brands. The down-to-earth Spano finds Miles a little weird, but seems to like Michael. Later Gus calls Michael and sets up a private meeting. He tells Mike that Minnesota Brands is looking to expand into media. Elliot tells Nancy that his job has become a burden and that he's thinking of quitting after her ""second look"" surgery. Miles tells Michael that he thinks Elliot is di

Tuesday, May 22nd, 1990

24: Towers of Zenith Part 2: Samurai Adman

CAPSULE: Michael's career is on the line as the hostile takeover attempt of DAA heats up. As Minnesota Brands plots its hostile takeover of DAA, Miles wants to take Michael with him to see Carol Arthur, the widow of former company partner Duncan Arthur who owns 27 1/2% of the stock. But Carol comes by the company, rather than have Miles set foot in her house. Michael decides to bring Mark in on the takeover secret. They realize that their failure in this matter could cost them both their careers. Hope worries that Michael may be crossing some ethical lines and turning into Miles. Michael is in Miles' office doing a bit of snooping when Miles and his secretary come in. He makes an excuse and then listens in as Miles places a phone call to Gabe Rivera, setting up an emergency appointment. Michael sends Elliot to spy on the Drentell/Rivera meeting. While on this mission, Elliot runs into Mark, who is doing the same thing. They find out Rivera's identity--he's Miles' dentist! Meanwhile Min
Season 4
Saturday, September 22nd, 1990

1: Prelude to a Bris

CAPSULE: The decision whether or not to circumcise the newborn Leo brings up larger questions: is he Jewish and what does that mean? Hope gives birth to her and Michael's new son Leo. After bringing the baby home, Michael tells Hope they must decide about a bris. Michael's mother Barbara arrives with her ""friend,"" Ben Titleman. Hope likes him, but Michael finds the situation of another man with his mother makes him uncomfortable. Before long both Ben and Melissa are asking about a mohel to perform the bris. Michael and Hope talk with Gary and Ellyn, respectively, about problems including the circumcision, which Michael is leaning toward and Hope against. That night when Michael brings up the subject, Hope wants him to explain it, why it's necessary and why he wants it done. Melissa drops by DAA with some pictures of Leo and some old relatives of the Steadman family. There's a surprise visitor, also: Rabbi Franklin, a mohel who assumes he is doing a job for Michael. He says Ben contacte

Tuesday, October 2nd, 1990

2: Life Class

CAPSULE: Nancy feels that the hysterectomy has adversely affected her sex drive. Shots of Nancy teaching a class at the art center are intercut with her being examined by Dr. Eilertson. She asks about diminished sex drive after a hysterectomy and he tells her it should be no problem. Later at a gallery she sees a younger male student who she'd noticed before in class (and who seemed to notice her.) At DAA, Miles chews out Angel and Hollis, upsetting them. Angel comes to Elliot's office to hide out. Elliot arrives home to find Nancy tired and testy. The always-perceptive Ethan notices the changes in his mother, too. Nancy sees the student again and has a fantasy about him. But back at home with Elliot, she tells him she has no desire to make love. At DAA, Angel begins to work on an important account with Elliot, and they both are enjoying it. Later Elliot stops by Nancy's class and she argues with him, accusing him of gawking at the nude young female model. Nancy talks with Dr. Silverma

Tuesday, October 9th, 1990

3: Control

CAPSULE: Melissa starts a fledgling relationship with Miles. Ellyn and Jeffrey look for a new apartment. Melissa gets a job photographing five notable Philadelphians for a magazine. She's a bit apprehensive, though, when she finds out that one of her subjects is Miles Drentell. As an interviewer from the magazine questions an expansive Miles, Melissa does her job. After the session, Miles and Melissa talk and there seems to be some surprising attraction. He asks to see her portfolio--over dinner. Elsewhere, Ellyn and Richard are rushing around, late for work. To Ellyn's surprise, Jeffrey agrees to her suggestion that they find a new place to live together. Ellyn tells Michael she's not going out with Miles, but she does. At the restaurant things are awkward at first, but soon Melissa relaxes. She begins to talk about Michael and herself when they were younger, then catches herself. She tells him he's not what she expected. Later at DAA, Michael thinks that Miles let him take the rap fo

Tuesday, October 16th, 1990

4: The Distance

CAPSULE: An offer of a new job for Susannah leads to her and Gary taking a bold and unexpected step in their relationship. Ellyn finds out that Jeffrey is going back to his first wife. Early in the morning Richard is getting ready to leave on a business trip, but Ellyn makes him stay for coffee. He seems very distant this morning, but gives her an extra kiss and says ""I love you"" before he leaves. Susannah has received a great job offer from a foundation in New York, but she tells Gary that of course she won't take it in light of their new situation (her pregnancy). At Race St., Susannah finds that a leaky roof's collapse has ruined boxes and boxes of records. The situation there makes her long for the job in New York, and she now tells Gary she's thinking of going to see about it. Ellyn calls Indianapolis to talk to Jeffrey and finds that, unbeknownst to her, he has gone on to Los Angeles. At a gathering at the Steadmans' Gary and Susannah talks separately with Michael and Hope about

Tuesday, October 30th, 1990

5: The Haunting of DAA

CAPSULE: Amidst a big company layoff, Michael is visited by a mystery man. It's Halloween time and Ethan is fighting with his mother. He wants to be Freddy Krueger; Nancy says no. At DAA Michael comes into Miles' office and finds him lying on the floor to relieve back pain. In the office is the original 3-D nodel of DAA. Miles tells Michael he's in the office that used to belong to co-founder Duncan Arthur, who died there of a heart attack. He also tells Michael that a 10% reduction in the work force is needed and that it's his job to fire the people. Michael tells Elliot, who refuses to give him any input once he hears that Hollis and Angel are on the list. Working late that evening, Michael hears a squeaking noise. It's the janitor pushing his bucket. Melissa is at DAA working with Elliot when Miles comes in the office. She's a bit frosty to him. Michael shows Elliot the list of layoffs. Hoillis is on it, but Angel is not. The door to Michael bathroom opens eerily, by itself. Michael

Tuesday, November 13th, 1990

6: The Guilty Party

CAPSULE: Hope tries to do it all, including throwing a surprise birthday party for Michael. Her relentless perfectionism might be rubbing off on Janey. Contractors and repairmen are tearing up the Steadmans' kitchen causing Hope to fall behind with the laundry, groceries, etc. She thinks she's short-changing Michael in the domestic department, and when she gets a request from Princeton to write something about herself for the alumni directory, she feels even more inadequate. Hope imagines herself back in college, facing criticism from a professor over what she's done with her life. (This fantasy recurs throughout the episode.) She wants to throw a surprise pary for Michael; Melissa and Nancy are dubious. Janey's pre-school teacher tells Hope that Janey got very upset when she couldn't cut perfectly on the dotted lines with scissors. At DAA, Ernest, a new aide to Miles, brings him pain medication for his back. Michael and Elliot have a very important presentation to make to new Japanese

Tuesday, November 27th, 1990

7: Photo Opportunity

CAPSULE: Melissa gets a big photo assignment at the same time that her mother breaks her leg. Melissa is ecstatic about a job she's up for, doing a photo shoot in New York for Vanity Fair magazine. After she tells Hope, she lunches with her mother Elaine, who glosses over the news rather quickly, seeming more concerned about her daughter Jill in New York and her own role in a community theatre production. Melissa travels to New York City and stays at her sister Jill's apartment. When she mets photo editor Megan Alexander the next day, Melissa is told that the job is photographing writer Brendan Norris, who is so tempermental about publicity that ""everyone"" else has turned down the job. When she returns from the interview, Jill informs her that their mother has broken her leg. Melissa returns from Philadelphia and takes over care of her mother from Aunt Muriel. Elaine insists that her husband Murray, who is out of town, not be called back. Elaine doesn't pay much attention to the news o

Tuesday, December 4th, 1990

8: Never Better

CAPSULE: The "friends of friends" Gary and Ellyn become closer, but it's Billy Sidel that Ellyn is really interested in. Ellyn haltingly tells her therapist that she wants to terminate her treatment. Gary is at the market check-out line flirting with the attractive young clerk. Is she perhaps a little interested in him? With Susannah out of town, Gary has arranged for a sitter so that he and Ellyn can go to a movie. At the theatre Ellyn spies Billy Sidel, the friend of Hope and Michael's that she once went on a blind date with. When he speaks to her after the movie, there's a little bit of tension since Gary is around, but Ellyn and Billy are obviously glad to see each other. Later Ellyn calls Billy and begins to leave a rambling message on his machine when he picks up the phone. Hours later they are still talking and making plans to see each other. (But ""not a date?"" Ellyn wants to be assured.) Gary once again flirts with the friendy clerk, Claire.

Tuesday, December 11th, 1990

9: Guns & Roses

CAPSULE: Nancy's continuing treatment for her cancer places more and more of a strain on her and her family. Nancy gets a phone call one morning about exhibiting her paintings at a show. She later goes to her Victory Partners meeting where the group leader teaches ""guided imagery,"" a visualization technique. Nancy gets a disturbing image of dark, rolling clouds, however. At DAA Michael has been nominated for an Opus award. Ethan comes home to his parents with a bruise where someone hit him. At a chemotherapy treatment, Nancy tries visualizing again, but sees herself in a coffin. Feeling bad after the chemo, Nancy hasn't been able to work on painting for the exhibit. She gets nauseous in front of both kids. Ethan tries to help her out and brings a glass of water. Later Nancy tries to teach Ethan some defensive tactics against bullies, but Elliot ends up showing him how to throw some punches. Concerned about Ethan, Nancy goes to see his soccer coach Ted Brown. While talking to him about

Tuesday, December 18th, 1990

10: Happy New Year

CAPSULE: Everyone gathers at the Steadman house for a New Year celebration. Gary and Melissa help Hope prepare for the night's New Year's Eve party. Ellyn is worried because she didn't invite Billy; Hope urges her to call him. Guest begin to arrive: Elliot with his kids (Nancy was too tired to come), Angel and Mark from DAA (plus Mark's wife Kate), Peter Montefiore with a woman friend Patsy and her daughter Melody, and Russell Weller. As the festivities start, Hope receives a phone call from her mother, informing her that an old friend from school died. Michael seeks her out, but Hope won't talk about it. Gary is frustrated that Susannah is snowbound in New York and leaves to ""get some air."" Elliot meanwhile is enjoying himself--and drinking quite a bit. Ethan and Melody, who is a couple of years older, are stuck together watching TV. Russell and Peter run into each other and the meeting is awkward, as neither has called the other after their previous involvement.

Tuesday, January 8th, 1991

11: Melissa and Men

As she prepare for a gallery exhibit devoted to her work, Melissa examines her past relationships with the men in her life and wonders why they have been such failures.

Tuesday, January 22nd, 1991

12: Advanced Beginners

While Ellyn and Billy are living together temporarily, an old girlfriend of Billy's arrives upon the scene, causing some problems.

Tuesday, February 5th, 1991

13: Sifting the Ashes

On a business trip to Baltimore, Elliot confronts issues with his mother and with his religious faith. Ethan too is wondering if religious faith can help his own mother.

Tuesday, February 12th, 1991

14: A Second Look

Amidst the celebration over the success of Nancy's cancer surgery, a terrible and unexpected tragedy strikes another member of the group.

Tuesday, February 19th, 1991

15: Fighting the Cold

Susannah returns for Gary's funeral. Melissa is an emotional wreck in the aftermath. She and Susannah come to terms with each other.

Tuesday, February 26th, 1991

16: The Difference Between Men and Women

Bachelor and bachelorette parties for Billy and Ellyn provide the backdrop for a look at the various couples' relationships with each other and their fideliity.

Tuesday, April 9th, 1991

17: The Wedding

Ellyn and Billy get married. Predictably, all does not go smoothly, as Ellyn gets a bad case of pre-wedding jitters.

Tuesday, April 16th, 1991

18: Closing the Circle

Michael tries to come to terms with Gary's passing. Among the living, he has problems with Susannah and with Miles and Peter at work.

Tuesday, April 30th, 1991

19: Out the Door

Michael's fortunes seem to be rising at DAA, but Elliot is more dissatisfied than ever and is ready to quit the job, leading to conflict between the two.

Tuesday, May 7th, 1991

20: Hopeless

Hope volunteers at a shelter for the homeless and gets personally involved in the life of a woman and her daughter there. She accuses Michael of having lost his social conscience.

Tuesday, May 14th, 1991

21: A Stop at Willoughby

The stress of working at DAA becomes too much for Michael.

Tuesday, May 21st, 1991

22: Melissa in Wonderland

Melissa goes to Hollywood to photograph a sitcom star who comes to rely on her advice.

Tuesday, May 28th, 1991

23: California

Michael gets a job offer in California. While out there, he runs into Elliot and they talk about forming another partnership. But Hope is adamantly against the move, so much so that her and Michael's marriage is threatened.

Monday, July 16th, 2001

24: Inside "thirtysomething" Seminar

To commemorate the showing of the series on the Bravo Channel, the Inside thirtysomething Seminar brought together the show's creators, Edward Zwick and Marshall Herskovitz, along with actors Ken Olin, Mel Harris, Timothy Busfield, Melanie Mayron and Polly Draper for a round-table discussion of the show and its effect on the lives of themselves and the viewers, plus lots of reminiscing about favorite moments, etc. The two other principal cast members, Peter Horton and Patricia Wettig, join in via videotape. Film clips from several of the original episodes are also seen.