update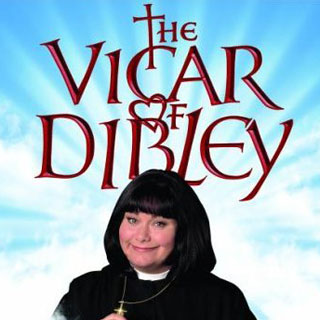 Season 0
not specified

0: 0

The Epilogues of the entire collection

Monday, April 8th, 1996

1: The Easter Bunny

With Lent approaching Geraldine suggests that everybody give something up and contribute a pound to charity if they fail - in her case chocolate, which is a real challenge for her. Also, she visits the ailing Mrs. Cropley, who has a strange request.

Wednesday, December 25th, 1996

2: The Christmas Lunch Incident

Geraldine is so popular that everybody wants her round for Christmas dinner so she won't be alone— Jim and Frank, Alice and her family—who are even more bizarre than Alice herself and the Hortons. Geraldine is protective of Hugo when David bullies him and indulges in a sprout-eating contest. As a consequence she has to be taken home on a bulldozer to sleep it off. Owen also turns up, wanting company since he has spent every Christmas alone since 1971.

Friday, March 14th, 1997

3: Ballykissdibley - Comic Relief

Geraldine finds herself really enjoying a clergy exchange program when a handsome young priest from Ireland comes to visit her in Dibley.

Sunday, February 21st, 1999

4: The Epilogues

A compilation of the show's comedic dialogs between Geraldine and Alice found at the end of many of the episodes. (DVD Disc 5)

Friday, March 12th, 1999

5: Celebrity Party - Comic Relief

A film crew decide to make a film—starring Johnny Depp—in Dibley. David is, of course, opposed to the idea, but everyone else votes against him. Geraldine invites Johnny Depp and his friends to the vicarage for drinks,

Friday, March 1st, 2002

6: The Real Vicars of Dibley

Inspired by the BBC comedy, this look at real-life irreverent reverends includes interviews with the stars of the sitcom, including its writer Richard Curtis , and offers a potted history of the priesthood as seen on TV.

Thursday, January 1st, 2004

7: Dibley Defrocked

Behind-the-scenes clips of the process of making an episode of The Vicar of Dibley.

Saturday, December 25th, 2004

8: Christmas Specials 2004: Merry Christmas

While Geraldine is celebrating her 10th year in Dibley she is accused of being Gay as Alice spreads gossip when she found Rachel Hunter dressing in the Vicar's house and Geraldine letting out certain 'hints',

Saturday, January 1st, 2005

9: Christmas Specials 2004: Happy New Year

When it's Geraldine's 40th birthday she doesn't want anyone to make fuss but they instead decide to cheer her up they send her to a dating agency, but when she sees all the council have decided to go as well, she gets nowhere. Meanwhile it's the 20th anniversary of Band Aid, and the vicar wants to do something special, but finds out that no one cares. So at the end she showed them all a video from the poverty website, which then makes them all care.

Friday, March 11th, 2005

10: Comic Relief - Antiques Roadshow

This 15min short was made for Comic Relief (a big British charity which raises loads of money). When the Antiques Roadshow comes into town everyone gets excited.

Monday, December 25th, 2006

11: Christmas Specials 2006: The Handsome Stranger

After Geraldine learns that she has officiated at 100 weddings, the community becomes angry as Londoners start moving into their village. After Alice reads 'The Da Vinci Code' she becomes convinced she's related to God. When Geraldine hires a young nude model for the villagers to paint, they unfortunately get no painting done.

Monday, January 1st, 2007

12: Christmas Specials 2006: The Vicar in White

Geraldine marries Harry with the village in tow as wedding planners. Owen tries one last time to get the Vicar to be with him. The theme of the wedding is the surprisingly non-traditional, 'Doctor Who'.

Friday, March 16th, 2007

13: Comic Relief - Celebrity Wife Swap

Geraldine gets Sting in a Vicar of Dibley celebrity wife swap

Saturday, October 13th, 2007

15: The Vicar of Dibley's 40 Greatest Moments

Monday, December 31st, 2007

14: The Story Of Dibley

Cast and crew come together for a surprising, funny journey through the story of one of television's best loved sitcoms.

Sunday, March 3rd, 2013

16: Comic Relief - Women Bishops

Geraldine and the parishioners head to London to vote on Women Bishops, but make the mistake of sending Jim to cast the vote. Meanwhile, Geraldine flirts with an attractive vicar (Damian Lewis) and Frank's failing hearing leads him to make some major slip ups.

Friday, March 13th, 2015

17: Comic Relief - The Bishop of Dibley

After taking part in the Ice Bucket Challenge (which itself goes astray), Geraldine gets an offer to become Bishop. A confusion on her behalf, however, leaves her last in the running when other, more successful, candidates turn up for the interview process.

Thursday, April 23rd, 2020

22: Comic Relief - The Big Night In

Following the lockdown caused by COVID-19, Geraldine gives a short service to her parishioners from her home. She describes her efforts to tidy up the mountain of Easter eggs, and issues corrections to the Parish Newsletter. The latest Parish Council meeting was also relayed, though attempts to use Zoom backfire as no one else has a computer, so Geraldine is left to make all the decisions herself. The short ends as Geraldine promises that the situation will be resolved.

Monday, December 7th, 2020

18: In Lockdown: Episode 1

The nation's favourite vicar returns to offer her thoughts about lockdown and social distancing, and tries to persuade her parisioners to use their time indoors to catch up on their Bible reading.

Monday, December 14th, 2020

19: In Lockdown: Episode 2

The vicar learns that it is better to write her sermons sober, experiences the joy of going outside again and remembers her wonderful verger Alice.

Monday, December 21st, 2020

20: In Lockdown: Episode 3

The winner of the Dibley mask competition is announced, Hugo sets a new record, and Christmas comes close.

Wednesday, December 23rd, 2020

21: In Lockdown: Compilation

The nation's favourite vicar muses upon lockdown, social distancing, masks and absent friends. Contains some previously unseen material.

Saturday, March 6th, 2021

23: The Vicar of Dibley: Inside Out

Dawn French and Richard Curtis take viewers on a joyful stroll down memory lane as they look back at their favourite Dibley moments, and for the first time, tell the definitive story of the making of the show. The pair are joined by a host of guest stars and celebrity fans including Kylie Minogue, Hugh Bonneville, and Joanna Lumley, as well as writer Paul Mayhew-Archer, producer Jon Plowman, and James Fleet (Hugo Horton).

Friday, March 19th, 2021

24: Comic Relief 2021
Season 1
Thursday, November 10th, 1994

1: Arrival

The village of Dibley acquires a new vicar, but Reverend Geraldine is a bit of a surprise, and a not entirely welcome one to some people.

Thursday, November 17th, 1994

2: Songs of Praise

A BBC TV program decides to film a segment in Dibley, leading to all sorts of romantic misunderstandings.

Thursday, November 24th, 1994

3: Community Spirit

Geraldine takes over the Autumn Fair and promises a famous celebrity to open it—but finds it a bit difficult to deliver.

Thursday, December 1st, 1994

4: The Window and the Weather

One of the church's stained glass windows is broken during a storm, which sends the Reverend on a fund-raising mission among the well-to-do, especially David's friends.

Thursday, December 8th, 1994

5: Election

Geraldine clashes with David in the Dibley district councilor elections over the issue of local bus service, and finds herself an opposing candidate.

Thursday, December 15th, 1994

6: Animals

A funeral for a pet bird inspires Geraldine to hold a special church service for all the animals of the village, despite opposition from David.
Season 2
Thursday, December 25th, 1997

1: Engagement

Geraldine is determined to get Alice and Hugo together, and succeeds beyond her wildest dreams.

Thursday, January 8th, 1998

2: Dibley Live

'Radio Dibley' goes live for one week, with Geraldine holding a 'Brain of Dibley' competition, and Owen commenting on horse gelding. Alice tries to impress her future father-in-law.

Thursday, January 15th, 1998

3: Celebrity Vicar

Geraldine becomes a celebrity after appearing on 'Pause for Thought'. The villagers prepare for the 'Dibley Gala',

Thursday, January 22nd, 1998

4: Love and Marriage

Geraldine and the village all prepare for the wedding of Hugo and Alice, which brings a revelation from Alice and a visit from David's brother.
Season 3
Friday, December 24th, 1999

1: Autumn

The vicar desperately tries to spend an evening alone with Simon. Alice returns from her honeymoon and may be pregnant.

Saturday, December 25th, 1999

2: Winter

Dibley prepares for the annual nativity play.

Monday, December 27th, 1999

3: Spring

It's Spring and it's almost time for Hugo and Alice's baby's Christening. David Horton decides to get a different bishop to do the Christening as Geraldine will be one of the godparents. After a shocking turn of events, he finds himself in love with Geraldine and proposes to her! Will she go through with the wedding or not?

Saturday, January 1st, 2000

4: Summer

The water board offer to solve Dibley's drought by relocating the town.
Season 4
Monday, December 7th, 2020

1: Episode 1

The nation's favourite vicar returns to offer her thoughts about lockdown and social distancing, and tries to persuade her parisioners to use their time indoors to catch up on their Bible reading.

Monday, December 14th, 2020

2: Episode 2

The vicar learns that it is better to write her sermons sober, experiences the joy of going outside again and remembers her wonderful verger Alice.

Monday, December 21st, 2020

3: Episode 3
Season 5
Monday, December 25th, 2006

1: The Handsome Stranger

Geraldine is annoyed when she learns that another townie has moved into Dibley, so she goes round to see Harry Kennedy (played by Richard Armitage), who is an accountant, and instantly falls for him and the attraction is mutual. However, she soon sees him with an attractive woman called Rosie (played by Keeley Hawes), but it later turns out she is Harry's sister. He proposes to Geraldine, and she accepts. Meanwhile, Geraldine starts a book club and an art class, but neither are very successful as no one reads the book or attempts to paint what they are asked to. Also, after reading The Da Vinci Code, Alice thinks that as her name rhymes with chalice she must be descended from Jesus.

Monday, January 1st, 2007

2: The Vicar in White

Geraldine is looking forward to organising her own wedding to Harry (played by Richard Armitage), but the villagers insist on arranging it for her, thinking they are doing her a favour, and she doesn't have the heart to tell them otherwise.