update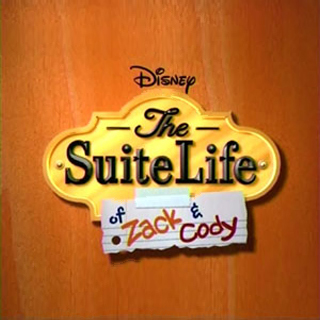 Season 0
not specified

1: On The Road Again (Hannah Montana Crossover)

That's So Suite Life of Hannah Montana is a crossover episode of the Disney Channel sitcoms That's So Raven, The Suite Life of Zack & Cody, and Hannah Montana.

not specified

2: Checkin' In (That's so Raven Crossover)
Season 1
Friday, March 18th, 2005

1: Hotel Hangout

Zack and Cody try to make friends at school. When word gets out that they live at the Tipton, all of the cool kids hang out with them. In the end, the twins find out who there real friends really are. Meanwhile, Carey is practicing dance moves, while London teaches Maddie how to ask Lance out and Maddie tutors London in Math.

Friday, March 18th, 2005

2: The Fairest of Them All

A beauty pageant comes to the Tipton Hotel. Cody ends up becoming a contestant, because of a girl he likes to meet. Zack wants him to win, so they could use the prize money for new bikes.

Friday, March 25th, 2005

3: Maddie Checks In

When a rich, cute guy stays at the Tipton, Zack and Cody help Maddie impress him by making him think she's rich. In the end, the guy finds out Maddie isn't rich but he still likes her.

Friday, April 1st, 2005

4: Hotel Inspector

Zack and Cody have two pet rats as a science project. Mr. Moseby gives the twins tickets to a Red Sox's game to get them away from the hotel. Then a hotel inspector seizes control of the Tipton, because of Zack's mistake. London has a dog party for Ivana and Maddie has to plan.

Friday, April 8th, 2005

5: Grounded on the 23rd Floor

When the twins get grounded for running around in the hotel, they try to take a picture of a $20,000 kiss so that they will no longer be considered burdens.

Friday, April 15th, 2005

6: The Prince & the Plunger

Carey gets a secret admirer. Zack and Cody end up hooking her up with the wrong guy. Now they have to find the right guy that is Carey's secret admirer. Mr. Moseby and London get ready for Mr. Tipton's arrival.

Friday, April 22nd, 2005

7: Footloser

Zack and Max compete in a dance contest. Cody learns how to do magic. Zack injures himself, and Cody has to take his place in the dance finals. Maddie becomes London's servant after London lends her money.

Friday, May 6th, 2005

8: A Prom Story

Maddie has her prom at the Tipton Hotel after realizing there is nowhere else to have it. Zack thinks that he will be her date, but ends up getting dissapointed. Cody starts to act like a mime.

Friday, May 20th, 2005

9: Band in Boston

There is a Battle of the Bands competition being held at the Tipton Hotel. Zack and Cody, along with Max and Tapeworm compete against Maddie's band in which has London in the band.

Monday, June 6th, 2005

10: Cody Goes to Camp

Cody ends up going away to camp. Zack starts to miss him, and has to find a way to get to him. London ends up learning how to drive, with the aid of Mr. Moseby.

Saturday, June 18th, 2005

11: To Catch a Thief

There are a couple of jewel thieves in the Tipton Hotel. Zack and Cody have to try and find out who it is to clear up someone's name.

Sunday, July 17th, 2005

12: It's a Mad, Mad, Mad Hotel

When the twins find out about hidden treasure in the Tipton, everyone goes into a frenzy looking for the money.

Friday, July 22nd, 2005

13: Poor Little Rich Girl

London's father goes broke due to an investment in a diamond mine. London now has to move in with Maddie. Zack and Cody wonder if their parents ever got them mixed up when they were babies.

Friday, July 22nd, 2005

14: Cookin' with Romeo and Juliet

London develops a crush with the son of a rival hotel owner, of which Ilsa is the the manager. Zack and Cody bake cookies to be served at a ball held at the Tipton.

Sunday, August 14th, 2005

15: Rumors

London spreads a rumor she started about Maddie, and Maddie accidentally spreads one about London. Cody wants to look different, because people kept on thinking he was Zack. Cody has Zack fill in for him on an interview, because of a certain problem.

Sunday, August 28th, 2005

16: Big Hair & Baseball

Carey needed some help, so Mr. Moseby ends up taking Zack and Cody to a baseball game. Mr. Moseby get into some trouble due to an incident at the game. London sets Maddie up on a blind date, in which Maddie ends up having a really bad hair day.

Sunday, September 18th, 2005

17: Rock Star in the House

Jesse McCartney checks into the Tipton Hotel and Maddie, London, and Zack break into Jesse's room. Zack collects discarded items belonging to Jesse, so he could sell them. Cody enters a science fair, and receives help from Arwin.

Monday, October 10th, 2005

18: Smart & Smarterer

After getting bad grades on his report card, Zack decides that he needs a way to get good grades without having to study. When Bob, a boy with Dyslexia, shows up in his class, Zack decides that he can pretend to have dyslexia so he can have more time on both tests and reading. Meanwhile, London beats Maddie at chess, and soon Maddie becomes obsessed at beating London at chess.

Friday, October 14th, 2005

19: Ghost of 613

When the twins find out about a ghost in Suite 613, Zack will stop at nothing to meet the ghost. With some help from Maddie and London, the twins come face to face with the ghost of Irene.

Saturday, November 26th, 2005

20: Dad's Back

Kurt, a rock-musician and the twins father, comes to the Tipton Hotel for a visit. Kurt will allow Zack and Cody do things that Carey would not approve of them doing. Zack decides to leave the Tipton when he gets in an argument with his mother about his homework, by stowing himself in his father's tour bus.

Saturday, December 10th, 2005

21: Christmas at the Tipton

Zack, Cody, and the entire gang get snowed in at the Tipton. Maddie riggs a ""secret santa"" bowl so that London will get her a gift.

Sunday, January 1st, 2006

22: Kisses & Basketball

Max ends up kissing Zack, after winning a basketball game. Maddie helps London with her shopping problem, because of something said by London's father. There is a surprise involving Carey and a certain someone.

Friday, January 6th, 2006

23: Pilot Your Own Life

Cody is inspired by a guest speaker and tries to do the same with his friends - to hilarious results. Meanwhile London and Maddie compete savagely in the fashion shootout of the year to get on the cover of Teen Trends.

Friday, January 13th, 2006

24: Crushed

A girl at school likes Cody, but after he hires Zack to help, she falls for Zack instead. London's dog Ivana and Maddie's dog Scamp fall in love.

Friday, January 20th, 2006

25: Commercial Breaks

The Tipton shoots a commercial. The director happens to be a date of Carey's from 15 years ago whom she left in the middle of the date. He prevents Carey from trying out for the commercial—but in the end, Carey and the twins end up being in the commercial.

Friday, January 27th, 2006

26: Boston Holiday

Prince Sanjei comes to the Tipton to be crown king, but when he tells Zack and Cody he wants to try being a regular kid, Cody poses as him, and Zack takes Sanjei to the mall. Meanwhile, London thinks she saw a UFO, so she invites Maddie over to stay up and look for one. Maddie though, is in it just for the free food and service.
Season 2
Friday, February 3rd, 2006

1: Odd Couples

Maddie helps London become smart to win over the affection of a scholar. Meanwhile, Cody moves into the coat closet and makes it is own room after he has enough of Zack's sloppiness.

Friday, February 10th, 2006

2: French 101

Zack and Cody fall for a French girl who can't speak English very well. Meanwhile, somebody steals London's purse and Esteban tries to help.

Friday, February 17th, 2006

3: Day Care

Maddie runs a Daycare Service at the Tipton, and when Maddie has a family obligation to attend to, Zack and Cody take over. Meanwhile, London encourages Mr. Moseby to take yoga to help him relax a bit more.

Friday, February 24th, 2006

4: Heck's Kitchen

A food critic is coming to the Tipton Hotel. Cody ends up having to fulfill the duties of being head chef, after the Tipton's regular chef suddenly quits, on a very important day.

Friday, March 3rd, 2006

5: Free Tippy

The boys end up trying to save a horse, which is no easy task trying to keep it hidden. Maddie loans something that is very sentimental to her to London and is mad at her when London loses it.

Monday, March 20th, 2006

6: Forever Plaid

Zack and Cody have to repair a wall that they damaged as punishment. London begins attending Maddie's private Catholic school due to her poor grades.

Tuesday, March 21st, 2006

7: Election

Cody runs for class president; Zack decides to run as well, but for the wrong reason. Mr. Moseby gets annoyed with one of the staff members.

Wednesday, March 22nd, 2006

8: Moseby's Big Brother

Mr. Moseby gets worried when his older brother Spencer arrives at the Tipton for a visit. Zack and Cody buy a bike, but they have to share it. Maddie and Esteban mess with London's horoscope.

Thursday, March 23rd, 2006

9: Books & Birdhouses

Cody is disappointed when he finds out that Zack is doing better than him in woodshop at school. London takes credit for a book that Maddie wrote.

Friday, March 24th, 2006

10: Not So Suite 16

Maddie is having her Sweet 16, and likes to have her party at the Tipton. On that same day, London decides to throw her own bash. Zack ends up trying to figure out what to get Maddie for her special day.

Friday, March 31st, 2006

11: Twins at the Tipton

A twins convention is being held at the Tipton Hotel. Zack ends up creating a double date with twin sisters, for him and Cody. London and Maddie end up enjoying a evening with twin brothers.

Friday, April 14th, 2006

12: Neither a Borrower Nor a Speller Bee

Zack borrows money from a guest named Maynard to play video games, but starts to fear him when he can't pay it back. Cody enters a spelling bee. London and Maddie help a homeless family.

Friday, April 28th, 2006

13: Bowling

Mr. Moseby and the Tipton Staff is challenged to a bowling competition, by its rival, Ilsa and her team. Zack is the star bowler for the Tipton, but ends up having to be replaced due to getting grounded. Zack's replacement must overcome his emotional scars, due to a past bowling incident.

Friday, May 19th, 2006

14: Kept Man

Zack makes a new rich friend, who is mean to Cody and thinks he is a dork. Maddie and London have to do a parenting project for school as partners.

Friday, June 2nd, 2006

15: The Suite Smell of Excess

Zack and Cody discover a machine of Arwin's creation that can transport people from one dimension to another. They hop in, and find themselves back at a mixed-up version of the Tipton Hotel; where London is a candy girl/babysitter, Maddie is an air-headed rich hotel heiress, and other personalities are switched.

Saturday, June 10th, 2006

16: Going for the Gold

Arwin could win a trophy and a kiss from Carey, if he ends up winning an annual competition for "Hotel Engineers"; in which the boys help Arwin train and compete. Maddie ends up getting hired by London to work at her new boutique.

Friday, June 30th, 2006

17: Boston Tea Party

Zack dreams that he has gone back in time to the Boston Tea Party with his family and friends, where an act of protest by Maddie inspires the him to launch a present-day battle to save a historical park in Boston that's being threatened to be demolished.

Friday, July 7th, 2006

18: Have a Nice Trip

A hotel guest trips on Zack's skateboard in the lobby. But when the boys find out that's he's lying in order to get free service, they come up with a plan in order to set things straight.

Saturday, July 15th, 2006

19: Ask Zack

Cody gets Zack a job at the school newspaper for the advice column since the previous person quits. When a girl he likes asks for advice, Zack tells her secretly to ask him out. So she does. But when she finds out about him giving the advice, Zack is in for a load of trouble. London can't sleep and Maddie, Mr. Moseby & Esteban try to help her sleep.

Friday, July 28th, 2006

20: That's So Suite Life of Hannah Montana (II)

Raven Baxter is stuck in Boston, where she has a vision that something bad will happen to Cody. After warning him, vaguely, he becomes paranoid. Meanwhile, Maddie tries to get London into wearing Raven's dress, but London is too stuck up to do so, until pop star Hannah Montana arrives at the Tipton, and wants to wear the dress herself.

Saturday, August 5th, 2006

21: What the Hey?

One of Cody's favorite bands is playing a concert at the mall. Cody is tempted to skip school with Zack and Bob, so he can see the band perform. Meanwhile, London meets her new young step-mother.

Friday, August 11th, 2006

22: A Midsummer's Nightmare

Zack and Cody's school is putting on the Shakespearean play, "A Midsummer Nights Dream", where Cody tries to keep a certain kiss involving his new girlfriend and Zack from happening, and Zack tries to get a girl. London uses the principles of feng shui as she redecorates the Tipton.

Saturday, August 19th, 2006

23: Lost in Translation

It's International Day at Zack and Cody's school and Zack decides to ask a guest named Kumiko, a Japanese opera singer, to be his project. After Zack loses Kumiko, Carey and the boys must fill in as Japanese singers for a convention being held at the Tipton. Meanwhile, Maddie and London get trapped in London's closet.

Friday, September 8th, 2006

24: Volley Dad

Cody, is having difficulty dealing with the fact that Carey has a new boyfriend. But, Zack and Kurt do not have a problem with him because he is rich. London joins Maddie's volleyball team and ends up being rather good- but only when she is mad.

Friday, September 22nd, 2006

25: Loosely Ballroom

Mr. Moseby schedules a ballroom dancing competition at the Tipton to help raise money for Esteban's sisters 'Sweet 15' party.

Friday, October 13th, 2006

26: Scary Movie

Zack convinces Cody, Jessica, and Janice to go see a scary movie, but when it's Zack who gets scared, Cody uses it to his advantage. Meanwhile, London likes a boy so she pretends to be poor for him to like her.

Friday, November 10th, 2006

27: Ah, Wilderness!

Zack and Cody join the Wilderness Scouts with their leader being Mr. Moseby. Cody becomes jealous when Zack turns out to be a better outdoorsman. Meanwhile, London claims that Maddie stole her former boyfriend and both plead Carey for advise on her "relaxing" day.

Friday, November 24th, 2006

28: Birdman of Boston

When a hawk comes and lays her egg Arwin scares it away and somebody has to take care of it. Cody agrees, and he does a good job at parenting. Maddie tries to protest about getting rid of the bird.

Friday, December 8th, 2006

29: Nurse Zack

Zack has to take on the responsibility of taking care of Carey and Cody due to them being ill. Cody uses his illness to his advantage by making Zack his servant. Meanwhile, Mr. Moseby makes an announcement about the "Employee of the Month" and it's employees compete for that title.

Sunday, January 7th, 2007

30: Club Twin

Zack and Cody convince Mr. Moseby to open a club for kids in the hotel's lounge in which they would manage. London has her own line of cosmetics in which she needs help coming up with a name for it.

Saturday, January 27th, 2007

31: Risk It All

The twins compete on a game show in which Cody does the mental challenges, while Zack has to do the physical challenges. Maddie mistakenly sends Mr. Moseby an angry e-mail which she tries to retrieve.

Friday, February 23rd, 2007

32: Nugget of History

Zack receives help for a history report from Mr. Moseby's grandmother, when she comes to visit. Meanwhile, Mr. Tipton forces London to get a job.

Friday, March 2nd, 2007

33: Miniature Golf

Zack and Cody go on a double date to a miniature golf course. Zack tries to impress his date, Ella, but things backfire on him. Cody and his date, Barbara Brownstein, have an intellectual attraction. London joins a bookclub with her rich friends much to Maddie's amazement. Carey tries to become a more healthy-living person.

Friday, March 16th, 2007

34: Health & Fitness

When the Tipton holds Health and Fitness week, everyone begins to examine their eating habits. Cody helps Chef Paolo in an attempt to lower his cholesterol, while Carey begins to limit Zack's sugar intake. Meanwhile, London and Maddie participate in a charity fashion show where they are both criticized about their looks, each taking drastic measures to change.

Friday, April 6th, 2007

35: Back in the Game

When a wheelchair basketball team visits the Tipton; Zack and Cody's basketball team plays an exhibition game against them. Meanwhile, Maddie is filming a movie for a student filming contest. She hires Lance, London and Mr. Moseby, but they're all terrible, so she has to figure out a way to make her movie a success.

Friday, April 20th, 2007

36: The Suite Life Goes Hollywood (1)

When Zack and Cody get discovered by talent scouts the Tipton staff goes to Hollywood to go watch a pilot of Zack and Cody's lives being filmed.

Friday, April 20th, 2007

37: The Suite Life Goes Hollywood (2)

Becoming Hollywood stars starts to go to the boys heads.

Friday, May 18th, 2007

38: I Want My Mummy

When Zack and Cody knock an ancient mummy over the balcony, Zack dresses Cody up to replace it for the exhibit. Esteban is scared of the curse of the mummy, so he and Maddie try to swap the mummy for Maddie's old doll.

Saturday, June 2nd, 2007

39: Aptitude

Zack and Cody are not happy about their career aptitude tests. London gets jealous of Maddie when she saves someone's life and gets on television.
Season 3
not specified

23:

Saturday, June 23rd, 2007

1: Graduation

Cody is graduating from 8th grade as class valedictorian. But Zack is horrified to learn that he has to attend summer school and tries to hide it from his parents. Meanwhile, Maddie becomes a camp counselor at a run down facility with less than ideal girls under her wing.

Saturday, June 30th, 2007

2: Summer of Our Discontent

Cody searches for a summer job, and finds a "help wanted" sign at the local mini-mart. When the owner realizes Cody is friends with London, he will only hire Cody if he will set him up on a date with her. Zack discovers he is the smartest student in his summer-school class, all the other kids make fun of him.

Sunday, July 8th, 2007

3: Sink or Swim

The tabloids report London doesn't know how to swim, so she takes swimming lessons. Zack has been offered to work at the hotel as a plumber or to work at a local market.

Friday, July 13th, 2007

4: Super Twins

Zack and Cody wish for superhero powers when they see a shooting star. Their wish comes true and they learn that Mr. Moseby is their villain, who wants to turn all kids into miniature adults.

Sunday, July 22nd, 2007

5: Who's the Boss?

Zack gets a job at the minimart, but has to deal with Cody bossing him around. Meanwhile, London doesn't know how to present Lance to her friends.

Sunday, July 22nd, 2007

6: Baggage

A competing minimart issues a competition to see who can bag items faster, Zack and Cody accept the challenge. Meanwhile, Mr. Moseby's niece Nia is goofing off with London.

Saturday, July 28th, 2007

7: Sleepover Suite

Zack and Cody rent out London's Suite while she is out of town so that Stacie, a cute girl from school can have a sleepover birthday party at the hotel.

Sunday, August 5th, 2007

8: The Arwin That Came to Dinner

When Zack and Cody invite Arwin over for dinner he won't seem to leave. Carey is getting annoyed at him so she forces Zack and Cody to make him go. Meanwhile, Lance dumps London and she wants to find a way to get back with him.

Sunday, August 12th, 2007

9: Lip Syncin' in the Rain

London (even though she can't sing or dance) gets the role of Sharpay in their school production of High School Musical instead of Maddie because Mr. Tipton is financing the director's play "Floss" on Broadway. Zack has to work backstage for detention and Cody gets the part of Troy.

Sunday, August 26th, 2007

10: First Day of High School

It's the first day of high school for Zack and Cody. For the first time, London has to attend public school.

Saturday, September 15th, 2007

11: Of Clocks and Contracts

Zack tries to negotiate a better contract for Carey as the Tipton's nightly singer. Nia and London both want Cody's help with their science projects.

Sunday, September 30th, 2007

12: Arwinstein

A monster-like robot is accidentally released into the hotel, due to the twins. A Halloween party is thrown by London. A typical prank.

Saturday, October 27th, 2007

13: Team Tipton

Maddie is back and is not getting along with Nia, while Estaban is not getting along with Patrick, and the rest of staff aren't getting along either. So, Mr. Moseby hires a professional to help the team get along. Meanwhile, when Zack causes some customers to leave, he and Cody schedule a bug convention at the Tipton to make it up to Mr. Moseby. However, due to his fear of bugs, he accidentally releases the bugs into the Tipton.

Saturday, November 10th, 2007

14: Orchestra

Cody Martin is currently with Barbara, during music class there is a famous Russian violinist Sergei, and he starts flirting with Barbara. When one of the classmates starts a rumor that Barbara and Sergei are moving back to Russia and are going to sell llamas, Cody gets extremely jealous.

Saturday, November 17th, 2007

15: A Tale of Two Houses

Zack and Cody each invite a girl over to their dad's empty apartment. Meanwhile, London teaches Esteban how to act rich because his family has seized power in his native country.

Saturday, December 15th, 2007

16: Tiptonline

Cody helps London with her online video website. Meanwhile, Zack and Mr. Moseby become addicted to a certain video game.

Friday, February 1st, 2008

17: Foiled Again

Tony Hawk checks into the Tipton; Maddie and London has a crush on their fencing instructor. While Zack and Cody are doing their science project, the problem is that Cody has a fear of germs, and when Zack makes a mistake when analyzing a germ from the kitchen and thinks it's a toxic type of black mold, the rumor spreads through the hotel and everyone starts panicking. Cody gets over his fear after he realizes that he can't go skateboarding with Tony Hawk wearing an anti-germs suit.

Saturday, April 19th, 2008

18: Romancing the Phone

Zack and Cody befriend Travis, a kid whom they rope into helping them impress their dates. They then bail on Travis and go out with their dates, but lets Travis go with the girls instead. Maddie finds a stranger's phone whom she thinks is her crush (because she and the stranger have many of the same interests, which she found out on the lost phone). At the end, the owner of the phone was an old man, but Maddie takes an interest in the old man's grandson.

Saturday, July 19th, 2008

19: Benchwarmers

Zack tries out for the high school basketball team but realizes there's some stiff competition, the kind he didn't face in middle school, and worse yet, the giant, in-your-face Coach Little (Michael Clarke Duncan). Meanwhile, when they're rejected as cheerleaders, Cody and London form their own cheerleading squad with the help of Mr. Moseby.

Saturday, August 9th, 2008

20: Doin' Time in Suite 2330

Maddie, Cody and Zack compete to get the best guest for London's online chat show. Luckily, The Cheetah Girls and Chris Brown are staying at the Tipton, but who will end up winning the competition?

Saturday, August 16th, 2008

21: Let Us Entertain You

The twins take their mother on a vacation aboard the S.S. Tipton. Unbeknownst to her, however, they fail to inform her that she is the ship's singer.

Monday, September 1st, 2008

22: Mr. Tipton Comes to Visit

Mr. Tipton comes to the hotel with the intention of firing someone.