update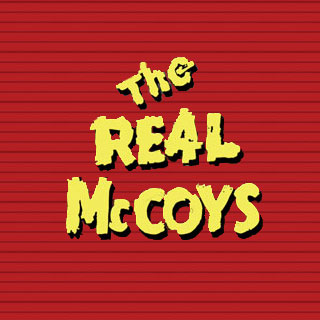 Season 0
Saturday, January 1st, 2000

1: The Real McCoys Reunion

Richard Crenna, Kathleen Nolan and Tony Martinez look back on the original series.
Season 1
Thursday, October 3rd, 1957

1: Californy, Here We Come

The McCoys move from Smokey Corners, West Virginia., to a ranch in Fernando Valley, Calif., which Grampa McCoy has inherited from his brother Ben. They have also inherited Pepino, a ranch hand, and they meet their neighbors, Flora and George MacMichael. But Grampa finds himself homesick for ""West Virginny.""

Thursday, October 10th, 1957

2: The Egg War

The McCoys start a roadside eggstand and, inadvertently, an egg war with neighbor Harry Poulson.

Thursday, October 17th, 1957

3: Kate's Dress

The male McCoys try to outwit the female members by using money in the cookie jar to buy a shotgun rather than a dress for Kate to attend the PTA meeting. When the men concede defeat and they buy Kate a dress, things get even worse. Fortunately, the PTA president is able to correct their choice of dress.

Thursday, October 24th, 1957

4: Grampa Sells His Gun

The McCoys find themselves in trouble when they need $150 to meet a mortgage payment. Checking through all their wordly goods, they discover their only valuable asset is a rifle handed down to Grampa by his great-grandfather. Grampa finally decides parting with his treasure is better than borrowing money from his neighbor George.

Thursday, October 31st, 1957

5: A Question of Discipline

Grampa McCoy takes over the supervision of Hassie and Little Luke when, after getting bad grades in school, Kate starts to discipline them. He soon learns it isn't as easy as he thought and is happy to turn the job back to Kate.

Thursday, November 7th, 1957

6: You Can't Cheat an Honest Man

Grampa thinks he's made a sharp business deal when he sells some useless farm land, until he finds out the freeway is going through that part of their land. Luke and Kate feel Grampa has been swindled -- but Grampa's native honesty saves the day for the McCoys.

Thursday, November 14th, 1957

7: Luke Gets His Freedom

When Grampa thinks Luke is being henpecked by Kate, Luke decides to prove him wrong—and ends up sleeping on the couch in the living room.

Thursday, November 21st, 1957

8: Grampa's Date

Luke and Kate urge Grampa to invite Flora MacMichael as his date to attend the Valley Ranchers annual fall dance and box supper. Grampa will have none of it until he hears that Flora is the best cook in the county.

Thursday, November 28th, 1957

9: The Fishing Contest

Grampa McCoy and his archrival George MacMichael enter a fishing contest. With the discovery that California fish are elusive if not intelligent, Grampa almost resorts to cheating.

Thursday, December 5th, 1957

10: It's a Woman's World

The McCoys' neighbor Mrs Webster asks their support in her race for a seat on the City Council, but Grampa feels women have no place in politics. When he learns it is necessary to read and write in order to vote, he tries various subterfuges to pass the reading test. His innate honesty prevails, and he also assists the neighbor in her political ambitions.

Thursday, December 12th, 1957

11: The Bigger They Are

Grampa's jealousy leads him to court and a confrontation with his romantic rival---the judge. Grampa finds a stranger beating his time with Flora and takes his revenge on Flora's apple tree. When Flora hauls him into court for refusing to pay damages, Grampa recognizes the judge as the ""stranger.""

Thursday, December 19th, 1957

12: Gambling Is a Sin

Grampa and Luke invite their minister to the house for dinner to help Kate get on a church committee. Before the minister shows up, Grampa has given a billboard salesman permission to use the barn roof for an advertisement for a gambling house in Las Vegas. Luke solves the dilemma by painting out some of the letters in the advertisement.

Thursday, December 26th, 1957

13: Let's Be Buddies

Grampa can't tolerate George's insincere method of gaining membership at the local lodge.

Thursday, January 2nd, 1958

14: Grampa and the Driver's License

Grampa doesn't want to admit that he needs glasses to pass the test for his California driver's license..

Thursday, January 9th, 1958

15: The Lady's Man

Luke becomes jealous when a photographer for a national magazine comes to their ranch to use Kate as a model and is over-attentive to Kate from Luke's viewpoint. Grampa eggs him on, and they are both humiliated when they learn the photographer is a happily married man. He tells Luke how lucky he is to have Kate for his wife.

Thursday, January 16th, 1958

16: Luke's Mother-in-Law

Mother Purvis comes for a visit, and Grampa warns Luke about mother-in-law trouble--but the trouble is for Kate.

Thursday, January 23rd, 1958

17: The Matchmaker

A hunting dog wanders onto the McCoy ranch, and when the owner, Joe Johnson, appears to claim him, Grampa tries to make a trade with him for the dog. Joe refuses until Grampa promises he will arrange a date for Joe with Flora MacMichael.

Thursday, January 30th, 1958

18: The Goodys Come to Town

The McCoys are visited by Frank Goody and his attractive daughter from Smokey Corners, West Virginia. When Elvira starts playing up to Luke, Kate becomes jealous.

Thursday, February 6th, 1958

19: Little Luke's Education

When Little Luke gets into a fight after classmates call him a ""hillbilly,"" the entire McCoy family becomes involved. Grampa finally sets things right when he is asked by the teacher to address the class, and he proceeds to tell them about the ""dumb hillbillies"" who helped build the country they are living in.

Thursday, February 13th, 1958

20: Time to Retire

When Luke and Kate learn mailman Mr. Perkins is retiring at the insistence of his children, they decide Grampa should take things easy. Grampa feels he is not needed on the ranch, and he pretends to be ill. The family decides he is not yet ready for retirement.

Thursday, February 20th, 1958

21: Grampa's Proposal

When Flora's old flame returns and proposes marriage to her, Grampa decides he better put in a proposal himself.

Thursday, February 27th, 1958

22: The Homeymoon

Grampa schemes to allow Luke and Kate a getaway to make up for their lost honeymoon, but it turns out to be everything but relaxing and private.

Thursday, March 6th, 1958

23: Once There was a Traveling Saleswoman

Luke gets swindled into buying a swimming pool from a beautiful saleswoman, but Grampa has a plan to void the contract without hurting Luke's bruised pride.

Thursday, March 13th, 1958

24: My Favorite Uncle

Everyone is thrilled when a rich uncle visits the McCoy's ranch for a short stay--except for Grampa, who has to share his bed with him.

Thursday, March 20th, 1958

25: Grampa's Brithday

Grampa's method of keeping a calendar is off by a day, and he thinks that everyone has forgotten his birthday.

Thursday, March 27th, 1958

26: New Doctor in Town

Grampa refuses to admit that the new doctor's treatment helped him get over a bad cold.

Thursday, April 3rd, 1958

27: For Love or Money

Pepino goes to work for George after Grampa refuses to give him a raise.

Thursday, April 10th, 1958

28: Kate's Career

Grampa won't tolerate Kate working at home as a dress maker--until the local shop owner riles him up by trying to put an end to her success.

Thursday, April 17th, 1958

29: When a Fellow Needs a Friend

Grampa mistakenly gets a parking ticket, and he decides to fight it in court--but when he needs character witnesses, even his own family has to consider all of the fibs and tall-tales that he has told over the years.

Thursday, April 24th, 1958

30: It Pays to Be Poor

A wealthy couple learns the joys of simple living from the McCoys.

Thursday, May 1st, 1958

31: The Life of the Party

Grampa thinks that he's the life of Kate and Luke's parties.

Thursday, May 8th, 1958

32: Three Is a Crowd

A marriage-minded widow is chasing George, and Grampa tries to put a stop to it.

Thursday, May 15th, 1958

33: The New Look

Grampa refuses to let go of his old-fashioned ways of farming after a new county farm agent offers to help Luke modernize the henhouse.

Thursday, May 22nd, 1958

34: Volunteer Fire Department

Grampa tries to join the volunteer fire brigade, but they refuse him.

Thursday, May 29th, 1958

35: You Can't Always Be a Hero

Grampa thinks he's the perfect role model for Little Luke--until the boy starts getting in trouble for telling fibs and using bad language.

Thursday, June 5th, 1958

36: The Homely Boy

The homeliest boy in class wants a date with Hassie, but she refuses.

Thursday, June 12th, 1958

37: Her Flaming Youth

Grampa comes to the rescue when an old photograph of Flora in a bathing suit gets people talking.

Thursday, June 19th, 1958

38: The Corn Eating Contest

There's more than just pride riding on a McCoy in the school's eating contest--Grampa has bet Kate's prized laying hen that Little Luke will win.

Thursday, June 26th, 1958

39: You're Never Too Old

Luke and Kate join a young people's recreation group and suggest Grampa join the ""Young Old Timers."" He refuses, saying they are all old fuddy-duddies with no family interests. After consistently being left alone, he finally decides to investigate the old-timers group and is acclaimed by them as an artist at whittling.
Season 2
Thursday, October 2nd, 1958

1: The New Car

Luke and Kate decide the McCoys should have a new car and trade in their old Ford. When Grampa learns of the transaction, he's heartbroken at losing a ""member of the family"" and tries to get it back. Flora MacMichael, knowing how Grampa feels about the old car, has bought it from the junk man and returns it to Grampa.

Thursday, October 9th, 1958

2: Grampa Learns About Teenagers

Grampa is upset when he finds Hassie learning to dance to rock and roll music and using makeup in order to attract the attention of Tommy, the most popular boy in her class. When Kate convinces Grampa his ideas are old-fashioned, he and Luke decide to assist Hassie in her conquest.

Thursday, October 16th, 1958

3: Blow the House Down

Grampa has a scheme to get Little Luke a place in the school band.

Thursday, October 23rd, 1958

4: The Dancin' Fool

When Kate is unsuccessful in trying to teach Luke to dance, she finally talks him into taking dancing lessons, much to Grampa's disgust. When Kate discovers the dancing teacher is a very attractive young lady, she becomes jealous.

Thursday, October 30th, 1958

5: The New Well

Luke goes over Grampa's head when he hires a geologist to locate and drill the new well.

Tuesday, November 4th, 1958

6: The New Dog

Grampa becomes involved with a couple of con men over a dog. He realizes they are trying to cheat him, and with the help of George MacMichael, they turn the tables on the crooks. Meanwhile, the entire McCoy family has become so attached to the dog, Mac, he becomes a member of the family.

Thursday, November 13th, 1958

7: Sing for Your Supper

Luke decides to prove to the family that he can really sing by entering a talent show being broadcast on the radio.

Thursday, November 20th, 1958

8: Do You Kiss Your Wife?

Luke and Kate have a spat when Luke and Grampa show their disgust for public kissing by the Emerys, who have been married over five years. It takes Grampa to clear up the situation by explaining that there's a time and place for kissing, and that a public display of affection doesn't necessarily denote love.

Thursday, November 27th, 1958

9: The Perfect Swine

Grampa schemes at the county fair by a passing off a prized pig as his own.

Thursday, December 4th, 1958

10: Leave It to the Girls

Grampa tries to teach Tommy the way to handle women, and starts a war of the sexes in the McCoy household that threatens to ruin the upcoming dance for everyone.

Thursday, December 11th, 1958

11: The Gift

George gives Kate an old vacuum cleaner--and Grampa is insulted by the act of charity.

Thursday, December 18th, 1958

12: The New Hired Hand

Pepino goes out of his way to hire what he thinks will be a weaker co-worker so that he won't have any competition.

Thursday, December 25th, 1958

13: The New Neighbors

Kate likes the new neighbors, but Grampa insists that they are snobs.

Thursday, January 1st, 1959

14: Luke Gets a Job

Luke gets a job as a shoe salesman--and Grampa disapproves.

Thursday, January 8th, 1959

15: The McCoys Visit Hollywood

Grampa is worried that Kate will become disillusioned with farm life after they visit her old friend in Hollywood.

Thursday, January 15th, 1959

16: The Bank Loan

The McCoys have a chance for a bank loan--until Grampa almost ruins everything.

Thursday, January 22nd, 1959

17: The Great Discovery

Luke digs up a valuable prehistoric bone--and the trouble begins.

Thursday, January 29th, 1959

18: Son of the Mystic Nile

A McCoy receives honors from the lodge--but it's Luke, and not Grampa.

Thursday, February 5th, 1959

19: Kate Learns to Drive

Grampa refuses to give Kate driving lessons, but Luke gives in to her request.

Thursday, February 12th, 1959

20: Grampa's Private War

Grampa delights in telling about his war adventures--until the truth comes to light.

Thursday, February 19th, 1959

21: The Rainmaker

Grampa does everything he can to put an end to the drought--including a rain dance with an Indian.

Thursday, February 26th, 1959

22: The Perfect Houseguest

The McCoys all think that George is wonderful houseguest--except for Grampa.

Thursday, March 5th, 1959

23: The Wedding

The McCoy household is worried that Kate's widowed mom has been swindled into marrying a man who is really after her $40 a month income.

Thursday, March 12th, 1959

24: Kate's Diet

Kate is worried about her weight, so Luke tries to ease her mind by altering her dress.

Thursday, March 19th, 1959

25: What's a Family For?

Grampa thinks he's doing the right thing by escorting Hassie to the local hang-out for teenagers.

Thursday, March 26th, 1959

26: Grampa Takes the Primrose Path

A young widow invites Grampa out, causing him to forget about his date with Flora.

Thursday, April 2nd, 1959

27: Batter Up!

Grampa talks Luke into becoming a little league coach.

Thursday, April 9th, 1959

28: Sweet Fifteen

Hassie thinks her family and friends are indifferent to her upcoming birthday, unaware that Grampa is secretly organizing a surprise party.

Thursday, April 16th, 1959

29: Go Fight City Hall

Grampa becomes a civil disobedience hero when he threatens to bypass the county road commissioner's rules and repair a pothole himself.

Thursday, April 23rd, 1959

30: Two's Company

Luke and Grampa's nightly checkers games leads Kate to feel like she is being neglected.

Thursday, April 30th, 1959

31: The Tax Man Cometh

Grampa puts on a show to convince the tax man that he is poor--and the neighbors believe it as well.

Thursday, May 7th, 1959

32: The Mrs. Homemaker Contest

Kate is in line to win the homemaker contest, but Grampa has his eyes on the prize.

Thursday, May 14th, 1959

33: The Insurance Policy

Grampa's latest scheme backfires when he witholds an insurance payment.

Thursday, May 21st, 1959

34: How to Paint a House

The McCoys are swindled by a shady paint salesman.

Thursday, May 28th, 1959

35: The Great Woodsman

Grampa senses an opportunity to discredit Little Luke's new hero when the former city-dweller takes the neighborhood boys on a nature hike.

Thursday, June 4th, 1959

36: The Big Skeet Shoot

Luke aims to raise his standing with Little Luke by beating Grampa in the annual skeet competition.

Thursday, June 11th, 1959

37: Grampa's New Job

Grampa doesn't let his lack of reading ability to get in the way of getting hired for a new job that requires answering mail.

Thursday, June 18th, 1959

38: The Actor

A visitor trips on a post hole, and uses his acting skills to trick the McCoys into letting him have a long stay.

Thursday, June 25th, 1959

39: Fire When Ready, Grampa

Little Luke loses the church money he has raised to a carnival shyster, and Grampa has a scheme to get it back.
Season 3
Thursday, July 16th, 1959

1: The Farmer Took a Wife

Kate's "pickle-brained" ex-boyfriend visits the McCoys with his new bride, and Luke is envious of the old flame's unlikely success in the business world.

Thursday, July 23rd, 1959

2: The Game Warden

Grampa doesn't take George seriously as the new game warden--until he is issued a summons for hunting pheasant in the off-season.

Thursday, July 30th, 1959

3: The Screen Test

The McCoy household dips into their meager savings to pay for Hassie's screen test.

Thursday, August 6th, 1959

4: Work No More, My Lady

After feeling unappreciated by the McCoy household, especially when it comes to her cooking, Kate undertakes some extreme measures to get their attentions.

Thursday, August 13th, 1959

5: The Garden Club

Kate would love to get an invitation to the garden club--and Grampa schemes to get her one.

Thursday, August 27th, 1959

6: The Weaker Sex?

Grampa is thrilled to have a new neighbor--a single, middle-aged lady--until she outdoes Grampa in everything from farming to pitching horseshoes.

Thursday, September 3rd, 1959

7: The Fighter and the Lady

Luke gets tricked into stepping into the ring with a professional boxer, but Kate won't stand for it. With the McCoys' pride and $100 at stake, Grampa decides to take matters into his own hands.

Thursday, September 10th, 1959

8: The Gas Station

Grampa takes a job at George's gas station, which leads to nothing but trouble.

Thursday, September 17th, 1959

9: Grampa Fights the Air Force

Grampa sneaks into an Air Force base to complain about the low-flying jets that have been disturbing the farm.

Thursday, September 24th, 1959

10: The Girls at Mom's Place

Grampa sends Luke out to sell farm produce, but Luke winds up lending the goods to a struggling cafe owned by a widow and her lovely daughter. Kate is suspicious that something more might be going on, while Grampa sets out to either collect the cash or take back the produce.LESS

Thursday, October 8th, 1959

11: The Politician

The McCoys are proud to receive a visit from a politician who campaigns on behalf of the farmers, but they soon realize that nothing seems to be adding up right for the candidate.

Thursday, October 15th, 1959

12: Pepino Takes a Bride

Grampa thinks that Pepino would work harder if he was a married man, so he convinces the farmhand to marry his latest girlfriend--but Grampa has to turn his scheme around when he finds out that Pepino would have leave the farm to provide the bride-to-be's expected lifestyle.

Thursday, October 22nd, 1959

13: Hot Rod

Grampa thinks that he's discovered a shortcut into town, but it's actually a drag strip for the local hot rod club.

Thursday, November 5th, 1959

14: The Ghostbreakers

Little Luke is terrified when he has to explore the local haunted house as a club initiation, so Grampa and Luke try to convince him that there's no such thing as ghosts.

Thursday, November 12th, 1959

15: The Marriage Broker

Grampa has a scheme to prevent Sam from being deported: a quick marriage to Aggie.

Thursday, November 19th, 1959

16: How to Build a Boat

Hassie has unexpected competition for her new boyfriend--Grampa and Luke need him to help build their boat from blueprints.

Thursday, November 26th, 1959

17: The Artist

Grampa has a scheme to get rich after the junkman buys one of George's paintings for $20--until he finds out why the junkman wanted it.

Thursday, December 3rd, 1959

18: The Perfume Salesman

Luke comes up with a new scheme for making money--selling perfume to sweeten barns.

Thursday, December 10th, 1959

19: The Television Set

Luke promises Kate and the kids that he'll buy a used television set, but Grampa has already committed the cookie jar money to buy an electric saw.

Thursday, December 17th, 1959

20: The Lawsuit

George drives into a ditch on the McCoys' property, breaking their water pipe in the process. Grampa claims he posted a warning sign, but George claims there was no sign. A lawsuit ensues.

Thursday, December 24th, 1959

21: The Town Councilman

Grampa manages George's campaign for town councilman, but trouble ensues when he starts favoring the opposition.

Thursday, January 7th, 1960

22: Cousin Naomi

George's cousin stays at the McCoy's farm, and proceeds to take over the house.

Thursday, January 28th, 1960

23: The Bowling Champ

Luke is headed for the gutter after Kate finds him bowling with a pretty girl.

Thursday, February 4th, 1960

24: The Talk of the Town

Grampa has mixed emotions after Little Luke wins a prize by writing an essay about him.

Thursday, February 11th, 1960

25: Once There Was a Man

Luke tries to put some backbone into his henpecked cousin.

Thursday, February 18th, 1960

26: Weekend in Los Angeles

The McCoys are excited to stay at a posh Los Angeles hotel for the annual Sons of the Mystic Nile convention. Unfortunately, Grampa finds out that the lodge is planning to introduce mandatory retirement for its older officers, and Kate has to worry about Luke and the bathing beauties at the pool.LESS

Thursday, March 3rd, 1960

27: First Date

Little Luke gets a lot of ribbing from his friends after he draws Agnes' name as his partner, and schemes to take another girl to the school dance. But, Grampa and Luke have schemes of their own to convince the boy to play by the rules.

Thursday, March 10th, 1960

28: How To Discover Oil

Grampa and George make a friendly swap of a couple of small plots, but begin scheming against each other after they separately discover oil on the land they previously owned.

Thursday, March 17th, 1960

29: A House Divided

Once again, Kate and Grampa argue about how to raise the youngsters of the family.

Thursday, August 4th, 1960

30: Foreman of the Jury

Grampa thinks that his court case against the telephone company will be a sure victory after he finds out that George is the jury foreman.

Thursday, August 11th, 1960

31: One for the Money

Little Luke does amazingly well after he starts delivering newspapers, but the rest of the family is even more astonished when the boy refuses to add his money to the McCoy cookie jar.

Thursday, August 18th, 1960

32: That Was No Lady

Kate defies Luke and Grampa to wear a new strapless dress to the Grange dance.

Thursday, August 25th, 1960

33: The Tycoon

The local farmers form a co-op and decide to raise the prices of their eggs by holding on to them--but Grampa sees it as an opportunity to get rich by underselling his half of the McCoy's eggs to willing customers.

Thursday, September 1st, 1960

34: Where There's a Will

Grampa misunderstands why a couple of antique dealers paid a good price for some old furniture left to him by a late family member, and decides he can get rich by buying junk furniture and auctioning it off.

Thursday, September 8th, 1960

35: The Jinx

Kate refuses to believe that a visiting cousin is really the family jinx, despite Luke and Grampa's warnings.

Thursday, September 15th, 1960

36: The Delagates

Grampa proves to be a better schemer after he gets more votes than George to be a lodge delegate--but then Grampa finds out that he can't afford the trip to the convention in San Francisco.

Thursday, September 22nd, 1960

37: The Gigolo

An elderly financier decides to foreclose the mortgage she holds on the McCoy's farm, and Grampa can think of only one way to save the family's home--by marrying the lonely spinster.

Thursday, September 29th, 1960

38: Teenage Wedding

Much to everyone's dismay, Hassie and her latest boyfriend have decided to get married, and Grampa has his own scheme to solve the problem.

Thursday, October 6th, 1960

39: McCoys, Ahoy

After a destroyer with historical ties to West Virgina is slated to be junked by the navy, Grampa takes matters into his own hands to save the ship from the scrap heap.
Season 4
Thursday, October 13th, 1960

1: Beware a Smart Woman

Kate goes back to school--but learns the most valuable lesson from Grampa.

Thursday, October 20th, 1960

2: Excutive Wife

Things aren't so sweet between Kate and Luke after a company patents her preserves recipe.

Thursday, October 27th, 1960

3: Pepino McCoy

Unknown to the McCoys, Pepino moonlights as a night-club singer.

Thursday, November 10th, 1960

4: Father and Son Day

Little Luke thinks that he doesn't have a sporting chance with Grampa as his relay-race partner.

Thursday, November 17th, 1960

5: Farmer or Scientist

Little Luke plants the seeds of trouble when he tells the McCoy household that he'd rather be a scientist than a farmer.

Thursday, November 24th, 1960

6: The New Librarian

The rivalry between Grampa and George flares up again with the arrival of a pretty librarian.

Thursday, December 1st, 1960

7: Smothered in Love

Grampa gets fed up with the family's constant pampering.

Thursday, December 8th, 1960

8: Baldy (a.k.a.) Luke's Hair Problem

Luke becomes frantic when he realizes that his green thumb doesn't work for what grows on top of his head.

Thursday, December 15th, 1960

9: The Hermit

Grampa takes on a scavenger hermit who is camping on the McCoy's land.

Thursday, December 22nd, 1960

10: The Legacy

The McCoys are surprised to find out that George makes no mention of Grampa in his will.

Thursday, January 12th, 1961

11: A Bundle from Japan

The McCoys hire Nikko, a Japanese girl, to help around the house.

Thursday, January 19th, 1961

12: The Horse Expert

Grampa has no choice but to accept a horse as payment on a loan.

Thursday, January 26th, 1961

13: The City Boy

Problems arise when the McCoys take in a city boy and try to fit him into their style of living.

Thursday, February 2nd, 1961

14: The Investors

Cousin Claude talks Grampa into investing in an oil well.

Thursday, February 9th, 1961

15: If You Can't Lick 'Em

Things backfire on Grampa when he schemes against a fellow fruit-stand operator.

Thursday, February 16th, 1961

16: The Rival

Kate seems to be having too good of a time in Bakersfield, much to Luke's dismay.

Thursday, February 23rd, 1961

17: The Good Neighbor Policy

Grampa feels the pain when George tries to collect on the McCoy's insurance policy after an accident.

Thursday, March 2nd, 1961

18: You Can't Beat the Army

Grampa battles the U.S. Army after they take one of his cows.

Thursday, March 9th, 1961

19: The Bazaar

Rivalry insues when Luke and Grampa set up competing booths at the PTA bazaar.

Thursday, March 16th, 1961

20: The Swedish Girl

The McCoys hire a beautiful housekeeper in Kate's absence, leading to widespread gossip.

Thursday, March 23rd, 1961

21: The New Sunday School Teacher

Grampa has to teach Sunday school class after a failed scheme against the pastor.

Thursday, March 30th, 1961

22: Baseball vs. Love

Little Luke makes a few errors with his new girlfriend.

Thursday, April 6th, 1961

23: Theatre in the Barn

Grampa schemes against George after losing a role in the Grange play.

Thursday, April 13th, 1961

24: George Retires

Grampa plots to keep George on his farm after retirement.

Thursday, April 27th, 1961

25: Pepino's Wedding

Pepino questions how to pay for his wedding, and Grampa has the answer.

Thursday, May 4th, 1961

26: Sorority Girl

Hassie does more than her best to convince a sorority that she shouldn't be overlooked for membership.

Thursday, May 11th, 1961

27: Kate Comes Home

Kate comes home from the hospital, and tries to jump back into her household chores despite everyone's objections.

Thursday, May 18th, 1961

28: Money in the Bank

Grampa is convinced to stop using his cookie jar and to start putting the McCoy funds into the bank instead.

Thursday, May 25th, 1961

29: A Man of Influence (a.k.a.) Amos McCoy, Leading Citizen]

A civic group has their hands full after they try to fool Grampa.

Thursday, July 27th, 1961

30: Back to West Virginny

The McCoys fly back to West Virginia to celebrate Great-Grandma's 100th birthday.

Thursday, August 3rd, 1961

31: Fly Away Home

Grampa causes trouble for his relatives in West Virginia when he holds up a proposed plant expansion.

Thursday, August 10th, 1961

32: September Song

Grampa feels like he is young again when he encounters an old sweetheart.

Thursday, August 17th, 1961

33: Kate's Competition

Kate gets the wrong idea after Luke is complimentary about a new female neighbor's cooking skills.

Thursday, August 24th, 1961

34: Lost and Found

Grampa is astonished when $200 falls mysteriously right out of the sky.

Thursday, August 31st, 1961

35: First Love

Little Luke thinks he is a knockout with his female classmates.

Thursday, September 7th, 1961

36: Hassie's European Trip

The McCoy's wealthy neighbors invite Hassie along for a trip abroad, but Grampa is obstinate.

Thursday, September 14th, 1961

37: How to Win Friends

Luke thinks his rural accent is holding him back, and takes elocution lessons.

Thursday, September 21st, 1961

38: The Matador

A matador convinces Pepino that he was meant to be a bullfighter, but Grampa doesn't agree.

Thursday, September 28th, 1961

39: George's Housekeeper

George's new housekeeper steals his heart.
Season 5
Thursday, October 5th, 1961

1: Excess Baggage

Grampa's mouth doesn't go well with his new job as a salesman, and almost leads him to bankruptcy.

Thursday, October 12th, 1961

2: The Trailor Camp

Trouble ensues on the McCoy's property when Luke allows to a man to park his trailer on it.

Thursday, October 19th, 1961

3: Luke Leaves Home

Luke is concerned when Grampa uses his nose to decide which crops will be planted.

Thursday, October 26th, 1961

4: The New Piano

Hassie gets a new piano as a result of Grampa's sharp wheeling and dealing.

Thursday, November 2nd, 1961

5: The Handsome Salesman

Kate spends $46 on cosmetics when she falls for a slick salesman's pitch.

Thursday, November 9th, 1961

6: Honesty Is the Best Policy

Kate wants Grampa to lower the rental fee of his fruit stand.

Thursday, November 16th, 1961

7: Cyrano McCoy

Grampa decides that George needs lessons in the McCoy style of courtship techniques.

Thursday, November 23rd, 1961

8: The Diamond Ring

An ailing Kate is having a bad Christmas, until Luke presents a diamond ring.

Thursday, November 30th, 1961

9: The Berry Crisis

Luke finds out the hard way about what it takes to run the farm when a swindler gets the best of him.

Thursday, December 7th, 1961

10: The Rich Boy

Trouble ensues when Grampa meets Randy, Hassie's rich boyfriend.

Thursday, December 14th, 1961

11: The Gamblers

The McCoys get a hot stock-market tip, but Grampa stubbornly refuses to invest.

Thursday, December 21st, 1961

12: The Marriage Counselor

Kate's visit to a marriage counselor upsets the McCoy household.

Thursday, January 11th, 1962

13: The Washing Machine

The household snubs Grampa when he refuses to buy a new washing machine for Kate.

Thursday, January 18th, 1962

14: Pepino McCoy, Citizen

Pepino prepares to take his citizenship test.

Thursday, January 25th, 1962

15: Meeting Hassie's Friends

Hassie's hip friends ridicule Grampa.

Thursday, February 1st, 1962

16: The Law and Mr. McCoy

Grampa goes to jail for burning trash.

Thursday, February 8th, 1962

17: George's Nephew

George's nephew comes to visit before joining the Navy. It's not long before he's trapped in a web of lies.

Thursday, February 22nd, 1962

19: Made in Italy

Pepino falls in love with a beautiful Italian girl named Carla.

Thursday, March 1st, 1962

20: Who's Margie?

Kate becomes suspicious of Luke after she hears him muttering about his love for an unknown Margie in his sleep.

Thursday, March 8th, 1962

21: You're as Young as You Feel

Grampa believes he's 7 years younger when he gets a letter from the government mistakenly stating his age as 61.

Thursday, March 15th, 1962

18: Double Date

Flora becomes fed up with Amos when he cancels their date in favor of going out with a more attractive woman.

Thursday, March 22nd, 1962

22: In Grampa We Trust

Trouble crops up when Luke takes charge of George's fruit stand.

Thursday, March 29th, 1962

23: Never a Lender Be

Amos and George have a falling out over the true ownership of a plant sprayer they've been lending back and forth to each other for years.

Thursday, April 5th, 1962

24: Allergies Anonymous

George reacts wildly to Grampa's checkerboard: he's allergic to it.

Thursday, April 12th, 1962

25: Pepino's Fortune

When Grandpa is entrusted with $100 belonging to Pepino, he can't resist the temptation to settle a few of the McCoy's past due bills. Luke and Kate berate him for violating his trust. Then an unexpected liquid asset turns to straighten things out.

Thursday, April 19th, 1962

26: Pepino's Vacation

Pepino becomes suspicious when Grampa offers him a two-week paid vacation.

Thursday, April 26th, 1962

27: Bubble, Bubble, Toil and Trouble

Pepino hires the Owl Woman to make a love potion; Grampa thinks he's being hoodwinked and interferes, prompting the woman to put a curse on the farm.

Thursday, May 3rd, 1962

28: Don't Judge a Book

Grampa believes Cousin Sarah needs help with her marriage.

Thursday, May 10th, 1962

29: The Raffle Ticket

When Grampa and George win a baby pig in a raffle, Kate, Luke and Pepino want to keep it as a pet, but Grampa and George are thinking more along the lines of lunch.
Season 6
Sunday, September 30th, 1962

1: Grampa Pygmalion

Grandpa arranges for Tilda Hicks from Smokey Corners to join the McCoy family as housekeeper, and she immediately sets her cap for widower Luke McCoy. The arrangement proves highly successful until Tilda attends the neighborhood dance with Luke and scores an immediate hit with the local masculine populace.

Sunday, October 7th, 1962

2: Three Strikes and Out

Grandpa becomes romantically entangled with three matrimonially inclined widows when he encourages their interest just enough to promote some free housecleaning chores and a few well-laundered shirts. Luke and Pepino take a dim view of his scheme when it becomes apparent that the three marriage-minded women are literally doing all the McCoy housework in separate shifts.

Sunday, October 14th, 1962

3: Army Reunion

George MacMichael's big moment during his election as commander of the local VFW post is shattered when Grandpa brings to the ceremonies three of George's buddies who know the real story of his ""heroic"" battlefield actions.

Sunday, October 21st, 1962

4: The Roofing Salesman

The wiles of a smooth-talking saleswoman embroil Luke in a roofing paint swindle that involves several of the McCoys' neighbors. Luke soon finds himself in such an embarrassing predicament that he needs the help of Grandpa to rescue him from it.

Sunday, October 28th, 1962

5: The Good Will Tour

Grandpa becomes involved with diplomatic relations and the U.S. State Department when a foreign nation's farm tour visits neighbor George's ranch and Grandpa pursuades the group to detour by the McCoy farm. At first it appears Grandpa has committed a colossal faux pas, but his apparent blundering develops unexpected consequences.

Sunday, November 4th, 1962

6: Money From Heaven

Grandpa thinks he has discovered a gold mine in the sky when an Army paratrooper lands with destructive force on a dilapidated chicken coop that was already marked for the scrap heap. When an Army captain arrives to assess the damages, Grandpa paints a black picture. Luke, however, takes a dim view of Grandpa's shenanigans and bluntly tells him so.

Sunday, November 11th, 1962

7: Actress in the House

Taina Engstrom, a Hollywood actress escaping from her hectic existence, finds peace and quiet at the McCoy farm and discovers that Luke has developed a strong attachment to her. Grandpa grasps the true situation and plans, with Tiana, to prevent Luke from receiving a major disappointment.

Sunday, November 18th, 1962

8: The New Housekeeper

Grandpa proves an easy target for Mrs. Gaylord, an ambitious housekeeper who hopes her new position in the McCoy household may lead to a more permanent position for her unmarried daughter. The daughter, Mary, turns out to be an extremely healthy specimen who immediately makes a play for Luke.

Sunday, November 25th, 1962

9: Pepino's Inheritance

Grandpa and Luke are left with an unproductive hired helper when Pepino apparently inherits a valuable Arizona estate. He warms up his romance with an old girlfriend and brings a flood of salesmen to his doorstep.

Sunday, December 2nd, 1962

10: The Girl Veterinarian

Afraid that Grandpa will disapprove, Luke pretends that the girl veterinarian secretly treating their ailing cow is one of his new girlfriends. When Grandpa learns that Luke's ""romance"" is actually only trying to cure Agnes, the sick cow, he explodes, ordering the girl off his property.

Sunday, December 9th, 1962

11: The Health Addict

Luke lands the enjoyable job of teaching calisthenics at a ladies' health club. Grandpa decides that Luke's presence there may attract some business for the McCoy roadside fruit stand. Grandpa then surreptitiously tempts the dieting health club enrollees with a variety of tasty fruit products, thus undermining the efforts of unsuspecting Luke.

Sunday, December 16th, 1962

12: The Love Bug Bites Pepino

Grandpa and George take turns at playing Cupid when their respective farmhands, Pepino and Pedro, find themselves competing for the same girl. Grandpa steps into the romantic triangle because it turns out that Pepino's working efficiency suffers as he loses favor with his girlfriend, Chiquita.

Sunday, December 23rd, 1962

13: Luke the Reporter

Luke feels he has discovered a new source of income when he reports the gossip he overhears at the laundromat to the reporter of the local newspaper and is paid for the items. He runs into trouble with Pat Clemens, who runs a local gas station, when he reports that Pat is getting married.

Sunday, December 30th, 1962

14: The Farmer and Adele

A winsome dance instructor tricks Luke into signing up for a 20-year dance course. It is up to Grandpa to rescue him from this embarrassing situation with a devious plan that involves Grandpa's signing up for the course, too. He also saves George, who likewise was tricked into taking the course.

Sunday, January 6th, 1963

15: The Crop Duster

Luke gets a hair-raising ride in an airplane that leaves him dizzy when he tangles with a crop duster over the affections of a wealthy girl from Texas, and winds up on the short end.

Sunday, January 13th, 1963

16: Cupid Wore a Tail

Luke discovers a new romance when he meets an attractive widow, Louise Howard, after her runaway cow tramples the McCoy cornfield. Grandpa connives to promote a romance between Luke and Louise in a most surprising way.

Sunday, January 20th, 1963

17: The Other Side of the Fence

Grampa picks a peck of trouble when he helps Louise harvest her tomato crop.

Sunday, January 27th, 1963

18: Sir Fergus McCoy

Grandpa bristles at Sir Fergus, head of the Scottish branch of the McCoy family, when he arrives and proceeds to exercise all the authority of the Laird of the Clan. Grandpa's anger erupts when Sir Fergus extends his influence to Grandpa's pet goose, Floyd. Grandpa begins one of his devious plots to oust the Scotch usurper from his position of power.

Sunday, February 3rd, 1963

19: The Little Boy Blew

Greg runs away from home when his widowed mom, Louise, decides to move to Cleveland and remarry.

Sunday, February 10th, 1963

20: Luke in the Ivy League

Luke joins the city slickers in his new job as a slogan writer for an advertising agency.

Sunday, February 17th, 1963

21: Aunt Win Arrives

Aunt Win uses feminine trickery during Grampa's campaign to be elected grange president.

Sunday, February 24th, 1963

22: Aunt Win's Conquest

George loans Luke some money - thanks to the charms of Aunt Win.

Sunday, March 3rd, 1963

23: Grampa Apron Strings

Grampa's afraid of Luke getting married, and thus, leaving the farm.

Sunday, March 10th, 1963

24: Aunt Win Steps In

Aunt Win sorts through a variety of single townsfolk, in order to find a suitable husband for Louise.

Sunday, March 17th, 1963

25: How're You Gonna Keep 'Em Down on the Farm?

Luke and Louise feel they have a real problem with Greg, who is addicted to telling fantastic stories about imaginable playmates and people. When they return home from a day's outing, after leaving Greg with Pepino, he tells them three escaped convicts had been captured by the police at their home, and they decide it is just another one of his tall tales.

Sunday, March 24th, 1963

26: Luke the Dog Catcher

Luke takes a temporary job as Dogcatcher and winds up with a houseful of homeless pups.

Sunday, March 31st, 1963

27: The Incorruptibles

George, Grampa, and Luke judge a homemaking contest, but the fix might be in.

Sunday, April 7th, 1963

28: The McCoy Hex

George is doomed after Grampa curses him with the McCoy Hex.

Sunday, April 14th, 1963

29: Skeleton in the Closet

Luke's boorish Uncle Rightly drops in for a surprise visit, while Grampa is out-of-town.

Sunday, April 21st, 1963

30: Uncle Rightly and the Musical Milker

Uncle Rightly McCoy starts courting Flora, hoping she will finance his musical milker. When Luke informs George that Uncle Rightly is only interested in Flora's money, they decide to step in and break up the romance. Their scheme doesn't quite work out as they had planned.

Sunday, April 28th, 1963

31: Up to Their Ears in Corn

Luke is horrified when Uncle Rightly promotes a corn growing contest at the Grange and is so carried away he volunteers a $500 award to the winner in Grandpa and Luke's name. When Luke learns Uncle Rightly doesn't have the $500, it becomes a major problem of raising the money and saving face with the Grange members, but Rightly solves the problem in an unusual way and comes up with the prize money.

Sunday, May 5th, 1963

32: The McCoy Sound

While Grampa's out-of-town, Luke takes in a few jazz musicians as boarders, which results in much loss of sleep for Luke and Pepino.

Sunday, May 12th, 1963

33: Luke Grows a Beard

Luke grows a full beard and a new rotten personality to go with it.

Sunday, May 19th, 1963

34: The Auction

Luke blows Grampa's tractor payment on some worthless art at an auction.

Sunday, May 26th, 1963

35: The Partners

Luke and Pat buy a boat. Sharing isn't easy.

Sunday, June 2nd, 1963

36: The Peacemakers

Luke and Louise soon regret meddling in the Porters' squabble. Now they're at each other's throat.

Sunday, June 9th, 1963

37: Don't Be Nosey

Luke and Pepino regret trying to patch things up between George and his sister, Flora.

Sunday, June 16th, 1963

38: Pals

Luke runs smack into trouble when Greg spots him kissing his mother, Louise.

Sunday, June 23rd, 1963

39: Pepino's Mama

Luke schemes to get rich by selling Mama Garcia's bean sauce.