update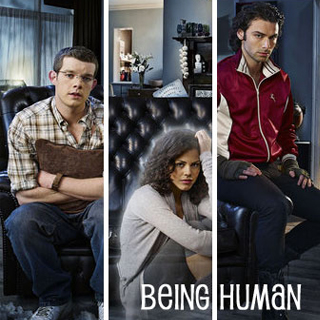 Season 0
Monday, February 18th, 2008

1: Pilot

Contemporary supernatural drama about George and Mitchell, a pair of perennial outsiders. Working in the anonymous drudgery of the local hospital, they live lives of quiet desperation - because Mitchell is a vampire and George is a werewolf. Deciding to turn over a new leaf, they move into a house together, only to find that it is haunted by Annie, the ghost of a woman killed in mysterious circumstances. As a threesome, they deal with the challenges of being supernatural creatures, bonded by their desire to adopt the lifestyle of their neighbours - humanity. Pilot Episode cast differs from series 1: Guy Flanagan, Russell Tovey (remains in Series 1), Andrea Riseborough, Claire Foy, Dominique McElligott, Dylan Brown

Saturday, December 20th, 2008

4: George's Prequel

Saturday, December 20th, 2008

5: Mitchell's Prequel

Saturday, December 20th, 2008

3: Annie's Prequel

Saturday, March 28th, 2009

2: Being Human Unearthed

Actors Aidan Turner, Russell Tovey and Lenora Crichlow reveal how they brought the much loved housemates to life and we talk to Jason Watkins about the influences behind vampire leader, Herrick. Annabel Scholey and Sinead Keenan give their thoughts on characters Lauren and Nina, and creator Toby Whithouse shares his insights on the recent series and teases what's round the corner.

Thursday, December 17th, 2009

6: Ivan and Daisy's Prequel

Sunday, January 30th, 2011

7: Becoming Human: Episode 1

Sunday, February 6th, 2011

8: Becoming Human: Episode 2

Sunday, February 13th, 2011

9: Becoming Human: Episode 3

Sunday, February 20th, 2011

10: Becoming Human: Episode 4

Sunday, February 27th, 2011

11: Becoming Human: Episode 5

Sunday, March 6th, 2011

12: Becoming Human: Episode 6

Sunday, March 13th, 2011

13: Becoming Human: Episode 7

Sunday, March 20th, 2011

14: Becoming Human: Episode 8

Tuesday, January 24th, 2012

15: Tom's Prequel

Tom is interviewed for a job in a small cafe in Barry. The questions may seem routine enough, but the answers tell an entirely different story.

Tuesday, January 24th, 2012

16: Hal's Prequel

It's 1955. Leo is beaten, bloodied and chained up, awaiting his next dog fight. Hal is tormented and angry - confused by Leo, who appears unafraid. The two men discuss their fate and their future.

Friday, February 3rd, 2012

17: The Old Ones Prequel

In the dead of night, across a cold black ocean, a container ship carries its precious cargo from Bolivia to Barry. The Old Ones are coming.

Monday, March 19th, 2012

18: Milo And Snow

At last, the Old Ones have arrived and first thing on Snow's agenda is to learn all he can about Annie, Hal and Tom before he and Milo can prepare for the begining of the end.

Wednesday, March 13th, 2013

19: The Final Scene?

Tom, Hal and Alex face the world as humans... Or is it all just another dream by Captain Hatch?
Season 1
Sunday, January 25th, 2009

1: Flotsam and Jetsam

Mitchell has trouble restraining his blood lust, Annie must deal with her past, and George finds that he no longer has a safe place to transform when the hospital renovates the basement storage room. A former girlfriend of Mitchell's, turned into a vampire by him, comes to see him and she has vengeance on her mind.

Sunday, February 1st, 2009

2: Tully

George meets a homeless werewolf, Tully, a rogue who offers George advice on dating women and teaches George how to deal with his transformations. After Tully tries to sexually assault Annie, Mitchell wants him thrown out of the flat, but George defies him and backs Tully, until Tully tells him how George was turned into a werewolf.

Sunday, February 8th, 2009

3: Ghost Town

Annie meets Gilbert, a ghost from the 1980s, who shows her her own headstone. Her subsequent exploration of why she has remained on Earth after her death results in her discovering that she was actually murdered by Owen, throwing her emotions into conflict. After Lauren sends Mitchell a DVD of her murdering a man, Mitchell tries to help Lauren give up killing and bring her back to the person she was. George struggles to build a relationship with Nina, unsure of how much he should tell her. Gilbert expresses his love for Annie, and is then permitted to "cross over" to Death through a supernatural doorway. From this, Annie learns that until she fulfills the one thing keeping her Earth-bound, she will never be permitted to cross-over.

Sunday, February 15th, 2009

4: Another Fine Mess

Mitchell makes friends with a neighbor's son being bullied by classmates, but a misunderstanding with the mother results in an angry mob attacking the house. The boy runs away and is hit by a car, and it is up to Mitchell to save him. Meanwhile, Nina visits the vandalized house and thinks George is pushing her away because he is a pervert, and Annie starts exhibiting some mental problems as she tries to accept the changes in her existence.

Sunday, February 22nd, 2009

5: Where The Wild Things Are

Mitchell believes vampirism can save lives, and returns to the vampires. He finds recruits amongst the terminally ill that come to the hospital he works at, but the vampires aren't telling him their full plan for world conversion. Mitchell reverses himself when he meets an old girlfriend from the 60s, a dance teacher dying from cancer, who teaches him the true meaning of humanity. Annie finally faces Owen about her death and, with Mitchell and George, puts fear into his heart. The doorway comes for Annie and she says her goodbyes, just as Mitchell is stabbed with a stake by Herrick. George frantically dials for an ambulance as Annie must make a decision: cross over to the Afterlife or remain and help her friends.

Sunday, March 1st, 2009

6: Bad Moon Rising

George and Annie stay with Mitchell in the hospital, worried that he seems to be fading away. Although Mitchell almost dies, his old girlfriend sacrifices herself to save him, allowing him to drain her blood to heal himself. George finally gathers the courage to confront Herrick and defend his friends, but Herrick isn't playing by the rules. Herrick plans to kill George and Nina, and destroy the things keeping Annie Earth-bound, sending her into "nothingness". Mitchell will then have to face the vampire coven alone and be destroyed. Can George keep Nina safe? Can Annie harness her new poltergeist powers in time to defeat the vampires? Will Mitchell succeed in his plan to face Herrick once and for all? In the end, nothing goes as planned for any of them.
Season 2
Sunday, January 10th, 2010

1: Cure and Contagion

Having discovered the existence of supernatural creatures, two mysterious strangers Professor Jaggat and Kemp, begin to pursue the three housemates with the objective of eliminating them – by any means necessary. After a night out, George and Mitchell are challenged by two married vampires named Ivan and Daisy. They taunt the pair about Herrick's murder, but Daisy has something else on her mind. George's relationship with Nina becomes strained after she discovers she is a werewolf, as they seem to avoid the truth. Annie embraces her new-found confidence by applying for a job at the local pub. The wit and honesty of new doctor Lucy captures Mitchell's attention.

Sunday, January 17th, 2010

2: Serve God, Love Me and Mend

When a bloodied man with suspicious-looking marks on his neck arrives at the hospital, Mitchell realizes that the vampire who helped him go clean has started to kill again. Lucy's curiosity and the vampire coroner's refusal to cover up the killing leads to Mitchell being forced to help his old mentor leave the country in order to preserve the vampires' anonymity. Nina, revulsed by George's complicity in the scheme, leaves the house, encountering Kemp in the process. And Annie finds that evil spirits are attempting to force her into crossing over, using Saul as their pawn.

Sunday, January 24th, 2010

3: Long Live The King

With Annie now invisible to humans again, she resolves to get Hugh reunited with his old girlfriend. George reluctantly agrees, but their plan backfires when George's attempt to be a terrible blind date manages to match up with all of the girl's interests. Meanwhile, Mitchell attempts to convince the local vampires to stop killing, and has to resort to ancient methods of torture in order to be taken seriously. He succeeds, but in doing so is involuntarily crowned the leader of the coven.

Sunday, January 31st, 2010

4: Educating Creature

George attempts to control his werewolf state by locking himself into a custom-built cage and downing heavy tranquilisers on the night of the full moon. It appears to work, but he later discovers that neutralising the wolf causes him to become volatile and violent the rest of the month. Annie finds another ghost who helps teach her how to fend off the "agents" attempting to force her to cross over, and begins to learn how to read the auras of both living and supernatural beings. Mitchell starts up a "blood addiction" support group within the coven and persuades Ivan to join up, but when Ivan struggles to control his thirst, Mitchell is forced to compromise.

Sunday, February 7th, 2010

5: The Looking Glass

Mitchell is getting closer to Lucy and she, in turn, is struggling to contain her feelings for Mitchell. Mitchell has only really fallen in love once before and, in a flashback to the Sixties, viewers learn how his relationship with Josie saved him from the excesses of vampiredom. Back in the present with Lucy, it's clear he's struggling to reconcile the difference between human love and vampire lust. Meanwhile, George's relationship with Sam and her daughter, Molly, is going well and George wonders if there might be a chance to make the most of this normal human relationship – could he become Molly's step-father? Annie experiences maternal feelings of her own when she's asked to babysit an unusual child...

Sunday, February 14th, 2010

6: In The Morning

Annie befriends a psychic who lost most of his "sixth sense" in an accident and has been unable to communicate with spirits since then. His once awful stage show now serves to help ghosts send their final messages to loved ones - something Annie does as well when her mother attends the show. George's relationship with Sam gets more serious, but when a parent-teacher night falls on a full moon, it forces George to lie about his plans to cover up his secret. Mitchell plans to leave the coven to start a life with Lucy, but unbeknownst to him Lucy helps Kemp stage an explosion in the funeral parlor, killing most of the vampires.

Sunday, February 21st, 2010

7: Damage

Mitchell and Daisy, the sole survivors of the explosion, try to get to the bottom of who was responsible. When Mitchell discovers that Lucy was behind it, he goes berserk and vows retaliation. Nina returns, and offers George a chance at a cure. George initially refuses, but changes his tune when a confusion of time causes him to begin his transformation in public, frightening Molly in the process. Annie also seeks the help of Kemp to cross over, but his methods prove to be quite time-consuming if not utterly pointless.

Sunday, February 28th, 2010

8: All God's Children

Mitchell goes on the search for George and Annie, killing anyone who gets in his way, meanwhile Annie is dragged through "deaths door" through Kemp killing the psychic in order to make a doorway. George and Nina then escape with Mitchell to the countryside. 3 weeks later Lucy turns up and is killed by Kemp. Just before Kemp goes to kill Nina, George and Mitchell, Annie appears through Lucy's door and pulls Kemp with her back through the door. Annie then appears on a television from the netherworld and explains what is going on. The episode ends with Daisy and Cara (the vampire locked away by Mitchell) participating in a blood ritual in order to resurrect Herrick.
Season 3
Sunday, January 23rd, 2011

1: Lia

If Mitchell is to rescue Annie from purgatory, then first he must face up to his haunting past. Meanwhile, George is arrested moments before the full moon.

Sunday, January 30th, 2011

2: Adam's Family

Will our heroes be able to help teenage vampire Adam control his bloodlust before it's too late? Vampires Richard and Emma are not only set on making a man of him but have plans for Mitchell too.

Sunday, February 6th, 2011

3: Type 4

Confronted with a 'type four', the housemates are forced to stare death in the face. Mitchell meets his biggest fan, who will do anything to impress his hero.

Sunday, February 13th, 2011

4: The Pack

George and Nina search for other werewolves in their quest to find out if their unborn baby will survive the transformation. With the full moon approaching, Mitchell has cause to feel nervous.

Sunday, February 20th, 2011

5: The Longest Day

While working at the hospital, George is horrified to discover that Herrick still exists after all, despite the fact that his wolfself disembowelled the vampire in question at the end of Series 1. However, Mitchell is distracted, still brooding about last series's train massacre and his guilt for that event, as well as hoping that Herrick can assist him in averting Lia's prophecy about his death at the hand of an unspecified werewolf. Herrick is ensconced in the attic, masquerading as Nina's "Uncle Billy," and to complicate matters, Wendy, a social worker, turns up to assess their compatability for Herrick's placement at the household

Sunday, February 27th, 2011

6: Daddy Ghoul

George is saddened to learn that his father, George Snr, has passed away, although he hasn't seen him for the last three years, since Tully turned him into a werewolf. After Nina tips off the police about the Box Tunnel 20 Massacre, a young policewoman, Nancy, arrives to interview Mitchell about his involvement, while Annie is angry that anyone would want to upset Mitchell and resolves to investigate for herself. Meanwhile, in the Honolulu Heights attic, Herrick is growing increasingly deranged...

Sunday, March 6th, 2011

7: Though the Heavens Fall

As Nancy continues her investigation of the Box Tunnel 20 massacre, she becomes increasingly convinced that Mitchell is one of the responsible parties. Annie is equally determined to uncover whoever she believes the 'real' culprits are, but will she like what she discovers? Meanwhile, Tom and McNair show up. MacNair has been injured battling vampires, and with four werewolves now resident in Honolulu Heights and a looming full moon, Mitchell becomes understandably apprehensive about forthcoming events, given Lia's prophecy. But is Herrick concealing something?

Sunday, March 13th, 2011

8: The Wolf-Shaped Bullet

Following Nancy's investigation into the Box Tunnel massacre, Mitchell finds himself trapped by the police. Desperate to escape, Mitchell discovers that help is at hand – albeit from an unlikely and untrustworthy source. Annie is heartbroken but stands by Mitchell and returns to purgatory in search of answers. She finds Lia but things are not as they seemed. This was never a game to Lia – this is revenge. A guilt-stricken Mitchell tries to make amends but, as the revelations pile up, and with Nina in a critical state, George must decide whether he can stand by his best friend.
Season 4
Sunday, February 5th, 2012

1: Eve Of The War

George, Annie and Tom return to the B&B, things aren't well however, with Mitchell willingly taken from this world. The werewolf baby the guys must now look after attracts the attention of some vampire overlords called The Old Ones.

Sunday, February 12th, 2012

2: Being Human 1955

Annie and Tom are surprised when another supernatural trio turns up on their doorstep. Old werewolf Leo is dying, and his vampire friend Hal believes the secret to saving his life can be found at Honolulu Heights. Annie is confident she can channel the power to help them, but Tom remains sceptical about whether she should, particularly when the bloodsucking stranger appears to take an interest in baby Eve.

Sunday, February 19th, 2012

3: The Graveyard Shift

Hal is horrified when his housemates inform him he will have to get a job to function properly in the modern world, and is even more appalled when he realises he may have to work at the cafe with Tom. Desperate for an alternative, he turns to Fergus, who offers to let him go back to the vampire community. Meanwhile, Regus convinces Annie that the blood-suckers pose a serious threat to baby Eve.

Sunday, February 26th, 2012

4: A Spectre Calls

Honnolulu is paid visit by a charismatic ghost from the 70s called Kirby. The group become quite taken with him, except for Hal, who is suspicious of Kirby, who in turn takes an instant disliking to Hal.

Sunday, March 4th, 2012

5: Hold The Front Page

Adam is madly in love with no-nonsense head teacher Yvonne, much to the dismay of our heroes. They're on the run from the press, who see the relationship as a scandal. Since vampires can't be pictured on camera, the housemates are concerned about Adam getting photographed. They force him to confess his – and their – true nature to Yvonne. It's a lot to take in, but there are bigger surprises in store when Yvonne discovers the reason that she's able to see Annie, as well as what this means for her love affair with Adam.

Sunday, March 11th, 2012

6: Puppy Love

Romance is in the air for Tom when Allison, a geeky teen werewolf, turns up looking for help. Somebody seems intent on revealing werewolves to the world and she wants to get to the bottom of the matter. In a bid to impress Allison, Tom leads her to the web savvy vampire, Cutler. Cutler is delighted to see more werewolves on the scene and soon finds use for his new friends. Tom also cajoles Hal into a double date with himself, Allison and attractive café patron, Alex. Hal insists that he's stayed away from women for the past fifty years for a reason – but will his desire really spark his bloodlust once again? Meanwhile Annie feels responsible for grouchy neighbour Emrys' death and it's up to her to complete his ghost's unfinished business on earth – as soon as she can find out what it could be.

Sunday, March 18th, 2012

7: Making History

Tensions run high when Cutler takes Tom under his wing. He's got big plans for Tom – together they're going to be history makers. Hal's wicked past catches up with him and he finds himself led down a path of temptation. Having succumbed to drinking blood, Hal's second date with Alex doesn't exactly go to plan. Meanwhile, Annie is called to Purgatory by the mysterious woman from the future. She's got big news for Annie – there's only one way to save the earth from imminent destruction by the vampires. But will Annie even contemplate the task that she's given?

Sunday, March 25th, 2012

8: The War Child

The Old Ones have arrived and are intent on taking over the world by force. Cutler has other plans, but when they go awry he plots revenge on his own kind. Annie is upset as she realises she has been tasked with making the most difficult decision in order to save the world. Tom and Hal have their own plan to destroy the vampires, but when vampire leader Mr. Snow visits Hal, he demonstrates the power he holds over our hero.
Season 5
Sunday, February 3rd, 2013

1: The Trinity

As ghost Alex adjusts to life after death with werewolf Tom and vampire Hal, we meet poisonous pensioner Captain Hatch, behind whose foul exterior lurks an ancient evil.

Sunday, February 10th, 2013

2: Sticks and Rope

Alex discovers she's not the only ghost haunting Honolulu Heights. Tom and Hal go head to head in the hotel's employee of the month competition, much to the delight of Captain Hatch, who feeds on werewolf / vampire conflict.

Sunday, February 17th, 2013

3: Pie and Prejudice

Tom learns how to be successful from werewolf mentor Larry, but is Larry everything that he claims to be? Alex discovers some worrying similarities with Hal's Regency ghost friend, Lady Mary.

Sunday, February 24th, 2013

4: The Greater Good

It's vampire rehab at Honolulu Heights when Crumb comes to stay. Tom has his work cut out reintroducing werewolf Bobby to a world he's long forgotten.

Sunday, March 3rd, 2013

5: No Care, All Responsibility

When a damsel in distress seeks haven at the hotel, Tom and Hal are attracted to her for different reasons. Alex investigates her suspicions about Captain Hatch with dangerous consequences.

Sunday, March 10th, 2013

6: The Last Broadcast

Hal is ready to return to his vampire ways and Tom is set on killing him as an act of revenge, but the trio have to battle the devil and Captain Hatch.