update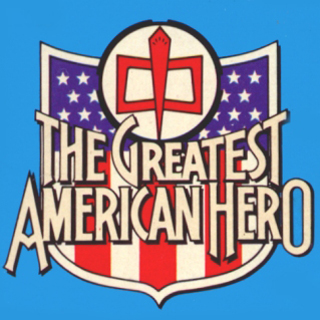 Season 0
2: The Greatest American Heroine

This was a pilot for a spin-off series that was never aired on network television. Three years after the end of the show, Ralph is exposed with the suit and allows all the attention to inflate his ego. The greenguys return and tell him to find someone else to take over the use of the suite.

not specified

15: Special Pilot

not specified

16: Season 1 - DVD Extras

not specified

3: Stephen J Cannell Interview

not specified

4: William Katt Interview

not specified

5: Robert Culp Interview

not specified

6: Connie Sellecca

not specified

7: Michael Pare

not specified

8: Brand New Interview with Stephen J Cannell

not specified

9: Mike Post Interview

not specified

10: Stephen and Mike Reminisce

Thursday, February 13th, 1986

1: The Greatest American Heroine

The aliens tell Ralph to find a suitable replacement for himself when his secret identity is revealed to the world. Much to Bill's disgust he selects a woman to be his successor.

Thursday, February 13th, 1986

14: The Greatest American Heroine

This was a pilot for a spin-off series that was never aired on network television. Three years after the end of the show, Ralph is exposed with the suit and allows all the attention to inflate his ego. The green guys return and tell him to find someone else to take over the use of the suite.
Season 1
Wednesday, March 18th, 1981

1: The Greatest American Hero

Ralph Hinkley, an average school teacher, is given a suit with amazing powers by aliens. Now, Ralph must decide if he'll use his new powers to fight crime, even though he already lost the suit's instruction manual.

Wednesday, March 25th, 1981

2: The Hit Car

Bill, who has been trying to bust open a drug ring for over 20 years, must drive a witness to Los Angeles for the trial of the gang leader and asks Ralph for help.

Wednesday, April 1st, 1981

3: Here's Looking at You, Kid

When a secret gunsight is stolen, Bill asks Ralph for help in solving the case. However, Ralph runs into problems when he keeps turning invisible unexpectedly, and must deal with the pressure of meeting Pam's parents.

Wednesday, April 8th, 1981

4: Saturday on Sunset Boulevard

Russians are trying to find an heiress and her Russian husband in order to force them to establish a missile cache hold on their private island. Bill needs Ralph's help when he is suspected of failing a lie-detector test at FBI headquarters.

Wednesday, April 15th, 1981

5: Reseda Rose

Ralph uses his suit to help Rhonda, one of his students, after her mother is kidnapped by the Russians.

Wednesday, April 29th, 1981

6: My Heroes Have Always Been Cowboys

Ralph reconsiders his suit of powers after a flying mistake almost takes out a bus full of tourists. Bill also reconsiders his job path when one of his heroes is suspected of plotting out the theft of a precious diamond.

Wednesday, May 6th, 1981

7: Fire Man

Ralph lends Tony a hand by finding him a job as a car repossesser. When Tony is arrested for arson, Ralph and Bill team up to find the real criminal.

Wednesday, May 6th, 1981

9: The Best Desk Scenario

At FBI headquarters, promotions are being handed out. However, Bill considers retiring from his job. Meanwhile, Ralph must use his suit to save Pam when she discovers her boss is the head of an underground operation.

Wednesday, May 13th, 1981

8: The Best Desk Scenario

At FBI headquarters, promotions are being handed out. However, Bill considers retiring from his job. Meanwhile, Ralph must use his suit to save Pam when she discovers her boss is the head of an underground operation.
Season 2
Wednesday, November 4th, 1981

1: The Two-Hundred-Mile-an-Hour Fast Ball

Ralph dons a baseball suit to trap Latino revolutionaries who plan to finance a coup by fixing ball games.

Wednesday, November 11th, 1981

2: Operation: Spoilsport

Ralph and Bill must stop World War III by defusing a corrupt military leader's plans to launch a suprise missile attack against Russia.

Wednesday, November 18th, 1981

3: Don't Mess Around with Jim

Ralph and Bill are kidnapped by a tycoon that actually had his own suit given to him years ago by the aliens. The suit corrupted this man to use it for personal fortune, and he did not lose the instruction book. The aliens did not like the way he was using the suit, and they took it away from him.

Wednesday, November 25th, 1981

4: Hog Wild

A motorcycle gang steals the super-suit, and tries to use it to take over a town. It only works on Ralph, so they must force HIM to do their dirty work while holding Bill captive.

Wednesday, December 2nd, 1981

5: Classical Gas

Ralph's students start a band, and a promoter lands them a spot on a big ticket concert while trying to get Pam to go out with him.

Wednesday, December 9th, 1981

6: The Beast in Black

Ralph finds a window into the 4th dimension while scouting an old house. Bill gets possesed by a woman's spirit, and Ralph must return her through that window.

Wednesday, December 16th, 1981

7: The Lost Diablo

Bill has a treasure map, and takes Ralph and his class out to the desert to find the lost Diablo Gold Mine that vanished a long time ago, and are met with resistance from the local thieves.

Wednesday, January 6th, 1982

8: Plague

A psycho military cult leader tries to spread the small-pox virus.

Wednesday, January 13th, 1982

9: A Train of Thought

Ralph crashes head first into a train, and gets amnesia. Pam and Bill have to convince him that the suit really works.

Wednesday, January 20th, 1982

10: Now You See It

While practicing flying in the desert with Bill, Ralph gets a vision of a plane crash. It's the suit showing it to him, and Bill can only see it when he touches Ralph. They rush to the scene to find no plane, and figure out that it must be something that hasn't happened yet, and they're supposed to prevent it. We come to find out that Pam is on that plane, and it's been hijacked. To make matters worse, the plane has an experimental cloaking device that makes it invisible to radar, and the Air Force would rather shoot it down than have the plane in enemy hands.

Wednesday, January 27th, 1982

11: The Hand-Painted Thai

Years ago, prisoners of war were brainwashed to respond to a code phrase. Now, someone is using them to commit acts of sabotage. Bill and Ralph investigate, but Bill inadvertently falls under a hypnotic trance, leaving the heroics up to Ralph.

Wednesday, February 3rd, 1982

12: Just Another Three-Ring Circus

Ralph takes a job at the circus as a human cannonball while trying to help Bill bust a crime ring that involves a phony dating service.

Wednesday, February 10th, 1982

13: The Shock Will Kill You

A space shuttle is about to crash, and only Ralph can save it. He does so, but ends up supermagnetized, perhaps permanently. Worst of all, a strange creature aboard the shuttle heads towards Los Angeles, electricuting all who get in its way.

Wednesday, February 17th, 1982

14: A Chicken in Every Plot

Ron O'Neill, John Hancock, Thalmus Rasulala, Lincoln Kilpatrick Scenario: When an old FBI buddy invites Bill to his Caribbean retreat, Maxwell takes Ralph, Pam and the students along. Unfortunately, they find themselves involved in a voodoo plot to take over the island's government.

Wednesday, February 24th, 1982

15: The Devil and the Deep Blue Sea

Ralph and Bill hunt for the sea creature "Carrie" in the Bermuda Triangle thinking that the monster may be responsible for all of the boats that disappear there. They undercover a stolen boat ring, and never find the creature.

Wednesday, March 3rd, 1982

16: It's All Downhill from Here

Ralph skis like a pro with the suit on, and stands in at the Olympics for a Russian skiier so the man can defect to America, and hand over top secret information that he stole.

Wednesday, March 17th, 1982

17: Dreams

An act of kindness backfires when Ralph uses the suit to help a coworker with a personal project. This leads his other co-workers to take daring chances for their own shots at success. Soon, he must don the super suit not only to prevent them from ruining their lives, but also to save Bill from a vengeful, recently paroled killer.

Wednesday, March 24th, 1982

18: There's Just No Accounting...

Bill convinces the parents of a kidnap victim to pay the ransom, certain that Ralph can recover it when he saves their little girl. Ralph finds himself being audited by an overzealous IRS agent who's convinced he took the ransom money. Meanwhile, Ralph and Bill keep getting shot at in drive-by shootings, but by who?

Wednesday, March 31st, 1982

19: The Good Samaritan

Tired of using the suit to fight crime, Ralph decides to branch out. He tries to intervene in a battle between an old man fighting for his home and the city taking it away, but Bill has him on the hunt for bank robbers.

Wednesday, April 7th, 1982

20: Captain Bellybuster and the Speed Factory

Bill recieves hot tips on a speed factory working out of a fast food chain, and a newspaper reporter publishes pictures of Ralph flying.

Wednesday, April 14th, 1982

21: Who's Woo in America

Ralph's mother is re-marrying to a man who planted a much wanted micro-chip in her engagement ring.

Wednesday, April 28th, 1982

22: Lilacs, Mr. Maxwell

Bill falls in love with a female FBI agent, and wants to tell her about the suit. She turns out to be a spy, and is ordered to kill him.
Season 3
Friday, October 29th, 1982

1: Divorce, Venusian Style

Bill and Ralph can't agree on anything, and keep fighting. Ralph decides to quit the partnership, and gives to suit to Bill. Ralph takes a bullet meant for Bill, and the aliens drive them to Palmdale for a meeting. The American Nazi Party gets their hands on the suit, and after the aliens give Ralph and Bill a tour around their old condemned planet; the pair is told to try harder of suffer the same fate as their old planet did. They also give them another instruction book and, now they have to get the suit back.

Friday, November 5th, 1982

2: The Price is Right

It's football season again, and time for Ralph's high school reunion. Ralph's old friend and star pro quarterback named Price Cobb is the focus of the party, but is being forced to throw a game for the return of his wife who was kidnapped. Our heros find her, but Price is injured during the game. Ralph must go out and win the game with the suit on to prevent the villans from winning the bets placed against Price's team.

Friday, November 12th, 1982

3: This is the One the Suit Was Meant For

Pam has had enough and is convinced that as long as Ralph has the suit, there can be no relationship between them. Ralph promises her a week away from all the problems and the suit, and from Bill Maxwell. Ralph and Pam's vacation plans fall through so Bill sends them to a beautiful resort to get away from it all. Bill, of course, has alternate reasons to send them there than just being Mr. nice guy. Bill secretly tags along with the suit and convinces a very hesitant Ralph to hologram into a criminal ring that has stolen some very special government equipment, a spyplane to be exact, citing "This is the one the suit was meant for!" Ralph actually succeeds in foiling the plans of the criminals, leaves Bill to tidy up the mess, and gets back to Pam in time so as she doesn't even notice he's gone. All is well? Not so. With the suit still on, Ralph is hit on by a friends wife. Pam, of course, walks in on them. So not only does Pam catch Ralph in the arms of another woman, he is wearing the suit

Friday, November 19th, 1982

4: The Resurrection of Carlini

A magician killed performing his greatest trick seemingly returns from the grave to murder his three rivals. Ralph must use his suit to out trick the would-be killer.

Thursday, January 6th, 1983

5: The Newlywed Game

Ralph and Pam's wedding is almost ruined when Ralph receives special orders from the President to fly a mission over the North Pole. Bill discovers the orders were faked, and that Ralph has accidentally given the Russians valuable military secrets.

Thursday, January 13th, 1983

6: Heaven is in Your Genes

A former Nazi genetic engineer fakes Bill's death to use him in an experiment, but Ralph realizes his friend is still alive. He flies off to rescue Bill and the evil doctor's other victims, but a genetic horror created in an earlier experiment waits to battle him.

Thursday, January 20th, 1983

7: Live at Eleven

An Aging TV anchorman plans to retire in grand style. He hires a band of mercenaries to sabotage a nuclear plant, hoping that his coverage of the event can launch a Presidential campaign. Ralph must stop the plant from exploding, but the saboteurs, now dying of radiation poisoning, are determined to succeed.

Thursday, January 27th, 1983

8: Space Ranger

One of Ralph's students invents a radio telescope capable of decoding Russian satellite messages. The KGB tries to steal his system. When that maneuver fails, they decide to kill him before he can share his discovery with the CIA.

Thursday, February 3rd, 1983

9: Thirty Seconds Over Little Tokyo

A young Chinese scientist has invented a deadly particle "ray gun" weapon. A local gang kidnaps his uncle, hoping to obtain the gun. Bill's plan to save the Uncle backfires, and Ralph must test his suit against the deadly ray.

Thursday, February 10th, 1983

10: Wizards and Warlocks

King Abu Al-Fahad asks Ralph and Bill to help find his son, Prince Aha, who was kidnapped by Middle Eastern terrorists while playing a Dungeons and Dragonsesque game, Wizards and Warlocks. Their search leads them from Aha's college campus -- where they meet Aha's Keeper of the Clock, Joey Margolis -- to the game's author himself, Norman Fackler.

Thursday, February 17th, 1983

11: It's Only Rock and Roll

Bill is called by the manager of a rock group that is aboard a plane threatened by a bomber, who has hidden a device set to explode if the plane descends below 1000 feet. Ralph flies into action, but matters escalate when Pam is kidnapped and a band of bikers threaten Bill's life.

Thursday, February 24th, 1983

12: Desperado

A weekend in the country leads Ralph, Pam and Bill into a race to save a wild stallion from a cruel rancher. The man blames the horse for a crippling injury. His men are also selling horses for use as dog food.

Thursday, March 3rd, 1983

13: Vanity, Says the Preacher

It seems that 30 years ago Bill helped some revolutionaries overthrow a corrupt regime in an unnamed Central American country, where he is now regarded as a hero. But now Bill's old revolutionary compadres have turned up, and they soon kidnap him and try to get him to help lead another revolution.

Thursday, February 13th, 1986

14: The Greatest American Heroine

The media and the government are both wise to Ralph having the suit. So, they stage a fake accident that they know our hero will respond to, and they wait with cameras. When he does (and of course saves the staged victim), a crowd emerges to thank Ralph for his years of service. This popularity immediately goes to his head, and he even hires an agent to handle all of the publicity that he is LOVING! This goes over bad with the green guys, and they lock Pam and Ralph in the VW bug and it's off to Palmdale. After the aliens "beam" the two up, Ralph is ordered to find someone to give the suit to. He is fired, but has the choice of who will recieve the "unearthly powers". Unfortunately for Bill, Ralph picks a woman with huge "save the world" issues. Now Bill has to train her on how to use the suit (to the best of the knowledge he and Ralph were able to figure out without the instruction book, because the "green guys" already gave Ralph two of them; and won't give another!). This girl has her own earth saving scenarios, and drives Maxwell CRAZY. She wants to save the whales first, so it's off to the docks. She almost gets Bill killed, and ends up challenging a goon to an arm wrestle for information. Obviously, with the suit on underneath her clothes, she tosses the guy through the table.