update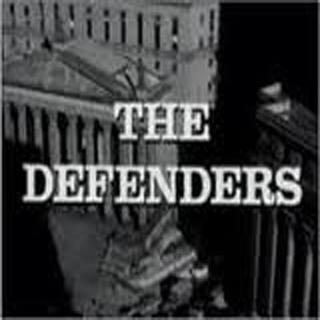 Season 0
not specified

1: Studio One: The Defender

not specified

2: Original and Extended Pilot

not specified

3: Extra: Interview with Bob Markell and Larry Cohen

not specified

4: Extra: Interview with E.G. Marshall
Season 1
Saturday, September 16th, 1961

1: Quality of Mercy

The legal and moral implications of mercy killing are examined as the Prestons defend a doctor charged with killing a Mongoloid baby.

Saturday, September 23rd, 1961

2: Killer Instinct

A wartime hero who had been trained to act like a "destructive animal," kills a man with a judo blow. At his trial the vital question is "did he kill because he could not control the killer instinct?"

Saturday, September 30th, 1961

3: Death Across the Counter

The tortured world of a dope addict is explored in this story of a young man convinced he's guilty of murder - although he has no recollection of the crime.

Saturday, October 7th, 1961

4: The Riot

Preston (E.G. Marshall) undertakes a delicate and dangerous task: acting as intermediary for the investigators of a prison riot.

Saturday, October 14th, 1961

5: The Young Lovers

A destitute young couple take a desperate gamble to provide for themselves and their baby.

Saturday, October 21st, 1961

6: The Boy Between

The Prestons become embroiled in a bitter custody battle when they are retained by Belle Remington (Norma Crane), who insists her son never be allowed to see his father.

Saturday, October 28th, 1961

7: The Hundred Lives of Harry Simms

Impersonator Harry Simms is accused of killing his fiancée, and he asks Ken to defend him. But Ken is baffled by Harry's plea: he says he couldn't have murdered the girl - because Humphrey Bogart did it.

Saturday, November 4th, 1961

8: The Accident

A woman is charged with criminal negligence when she hits a child while driving home from a party.

Saturday, November 11th, 1961

9: The Trial of Jenny Scott

Unhappily married Jenny Scott (Mary Fickett) is the prime suspect when her husband is murdered.

Saturday, November 18th, 1961

10: The Man with the Concrete Thumb

Picketing to save a park, Joan Miller (Joan Hackett) is charged with second-degree assault when a brick thrown by one of the demonstrators injures an adversary.

Saturday, November 25th, 1961

11: The Treadmill

Released from a mental hospital, Victor Fergusson (Edward Binns) is forced to stand trial for a murder he committed 25 years before.

Saturday, December 2nd, 1961

12: Perjury

Charged with perjury, a witness says he lied because Preston asked him to.

Saturday, December 9th, 1961

13: The Attack

The impact of public opinion on a trial is examined in this story of a policeman who kills the alleged molester of his young daughter.

Saturday, December 16th, 1961

14: The Prowler

Dwight Harkavy (Kent Smith) goes on trial for shooting a prowler - who was his wife's first husband.

Saturday, December 23rd, 1961

15: Gideon's Follies

Preston investigates the death of a millionaire playboy - murdered before he could divide his estate among his current spouse and five ex-wives.

Saturday, December 30th, 1961

16: The Best Defense

The Prestons come to the aid of a racketeer charged with the gangland murder of a small-time hoodlum.

Saturday, January 6th, 1962

17: The Bedside Murder

The Prestons defend a doctor accused of murdering a wealthy patient who promised to leave him a large sum in her will.

Saturday, January 20th, 1962

18: The Search

An old homicide case is reopened when James Mitchell (James Congdon) confesses to a murder for which another man was executed six years earlier.

Saturday, January 27th, 1962

19: Storm at Birch Glen

The Prestons encounter fear and hostility at a reform school when they are retained by a supervisor charged with murdering one of the inmates.

Saturday, February 3rd, 1962

20: The Point Shaver

Stacy Phillips, star college basketball player, is accused of taking money from gambler Vince Fargo to fix a game. The Presons, alumni of the college, are hired to defend Phillips before the State's Senate Rackets Committee.

Saturday, February 10th, 1962

21: The Locked Room

The Prestons defend an heiress on trial for the death of a woman reputed to have been having an affair with her husband, who is the only witness to the incident. The focus is on the jurors, and how some of them visualize the events that led to the woman's death.

Saturday, February 17th, 1962

22: The Empty Chute

The Army suspects foul play when a paratrooper's chute fails to open and he falls to his death.

Saturday, February 24th, 1962

23: The Crusader

Ken launches a personal investigation when a model prisoner - jailed for crimes he insists he never committed - is refused parole.

Saturday, March 3rd, 1962

24: The Hickory Indian

The defendant: Louis Astor (George Voskovec), who's charged with stealing money from his son's firm.

Saturday, March 10th, 1962

25: The Iron Man

The Prestons give a campus fascist leader a lesson in democracy when he's arrested after his henchmen beat up a heckler.

Saturday, March 17th, 1962

26: The Tarnished Cross

The Prestons become defense counselors in a kangaroo court set up by a group of teenagers bent on trying an alleged murderer.

Saturday, March 31st, 1962

27: The Last Six Months

Arthur Hill plays a man with six months to live--he kills his business partner in a fit of rage when the man refuses to help support his family after he has died.

Saturday, April 7th, 1962

28: The Naked Heiress

Edna Holley (Glenda Farrell) invites trouble when she blackmails a professor who's interested in her daughter, a strip-tease artist.

Saturday, April 21st, 1962

29: Reunion with Death

A group of Air Force veterans set up a kangaroo court to try one of their number for treason.

Saturday, April 28th, 1962

30: The Benefactor

A controversial episode dealing with the trial of an accused abortionist.

Saturday, May 5th, 1962

31: Along Came a Spider

The Prestons defend an ex-vaudevillian accused of murdering his son-in-law. The only witness: the dead man's daughter.

Saturday, May 26th, 1962

32: The Broken Barrelhead

Defending a youth charged with vehicular homicide, the Prestons are hampered by the boy's overbearing father (Harold J. Stone) - who isn't above bribing jurors.
Season 2
Saturday, September 15th, 1962

1: The Voices of Death

Martha Harrow, a young wife and mother, is convicted of first-degree murder. The victim: her husband, an alcoholic and wife beater.

Saturday, September 22nd, 1962

2: Blood Country

In a small town, the Prestons slam into a wall of hostility and silence as they defend two hunters charged with murder.

Saturday, September 29th, 1962

3: The Indelible Silence

A shattering drama focusing on a young neo-Nazi (Dennis Hopper) charged with murder - and a witness who refuses to testify.

Saturday, October 6th, 1962

4: The Seven Ghosts of Simon Gray

Ed Begley portrays an elderly derelict hospitalized after a suicide attempt. His only identification: Lawrence Preston's business card.

Saturday, October 13th, 1962

5: The Unwanted

A child becomes a pawn in a bitter courtroom battle when a woman tries to reclaim the daughter she gave up for adoption years before.

Saturday, October 20th, 1962

6: Madman (1)

In an episode examining the legal definition of insanity, a man (Don Gordon) confesses to one murder - and hints he may be responsible for others.

Saturday, October 27th, 1962

7: Madman (2)

Convinced that confessed killer Joey Tassili is psychotic, the Prestons prepare his defense, intending to test the legal definition of insanity.

Saturday, November 3rd, 1962

8: The Bigamist

Steve Janos (Jason Evers) faces a bigamy charge unless he returns to his first wife - an alcoholic whom he deserted years before.

Saturday, November 17th, 1962

9: The Avenger

A long search comes to an end for Dr. Mayer Loeb (Ludwig Donath) when he finds - and kills - the man responsible for murdering his wife and son in a Nazi concentration camp.

Saturday, November 24th, 1962

10: The Invisible Badge

William Shatner stars as an assistant DA whose career is threatened when he's accused of accepting a bribe.

Saturday, December 1st, 1962

11: The Hidden Jungle

Indicted for first-degree murder, a former mental patient (Carroll O'Connor) faces conviction - and execution - on circumstantial evidence.

Saturday, December 8th, 1962

12: The Savage Infant

The Prestons' efforts to console a condemned murderer's son are mis-interpreted by the youth - who retaliates by wrecking the lawyers' apartment.

Saturday, December 15th, 1962

13: The Apostle

Albert Salmi stars as a street-corner preacher charged with attempted robbery.

Saturday, December 22nd, 1962

14: Grandma TNT

Lillian Gish stars as "Grandma TNT," a sweet old lady who threatens to blow up a bank - unless she receives exactly $1342.76.

Saturday, December 29th, 1962

15: Don't Take the Stand

Howard March will stop at nothing to prevent his teenage daughter from driving her boyfriend to Vermont.

Saturday, January 5th, 1963

16: Kill or Be Killed

A condemned murderer kills a guard and escapes, unaware of the grim irony at work: he was cleared of the original murder charge.

Saturday, January 12th, 1963

17: Man Against Himself

Facing a possible 15-year sentence for manslaughter, Danny Ross (Ivan Dixon) insists on handling his own defense.

Saturday, January 19th, 1963

18: The Poisoned Fruit Doctrine

The admission of evidence gained by wire tapping is discussed in this episode. Cigar-stand owner Joseph Green (Stuart Erwin) retains the Prestons when he's arrested for dope peddling.

Saturday, January 26th, 1963

19: Poltergeist

The Prestons turn detectives when a friend is mysteriously poisoned during a seance.

Saturday, February 2nd, 1963

20: Ordeal

Beatrice Hillyer hires a gunman to kill her - after she carefully prepares evidence pointing to her estranged husband as the murderer.

Saturday, February 9th, 1963

21: The Hour Before Doomsday

Ralph Johnson, a newspaper reporter who is sued for libel by self-styled religious leader Jeremiah the Prophet.

Saturday, February 16th, 1963

22: The Traitor

Representing accused traitor Vincent Kayle, Preston must prepare a defense while struggling against his deep personal disgust for the man's actions.

Saturday, February 23rd, 1963

23: The Eye of Fear

No one is more surprised than Jerry Thomas when the police find his wife dead in the bedroom.

Saturday, March 2nd, 1963

24: Metamorphosis

At Luke Jackson's final clemency hearing, Preston argues that the convicted murderer has become a model of rehabilitation during his seven years on death row.

Saturday, March 9th, 1963

25: The Last Illusion

Magician Monte Moran fails in his attempt to escape from a coffin-like box lowered into the river. When his body is finally retrieved, Moran's assistant Ballin claims someone tampered with the equipment.

Saturday, March 23rd, 1963

26: The Heathen

Ignoring an old taboo, prep-school instructor Roger Wesley (Gerald Hiken) puts his job in jeopardy by allowing students to express atheistic ideas.

Saturday, March 30th, 1963

27: A Book for Burning

Artistic expression and pornography are the issues in this drama. The Prestons defend an author charged with selling an "obscene and immoral" book.

Saturday, April 6th, 1963

28: A Taste of Vengeance

The Prestons defend a woman accused of killing her terminally ill husband.

Saturday, April 13th, 1963

29: The Colossus

On trial for killing his wife, a Nobel Prize winner gambles that a jury won't convict him because of his contributions to science.

Saturday, April 20th, 1963

30: Judgment Eve

Quartered in a hotel, members of a deadlocked jury discuss the case among themselves - despite orders to the contrary.

Saturday, April 27th, 1963

31: The Noose

The Prestons try to clear the name of a murder suspect who was lynched before he could be brought to trial.

Saturday, May 11th, 1963

32: Everybody Else is Dead

Preston develops a strong affection for the woman he is representing in a divorce case.

Saturday, May 18th, 1963

33: The Trial of Twenty-Two

Ignoring his father's advice, Fred Solasky defies a powerful union leader - and finds himself facing a murder charge.

Saturday, May 25th, 1963

34: The Brother Killers

Three college students face conviction for manslaughter when a youth dies during a fraternity initiation.
Season 3
Saturday, September 28th, 1963

1: The Weeping Baboon

Defendant Jason Thomas (Dennis Hopper), who confessed to killing his father and brother, insists he's insane.

Saturday, October 5th, 1963

2: The Empty Heart

Norma Burgess (Lee Grant), on trial for killing a man she claims assaulted her, faces a sceptical jury: she was twice convicted of prostitution.

Saturday, October 12th, 1963

3: The Captive

The complex maze of international diplomacy is explored when Preston tries to work out a prisoner exchange involving an American jailed behind the Iron Curtain on a trumped-up espionage charge.

Saturday, October 19th, 1963

4: The Bagman

Judge Philip Benning (Chester Morris) faces a crisis of conscience when he's asked to return a political favor by signing an illegal eviction notice.

Saturday, October 26th, 1963

5: Conspiracy of Silence

Representing the plaintiff in a malpractice case, the Prestons face a common roadblock: the defendant's fellow doctors refuse to testify against their colleague.

Saturday, November 2nd, 1963

6: The Cruel Hook

Assistant DA Cliff Sellers (William Shatner) is torn by conflicting emotions when he learns that his older brother committed a murder.

Saturday, November 9th, 1963

7: Star-Spangled Ghetto

The Prestons defend a young couple who hoped to buy a ticket out of a ghetto with the proceeds from an armed robbery.

Saturday, November 16th, 1963

8: Loophole

An aging policeman (Harold J. Stone) blames his partner when he accidentally shoots an innocent bystander.

Saturday, November 23rd, 1963

14: Claire Cheval Died in Boston

Bad notices have set the leading lady, the director, and the playwright of a new play called "Claire Cheval" at each others' throats. It's all getting the best of producer Myron Bullimore, who's more at home in real estate anyway. To make peace among the temperamental troupe, Bellmore calls on the Prestons, in this comedy episode of this normally dramatic series.

Saturday, November 30th, 1963

9: The Seal of Confession

Father George Phelps (Robert Webber) faces a painful dilemma: after he hears publisher Alfred Burns's murder confession, another man is charged with the crime.

Saturday, December 7th, 1963

10: Climate of Evil

A drama focusing on the nature of penal institutions. A convicted embezzler (Dean Stockwell) is accused of stabbing a sadistic prison guard.

Saturday, December 14th, 1963

11: The Crowd Pleaser

Years of boxing have taken their toll on Danny Norton (Lou Antonio), who is charged with killing his estranged wife's boyfriend.

Saturday, December 21st, 1963

12: Old Lady Ironsides

A high school senior is denied the chance to finish two more months of high school for a diploma, just because she has been found to be pregnant. A little old lady who has befriended the girl, and who had been an active Suffragette, determines to help her: she chains herself to the school entrance. The attending publicity and subsequent sanity hearing for the old lady, force the board to change its ruling.

Saturday, December 28th, 1963

13: Fugue for Trumpet and Small Boy

Neglected by his parents, 16-year-old Alan Slater buries himself in books - until he's caught stealing one from the public library.

Saturday, January 11th, 1964

15: The Last Day

A tense drama focusing on the parties involved in a legal execution. The Prestons have 12 hours to persuade an acting governor (Richard Kiley) to grant a clemency hearing to a convicted murderer (Ralph Meeker).

Saturday, January 18th, 1964

16: Blacklist

Actor Joe Larch (Jack Klugman) has spent 10 years on the "Blacklist" for alleged Communist affiliation, and when he finally gets a part, a local group begins a protest.

Saturday, January 25th, 1964

17: Who'll Dig His Grave?

Gregor Martin (Barry Morse), derelict, drug addict and poet, confesses to a murder he didn't commit - to protect a cafe owner who befriended him.

Saturday, February 1st, 1964

18: All the Silent Voices

Dr. Katherine Tasso opens a clinic and dispenses birth-control information although she's aware that her actions violate state laws.

Saturday, February 8th, 1964

19: The Secret

After developing the formula for a superwoman, nuclear scientist Daniel Orren (Martin Landau) destroys his notes - in violation of security regulations.

Saturday, February 22nd, 1964

20: The Pill Man

Pharmacist Ed Clark has been arrested for selling narcotics to addicts without a prescription. But Clark's motive is certainly not profit - he charges the regular price for the drugs.

Saturday, February 29th, 1964

21: Drink Like a Lady

In Miami, alcoholic Sheila Phelps wakes up to a nightmare: her pocketbook contains the wallet of a man who lies dead in New York.

Saturday, March 14th, 1964

22: Survival

Tragedy results when a Marine drill sergeant - with a fanatic devotion to military discipline - uses live ammunition in a training session.

Saturday, March 21st, 1964

23: Moment of Truth

Preston faces one of the toughest legal battles of his career when Ken is charged with bribing a juror.

Saturday, March 28th, 1964

24: The Hidden Fury

The Prestons defend Anna Leverton (Susan Oliver), an emotionally disturbed woman charged with murdering her psychiatrist's fiancee.

Saturday, April 11th, 1964

25: Die Laughing

Committed to a mental institution following a suicide attempt, comedian Denny Martin retains the Prestons to fight for his release.

Saturday, April 18th, 1964

26: May Day! May Day!

An admiral who disagrees with U.S. foreign policy in his area of command takes steps toward independent action and is arrested by the Justice Department.

Saturday, April 25th, 1964

27: The Thief

Arrested for shoplifting, three-time loser Catherine Collins (Glynis Johns) faces a possible life sentence. Her only hope: a plea of insanity.

Saturday, May 2nd, 1964

28: Yankee Go Home

Newsman Harvey Slaughter moves to challenge the Government's travel restrictions when his passport is confiscated after he visits Red China.

Saturday, May 9th, 1964

29: The Man Who Saved His Country

Earl Chafee (James Coburn), an unpretentious man who becomes an overnight celebrity when he kills a Cuban Communist leader in self-defense.

Saturday, May 16th, 1964

30: Mind Over Murder

Arrested for murder, Gerald Lowen (Emlyn Williams) offers a strange motive: his ESP powers indicated that he was the intended victim of the man he killed.

Saturday, May 23rd, 1964

31: The Sixth Alarm

Once arrested for arson, Cy Wright is jailed again when his employer's warehouse goes up in flames. The real culprit: the boss's son.

Saturday, May 30th, 1964

32: The Fine Line

On trial for felonious assault, prominent attorney Bernard Maxwell (Martin Balsam) is also questioned about the dubious tactics he used in his past legal triumphs.

Saturday, June 6th, 1964

33: The Non-Violent

Arrested during a civil-rights demonstration, young Alton Pell spurns his influential father's efforts to bail him out.

Saturday, June 13th, 1964

34: Stowaway

Caught trying to enter the U.S. illegally, a 19-year-old Italian boy insists he belongs here - his father was an American GI.

Saturday, June 20th, 1964

35: Hollow Triumph

A rare TV script by novelist Howard Fast. Stockbroker Edward Banter's shady past - and present - comes to light when he goes on trial for the murder of his shiftless cousin.

Saturday, June 27th, 1964

36: The Uncivil War

Divorce laws come under fire as a couple seek to end their unhappy marriage in New York - where the only grounds are adultery.
Season 4
Thursday, September 24th, 1964

1: The Seven Hundred-Year Old Gang (1)

The police uncover a bootlegging operation run by elderly David Marcus (Jack Gilford).

Thursday, October 1st, 1964

2: The Seven Hundred-Year Old Gang (2)

The DA, fearing his political future will be ruined if he prosecutes an elderly winemaker, begs Preston for a postponement of the trial.

Thursday, October 8th, 1964

3: Hero of the People

Lonely Harry Obermayer glories in his sudden fame when he falsely confesses to the murder of a narcotics peddler.

Thursday, October 15th, 1964

4: Go-Between

When his son is kidnapped, Presidential candidate Matthew J. Ritter (Arthur Hill) turns to Preston - instead of the police - for help.

Thursday, October 22nd, 1964

5: Conflict of Interests

Representing a British drama critic in a libel suit, the Prestons' ingenuity is taxed by a clever - and very attractive - opposing attorney (Cloris Leachman).

Thursday, October 29th, 1964

6: The Man Who . . .

Lawrence Preston runs for political office. In the end, of course, he loses. He realizes he lost because he offered no alternative to the other candidate. E. G. Marshall's final speech to the winning candidate said it was a choice between Tweedlee and Tweedledum.

Thursday, November 5th, 1964

7: Turning Point

Hostile silence greets Ken as he investigates a murder for which a young man has already been executed.

Thursday, November 12th, 1964

8: A Taste of Ashes

Preston defends two men charged with committing murder to save their own lives.

Thursday, November 26th, 1964

9: Comeback

A once-famous actress, Madeline Flanders (Viveca Lindfors) making her comeback is accused of drunken driving and hit and run. Preston, one of her old fans, defends her.

Thursday, December 3rd, 1964

10: The Siege

Preston is threatened by gun-wielding Gary Degan (Robert Redford), an escaped convict who insists he's innocent - and that Preston is responsible for his conviction.

Thursday, December 10th, 1964

11: Whitewash

Charged with extortion, city councilman Juan Espejo (Ricardo Montalban) insists the indictment is a maneuver to discredit Puerto Ricans in public office.

Thursday, December 17th, 1964

12: A Voice Loud and Clear

On trial for murder, religious visionary Bethany Windell (Shirley Knight) offers an unusual motive: she killed when ordered to by strange voices.

Thursday, December 31st, 1964

13: King of the Hill

Real-estate kingpin Mark Vronis's shady past may prove to be his undoing when he's charged with smuggling narcotics.

Thursday, January 7th, 1965

14: Whipping Boy

Ken is retained by accused child beater Christine Knox (Madlyn Rhue), a young divorcee who claims her son fell down a flight of stairs.

Thursday, January 14th, 1965

15: Eyewitness

Examination of the public's responsibility in law enforcement. Preston defends two teenagers charged with beating an elderly man to death - while 27 witnesses looked on.

Thursday, January 21st, 1965

16: The Silent Killers

The Prestons' defense of an accused murderer focuses on one question: is circumstantial evidence enough to justify capital punishment?

Thursday, January 28th, 1965

17: Death on Wheels

An emotionally disturbed man (Leslie Nielsen) seeks the Prestons' aid after he kills a pedestrian in an auto accident. The courtroom plea: temporary insanity.

Thursday, February 4th, 1965

18: The Unwritten Law

Indicted for murdering his wife's lover, Leo Rolf (David Opatoshu) guarantees Preston that an "unwritten law" assures him acquittal.

Thursday, February 11th, 1965

19: The Objector

The rules governing conscientious objection are examined in this episode. Roger Bailey (Brandon de Wilde) tries to obtain a draft deferment on religious grounds - although he practices no formal religion.

Thursday, February 18th, 1965

20: Fires of the Mind

After taking LSD, mentally disturbed Robert Kraft commits suicide while experiencing a hallucinatory reaction—and Dr. Byron Saul (Pleasence), who's been treating Kraft with the drug, is charged with manslaughter.

Thursday, February 25th, 1965

21: No-Knock

Armed with a no-knock warrant, a plainclothes man enters Willie Drucker's apartment - and is killed by the suspected numbers racketeer.

Thursday, March 4th, 1965

22: The Merry-Go-Round Murder

Governess Winnie Benedette (Ruth White), overzealous efforts to shield her young charge from his parents' divorce proceedings leads to tragedy.

Thursday, March 11th, 1965

23: Nobody Asks What Side You're On . . .

While the police close in on a molester, columnist Marla Edwards (Lee Grant) flees to her car - where a man hides in the back seat.

Thursday, March 18th, 1965

24: Impeachment

Gov. William Defoe's declaration of independence from a corrupt political machine may prove costly: the party bosses are after his resignation - or impeachment.

Thursday, March 25th, 1965

25: The Sworn Twelve

Preston tries to secure a new trial for his client when he receives an anonymous letter charging impropriety in the jury room.

Thursday, April 8th, 1965

26: A Matter of Law and Disorder

Charged with manslaughter for shooting a teenager, Peter Dowling (Pat Hingle) claims self-defense - but the boy was unarmed.

Thursday, April 15th, 1965

27: Youths and Maidens on an Evening Walk

In her bumbling efforts to attract the attention of a famous director, stage-struck Bertha Schlock (Joan Darling) assaults a policeman.

Thursday, April 29th, 1965

28: The Prosecutor

Charles Parker (Larry Blyden) has second thoughts about prosecuting a suspected murderer when the Prestons - defense attorneys in the case - offer him a position with their law firm.

Thursday, May 6th, 1965

29: The Bum's Rush

The Prestons are assigned to defend murder suspect Charlie Barry (Tom Bosley), a vagrant who is apathetically resigned to his fate.

Thursday, May 13th, 1965

30: Only a Child

Suing for damages after his son's accidental death, Bill Andrews (Robert Duval) finds that the amount he can collect won't even cover the cost of his wife's psychiatric care.