update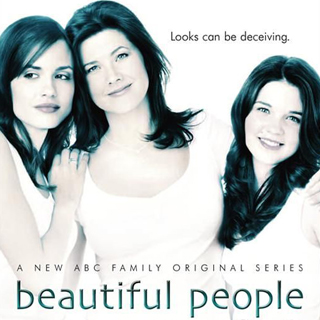 Season 1
Monday, August 8th, 2005

1: Pilot

When Lynn Kerr's daughter Sophie wins a scholarship to an elite school she must pack up her two daughters and move from New Mexico to New York City. As Sophie starts school she quickly finds out the school is run by the "beautiful people" and they aren't too impressed by her.

Monday, August 15th, 2005

2: Point and Shoot

Lynn, Sophie, and Karen throw a dinner party. Sophie decides to invite her photography teacher in hopes of matching him up with her mother. Also, Lynn finds herself a job at a fashion company, while Karen finds herself working as a nightclub waitress and not that thrilled about it. Meanwhile, Sophie gets accepted into an advanced photography class which causes Nicky to pursue the same class even though he knows nothing about photography. Later that day Paisly steals Sophies' camera after Nicky broke up with her and claims not to know anything about it. Her and Nicky search the school for her camera and end up walking through the park as Nicky tells her about his improved knowledge about photograph after taking her advise about "doing his homework". They end up kissing as Gideon sees them after leaving the party to go and find her.

Monday, August 22nd, 2005

3: Reload

Sophie and Nicky compete against each other in a school's midterm project, which is run by Julian. Sophie chooses to focus her's on the B.P'.s and Nicky tries to get Karen to help him out. Lynn has trouble finding a new job and has dinner with Mr. Stein. Also, Karen makes a drastic decision involving her nightclub job.

Monday, August 29th, 2005

4: Over Exposure

Lynn feels like it's time to start dating again and decides to start by asking out her next door neighbor, Joe. Sophie, against her mother's wishes, decides to go to a party and gets caught in the act. Elsewhere, Karen gets stood up for a date with a modeling agent, whom she thought might further her languishing career. Sophie learns about the bet.

Monday, September 5th, 2005

5: Dark, Room, Chemicals

When Lynn has the chance to fly to Chicago to run a fashion show she takes it and leaves Sophie and Karen alone. While there, Lynn also runs into Julian who wants to try and resume their romantic relationship. Meanwhile, Sophie and Karen find themselves lost in Central Park after a long car chase through the Bronx.

Monday, September 12th, 2005

6: F-Stop

Lynn, Sophie, and Karen are invited over to the Fiskes' home in Hamptons for a weekend. Sophie, Lynn, Karen, Joe, Gideon, Annabelle, Paisley, and Evan all end up going. Sophie decides that she will forget about the bet and her and Nicky can just be friends. Annabel comes hoping to get a chance to tell Gideon how she feels. While there, a game of "Truth or Dare" gets a little out of hand. Also Rona's and Julian's marital problems surface.

Monday, September 19th, 2005

7: Blow Up

Lynn is asked by Toby to submit a design for her company's fashion launch and asks Karen to model for her; Julian and Rona discuss their marriage; Sophie and Annabelle compete for a photography internship that is being judged by Gideon's father.

Monday, September 26th, 2005

8: Photo Finish

Karen escapes from her stalker, but returns home and is confronted about her drug use. Sophie must choose between Gideon and Nicky's invitation to a school formal. Finally Lynn's ex-husband comes to New York and demands that Karen and Sophie move back to New Mexico.

Monday, March 6th, 2006

9: Flashback to the Future

Daniel decides that he will fight for custody of Sophie. Meanwhile, Karen accepts some unpleasant assignments just so she can move up in the modeling world. As Lynn and Julian's relationship continues, it begins to takes to take it's toll on Sophie and Nicky. Also, Gideon sees Annabelle in a brand new light.

Monday, March 13th, 2006

10: It's All Uphill Here from Here

Not only is Lynn mad when she finds out Sophie is skipping school, but she gets even more upset when Sophie invites her father to Brighton's Parent Night and not her. Meanwhile, Karen gets a job working as an assistant to a famous photographer, thanks to Julian.

Monday, March 20th, 2006

11: A Tale of Two Parties

The Kerrs get to experience their first snowstorm in New York. This gives Lynn an opportunity to spend a romantic afternoon with Julian. Meanwhile, Karen finds an invitation at Ben's studio and uses it to sneak into party to meet some modeling agents.

Monday, March 27th, 2006

12: Das Boots

Lynn ends up facing a possible eviction after the building her apartment is in gets sold. She also has to deal with her upcoming custody battle with Daniel, which begins to take it's toll on Sophie, especially when she learns she might have to choose between her parents. Meanwhile, Karen finds out a secret about her new boyfriend.

Monday, April 3rd, 2006

13: Black Diamonds, White Lies

Lynn has to look for another financial backer for her and Maddy's new line. Soon she finds out that one of the potentials is the boyfriend of Karen. Sophie goes on the overnight field trip to the ski slopes to decompress from the custody battle and the departure of her boyfriend. Here she gets closer to Chris.

Monday, April 10th, 2006

14: Where Are We Now?

Lynn decides to date a younger man after much persuasion. Karen and Ben's relationship goes to another level after his car breaks down. Luke is wondering if the relationship is purely professional or not. Sophie and Chris share their first kiss during a tutoring session but tells her later that he isn't ready for any kind of relationship right now. Meanwhile, Annabelle celebrates her 16th birthday with The Veronicas playing in the background.

Monday, April 17th, 2006

15: Best Face Forward

Lynn becomes insecure about her new relationship between herself and Jeremy. Meanwhile, Karen competes for a spot in a national advertising campaign and gets tips from real-life supermodel Erin Wasson.

Monday, April 24th, 2006

16: And the Winner Is...

As Karen awaits the results of the modeling contest, Lynn takes control of the showcase. Sophie also tries to come to terms with Chris about his problem.
Season 2
1: 1

2: 2

3: 3

4: 4

5: 5

6: 6