update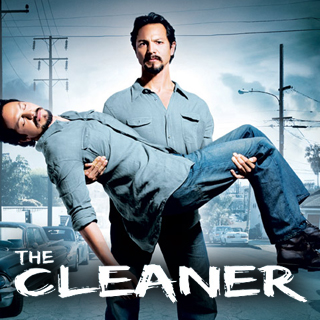 Season 0
2: Cast & Crew Interviews

3: On Set with Esteban Powell

4: The Mystery of William Banks

5: Deleted Scenes - Chaos Theory

6: Deleted Scenes - Here Comes the Boom

7: Deleted Scenes - House of Pain

8: Deleted Scenes - Five Little Words

9: Deleted Scenes - Lie With Me

10: Gag Reel

1: Alternate Pilot

Sunday, November 8th, 2009

11: Extreme Interventionist: The Man Behind The Cleaner

Who is the cleaner? He is a real man who this series is based upon. Discover who he is in this special episode!
Season 1
Tuesday, July 15th, 2008

1: Pilot

William tries to help Zach, a once-promising high school athlete who has fallen victim to meth addiction.

Tuesday, July 22nd, 2008

2: Rag Dolls

A mother thinks her teen daughter is involved with drugs though her drug test comes back negative. The mother enlists the help of William to prove this theory one way or another.

Tuesday, July 29th, 2008

3: Meet the Joneses

You never know where drug rings may show up. In this ongoing episode a wife, from the suburbs, involves herself with a drug ring. Her husband enlists the help of William to crack the ring.

Tuesday, August 5th, 2008

4: Chaos Theory

A mathematics professor uses cocaine to help him publish his research in time. His girlfriend and colleague requests William's help. William tries to stop the professor before he loses everything--his career, personal life, and even his immigrant parents' diner. Meanwhile, William's son discovers a used needle in their house after a dinner party. William realizes that the needle belongs to his former sponsor and must decide whether to cut his sponsor out of his life.

Tuesday, August 19th, 2008

5: Here Comes the Boom

A teenage boy needs William's help with his father, who once went to prison because of William's past efforts. The man is back on the streets and using meth again.

Tuesday, August 26th, 2008

6: To Catch a Fed

William is determined into searching for the former partner of an FBI agent; the missing man is found in a tent city of meth manufacturers, William then realizes that he's has been told lies about the real reason why the FBI agent is looking for her old partner.

Tuesday, September 2nd, 2008

7: House of Pain

William's friend needs help with a student who is abusing heroin and prescription drugs. The boy's father causes problems for the crew. William thinks the boy might be attempting suicide.

Tuesday, September 9th, 2008

8: Let It Ride

The gambler notices his favourite jockey is using a lot of drugs to meet weight and asks William to step in.

Tuesday, September 16th, 2008

9: The 11th Hour

The original interventionist brings William in after his intervention with a woman goes wrong and she ends up on the streets. The original interventionist considers William a "Thug" making William question his own motivation for finding the woman.

Tuesday, September 23rd, 2008

10: Rebecca

A teenager pianist turns to meth in order to cope with the pressure, the father of the teenage girl asks William's crew for help, but they are stonewalled by the girl's mother.

Tuesday, September 30th, 2008

11: Back to One

The brother of an striving actress discovers his sister cocaine addiction and tries to get William's crew to help. Akani races to find Sweton after he mysteriously goes missing.

Tuesday, October 7th, 2008

12: Five Little Words

William rescues a team member, while the others go undercover at a sorority house to get information about a drug dealer.

Tuesday, October 14th, 2008

13: Lie With Me

William devises an extreme intervention when a couple's alcoholism endangers their daughter.
Season 2
Tuesday, June 23rd, 2009

1: Hello America

A friend who's also a program member asks for Banks' help to get her husband to rehab, but the case is complicated by the fact he's not only a newscaster, but a national spokesman for sobriety, and in the midst of a rescue that must be completely confidential Banks finds he's dealing with personal issues that affect both him and his client.

Tuesday, June 30th, 2009

2: Last American Casualty

A weekend with Ben turns into a busman's holiday when William must deal with two alcoholics.

Tuesday, July 7th, 2009

3: The Projectionist

Still reeling from his separation, William decides to detox a pregnant woman at his safe house, rather than utilizing a hospital, a decision he may come to regret.

Tuesday, July 14th, 2009

4: Does Everybody Have a Drink?

William tries to help a celebrity beat her addiction to drugs.

Tuesday, July 21st, 2009

5: Split Ends

Sisters find that they may be linked by more than twinship when they try to achieve sobriety separately. At home, a friend of William's cuts a path of mayhem and destruction as he tempts a recovering addict with her drug of choice and crosses way over a boundary with Melissa.

Tuesday, July 28th, 2009

6: The Things We Didn't Plan

It's a busy week for the team, involving a risky grab of an armed client, and alcoholic father traveling with his daughter, cleaning up a policeman's son and a homeless woman.

Tuesday, August 4th, 2009

7: An Ordinary Man

A hospital administrator seeks William's help after receiving an anonymous letter accusing a doctor and some nurses of using drugs.

Tuesday, August 11th, 2009

8: The Turtle and the Butterfly

William is asked by a woman to get her drug addicted son out of an Inland Empire jail, and he does, but the trip back is not as easy when the young man refuses to change his life, and a chance encounter with a 13-year old drug runner for a powerful dealer.

Tuesday, August 18th, 2009

9: The Path of Least Resistance

William finds a very personal trigger when a new age guru, cashing in on the self-help craze, turns to William for help with her addict son.

Tuesday, August 25th, 2009

10: Cinderella

William weighs protecting Lula and their relationship or putting her face-to-face with the downfall of one of her idols when he decides whether to take the case of a ballerina.

Tuesday, September 1st, 2009

11: Standing Eight

Although the job is to clean up a boxer before his next match, William finds that the biggest risk to the man's sobriety is close to home.

Tuesday, September 8th, 2009

12: Crossing the Threshold

William and the team take a complex case involving a drug dealer's daughter, endangering both the team and William's family.

Tuesday, September 15th, 2009

13: Trick Candles

An old friend turns to Banks for help as William closes in on his seven-year birthday. Meanwhile, PK's planned celebration of the event may not go as she'd like.