update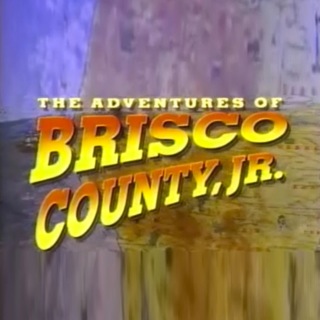 Season 0
Tuesday, July 18th, 2006

1: Brisco's Book Of Coming Things

Video Catalog of the Show's Signature References to Future Items and Ideas

Tuesday, July 18th, 2006

2: The History of Brisco County

Retrospective documentary with Bruce Campbell, Carlton Cuse, Julius Carry, Christian Clemenson, and Kelly Rutherford.

Tuesday, July 18th, 2006

3: Tools Of The Trade

Brisco lore featurette gallery.

Tuesday, July 18th, 2006

4: A Reading From The Book of Bruce

Bruce Campbell reads from the If Chins Could Kill: Confessions of a B-Movie Actor chapter that recounts his experience with the show.

Tuesday, July 18th, 2006

5: A Brisco County Writer's Room

Roundtable with key series creative personnel: Carlton Cuse, John Wirth, Brad Kern, Tom Chehak, David Simkins, and John McNamara.

Friday, July 31st, 2020

7: The Brisco County, Jr Reunion: Back in the Saddle

The stars and creators of the cult classic "Brisco County, Jr" gather together for a table read of the pilot episode

Friday, July 31st, 2020

6: The Brisco County, Jr Reunion: Back in the Saddle

The stars and creators of the cult classic "Brisco County, Jr" gather together for a table read of the pilot episode
Season 1
Friday, August 27th, 1993

1: Pilot

When marshal Brisco County Sr. is gunned down by John Bly and his gang of outlaws, his son, bounty hunter Brisco County Jr., comes back from the East to gain revenge on the killers.

Friday, September 3rd, 1993

2: The Orb Scholar

Brisco follows a lead on Bly to the town of Poker Flats. He finds Bly, the orb, and an old friend who once left him to die at the hands of the Swill brothers.

Friday, September 10th, 1993

3: No Man's Land

Professor Wickwire finds an injured Brisco and takes him to the nearest town for help. The town turns out to be populated completely by women - no men and no guns allowed. Trouble soon comes in the form of the Swill Brothers.

Friday, September 17th, 1993

4: Brisco in Jalisco

Brisco and Socrates head to Mexico to recover some stolen guns. Brisco is in for a shock when Pete Hutter turns up as the thief, trying to sell the guns to a crooked General.

Friday, September 24th, 1993

5: Socrates' Sister

When Brisco catches a man whom he believes is a member of John Bly's gang, the man swears he is not THAT Jack Randolph. Things are further complicated when Socrates' lawyer sister arrives to defend the man.

Friday, October 1st, 1993

6: Riverboat

Socrates sends out an S.O.S. to Brisco when he loses Westerfield Club money to Brett Bones, a member of John Bly's gang, in a poker game. Brisco, Bowler, Socrates and Wylie set up a scam to get the money back and put Bones in prison. Dixie shows up, but is she friend or foe?

Friday, October 8th, 1993

7: Pirates!

Brisco and Bowler try to capture Blackbeard LaCutte, a Bly gang member, who has stolen all of a town's supplies, including the medicine needed to save a sick boy.

Friday, October 15th, 1993

8: Senior Spirit

With a little help from his fathers' ghost, Brisco tries to rescue a boy whom he was responsible for who was kidnapped by Bly. The ransom -- Bly wants the missing orb rod. Can Brisco stop Bly and save the boy before they are all blown into oblivion.

Friday, October 22nd, 1993

9: Brisco for the Defense

Brisco puts on his lawyer hat to defend old college friend Matthew, a doctor accused of murder.

Friday, October 29th, 1993

10: Showdown

Brisco and Bowler head to Brisco's hometown, to help Brisco's old girlfriend and her sheriff father stop a takeover of the town.

Friday, November 5th, 1993

11: Deep in the Heart of Dixie

Brisco and Dixie are on the run from a hitman and his gang, who are trying to find Dixie and a vital piece of evidence she has.

Friday, November 12th, 1993

12: Crystal Hawks

Every bounty hunter in the West is after Brisco, who is wanted for a murder he didn't commit - and a VERY determined lady bounty hunter leads the pack.

Friday, November 19th, 1993

13: Steel Horses

Brisco and Bowler try to capture Bly gang member Juno Dawkins, and recover the prototype motorcycles he's stolen from the robber barons. Dawkins plans to use them to intercept a government wagon transporting the orb.

Friday, December 10th, 1993

14: Mail Order Brides

Brisco and Bowler try to apprehend the Swill brothers, who have just stolen the dowries of three mail order brides, and who now have their eyes set on a prize bull worth $1,000,000.

Friday, December 17th, 1993

15: A.K.A. Kansas

Brisco uses his favorite alias, Kansas Wily Stafford, to infiltrate the ranks of Doc McCoy, Bly gang member and ex-husband of Dixie. Dixie agrees to help with the plan.

Friday, January 7th, 1994

16: Bounty Hunter's Convention

Brisco, Bowler and Socrates attend a convention of Bounty Hunters, where the guests soon start being murdered, one by one...

Friday, January 14th, 1994

17: Fountain of Youth

Brisco and Bowler come to the aid of Professor Coles, who is in possession of the orb and is being pursued relentlessly by John Bly who must have the orb at all costs.

Friday, February 4th, 1994

18: Hard Rock

Brisco and Bowler try to stop Roy Hondo, a thug charging the citizens of Hard Rock for his "protection" services. Bowler reunites with an old flame, while Brisco discourages Whip Morgan from instigating a suicidal showdown with Hondo.

Friday, February 11th, 1994

19: The Brooklyn Dodgers

Brisco and Bowler help two young heirs make their way to San Francisco to collect their inheritance. A New York crime boss sends his henchmen to steal the inheritance from them.

Friday, February 18th, 1994

20: Bye Bly

A woman from the future aids Brisco in his final confrontation with Bly.

Friday, March 11th, 1994

21: Ned Zed

Brisco is on the trail of Ned Zed, notorious bank robber and member of John Bly's gang. Along the way he runs into Frances, his old college flame.

Friday, April 1st, 1994

22: Stagecoach

Brisco transports a lady spy to Mexico via stagecoach for a prisoner exchange, unaware that an assassin is among the passengers.

Friday, April 8th, 1994

23: Wild Card

Brisco and Bowler try to help Dixie and her sister Dolly get back the casino which was swindled away from Dolly by a mobster's son. Whip Morgan lends a hand...

Friday, April 22nd, 1994

24: And Baby Makes Three

Brisco, Bowler, Whip and Dixie try to protect a baby, who happens to be a future Emperor, that was left in their charge by Pete Hutter. The situation stirs up memories of his mother's death for Brisco.

Friday, April 29th, 1994

25: Bad Luck Betty

Hitchcockian suspense abounds as Brisco, Bowler and Whip track a kidnapped Socrates to Midnightville, a small town with some very strange residents. The clumsy deputy, Betty, "helps" them in their search.

Friday, May 13th, 1994

26: High Treason (1)

After Brisco and Bowler are asked by the army to put together a team (including the Professor, Whip, Pete and Aaron Viva) to rescue a kidnapped young woman, they find that the situation is not as they were told, and soon find themselves accused of high treason. A crooked Colonel and General do their best to see that Brisco and Bowler are found guilty and executed.

Friday, May 20th, 1994

27: High Treason (2)

Brisco and Bowler escape execution and go on the run, trying to prove their innocence. A super-elite tracking squad is hot on their trail.