update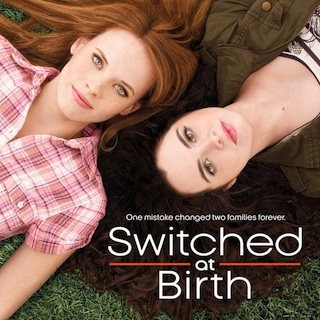 Season 1
Monday, June 6th, 2011

1: This Is Not a Pipe

Bay Kennish discovers during a biology class that she has a rare blood type which is different from her parents. Intrigued by her new discovery, Bay convinces her parents, Kathryn and John, to visit a genetic testing facility where it's confirmed that Bay is not their biological daughter. There was a mix up at the hospital and both families took home the wrong babies. Days later, the Kennishes are introduced to their biological daughter Daphne and her mother Regina Vasquez. The Kennishes are surprised to see that Daphne is deaf. John and Kathryn immediately research ways to help Daphne and suggest the possibility of Daphne attending Bay's private school, which doesn't sit well with Bay. Regina is against Daphne attending the school but agrees to move her family into the Kennish house to deal with their new family situation.

Monday, June 13th, 2011

2: American Gothic

The Kennish family invites Regina, Daphne and Adrianna over to breakfast, but since they're in the middle of unpacking their new home, only Daphne goes. She is quickly overwhelmed with how fast they speak and has difficulty understanding. Meanwhile, Kathryn suggests Daphne and her family come to their weekly grill night, but she and John are secretly upset when Daphne gets a ride to school on Emmett's motorcycle. John and Kathryn see their attorney about filing a lawsuit against the hospital. And Regina tells Bay about her time in AA and that alcoholism runs in their family. Kathryn and John talk to Regina about joining the lawsuit and also how they don't like Daphne riding on a motorcycle. The three adults all get into a big fight about their parenting styles at grill night. Later, Kathryn, John and Regina all agree they can't control each other's parenting styles. Then Regina tells the Kennishes she's not interested in pursuing a lawsuit. Bay escapes the madness to hang out with Ty, while Daphne escapes to hang out with Liam. While together, Liam and Daphne run into Liam's friends who make fun of Daphne's disability – and Liam does not stick up for her.

Monday, June 20th, 2011

3: Portrait of My Father

When attempting to figure out a way to answer questions about their newfound living situation, Kathryn encourages her family and Regina's family to give a vague version of the truth. She's not yet ready for the "switch" details to be made public. Liam tries to make up with Daphne, but she won't have it. And when Daphne and Emmett are talking about the Liam situation, Emmett tells Daphne he would rather date a deaf girl -- and describes his ideal girl as someone who sounds a lot like Daphne. Later, John meets Melody, Daphne's basketball coach, Regina's friend and Emmett's mom. John and Daphne bond over basketball, but he takes practicing a little too far. However, with John's words of encouragement about basketball, Daphne decides to make up with Liam. Meanwhile, Bay is curious and asks Regina about her biological father but Regina and Adrianna both refuse to talk about him. Ty shows Bay around his neighborhood, where she could have potentially been raised. And Bay confides in Ty about wanting to know her biological father. Later, Daphne gives Bay a photo of Regina when she was pregnant with her – and it was taken by Bay's biological father. Elsewhere, Kathryn gets Regina a job at her hair salon. Regina's first client is Kathryn's nosey friend Denise. Later, Kathryn reveals the switched at birth story to her friend Denise.

Monday, June 27th, 2011

4: Dance Amongst Daggers

Kathryn host the annual benefit for the school at the house and soon the newly mixed family become the subject of Mission Hills gossip. And things don't get better for them all personally when Kathryn becomes jealous of John's new friendship with Melody. Also, Regina accepts an invite for dinner with one of Kathryn's best-friends ex husbands and Bay becomes finds it hard to accept that Daphne has started hanging around with Liam.

Monday, July 4th, 2011

5: Dogs Playing Poker

After learning that Bay has secretly been seeing Ty both John and Kathryn insist on having him over for dinner. Knowing that they're going to use the dinner to interrogate him, Bay tries to prepare, but she's nowhere near prepared for the secret Ty reveals. And Daphne's morals are tested when Toby ropes her and Emmett into a poker game, but it soon becomes clear that he may be in over his head.

Monday, July 11th, 2011

6: The Persistence of Memory

Daphne struggles to fit in at her new school as she becomes the subject of gossip at Buckner Hall after an incident in cooking class. Elsewhere, Bay and Emmett grow close while doing some research into her father together. Also, Toby finds himself in serious trouble as he struggles to pay Wilke back the money he owes him which, leads him to do something that could get him in even more trouble. Kathryn takes steps towards getting to know Daphne more after a quite heated conversation with Regina by beginning to learn ASL. And the Kennish's learn that the hospital has withdrawn it's settlement offer and wants to take the case to trial.

Monday, July 18th, 2011

7: The Stag Hunt

After the Kennish's learn of his involvement with the stolen exam and a talk with Regina, Toby decides to turn himself in and not let Wilke take all the blame. Meanwhile, Bay and Emmett continue to bond in her hunt for her biological father and, Daphne learns of a life changing secret that Regina has been keeping from her.

Monday, July 25th, 2011

8: Pandora's Box

As Bay and Emmett's relationship continues to get more serious she become conscious about his apparent love for Daphne. Meanwhile, Daphne is upset with Regina after learning the truth and spends the day hanging out with Wilke in her old neighborhood. During the Deposition, Kathyrn and John are blind-sided by what they learn and, later everyone confronts Regina over her lies and she comes clean about knowing all about the switch for the past 12 years and how. With no one but Toby willing to give her a chance she packs a few things and leaves.

Monday, August 1st, 2011

9: Paradise Lost

it is Bay and Daphne's birthday, and the Kennishes have decided to buy each daughter a car. While Bay is excited, Daphne is apprehensive about allowing them to shower her with a gift she knows her mother, Regina, could never afford. After Regina's been hiding out at Melody's house for a few days, she hopes to return home to celebrate the girls' birthdays together with the Kennishes. Meanwhile, Bay and Emmett's relationship is blossoming, but like most things, has been kept a secret.

Monday, August 8th, 2011

10: The Homecoming

As Bay holds her art-show an unexpected guest makes an appearance and, Daphne opens up to Emmett about the feelings she has for him.

Tuesday, January 3rd, 2012

11: Starry Night

Kathryn finds a nurse who may have known that Bay and Daphne were switched. Bay crashes a festival where Guitar Face (Toby, Wilke, and Emmett) is playing because she hears that Daphne is there; Emmett doesn't want a jealous girlfriend. Bay's friend and Wilke's ex-girlfriend Simone flirts with Toby.

Tuesday, January 10th, 2012

12: The Tempest

Simone dares Daphne to go over and kiss a guy; the guy is up for it, but his girlfriend is not as excited about this.

Tuesday, January 17th, 2012

13: Self-Portrait With Bandaged Ear

As Angelo makes Regina a business offer, Daphne finally confronts him about the reason he left. Meanwhile, Melody's opinion of Bay and Emmett's relationship doesn't improve when he gets in trouble. And the Kennish's entire case against the hospital is put in jeopardy when they learn some new disheartening information about their lawyer.

Tuesday, January 24th, 2012

14: Les Soeurs d'Estrees

John and Kathryn meet with several new possible lawyers concerning their legal issues with the hospital. Also, Kathryn's writing a memoir about her experiences.

Tuesday, January 31st, 2012

15: Expulsion From the Garden of Eden

Angelo attends a dinner at the Kennishs' home; Emmett goes to live with his father where a nervous Bay prepares to meet Emmett's father and is high on nerves due to her disastrous relationship with Melody. Meanwhile, Wilke has some shocking news for Daphne and a woman who has a history with John shows up. Also during one of the aired commercials it is shown that Bay and Emmett might take their relationship to the physical level. It shows Emmett asking if Bay wants to quote "stay over, stay over."

Tuesday, February 7th, 2012

16: Las Dos Fridas

We meet Monica, a teenage Latina who Daphne knew from her old neighborhood. She's on a track team that practices at Buckner Hall. Monica and Simone clash when Simone suspects Monica stole her watch.

Tuesday, February 14th, 2012

17: Protect Me From What I Want

One of Regina's clients owns an art gallery and Regina gets him to look at Emmett's photos.

Tuesday, February 21st, 2012

18: The Art of Painting

Regina has a display at an art gallery. Daphne and Wilke lead a tour at Buckner Hall for several boosters. She's supposed to be talking up the school, but her focus goes elsewhere.

Tuesday, February 28th, 2012

19: Write a Lonely Soldier

Kathryn and her lawyer meet with Angelo's lawyer, who reveals the hospital plans to argue that Regina switched the babies on purpose. Regina meets with a mother whose daughter lost her hearing. Daphne is playing basketball at the Carlton School for the Deaf; she doesn't get along with a boy named Theo.

Tuesday, March 6th, 2012

20: Game On

Bay becomes involved with Emmet's custody battle. Elsewhere, Daphne's two schools play each other in a basketball game

Tuesday, March 13th, 2012

21: The Sleep of Reason Produces Monsters

Daphne and Bay plan the perfect birthday for Emmett - an ASL zombie movie shoot with their friends and family. While Emmett is excited about the event, he's also torn up inside about what happened with Simone and how it will hurt Bay. Simone wants to keep what happened between her and Emmett a secret, but someone finds out and threatens to expose their secret. Meanwhile, Kathyrn is devastated to find out that John has been revealing some secrets of their own and Regina has second thoughts about contributing to Kathyrn's book.

Tuesday, March 20th, 2012

22: Venus, Cupid, Folly, and Time

In the winter finale, the Carlton prom gets underway, and Travis tags along with Daphne and Wilke, while Emmett feels the weight of the secret he's keeping from Bay. Elsewhere, Angelo resurfaces; and Kathryn and John's lawyer crosses a line.

Monday, September 3rd, 2012

23: This Is the Color of My Dreams

Bay returns from a trip abroad with a new boyfriend, but she must face issues from her past concerning Emmett and Angelo. Meanwhile, Daphne seeks employment help from Kathryn; and Regina impulsively makes a big decision.

Monday, September 10th, 2012

24: The Intruder

Regina's actions rock both families. John's baseball record is in danger of being beaten. Daphne and Emmett decide to enter their zombie film in a horror film festival. Emmett has a run-in with Toby. Meanwhile, Bay meets another street artist.

Monday, September 17th, 2012

25: The Shock of Being Seen

Daphne feels like she's a minute away from being fired after she causes a major accident at the restaurant. But things take a turn when her new boss, handsome Chef Jeff, asks her to stay late one night. Meanwhile, Bay uses Angelo as her excuse to get around John's rules. And Kathryn is upset when Regina gets all of the attention in her interview for the new book.

Monday, September 24th, 2012

26: Tree of Forgiveness

Daphne tries to ignite a spark between Robin and Emmett at the bike show held at John's car-wash. Meanwhile, John is livid when the car wash is tagged, and Kathryn tricks Toby into getting out of the house.

Monday, October 1st, 2012

27: The Declaration of Independence

Bay and Zarra search for a tagger who's been painting over their street art. Meanwhile, Daphne gets mixed signals from Chef Jeff.

Monday, October 8th, 2012

28: We Are the Kraken of Our Own Sinking Ships

Kathryn and John are concerned about Bay's friendship with Zarra so they invite Bay's ex-boyfriend Alex and his parents over for dinner. But during the meal, Zarra calls and begs Bay to come rescue her from a sticky situation. Meanwhile, Scuba pressures Daphne into lying to Chef Jeff for him. Plus, Toby bonds with Nikki, and Regina tries to reconnect with Patrick.

Monday, October 15th, 2012

29: The Trial

The lawsuit against the hospital comes to a head as Angelo returns in time for the beginning of the trial. Meanwhile, Bay scrambles to return the money she "borrowed" from John to help Zarra. Daphne and Jeff struggle in their relationship; and Emmett, Nikki and Toby form a new band.

Monday, October 22nd, 2012

30: Street Noises Invade the House

The Kennish and Vasquez families are starting to fall apart. Daphne and Jeff's relationship is exposed, causing them major problems. Bay and Zarra take off without telling anyone. Meanwhile, the trial reaches a shocking conclusion.

Monday, October 29th, 2012

31: TBA

Monday, November 5th, 2012

32: TBA
Season 2
Monday, January 7th, 2013

1: The Door to Freedom

In the second-season opener, a newly wealthy Angelo buys expensive presents for everyone. Meanwhile, John and Kathryn contemplate entering the political arena; Bay faces cheating accusations; and Daphne lands in hot water because of Jeff.

Monday, January 14th, 2013

2: The Awakening Conscience

Regina is shocked when Angelo tells her about Lana and the baby. After convincing her parents to let her attend Carlton School for the Deaf, Bay discovers that the transition is not as easy as she had expected. Meanwhile, Toby and Nikki's relationship hits a bump when Emmett sees something from Nikki's past that makes Toby question exactly who this girl is.

Monday, January 21st, 2013

3: Duel of Two Women

Bay finds herself on the wrong end of Natalie's wrath, forcing Melody to take everyone on a Tolerance Retreat to help bridge the divide between them. Meanwhile, Kathryn possibly hurts John's campaign during a radio interview. Regina gets bad news about her health. Toby and Lana bond.

Monday, January 28th, 2013

4: Dressing for the Charade

Looking to give Bay an opportunity to meet the mother of her soon-to-be-born half-sister, Toby invites Lana to dinner at the Kennish house. Meanwhile, Daphne tries to help Travis (guest star Ryan Lane) with his problems at home.

Monday, February 4th, 2013

5: The Acquired Inability to Escape

Daphne may have taken on more than she can handle, while Kathryn volunteers to direct the play at Bay's new school. Meanwhile, Toby approaches his grandfather for a college recommendation.

Monday, February 11th, 2013

6: Human/Need/Desire

Bay throws an Anti-Valentine's Day party, inviting both her hearing and deaf friends, which leads to a heated confrontation between Noah and Travis. Angelo and Lana call a truce long enough to chaperone the event. Meanwhile, Regina butts heads with John and Kathryn over how to handle the situation with Daphne and the food truck.

Monday, February 18th, 2013

7: Drive in the Knife

Daphne and Travis have a falling out that sets off a series of events that neither of them saw coming. Bay and Noah's relationship blossoms, but Emmett won't give up without a fight. Meanwhile, Toby meets a new girl at his father's campaign headquarters. Zoey Deutch guest stars as Elisa, a volunteer with a secret agenda.

Monday, February 25th, 2013

8: Tight Rope Walker

Daphne feels torn when the deaf students at Carlton rally the school board to prevent even more hearing kids from attending through the pilot program. Meanwhile, Bay questions Regina's behavior, Daphne gets the lead in the play and Toby grows closer to Elisa.

Monday, March 4th, 2013

9: Uprising

When news of the school's closing spreads throughout campus, Daphne leads the students of Carlton School for the Deaf in arranging a demonstration to take place on the eve of the "Romeo and Juliet" play, in which Daphne has the lead role. Meanwhile, as one of a handful of hearing students in the school, Bay's attempt to be part of the campaign is challenged.

Monday, March 11th, 2013

10: Introducing the Miracle

Daphne and the students of Carlton School for the Deaf find out if their protest will keep the school open, and deaf. Lana goes into labor, Toby makes a surprise announcement, and John's campaign for office ends unexpectedly. Meanwhile, an intoxicated Regina shows up at Angelo's. And, will Emmett tell Bay about the kiss between Daphne and Noah?

Monday, June 10th, 2013

11: Mother and Child Divided

While Regina has been away at rehab, Daphne has grown closer to the Kennish family, spending her days at their country club and her nights in their guest room. This new family dynamic does not sit well with Regina, who unexpectedly returns home early in hopes of spending more time with Daphne. Bay begrudgingly starts working at her dad's office and, when her car breaks down near a local carnival, runs into her ex-boyfriend, Ty, who has returned from serving in Afghanistan. Meanwhile, Travis talks Emmett into bringing some girls over to the house while Melody is out of town, and Kathryn's elaborate ideas for Toby and Nikki's rehearsal dinner rubs Nikki the wrong way.

Monday, June 17th, 2013

12: Distorted House

Just as Bay and Ty begin to reconnect, Bay learns some shocking news about Ty's experiences in Afghanistan and after he returned home. John is torn when both Toby and Travis approach him about a manager position at the car wash. Meanwhile, Kathryn and Daphne have a hard time coming to terms with Bay's request to stay with Regina.

Monday, June 24th, 2013

13: The Good Samaritan

When she sees that Toby is overwhelmed by the demands of work and planning a wedding on a budget, Bay looks to lighten the mood and books his band to perform at the local carnival. Angelo is frustrated by Regina and Bay's messiness, while Adrianna's frequent visits has Kathryn on edge. Meanwhile, Jace introduces Daphne to geocaching.

Monday, July 1st, 2013

14: He Did What He Wanted

Angelo becomes a member of the country club. Meanwhile, Regina begins a new job; Kathryn's position as a senator's wife leads her to have an awkward encounter; Daphne is unsure about Jace's feelings; and Bay uncovers new info about Ty and Mary Beth.

Monday, July 8th, 2013

15: Ecce Mono

What if Regina had told the hospital about the switch when she discovered it years ago? And what if both girls had been raised in the privileged Kennish household from age three? In "Ecce Mono," this alternate reality is revealed: Daphne has a cochlear implant, and doesn't know American Sign Language. Having been spoiled by her parents to make up for the switch, she's manipulative and not the best student. Bay, on the other hand, is a straight-A student, often trying to compensate for being the Kennishes' non-biological daughter. In addition, Kathryn is a successful author of bodice-ripping novels and, while still married to State Senator John Kennish, their marriage is far from perfect.

Monday, July 15th, 2013

16: The Physical Impossibility of Death in the Mind of Someone Living

Daphne is torn between her obligation to her family and her desire to spend time with Jace. John must face the reality of his situation. Angelo offers to help Regina bring in business. Meanwhile, Bay is intimidated when she meets a cool, confident Army medic who served with Ty in Afghanistan.

Monday, July 22nd, 2013

17: Prudence, Avarice, Lust, Justice, Anger

Angelo invites Bay to join him at a pivotal meeting concerning the custody of his infant daughter. When Daphne and Jace uncover a potential scandal regarding Senator Coto, they must decide what to do with the confidential information. Meanwhile, Nikki discovers that Toby and Simone have been in touch, and Emmett and Travis try to set Melody up on a blind date.

Monday, July 29th, 2013

18: As the Shadows Deepen

When business at Maui, Kansas starts to slow, Bay coordinates a Deaf Day and works with Emmett to organize a special screening of "Deafenstein." Daphne is shocked at what she discovers when she runs into Chef Jeff and John brings some business to Regina. Meanwhile, Toby tries to help Nikki cope with a family tragedy from her past.

Monday, August 5th, 2013

19: What Goes Up Must Come Down

Daphne's frustration with Jace comes to a head when Parker shares some upsetting news. Nikki confronts her mom about her dad's history. Meanwhile, John continues to find ways to pay back Regina for saving his life, and Ty and Bay go camping.

Monday, August 12th, 2013

20: The Merrymakers

Bay and Daphne throw Nikki an impromptu bachelorette party while a call from Simone alters the course of Toby's bachelor party. Meanwhile, Kathryn is surprised at Jennice's extravagant wedding requests, and a change in their living situation leads Angelo and Regina to reevaluate their relationship.

Monday, August 19th, 2013

21: Departure of Summer

John and Kathryn contemplate telling Toby their true feelings about his decision to marry. Daphne must own up to her mistakes while Bay works on a plan to continue her relationship with Ty while he is overseas. Meanwhile, Angelo finds himself in over his head.
Season 3
Monday, January 13th, 2014

1: Drowning Girl

Senior year means big changes for Bay and Daphne, as the Carlton School for the Deaf receives an influx of hearing students who are not happy to be there. Daphne begins working at a free clinic as part of her probation from the Senator Coto blackmail scandal, and bonds with a pre-med student with a spinal injury. Bay is inspired by her art teacher and surprised by her jock classmate, when she takes an art class at a local college. Toby tries to unite a divided Carlton by coaching girls' field hockey, and Kathryn dips her toes into new territory when she makes friends with a gregarious tap dancer.

Monday, January 20th, 2014

2: Your Body is a Battleground

When her art teacher proves to not be easily impressed, Bay is pushed to re-examine her talents. And adding to her discomfort is her forced commitment to the new Carlton field hockey team. Daphne makes a mistake at the clinic, and Campbell helps her correct it. Kathryn introduces her new friend Renzo to John.

Monday, January 27th, 2014

3: Fountain

Daphne's attempt at building a friendship with her field hockey teammate, Sharee, has been met with lukewarm reception at best, and it takes a turn for the worse when Sharee gets in trouble at school. Bay agrees to help her art teacher Teresa set up a showing at a Minneapolis gallery, in an effort to get a letter of recommendation for her art school application. Meanwhile, a business opportunity puts Regina in a conflicted position.

Monday, February 3rd, 2014

4: It Hurts to Wait With Love If Love Is Somewhere Else

Bay is surprised by her feelings when she learns that Emmett has started dating again. Jorge asks Daphne to join him at a family function. Regina and Angelo have a heart-to-heart over their business ventures. Meanwhile, John surprises the family when he makes an unusual purchase.

Monday, February 10th, 2014

5: Have You Really the Courage?

Kathryn is thrilled to get a second chance at being an author when Renzo sets up a pitch meeting with his book editor friend. Bay worries that Tank may have a crush on her. Daphne is concerned when she learns more about Sharee's home life. Meanwhile, John, and Nikki's mom Jennice hide some bad news from Toby while they help him move into his new place.

Monday, February 17th, 2014

6: The Scream

Kathryn's murder mystery party quickly gets complicated when both John and Kathryn discover something about each other. Bay tries to get an invite to Tank's fraternity luau. Meanwhile, Daphne plans a 21st birthday party for Campbell

Monday, February 24th, 2014

7: Memory is Your Image of Perfection

Daphne tries to convince Sharee that she needs to find help for her mother. Bay and Toby hatch a plan to get their parents on the same page. Adrianna is at odds with Regina over her new project. Meanwhile, Melody is confused by Travis's behavior.

Monday, March 3rd, 2014

8: Dance Me to the End of Love

Daphne dances with the idea of pre-med studies and asks for more responsibility at the free clinic, but is it too much too soon? Worried that his hearing girlfriend will lose interest, Travis hesitantly invites her to a school formal even though he doesn't know how to dance. Bay is left spinning when her teacher demands more of her art, despite her injury. Meanwhile, John jumps at the chance to win Kathryn over.

Monday, March 10th, 2014

9: The Past (Forgotten-Swallowed)

Daphne tries to help out Angelo at the clinic's fundraiser, all while juggling the attention of Jorge and Campbell. Bay must deal with MaryBeth's feelings about Tank. Toby tutors Sharee to keep her eligible for the field hockey team. Meanwhile, John and Kathryn invite one of John's old baseball colleagues over to get some dish for Kathryn's book.

Monday, March 17th, 2014

10: The Ambush

Bay enlists Tank to help her strike back when the rivalry between the Carlton and Buckner field hockey teams gets heated. Toby gets a surprise visit from Nikki. Regina's relationships in her old neighborhood become an asset at work. Meanwhile, Daphne chooses whether to date Jorge or Campbell.

Monday, March 24th, 2014

11: Love Seduces Innocence, Pleasure Entraps, and Remorse Follows

Bay sets out to find out The Real Story behind Emmett's girlfriend. Daphne questions her ability to volunteer at the clinic when she runs into someone from her past. Feeling guilty about her actions, Regina takes a chance at work. Meanwhile, Kathryn is shocked to discover that her book has been leaked ahead of publication.

Monday, June 16th, 2014

12: Love Among the Ruins

Bay faces the consequences of her unplanned romantic encounter with Emmett. Will she break up with Tank? Will Bay and Emmett start a new life together? Meanwhile, Daphne sets out to find the person who vandalized her mom's design studio. And Matthew continues to bully Emmett.

Monday, June 23rd, 2014

13: Like a Snowball Down a Mountain

Bay and Emmett work together to combat Matthew's blackmail threat and make an unexpected discovery. Daphne gets a big opportunity at the clinic but worries about how it affects her boyfriend Campbell. Meanwhile, Kathryn enjoys the perks of being the author of a highly-anticipated book, until someone from her past threatens its publication.

Monday, June 30th, 2014

14: Oh, Future

When she discovers Melody is considering an out-of-state move that would take Emmett with her, Bay encourages Emmett to strengthen his relationship with his father. But a visit with Emmett's dad reveals news that may change their relationship altogether. Kathryn and John clash with Regina over funding Daphne's college expenses, while Daphne interviews for a Latina college scholarship. Meanwhile, Mary Beth surprises Travis when she tracks down his hero, Super Bowl Champion Derrick Coleman, at a local restaurant.

Monday, July 7th, 2014

15: And We Bring the Light

Back from a soul-searching trip to Iceland after his failed marriage, Toby returns with a new perspective on life and a surprising new aspiration for his career. Bay's college dreams are knocked for a loop when she doesn't get the news she expected. Angelo helps Daphne redirect her senior year stresses with a baking challenge. Meanwhile, Regina's participation in the East Riverside project brings her to yet another moral crossroad.

Monday, July 14th, 2014

16: The Image Disappears

The Kennish and Vasquez families rally to support a loved one who is in critical condition. Amid the emotion, blame is placed, decisions must be made and lives are forever changed.

Monday, July 21st, 2014

17: Girl with Death Mask (She Plays Alone)

When John starts feeling a sense of built-up anxiety in Bay and Daphne, he suggests that a trip to Chicago to find Bay's second cousin is a perfect opportunity for her to become more in touch with her roots and give Daphne a chance to tour prospective colleges. But the trip goes south when Daphne uses the opportunity to act out, and Bay discovers alarming news about Angelo's family past. Meanwhile, Kathryn tries to kindle a spark between two love-seeking candidates looking for something missing in their lives.

Monday, July 28th, 2014

18: It Isn't What You Think

When Bay offers to be moral support for Tank as he meets his father for dinner, she finds that she may have bitten off more than she can chew. Toby continues to stir things up with Lily, yet a conflict regarding a make-up test for Sharee raises unwanted confrontation between the two. Meanwhile, Daphne and Travis make life-changing decisions when they find out their admission results from Gallaudet University.

Monday, August 4th, 2014

19: You Will Not Escape

Looking for a distraction, Daphne organizes a senior ditch day for her Carlton classmates, but things get out of hand. Bay meets with Angelo's doctor to discuss their family medical history. Meanwhile, Kathryn brings Regina to her book publisher's author party in New York.

Monday, August 11th, 2014

20: Girl on the Cliff

Regina, Kathryn and John are shocked when Bay tells them about the extent of Daphne's self-destructive behavior, prompting the parents to set some ground rules. Bay reconsiders attending the prom when the school board implements a new rule regarding dance dress code. Daphne continues her downward spiral when a bad decision puts her job at the clinic in jeopardy. Meanwhile, Tank helps Toby grow his deejay business, but their bromance is tested when Toby is offered a gig at Omega Psi.

Monday, August 18th, 2014

21: And Life Begins Right Away

Everyone is looking forward to commencement until shocking news about Carlton threatens to overshadow their special day. Daphne fears her future is in jeopardy when her past catches up with her. John and Kathryn are not happy when they learn about Bay's non-traditional post-graduation plans. Meanwhile, Mary Beth is pleased when Travis's wish comes true.

Monday, December 8th, 2014

22: Yuletide Fortune Tellers

As the holidays approach, Bay bristles at Kathryn's festive holiday spirit, complete with homemade peanut brittle and Christmas karaoke, while Daphne is frustrated with Regina's usual tradition of movies and Chinese food for Christmas. Then, after a joint family dinner including "magical" garlic knots, they wake to discover that the switch never happened. In this alternate life, Bay is an Olympic hopeful and Daphne is a successful artist with an upcoming exhibit. Is it the Christmas miracle they've always wanted? Could they even get back if they tried?
Season 4
Tuesday, January 6th, 2015

1: And It Cannot Be Changed

The family and Emmett discover Bay's impulsive decision to take the blame for Daphne, and no one is happy about it. Meanwhile, Daphne is determined to prove herself worthy of her switchster's sacrifice while also dealing with the challenges of starting college.

Tuesday, January 13th, 2015

2: Bracing the Waves

Daphne struggles with the speed and depth of her coursework, which is made more difficult when her interpreter, Josh, picks and chooses what he will interpret for her. Bay tries to balance her long-distance relationship with Emmett and fulfilling her sentence, all while dealing with an aggressive person on her team. Meanwhile, Kathryn has a meeting with a movie producer about her book.

Tuesday, January 20th, 2015

3: I Lock the Door Upon Myself

Bay gets an interview for a long-awaited submission with the Kansas City Artist Showcase to have her art be part of a public display but realizes her current status may prevent her from qualifying. When a dorm resident continues to prank the deaf students, Daphne challenges him to a dorm triathlon. Regina finds herself drawn to an East Riverside coffee house and its owner. A birthday milestone gets John thinking about the next chapter in his life. Meanwhile, Emmett makes a new friend at film school who gets him a gig on a real production.

Tuesday, January 27th, 2015

4: We Were So Close That Nothing Used to Stand Between Us

Bay feels pressured to maximize her short time with Emmett when he comes for a surprise visit. Daphne is mortified when she does poorly on her midterm exam. Melody and John clash when John encourages Travis to try out for the UMKC baseball team. Meanwhile, Kathryn asks Toby to help out with her new project.

Tuesday, February 3rd, 2015

5: At the First Clear Word

After a night of drinking with her friend Tank, Bay wakes to find that she doesn't remember all the details of the night. She tries to piece together the events of the evening, but as she speaks with different people about the situation, what really happened may not be so clear. Professor Marillo invites Daphne to a small gathering of students at her home. Meanwhile, Lily offers to help Toby while he figures out his finances.

Tuesday, February 10th, 2015

6: Black and Gray

Bay's very personal matter goes public when the UMKC administration gets wind of the situation, and an investigation is launched. Now the unwitting participants must face the strong opinions of others, and face their own beliefs about what really happened.

Tuesday, February 17th, 2015

7: Fog and Storm and Rain

As a severe storm warning forces everyone to hunker down indoors, Kathryn's mom Bonnie comes for a visit, bringing her friend Lucille and delivers some unexpected news to Kathryn. Bay finds that Emmett is avoiding any discussion of what triggered the UMKC investigation. Meanwhile, Daphne goes to see Regina at the coffee house where several shocks await her, including one that will put her freedom at risk.

Tuesday, February 24th, 2015

8: Art Like Love is Dedication

Bay tries to figure out how she can pursue an art career. Regina invites Eric and his son to stay with her temporarily. Mingo asks Daphne to hang out. Meanwhile, Kathryn offers to help Travis with his English.

Tuesday, March 3rd, 2015

9: The Player's Choice

Iris urges Daphne to broaden her college experience by rushing a sorority. Bay inserts herself when Travis's popularity as a UMKC baseball player starts to affect his relationship with Mary Beth. Meanwhile, Toby plans to ask Lily to move in with him.

Tuesday, March 10th, 2015

10: There is My Heart

Intent on making their relationship work, Bay surprises Emmett with a visit to Los Angeles while he's shooting his first big class project. Daphne is distraught with her performance in school and the idea of letting Bay and her family down. Kathryn and Toby get the chance to have their musical produced. Meanwhile, Regina is shocked by Eric's reaction to a buyout offer on the coffeeshop.

Monday, August 24th, 2015

11: To Repel Ghosts

Bay is haunted by her breakup with Emmett and struggles to figure out where their relationship fell apart. Daphne's excitement about her new relationship with Mingo is hampered by her friends' opinion of him. John and Kathryn's new accountant has some bad news. Regina digs deeper into the story of Eric's ex-wife, and everyone is shocked by the news that someone is pregnant.

Monday, August 31st, 2015

12: How Does a Girl Like You Get to Be a Girl Like You

In the wake of her breakup with Emmett, Bay decides to refocus her energy on school and signs up for a Spanish class, only to discover that the new harassment policy has put her in the spotlight. Daphne learns that her D in Chemistry will affect her scholarship. John finds himself under serious financial strain as Kathryn makes plans to produce her musical herself. Meanwhile, Daphne and Mingo have a major difference of opinion that leaves Daphne with doubts about their compatibility.

Monday, September 7th, 2015

13: Between Hope and Fear

Daphne is thrilled when Eric asks Regina to move in with him, but Regina is troubled by how little she knows about the mother of Eric's son, Will, and decides to go to Atlanta to find out more about the woman. John's financial stresses come to a head when Toby approaches the family for support, prompting John to lash out at him. Bay is surprised to learn she and Daphne have opposing opinions about how to deal with the pregnancy. Meanwhile, Travis goes to Los Angeles to visit Emmett and is dismayed to find Emmett has gone "Hollywood."

Monday, September 14th, 2015

14: We Mourn, We Weep, We Love Again

The news about Regina moving out from the guest house is a big discovery on its own, but it's definitely not the only one. As Kathryn and John discuss the future of their finances, they stumble upon the idea of endorsing products. Daphne joins an ambulance ride-along so that she can become her dorm's safety captain. Meanwhile, the reminder of Angelo's upcoming birthday only creates more tension.

Monday, September 21st, 2015

15: Instead of Damning the Darkness, it's Better to Light a Little Lantern

Daphne, Bay and Travis celebrate spring break with a volunteer trip to rural Mexico with Melody to distribute hearing aids to underprivileged locals. However, lines are crossed when Daphne makes an unexpected connection with a fellow volunteer and Bay's passionate anger toward Emmett gets the better of her. Meanwhile, Melody's boyfriend surprises her with a life-changing idea.

Monday, September 28th, 2015

16: Borrowing Your Enemy's Arrows

Daphne and Mingo decide to introduce their parents at the Kennishes' grill night, only to find Mingo's father is the business manager John blames for his current financial problems. Bay has an awkward run in with Tank at the restaurant where he works.

Monday, October 5th, 2015

17: To the Victor Belong the Spoils

With Mingo's help, Daphne holds a fundraiser to help support a sign-language school in Mexico. Bay is livid when a student starts using her art to sell crude t-shirts. Regina deals with the repercussions of digging through Eric's past. Meanwhile, Toby and Lily have to make difficult decisions about their future.

Monday, October 12th, 2015

18: The Accommodations of Desire

Bay thinks she's ready for a new relationship, but others are dubious of how quickly it is moving. Daphne's correspondence with Quinn starts to affect her relationship with Mingo. John and Kathryn begin researching new financial opportunities. Toby and Lily prepare for parenthood.

Monday, October 19th, 2015

19: A Mad Tea Party

Bay takes over hosting Lily's baby shower at the Kennish house when Regina is pulled away by an emergency with Will. At the shower, sparks fly between Kathryn and Professor Marillo, with Daphne caught in the middle. Lily stresses over how others will take the news of her decision.

Monday, October 26th, 2015

20: And Always Searching for Beauty

Bay is thrilled by the opportunity to showcase her newest work in her first art show. Daphne interviews for an internship abroad that would bring her closer to Quinn, causing friction with Mingo. Kathryn's frustrations with John come to a head when he storms out of a deal negotiation. Meanwhile, John and Kathryn confront Regina over Eric's secret.
Season 5
Tuesday, January 31st, 2017

1: The Call

Daphne and Bay are so enthralled with China that they stay longer than anticipated, but after 10 months, they get an emergency call and drop everything to return home. Once there, Daphne tries to integrate herself back into campus life but finds that things have changed without her. Bay is mixed up about her feelings towards Emmett who is struggling with his own problems. Meanwhile, Kathryn and John quarrel over her job and Regina feels guilty about a secret tryst.

Tuesday, February 7th, 2017

2: This Has to Do with Me

After a photo of Daphne and Mingo dressed up as their favorite singers at a college costume party goes viral, the pair find themselves caught up in a controversy that escalates into a discussion of race relations and free speech. Bay seeks a job at the tattoo parlor in town. Kathryn and John court a new shortstop for the UMKC baseball team, while Regina and Luca work on a class project together.

Tuesday, February 14th, 2017

3: Surprise

Returning from London for a visit, Toby and Lily reveal their plans to get married in the Kennish backyard. But a fight before the wedding may tear them apart before they can say "I do." Regina must decide whether to reveal her relationship with Luca to the family. When she least expects it, Bay runs into Tank again.

Tuesday, February 21st, 2017

4: Relation of Lines and Colors

After Daphne and Sharee witness a threat to the Black Student Union, Daphne attempts to make sense of the escalating racial tensions on campus.

Tuesday, February 28th, 2017

5: Occupy Truth

With tensions running at an all-time high, the Black Student Union takes a stand against the school administration until their demands are heard.

Tuesday, March 7th, 2017

6: Four Ages in Life

Daphne takes a volunteer job at a clinic for extra credit and comes face-to-face with her old mentor, Dr. Jackson. While eager to mend fences with him, she grows alarmed when it becomes obvious he's having trouble properly treating his patients.

Tuesday, March 21st, 2017

7: Memory (The Heart)

In the series 100th episode, a mysterious young woman has Bay and Daphne flooded with memories of their deceased father Angelo, and they must decide if they should let her into their lives. Toby is caught between his mother's wishes to baptize his son Carlton and his wife's feelings about faith. Melody asks her sons to make amends so the family can be together for her birthday, but it might be too late.

Tuesday, March 28th, 2017

8: Left in Charge

Needing to pay their electric bill, Bay and Daphne throw a "lights on" party at their apartment above the Cracked Mug but things go awry when Toby overhears two students making disability jokes. Toby and Bay's high school frenemy Simone turns up looking glamorous and successful. Meanwhile, as Daphne and Chris get to know each other better, she starts to suspect that he's hiding a big secret. Kathryn and Regina do some old-school snooping on Luca after Regina sees a questionable text on his phone.

Tuesday, April 4th, 2017

9: The Wolf is Waiting

Travis and Bay have dinner with his birth mom, but the reunion dredges up painful memories of his childhood assault. Daphne contemplates helping Chris cheat on a test. Regina gets paid an unexpected visit.

Tuesday, April 11th, 2017

10: Long Live Love

In the emotional 90-minute series finale of the award-winning drama, Kathryn becomes nostalgic when she realizes that it's been five years since the switch was discovered and the two families started living together. As she searches for memories, Kathryn discovers a long buried family secret – stretching all the way back to the switch – that changes everything. Daphne competes against Mingo for a six-week paid internship in sports medicine. Bay is celebrated for her tattoo work in a magazine spread, but her struggle to prove herself as an artist to John threatens to destroy their relationship. Toby meets Amelia (guest star Lauren Potter, "Glee"), a young woman with Down Syndrome who changes his perception about his son's future. Melody, Emmett and Travis make some major decisions about their lives, and Regina takes a chance on love.