update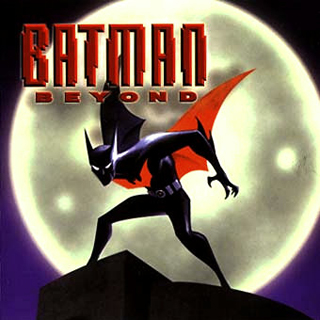 Season 0
not specified

9: Inside Batman Beyond: The Panel

An in-depth discussion with producers Bruce Timm, Alan Burnett, Glen Murakami, and Paul Dini as they explore Season Two of Batman Beyond with Moderator Jason Hillhouse.

not specified

10: Inside Batman Beyond - Season 3

Producer panel discussion

not specified

11: Close-Up On...Favorite Moments Of The Series

Favorite moments of the series with the creative team and voice actor Will Friedle

not specified

8: Batman Beyond: Meet Series Creators

Alan Burnett, Bruce Timm, Glen Murakami, and Paul Dini discuss the creative process behind Batman Beyond and its inaugural season. Jason Hillhouse moderates.

not specified

13: Out of the Past

Tuesday, December 12th, 2000

1: Return of the Joker

In this action-packed adventure, the sleeker, more dangerous and seemingly immortal Clown Prince of Crime is back to terrorize Gotham, Batman and the aging Bruce Wayne.

Saturday, October 23rd, 2010

12: Tomorrow Knight: Batman Reborn

Batman Beyond Series Creators Profile the Character of Terry McGinnis and His Worthiness to Join the Caped Crusader Tradition

Sunday, April 20th, 2014

2: Unknown

Tuesday, October 15th, 2019

3: Knight Immortal

A visual and visceral celebration of the Dark Knight's 80 years of crime fighting, narrated by storytellers of the past, present, and future.

Tuesday, October 15th, 2019

4: Nostalgic Tomorrow – A Batman Gathering

Many of Batman Beyond's core production team and actors gather for an enthralling roundtable discussion of the evolution and execution of the animate series. Join producers Bruce Timm and Glenn Murakami, casting/dialogue director Andrea Romano, director James Tucker, writers Bob Goodman & Stan Berkowitz, and stars Kevin Conroy & Will Friedle as they take a wildly entertaining trip down memory lane.

Thursday, October 31st, 2019

6: The High Tech Hero

A look at the changes in technology in the Bat Suit.

Thursday, October 31st, 2019

7: Secret Origin: The Story of DC Comics

A documentary about the story of DC Comics and the mythology that makes superheroes part of our culture.

Thursday, October 31st, 2019

5: Gotham: City of The Future

A look at the modernization of Gotham to the year 2039,

Saturday, December 5th, 2020

14: The Classic Nobody Wanted

Batman Beyond is undeniably a classic entry into Batman lore. It's unique vision of a futuristic Gotham and the young Terry McGinnis taking on the mantle of the Dark Knight from an aging Bruce Wayne forges an incredible new path for the Caped Crusader, but the thing is... nobody thought it was a good idea. So how did an idea nobody wanted turn into a fan favorite that's just as iconic 20 years later? This is the Inside Story of the unlikely and unwanted origins of the Batman of the Future!
Season 1
Sunday, January 10th, 1999

2: Rebirth (2)

Terry steals the Batsuit to pursue his father's killer, a professional bodyguard named Mr. Fixx (George Takei), whose employer, Derek Powers (Sherman Howard), the current CEO of Wayne-Powers, is secretly using the company's resources to develop a biological weapon. Bruce Wayne, discovering the theft, deactivates the suit, but when seeing the now-helpless Terry being punched out reactivates it so he can continue pursuing Fixx, and in the end Wayne appears at Terry's house to hire him as a "special assistant."

Sunday, January 10th, 1999

1: Rebirth (1)

In 2019, Bruce Wayne, the original Batman, retires due to failing health when his rescue of a kidnapped woman nearly goes wrong and he must resort to almost using a gun—the ultimate sin in his eyes. Twenty years later in 2039, Terrence "Terry" McGinnis discovers Batman's identity after the aging Bruce Wayne helps him fight off a gang of Jokerz (street punks enamored by the original Clown Prince of Crime). After Terry's father is murdered, Terry seeks Bruce's help to avenge him.

Sunday, January 31st, 1999

3: Black Out

Terry discovers how hard his new job as Batman is when he squares off against his first super-powered foe, Inque -- a shape-shifting woman sabotaging Foxteca for Derek Powers. Things go from bad to worse when he accidentally leads her right into the Batcave. Stockard Channing and Shannon Kenny make their first appearances as Commissioner Barbara Gordon and Inque.

Sunday, February 7th, 1999

4: Golem

Willie Watt, a nebbishy student at Terry's high school, is pushed around by everyone -- including his construction-worker dad, who insists that he needs to toughen up. Aching for revenge against Nelson, the jock that torments him, Willie steals a remote-controlled heavy-lifting robot (or "golem"), and rampages through Gotham. Batman stops the Golem quickly, but as a result of the fight he gains the power to control the golem mentally -- much to Nelson's dismay.

Sunday, February 14th, 1999

5: Meltdown

Derek Powers' body is continuing to deteriorate. Desperate, he has Victor Fries (Mr. Freeze) revived, and creates a new body for him under the pretense of medical research. Finally cured, Fries is repentant, but Bruce Wayne doesn't trust him. Batman halfheartedly shadows Freeze, convinced that he has reformed. But how long can he stay reformed once he discovers that Powers is using him?

Sunday, February 21st, 1999

6: Heroes

The Terrific Trio, a group of scientists who became superheroes after gaining powers in an experiment gone awry, make their way into Gotham and become media sensations. But Magma, Freon, and 2-D Man soon learn that the accident that gave them their powers was not really an accident. The Trio are inspired by the Fantastic Four, with 2D Man being Mr. Fantastic, Magma being a combination of the Thing and the Human Torch, and Freon can spread her molecules apart to the point where she becomes hard to see, and her ice beams can form protective shields, making her analogous to the Invisible Woman.

Sunday, March 14th, 1999

7: Shriek

Max Shreeve, a sound engineer working for Derek Powers, develops a suit that amplifies sound waves into awesomely destructive force. Powers is uninterested in the suit until Bruce Wayne interferes with his plans for Wayne-Powers once too often. On Powers' orders, Shreeve makes an attempt on Wayne's life, taking the name Shriek. Chris Mulkey makes his first appearance as the voice of Shriek.

Sunday, March 21st, 1999

8: Dead Man's Hand

Terry must deal with both his rejection by his girlfriend, Dana, and a group of Bruce's old enemies, the Royal Flush Gang, who pattern themselves after playing card ranks. Things look up for Terry when he meets a girl named Melanie who seems to share his problems.

Sunday, April 11th, 1999

9: The Winning Edge

Terry's late nights as Batman are starting to take a toll on his personal life when he can barely stay awake during the day. When he discovers that several jocks are using "slappers" -- patches that deliver the super-steroid Venom -- he investigates, only for his mother to catch him carrying the drugs. Then he has to find a way to stop the flow of Venom into Gotham and clear his name, all while being grounded.

Saturday, May 1st, 1999

10: Spellbound

Gotham's teenagers fall prey to the "evil eye" mind control techniques of a mysterious villian named Spellbinder, who causes them to hallucinate and do his bidding as unwitting accomplices. How can Batman defeat a foe who can control what he sees, hears, and feels? Jon Cypher makes his first appearance as the voice of Spellbinder.

Saturday, May 8th, 1999

11: Disappearing Inque

When Aaron, Inque's caretaker, is fired because of his infatuation with her, he cuts the power to her restraints. Injured and unable to regain her human form, she tries to coerce him to help her until he proves quite willing -- so long as she can make him like her. When Batman tries to stop her, she captures him and uses him as bait to lure Bruce Wayne into a trap.

Saturday, May 15th, 1999

12: A Touch of Curaré

Sam Young, Gotham's district attorney and Commissioner Barbara Gordon's husband, is targeted for assassination by Curaré, a silent and deadly member of the Society of Assassins. Armed with a molecule-thin sword that can slice through anything, she presents a formidable enough challenge for Barbara to reveal to Terry that she knows he's Batman. As the former Batgirl, she warns him that he should quit being Batman while he can. Paul Winfield makes his first appearance as the voice of D.A. Sam Young.

Saturday, May 22nd, 1999

13: Ascension

Batman is becoming increasingly frustrated with Blight, Derek Powers' radioactive form. Powers is also frustrated as he wrestles with controlling his power, and puts his son Paxton in charge of Wayne-Powers. His identity as Blight is revealed moments later, and he goes into hiding until he can find a way out of the city. Paxton begs Batman to help capture his father, and he warily agrees. Terry wants Blight to pay for murdering his father, and Paxton may have other plans -- but who is double-crossing whom?
Season 2
Saturday, September 18th, 1999

1: Splicers

The latest teen craze is "splicing" -- incorporating animal DNA into a human body. While some kids just get cosmetic changes like cat eyes, many opt for more major transformations. Batman investigates Dr. Cuvier, the founder of splicing, and discovers his plan to kill D.A. Young before the process can be outlawed. Cree Summer makes her first appearance as the voice of Terry's classmate Max Gibson.

Saturday, September 25th, 1999

2: Earth Mover

Terry's friend Jackie, the foster daughter of wealthy industrialist Bill Wallace, is being stalked by a creature that can reform itself out of the earth and control the earth around it. When an attack reveals canisters of radioactive toxic waste from underground, Batman tries to find the connection between the creatures, Wallace, and Jackie's late father, Wallace's former partner.

Saturday, October 2nd, 1999

3: Joyride

An experimental military warcraft makes an emergency landing in the middle of nowhere, where it's seized by a bunch of Jokerz out initiating a new member. Batman and its designer, Dr. Price, race to stop the Jokerz before they lay waste to the city -- and before the nuclear core goes critical.

Saturday, October 9th, 1999

4: Lost Soul

When executive Robert Vance was diagnosed with a degenerative brain disorder, he arranged to have his consciousness digitized. Now, 35 years later, his grandson Bobby has awakened him before his computer is shut down. Searching for a temporary home before he can find a human host, he infects Batman's costume. Terry goes after him, hoping to answer the question -- is Batman the suit, or the man inside it?

Saturday, October 16th, 1999

5: Hidden Agenda

Maxine "Max" Gibson, one of Terry's classmates and a bona fide genius, has created a computer program to figure out Batman's secret identity. When Max is targeted by the Jokerz, she rewrites the code to find the Jokerzs' identities, which only puts her in more danger. Michael Rosenbaum and Jill Eikenberry make their first appearances as the voices of Carter Wilson, another one of Terry's classmates, and his mother.

Saturday, October 23rd, 1999

6: Bloodsport

The Stalker, a cybernetically enhanced big game hunter who combines technological and primitive methods to stalk dangerous prey, comes to Gotham to hunt the most dangerous prey of them all: Batman. After their first encounter, the Stalker extends the hunt by pursuing Terry. Unfortunately, Terry is taking care of his younger brother Matt than night -- and must find a way to save himself without endangering his brother or revealing his identity. Carl Lumbly makes his first appearance as the voice of the Stalker.

Saturday, November 6th, 1999

7: Once Burned

The Royal Flush Gang's Ten returns on a mission to rescue her family, who have been captured by the Jokerz. When Melanie approaches Terry for help, he is forced to decide whether or not to put his relationship with Dana at risk, and if Batman can really trust Ten.

Saturday, November 13th, 1999

8: Hooked Up

When several Hill High students end up comatose in the hospital, Batman's subsequent investigation leads him to Spellbinder, who is getting teenagers addicted to virtual reality fantasies and forcing them to steal for him.

Saturday, November 20th, 1999

9: Rats

Dana, who feels she has been ignored and let down by Terry once too often, begins receiving roses from a secret admirer. When she is abducted by the mystery man, a boy named Patrick Fitz who lives in the sewers because of his rat-like appearance, Batman may be the only one who can save her.

Saturday, December 4th, 1999

10: Mind Games

Terry has mysterious visions of a young girl asking him for help. His search for her leads him into confrontation with a group of people with incredible psychic powers known as the Brain Trust.

Saturday, December 11th, 1999

11: Revenant

When strange things start happening around the school, the students are quick to blame the ghost of Garrison Jacobs, a student who was killed during the construction of the school's new wing. Terry is suspicious but skeptical until Nelson, one of the jocks, interrupts a séance the girls are having for fun. Everything in the gym comes alive, threatening to kill Nelson until Terry intervenes as Batman. When popular cheerleader Blade later receives a mysterious message from the ghost, Terry begins to put the pieces together.

Saturday, January 8th, 2000

12: Babel

When all of Gotham's animals start getting agitated at the same time, Terry and Bruce Wayne figure out that sound frequencies beyond human hearing are to blame. That points to one man: Shriek. The animals prove to be the tip of the iceberg when people suddenly lose the ability to understand each other's speech. Shriek eventually turns off the interference, but makes a demand of Commissioner Gordon: the city's safety for Batman's life.

Saturday, January 15th, 2000

13: Terry's Friend Dates a Robot

Howard Groote is one of Terry's classmates who isn't terribly popular. Desperate for acceptance, he plans for a blowout party at his place while his parents are away, but the popular kids laugh at his obvious attempts at coolness. Howard longs for a gorgeous girlfriend or cool car so that popular kids will notice him, and so jumps on the chance to get an illegal synthoid to pose as his girlfriend. However, her programming makes her a little too protective, putting the party -- not to mention the kids -- at risk.

Saturday, January 22nd, 2000

14: Eyewitness

Batman's already tense relationship with the law gets tenser when he accidentally messes up a major police sting operation. Fed up with Terry, who she sees as a hothead, Commissioner Gordon warns Bruce that she'll be keeping an eye on him to make sure he doesn't get into more trouble. Her worst fears are realized soon enough when she sees Batman bludgeoning Mad Stan to death with one of his own bombs. When Terry returns home, he finds the Commissioner's men looking for him, but he doesn't know why. Fleeing to Max's house, he tries to understand: how could people have witnessed him perpetrating a crime he didn't commit?

Saturday, February 5th, 2000

15: Final Cut

Curaré is back, and she's hunting members of the Society of Assassins before they can kill her for failing to assassinate Gotham's district attorney. Mutura Bootha, the last Society member still standing, enlists Batman's aid in stopping her, adding that if he falls, Batman is next on her list. As further incentive, he's planted a bomb in Gotham that will go off if he doesn't enter a code every 12 hours. Unfortunately Bruce Wayne is in Malaysia, unreachable due to a hurricane. Batman enlists an eager Max to help, leaving him to protect Bootha, find the bomb, and -- hardest of all -- keep Max from getting too involved.

Saturday, March 4th, 2000

16: The Last Resort

When Dr. David Wheeler, a prominent child psychologist, opens a new ranch/group home promising to help troubled teenagers, parents jump on the bandwagon and start sending their kids away for even the most minor infractions. Max encourages Terry to investigate as Batman when their friend Chelsea is sent away for writing a letter of protest to the principal. Batman discovers that the kids are being held prisoner and brainwashed, but he is spotted and fired on. Since Batman can't get admissible evidence, he decides to get it as Terry by visiting Chelsea with a pocket recorder. When Terry is captured, he's forced to rely on a delinquent he's never gotten along with.

Saturday, March 11th, 2000

17: Armory

Jared's stepfather, Jim "Big Jim" Tate, is a top weapons designer who likes to splurge his considerable salary on his family. When he's laid off from Wayne-Powers and hard up for work, he starts designing new weapons illegally for foreign governments. In order to steal the plans and parts he needs, he puts an array of untested weapons and his Special Forces training to use and becomes an unstoppable one-man army: Armory.

Saturday, March 25th, 2000

18: Sneak Peek

Ian Peek is a muckraking journalist who gets footage from seemingly impossible locations, no matter how tight the security. When there's a disturbance at city hall during a secret meeting between an organized crime witness and the district attorney, Batman encounters a man who can pass through solid matter at will. In short order, he puts two and two together and realizes this new villain is Peek. Confronting Peek, however, leads to him using his power to find out Bruce and Terry's secret -- and he threatens to expose them live on the air.

Saturday, April 1st, 2000

19: The Eggbaby

Terry's Family Studies teacher gives the class an assignment: to learn about the responsibilities of parenthood, they have to take care of an egg. The familiar exercise is given a high-tech twist -- each "eggbaby" has sensors which register the amount of care it receives and a computerized feedback system causes it to coo, cry, and giggle like a real baby. When Terry's assignment partner, vain cheerleader Blade Summers, unceremoniously dumps the eggbaby on him, he's forced to carry it with him when he's out as Batman -- even while chasing the notorious Ma Mayhem and her gang as they commit a series of daring ruby thefts.

Saturday, April 8th, 2000

20: Zeta

Terry becomes suspicious when his biology teacher starts acting oddly. The strange behavior culminates in a manic chase and shootout with federal agents after school, leading him to get involved as Batman. When Commissioner Gordon and her men find the teacher gagged and bound in her home, the truth comes out: an intelligent synthoid code-named Zeta is on the loose. Designed for stealth and assassination, it has the ability to disguise itself as any person using a holographic generator. Batman joins in the hunt for Zeta, but when he corners the robot he discovers that Zeta ran away from the federal agency because he doesn't want to kill. Gary Cole makes his first and only appearance as the voice of Zeta, before Diedrich Bader assumed the role for the Zeta Project spin-off series. Joe Spano makes his first appearance as agent Bennet.

Saturday, April 15th, 2000

21: Plague

High school jock Nelson unwittingly smuggles a glass vial with an unknown green fluid into Gotham, which is seized at customs. In the parking lot, he's attacked by the Stalker, who demands to know the whereabouts of the vial. Batman interferes with Stalker's flight, but is in turn stopped by agent Bennet, who tells him Stalker is helping them track Falseface, an identity-switching mercenary working for Cobra, a secret organization holding Gotham hostage with a horrific chemical weapon. Despite his misgivings, Batman teams up with Stalker to find Falseface and stop Cobra's plans.

Saturday, April 22nd, 2000

22: April Moon

When Batman foils a late-night bank heist, he's surprised to see that the four ordinary-looking punks all have expensive -- and dangerous -- cybernetic enhancements. When one of the criminals leaves a damaged servo-motor behind, Bruce Wayne recognizes it as the handiwork of the man who created some of the parts for the Batman suit, Dr. Corso, who specializes in prosthetics. After confronting the doctor, Batman discovers that Dr. Corso is being forced to help the crooks because they've kidnapped his wife, threatening to kill her if he doesn't enhance them as they ask.

Saturday, May 6th, 2000

23: Sentries of the Last Cosmos

One of the hottest virtual reality arcade games is Sentries of the Last Cosmos. Max and Terry's classmate Corey Cavaleri loves the game, sometimes better than real life. When he beats the arcade's all-time record, Corey is summoned to the secluded Sentrycroft estate by the game's creator, Simon Harper. There, he and two other kids become real-life Sentries, complete with flaming swords and flying discs. After a raid on Gotham's hall of records, Harper tells the kids that Sentries of the Last Cosmos is more than a game; in a nod to The Last Starfighter, Harper -- calling himself the Wise One -- claims that the Sentries' war against the Dark Regent is real, and that the game is used to recruit trainees. Batman learns of Harper's plot to send the kids after the Dark Regent -- the equally reclusive Eldon Michaels -- and tries to stop the kids and find the connection between the two men.

Saturday, May 13th, 2000

24: Payback

A hooded vigilante calling himself Payback, armed with a bullwhip-like laser, has been terrorizing people under the pretext of helping the city's kids. Bruce Wayne discovers a link between two of the kids and the Gotham Youth Counseling Center. When the Center's computer proves inaccessible, Terry has to enter the Center under the guise of being dissatisfied with his treatment by Bruce. However, when his later impulsiveness as Batman gets him in hot water with Bruce, he vents at his next session at the center -- and unwittingly sets Bruce up as a target for Payback.

Saturday, May 27th, 2000

25: Where's Terry?

After a rare night out with his friends, Terry follows a suspicious figure out in the subway. Everyone is worried when he fails to reappear the following morning, and Bruce Wayne takes it upon himself to find him. When he asks Max about Terry's last whereabouts, she insists on coming along, despite his protests. Meanwhile, Batman wakes up in an underground tunnel under the hostile glare of a young boy, a runaway who lives in the tunnels. The boy wants Batman off of his turf as soon as possible, and tries to help him leave. It turns out that the suspicious figure is none other than Shriek's assistant, who is helping the twisted sound genius with his new plan. Shriek causes a cave-in to trap Batman and the boy, who starts to express his long-standing hostility toward Batman. As Max and Bruce work toward finding Terry, and Batman and the boy try to escape, each learns to appreciate the others' skills -- until Shriek reveals himself from the shadows.

Saturday, August 19th, 2000

26: Ace in the Hole

While Terry is out walking Ace, Bruce Wayne's dog, Ace savagely attacks a suspicious-looking man on the street and then runs away. When Bruce traces the serial number on the man's gun, he discovers the man is none other than Ronny Boxer, a longtime purveyor of illegal sports, including dog sports. Boxer is also Ace's former owner; Bruce took him in when Boxer's dog-fighting ring was busted by the police. While Terry goes undercover to get close to Boxer, Bruce looks for Ace, all the while wondering exactly what Boxer did to Ace in the past.
Season 3
Saturday, September 16th, 2000

1: King's Ransom

The Royal Flush gang, minus the reformed Ten, attempt a robbery of a Gotham city museum. Although the gang gets away with the piece, Batman stops Jack and leaves him for the police. Bruce deduces that the Royal Flush gang is working for Paxton Powers, and by listening in on Commissioner Gordon's interrogation of Jack, he and Batman also discover that there are widening rifts in the Royal Flush family. At the hideout, the King and Queen argue, with the Queen endlessly comparing King to his previous namesake, her father. Furious, the King sets another plan in motion: he kidnaps Powers and holds him for ransom, using Bruce Wayne as a go-between. Powers, reluctant to have his illegal dealings exposed, makes a deal with the gang, to eliminate Bruce, but there's more than one double-cross afoot. Angie Harmon makes her first appearance as the new voice of Commissioner Barbara Gordon.

Saturday, September 23rd, 2000

2: Untouchable

Batman faces off against a new high-tech villain, a man in a suit that projects an impenetrable force field that repels everything Batman can throw at it. Bruce Wayne recognizes the force field as the work of Dr. Blades, a Wayne-Powers scientist who has developed what he calls iso-field generator rings, which generate an aura of energy around its wearer. While touring the Wayne-Powers lab facilities, Blades' assistant Dr. Suzuki demonstrates the rings and the aura, which are meant for use as a self-contained environment for people with immune-system deficiencies. Bruce and Terry recognize the aura immediately, and the question then becomes: who in the lab is the untouchable criminal?

Saturday, September 30th, 2000

3: Inqueling

Bruce Wayne is out of town, and Inque is back -- announcing her presence by disrupting the launch of a billion-dollar satellite. Newly invulnerable to water, she poses more of a threat than ever before. Terry remembers that Bruce Wayne had to save him from Inque twice before, putting both his identity and his life at risk. Wanting to prove himself, he insists on pursuing Inque himself, though he asks Max to do some detective work for him. Meanwhile, Inque's deal has gone sour, and her would-be client has weakened her with a particle destabilizer. Sick and desperate for help, she goes to the one person who she feels she can trust -- Deanna Clay, the daughter she abandoned as a child.

Saturday, October 7th, 2000

4: Big Time

Shortly after Batman foils a daring, high-tech robbery of a powerful Wayne-Powers agricultural compound, Charlie "Big Time" Bigelow, one of Terry's friends from his wilder days, gets out of jail. Charlie offers Terry a chance to hook up with some contacts he made on the inside for a big job, but Terry refuses, trying to talk Charlie into staying out of trouble. Feeling guilty because Charlie went to jail and he didn't, Terry convinces Bruce Wayne to get Charlie a low-level job at Wayne-Powers. When Terry finds out that Charlie used him to get into Wayne-Powers, he confronts him, hoping to steer him straight before he has to intervene as Batman. Clancy Brown makes his first appearance as Charlie "Big Time" Bigelow.

Saturday, October 21st, 2000

5: Out of the Past

Feeling old and tired, Bruce Wayne is reminiscing about past loves lost when Talia, daughter of R'as al Ghul, visits him in the Batcave. With her father long dead, she wishes to rekindle their romance and makes him an offer: She will give him eternal youth through use of the immortalizing Lazarus Pit, and they can spend the rest of their lives helping people through their philanthropic organizations. Worried that Bruce might give in for all the wrong reasons -- and concerned that he may lose the honor of being Batman -- Terry decides to come along to make sure everything is as it seems. When he and Bruce discover the truth behind her offer, it turns out to be more bizarre than either could have imagined.

Saturday, November 4th, 2000

6: Speak No Evil

When Batman tries to capture an eight-foot-tall gorilla that's on the loose, he's surprised at the extremely intelligent decisions it makes in order to escape. During the chase, he encounters two zoologists from Gotham State University, who say that it's their gorilla -- named Fingers -- who has escaped. Following a hunch, Batman investigates at the zoology department and discovers the scientists were using methyl glycose (the compound used for splicing) to add human DNA to Fingers for better intelligence tests. Batman must now find a giant, smart gorilla that's only getting smarter, and who has an unexplained hatred of noted conservationist James van Dyle.

Saturday, November 11th, 2000

7: The Call (1)

Batman receives a little unexpected help in capturing Inque: Superman. Superman reunites with Bruce Wayne, and extends an offer to Terry to join the Justice League. When Batman's introduction to the League is met with hostility by the other members, Superman takes Batman aside and explains that he has reason to suspect a traitor in their midst; he asks him to keep his eyes and ears open. Terry reluctantly agrees, finding it difficult to spy on people he's idolized his whole life. When the League steps in to stop a mysterious attack on Metropolis, a missile explosion claims Warhawk's life. Batman is the only one to witness the event, which puts suspicion squarely on his shoulders.

Saturday, November 18th, 2000

8: The Call (2)

Batman shows the League evidence of Superman's complicity in the death of Warhawk, but the idea is met with some resistance -- particularly from Barda, who flatly refuses to believe that Superman could be responsible, preferring instead to suspect Batman. Barda is convinced when Warhawk reappears, revealing that he didn't die in the explosion. Batman is only partly relieved, armed as he is with a kryptonite sample necessary to stop -- and kill -- Superman if he has to.

Saturday, December 9th, 2000

9: Betrayal

Big Time returns to Neo-Gotham, causing problems for both Batman and his alter-ego Terry McGinnis, who still feels guilty for what happened to him.

Saturday, February 3rd, 2001

10: Curse of the Kobra (1)

Terry is sent to Bruce's old friend Kairi Tanaka to brush up on his combat skills, and inadvertently befriends the heir-apparent to the criminal organization KOBRA.

Saturday, February 10th, 2001

11: Curse of the Kobra (2)

After the leader of KOBRA kidnaps Max to be his wife, Batman is forced not only to rescue her, but to stop KOBRA's plot to revert the world back to when dinosaurs ruled it... with their gene-spliced dinosaur men as the dominant species.

Saturday, April 7th, 2001

12: Countdown

Zeta returns to Neo-Gotham City to look for his creator, but falls into the clutches of Mad Stan, who turns him into a walking time-bomb. Batman and Ro must track Zeta down before time runs out.

Tuesday, December 18th, 2001

13: Unmasked

Terry recounts to Max one of his earlier adventures as Batman, during which he revealed his face to a child and inadvertently made the boy a target of KOBRA.