update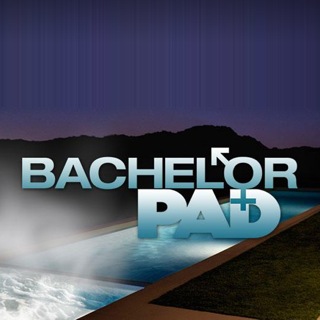 Season 1
Monday, August 9th, 2010

1: The Arrivals

At a ridiculously gorgeous mansion, Chris Harrison tells our old friend Tenley that she is the first-ever guest to step into the Bachelor Pad. Quite an honor! Others then filter in one-by-one. Many of these love seekers were on their respective Bachelor and Bachelorette seasons together but others like Nikki, Natalie, Peyton and Gwen come into the house without any ties. For now!

Monday, August 16th, 2010

2: Cutie Pies

This week's immunity challenge involves a pie-eating contest. Yum! The ladies request some trashcans for the contest. Please see the pie-eating scene in Stand By Me for the reason why. Say, is anyone else disturbed by the fact that one of the bins being used is a recycling container?! Anyway, Gia gets some coaching from Wes and manages to hold off Tenley to take the top pie prize

Monday, August 23rd, 2010

3: Trouble in Paradise

Immediately following the last Rose Ceremony, Gia confronts Nikki. She clears the air, letting everyone know the intentions of the group and who Nikki said she'd vote for. Gia knows she's put a target on her back. Let's see if anyone takes aim.

Monday, August 30th, 2010

4: Questionable Material

An emotionally bruising competition sends three contestants home; the remaining contestants go on a fantasy date before facing another elimination.

Monday, September 6th, 2010

5: Episode 5

The six remaining ladies are told to start packing their bags because three of them will be leaving the Bachelor Pad. How do you cushion such harsh news? By playing spin the bottle, of course! The first guy to have the bottle land on them will pick a partner for remainder of the competition. Kiptyn is up first and it's no surprise that he chooses Tenley. This has Nikki totally ticked because she previously saved the Kip-man from elimination. Next up is Kovacs. We are fools to think that he may actually ditch the girl who has put him on the chopping block multiple times. Love conquers all though and Kovacs chooses Elizabeth. Beck has history with Natalie and Peyton. But he doesn't know about the secret relationship between Natalie and Dave. Natalie was afraid Beck would pick her, but he ultimately chooses Peyton. And Natalie gets her wish when David selects her. Since Nikki, Gwen and Ashley were not picked by any of the guys, they are all heading home. Spin the bottle can be such a brutal game.

Monday, September 13th, 2010

6: Finale

This week's competition is different from any other one before. Each couple will have a professional dancer from Dancing With The Stars to teach them how to cut a rug. Tenley has been trained in independent dances but will have an inexperienced partner in Kiptyn. So, it's anyone's ballgame! The couple that wins will choose the other couple for the finals.
Season 2
Monday, August 8th, 2011

1: Episode 1

Explosively controversial former bachelorette and fiancée of Jake Pavelka, Vienna Girardi struggles during her second chance at love as she is forced to be housemates with not only her former husband-to-be, but also his new belle Gia Allemand.

Monday, August 15th, 2011

2: Episode 2

Kasey and Vienna continue to attack Jake as the "Target on My Back" challenge is unveiled, allowing each woman to answer a question by throwing paint-soaked balls at targets on the backs of the men, then the sides switch.

Monday, August 22nd, 2011

3: Episode 3

The contestants showcase their bodies in a synchronized swimming event; Vienna and Kasey lose control of the Pad to Jake and his mounting number of allies; Melissa becomes furious with Blake while ex-fiancés Michael and Holly share a defining moment.

Monday, August 29th, 2011

4: Episode 4

A new man in the house has emerged as the most unpopular guy in the pad; in the "Kissing Challenge" each man will kiss the women and then the roles will switch, after which everyone will vote on who has the "best lips" in the pad.

Monday, September 5th, 2011

5: Episode 5

The competitors are tasked with pairing up as couples in order to compete as teams for the duration of the competition as they begin their journey with the challenge, "The Nearly-wed Game," which tests how well they know one another.

Monday, September 12th, 2011

7: Finale

After beginning the journey with 18 unforgettable characters from previous seasons of "The Bachelor" and "The Bachelorette," the end of the road has come for the remaining contestants who must now pull out all the stops as they attempt to find love.

Monday, September 12th, 2011

6: The Final Challenge

The remaining four couples are tasked with mastering a Cirque du Soleil routine in 24 hours as their acrobatic performances will be judged, yielding one couple being sent home; the winning couple chooses an opposing team to face in the finale.
Season 3
Monday, July 23rd, 2012

1: Episode 1

In the third season of the Bachelor Pad, not only will 15 former characters from "The Bachelor" franchise return, but 5 additional "Super Fan" participants will be included in the house for another chance at love or to at least win $250,000.

Monday, July 30th, 2012

2: Episode 2

The men attempt to overrule the women with cocky attitudes, which don't bode well for their upcoming dates; two 3-on-1 dates leave strange match ups looking for love; a pre-dawn decision leaves everyone in the house reeling.

Monday, August 6th, 2012

3: Episode 3

The men attempt to overrule the women with cocky attitudes, which doesn't bode well for their upcoming dates; the fans try to regain footing after being targeted; after being shot down by her dream date, one lady finds love on the rebound.

Monday, August 13th, 2012

4: Episode 4

The contestants attempt to correctly answer controversial questions about one another in hopes of winning a rose for the week, after which the first 1-on-1 dates take place; the women begin to fight as their connections with the men grow.

Monday, August 20th, 2012

5: Episode 5

The remaining contestants struggle to keep their composure after a stressful week is thrown out the window following a shocking announcement; a handful of participants head out for 1-on-1 dates including tours of Los Angeles and back woods camping.

Monday, August 27th, 2012

6: Episode 6

After a heated rivalry finally boils over and leaves the biggest alliance crumbling, a surprise elimination leaves everyone in the house shocked; the remaining participants must compete in a spelling bee; one-on-one dates at a hoedown.

Monday, September 3rd, 2012

7: Episode 7

With only a handful of competitors left, the remaining contestants take part in a trivia game that ends with one pair being sent home immediately; one player must make a last-minute decision to either choose loyalty to others or strategy in the game.

Monday, September 10th, 2012

8: Episode 8

The third season concludes as the remaining two couples fight for the grand prize in the final challenge of the game; after an emotional reunion with former contestants, Chris unveils the eventual winners; couples return to reveal current love lives.