update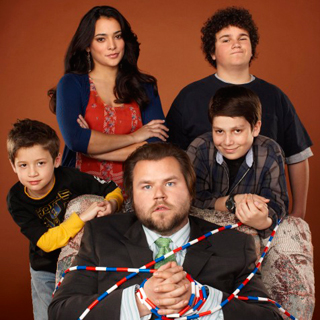 Season 0
Season 1
Sunday, March 14th, 2010

1: Pilot

When the Gunderson boys Brandon, Gary and Robby hire Ron Snuffkin to pretend to be their father after their real father goes to prison, they find out that there's more to their "fake" dad than meets the eye. Ron has to enroll them in school, convince Robby's teacher to keep him in her class, sweet-talk the principal, locate mint-condition toy soldiers at his grandmother's house and avoid a thug who wants his money.

Sunday, March 21st, 2010

2: The Break In

A string of local burglaries have the neighborhood and the Gundersons on edge, leaving Ron looking for a way to benefit from the situation. Ron convinces his buddy Glenn to pretend to rob the Gundersons so he can swoop in and save them and hopefully move into the house.

Sunday, March 28th, 2010

3: Golden Ticket

Ron befriends a police officer in hopes of getting a free pass from the cops, all while brokering a shady scheme involving south-of-the-border prescriptions. Meanwhile, the boys decide to make a movie, but find their project being taken over by Robby's play date.

Sunday, April 4th, 2010

4: Family Album

When Robby's teacher becomes suspicious of Ron's behavior, he invites her over for a family dinner. Meanwhile, Ron and the boys set out to create 15 years of photo history.

Sunday, June 6th, 2010

5: Chicken Pox

When the Gunderson boys get chickenpox, Ron cares for them until he develops symptons of his own. Meanwhile, Brandon falls for a girl who is only into him because he's sick.

Sunday, June 13th, 2010

6: The Debate Trip

When Ron chaperones Gary on an out-of-town debate tournament, Gary learns the hard way what his teammates really think of him. Meanwhile, Angela volunteers to watch Brandon and Robby back at the house, ultimately leading to Brandon being homeless on the streets and Robby locking her in the shed.

Sunday, June 20th, 2010

7: Father's Day

Ron eavesdrops on the boys planning to get a Father's Day present, thinking that they're are going to get him a present, he does what he can to reciprocate and goes all out to get them something special. Mr. Gunderson plans to call his sons from prison and this makes the boys nervous.

Sunday, June 27th, 2010

8: Gina

While at work, Ron gets a visit from his ex-girlfriend and she tells him that she is breaking up with her boyfriend. Ron seeks help from The Gunderson boys to increase his chances of getting her back.

Sunday, July 4th, 2010

9: Dog Days of Tucson

Ron brings a dog home for the boys and they fall in love with him. After they name him Waffles, Ron discovers that he is a wolf and must find some other place for him to live.

Sunday, July 11th, 2010

10: Kisses & Beads

Ron convinces the Gundersons to host a party to help Robby make friends his age, but Ron's secret motive is for Robby and his new friends to embrace arts and crafts and make souvenirs that he can sell for profit. Meanwhile, Brandon tries to help Gary talk to his crush.

Sunday, July 18th, 2010

11: Glenn's Birthday

Glenn's birthday is coming up and to celebrate it, Ron decides to take him to an upcoming adult-film convention; Brandon and Gary form a band.

Sunday, July 25th, 2010

12: Sally Teel

Robby enters a ballroom-dancing competition; Brandon gets a job at Sport Space.

Sunday, August 1st, 2010

13: Ron Quits

Ron quits after the boys get upset with him for spending too much time with his girlfriend.