update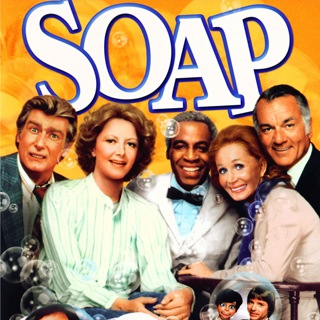 Season 0
not specified

2: Encore Bonus Episode: Season 1 Pilot

not specified

5: The Creators Come Clean

A twenty minute featurette focusing on the three creators and how the series came to be. They relate how they went about casting the many varied roles and what obstacles they faced in attempting to get the show on the air. The program was derided before a single episode was ever broadcast. Various religious and gay rights groups assailed the show, and it was only with support of Fred Silverman (President of ABC at the time), that the show survived and flourished for four seasons.

Thursday, August 31st, 1978

1: The Best of Soap: Who Killed Peter?

This compilation introduces each of the twisted story lines of the 1970s-era soap opera spoof by beginning with Jessica Tate's wrongful conviction of the murder of Peter, her lover and step-nephew. In a jailhouse meeting, Jessica (Katherine Helmond) and brother-in-law Burt (Richard Mulligan) examine other possible suspects, a perfect excuse to roll tape. Viewers meet her daughter Corrine, also embroiled in an affair with tennis pro Peter, that is, until her chaste courtship with a priest interferes. They see Burt's stepsons Danny, burdened with a mob assignment to kill Burt; cross-dressing Jodie (Billy Crystal), saving up for a sex change operation until his football-playing boyfriend dumps him for a shot at heterosexuality; and Chuck and Bob, the inseparable ventriloquist and dummy team. Or how about Jessica's husband Chester, outraged at her betrayal despite his own mistress and girlfriend. The only nonsuspect is Mary--Jessica's sister, Burt's wife, and the moral center of the sitcom--who stands by Burt through his guilt-ridden impotence and descent into madness because he killed her first husband. But who killed Peter? That question is never answered in this 74-minute volume, which leaves Jessica still in her jail cell as credits roll.

Thursday, August 30th, 1979

3: Season 3 Retrospective

A compilation special prior to the season 3 premiere. Jessica reminisces about the family with Benson, who is leaving the Tate household for a position at the state governor's mansion

Tuesday, October 28th, 1980

4: Jessica's Wonderful Life

In a recap of season three, Jessica pleads with her guardian angel to allow her to rejoin her family on Earth.
Season 1
Tuesday, September 13th, 1977

1: Episode 1.1

This begins the story of two sisters, Jessica Tate and Mary Campbell.

Tuesday, September 20th, 1977

2: Episode 1.2

Jodie tells Mary that he's planning to do a sex change. Burt finds his long-lost son.

Tuesday, September 27th, 1977

3: Episode 1.3

Jessica tries to confess to Chester about her affair with Peter. Danny makes peace with Burt, only to learn that he has to kill Burt in order to escape the mob.

Tuesday, October 4th, 1977

4: Episode 1.4

Jessica and Corrine run into one another at Peter's apartment. Jodie tells Dennis of his plans for a sex change. Billy has girl trouble. Chester is caught cheating on his mistress. Danny tries to kill Burt but is more clumsy than lethal.

Tuesday, October 4th, 1977

5: Episode 1.5

Eunice and Jodie discuss their man troubles. Burt and Mary visit a sex therapist. Corrine gives Tim one last chance before moving in with Peter, then catches Jessica kissing Peter.

Tuesday, October 25th, 1977

6: Episode 1.6

Corrine moves in with Peter, leaving Chester angry and Jessica heartbroken. Burt receives word that Chuck and Bob are on their way from Hawaii. The Godfather gives Danny one last chance to kill Burt, this time at a cabin in the woods.

Tuesday, November 1st, 1977

7: Episode 1.7

The Major terrorizes the neighbors. Chuck and Bob arrive and promptly offend the Campbells. Claire tells Jessica of her affair with Chester, but Jessica doesn't believe her. Danny gets Burt alone and at gunpoint in the woods.

Tuesday, November 8th, 1977

8: Episode 1.8

Unable to kill Burt as ordered, Danny goes on the run as a "spy" but not before finally accepting Jodie's homosexuality and bidding a tearful goodbye to Mary. At a dinner party for Chuck and Bob, Danny makes a surprise visit that turns into "a little Tuesday night shootout."

Tuesday, November 15th, 1977

9: Episode 1.9

Jodie checks into the hospital for his sex-change operation. Dr. Medlow helps Burt overcome his guilt and his impotence. At lunch with Mary, Jessica spots Chester kissing Claire.

Tuesday, November 22nd, 1977

10: Episode 1.10

Danny, dressed as a rabbi, has a near run-in with the Godfather. Father Tim appeals to God for help. Burt overcomes his impotence, but Mary is no longer in the mood. Dennis dumps Jodie, who tries to kill himself.

Tuesday, November 29th, 1977

11: Episode 1.11

Burt and Mary look forward to their first romantic evening in six months but are interrupted by news that Jodie has attempted suicide. Jodie survives. Corrine warns Peter. Jessica confronts Chester on his infidelity.

Tuesday, December 6th, 1977

12: Episode 1.12

Jessica delivers an ultimatum to the philandering Chester, and threatens to kill Peter Campbell for lying to her and betraying her daughter Corinne; late that night, while in the shower, Peter is murdered by an unseen assailant.

Tuesday, December 13th, 1977

13: Episode 1.13

"Piece of Chelief" Tinkler questions the Tates and Campbells, all of whom are suspects in Peter's grisly murder.

Tuesday, December 27th, 1977

14: Episode 1.14

Chester and Jessica discuss her affair with Peter. The Tates and Campbells wonder who among them is a murderer. Eunice and Congressman McCallum meet up in an airplane lavatory. Chief Tinkler arrests Corrine.

Tuesday, January 3rd, 1978

15: Episode 1.15

Corrine goes to jail for killing Peter. Burt launches his own investigation. Danny decides to surprise the Godfather but must get past his daughter, Elaine, first. Ingrid Svenson arrives in Dunn's River, claiming to be Corrine's real mother.

Tuesday, January 10th, 1978

16: Episode 1.16

Corrine learns the truth about her mother. Ingrid hires an investigator to clear Corrine. Burt becomes obsessed with finding Peter's killer. Jessica is arrested.

Tuesday, January 17th, 1978

17: Episode 1.17

Jessica is booked into jail. Mary realizes Burt needs psychiatric help. Elaine introduces Danny to her father. A blackmailer threatens to publish photos of Walter and Eunice. Chester hires an attorney for Jessica but is told Jessica's case is hopeless.

Tuesday, January 24th, 1978

18: Episode 1.18

Father Tim bids Corinne farewell. Burt tells Mary he can make himself invisible. Chester hires high-priced attorney E. Ronald Mallu to defend Jessica. Jessica decides to skip bail and head to Rio. Claire alerts the SEC to Chester's shady business dealings.

Tuesday, February 7th, 1978

19: Episode 1.19

Mr. Mallu interviews the family in a desperate search for character witnesses in Jessica's trial. Dr. Medlow recommends that Burt be committed to a mental hospital. Jessica makes an impassioned plea to Corinne. The blackmail photos of Eunice and Walter end up in the wrong hands.

Tuesday, February 14th, 1978

20: Episode 1.20

Danny learns he must marry Elaine. Mary tells Burt of her plans to commit him. Jessica's case looks even more hopeless after she meets the prosecutor and judge.

Tuesday, February 21st, 1978

21: Episode 1.21

Elaine meets the kooky Campbells. Corinne tracks down Tim at his mountain retreat. Mallu's assistant, Carol, invites Jodie to lunch. Jessica's murder trial begins.

Tuesday, February 28th, 1978

22: Episode 1.22

Jodie and Carol plan a weekend away as "just friends." Mary commits Burt to the mental hospital. Danny tells Mary he must marry Elaine. Billy runs away from home. Benson, Chester, and Jessica take the stand in Jessica's trial.

Tuesday, March 14th, 1978

23: Episode 1.23

Walter dumps Eunice. Burt tells Mary he killed her first husband. Corinne walks out on Ingrid. Father Tim tells his mother he's leaving the priesthood. Jodie and Carol plan a weekend at the Cape. The prosecution drops a bombshell at Jessica's murder trial.

Tuesday, March 21st, 1978

24: Episode 1.24

Carol seduces Jodie. Mary forgives Burt. Corinne returns to the Tates. Ingrid vows to destroy the Tates. Sheriff Tinkler arrives to arrest Chester for stock fraud. The jury begins deliberating Jessica's fate.

Tuesday, March 28th, 1978

25: Episode 1.25

Jessica is convicted of murder--but she didn't do it.
Season 2
Thursday, September 14th, 1978

1: Episode 2.1 (Part 1)

Chester saves Jessica by confessing to Peter's murder, which lands him in a cell with convicted killer Dutch Leitner; Carol cannot bring herself to tell Jodie he's going to be a father. The premier of the 2nd season was an hour long episode now split up in syndication

Thursday, September 14th, 1978

2: Episode 2.1 (Part 2)

Thursday, September 21st, 1978

3: Episode 2.2

Chester escapes from prison with Dutch. Danny and Elaine marry and learn that Elaine's father has cut her off. One by one, the Tates disappear in the basement.

Thursday, September 28th, 1978

4: Episode 2.3

Dutch holds the Tates hostage in their own home. The Campbells adjust to life with Elaine. Dutch and Eunice sleep together. Mrs. Flotsky causes a scene at Tim and Corinne's wedding.

Thursday, October 5th, 1978

5: Episode 2.4

Corinne is frustrated by Tim's nervousness and endless interruptions on her wedding night. Mary tells Burt she wants to go to school. Chester collapses.

Thursday, October 12th, 1978

6: Episode 2.5

Danny decides to kill Elaine with Kindness. Jodie proposes to Carol and swears off men. Mrs. Flotsky summons Tim and Corrine to her deathbed. Sally comes on to Danny, then Burt. Jessica authorizes Chester's Brain surgury.

Thursday, October 19th, 1978

7: Episode 2.6

Tim and Corinne move in with the Tates. Mary's professor makes a pass at her. Elaine begins to warm to the Campbells. Chester comes out of his brain surgery very confused.

Thursday, November 2nd, 1978

8: Episode 2.7

Carol's father objects to Carol and Jodie's marriage. Elaine opens up to Danny. Jessica, Mary, Corinne, and Eunice commiserate. Sally tells Burt she's in love with him.

Thursday, November 9th, 1978

9: Episode 2.8

Home from the hospital, Chester drives the Tates crazy. Jodie and Dennis part on bad terms. Eunice and Dutch make plans to rendezvous in the country. Corinne learns she is pregnant. Burt catches Mary and her professor in a compromising position, then turns to Sally for comfort.

Thursday, November 23rd, 1978

10: Episode 2.9

Chester comes home; Jodie slugs Dennis; and more news, Corinne is pregnat. Other news. Dutch comes and says good-bye, c this show 2 find out what's up.

Thursday, November 30th, 1978

11: Episode 2.10

Eunice and Dutch leave for his family's farm. Chester fears he is a burden on the family, then disappears. Jodie and Jessica offer emotional support to Mary. Burt tries to end it with Sally, but she refuses to let him go. Elaine is kidnapped.

Thursday, December 7th, 1978

12: Episode 2.11

The Campbells scramble to raise Elaine's ransom. Jessica hires Detective Donohue to find Chester. Corinne learns she is five months pregnant, even though she's only been married a month. Carol has pre-wedding jitters. Dennis makes a last-ditch effort to win back Jodie.

Thursday, December 14th, 1978

13: Episode 2.12

Jodie marries Carol--almost.

Thursday, December 21st, 1978

14: Episode 2.13

Elaine makes it home in time to die in Danny's arms.

Thursday, January 4th, 1979

15: Episode 2.14

Burt ends it with Sally, who takes the news very badly. Dutch and Eunice get a visit from Jessica, Benson, and Billy--and the cops. Danny sets out to find Elaine's killers with Burt in tow. Detective Donohue presents Jessica with evidence of Chester's death. But Chester is very much alive, if a little confused, in Toledo.

Thursday, January 11th, 1979

16: Episode 2.15

Jessica hosts a memorial service for Chester. Sally delivers bad news to Mary. Jodie tracks down Carol in Texas. Chester has a breakthrough of sorts.

Thursday, January 18th, 1979

17: Episode 2.16

Burt, Danny, Jodie, Chuck, and Bob drown their sorrows during a night on the town. Tim announces he's moving to a cave in hopes of making peace with God. The police catch up with Dutch. Jodie meets Alice, a suicidal lesbian, on the Tri-borough Bridge. Mary moves in with Jessica. Corinne goes into labor.

Thursday, February 1st, 1979

18: Episode 2.17

Corinne gives birth to a beautiful, healthy baby boy. Mary angrily confronts Burt with his alleged infidelities. Jodie and Alice get off to a rocky start as roommates. Jessica enjoys an evening of dinner and romance at Detective Donohue's apartment. Meanwhile, Chester regains his memory and heads for Dunn's River.

Thursday, February 8th, 1979

19: Episode 2.18

Burt learns that Inga Swenson is behind Sally's treachery. Danny meets Alice, his first lesbian. Jessica decides to have an affair with Detective Donohue, who proposes to her. Then, Chester returns home.

Thursday, February 15th, 1979

20: Episode 2.19

Jessica tells Chester about her affair with Donohue. Billy runs into a former classmate who has joined a religious cult. Eunice visits Dutch in prison. Danny and Jodie engineer a reconciliation between Burt and Mary. Something strange is going on in the Tate nursery.

Thursday, March 1st, 1979

21: Episode 2.20

Jessica tells Chester and Donohue that she's torn between them. Jodie brings Alice home to meet the Campbells. Corinne tracks down Tim in his cave to tell him his son is possessed by the devil. Danny gets a lead on Elaine's killers. Burt tags along with Danny and spots a UFO.

Thursday, March 8th, 1979

22: Episode 2.21

No one believes Burt saw a UFO. Benson visits Billy at the Sunnies'. Jessica apologizes to Donohue for taking so long to decide between him and Chester. Jodie and Alice go on a "date." Tim returns home to take on the Devil.

Thursday, March 15th, 1979

23: Episode 2.22

Jessica leads the family in the exorcism on Corrine's baby. Jodie and Alice grow closer. Danny finds himself in danger. Billy is taken hostage by the Sunnies. Jessica decides between Chester and Donohue. Burt disappears in the light.
Season 3
Thursday, September 13th, 1979

1: Episode 3.1

Jessica chooses Chester, but offers to let Donohue stay in the Tate house until he recovers from the shock. Burt wakes up on the spaceship, where the aliens reveal that they plan to replace him with a replica. The alien double moves in with the unsuspecting Mary. Carol's mother introduces Jodie to his newborn daughter, Wendy. Benson, Chester, Donohue and the Major prepare to rescue Billy from the cult. And Danny goes missing.

Thursday, September 20th, 1979

2: Episode 3.2

Alien Burt has his way with Mary, and she's not complaining. Real Burt meets Saul, who tells Burt he cannot escape the spaceship. Billy resists the Sunnies' brainwashing. Mrs. David asks Jodie to choose between Wendy and Alice. Benson and "the Step Brothers" penetrate the Sunnies' compound but are stopped short of rescuing Billy.

Thursday, September 27th, 1979

3: Episode 3.3

Billy is rescued from the Sunnies. Mary is oversexed. Danny is saved by Millie. Jodie is torn between Alice and Wendy. Jessica is sad to bid Benson farewell.

Thursday, October 4th, 1979

4: Episode 3.4

Burt and Saul escape the spaceship but find themselves in other danger. Jessica finally convinces Detective Donohue to leave. Millie comes to Danny's rescue. Eunice awaits Dutch's release from prison while Corinne bemoans her non-existent sex life with Tim. Chester resumes his philandering ways. Billy and his teacher share a kiss.

Thursday, October 11th, 1979

5: Episode 3.5

The Tates adjust to life with Dutch in the house. Danny returns home with Millie. Mary grows increasingly suspicious of "Burt." Jodie officially begins his life as a single, gay parent. Real Burt and Alien Burt come face to face. Billy and Leslie decide to pursue a relationship.

Thursday, November 1st, 1979

6: Episode 3.6

Real Burt calls Mary, but Alien Burt intercepts Mary on her way to meet him. Jessica confronts Chester with her suspicions that he is cheating again. Eunice tells Corinne that she's fallen out of love with Dutch. Corinne spots Chester with another woman in a restaurant. Billy and Leslie sneak away to a romantic restaurant, only to run into several familiar faces. Tim and Corinne decide to divorce.

Thursday, November 8th, 1979

7: Episode 3.7

The Tates and Campbells gather to welcome Dutch to the family--and scare Millie away in the process. Billy and Leslie's romantic evening is interrupted by her ex. Jodie and Corinne discuss single parenthood. Alien Burt refuses to return to the spaceship. Real Burt finally contacts Mary, then disappears before her eyes. Back on the spaceship, Real Burt convinces the aliens to give him a chance to persuade Alien Burt to leave Earth for good.

Thursday, November 22nd, 1979

8: Episode 3.8

Mary begins to question her sanity. Eunice and Corinne call Chester on his cheating. Real Burt turns to Jodie for help. Billy plans a rendezvous with Leslie at a hotel but runs into Eunice, then Corinne, then Dutch, then Chester in the lobby. Real Burt makes an impassioned plea to Alien Burt.

Thursday, December 6th, 1979

9: Episode 3.9

Billy tells Jessica about his affair with Leslie. Burt returns home to share his ordeal with Mary. Danny meets a black widow at the cemetery. Dutch makes it clear he knows Eunice is cheating on him. Jessica spots Chester with another woman.

Thursday, December 13th, 1979

10: Episode 3.10

Jessica catches Chester with another woman. Burt and Mary go for their annual physicals. Danny tries to find Polly. Jessica meets Leslie. An agent from Child Protective Services pays a visit to Jodie.

Thursday, December 27th, 1979

11: Episode 3.11

Jessica agrees to see a marriage counselor with Chester. The Campbells urge Jodie to move back home. Burt is jealous of Alien Burt's sexual prowess. At Billy's 18th-birthday party, Leslie promises "to blow out every candle on [Billy's] cake."

Thursday, January 3rd, 1980

12: Episode 3.12

Jodie and Wendy move in with the Campbells. Chester and Jessica see a marriage counselor. Danny finds Polly. Burt gets mixed news from the doctor.

Thursday, January 10th, 1980

13: Episode 3.13

Burt can't bring himself to tell Mary he won't live to see their baby born. Danny and Polly declare their love for one another. Mary worries about Danny's interracial relationship, but Jodie convinces Danny to follow his heart. Billy loses his virginity to Leslie. Mary wonders whether Real Burt or Alien Burt fathered her baby.

Thursday, January 17th, 1980

14: Episode 3.14

Danny learns of Burt's illness and agrees to help Burt win a spot in the Guiness Book of World Records. Eunice asks Corinne to cover for her while she cheats on Dutch. Chester's attempts to resist the minister's sexy daughter prove futile. The Campbells host Polly's family at dinner. After Chester tells Jessica he has lapsed again, she kicks him out of the house.

Thursday, January 24th, 1980

15: Episode 3.15

While Burt searches for a world record to break, Mary suspects something is wrong. Dutch and Corinne bond. Suddenly single again, Jessica visits Detective Donohue--on his honeymoon. Dutch confronts Eunice about her cheating.

Thursday, January 31st, 1980

16: Episode 3.16

Carol pays a late-night visit to Jodie and Wendy. Jessica sees a psychiatrist who is crazier than she is. Burt learns he was the victim of computer error. Billy admits he is growing bored in his relationship with Leslie. The Tates rally to support Dutch after Eunice leaves him for another man.

Thursday, February 7th, 1980

17: Episode 3.17

Burt rushes home with news that he isn't dying and vows to live the rest of his life to the fullest. The minister's daughter leaves Chester. Danny and Polly buy a house. Jessica catches Dutch and Corinne in bed together. Jessica's psychiatrist asks her out. Carol tells Jodie she wants custody of Wendy.

Thursday, February 28th, 1980

18: Episode 3.18

Burt announces he will run for Sheriff, and Danny wants to be Deputy. Jodie enlists Mr. Mallu's help in his fight for Wendy. Chester begs Jessica to take him back. Jessica entertains her psychologist, Dr. Posner, amidst the usual Tate insanity.

Thursday, March 6th, 1980

19: Episode 3.19

Danny and Polly have Burt and Mary to their new house for an eventful evening. Billy dumps Leslie, who threatens suicide. The Campbells brace for the custody trial. The Tates welcome a new butler, Saunders, who immediately regrets taking the job. As the families gather to watch election coverage, Jessica collapses.

Thursday, March 13th, 1980

20: Episode 3.20

At the hospital, the family anxiously awaits Jessica's diagnosis. Burt becomes Sheriff but must remove the outgoing sheriff by force. Corinne convinces Dutch to stay. Jodie finds the odds stacked against him in the custody trial.

Thursday, March 20th, 1980

21: Episode 3.21

Jessica asks Chester to move back home while she's in the hospital. Dr. Hill tells Chester that Jessica is very sick. Burt's first assignment as sheriff is to remove his predecessor from office. Corinne convinces Dutch not to move out. At the custody hearing, Carol tells an outrageous lie about Jodie threatening to kill her.

Thursday, March 27th, 1980

22: Episode 3.22 (Part 1)

Season #3 season finale was an expanded episode of 60 minutes. Now shown in two parts in syndication. Danny proposes marriage to Polly; Sheriff Burt and Deputy Danny are set up for blackmail by mobster Elmore Tibbs; Dutch cannot choose between two sisters; Carol's mother joins her daughter in perjuring herself in court; Leslie now decides to kill Billy; and Jessica's death watch features a surprise visit from Benson.

Thursday, March 27th, 1980

23: Episode 3.22 (Part 2)
Season 4
not specified

22: DELETE ME

not specified

23: DELETE ME

not specified

24: DELETE ME

Wednesday, November 12th, 1980

1: Episode 4.1

Dr. Hill revives Jessica, who remains in a coma. Danny and Burt wake up in an adult motel. Mary is relieved to see that her baby is white. Billy dodges Leslie's bullet, which hits Saunders instead. Dutch chooses Eunice over Corinne, who announces she will be moving on soon. Jessica emerges from her coma apparently healthy and surrounded by her many suitors. After the judge learns of Carol's machinations, she awards custody of Wendy to Jodie. Carol threatens Jodie. Burt and Danny receive X-rated pictures of themselves in the motel room.

Wednesday, November 19th, 1980

2: Episode 4.2

Jessica tells her suitors that she is moving on with her life--without them. Burt and Danny consider responses to Tibbs' blackmail threats. Polly turns down Danny's marriage proposal, leaving him despondent. Corinne departs for a new life in California. Wendy is kidnapped.

Wednesday, November 26th, 1980

3: Episode 4.3

After Burt tells Jodie there's nothing the law can do to help find Wendy, Jodie takes matters into his own hands. Jessica returns home from the hospital. Eunice and Dutch announce their engagement, much to Chester's horror. Leslie continues her bumbling efforts to kill Billy. Mary receives the blackmail photos of Burt in the motel room. Jessica agrees to allow Chester to live in the poolhouse.

Wednesday, December 3rd, 1980

4: Episode 4.4

Chester puts the moves on the maid of honor at Dutch and Eunice's wedding. The blackmail photos of Burt and Danny hit the papers. Despite the breaking scandal, Mary vows to stand by Burt. On her way to the Caribbean for some R&R, Jessica crosses paths with a Latin American revolutionary.

Wednesday, December 10th, 1980

5: Episode 4.5

The Tates and Campbells learn of Jessica's abduction. Billy heads to Malaguay to rescue his mother. Jodie hires a P.I. to find Wendy. Danny and Burt plan to go undercover to bring down Tibbs. Jessica finds herself in the middle of a revolution.

Wednesday, December 17th, 1980

6: Episode 4.6

Danny finds a hooker who will help bring Tibbs to justice. The cash-poor Tates hold a barbecue. Leslie gets more creative in her efforts to kill Billy. Jessica accepts El Puerco's invitation to spend the night in his tent.

Wednesday, December 31st, 1980

7: Episode 4.7

Jessica consoles a depressed El Puerco and convinces him to fight the revolution from her house in Connecticut. Gwen testifies against Tibbs. Someone is spying on Gwen and Danny. The Tates hold a garage sale to raise cash. Burt and Mary make an appointment for sex. Jodie and Maggie's search for Carol and Wendy leads them to a rowdy saloon.

Wednesday, January 7th, 1981

8: Episode 4.8

Burt sells his construction company to Chester and Dutch. Jodie and Maggie learn that Carol has run off to New Mexico with a carnival fire-eater. Billy rescues Jessica and El Puerco at sea. Danny admits he is attracted to Gwen and asks her to stop turning tricks.

Wednesday, January 14th, 1981

9: Episode 4.9

Jessica returns home with El Puerco and his three Juans. Danny asks Gwen to move in with him. Jodie and Maggie, on their way to Alaska to find Wendy, admit their mutual attraction. Burt suffers a crisis of faith.

Wednesday, January 21st, 1981

10: Episode 4.10

Jessica and Chester announce their divorce. Danny reveals his love for Gwen. Jodie tells the family about his affair with Maggie. At a party for El Puerco, Danny is shot.

Wednesday, January 28th, 1981

11: Episode 4.11

Annie realizes Chester is still in love with Jessica but agrees to marry him anyway. Jessica tries in vain to seduce El Puerco. Burt vows to find Tibbs and make him pay for shooting Danny. The Campbells learn that Danny will need a kidney transplant, which forces Mary to reveal a devastating secret.

Monday, March 9th, 1981

12: Episode 4.12 (Part 1)

News that Chester is Danny's father rocks the family. Chester reluctantly agrees to donate a kidney to Danny. Jessica is devastated that Mary had a child by Chester. Meanwhile, Jodie and Maggie track Carol and Wendy to a kung-fu fortress in Malibu.

Monday, March 9th, 1981

13: Episode 4.12 (Part 2)

Chester becomes the vital kidney donor on Danny's behalf; Dutch and Eunice try to spice up their sex life by play acting; believing her sister has betrayed her, Jessica refuses to speak to a despondent Mary, who reveals how their mother arranged scatterbrained Jessica's marriage to embezzler Chester.

Monday, March 16th, 1981

14: Episode 4.13 (Part 1)

The Tates and Campbells wait for the results of Danny's surgery, Mary explains to Burt about her relationship with Chester, Jodie proposes to Maggie, Dutch and Eunice try to spice up their sex life, Mary relives the circumstances that led Chester to leave her for Jessica

Monday, March 16th, 1981

15: Episode 4.13 (Part 2)

Burt alienates his family as his fame continues to grow, Danny is offended when Burt disapproves of his plans to marry Gwen, Jessica forgives Chester, but can't forgive Mary, Saunders proposes a plan to rescue Jodie and Maggie, Gwen is coerced by a hoodlum into spying on Burt and Danny

Monday, March 23rd, 1981

16: Episode 4.14 (Part 1)

Jodie, Maggie and Wendy are rescued from the fortress. Jessica and Mary come to an understanding. Mary tells Jessica that she has a drinking problem, the baby may be an alien, and she fears she is losing Burt. Jodie decides to see a therapist so he can be sure about his relationship with Maggie. Danny blames Burt when Gwen runs away. Jodie signs up for hypnotherapy.

Monday, March 23rd, 1981

17: Episode 4.14 (Part 2)

El Puerco learns a few things about women after spending the night with Jessica, Eunice is driving Dutch a bit crazy with her fantasy games in bed, Chester and Annie announce that they are married, but Chester continues to act possessively toward Jessica, Mary walks out on Burt when he accuses her of being drunk, Dutch fails to turn Eunice on with his Cyrano de Bergerac costume, Jodie comes out of hypnosis believing that he's a 90-year-old Jewish man named Julius Kassendorf

Monday, April 13th, 1981

18: Episode 4.15 (Part 1)

The Governor offers Burt a job as Lieutenant Governor. Chester goes mad with jealousy over Jessica and El Puerco. Danny and Annie turn to each other for comfort. Mary tries to convince Burt that their baby isn't normal. Jodie's psychiatrist brings Julius home to meet the Campbells.

Monday, April 13th, 1981

19: Episode 4.15 (Part 2)

El Puerco challenges Chester to a duel. Jessica expresses concern about Burt and Mary's marital problems. Danny and Annie succumb to their sexual attraction. Maggie meets Julius. Burt makes political enemies after addressing a panel of senators.

Monday, April 20th, 1981

20: Episode 4.16 (Part 1)

The Governor asks Burt to disassociate himself from his family. El Puerco's enemies take Jessica hostage. The Tates receive the kidnappers' terms. Julius comforts Mary. Burt's enemies plot to kill him.

Monday, April 20th, 1981

21: Episode 4.16 (Part 2)

Burt receives a tip about a major drug transaction. Danny tells Burt that he's in love with Annie. The Tates worry about Jessica. Jessica makes life difficult for her captors. The communists demand El Puerco's surrender. Jessica prepares to face her execution. Chester catches Danny in bed with Annie. Burt walks into an ambush. Jessica faces a firing squad.