update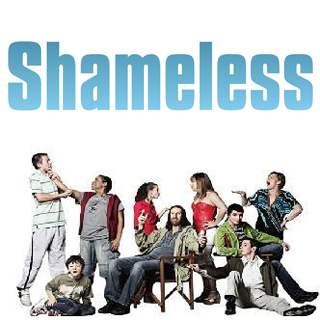 Season 0
Thursday, December 23rd, 2004

1: Christmas In Chatsworth

It's Christmas on the Chattersworth Estate and it looks set to be a white Christmas as snow starts to fall but as always Christmas wouldn't be christmas without a disaster or two. Veronica's mother, Carol, and her brother, Marty, turn up after Marty caught Carol in bed with his best mate and decided to burn the house down in revenge.

Sunday, January 1st, 2006

2: New Year Special

Debbie (Rebecca Ryan) has to think fast when her five year-old brother Liam (Johnny Bennett) denounces religion at his RC Primary School and is visited at home by his teacher and the local priest. But shaving his head and pretending that he is dying of cancer turns out not to be one of her better ideas...
Season 1
Tuesday, January 13th, 2004

1: Meet The Gallaghers

When Fiona Gallagher's (Anne-Marie Duff) bag is stolen on a night out in Manchester, a handsome stranger called Steve McBride (James McAvoy) comes to her rescue. He accompanies her to her home in Chatsworth, a deprived inner city council estate, to meet her large family, and the pair begin to grow close, until she receives a visit from the police concerning her alcoholic father, Frank (David Threlfall). Meanwhile, Lip Gallagher (Jody Latham) makes a shocking discovery about his brother Ian (Gerard Kearns) that turns the brothers close relationship upside down, and he also uncovers a shocking secret about the local shopkeeper, Kash Karib (Chris Bisson). Elsewhere, Karen Jackson's (Rebecca Atkinson) father, Eddie (Steve Pemberton), leaves home after catching her in a compromising position.

Tuesday, January 20th, 2004

2: We're Going to The Moon

After Karen's father Eddie attacks Frank in The Jockey, Frank returns home and attacks his son, Ian, and Fiona's boyfriend, Steve. Certain he's got a family he doesn't deserve, a vengeful Steve kidnaps a drunken Frank and dumps him in France without telling anyone. While Frank lands himself in trouble with the French authorities, a body is found in the canal at home, and everyone assumes it is Frank. Will the feckless patriarch ever make it home? And how will Fiona react when she discovers what Steve has done? Meanwhile, Karen's agoraphobic mother, Sheila Jackson (Maggie O'Neill), finds a new man, Kev (Dean Lennox Kelly) and Veronica Ball (Maxine Peake) fall out over money, and a local copper PC Tony (Anthony Flanagan) has fallen in love with Fiona.

Tuesday, January 27th, 2004

3: We're Getting Married

It's Friday night in The Jockey, and barman Kev says he is getting married to his longtime girlfriend, Veronica, in order to deter the advances of a group of ladies. However, Frank overhears and announces it to the entire pub... including Veronica's mother, Carol Fisher (Marjorie Yates). In a corner, Kev proposes to Veronica, and the pair plan a wedding on the cheap with the help of the Gallaghers, but Kev has failed to tell Veronica that he is already married and turns to Steve and Fiona for help. Even worse, Veronica's arsonist brother, Marty Fisher (Jack Deam), has escaped from prison. Meanwhile, Ian is forced into hiding after turning down the advances of Mandy Maguire (Samantha Siddall) - most popular girl in school and only daughter of the toughest family on the estate - feeling humiliated, she spreads lies and sends her brothers after him. When Lip and Kash are caught in the crossfire, Ian has to decide whether to flee Chatsworth for good or admit the truth about his sexuality.

Tuesday, February 3rd, 2004

4: Abduction

Debbie Gallagher (Rebecca Ryan) takes a young child, Jody, from his birthday party and dresses him up as a girl. With Frank's assistance, the Chatsworth residents join forces en masse in order to find Jody. The Gallaghers are horrified by Debbie's actions and now face the impossible task of returning the child home without incriminating themselves. Meanwhile, Karen is on a mission to seduce her mother's boyfriend - who is also her boyfriend's father, whilst Veronica has got a new hairstyle.

Tuesday, February 10th, 2004

5: Affairs

Frank continues his passionate affair with Karen, even though she is dating his son, Lip, and he is dating her mother, Sheila. Things begin spiralling out of control when Steve discovers the affair, and the penny finally drops for Lip when she dumps him, leading to a violent showdown between him and Frank. Meanwhile, Yvonne Karib (Kelli Hollis) discovers Kash is having an affair with Ian after watching the shop's CCTV footage, but they are both shocked by her reaction. The Gallagher boys parents' evening throws Fiona into a panic, while Veronica goes to saucy lengths to pay off her catalogue debt.

Tuesday, February 17th, 2004

6: Monica Comes Home (Part 1 of 2)

Bailiffs reclaim old debts from Frank, and, as usual, his children are forced to pay the price. If that isn't enough, Mr. Wilson (Clive Russell), a housing officer with a personal vendetta against Frank, is threatening to take the family home. Frank, however, is busy trying to get money out of his ex-wife, Monica Gallagher (Annabelle Apsion). With Kev's assistance, Frank manages to fool Monica, but he makes the mistake of letting her know he is after her. The pair are chased back to Chatsworth by Monica and her lesbian lover, Norma Starkey (Dystin Johnson), leading to a rollercoaster of emotions within the fractured family. Meanwhile, Tony's love for Fiona reaches new depths when he asks her to marry him.

Tuesday, February 24th, 2004

7: Dead (Part 2 of 2)

Monica and Norma are ruling the roost at the Gallagher household after Fiona moves in with Steve, but none of the Gallagher kids are happy by their mother's return. Frank is desperate to make contact with his estranged wife, but first, he must deal with his growing debts, two debt collectors watching his every move, the threat of homelessness for his entire family, and Monica's aggressive girlfriend, Norma. However, it's his new rival Norma who comes up with the perfect solution: fake his own death so his debts die with him, but Monica and Norma may have an ulterior motive for offering to help. Meanwhile, Sheila tries to overcome her agoraphobia with Debbie's help, whilst harbouring a life-changing secret, and it seems Steve's days as a free man are numbered when a jealous Tony discovers the source of his fortune.
Season 2
Tuesday, January 4th, 2005

1: Grandad

Neville Gallagher (John Woodvine), Frank's estranged father, arrives in Chatsworth to meet his new grandchildren. While the rest of the family welcome him with open arms, Frank finds his world turned upside down, as he is forced to relive painful memories from his childhood. Meanwhile, Karen returns to Chatsworth and gets herself a job at The Jockey and soon instigates a feud with Veronica by getting too close to Kev. Elsewhere, the Gallagher house has been split in two, with Fiona and Steve having bought the house next door.

Tuesday, January 11th, 2005

2: Eric

Frank takes a call at Kev and Veronica's house during their anniversary party, but only much later does he pass on the message: Social Services are coming tomorrow to discuss fostering. Kev and Veronica are shocked when they receive a child, Eric, for a trial week of foster care. Kev discovers Eric is being bullied by girls and, with Frank's assistance, he accidentally makes the situation a lot worse. Desperate to be a "good dad", Kev toughens Eric up with a series of boxing lessons - an act he may live to regret. Meanwhile, Steve makes the mistake of stealing the car of a police inspector, and it falls on Tony to get him out of trouble. Carol's latest romance with a Spanish toyboy leaves Marty on the warpath, leaving Fiona fearful that he will return to his old ways and endanger all their lives.

Tuesday, January 18th, 2005

3: The Garden Competition

A garden competition sparks off a feud between Veronica and Carol, and Veronica's bitterness towards her mother alienates her friends and family, even Kev and Fiona. She is pushed further over the edge when she is uninvited to Carol's birthday party, where she overhears a shocking revelation that tears her and Kev apart. Meanwhile, Frank and his friend Tommy turn Sheila's house into a drinking den after The Jockey is closed down while she is away visiting her mother. But Frank accidentally loses one of the twins to an alcoholic transvestite called "Psycho Sally". Elsewhere, Fiona is convinced Steve is having an affair with a woman named Kerry-Anne, but the truth is worse than she could have imagined.

Tuesday, January 25th, 2005

4: The Big Day

Preparations for Fiona and Steve's wedding are underway in the Gallagher household. In the days leading up to the wedding, Steve falls in with a group of ruthless criminals, convinced that this job will set him and the rest of the Gallaghers up for life. Things turn nasty when a vengeful Tony begins operating against Steve, and a deadly showdown at a warehouse sparks off a chain of events that changes life for the Gallaghers forever. Meanwhile, Ian recruits Mandy to be his "fake girlfriend" after Frank nearly rumbles his big secret. Carol goes on a cruise, leaving Marty in charge of her beloved dog.

Tuesday, February 1st, 2005

5: Crooks and Robbers

When Sheila asks Lip to water her friend's plants while she is away, he begins using the house to get some peace and quiet to do homework. But when he returns one night, he discovers the house has been burgled, and he is arrested by a bent copper with a grudge to bear. Frank is called into the police station to represent him and ends up making matters a lot worse. With Lip facing a prison stretch, Fiona, Tony and Frank attempt to deal with the bent copper, while Ian, Marty, and Carl Gallagher (Elliott Tittensor) find themselves taking part in a burglary. Meanwhile, Debbie begins a VHS business, and Carl discovers a video of the local lollypop woman having an affair with another man. The video starts spreading around Chatsworth, leaving the residents wondering who the mystery man is, with the culprit eventually being revealed as local policeman, Stan Waterman (Warren Donnelly). Elsewhere, Fiona is still missing Steve, and Tony's attempts to help only make things worse for her.

Tuesday, February 8th, 2005

6: Welcome to the Family

Lip is sleeping with Mandy while she is pretending to be Ian's girlfriend to hide the fact that he is gay. However, after Mandy falls pregnant with Lip's baby, everyone begins to think the child is Ian's, so the Maguire family welcome him into the family with the threat of castration if he and Mandy do not marry. When Ian announces their engagement, the Gallaghers and Maguires throw a party at The Jockey, but a revelation from Lip turns the happy occasion into an evening of chaos and bloodshed. Meanwhile, Frank is left debt-ridden by Cassie Weston (Moya Brady), The Jockey's new landlady. He must come up with a way to pay back his years of free booze. Unfortunately for him, she might have just the solution. But their plan is foiled by a devious Karen. Elsewhere, Sheila cold-turkeys her tablets, leaving her convinced that the twins are monsters, while a late-night encounter with a tearaway teenager brings a new man into Fiona's life.

Tuesday, February 15th, 2005

7: Joey Dawson?

After Ladies Night at The Jockey, Fiona wakes up in bed with soon-to-be-married Joey Dawson, and she is forced to pay the price when Liam Gallagher (Johnny Bennett) is rushed to hospital after swallowing some pills. Social Services are alerted and a full assessment of the Gallagher family gets underway. Fiona is panicked to discover the woman in charge of the family's review is none other than her old school enemy, Katrina Webb, who also turns out to be the future Mrs Dawson, and just when it seems all is lost for the Gallaghers, an unlikely figure saves the day: Frank. Meanwhile, a visit to the hospital has devastating consequences for Ian when he discovers that Frank is not his biological father, sending him on a desperate search to find his real father. But what will he find?

Tuesday, February 22nd, 2005

8: Against The Odds

After being hit in the mouth by Kash's shop door, Frank falls foul of two shifty accident claims salesmen, who persuade him to sue the Karibs. Kash and Yvonne cannot afford to pay out Frank's claims and are forced to close the shop, which enrages the Chatsworth community, who turn against Frank and Sheila. But Frank soon discovers saving the shop and the community will lead him into further trouble. Meanwhile, Fiona discovers she is pregnant, and with money at an all-time low at the Gallaghers, Fiona wonders whether she should keep it. Faced with a huge decision, Fiona tracks down Craig Garland (Chris Coghill), the father, only to discover that he is married.

Tuesday, March 1st, 2005

9: Sister, Sister

Kev's sister, Kelly (Sally Carman), arrives in Chatsworth on the run from her ex-boyfriend, an aggressive junkie. She is desperate to retrieve her things from his flat, so Kev and Frank decide to step in and help her. However, Veronica soon discovers everything is not what it seems - and Kelly may be hiding a dark addiction herself. Meanwhile, Fiona is suffering from morning sickness, so Craig is planning a surprise trip to Wales to relax. Craig's wife, Sue (Gillian Kearney), is jealous of his new relationship and seeks solace in Marty. But when Sue breaks up with Marty, it leads him on a downward spiral which threatens to land him back in prison, forcing Debbie to take drastic actions. Elsewhere, tragedy strikes for Craig when he discovers his father has died.

Tuesday, March 8th, 2005

10: True Love

Fiona's life is turned upside down when Steve returns to Chatsworth, on the run, to persuade her to flee to Amsterdam with him, but she is torn whether to leave her family and Chatsworth forever, not to mention the father of her baby, Craig. Meanwhile, when Lillian Tyler's (Alice Barry) husband, Brendan, is killed, Frank sees a way to make some money and also manages to win him and Sheila the trip of a lifetime. However, he is forced to look after Lillian's irritating dog, Sadie, who proves to be quite indestructible. Elsewhere, Carl makes a shocking confession during a Gallagher family bust-up: he killed Lillian's husband Brendan. Can the Gallaghers cover up Carl's shocking crime?
Season 3
Tuesday, January 3rd, 2006

1: Liamday

When five year-old Liam denounces religion at his RC Primary School and is subject to a home-visit by his teacher and the local priest, sister Debbie has to think fast. But shaving his head and pretending that he is dying of cancer is NOT one of Debbie's better ideas. In fact, by the time the rest of the Gallagher clan realise what's going on and try to set the record straight, the news has leaked out into the wider community and Debbie's lie lands the family in true Gallagher-style catastrophe. Could things get any worse for Debbie?

Tuesday, January 10th, 2006

2: Dark Friends

Ian meets Jack and soon begins an affair with him. What will Kash say if he learns the truth, and more importantly, why is Jack behaving suspiciously?

Tuesday, January 17th, 2006

3: Baby

Mandy goes into labour after a run in with a masked robber inside the corner shop. Lip desperately wants to visit his new daughter, but will Mandy's parents allow the visit? And if not, just what will it take for Lip to prove himself to them...?

Tuesday, January 24th, 2006

4: Benefit Fraud

When Carol discovers her best friend Lillian had an affair with her husband back in the seventies, she takes revenge by reporting her to the DSS for benefit fraud. Frank Gallagher, who has been posing as Lillian's dead husband and claiming his benefits, comes under suspicion.

Tuesday, January 31st, 2006

5: Old Flame

On the day that Kev should be happily celebrating his 35th birthday, his mother throws herself from her balcony. To add to his woes, he sees his ex-wife Roxy, who's recently out of prison and far from reformed, at the funeral. Fatherhood has had a positive effect on Lip and Mandy.

Tuesday, February 7th, 2006

6: In With The Maguire's

The Gallagher clan can't believe it when Carl starts to bring money into the household - but his mini-enterprise involves growing cannabis for the Maguires and the police are quick to bust him. Lip is jealous when Mandy gets a new boyfriend and he later discovers that she was the brains behind Carl's business.

Tuesday, February 14th, 2006

7: Act Your Age

Debbie has a new best friend who is everything she wants to be and has the boys falling at her feet. Suddenly Debbie realises what other girls her own age have been getting up to and what she's been missing out on while left holding the fort at home. Sue disappears leaving Marty to deal with the debt collectors in the only way he knows how.

Tuesday, February 21st, 2006

8: The Wedding

In preparation for her wedding to Frank, Sheila commissions the building of a conservatory in her back yard - but she suddenly remembers her first husband is buried under the patio. Veronica's last stab at IVF on the NHS fails, so she hatches a macabre plan to raise cash for private treatment.
Season 4
Tuesday, January 9th, 2007

1: New Beginnings

The Gallaghers' return for a fourth series, and its Lip's 18th birthday but not all is going to be clean sailing as there's a few surprises ready to hit him. First the Maguires expect him to do something for them. But the biggest shock of all is his long-lost mother Monica turning up out of the blue with a bombshell that could turn their lives upside down.

Tuesday, January 16th, 2007

2: New Romances

Frank's desperate to keep the fact that he's still married to estranged wife Monica from Sheila, and Monica's not making it easy for him. But Sheila can see that she has competition for Frank and sets about trying to reunite Monica with her estranged lesbian lover. But is Monica still a lesbian?

Tuesday, January 23rd, 2007

3: You Decide

Monica manages to seduce Frank and sink her claws back in, but he dare not tell Sheila that he and Monica have been sleeping together. Sheila proves to be a frightening adversary when scorned and Frank could be in real danger. But neither Sheila nor Monica want to share him and he has to decide on which wife he wants. But who will he choose?

Tuesday, January 30th, 2007

4: The Runaway

Ian gets more than he bargained for when a new person enters his life. Another death in the Maguire household causes Mimi to think the family may be cursed.

Tuesday, February 6th, 2007

5: Boys, Boys, Boys

Debbie's glad to have her dad back at home, but Monica's not happy with all the attention Frank is giving her and tells her it's time she found herself a boyfriend. Also Ian catches the eye of someone he least expected.

Tuesday, February 13th, 2007

6: Dangerous Situation

Carl wants his family back together and that means getting rid of Norma - for good. Unfortunately, things don't go to plan when Norma proves to be a very tough adversary. Frank agrees to work on Shane's ice cream van - the Maguires use it as a cover for dealing and Frank's got E's on tap! However, there's trouble brewing.

Tuesday, February 20th, 2007

7: Terrorist Target

Explosions across the estate spark fears that Chatsworth is a terrorist target. But it has the Maguire's worried that they're under threat from folk a little closer to home when Patrick finds the family semtex missing. Meanwhile when Frank reveals to Monica she was never his first choice over Sheila, Monica vents her anger by turning to Norma for gifts and goodies.

Tuesday, February 27th, 2007

8: Revelations

Learning of the death of his three ex-cell mates is sending Paddy round the bend. With the three of them taken out one-by-one in suspicious circumstances, could this mean he's next in line?
Season 5
Tuesday, January 1st, 2008

1: The Countdown

An emergency visit to the hospital results in Frank receiving devastating news, prompting him to embark on an orgy of drink and drug-fuelled mayhem, which culminates in a bizarre, drug-induced encounter with his younger self. Elsewhere, Lillian comes up with a surprising way to make money, and Lip's shady past catches up with him and leads to a no-holds-barred fight in The Jockey, with shocking consequences.

Tuesday, January 8th, 2008

2: Other Paddy

Mimi is forced to confront her deepest insecurity after an ex-boyfriend makes a cruel comment about her weight, and Paddy's inability to back up her up forces a wedge between the loving couple. And Carl takes offence when Ian becomes romantically involved with his teacher, ruining his chance at wooing a promiscuous fellow pupil.

Tuesday, January 15th, 2008

3: Happy Birthday, Ma Maguire

Monica seeks to make up for lost years with her children after failing a pregnancy test. Paddy is livid after the Jockey is robbed before Mimi's surprise birthday party, leaving Karen with the responsibility of arranging the bash from scratch. Stan becomes smitten when his pen-pan from the Ukraine pays a visit, but Carrie suspects that the charming foreigner has an ulterior motive.

Tuesday, January 22nd, 2008

4: Frank's Big Win

Frank Gallagher has won the lottery; or so the residents of Chatsworth think when Yvonne announces it on the local news. And Frank's not about to announce that he's never bought a lottery ticket in his life when free drinks are coming his way. But will he 'fess up when Liam is kidnapped and the ransom fee is his so-called winnings?

Tuesday, January 29th, 2008

5: Beach Party

With the local council doling out money to the new young-mayor, Debbie sees a chance to buy hens and potatoes and give Chatsworth free egg and chips. Meanwhile, Shane falls for his perfect woman and it looks like she's fallen for him but when she takes him back to her place, the spare room at Lillian's; Shane's in for a bit of a surprise. Also, Yvonne has trouble with some yobs in the shop and things get a bit heated has she finally met her natch? And,when Stan runs down an old lady, he confides to Tom and Carrie that he should be wearing spectacles. To save his job, Carrie takes the rap, but when the old lady decides to sue, it might be Carrie who is going to get fired.

Tuesday, February 5th, 2008

6: Nowhere To Go

A mishap with baby Katie and a bag of Es leads to a standoff between Mandy and Frank. When the family back Mandy, Frank is forced to leave the house and ends up sleeping rough. Meanwhile, when Liam learns he's going to be nappy changing for Monica's new baby, he decides to run away. He catches up with Frank and the two outcasts bond over a camp fire and a leaky tent. Micky's attempts to get into his dad's good books go horribly wrong when he accidentally loses the weekly drug pick-up distracted by a hot guy from the local abattoir. He enlists Ian's help to get them back and the two lads go on an epic search until Ian gets caught by the thieves and Micky has to decide whether to save his friend or his own skin. Shane is delighted when Kellie finally admits that she loves him and he invites her round for Sunday lunch with the family. But Paddy is not happy about sitting round the table with a prostitute and decides to pay Kelly a little visit...

Tuesday, February 12th, 2008

7: Brothers and Boyfriends

When there is a gas leak at the Gallaghers along comes a sexy fireman named Sean. He gets the attention of Ian and Mandy but which one of them will win the race to get the Sean into bed? Also, Carl finds himself in a risky situation.

Tuesday, February 19th, 2008

8: I Love Frank

On the bus to a re-start course, Frank has the briefest encounters with a beautiful stranger. Debbie invites some members of the church to stay, but has she got an ulterior motive. And Lillian's assigned to a witness protection programme.

Tuesday, February 26th, 2008

9: Absent Parents

Monica has an unexpected visitor, her mother Joan, who no one's seen for twenty years. Suddenly all Monica's childhood insecurities come flooding back. But Joan has a secret, she's got Alzheimer's disease and has a very important task for Monica but, she can't remember what it is. When Stan confesses to Yvonne that he's got a soft spot for her he gets a little more than he bargained for, in the stock room, up against the shelves and behind the frozen goods. Yvonne is a woman with physical needs but does she want this to go any further because, Stan certainly does. When Paddy and Mimi take a holiday, Shane and Mickey decide to throw a party. The only problem is, they've no cash to buy booze and drugs and when they enlist Liam to help them with a money making business venture, they soon find themselves outsmarted.

Tuesday, March 4th, 2008

10: Old Friends, New Enemies

Jamie's ex-cellmate Mark comes to stay, but Karen doesn't trust him and the battle lines are drawn. Karen's got a fight on her hands if she's to prevent Mark from leading Jamie back into a life of crime. When Carl gets poor grades in his GCSEs, he realises everybody thinks he's a failure. So he sets out to prove them wrong and, with a little bit of help from Paddy, finds his real talent in the boxing ring. Yvonne gets a shock when she hears that her daughter Meena has arranged her own marriage. Meanwhile, Norma finds herself on a date. But is she over Monica yet?

Tuesday, March 11th, 2008

11: Twin

When Paddy is caught on camera for an armed robbery and could face 20 years inside, Mimi begs him to call his brother, Noel. He's the only one who can help. But Paddy has a dark history with his sibling and would rather go to jail than ever set eyes on him again. As the reality of his situation dawns, he realises he has no choice. The Gallaghers find themselves three grand in debt to Mimi after Frank inhales a box of her drugs, and it seems that Ian is the only one who can bail the family out. But when his business venture fails, Ian finds he has nowhere to turn. In an act of desperation, he steals money from the till at the Jockey but things quickly spiral out of control. The status quo gets altered in the police house when Carrie becomes a sergeant. Tom is peeved that Carrie is exploiting her new position, but a chance comment leads him to discover a dark secret in Carrie's past, which means he can regain the upper hand...

Tuesday, March 18th, 2008

12: Family At War

When Stan gets caught in the crossfire between Yvonne and her kids, a full-blown row puts their relationship on the rocks. Things go from bad to worse when Yvonne finds herself held at gunpoint in the shop. Stan comes to the rescue but any hopes of this leading to an easy reconciliation are thwarted when the gun goes off and Stan lies bleeding amongst the cut-price yoghurts. Monica starts to panic when she discovers that the delivery date for her baby could be sooner than she thought. Faced with the unbearable last weeks of pregnancy and dreading maternal failure, she concludes that the only way through is to face her fears, bring on the birth and get it all over and done with. Carl announces that he's going to join the army. After all, there are some good perks: lots of travel, learn a trade and the girls love a guy in uniform. But can he really put himself up as canon fodder?

Tuesday, March 25th, 2008

13: Date A Death

Mandy looks set for an upturn in her love life when she's persuaded to go on a blind date by Karen, Jamie and Ian. It seems she's struck gold and is onto a keeper, until her first night of sex and drugs turns into a nightmare. Finding themselves with a corpse on their hands, Karen and Mandy have to work out how to get rid of the evidence before they're charged with murder. It's a long night for the girls as they drag a heavy wheelie bin around the estate...

Tuesday, April 1st, 2008

14: The Ties That Blind Us

After Mandy gets arrested for suspected drug running she forms the most unlikely of friendships and finds herself helping Tom search for his real mother. The friendship, however, soon becomes something deeper for Mandy and with the help of Ian, she sets out to win Tom's heart. But do Tom's affections lie elsewhere? Mimi's short fuse gets the better of her when she harms her favourite son, Micky. Desperate to rein in her temper she attends anger management courses and gradually evolves as a new, sensitive woman - and responsible drug dealer. Seeing his business going down the pan, Patrick despairs and knows he has to get his old Mimi back or they'll go bankrupt. In an attempt to impress a new girlfriend, Carl enlists Karen as his personal sex counsellor, but is he getting help or getting off?

Tuesday, April 8th, 2008

15: Assault

While enjoying another secret rendezvous, Debbie and Tom are forced to come to the aid of an assaulted woman, but things go horribly wrong when Tom gets arrested on suspicion of being the attacker. Only Debbie can supply his alibi, but not without putting both of them in a compromising position. There's a gruesome showdown between Shane and Paddy over Shane's girl, leaving Mimi torn between her love for her husband and the love she feels for her son. When Norma wakes up in a stranger's jogging bottoms after a night on the tiles, she sets off on a wild goose chase to find out whoever it was she slept with.

Tuesday, April 15th, 2008

16: The Ninth Time Around

When Manchester experiences an earth tremor, Monica's waters break and she goes into labour. On the other side of Chatsworth, the same tremor knocks Frank off of his barstool and puts him in a coma. Monica's refusing to have the baby unless Frank is present, but how long can she keep her bun in the oven? While he's out cold in his hospital bed, Frank experiences an alternative world: a life where he is a success, where Ian isn't gay and Debbie looks like she'll never leave home. It's the world as Frank would have it; or is it? Carl is finding new success with girls by posing as a single parent. It's all going very well until his latest target runs off with the baby. Meanwhile, Shane has a proposal to put to Kelly.
Season 6
Tuesday, January 27th, 2009

1: Remember Me

Ian is attacked and left shaken and confused as to what he could have done to provoke it. When the stranger strikes again, Ian is left hospitalised and there's more bad news when he regains consciousness: he's got amnesia. Suddenly he's an alien amongst his own family and friends, and even his own sexuality is a mystery. Meanwhile it's Debbie's 16th birthday. Tom decides it's time to go public with their relationship, but Debbie has doubts about whether their relationship was ever really serious. Kelly has bad news for Shane about her pregnancy; Frank and Monica are faced with an impossible challenge when they hear the voice of newborn baby Stella: but do they want to know what she has to say about her parents and Chatsworth? And Ian's amnesia brings him a whole new perspective on his life, leaving him questioning if Chatsworth is the place for him after all.

Tuesday, February 3rd, 2009

2: Trouble In Paradise

With the launch night of the newly redecorated Jockey looming, Jamie and Karen are feeling the pressure in their relationship. The honeymoon period is well and truly over - but can a lesbian encounter put the spice back into their marriage? In the wake of Ian's departure, Micky looks to expand his horizons and enrols on a film course. Soon Micky discover a hidden talent and new friends; his tutor Liz and her husband Ady. The couple soon introduce him to the world of swinging when together they seduce him into their bed. An accident sends Carl to hospital where he takes up a job and is befriended by auxiliary nurse Maxine. Maxine is introduced to the rest of the Gallaghers, but Carl feels left out when Debbie and Maxine spark up a friendship. Meanwhile Stan's attempts to bond with Chesney and Meena land them in trouble with the police and Norma makes a grim discovery while refurbishing the Jockey. And Mandy meets a new man in the form of Jamie's football team mate, Joe.

Tuesday, February 10th, 2009

3: All Rise

Frank is not happy when he finds out that he has been a victim of identity fraud. He finds that he is eligible for jury service after his criminal record is wiped clean. Shane and Micky scam some local tourists but Carrie is soon on their case.

Tuesday, February 17th, 2009

4: Loving Wife

Monica feels unwanted when Frank rejects her advances, and attends a hypnotist's show at the Jockey in the hope of regaining her sex appeal. Carl's new job leads to an intimate encounter, but after discovering he has an STI, he sets out to track down all his previous partners. Meanwhile, Paddy sets out to catch the people who desecrated Fergal's grave and Mickey's love life hits a stumbling block

Tuesday, February 24th, 2009

5: Miscarriage of Marriage

Karen's relationship with Jamie is put under strain when she suffers a miscarriage, unaware she was pregnant to begin with, and matters are made worse by the Maguires' extreme reaction. Liam wins a modelling competition that Debbie entered him in, Tom takes his prank war with Stan too far, and Carl gets into trouble with the female residents of the Chatsworth estate

Tuesday, March 3rd, 2009

6: Breaking Point

Paddy wakes up to find himself chained to a bed in a strange room, unable to remember how he got there, and tension arises between Frank and Monica following a DSS investigation. Carl schemes to discover Micky's sexuality, Tom's last-ditch romantic gesture to regain Debbie's affection backfires, and Carrie decides it is time for a change

Tuesday, March 10th, 2009

7: Always Leave Them Wanting More

Ian drives a car back to the United Kingdom following his travels overseas unaware there is something hidden in it. With her wedding anniversary just around the corner and a party planned, Mimi becomes even more worried about Paddy's absence.

Tuesday, March 17th, 2009

8: Damaged

Paddy returns and is determined to keep his heroin addiction a secret from the Maguires, while Mimi starts to think that he's got cancer. Meanwhile, when Frank inherits a house from an aunt, the Gallaghers celebrate a possible new start outside Chatsworth however, thing's aren't all as they first appear. After Kelly resigns from Lillian's brothel, she and Shane scam unsuspecting male clients in hotels across the city, until a sting goes horribly wrong leading to life threatning circumstances. Meanwhile, Jamie sabotages Karen's application for a wedding licence, and she reacts in a shocking way by standing strong ang making it clear that she'll never let the Maguires get hold of The Jockey.

Tuesday, March 24th, 2009

9: The Darkest Hour

Nobody is sure if Shane will ever be the same again after he is left partially paralysed by the accident, while Mimi and Kelly clash over who will help aid his recovery. After the departure of Monica, Norma contemplates her own future on the estate and a figure from the past offers her the chance of a fresh start. Elsewhere, Jamie settles back in with the Maguires and alarm bells ring for Karen when she suspects all is not right in Mandy and Joe's relationship

Tuesday, March 31st, 2009

10: To The Future

Norma steps into Monica's shoes to help Liam's parents appear conventional in front of his head teacher, but Frank looks set to spoil his son's place on a scholarship. Meanwhile, Paddy is increasingly agitated by Mimi's efforts to wean him off drugs, and Karen sacks Jamie - only for Joe to propose taking his place. Lillian gets a surprise visit from her son Rodney, and Kelly recruits Meena to do Shane's physiotherapy

Tuesday, April 7th, 2009

11: Powerless

Jamie beats Joe up after he discovers that he has been hitting Mandy. Mimi decides to take the blame for the attack to save her son from being sent back to prison. Paddy's secret comes out.

Tuesday, April 14th, 2009

12: Cold Turkey

Ian becomes angry with Liam when he discovers that he has been skipping school. He soon finds out that Danny is responsible for Liam's absence and suspects that there is more to this than meets the eye. Patrick goes cold turkey and faces his demons, but can he come out clean and make a fresh start? And although Mimi faces an uncertain prison sentence, her main concern is Patrick's past infidelity. With Joe recovering, Mandy is under mounting pressure from all sides to leave him, but the decision is hers alone. And Meena takes her modelling career in a raunchy direction, much to Yvonne's disapproval.

Tuesday, April 21st, 2009

13: What About Me?

The Gallagher unit is rocked when an unexpected visit from the social services catches them off guard and the family fall apart. In the aftermath Debbie unleashes her fury on Frank, which propels him on an almighty bender, but can Frank realise the solution to their problems won't be found at the bottom of a pint glass, before it's too late? Every teenage boy's fantasy becomes reality for Chesney when he is introduced to a married housewife who pops his cherry and he quickly falls head over heels.

Tuesday, April 28th, 2009

14: Haunted By The Past

Yvonne's past catches up with her and she tries to stop Chesney and Meena from learning the truth.

Tuesday, May 5th, 2009

15: Confession

After Debbie throws him out for the night, Frank ends up in a confessional booth where he hears a neighbour's shocking confession. Frank finds himself drawn into what is going on.

Tuesday, May 12th, 2009

16: It's Over

Patrick continues to loose his grip on his marriage and his family.
Season 7
Tuesday, January 26th, 2010

1: Perfectly Frank

It's Frank's 50th and Liam has the dubious honour of sharing the auspicious day with him on his 11th birthday. Uncharacteristically, Frank snubs the chance of a party, and instead opts to dwell in his own lonely loveless existence until... Libby, a local librarian falls into his life.

Tuesday, January 26th, 2010

2: Gunshot

The Maguire clan is fully mobilised for the christening of its newest member baby Connor, with Mimi pulling all the strings. Her first act, reallocating godmother duties, leaves now 'ex' godmother Kelly devastated.

Tuesday, February 2nd, 2010

3: Out of Control

Karen's obsessive drive to prove herself more than just a mum has Jamie worried. With the help of a trampoline and a battalion of baton twirling majorettes her body is in perfect shape but her mind is in danger of unravelling, leaving the Maguires to pick up the pieces. Liam's pursuit of his first true love is threatened when he becomes tangled in a web of his own lies. His desperate attempts to conceal his Chatsworth life are shattered when Frank is summoned to the school. Maxine's life is thrown into turmoil when she is presented with an urgent choice. At the time she needs Carl most she finds him following in Frank's footsteps at the bottom of a pint glass. She turns to Ian for support. Elsewhere on Chatsworth, Yvonne is in debt and out of her depth when Paddy comes collecting. The Karibs concoct a plan leaving the shop under new management, Paddy enraged and Chesney starting a new independent life. Meanwhile, Mickey finds a plumber to help him with his neglected pipework.

Tuesday, February 9th, 2010

4: Toyboy

Mimi gets a toy boy, Billy the Jockey football team's star striker, but her happiness is short-lived when she discovers her new beau is the not the man she thought he was. So when Billy tries to blackmail Mimi into continuing to see him, she decides to teach him a Maguire life lesson he will never forget. Shane and Kelly encourage Paddy to get back into the dating game; only to have their proposal rejected. Unperturbed, Shane rallies his brothers together and arranges a night out for Paddy. At the club Paddy's embarrassing 'Saturday Night Fever' dance routine cause his sons to abandon him. Emasculated, he returns home where he finds his own opportunity to make a proposal. Elsewhere, Frank is temporarily blinded by bootleg vodka. Rejecting doctor's orders to detox, the family take advantage of his blindness and set about turning his vices into virtues. Joe settles in as the new manager of the shop and in an attempt to make more money on the side, makes a deal with Shane.

Tuesday, February 16th, 2010

5: The Things You Do For Love

Maxine is desperate to make a good impression at her parents' party so cajoles Ian into pretending to be her boyfriend. He reluctantly agrees, but their act unearths deep feelings that take everyone by surprise.

Tuesday, February 23rd, 2010

6: From Chatsworth To Cuba

Paddy's plans to salsa into the sunset with his new love D'een are scuppered when Mimi forces him to guarantee the financial security of the family with one last job - targeting the drug money of notorious psychopath Roscoe. Torn between a new life with D'reen and his family responsibilities, Patrick calls upon his sons for help. Meanwhile, Liam is suffocating under an avalanche of household debts and the fallout from trying to gamble his way out of trouble. Looked upon as a massive disappointment by Frank, and with no options left, he is driven to desperate measures. And Jamie is literally flat-out trying to keep his family afloat while Karen is coming apart at the seams.

Tuesday, March 2nd, 2010

7: Reunited

Frank's romantic interest, Libby, returns and her time away has only increased her ardour. Armed with just a mobile library she is determined to bring knowledge to the people and rekindle her romance.

Tuesday, March 9th, 2010

8: Marry Me (Part 1 of 3)

Wedding bells are in the air on the estate, a little too frequently for the police, as the Maguire's exploit a new money-making scheme. Business turns to pleasure when Shane asks Kelly to marry him, but his dream soon becomes a nightmare when she turns him down. As his life unravels Shane uncovers a terrible betrayal by those closest to him and must suffer for the sins of his father. Hitting rock bottom he finds the strength to make an important decision. Now Libby and her mother are firmly nestled in the Gallagher house, Frank 'volunteers' to paint Patty's converted bedroom. But in the pursuit of a bargain, Frank falls and feigns injury leading to a potentially disastrous face-off with Patty. Elsewhere, Chesney holds a house party to get close to Sammy, but a promise turns to a threat when blood is spilt, leaving awful consequences.

Tuesday, March 16th, 2010

9: The Wild Wales (Part 2 of 3)

Carl and Chesney's attempt to outrun their troubles make them realise the grass isn't always greener.

Tuesday, March 23rd, 2010

10: Great Dangers (Part 3 of 3)

Shane is devastated to discover he's 'firing blanks' and while he frets, Kelly is reconciled to their future without children. The Maguire men refuse to let one of their own be struck down so decide to take matters into their own hands and get their heads together to come up with a sticky solution. Although Shane is keen to take up their offer Kelly refuses, and with Liam's help, both realise the answer to their problem lies closer to home.

Tuesday, March 30th, 2010

11: Fallen Heroes

Liam befriends World War Two veteran, Reggie, to help him with a school project. Troubled and lonely without his sister and fed up with Libby's well-intentioned interference at home, Liam finds solace in his friendship with the old man. But when Libby spies on them, she jumps to the all the wrong conclusions - leading to a tragic confrontation between the Gallaghers and Reggie. Maxine is shocked when her brother, Bruce, turns up with a black eye claiming a homophobic attack by their dad, but her loyalties are tested when she confronts their father and discovers the real story. Bruce's arrival as an openly gay man on Chatsworth agitates the locals and he quickly outstays his welcome at Ian's house, but he charms his way into Mimi's heart and the Jockey, leaving Mickey teetering on the brink of a nervous breakdown. Meanwhile, Karen is put out when Joe appears to have moved on by taking control of his life and attending anger management classes.

Tuesday, April 6th, 2010

12: Boxer

In an attempt to build up some confidence, Ian joins the local boxing club and quickly strikes up a friendship with the owner, Jock. But when the club faces closure due to Jock's debt with Paddy, Ian enlists Maxine, Carl and Chesney to help raise funds. However, it soon becomes clear that Ian has stumbled into a hornet's nest of unfinished business between Paddy and Jock. Meanwhile, a moment of heroism prompts Mickey to apply for a job with the fire service, but during the assessment he is haunted by old doubts. Returning a failure, he feels wounded, but his handling of a life-threatening emergency proves that he deserves respect. At the Gallaghers', Libby's biological clock is in overdrive, and to Frank's utter horror she makes it clear she wants to have children of her own before it's too late. Elsewhere, Liam is targeted by bullies, while Karen sets up a Chatsworth's Got Talent night at The Jockey.

Tuesday, April 13th, 2010

13: Keep It In The Family

Kelly takes guardianship of her 15 year-old half sister Tonya who is homeless and needs help to get her baby boy out of care. In a meeting with Tonya's social worker Julie, it's agreed that custody will only be considered if Tonya proves she is responsible by looking after a simulation baby. But it's not long before the unruly teen leaves Micky holding the plastic baby, forcing him to make a painful decision. Elsewhere, Libby witnesses the results of an apparent miracle from a visit to a French grotto and organises a pilgrimage for Patty. Petrified and elated at the thought of liberation from her mother, she persuades Frank to escort Patty while she waits anxiously at home. The unlikely travelling companions end up sharing a room in a convent where Frank becomes the improbable focus of attention.

Tuesday, April 20th, 2010

14: Secret Relations

After months of separation Patrick and Mimi amicably agree to a quickie divorce, but they get a nasty shock when it's revealed their marriage was never legal. Mimi flies into accusations and recriminations holding Patrick to blame. She then hatches a plan to secretly marry and divorce legitimately in order to save the souls of their children who were born out of wedlock.

Tuesday, April 27th, 2010

15: The End of The Affair

During his birthday celebration Joe receives the tragic news of his father's death. The painful realisation that life is too short fuels his determination to start a new life with Karen. Although Karen is uncertain, Joe manages to convinces her of their future together away from Chatsworth. Trying to come clean to Jamie, Karen's confession is derailed when he reveals his own grubby secrets. Emotional deadlock forces Joe into a course of action with far-reaching consequences for all of them. Elsewhere, Bruce gets a chance to shine as caretaker/manager for the Jockey football team, but when he arranges a gay five-a-side football tournament Chesney is not willing to 'come out' with the other lads. And while Ian plays with the boys, Maxine explores her artistic side as a life model.

Tuesday, May 4th, 2010

16: Gang Wars

Karen and Joe are holed up in the shop with the spectre of Jamie's revenge hanging over them. Joe is plotting their future away from Chatsworth, but Jamie has Connor in hiding and Karen isn't going anywhere without her son. Joe uses his dubious contacts to snatch Connor and drag his new family away to freedom, but little does he know he's carrying unwelcome baggage! When Maxine and Ian are mugged they viciously fight back, taking their attacker captive. At odds on what to do with their prisoner, the couple quickly realise their relationship is falling apart. Elsewhere, a dark cloud falls over the Maguire family when notorious gangster and psychopath Roscoe shows up. The brothers scatter for cover, leaving Mimi to suffer the intimidation along with a dose of extreme indigestion.
Season 8
Monday, January 10th, 2011

1: The Night Before

Libby and Frank are supposed to be getting married, but this is put on hold when Frank disappears on his stag night. Mimi tries to find out the identity of the father of her new baby Cilla.

Tuesday, January 11th, 2011

2: Missing

Frank is still missing and imagines that he is in a parallel universe featuring Doctor Who characters. His ex-wife Monica, having heard that Frank has gone, wants custody of Stella and Liam.

Wednesday, January 12th, 2011

3: Where's Frank?

Shane finds security work at the local school and helps a boy being bullied by his twin. Frank is still incarcerated in a psychiatric hospital, unknown to Libby, who tries to move on with her life.

Thursday, January 13th, 2011

4: Back Home

After returning to the Jockey, Karen attends the psychiatric hospital as an out-patient and finds that Frank has been there all along. Can he break free and save his relationship with Libby? Meanwhile, Sita is devastated when she fails her exams, and discovers her tutor will pass her if she sleeps with him. Determined to pass her exam, Sita turns to Carl for help. Elsewhere, Aiden, Patty's great nephew, arrives on Chatsworth following his mother's imprisonment, and he proves more than a match for various Chatsworth residents.

Friday, January 14th, 2011

5: Wedding of Disaster

After weeks of suffering at the hands of his own mental incarceration Frank is almost fully intact of his marbles and is plots his escape. Libby meanwhile has had the dramatic news that Frank's divorce is about to be nullified and they could lose the family home in 24 hours. The solution is for Frank and Libby to get married and the clock is ticking...

Tuesday, January 18th, 2011

6: Gangster Gallagher

It's Carl's 21st birthday, and Frank, Libby and the Maguires are planning a suprise party for him. Carl gets a job working for Jamie. However, his first job does not go to plan when Kelly steals money which was supposed to go to a business client. The business client in question is a ruthless psychopath. Left alone with him, Carl faces the most darkest experience of his life, and his problems have only just begun when Jamie accuses him of trying to steal from the family. Meanwhile, one of Joe's money-making schemes comes back to haunt Chesney, leaving him and Sita in debt. Mickey encourages Chesney to set up a gay hotline. Chesney is reluctant, but Mickey is left wondering what he has started when Chesney becomes addicted to the hotline.

Tuesday, January 25th, 2011

7: Kidnap and Ransom

Shane and Kelly's new business of giving people their sexual fantasy threatens the Maguire family business when their client, Sandra, is reported missing by her husband. As the police swarm Chatsworth searching for her "Kidnappers", Shane calls upon the residents to help him, but Jamie is determined to make Shane see that he is not fit to run the business, even if it means sending his brother to prison. Meanwhile, Sita is annoyed to discover Chesney's new Muslim driving school scheme is a ruse for wild parties at the shop, and fearful that Chesney is losing everything the Karibs have worked for, Sita calls the terrorist line, but her actions result in a robbery at the shop, leaving the Karibs penniless. And, Patty, Mimi and Lillian go to battle over a bingo win, whilst Jackson becomes an unlikely drinking buddy for Frank.

Tuesday, February 1st, 2011

8: Together In Heaven

Mickey and Shane think of a way to make some extra money. Their final idea was to make a child pornography site which contained no nude images and took the credit card details of those who subscribed. Their view on the matter was that they were doing a good thing by using the website as a deterant, however the police didn't see it that way.

Tuesday, February 8th, 2011

9: Maguire Meltdown

After sleepless nights with Cilla, Mimi is starting to feel bad and believes that she is going mad, as one of her relatives did, and that the house is haunted. Finally she believes that Kelly and Shane are trying to kill her and locks them out of the house though she recovers after seeing a vision of Mandy, who tells her what to do. Kelly is suspicious of the power new girl Bonnie exerts over Lillian in the brothel, and Avril and Jackson's continuing efforts to spice up their sex life leads daughter Letitia to believe that her father is having an affair.

Tuesday, February 15th, 2011

10: Sickness and Health

Mickey needs somebody to love, He adopts a cat with FIDS (feline AIDS) and meets Philip who also suffers with AIDS in order to learn more about it. Mickey goes to the shop and returns to find Philip dead.

Tuesday, February 22nd, 2011

11: Takeover

Libby gets her mother a nurse to look after her when she's at work, all doesn't go to plan when Libby's mother mis-treated. Lillian reveals that she has signed over the house to her newly adopted daughter, Bonnie. Bonnie tells Lillian about her life growing up and then commits suicide.

Tuesday, March 1st, 2011

12: Sibling Rivalry

Mimi's transsexual sister turns up, but isn't all she appears to be. The Maguires are still at each others throats, and Chesney is in danger as he and Jackson join the British Alliance Party, and manage to rub them up the wrong way.

Tuesday, March 8th, 2011

13: Beginnings and Ends

Following his sexual encounter with Letitia's headmistress, Miss Heller, Frank has had his final chance with Libby, who seems taken with the mysterious Martin. Shane's theft of Tilly Pucker's wheelchair further strains relations between the Maguire brothers, coming to a head in a showdown with Tilly's minders.

Tuesday, August 30th, 2011

14: The Not-So Deceased

It's a black day on Chatsworth when Paddy Maguire is returned in a coffin. While the residents grieve, Jamie gathers the Maguires to lift the lid on this 'special delivery'. Leticia dares Aiden to break in and take a photo of Paddy, but they're in for quite a surprise. Meanwhile, Karen sets up a kids' entertainment business, but the joke's on her when Mickey, Avril and Lillian join the team. Competition is fierce, but when a catfight with a sexy rival is popular with the dads, Karen discovers a new way to make some extra cash behind Jamie's back. Little does she know the danger she will face. Frank's war with Patty is re-ignited after Libby's departure, and he makes a shocking discovery that leaves Patty at his mercy. And Mimi gets a new strap-on!.

Tuesday, September 6th, 2011

15: My Name Is Avril

Avril is busy keeping secrets from her family; with no job and no money, but always a gift to hand, something doesn't quite add up. Mimi has designs on fit jogger Neil, but he's unsure of her advances - because he only wants sex. Mimi is keen to spice up her sex life, but Karen raises concerns about Neil's calorific role-play. When 12-year-old Bean tries to shoplift, Chesney phones her dad, Gorky, who is Chesney's delivery driver, but Chesney soon becomes concerned for Bean's welfare and decides to try and rescue her. And the law finally catches up with Avril when a bailiff arrives; she breaks down and confesses leaving Jackson gobsmacked. Will he and Letitia promise to support her and help pay back all the money she owes?

Tuesday, September 13th, 2011

16: Frank Gallagher: Sent By God

While cleaning the windows, Jackson spots Letitia kissing Dee Davies in her bedroom. Jackson goes berserk, attacking Dee in front of a social worker who's waiting to assess him and Avril as foster parents. Frank isn't much use in the parent department, staggering to the Jockey and leaving Carl to nurse pox-ridden Stella. Drunken Frank then leaves the pub and accidentally gets on a mini-bus, waking up in a synagogue. He's discovered by Isaac, who promises not to report him because Frank's been sent from God. Frank thanks Isaac for his advice and hospitality by stealing his candelabra and legging it. Karen's fed up with how she's treated in her own pub and plots to get her power back with a card game. Meanwhile, an ambulance is called for the smallest Gallagher. Will she pull through unharmed?

Tuesday, September 20th, 2011

17: Comebacks

A new gang has rolled into Chatsworth with an unlikely mission - to save the souls of the community. Jesus O'Toole leads the group and seems to know too much about certain residents. Aidan is certainly open to the possibilities that religion might bring, but love soon turns to hate when local businesses are picketed. An explosion on the Maguire's turf sees the family prepare for revenge. Kelly is attacked by a familiar face - Marty Fisher, who is on the run. And, Patty returns, missing Libby, she turns to the only person who might know of her whereabouts - Frank.

Tuesday, September 27th, 2011

18: Frank In The Frame

There's uproar in The Jockey when Frank pockets Cynthia's scratch card. And when Cynthia is assaulted, Frank becomes the prime suspect. Carl kicks off against the accusers, but Kelly shows Carl CCTV footage of Frank near the crime scene. Frank remembers nothing but scratch marks on his chest tell a different story. While Frank hands himself in, a distressed Carl seeks to prove his dad's innocence and phones Kev Ball, who returns to the Chatsworth like a knight in shining armour. New video footage jogs Frank's memory, but puts him in a stickier situation. Can a deal be made with gangster Growbag Macready? Frank's fate rests in his hands. Meanwhile, Mickey moves into the Jockey after a disagreement with Mimi, and Marty's presence continues to cause trouble between Shane and Kelly.

Tuesday, October 4th, 2011

19: Moving Back

Aidan's bad behaviour has landed him in court, but it's Patty who'll decide the outcome. Feeling unwelcome at the Gallaghers, Aiden leaves Chatsworth to find his mother, recently released from prison. Mimi is unexpectedly reunited with Billy Tutton, Cilla's father, and his return to Chatsworth causes tension between Mimi and her children. Frank takes in a Polish man as a lodger. Marty and Mickey become flatmates, and both men reveal their secrets to each other.

Tuesday, October 11th, 2011

20: Career Criminal

Marty attempts to find a job and ends up turning to crime to tide him over. Kelly discovers that there's a price on Marty's head. Billy is determined to stand up for his rights as a father. Mimi ends up giving him an ultimatum. Mickey's flat is raided by the local police. Marty is confronted by Shane about a secret he left behind in Spain. Kelly is heartbroken agter she is told the truth and doesn't know who to believe.

Tuesday, October 18th, 2011

21: The Maguire Motto

Mickey channels his' inner drama queen' at the community service with a difference. Ray's skill with numbers does not go unnoticed by Mickey, and a trip to the casino seems on the cards. But Ray's only got one thing on his mind, and it's not the jackpot! The community service cast are unhappy with their leader, Michelle and the play. So when Michelle has a timely accident and the centre is shut, Mickey takes the lead, bringing Christmas to Chatsworth early. Meanwhile, Mimi might wear the trousers in the family, but it's time Billy pulled his weight, so Mimi sets a profitable challenge to test his manhood.

Tuesday, October 25th, 2011

22: PC Gallagher

Billy and Mimi find the game is up after Micky finds them in a compromising position. Billy is scared as the Maguire brothers want his blood for daring to marry their mother. Kelly's not sure about keeping the baby and Jamie ends up finding out more than he bargained for after he confronts her at work. Kelly realises she has to be honest with him but will he still want her and the baby. Carl sees a crime being committed but walks past, unaware of the consequences. Billy's stag ends up being a night to remember.
Season 9
12: Episode 12

13: Episode 13

14: Episode 14

15: Episode 15

16: Episode 16

17: Episode 17

18: Episode 18

19: Episode 19

20: Episode 20

21: Episode 21

22: Episode 22

Monday, January 9th, 2012

1: The End of an Era

The dysfunction Gallagher family returns, but all is not well on the Chatsworth Estate. Half of Frank's neighbours are evicted from their homes as part of Operation New Start, a multi-agency crackdown on the estate's benefits culture. Jamie and Karen become the reluctant leaders of the resistance when the evictees turn to them for help, but while things look bleak for everyone else, Jackson's future appears brighter than ever.

Tuesday, January 10th, 2012

2: Save Chatsworth

Not everyone is pleased to see Carl after he shows up on the estate as a qualified policeman. Jackson finds himself being accused of falsely claiming benefits, resulting in the loss of his job which throws his marriage into chaos. Frank is given the job of becoming a double agent, so that he can get information from Carmen about the future plans for the estate. The residents end up agreeing to a deal with Carmen to save the estate. Kelly loses her baby.

Tuesday, January 17th, 2012

3: Open To All

Mimi and Billy decide to have an open marriage. Patty and Lillian's funeral mourning brings them some unwanted attention. Kelly can't grieve and and ends up losing control.

Tuesday, January 24th, 2012

4: Vendetta

Micky ends up becoming the victim of a gay bashing, leaving him mentally and physically scarred whilst enjoying a night out with the boys. Carl falls for Clem on the night out. Aidan has a new group of older friends, headed by gang leader Frasier Kane. Events end up spiraling out of control one evening on the estate and Aidan is faced with a life-changing decision. Ruby Hepburn shows up on the estate and is revealed as being Mimi's niece.

Tuesday, January 31st, 2012

5: Cop Killer

Somebody from Jamie's past arrives on the estate, looking for a favour to be returned. D.S. Brooks, is currently suspended pending some serious charges and Jamie doesn't know if he can go through with what he wants and the safety of his family ends up being in the balance. Aidan skips school after he is haunted with nightmares about his doing nothing to stop Frasier attacking his school teacher. After Frasier turns his attention to Letitia, Aidan ends up feeling like he has no choice but to act. Micky has to deal with a life-changing decision after a debt collection goes badly wrong.

Tuesday, February 7th, 2012

6: Last Man Standing

Jackson agrees to help Shane on a robbery job at a supermarket. Gloria's brother Dominic, a whisky preist, causes mayhem on the estate. Chesney regrets making a comment about Carl's girlfriend Clem.

Tuesday, February 14th, 2012

7: All Fall Down

Everyone is really worried about Kelly. Marty is still grieving about the loss of the baby, Kelly is punishing herself physically and mentally and is spiralling out of control. Karen ends up making a bet with Dom. Avril becomes worried after she sees her colleague Calum dispensing incorrect medication at the chemist.

Tuesday, February 21st, 2012

8: Blackout

Times are difficult and Marty and Aidan attempt to redirect a power line to the Gallagher House so that they can use free electricity. The girls gather at the Maguire house and as the drink starts to flow, hidden truths are revealed. Jamie agrees to a lock in for the guys at the pub where Frank accepts the challenge to re-enact The Hare and the Tortoise. Chesney attempts to protect the shop but pushes himself too far in the process.

Tuesday, February 28th, 2012

9: Decision Time

When Chesney arrives home from hospital, he finds his cousin Toof waiting there for him. After he reveals his plan to close the shop and take Chesney back to Bradford, Chesney refuses to agree to it. Chesney decides that it is time for him to strike out on his own and live life to the full.

Tuesday, March 6th, 2012

10: Million Dollar Maguire

Jamie and Shane come up with a plan to steal a stash of scratch cards from the Lottery rooms in Manchester. Frank ends up being recruited along with Aidan and Ruby but things don't go to plan. Letitia and her friends form a girl group. Karen is determined to prove to Mimi that she can handle the Maguire business in Jamie's absence.

Tuesday, March 13th, 2012

11: Rescue Me

Jamie is scared that Karen may uncover the truth about what happened with Gloria. Ruby wants to be accepted as part of the Maguire family while Aidan is fed up with being treated like the idiot child.
Season 10
Wednesday, September 12th, 2012

1: The Working Man

Frank's old excuses fail to wash with the Department of Work and Pensions, so faced with losing benefits his hopes rest with the World of Burgers. Shane and Jackson launch a new enterprise of bootleg booze, but it's rank and nobody is buying their stuff. Billy offers to help and concocts a brew using his extraordinary sense of smell and amazingly it's a great success. But Shane is seriously hacked off. It's time to lay down the law... Meanwhile, Avril supplies pills to Patty, who wants more than her recommended dosage, but when Avril turns down her request, Patty springs into action with a plan to steal them.

Thursday, September 13th, 2012

2: The World of Burger

Frank is enjoying his new job at World of Burgers. Wesley is jealous of his influence though and comes up with a scheme to oust him in order to achieve his longed-for promotion. Karen uses some alternative parenting methods to deal with Connor's destructive hobby. Mimi adopts this new approach with Cilla after hearing a few home truths. Shane's search for a missing cat leads to a new experiment.

Wednesday, September 19th, 2012

3: The Brazilian Effect

Marty befriends a Brazilian housemaid and determines to rescue her from her life of servitude. Kelly insists it's none of their business, but that doesn't deter Marty, who liberates her with a stack of cash he was supposed to be banking for Lillian... Dom springs an uninvited guest on Gloria: their birth mother Hazel. There's no love lost between the two, but is it time for Gloria to extend the hand of friendship? And Billy's sick of people taking advantage. Karen reckons the answer to his problems is a self-help tape.

Wednesday, September 26th, 2012

4: Who's The Mummy?

Billy discovers a used pregnancy test after Mimi, Karen and Gloria spend the night boozing. He turns to Jamie for advice, and both of them set out to discover who's the daddy... Jackson is suspicious because Avril and Calum are always together after hours, but when he sneers at an invitation to go clubbing, Avril leaves him behind and makes it a night to remember. Aiden and Chesney collect meat for a raffle and manage to get stuck with a live cow, a guilt-ridden Shane starts watching the family of the man he's killed, and Gloria turns to Dom when she gets into trouble with a loan company.

Wednesday, October 3rd, 2012

5: The Truth Will Out

Consumed with guilt after the hit and run, Shane tries to makes amends by befriending Ruth, the widow of the man he killed. Blind to his identity, Ruth welcomes Shane into her life, but her troubled teenage son Shaun hates this interfering stranger. Meanwhile, Kelly and Lillian face tough competition when another brothel opens on the Chatsworth.

Wednesday, October 10th, 2012

6: Secrets and Wives

Marty makes a life-changing decision and finds the nerve to propose to Kelly. Over the moon, she accepts.

Wednesday, October 17th, 2012

7: Business As Usual

Shane's and Jacksons business is booming. Expansion is afoot and their future looks rosy. But Shane suddenly turns charitable and begins giving the homeless their stock, infuriating Jackson and causing a rivalry between the two business partners. Meanwhile, the residents are shocked by Patty's sudden generosity towards her neigbours. But when she begins hosting a coffee morning for the elderly, they discover a scam is afoot, and the whole estate turn against her. An outcast in the community, Patty finds her problems only just beginning when she is targeted by a hate campaign. And, Billy is having trouble in the bedroom, and a devastated Mimi is convinced he no longer loves her.

Wednesday, October 24th, 2012

8: What Are Friends For?

Dom receives a disturbing text from an ex-girlfriend, who appears to be in desperation, so he turns to Frank for help. Meanwhile, Lillian discovers her girls have been servicing a judge.

Wednesday, October 31st, 2012

9: Great Rivalry

When a new gang hit Chatsworth, The Maguires fear for their future on the estate, and it falls on Jamie to protect his family from their new enemies. however, one of the Maguires closest friends is giving the gang inside infomation. But who? Meanwhile, Frank and Dom clash over the number of conquests they've made on the estate.

Thursday, November 1st, 2012

10: One Year On

It's a big day for Mimi Maguire - it's her first wedding anniversary to Billy and they're going to renew their vows. Determined to make a fresh start, Mimi sets about throwing away memories of her past life with Paddy, but she alienates a furious Ruby with her comments about her dad.

Sunday, January 19th, 2020

11: Location, Location, Location

After Faye announces she's heading to Puerto Rico for the winter, Frank breaks into her Glencoe home with the intention of living there. Lip is reluctant to move to Milwaukee with Tami after a house in the South Side neighborhood becomes available. Debbie's love triangle gets complicated. With Ian and Mickey now engaged, Mickey turns into a bridezilla. Carl becomes a police informant while working his garbage collection job. Kev makes good on the workout coaching he auctioned off for the girls' school, and realizes it can be the start of something bigger.

Sunday, January 26th, 2020

12: Gallavich!

V gets suspicious when Kevin starts hiding away money; Kevin later reveals that it was for an engagement ring and he and V officially get engaged. Angry, Tami leaves Lip and takes Freddie with her. Lip briefly relapses as a result, but realizes his mistake and attends AA with Brad; Tami later shows up to help Lip renovate their new home, having changed her mind. After getting kicked out by her mom, Julia moves in with a reluctant Debbie and forms an attraction to Carl; Julia's mother later calls the cops on Debbie as a result. As Ian and Mickey's wedding approaches, Terry does his best to ruin it, burning down their wedding venue. Their friends and family come together to hold the wedding at a polka hall run by an old flame of Frank's; though Terry tries to intervene, Ian's Gay Jesus followers prevent him from entering. Ian and Mickey are married, but a still-angry Terry later shoots up their honeymoon suite in a drive-by, though neither is hurt.
Season 11
Tuesday, February 26th, 2013

1: The Golden Empire

It's a grand occasion as the residents of Chatsworth celebrate being awarded an Olympic ring from London 2012. The Maguires toast the expansion of their empire: Mimi's hijacked control of the local school via the PTA and Shane's setting up a new business venture. Business is booming, but the family is thrown into turmoil when Jamie makes a shocking discovery about his family tree and withdraws from the firm. Can Mimi persuade Jamie to return as head of the family before all is lost or will a shocking secret tear Chatsworth's leading family apart? Meanwhile, Frank finds himself climbing the employment ladder as janitor of 'St Mimi's School', conveniently funding his new leisure activity - the Gastric Bandits, a prostitute double act with Sherrilee and Derrilee, who light up his life.

Tuesday, March 5th, 2013

2: An Inspector Calls

As a member of the PTA, Mimi demands respect. But when the teachers threaten to quit over the return of a notorious troublemaker and Mimi's quick to dole out advice, Headmaster Banbury couldn't care less. When Mimi hears that the school will be failed by School Inspector Edward Clayhill, she decides to save the day. But not without the help of the Chatsworth residents. Meanwhile, Jamie tries to contact his half-brother Kassi, but after the punch-up in the Jockey, Kassi won't pick up the phone. When Kassi fails to show for a drink, Jamie's forced to recognise that maybe having a new brother isn't going to work. Elsewhere, Frank discovers an unexpected perk of being janitor at the school: 24-hour access. Quick to take advantage, Frank invites the Gastric Bandits for an after-hours drug-fuelled romp, whilst Gloria and Dom continue to hide their sordid affair. But how long can they keep their disgraced secret?

Tuesday, March 12th, 2013

3: Money In Mind

Kelly agrees to help save Lillian's savings from police survelliance. But when she discovers how much Lillian has, she is forced to decide what she values more: Money or Lillian's friendship? Meanwhile, Banbury is forced to ask Mimi for help when a problem occurs at the school. Elsewhere, Patreesha plans a housewarming party for Avril which suffers problems surrounding the theme.

Tuesday, March 19th, 2013

4: No-One's Perfect

Jamie's illusion of his brother's perfect life is shattered when the police raid Kassi's home and haul him to the station. Kassi won't tell Jamie what's going on, but asks Jamie to help find him and his family a place on the Chatsworth during the investigation. So the Blanco family: Kassi, his wife Esther and their four feral children move in next door to the Maguires. Excited by their recent underhand windfall, Kelly and Marty decide to buy a house, but suspicions are aroused about their dirty money, and all hell breaks loose. Shane plays a game of cat and mouse with Sergeant Randall - a shag would suffice but Shane now wants more, and Randall likes to play by her own rules. Shane is treading a fine line - what will the Maguires say when they find out?

Tuesday, March 26th, 2013

5: Risky Business

Chesney's having a rough day at work. His chillers have broken, but on the hunt for replacements he meets Remona, a feisty Muslim pharmacist. Within no time he decides to refit Chesco, add a chemist and give Remona the job of running it. But has he acted too rashly? When Avril loses her job, Patreesha insists that she goes to work at the car wash she owns with her husband, Bernard. But Patreesha is in for a shock when she investigates their business further. Elsewhere, Kassi, Shane and Jamie are suited and booted for a big night on the town, but things don't go according to plan.

Tuesday, April 2nd, 2013

6: Death and Erasures

Aiden is once again in trouble with the law. Sentenced to community service, Aiden is forced to care for an OAP called Stanton. But his life is thrown into turmoil when Stanton dies whilst he was supposed to be looking after him. Meanwhile, Esther is struggled to keep her family together without Kassi. But when she reaches breaking point, Frank comes to her rescue and teaches her that life as a single-parent isn't bad. Elsewhere, Dom is convinced he is guilty of murder. But whose murder?

Tuesday, April 9th, 2013

7: Crime and Punishment

Shane's plans for DJ Scouse Mouse at Shane-a-delica are going well. Tickets for the festival are selling out and the site looks impressive. After Mimi and Jamie learn about Shane's affair with Randall they decide they can't supply any drugs at the festival, resulting in a chain of events which puts Shane's relationship with Randall and the festival itself in jeopardy.

Tuesday, April 16th, 2013

8: Grandaddy Gallagher

Frank is shocked when he boards a bus - only to be reunited with his eldest son, Lip, and grandaughter Katie. However, it is not a pleasent reunion between father and son as it soon becomes clear that Lip is living in the area. But doesn't want Katie to be associated with his alcoholic father or Chatsworth.

Tuesday, April 23rd, 2013

9: Domesticated Specialist

A robbery at Chesney's shop reunites Remona with her estranged father, Barry. But she is not willing to rekindle their relationship. However, Chesney begins warming to her father and plots to reunite them. Meanwhile, Frank thinks he's hit the jackpot when he finds a stash of drugs at Esther's. Elsewhere, Shane is pushed to breaking point as Randall becomes obsessed with him.

Tuesday, April 30th, 2013

10: Crossing the Line

Billy is fed up of being the village idiot and decides it's time to earn the respect of Mimi and his peers by applying for a security salesman job. But with no experience and qualifications it's not that easy. Things start to unravel when Billy pretends he's secured the job and sinks to new levels in his quest for respect. Esther is shocked to discover that Thalia's black eye is a result of her daughter being a bully. Determined to make Thalia show more compassion for her schoolmates and set a good example, Esther sets about apologising to various Chatsworth residents, but they are far from impressed. Meanwhile, Lillian takes pity on a neglected Stella and invites her to spend time in her house. A brothel is no place for a young child though, especially when she gives Lillian's valued workers nits.

Tuesday, May 7th, 2013

11: The P Factor

Patreesha thinks she is the latest British music export to the States when her new jazz musician boyfriend Louis promises her a lucrative singing career across the pond. But when Louis is outed as a con-man and Patreesha's dreams become nightmares, Avril goes to extreme lengths to help get her sister out of the trouble she has put herself in. Meanwhile, a misunderstanding with Mimi leads to Frank becoming an outcast amogst the Chatsworth community.

Tuesday, May 14th, 2013

12: Early Retirement

It seems Chatsworth may never be the same again when Mimi announces her plans to retire and move to Wilmslow to dedicate her life to charity. Is this the end of the Maguires? And will a reluctant Billy be joining her?

Tuesday, May 21st, 2013

13: Kiss, Kiss, Bang, Bang

Things are looking up for Frank: Derilee has left her husband and joined him at the Gallaghers, becoming a surrogate mum for Stella and his job is going well. However, things are set to change forever when a gunman runs riot on the estate - It's Derilee's husband Baxter and his target is Frank. As police swarm the estate, Frank, Derilee and Stella are held hostage, and if that wasn't enough for the feckless Gallagher to handle: ex-wife Monica is back! Meanwhile, Lillian has a new boyfriend, whilst Mimi's fued with the Blanco family reaches a climax.

Tuesday, May 28th, 2013

14: End of the Line

After spending months in jail, Frank returns to Chatsworth hoping for a welcome home party. However, he discovers Monica has took up residency at the Gallaghers - and is expecting his tenth child, and the return of a few faces from his past heralds the end of an era. Meanwhile, it's business as usual at Chesco's, as an old face re-instates herself.