update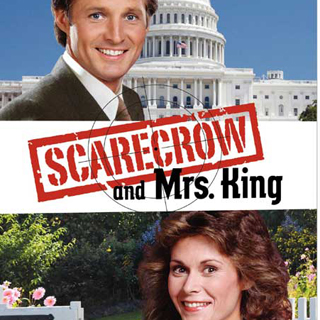 Season 1
Monday, October 3rd, 1983

1: The First Time

Special Agent ""Scarecrow"" enlist the aide of Amanda King, a divorced mother of two, for assistance in finding a leak in a D.C. Organization. Mrs. King is then offered a job with IFF and continues to assist Lee Stetson.

Monday, October 10th, 1983

2: There Goes the Neighborhood

Lee and Amanda pose as a married couple living in the Betsy Ross Estates as they investigate the supply of weapons to Central America by the areas unsuspecting Connie Beth Girls.

Monday, October 17th, 1983

3: If Thoughts Could Kill

A mind control expert messes with Scarecrow, because of he and Billy's routine physical.

Monday, October 24th, 1983

4: Magic Bus

Lee and Amanda pursue a survivalist group who intend to use a stolen top-secret assault weapon against an unknown target.

Monday, October 31st, 1983

5: The ACM Kid

A young Russian boy, whom is under Lee and Amanda's guard, is stealing computer codes from the government to pay for the freedom of his parents.

Monday, November 7th, 1983

6: Always Look a Gift Horse in the Mouth

Lee Stetson and Amanda King are assigned to protect a prince and princess from would-be assassins.

Monday, November 14th, 1983

7: Service Above and Beyond

Mrs. King poses as a wealthy jet setter to attract the attention of a businessman suspected of selling military secrets.

Monday, November 28th, 1983

8: Saved by the Bells

The agency refuses a deal when enemy agents kidnap Amanda in hopes for trading her for another agent. Lee takes matters into his own hands and rescues Amanda, however there is hell to pay with IFF, when he rescues her illegally.

Monday, December 5th, 1983

9: Sudden Death

Lee and Amanda pose as a football player and a writer to stop the owner of a football team from assassinating the leader of a foreign country.

Monday, December 19th, 1983

10: The Long Christmas Eve

On Christmas Eve, Lee and Amanda must find a former Agent, who is threatening to expose the current IFF Agents.

Monday, January 9th, 1984

11: Remembrance of Things Past

Lee is passed a note, just like other agents received before their murder.

Monday, January 16th, 1984

12: Lost and Found

Amanda and Lee are asked to arrange a new identity for an old flame of Lee's and her husband, making a very uncomfortable situation for Scarecrow and Mrs. King.

Monday, January 30th, 1984

13: I Am Not Now, Nor Have I Ever Been... a Spy

Amanda has amnesia after being kidnapped by assasins, and she no longer remembers Lee or the Agency. This only makes matters worse when she is unable to remember the next victim.

Monday, February 6th, 1984

14: Dead Ringer

The Agency decides to use Amanda King's home for the defection of a Hungarian Official, who resembles Francine Desmond (Marth Smith in double role).

Monday, February 13th, 1984

15: The Mole

Someone in the Agency is passing government secrets to Moscow. Lee and Amanda are assigned to plug the leak, or ""The Mole.""

Monday, February 27th, 1984

16: Savior

Amanda is shocked when she learns that Lee Stetson has left IFF, to work a weapon dealer.

Monday, March 5th, 1984

17: The Artful Dodger

Amanda develops a new found friend when Amanda and Lee began investigating the theft of military secrets.

Monday, March 19th, 1984

18: Filming Raul

Agency Parking Attendant/Part time film maker, Raul hold the main clue in finding an Agency courier who disappeared when Mrs. King wrecked her station wagon.

Monday, March 26th, 1984

19: Fearless Dotty

Spies stalk Amanda's mother after a bookstore mix-up puts her in possession of a book containing vital information.

Monday, April 23rd, 1984

20: Weekend

Amanda and Lee pose as newlyweds at a resort to prevent a kidnapping, and actually enjoy each others company.

Monday, May 7th, 1984

21: Waiting for Godorsky

While visiting an estate style yard sale with her mother, Amanda meets a woman targeted by Eastern Bloc assasins. She is later invited to have to with her majesty, while unknowingly getting involved with an Agency assignment.
Season 2
Monday, October 1st, 1984

1: To Catch a Mongoose

Amanda is sent to London when an old high-school friend, Conrad ""Connie"" Barnhill, is suspected of being a murderer labeled as the ""Mongoose."" This homicidal killer leaves a calling card at the scene of his crimes with the Mongoose written on it. Amanda tries throughout the entire episode to convince Lee that Mr. Barnhill is not the killer. Near the very end of the show, Amanda is kidnapped by the real Mongoose, forcing Lee on a chase through a foreign country.

Monday, October 8th, 1984

2: The Times They Are a Changin'

Amanda and Lee must oversee the return of a 1960s radical who is involved with Munich terrorists.

Monday, October 15th, 1984

3: Double Agent

Lee and Amanda search for a spy-turned-writer's latest manuscript that exposes U.S. agents, which includes Lee and Amanda.

Monday, October 22nd, 1984

4: The Legend of Das Geisterschloss

British Agent, Emily Farnsworth, is captured in Austria, leaving behind a sketchpad filled with drawings of nearby landmarks as clues, which Amanda and Lee must use to figure out her whereabouts.

Monday, October 29th, 1984

5: Charity Begins at Home

Amanda is the Agency's only ticket to a private fund-raiser where a wealthy auto collector plans to hold a meeting with several high-powered men regarding a secret formula to control the supply and price crops.

Monday, November 12th, 1984

6: Brunettes Are In

A white-slavery ring kidnaps Amanda, while Lee tries to find a valuable microdot chip.

Monday, November 19th, 1984

7: Our Man in Tegernsee

Lee searches for an Agency operative in the Bavarian Alps who may be able to clear Amanda after she's arrested in Munich on counterfeiting charges.

Monday, November 26th, 1984

8: Affair at Bromfield Hall

In London to investigate a security leak, Amanda gets involved with a seedy photographer and a sex scandal.

Monday, December 3rd, 1984

9: A Class Act

Amanda finally gets to attend an Agency training class, but the curriculum contains an unexpected bonus-Eastern Bloc assassins who have infiltrated the group.

Monday, December 10th, 1984

10: Playing Possum

Amanda cannot remember a vital clue to the whereabouts of a nuclear device planted in Washington DC by renegade Soviets.

Monday, December 31st, 1984

11: The Three Faces of Emily

Emily Farnsworth returns to help Lee and Amanda catch a man who is selling stolen plans for a futuristic plane.

Monday, January 7th, 1985

12: Ship of Spies

Amanda and Lee must pose as a couple on a cruise line, to find a missing informant of Lee's who was apparently uncovering something. However the catch is that once they dock on a small island, Lee and Amanda must marry. Aboard the ship of spies, Lee finds. After docking on the island and being married, Lee and Amanda find that silver is being smuggled aboard ship. The smugglers will do anything to save there fortune, include killing husband and wife, Amanda and Lee.

Monday, January 14th, 1985

13: Spiderweb

A security leak within the Agency throws a secret operation into jeopardy.

Monday, February 4th, 1985

14: A Little Sex, a Little Scandal

Amanda becomes a target after she witnesses the murder of a congressional aide.

Monday, February 11th, 1985

15: A Relative Situation

With the help of Lee's Uncle, Lee and Amanda attempt to thwart an Air Force officer's plans to sell military equipment to an enemy power.

Monday, February 18th, 1985

16: Life of the Party

Amanda and Francine go under cover as maids to catch the kingpin of a crime syndicate.

Monday, February 25th, 1985

17: Odds on a Dead Pigeon

A vindictive parolee hires a look-alike to impersonate Amanda and kill off agents - and Lee is next on the list.

Monday, March 11th, 1985

18: Car Wars

Amanda borrows a classic car from a Government lot and becomes the target of drug smugglers.

Monday, March 18th, 1985

19: D.O.A.: Delirious on Arrival

A ruthless weapons dealer holds the antidote to the drug he added for mind-bending zest to a sandwich, meant for Lee, but eaten by Amanda.

Monday, April 1st, 1985

20: You Only Die Twice

Amanda reads her own obituary in the newspaper after an agent mistakenly uses Amanda's bio as a cover and then dies in the line of duty.

Monday, April 8th, 1985

21: Burn Out

A victim of job burnout, Lee is removed from field duty; and a former agent offers to cut him in on a deal.

Monday, May 6th, 1985

22: Murder Between Friends

Amanda quits her job and joins a security agency; unaware it's a front for mercenaries planning to abduct an African president.

Monday, May 13th, 1985

23: Vigilante Mothers

Lee's efforts to find out who stole some nerve gas from a Government lab get him involved in Amanda's environmental group.
Season 3
Monday, September 23rd, 1985

1: A Lovely Little Affair

Amanda is swept off her feet by a charming art restorer she's assigned to tail---a man Lee suspects may be involved with terrorists.

Monday, September 30th, 1985

2: We're Off to See the Wizard

The link in the murders of six female agents seems to be Lee, but he suspects they may be tied to the burned-out agent he once idolized.

Monday, October 7th, 1985

3: Over the Limit

A Save the Bay spokeswoman is implicated in the murder of a speaker at a rally for fishermen whose livelihood is threatened by crooked corporations.

Monday, October 14th, 1985

4: Tail of the Dancing Weasel

The Agency's founder needs Amanda's help to retrieve a purloined letter---proof he's not a turncoat.

Monday, October 21st, 1985

5: Welcome to America, Mr. Brand

Amanda rolls out the red carpet for a British accountant who fancies himself a spy and who has evidence of a Soviet plot to destroy the U.S. economy.

Monday, October 28th, 1985

6: Sour Grapes

Lee and Amanda investigate the fatal heroin overdoses of three top-ranking officials.

Monday, November 4th, 1985

7: Utopia Now

In the backwoods of Virgina, Amanda draws on her scoutting expertise to help her and Lee find utoptan communtty run by an outspoken tax reformer who may have more political change on his agenda.

Monday, November 11th, 1985

8: Reach for the Sky

Billy, against the advice of Lee, tries to prove a friend was murdered in connection with international electronic cash transfers.

Monday, November 18th, 1985

9: J. Edgar's Ghost

An ex-agent victimizes an Agency Librarian who has unearthed J. Edgar Hoover's secret files.

Monday, November 25th, 1985

10: Flight to Freedom

A foreign correspondent believes her fiance is still alive after an ambush in Latin America and may be in Washington to testify against a diplomat in a Senate subcommittee hearing.

Monday, December 2nd, 1985

11: The Wrong Way Home

Amanda tries to locate her ex-husband, Joe, after receiving a call from him - then learns that he's the prime suspect in the murder of an African Prime Minister.

Monday, December 16th, 1985

12: Fast Food for Thought

Lee and Amanda pose as prospective buyers of a fast-food franchise to catch those responsible for poisoning a batch of hamburger sauce.

Monday, January 6th, 1986

13: One Bear Dances, One Bear Doesn't

When Dotty befriends a Russian scientist, who's been placed in Amanda's neighborhood for cover, she gets involved in romance and a kidnapping plot.

Monday, January 13th, 1986

14: Playing for Keeps

Lee and Francine protect a tennis player who's the daughter of an international bigwig threatened by Communists.

Monday, January 27th, 1986

15: The Pharoah's Engineer

IFF discovers that a government building is being threatened by terrorists. They race against time and ""night pirates"" to discover who is threatened. This episode is dedicated to the memory of Mr. Jackson, Kate Jackson's real father.

Monday, February 10th, 1986

16: The Triumvirate

An error on her paycheck leads Amanda to a computer whiz, a secret computer file and a trio of vigilante agents.

Monday, February 17th, 1986

17: The Eyes Have It

Lee lands in the hospital after a brawl, but he refuses to stay put because secret information listed on his missing contact lenses may be in enemy hands.

Monday, March 3rd, 1986

18: Wrong Number

In Afghanistan, the Soviets kidnap Francine, hoping to exchange her for a U.S. mathematician who Amanda believes has been set up by the KGB.

Monday, March 10th, 1986

19: The Boy Who Could Be King

Billy goes undercover as a jazz musician to find out the connection between a small nation's music king and a boy whose was found in the pocket of a dead man.

Monday, March 31st, 1986

20: Dead Men Leave No Trails

Amanda uses the diary of a violin player to find a man she hit in a car accident, who turns out to be a terrorist.

Monday, April 7th, 1986

21: Three Little Spies

Lee and Amanda are assigned to work with rival spies from China and the Soviet Union, as the spies work their way across the nation, to see who's using an international star's non-profit organization for illegal activities.

Monday, May 12th, 1986

22: All the World's a Stage

Amanda uses her community theater and college experience, taking a role in a play by an American playwright, to find out why the Soviets want to back the production. Lee poses as a journalist as they try to find investigative leads.
Season 4
Friday, September 19th, 1986

1: Stemwinder (1)

The Agency suspects Lee and Amanda of selling out after a vindictive KGB agent traps them in a sting operation.

Friday, September 26th, 1986

2: Stemwinder (2)

Suspected of selling out to the Soviets, Lee and Amanda go into hiding after learning Lee is the target of an Agency D-1 manhunt.

Friday, October 3rd, 1986

3: Unfinished Business

CIA files indicate that Lee's parents were double agents and link the past with a current plot to assassinate a dignitary.

Friday, October 10th, 1986

4: No Thanks for the Memory

A frightened Soviet Agent is found hiding in Amanda's yard, claiming that the KGB smuggled him into the U.S. to help knock out America's strategic-command system.

Friday, October 17th, 1986

5: It's in the Water

The Agency and a terrorist seek a chemist, who once worked with Amanda on ecology issues.

Friday, October 31st, 1986

6: Night Crawler

Lee's attempt to make long-range plans with Amanda is interrupted when she is taken hostage by an Arab terrorist, who wants to trade her to the Libyans.

Friday, November 7th, 1986

7: Billy's Lost Weekend

Lee and Amanda help Billy retrace his steps to remember details of a lost weekend during which he may have compromised agents working in Africa.

Friday, November 14th, 1986

8: Photo Finish

A spy starts a smear campaign against Amanda, who's suspended, after a background check reveals that she was once involved in anti-American demonstrations.

Friday, November 21st, 1986

9: The Man Who Died Twice

Lee's top Vietnamese contact fakes his own death to protect his family and prevent a terrorist bloodbath. Lee and Amanda have second thoughts about how their marriage would affect her family.

Friday, December 5th, 1986

10: Need to Know

Lee investigates corruption at a newspaper whose publisher has apparent ties to a Romanian agent and apparent interest in U.S. strategic materials.

Friday, December 19th, 1986

11: Santa's Got a Brand New Bag

Just before Christmas, a distinguished ex-toy designer gives Lee a tip on a toy factory that's a front for sophisticated weapons development.

Friday, January 2nd, 1987

12: Any Number Can Play

Evidence turns up that Dotty's new sweetheart is posing as a CIA agent caught in a blackmail scheme.

Friday, January 9th, 1987

13: Promises to Keep

The DEA provides evidence that the man connected to a drug kingpin is Lee's friend T.P. Aquinas

Friday, January 23rd, 1987

14: Rumors of My Death

A skeleton with Lee's identification is found in a construction site, grounding the Agent when a copy of his high security passport goes up on the black market.

Friday, February 6th, 1987

15: Bad Timing

The Soviets inject Lee with a virus that leaves him only 72 hours to live.

Friday, February 13th, 1987

16: Do You Take This Spy?

Before departing for their secret wedding ceremony, Lee and Amanda have to wrap up a case that involved an art theft and murder. They race to wrap up the case in order to be on time for the wedding ceremony.

Friday, February 20th, 1987

17: Mission of Gold

Amanda is shot while on her honeymoon. Lee tracks down the shooter as he helps a retired marine archaeologist prove that doubloons salvaged from an 18th century Spanish ship are counterfeit.

Friday, February 27th, 1987

18: One Flew East

Lee and Amanda trail a retired right-wing agent connected to the kidnapping of an outspoken poet and antinuclear activist.

Thursday, May 7th, 1987

19: All That Glitters

A security breach may be tied to a jewel collection, so Lee is assigned to ""get next to"" the jewels' current owner---an old flame.

Thursday, May 14th, 1987

20: Suitable for Framing

Lee and Francine are stripped of their Agency credentials after passing top-secret documents to a youth, who turns out to be a Soviet spy

Thursday, May 21st, 1987

21: A Matter of Choice

Lee is consumed with capturing an old nemesis who killed two of Lee's top contacts and now plots to sell Stealth radar plans to Tehran.

Thursday, May 28th, 1987

22: The Khrushchev List

Lee suspects that retired Agency founder Harry Thornton and former Soviet Embassy courier Christina Golitsyn (Barbara Bain) are on an impossible mission: to obtain Khrushchev's spy list implicating American Government officials.