update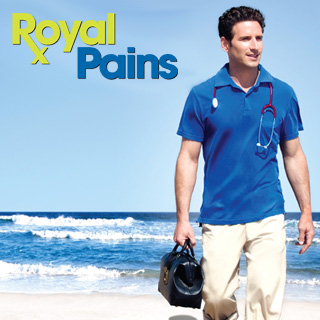 Season 0
not specified

1: Season One Blooper Reel

Series One Disc 1 includes a short 5 min Blooper Reel.

not specified

2: Paulos Behind the Scenes Video Blog

not specified

3: Season Two Deleted Scenes (Part 1)

Season Two (Disc One) Deleted Scenes

not specified

4: Mark Feuerstein Commentary

Season Two (Disc 1) Mark Feuerstein Commentary

not specified

5: Q&A with Mark Feuerstein

Q&A (Disc 2) with Mark Feuerstein

not specified

6: Season Two Deleted Scenes (Part 2)

Season Two (Disc Three) Deleted Scenes

Wednesday, March 16th, 2016

7: That's A Rap!

The cast clearly knew the end was near. How else to explain this elaborately produced, Feuerstein-fronted "wrap" video!
Season 1
Thursday, June 4th, 2009

1: Pilot

Young Dr. Hank Lawson has been recently fired when he stumbles into a new career as a concierge physician for the rich and privileged denizens within the Hamptons. Along with an assist from his ambitious brother, who provides his encouragement and advice with money along the way.

Thursday, June 11th, 2009

2: There Will Be Food

A ballerina Evan is dating loses consciousness after he feeds her junk foods she had to give up to keep her dancer's physique.

Thursday, June 18th, 2009

3: Strategic Planning

Hank and Divya are called to the home of a wealthy U.S. senator, whose pushy wife Lilly Everett asks them to perform a discreet "executive physical" on their teenage son Kendrick, who will be Notre Dame's starting quarterback in the fall.

Thursday, June 25th, 2009

4: TB or not TB

When Allison Moore, the owner/head chef of a trendy Hamptons restaurant suffers a stroke, Hank attempts to save her from potential long-term damage, but she goes missing before treatment is administered. And on the day that Hank had previously planned to get married he spends time with Jill.

Thursday, July 9th, 2009

5: No Man Is an Island

Hank and Evan take on a job looking after a wealthy family who live on a private island which is technology-free. Despite Hank's better judgment, a woman plans on having her baby right there on the island. Meanwhile, Evan finds himself clashing with a teenage family member. Back at home, Jill struggles with hospital politics.

Thursday, July 16th, 2009

6: If I Were a Sick Man

Hank finds himself needing to quarantine the guests from a party and considers making a call to the County Health to announce a possible outbreak. Elsewhere, Evan makes some interesting facts concerning Divya's personal life, and Jill wants to keep her relationship with Hank under wraps.

Thursday, July 23rd, 2009

7: Crazy Love

Hank and Divya treat a Spanish spitfire involved in an accident whose injuries are more serious then they appear. A dream job offer from Boris brings Jill's childhood friend Katie back to the Hamptons, but tempers flare when Hank learns Boris has been keeping a dark secret. And the arrival of Divya's fiancee causes to her to rethink their relationship.

Thursday, July 30th, 2009

8: The Honeymoon's Over

Hank treats a childrens book illustrator that has a heart condition. Divya is treating a software guru who just married a swimsuit supermodel. Hank and Jill deal with the fact that Hank seems to be going down the same road as her former boyfriend.

Thursday, August 6th, 2009

9: It's Like Jamais Vu All Over Again

During an equestrian show, a young girl falls from her horse and is complaining of strange symptoms which makes Hank believe her father is hiding something. Elsewhere, Divya weighs over telling her dad the truth about her job, and Hank meets Jill's ex-husband.

Thursday, August 13th, 2009

10: Am I Blue?

To kick his drug habit, Tucker's dad decides to undergo a rapid detox, but Hank objects be cause of it's dangers. Elsewhere, Even accidentally makes a night club owner mad; Hank and Jill try to contact Boris, who has fled to New York.

Thursday, August 20th, 2009

11: Nobody's Perfect

While in New York to examine Boris' strange illness, Hank discovers the Gardner family wants to go after his medical license. Elsewhere, while on a reclusive millionaire's yacht, Evan and Divya face a medical crisis. Also, Jill and her ex-husband clash over the divorce papers.

Thursday, August 27th, 2009

12: Wonderland

Hank treats a hallucinating woman. Meanwhile, Charlie and Jill move in together, while Divya and Raj anguish over their engagement party.
Season 2
Thursday, June 3rd, 2010

1: Spasticity

Hank and Divya treat the heir of a famous inventor whose desire to distance himself from his father puts him in harm's way. Meanwhile, Jill's job at Hamptons Heritage is threatened when her mentor starts proceedings to have her fired.

Thursday, June 10th, 2010

2: Lovesick

After having her heart broken, Newberg's stepdaughter lands in the hospital with a condition directly related to her relationship woes. Divya attempts to bring romance into her relationship with Raj.

Thursday, June 17th, 2010

3: Keeping the Faith

A actor from a popular film franchise collapses on the ground and Hank is there to save the day again. But this time he uncovers the secret past involved and the condition that he is suffering from is what caused the collapse. Eddie R. wants to make it up to his boys and lets it slip that he is going to be staying in the Hamptons for a longer time then anticipated.

Thursday, June 24th, 2010

4: Medusa

Boris flies Hank to another country, where he and another doctor research potentially life saving gene therapies. Back in the Hamptons, Hank's temporary replacement, Dr. Emily Peck, rubs Divya the wrong way.

Thursday, July 1st, 2010

5: Mano A Mano

Hank saves a hand; Boris' health quickly fails after Marisa's treatment; Divya clashes with Dr. Peck.

Thursday, July 15th, 2010

6: In Vino Veritas

The behavior of Tucker's best friend causes him to suspect the worst, but Hank realizes a medical condition is to blame. Meanwhile, Divya treats a woman who fears her job as a winemaker is on the line when her symptoms hinder her palate.

Thursday, July 22nd, 2010

7: Comfort's Overrated

When the purveyor of a popular Hamptons food truck seems quickly corrupted by his success, Hank puts together his odd behavior, and pinpoints the cause of his symptoms.

Thursday, July 29th, 2010

8: The Hankover

Hank must try to remain professional and put aside his feelings in order to treat a childhood foe. Raj's bachelor party is Evan's latest project while a bridal event draws Divya and Jill to the city.

Thursday, August 5th, 2010

9: Frenemies

Hank treats Dr. Blair's seven year-old son, Jake, whose symptoms appear to be directly related to his parents' divorce.

Thursday, August 12th, 2010

10: Whole Lotto Love

When two lottery winners arrive in the Hamptons, Hank treats them both for conditions that appear to be related to their newly lavish lifestyle.

Thursday, August 19th, 2010

11: Big Whoop

Hank and Emily care for a patient together but disagree on the course of treatment. Meanwhile, Evan concocts a cyber retaliation plan against Emily.

Thursday, August 26th, 2010

12: Open Up Your Yenta Mouth and Say Ah

Hank treats a chatty socialite who disappears before he can diagnose her.

Thursday, January 20th, 2011

13: Mulligan

Following Eddie's heart attack, Hank and Evan discover things they didn't know about their father. Hank treats Jill after she collapses at a golf tournament and Divya still hasn't decided what to do about her feelings for Adam.

Thursday, January 27th, 2011

14: Pit Stop

Hank and Divya must find what is making a reality-show's cast ill. Evan's latest plan is to franchise HankMed and he has an unexpected ally.

Thursday, February 3rd, 2011

15: A History of Violins

Hank makes a house call to help a teen singing prodigy. Hank and Emily have their biggest fight yet and Eddie just has to insert himself into it. Evan finds himself in a sticky situation with the Paige's father.

Thursday, February 10th, 2011

16: Astraphobia

When a park ranger is hit by lightning, Hank is able to save his life. Now the ranger wants to recapture the experience.

Thursday, February 17th, 2011

17: Fight or Flight

A woman who left a high stress lifestyle and moved to the Hamptons can't seem to relax but Hank has a medical explanation for her.

Thursday, February 24th, 2011

18: Listen to the Music

Hank is worried that a new patient had previously been misdiagnosed, and wants to get to the bottom of the case. Meanwhile, Divya and Raj take dance lessons in preparation for their wedding, but they end up as patients themselves.
Season 3
Wednesday, June 29th, 2011

1: Traffic

HankMed saves the passengers of a toppled Jitney; Divya deals with the fallout from her broken engagement; Jill returns with news.

Wednesday, July 6th, 2011

2: But There's a Catch

Ken "Killer" Keller hosts a charity football tournament on his estate and invites Hank to play along. The contest gets fierce as Keller gets injured and Hank must put his competitive nature aside to treat him.

Wednesday, July 13th, 2011

3: Rash Talk

Best friends worry about their line of house-cleaning products.

Wednesday, July 20th, 2011

4: The Shaw/Hank Redemption

On a trip to Florida to attend Eddie's parole hearing, Hank and Evan find him in the company of an ex-con seeking spiritual salvation whose erratic behavior has Hank worried.

Wednesday, July 27th, 2011

5: A Man Called Grandpa

In order to save Eddie's chance at parole, Evan attempts to curry favor with his newfound grandfather at the horse races, but his luck runs out when he and Hank discover the real reason they've never met Ted.

Wednesday, August 3rd, 2011

6: An Apple a Day

Hank treats a wound that will not heal; Paige shares the condition for agreeing to marry Evan.

Wednesday, August 10th, 2011

7: Ta Da For

Hank searches for the cause of a magician's anxiety; Evan books a segment on "The Today Show".

Wednesday, August 17th, 2011

8: Run, Hank, Run

A runner struggles to regulate body temperature while training; Boris' decline may not be related to the disease.

Wednesday, August 24th, 2011

9: Me First

Hank treats a fearful asthmatic boy; Paige's secret is exposed; Divya's date has a surprising result.

Wednesday, August 31st, 2011

10: A Little Art, A Little Science

An art collector cannot stay conscious; Hank recommends treatment for Paige's mother; Divya struggles to maintain balance.

Wednesday, January 18th, 2012

11: A Farewell to Barnes

Hank blames Dr. Van Dyke for a prescription error; the HankMed team attends a divorce party.

Wednesday, January 25th, 2012

12: Some Pig

When a mysterious illness overcomes the members of an up and coming rock band, Hank and Divya have to work together to find the cause; but Hank struggles with trusting Divya after her near fatal prescription error.

Wednesday, February 1st, 2012

13: My Back to the Future

When a back problem limits Hank's ability to treat patients, Evan hires Dr. Van Dyke as a temporary replacement.

Wednesday, February 8th, 2012

14: Bottoms Up

A Hollywood star wants to revive his career by doing Shakespeare in the Hamptons; Divya learns that Raj is moving on; Jack delays treatment.

Wednesday, February 15th, 2012

15: Hank and the Deep Blue Sea

Evan offers to assist Divya with breaking free from her financial burden. Also, Jill's teenage nephew, Luke, calls on HankMed when his boss fails to take care of some troubling symptoms.

Wednesday, February 22nd, 2012

16: This One's for Jack

Hank struggles to cope with Jack's illness; young brothers keep Hank busy; Evan teams up with Boris' cousin.
Season 4
Wednesday, June 6th, 2012

1: After the Fireworks

Hank embarks on a fresh start with his medical practice and separates from his brother Evan, who also starts his own venture. As Divya attempts to reconcile the brothers, HankMed teams up once more in the face of a Hampton's emergency.

Wednesday, June 13th, 2012

2: Imperfect Storm

When Jill's chess-obsessed nephew gets kicked out of camp for fighting, Hank realizes Luke may be suffering from more than just teenage hormones. Evan courts a young, lonely heiress for his new client roster, and Divya – caught between the brothers -- faces an impossible choice.

Wednesday, June 20th, 2012

3: A Guesthouse Divided

Hank and Evan heatedly compete for a new business opportunity. Meanwhile, Divya attempts to covertly reconcile the brothers' differences.

Wednesday, June 27th, 2012

4: Dawn of the Med

Hank & Evan's father Eddie makes his return to the Hamptons and schemes to bring his boys back together. Hank has a new patient who is participating in a zombie race for charity. Evan also has a new patient, a retired biochemist with a possibly sinister past.

Wednesday, July 11th, 2012

5: You Give Love a Bad Name

Hank and Divya treat a matchmaker who's intent on setting each of them up. Also, while Evan tries to rein in HankMed 3.0, Paige plans a small kick-off party that turns out to be anything but small.

Wednesday, July 18th, 2012

6: About Face

HankMed treats an absentminded country club manager while Evan, with Paige's help, lands the business opportunity he's always dreamed of.

Wednesday, July 25th, 2012

7: Fools Russian

Hank is whisked away to a secret meeting in Manhattan by Boris to help care for a stubborn Russian oligarch, and befriends their female interpreter in the process. Meanwhile, Evan and Jeremiah treat an Internet entrepreneur and Divya reconciles with her father.

Wednesday, August 1st, 2012

8: Manimal

Hank and Divya treat a Large Animal Veterinarian going through a bitter divorce while Evan and Paige help a close friend reeling from an unexpected loss.

Wednesday, August 15th, 2012

9: Business and Pleasure

While HankMed treats an undercover DEA Agent, Divya and Jeremiah tend to a MMA fighter who may have gone a bit soft. Meanwhile, Hank becomes more involved with Boris' interpreter, much to Boris' chagrin.

Wednesday, August 22nd, 2012

10: Who's Your Daddy?

With a Polo tournament in full swing in the Hamptons, HankMed's on hand to treat a Polo Team Owner who won't quit playing despite his condition. Also, Divya deals with the realities of dating and Evan frets about an impending meeting of the in-laws.

Wednesday, August 29th, 2012

11: Dancing with the Devil

When a famous pop star comes to the Hamptons to prepare for her new world tour, HankMed must stay on hand to treat her for more than just exhaustion. Meanwhile, Divya becomes distracted when she falls head over heels for a globe-trotting polo player.

Wednesday, September 5th, 2012

12: Hurts Like a Mother

While HankMed treats a high-strung student for a bad case of nerves, her easy-going romance novelist mother falls ill as well and Hank must race to diagnose the two seemingly unconnected conditions.

Wednesday, September 12th, 2012

13: Something Fishy This Way Comes

Hank must travel across the globe to help an injured Dmitry. Meanwhile, Evan and Paige meet a woman claiming to be Paige's biological mother.

Wednesday, September 19th, 2012

14: Sand Legs

Hank cancels his weekend plans after treating an amateur beach volleyball player who he believes may be suffering from more than just a summer bug. Meanwhile, Divya confronts her new boyfriend after a startling discovery.

Sunday, December 16th, 2012

15: Off-Season Greetings (1)

Several months after the events of the explosive summer finale. With the Hamptons decked out for the holidays, Dr. Hank Lawson continues to treat his patients in very unexpected ways, but Hank's biggest challenge will be facing his own medical issues. As the wedding approaches, Evan and Hank head to Las Vegas for some bachelor party fun, while Paige and Divya travel out of town for her bachelorette party. And with a snowstorm descending on the Hamptons, Paige rapidly finds her dream wedding turning into a nightmare.

Sunday, December 16th, 2012

16: Off-Season Greetings (2)

(If Part 1 & 2 are separate) Several months after the events of the explosive summer finale. With the Hamptons decked out for the holidays, Dr. Hank Lawson continues to treat his patients in very unexpected ways, but Hank's biggest challenge will be facing his own medical issues. As the wedding approaches, Evan and Hank head to Las Vegas for some bachelor party fun, while Paige and Divya travel out of town for her bachelorette party. And with a snowstorm descending on the Hamptons, Paige rapidly finds her dream wedding turning into a nightmare.
Season 5
Wednesday, June 12th, 2013

1: Hankwatch

Hank gets back to work after recovering from surgery and treats a woman whose fund-raising efforts may be harming her health. Elsewhere, Jeremiah helps HankMed meet demand; a potential new client catches Evan off guard; and Divya receives surprising news.

Wednesday, June 19th, 2013

2: Blythe Spirits

Hank treats a police officer whose rebellious daughter could be harming his health; Evan and Paige get involved in a neighborhood feud; a patient makes a surprising offer; and Divya faces complications from the changes in her life.

Wednesday, June 26th, 2013

3: Lawson Translation

Hank investigates Boris' death and uncovers something surprising; Divya and Jeremiah visit a forward-thinking hospital in Savannah, where they tend to a minor-league baseball player; and Evan's mission at Village Hall doesn't go as planned.

Wednesday, July 10th, 2013

4: Pregnant Paws

Hank and Divya treat who woman who may have rabies; Jeremiah treats a radio disc jockey; Paige interviews for an internship; Hank and Evan struggle with Divya's news and Shelby looks for alternatives to start her own concierge business.

Wednesday, July 17th, 2013

5: Vertigo

Hank continues to treat Don and becomes more involved in the lives of Don and Molly; Divya tends to a young conductor, whose passion for music may be harming his health; Evan confronts obstacles in his new political venture; and Paige sees a new side of Blythe.

Wednesday, July 24th, 2013

6: Can of Worms

Hank treats a diet-cocktail maven facing a great deal of pressure; one of Evan's detractors has an accident; Divya's neighbor is diagnosed with an ailment that hits close to home for Divya; and Hank makes a business decision.

Wednesday, July 31st, 2013

7: Chock Full O' Nuts

Hank treats a spin instructor; Divya helps a successful candymaker who's facing unexpected challenges; Hank grows impatient with Killer Keller's negotiating tactics; Divya and Jeremiah try to better share their space; and Evan is upset when Paige makes a major purchase.

Wednesday, August 7th, 2013

8: Hammertime

An unexpected visitor and a major auction at Shadow Pond thrust Hank, Evan, and Paige into an unfamiliar, high-stakes world that requires them to pull together like never before. Meanwhile, when Divya treats an older couple, who aren't about to let their age slow them down, she realizes the pace of her own life has changed in unexpected ways.

Wednesday, August 14th, 2013

9: Pins and Needles

Hank treats a florist who has vivid dreams; Divya grows suspicious of a moderator running a debate in which Evan is participating; and Hank and Jeremiah don't see eye to eye on how to best treat Hank's pain.

Wednesday, August 21st, 2013

10: Game of Phones

Hank must rescue Molly after she disappears; Divya goes to Italy to share big news with her mother, and an oblivious Evan decides to tag along; and Paige feels burdened by work and out of sync with Evan.

Wednesday, August 28th, 2013

11: Open Invitation

Hank advocates an aggressive treatment plan for Don; Evan reaches out to Eddie to help Hank; Divya learns a long-kept secret.

Wednesday, September 4th, 2013

12: A Trismus Story

HankMed treats a thrill-seeking journalist who refuses to let a health scare keep her from her job. Elsewhere, Evan and Paige's relationship is put under the microscope thanks to political mudslinging, and Hank worries that Molly's behavioral problems may amount to more than simple teenage angst. Finally, Jeremiah comes to a startling conclusion after Shelby questions him regarding Hank's use of painkillers.

Wednesday, September 11th, 2013

13: Bones to Pick

Hank treats a young paleontologist who is preparing a fossilized dinosaur skeleton for auction. Russel suffers an injury that seems scientifically impossible. Meanwhile, Evan and Paige realize they need to take a drastic step to save their marriage, and Divya learns her pregnancy will be even more challenging than she expected. When the future of HankMed is threatened, Hank tries to save it by reexamining his role in the business.
Season 6
Tuesday, June 10th, 2014

1: Smoke and Mirrors

After a winter abroad, Hank returns to the Hamptons to celebrate the latest addition to the HankMed family. Evan and Paige take a hands-on approach to their marriage. Later Evan hatches a plan to make Hank stay in town after a saxophone player falls ill. Meanwhile Divya experiences the joys of motherhood and a mysterious party guest brings surprising news for the Lawson family.

Tuesday, June 17th, 2014

2: All in the Family

Hank worries a rising tennis star's health may prevent her from taking her career to the next level, while a fellow pro at her club may have fallen ill from an unexpected source. Later Hank and Evan adjust to a startling revelation about Eddie's past. And Evan and Paige reach a new milestone. Elsewhere Jeremiah finds peace in an odd place.

Tuesday, June 24th, 2014

3: A Bridge Not Quite Far Enough

Hank, Evan and Paige try to help Eddie have a relationship with Emma; Hank treats a private investigator; Divya must find a nanny; Jeremiah makes a friend.

Tuesday, July 1st, 2014

4: Steaks on a Plane

Hank travels to Monte Carlo and finds himself in the middle of a plot to rid Boris' bank of a shadowy depositor. Back in the Hamptons, Divya and Jeremiah treat a group of firemen who have fallen mysteriously ill. Paige and Evan find themselves in need of a new place to live, and the most convenient solution may bring its own set of challenges.

Tuesday, July 8th, 2014

5: Goodwill Stunting

After reading about her struggle online, Evan reaches out to a woman with a mysterious illness in the hope that Hank can finally give her a diagnosis. Paige and Russel's professional lives take an unexpected turn, and their new client could be a goldmine or a dangerous problem — especially when he becomes a HankMed patient. While Evan and Jeremiah realize they'll have to go to battle with Symphony if HankMed is to survive the summer, Hank's watchful eye on Emma helps him win back a former patient.

Tuesday, July 15th, 2014

6: Everybody Loves Ray, Man

The chef at Ray's new restaurant seems to be getting drunk on the job, but Hank believes it's not just a matter of hitting the bottle. Divya treats a NASCAR crew chief who channels his anxiety into an unexpectedly dangerous habit. Evan's friendship with Ray helps him find a promising space for HankMed's new lab, but Jeremiah has concerns about the location. And while Hank tries to get Emma to think about her future, Divya makes an important decision about her own.

Tuesday, July 22nd, 2014

7: Electric Youth

Hank and Divya treat a professional Hamptons house-sitter who never wants to grow up, and Jeremiah gets closer to Viviana when he treats her friend, a burlesque dancer. Paige makes a discovery that could complicate her new business with Russel, and Emma becomes a tipster for the Hamptons' hottest gossip site.

Tuesday, July 29th, 2014

8: I Did Not See That Coming

As a new mother, Divya finds herself bonding with a HankMed patient who is struggling to get pregnant. Hank reignites his romance with a woman he met in Europe when she arrives in the Hamptons, and Divya worries about Jeremiah's relationship with Viviana. Emma is the new it-girl on SnarkHampton and gets invited to one of the hottest parties of the summer, and Paige and Evan enlist Bob to help with their issues with Russel.

Tuesday, August 5th, 2014

9: Oh, M.G.

Hank treats a perfumer who fears his livelihood is in jeopardy when he starts losing his sense of smell. Evan and Ray hold a grand opening for their joint venture, HankLab, where HankMed treats a talented nail artist whose summer cold turns out to be something much more serious. Emma finds herself on the receiving end of Oz's snark while Divya's attempt to protect Jeremiah puts a strain on their relationship. Hank and Charlotte go to New York to take the first step toward finding a specialist to help with her condition.

Tuesday, August 12th, 2014

10: Good Air/Bad Air

Hank and Boris travel to Argentina to meet a potential patient for Boris' clinical trial, and Divya gets more than she bargained for when she tags along to meet Sashi's Argentinean grandmother. As Russel tries to make amends with Paige, he finds himself in over his head caring for a HankMed patient while Jeremiah tries to smooth things over with Viviana. Meanwhile, Evan enlists Ray's help in exposing Oz after SnarkHampton posts a libelous photo of Hank. And Paige puts the finishing touches on Ray's house.

Tuesday, August 19th, 2014

11: Hankmed on the Half Shell

Despite their strained relationship, Divya and Jeremiah work together to treat a model who is struggling to eat. After Ray's past catches up with him, Evan tries to distance himself from their partnership but it proves to be harder than he expected. Hank and Boris return from Argentina with an idea to enlarge the scope of Boris' foundation, and Emma violates her brothers' trust.

Tuesday, August 26th, 2014

12: A Bigger Boat

Hank treats Cinco when his sore wrist turns out to be more complicated than a simple sprain. Evan and Paige help Emma set a trap to catch Oz. Divya and Jeremiah treat a boat-builder who resents being left behind when his business partner takes a job sailing around the world. Hank helps Charlotte adjust to regaining her vision but the learning curve is steeper than either of them anticipated. Meanwhile, Boris takes a major step towards expanding his foundation.

Tuesday, September 2nd, 2014

13: Ganging Up

Hank and Evan search for Emma after her unexpected disappearance. Evan struggles to understand why Hank refuses to join Boris' latest endeavor. Meanwhile, as Paige and Evan finally are ready to move on from therapy, they discover some surprising news about Bob. And while Jeremiah tries to accept the changes Viviana is making in her life, he realizes he needs to make some changes of his own. Elsewhere, Divya faces a new hurdle in her custody battle, while Boris worries his disease may be catching up with him.
Season 7
Tuesday, June 2nd, 2015

1: Rebound

Hank helps a TV host; Evan and Paige get some unexpected news; Divya saves a young skateboarder.

Tuesday, June 9th, 2015

2: False Start

Hank treats a rookie tri-athlete; Evan and Paige move into the guest house; Divya is in a jam.

Tuesday, June 16th, 2015

3: Playing Doctor

An actor wants to shadow Hank in order to prepare for a role; Divya performs a genetic test on a royal patient; Evan accidentally takes his new motto of transparency a step too far; and Paige embraces chaos during a home renovation project.

Tuesday, June 23rd, 2015

4: The Prince of Nucleotides

Hank treats a transgender teenager; Evan and Jeremiah host a gala fundraiser.

Tuesday, June 30th, 2015

5: Voices Carry

Hank goes to Manhattan with Olympia; Evan fears Boris is keeping a secret; Divya receives a visitor.

Tuesday, July 7th, 2015

6: Secret Asian Man

Keller asks Hank for help with an embarrassing medical problem; Divya treats a group of Civil War reenactors who are suffering from an age-old disease; and Evan fears he may be in over his head when he's roped into a secret project with Boris.

Tuesday, July 14th, 2015

7: Lama Trauma

Hank helps Boris prep a secret patient for surgery; Evan tries to chase a bad omen from the hospital; and an offer from Quami forces Divya to make a major decision about her personal life.

Tuesday, July 21st, 2015

8: Lending a Shoulder

Hank has an epiphany after running into his former fiancé; Evan and Paige help Elán through her labor; and Divya envisions a new future for her career and family.
Season 8
Wednesday, May 18th, 2016

1: Stranger Danger

Hank attempts to help a stubborn politician whilst Divya's future is impeded. Jeremiah returns, and Eddie has a surprise for Hank and Evan.

Wednesday, May 25th, 2016

2: Palpating the Orbital Rim

When Diana's hacked records go viral, Evan handles the aftermath. Divya helps Jeremiah and his parents. Hank and Jen go on a first date.

Wednesday, June 1st, 2016

3: Fly Me to Kowloon

Hank finds romance in Hong Kong. Divya treats a repo man. Paige convinces Evan to rethink their parenting path.

Wednesday, June 8th, 2016

4: Doubt of Africa

Hank works his first shift at the emergency room in years. Jeremiah bonds with his patient. Divya worries about Lena.

Wednesday, June 15th, 2016

5: Saab Story

Hank treats an overworked Keller. Divya meets Hank's mentor. Evan and Paige struggle with the demands of IVF. Jeremiah creates a video for Divya's baby shower.

Wednesday, June 22nd, 2016

6: Home Sick

Hank meets a woman who fears she has an inherited disease. Eddie makes a medical decision. Jeremiah discovers that Boris went to clinical trials without his input.

Wednesday, June 29th, 2016

7: The Good News Is...

Hank helps a theater legend at Eddie's wedding; Eddie and Evan reconcile. Paige and Evan wait for pregnancy test results.

Wednesday, July 6th, 2016

8: Uninterrupted

As Boris prepares to leave the Hamptons forever, he asks Hank to join him; Evan and Paige consider a life-altering decision; Divya receives news.