update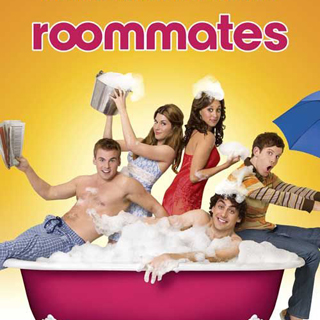 Season 1
Monday, March 23rd, 2009

1: The Roommate

Mark moves in with his former crush, Katie, and her roommates, hoping she will fall for him. However, Mark doesn't make a great first impression with Hope, one of the roommates, who just happens to be Katie's best friend.

Monday, March 30th, 2009

2: The Tarot

Katie goes to a tarot card reader where she learns that she has already met her future husband. Now that she has learned this piece of information, Mark tries to convince Katie that he is that man.

Monday, April 6th, 2009

3: The Lie

Hope persuades Mark and Thom into hiding her secret from Katie about her job.

Monday, April 13th, 2009

4: The Break-In

Hope's father arrives unexpectedly and wants her to come home as he is unsatisfied with her job situation. Wishing to stay in New York, Hope makes believe that Mark is her boyfriend and that their love is enough reason to remain.

Monday, April 20th, 2009

5: The Set-Up

Katie sets Mark up on a blind date with Jenny, her former co-worker. Disaster ensues when Mark assumes that she is "hetero-flexible".

Monday, April 27th, 2009

6: The Mark-a-like

Katie begins dating a new guy in an attempt to move on from Ben: a mattress store owner who resembles Mark, yet possesses the confidence that Mark lacks.

Monday, April 27th, 2009

7: The Uninvited Thom

Hope asks for Mark's help in finding a new job after she quits working at the coffeehouse. But Mark's boss would prefer a hookup, and he's more interested in Katie than Hope.

Monday, April 27th, 2009

8: The Green People

Katie passes off a business idea of her own which she had stolen from Hope, then lies about what she had done and pretends she got Hope a job.

Monday, April 27th, 2009

9: The Game Night

Mark finally gets what he's been waiting for as the gang have a game night at the apartment.

Monday, May 4th, 2009

10: The Tickets

Mark uses theater tickets to try and win over Katie after she and David return from their business trip.

Monday, May 4th, 2009

11: The Mother of James

The gang helps James' mom prepare for her first date since her divorce. But when things don't go well, she looks for comfort from Mark.

Monday, May 4th, 2009

12: The Trash 'N Treasures

The evening does not go as expected when the roommates invite their ex's to attend a party with them. Katie still hasn't made up her mind between Mark or David.

Monday, May 4th, 2009

13: The Old and the New

The season one finale finds Hope and James attempting to keep their relationship hushed. Meanwhile, Mark and Katie find themselves leaning on each other after facing a surprise in their relationships.