update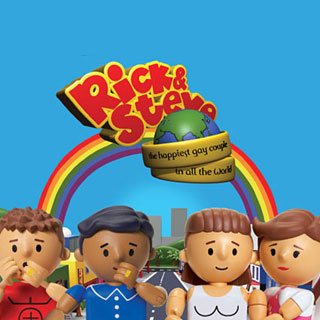 Season 0
not specified

1: Fantasy

Rick and Steve discuss their celebrity fantasies.

not specified

2: Stereotypes

Kirsten worries that she and Dana are lesbian stereotypes.

not specified

3: Sleepy

Steve pretends to be sleepy to get out of having sex.

not specified

4: Dreams

Evan worries that he's too old to live his dreams.

not specified

5: Straight Jokes

Kirsten and Dana decide to come up with some straight jokes to combat all the gay jokes they've heard.

not specified

6: Daddies

Evan wants a baby.

not specified

7: Nineties

Evan and Chuck discuss the 90s.

not specified

8: Religion

Kirsten and Dana discuss whether they want their baby to be raised in religion.

not specified

9: Baby Mama

Rick asks Steve to be nice to Dana when they come over for dinner.

not specified

10: Baby Sitter

Kirsten asks Dana to be nice to Steve when they go over for dinner.

not specified

11: Pet Peeves

Rick wants to discuss their relationship pet peeves. Steve isn't so sure this is a good idea.

not specified

12: Change Me

Evan asks Chuck what he would change about him.

not specified

13: Halloween

Rick and Steve discuss which couples costume to wear for Halloween.

not specified

14: Grudgemunch

Kirsten and Dana discuss the female celebrities they love to hate.

not specified

15: Superpowers

Rick and Steve talk about what superpowers they wish they had.

not specified

16: Selling

Evan explains an online trading game with his mother.

not specified

17: Pepper Grinder

Rick and Steve have to figure out what gift to give to Kirsten and Dana for Christmas.

not specified

18: No Arms

Rick asks Steve a disarming question.

not specified

19: Shopping

Evan's explains Christmas shopping online to his mom.
Season 1
Tuesday, July 10th, 2007

1: Guess Who's Coming for Quiche

Rick and Steve are the happiest gay couple in West Lahunga Beach! At least they would be, if it weren't for the fact that their life is all quiche, Pussy and internet download sex videos, but none too much of the piggy-daddy, rampant romps. Their favourite same-sex partnership friends are coming 'round for quiche; lesbians Kirsten and Dana (with the usual baba ghanouj surprise in hand, whatever that is), and Chuck and Evan (replete with "differently-abled" Chuck's complicated medication cocktail). Kirsten wants Rick as a sperm donor – after all, conservatives and crack whores shouldn't be the only ones making babies – although Dana is insisting on the turkey baster method. Not everything goes to plan (Steve is pushing for a threesome, and the girls' complicated back-up cruising plan results in online deception and penis-centric disappointment).

Tuesday, July 17th, 2007

2: Bush Baby

More couple trouble as Dana and Kirsten agree to baby-sit Echinacea for socially aware mummies Ebony and Ivory, but are horrified to hear the child's first word in the car on the way home. Who knows how he or her picked that one up? Rick and Steve go to see Dr Proctor, a marriage counsellor who advises them to involve each other in their "secret lives"; a support group for gay geniuses, and a monster truck show. When Rick and Steve get involved in the baby-sitting, it ends in biting, another double-cup mixture of "tapioca", and a discussion about potential aversion therapy. Then there's the monsterbator and the molten pit of lava to worry about. And how will Rick's new helmet do the trick for the twosome's sex life?

Tuesday, July 24th, 2007

3: Damn Straights

Dana's had a little accident, in more ways than one. Somehow, Rick and Steve's super-sperm mixture has penetrated three layers of denim and one bulldyke uterus, meaning only one thing: the abortion hotline. Steve's Evangelical Baptist parents pop by for a surprise visit and a special medical procedure for his mom, though they are still not entirely in the picture about Rick's relationship with their son. Meanwhile, Chuck tightens the supply lines for Evan's recreational drugs, leading to an unexpected route out of the gay ghetto into the monochrome, heterosexual quarter of Regular Lahunga Beach. But without Chuck's steady stream of uppers and downers, how will Evan balance out his diet pills? He's so tired!

Tuesday, July 31st, 2007

4: It's Raining Pussy

When Pussy gets wind of Rick and Steve's plans to move her into the shed to make room for Dana's baby's nursery, the dastardly feline mastermind puts sets the neighbourhood cats against the lesbians… at first in a plot worthy of Alfred Hitchcock, but later in a musical number worthy of Tom Jones. Condi's seventeenth failed suicide (those previous attempts with a glue gun and the electric car were none too successful) lands her in hospital, where Dr Hunk reveals her overdose was mainly Ben & Jerry's. Everyone's preparing for the new baby's arrival, including Rick (who has to attend yoga classes with Dana), and Evan, who finds himself the new target of Condi's ardour. Cue a lesson in fag haggery from Chuck (and the history of the gay pride rainbow).

Tuesday, August 7th, 2007

5: Save Our Seamen

How can the West Lahunga Gang bring a child into the world if they can't even get along? On a Cruisey Cruise gay family six-for-five deal, including the Seamen Dance, Vagina Appreciation Seminars, and a Mommy Boot Camp, that's how. Nothing could possibly go wrong. Except scurvy. On board the US Corybungus, they must deal with Rick's ex-boyfriend Hunter (a strict rice queen), a stowaway Condi, and a transvestite cruise director. And, boy, are there a lot of groovy dentists on this ship. When the ship is marooned on a giant Mexican iceberg, it looks like they're all going down together. But Hunter steps up to the plate much to Steve's chagrin and, whilst the booze is running out, the rainbow brigade come up with some creative rescue plans. The result? Some girl on girl action and at least one damaged chopper.

Tuesday, August 28th, 2007

6: Hormonally Yours

Who says life's a beach? It's a hormone holiday in West Lahunga; all that progesterone is turning Dana into a sweet but obsessive gal on a mission to baby-proof her house, and Rick's herbal steroids make him incredibly horny. What a time for Gayrage TV star Preston Fessler dot com to move in next door. Meanwhile, Steve tries to expand his business by meeting the local Log Cabin Republicans but winds up joining the K K Gay, the gay white supremacist organization. The baby's big day arrives, and Dana needs a shock to bring her out of her self-inflicted padded cell (and non-man-hating ways) in time to go into labour. Will it be Rick's or Steve's? Will it be a boy, a girl, or a gay, and - more importantly - will it come with baggage?
Season 2
Tuesday, November 11th, 2008

1: Labor Day

As Dana struggles through a days-long labor and the never-ending bickering of her parents, Rick learns some secrets about Steve's past and Evan becomes an internet sensation.

Tuesday, November 18th, 2008

2: Wickeder

Rick, Steve, Dana, and Kirsten run out of gas on the way back from the hospital with the new baby. When Steve and Dana set off on a quest to get gas, they quickly find that they're not in West Lahunga Beach anymore.

Tuesday, December 2nd, 2008

3: Mom Fight

Mom-fight!!! Well not yet, but when Steve's mom Joanna barges in to Rick and Steve's happy little homo home to announce she's moving in, it ain't pretty. First, Joanna brings her dog, Wiener. Ahem! And Pussy -- Rick and Steve's kitty -- doesn't like that one bit. (Face it. It's very Pussy vs. Wiener in West Lahunga.) Then Joanna mistakes Rick's mom for the maid! Wrong-ness all around.

Tuesday, December 9th, 2008

4: Death of a Lesbian Bed

A bathhouse really is like a box of chocolates, right? Especially the crumbling, long-forgotten, underground ones... who knows what terrifying stickiness could be lurking in those corners? Yes, in our next episode Rick, Steve, Chuck, Evan and Condie must work together to escape the dark depths of the cruising ruins of West Lahunga. Scary! Meanwhile, aboveground, Dana's baby weight has our favorite butch doubting Kirsten's attraction to her. Will Kirsten spice things back up with her partner? Or is motherhood really taking away the spark? Oh, the plagues of insecurities!

Tuesday, December 16th, 2008

5: Swallowing Pride

Chuck treats the whole gang to a trip to San Francisco for Gay Pride, but things don't exactly go as planned. Before you can say "Queer Diaspora," Rick and Steve and Kirsten and Dana all end up tussling with a band of uber-PC San Franciscans. Hell hath no fury like a Radical Faerie or a horny drag queen nun/activist spurned! It's attack of the gay cliches--but who's more pissed off? The radical SF progressives, or the twinks and dykes from West Lahunga? Harvey Milk never meant for it to be like this!!!!

Tuesday, January 6th, 2009

6: House of Race Cards

Is Steve a racist or is Rick too sensitive? Steve is worried that he might be a racist so he goes to a black gay bar to prove that he isn't.

Tuesday, January 13th, 2009

7: The Only Straight in the Village

Dana begins to get jumpy after the news reveals that Lesbian gangs are terrorizing West Lahunga. Also, Kirsten and Rick take baby Dixie for her first doctor check up.

Tuesday, January 27th, 2009

8: Marry Christmess

Because of the hospital bills for Dixie, Kirsten and Rick come up with a way to get free health care. With the marriage of Steve and Dana. Meanwhile, boarder patrol is deporting anyone who is not American so Chuck and Evan try to turn Evan's mother into an American woman.