update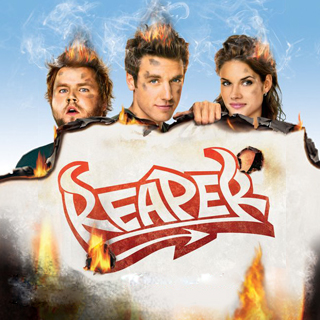 Season 0
not specified

1: Unaired Pilot

This is exactly the same as the aired pilot except all the scenes with Missy Peregrym (Andi) feature Nikki Reed as Andi. Nikki Reed was replaced before the show ever aired but this pilot with Nikki Reed still playing the role of Andi was released online.

not specified

2: The Devil Made Me Do It

A look back at the making of Reaper

not specified

3: Season 1 Gag Reel

not specified

4: Season 1 Deleted Scenes

not specified

5: Season 2 Gag Reel

not specified

6: Season 2 Deleted Scenes

not specified

8: Season 1 Deleted Scenes

Season 1 Deleted Scenese

not specified

9: Season 2 Deleted Scenes

Tuesday, May 28th, 2013

7: Reaper Reunion

``Reaper'' stars reunite to discuss their favorite moments and fans.
Season 1
Tuesday, September 25th, 2007

1: Pilot

Sam Oliver has always been the slacker with no goals or purpose. However, his life takes an unprecedented new direction on his twenty-first birthday, when he discovers that his parents sold his soul to the devil and he must now become Satan's personal bounty hunter.

Tuesday, October 2nd, 2007

2: Charged

After Sam wakes up to find that everything he touches gives him a shock, he consults Satan, who tells him that this is related to his next target - an escaped soul from hell who sucks energy from power lines in order to loose it as lightning against his next victim. In order to capture the escapee Sam must use his new vessel, a remote control monster truck, given to him by Satan himself.

Tuesday, October 9th, 2007

3: All Mine

Sam, Ben, and Sock must hunt an escaped soul that uses insects to kill the people living at an apartment complex. Also, Sam is crushed when Andi meets a new guy who encourages her to go back to school full-time and quit her job.

Tuesday, October 16th, 2007

4: Magic

Sam requests some time off to go to a concert with Andi, but the Devil refuses and points out that vacation periods are not part of his contract. Therefore, Sam is given a white dove as his next vessel and is sent to capture an escaped magician who kills anyone who does not appreciate his act.

Tuesday, October 23rd, 2007

5: What About Blob

Sam must deal with a toxic revenger when the escaped soul of a chemical company's CEO starts taking human lives. Meanwhile, the Devil delivers Sam's contract as promised... but it's a few hundred pages longer then Sam expected.

Tuesday, October 30th, 2007

6: Leon

Sam discovers that demons don't work on Halloween. Unfortunately, a depressed Devil decides to make Sam's assignment even harder to cheer himself up. Sam and Sock capture one soul, Leon, an escapee who killed someone over a hundred years ago, but before Sam can return him Leon tries to convince them that he's changed. The Devil then sends Sam to recapture a second soul, a serial killer who plans on starting a new murder spree.

Tuesday, November 6th, 2007

7: Love, Bullets and Blacktop

Sam and the crew go after a thrill-seeking pair of escaped souls that engineer car wrecks to keep their relationship fresh. Meanwhile, the Devil tries to set Sam up with a new girl.

Tuesday, November 13th, 2007

8: The Cop

Sam gets a reward from the Devil for a job well done... but finds that he's being set up for murder. Meanwhile, Sock becomes obsessed with Gladys the DMV demon.

Tuesday, November 27th, 2007

9: Ashes to Ashes

Ben's mother and grandmother stop by the Work Bench for some supplies for their family reunion. However, things go sour when the grandmother accuses Sam of being evil and calls him Diablo. Meanwhile, Sam meets a lady who has been the Devil's girlfriend for over twenty years and wonders whether her daughter is the Devil's daughter or not.

Tuesday, December 4th, 2007

10: Cash Out

Sam starts dating a woman that he suspects may be the Devil's daughter. Meanwhile, it turns out that money is the root of all evil when the the guys argue over what to do with money recovered from an escaped soul.

Thursday, March 13th, 2008

11: Hungry for Fame

Sam desperately tries to stop an untalented musician when the latter tries to sell his soul to the Devil for rock star fame. Meanwhile, Sock is in for a big surprise when his mother returns from Las Vegas and announces that she is now married.

Thursday, March 20th, 2008

12: Unseen

Sock and Sam move in together into a condo of their own and meet their new neighbors, Tony and Steve, a gay couple who is surprisingly friendly to the two slackers. However, Sam and Sock soon discover that there is more to the couple than meets the eye.

Thursday, March 27th, 2008

13: Acid Queen

When Andi's life is threatened by an escaped soul from hell, Sam must go out of his way to protect her.

Tuesday, April 22nd, 2008

14: Rebellion

It's a demons world, as the gang encounters a demon support group with members who are trying to change their bad ways. However, not every demon is in for a change, as Sam and his friends must take down one who poses as a lawyer to unleash leeches on his victims.

Tuesday, April 29th, 2008

15: Coming to Grips

Andi finally learns Sam's secret regarding the Devil after she is captured by a demon and the gang must rescue her. Unfortunately for Sam, the truth causes Andi to fear him and keep her distance. Meanwhile, Ben meets the woman of his dreams while chasing a demon at a hospital's maternity ward, but a major fact keeps them from being together.

Tuesday, May 6th, 2008

16: Greg, Schmeg

When the Devil refuses to offer Sam any help on capturing the latest escaped soul, the gang turns to Gladys for help. Gladys then takes the guys to her demon friend Dennis who at first refuses to help but later on offers Sam a homemade vessel because he feels sorry that his parents sold his soul to the Devil. Meanwhile, Andi's ex-boyfriend Greg returns and Sam discovers that he has a plan to get her back.

Tuesday, May 13th, 2008

17: The Leak

After realizing that the latest escaped soul keeps surfacing back to Earth, the Devil informs Sam that a leak has sprung in Hell and tells his bounty hunter to find out how the souls are escaping back to Earth.

Tuesday, May 20th, 2008

18: Cancun

Sam is targeted by a demon revolution that ultimately leads to a revelation that can have serious effects on his future.
Season 2
Tuesday, March 3rd, 2009

1: ... A New Hope

Sam, Ben and Sock encounter a few surprises on their return from a road trip; Andi refuses to speak to Sam; the Devil has a new assignment.

Tuesday, March 10th, 2009

2: Dirty Sexy Mongol

Sam wants to find out how Alan got out of his deal with the devil, but after they are attacked by two demons, Alan disappears and a demon takes an interest in Ben.

Tuesday, March 17th, 2009

3: The Sweet Science

Sam must capture a former boxer by using boxing gloves as a vessel. Meanwhile, Andi is awarded a promotion at the Work Bench.

Tuesday, March 24th, 2009

4: The Favorite

The Devil takes Sam to the police station and introduces him to Morgan, whom he calls his son. Now, Sam and the gang are tasked with hanging out with Morgan and showing him the ropes.

Tuesday, March 31st, 2009

5: I Want My Baby Back

Morgan tells Andi that Sam is the Devil's son. An escaped soul leaves her baby behind, causing Sam, Sock, and Ben to turn to Tony for help.

Tuesday, April 7th, 2009

6: Underbelly

The Devil misleads Sam into thinking his next escaped soul is an easy catch and encourages him to take along the gang for a road trip. Unfortunately, when they arrive, they discover a tentacled beast has taken over a small town and is eyeing each of them as its next dinner. Meanwhile, Andi feels Sam is becoming too comfortable with this lifestyle, Ben struggles to not be so clingy with Nina, and Sock makes one last effort to sleep with his stepsister.

Tuesday, April 14th, 2009

7: The Good Soil

The devil wants Morgan and Sam to spend more time together; Sam tries to get Andi back.

Tuesday, April 21st, 2009

8: The Home Stretch

Sam and Alan make a deal; Morgan and Sam are pitted against each other; Nina wants Ben to introduce her to his family.

Tuesday, April 28th, 2009

9: No Reaper Left Behind

Sam is sent to the home of the Devil's lover Sally so that she can teach him more of the "family business." She initially refuses, but realizing she can possibly help him out of his contract, Sam asks her to teach him anyways.

Tuesday, May 5th, 2009

10: My Brother's Reaper

Sam is tasked with getting Gary, a spoiled rich guy the Devil wants, to sign a contract selling his soul. Unfortunately, Gary is too clever, and manages to avoid all Sam's attempts to get him to sign on the dotted line.

Tuesday, May 12th, 2009

11: To Sprong, with Love

Sam, Sock, and Ben go after their old high school teacher, Mr. Sprong, assuming he is the current soul they are trying to catch. The only problem? Mr. Sprong is still alive, and none too happy when the boys take him hostage to try to convince him not to press charges.

Tuesday, May 19th, 2009

12: Business Casualty

Sam gets into a confrontation in his new job that ends badly. Sock tries to date a demon who has the ability to be anything he desires.

Tuesday, May 26th, 2009

13: The Devil & Sam Oliver

When Nina returns from Hell with the information Sam needs, he challenges the Devil to the game he's best at. However, when it comes to a draw, Andi is forced to make the ultimate sacrifice.