update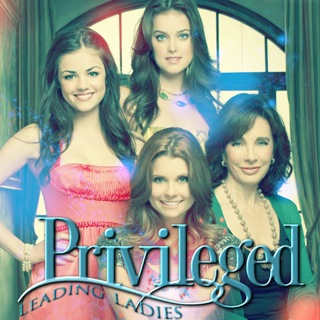 Season 1
Tuesday, September 9th, 2008

1: Pilot

Megan Smith, a recent graduate from Yale University unable to find success in the journalism field, accepts a job offer from Laurel Limoges - tutoring her two snobby, stuck-up billionaire twin granddaughters with the hopes of getting them into Duke University.

Tuesday, September 16th, 2008

2: All About Honesty

Megan is ecstatic to be attending a gala event of the rich and famous, where Laurel introduces her to several influential individuals. However, the event turns sour when Megan gets into a heated argument with her sister Lily, Rose spots her ex-boyfriend with another girl, and Megan has to rescue both Rose and Sage after the two get caught driving without a license.

Tuesday, September 23rd, 2008

3: All About What You Really, Really Want

After Rose is told that she must repeat her freshman year of high school due to poor grades, Megan visits the headmaster and tries to get her a second chance. However, a connection sparks between the headmaster and Megan and she later accepts to go out with him - causing Charlie to feel jealous.

Tuesday, September 30th, 2008

4: All About the Power Position

Megan is shocked when she finds an adult DVD in Rose's bookbag, but even more shocked when Rose reveals that she is not a virgin and is planning on having sex with her current boyfriend. Meanwhile, Sage invites Lily out to a restaurant to dig up dirt on Megan and the two end up drinking together, something that infuriates Megan. Finally, Megan is worried when she thinks that Jacob might be losing interest in her.

Tuesday, October 7th, 2008

5: All About Friends and Family

Laurel gives Megan the task of chaperoning the twins' pool party, thus forcing her to cancel plans for a spa weekend with Jacob. Meanwhile, Charlie confesses to Marco that he is in love with Megan, and Megan is convinced by Rose to invite Lily to the pool party.

Tuesday, October 21st, 2008

6: All About Appearances

Megan's relationship issues with the opposite sex reach a new level when she realizes that Jacob is still interested in his ex-girlfriend and Charlie decides to put the brakes on their friendship. Meanwhile, Laurel is persuaded by Megan to include Sage and Rose in her marketing campaign.

Tuesday, October 28th, 2008

7: All About the Haves and the Have Not's

Megan is concerned that Rose and Sage don't have enough extra-curricular activities to get into Duke, so she arranges for them to volunteer with a charity that provides prom dresses to under-privileged girls. Rose and Sage make a mess of the dresses they are supposed to alter, but they fix the problem in their own unique style. Meanwhile, Megan decides the time has come to reconnect with her estranged father and invites him to dinner at the estate. Megan asks Marco to prepare dinner for two, but when Lily, Will, Rose and Sage also show up for dinner, the party goes surprisingly well until Sage catches Lily in an embarrassing situation. Megan comes to a new understanding with her dad, but later that night, she has a nasty confrontation with her best friend Charlie.

Tuesday, November 4th, 2008

8: All About Defining Yourself

Megan has been compiling research on Laurel with the intention of presenting a book proposal to her, but Sage discovers Megan's notes and emails them to Laurel before Megan has a chance to explain. Megan is pleasantly surprised to find that Laurel likes the idea of a biography, but when Laurel takes over the project and hires an experienced ghostwriter, Megan feels dismissed. Continuing her research, Megan inadvertently discovers a shocking secret about Laurel's past. When Megan comes clean to Laurel about what she has learned, Laurel reacts by freezing Megan out. Meanwhile, Sage is sure her modeling career is about to kick into high gear when she meets with high-powered publicist Patricia Kingston, but Patricia makes it clear she is only interested in representing Sage if Rose is also involved. Tension mounts between the twins when Rose rejects modeling in favor of her school work. Charlie realizes that Mandy the girl he has been casually dating, may be better suited for him than Megan ever was.

Tuesday, November 11th, 2008

9: All About Insecurities

Upset that Laurel is still giving her the cold shoulder, Megan is nonetheless excited that her college pal Caryn is coming to visit her in Palm Beach. When Caryn reveals that she's just been promoted from assistant to junior editor at The New Yorker magazine, Megan can't help but feel bad about her own stalled writing career. Trying to be helpful, Caryn suggests Megan write an expose about the lives of the people she's met in Palm Beach, but Megan rejects the idea. When Sage and Rose's publicist learns that Rose and Sage have musical talent, she books them a gig performing at the opening of a hot new Miami nightclub, where the girls are thrilled to have a red carpet encounter with Perez Hilton. Finally, Will invites Megan and Caryn to a tennis match he has been hired to photograph, but Megan accidentally tells his boss that Will is independently wealthy, causing a rift in their friendship.

Tuesday, November 18th, 2008

10: All About Overcompensating

Megan has a great date with Will but breaks off their relationship when she can't deal with the fact that he is also dating several other women. Will wins her back by promising to date her exclusively, but when he gets a job offer that will take him out of the country for several months, Megan is unsure what to do. Laurel asks Megan to uncover information about Miles, the man with whom Laurel had a secret affair years ago. When Rose gets a "D" on her English exam, she decides to cheat on her upcoming History test. Sage tries to talk Rose out of cheating, but ends up coming up with a plan to make sure Rose won't get caught. Megan discovers what the girls are doing and races to the school to try to stop Rose before it's too late.

Monday, December 1st, 2008

11: All About Love, Actually

Laurel makes a trip to Santa Barbra to see her old flame Miles, and is surprised when he shows up at her doorstep in Palm Beach a few days later, but Miles quickly realizes that Laurel's business and family come first. Megan and Will's new status as a couple gets off to a rocky start when Will announces he has accepted a job that will take him to Brazil for six months. Meanwhile, Megan prevents Rose from cheating on her final and grounds her as punishment. Rose accepts being grounded, but is furious when she learns that Sage was the one who told Megan about the plan to cheat. Charlie has second thoughts about moving in with his girlfriend Mandy. Finally, Charlie's cousin Luis gets a job working in the kitchen with Marco and Sage decides to torture him with her demands.

Monday, December 8th, 2008

12: All About the Ripple Effect

Just as she's finally beginning to adjust to having a relationship with her father, Megan receives an unexpected visit from her mother. Meanwhile, Sage fights her feelings for Luis, and Will finds it difficult to comprehend Megan's family issues.

Tuesday, January 6th, 2009

13: All About what Lies Beneath

Megan is upset when Shelby tells her that Will is a playboy who will never commit. Megan finally confronts Shelby and lets out all her anger over being abandoned. As an excuse for Sage to spend more time with Luis, Rose comes up with the idea of throwing an elaborate charity dinner, complete with a synchronized swim team to tell the story of Cuban refugees. However, the plan backfires when Luis reveals he is not of Cuban descent. Meanwhile, Marco's boyfriend Keith encourages Marco to quit his job and open his own cafe, but they end up arguing about their future together. Charlie decides to go back to school, but his girlfriend Mandy turns manipulative when she learns he'll be spending study time with Megan. Finally, Megan is shocked to get a phone call telling her that her sister Lily is in jail.

Tuesday, January 13th, 2009

14: All About Tough Love

After learning that her sister Lily is in jail, Megan rushes to be with her and find out why she was arrested. Lily insists she knew nothing about the backpack full of drugs found in her hotel room, but her new husband is missing and she needs $25,000 for bail. Megan takes Will along when she relays the bad news about Lily to her parents, Arthur and Shelby, and although Will offers to pay Lily's bail, Arthur decides that Lily needs to be frightened into cleaning up her life, and refuses to let anyone bail her out. A heartbroken Megan has to tell Lily that she has to remain in jail. Later, Shelby arranges a secret meeting with Will and convinces him to give her the bail money, leading to an argument with Megan and a shock for everyone over Shelby's actions. Meanwhile, Rose helps Sage pick out an expensive gift for Luis and they are baffled by his reaction.

Tuesday, January 20th, 2009

15: All About the Big Picture

When Megan tells Will that her mother has disappeared again, along with his money, Will suggests that it's time for Megan to separate herself from her family's problems. However, Megan is heartsick that Arthur is in denial about the situation and Lily is angry and hurt that she didn't even get to see her mother. When a picture of Rose and Sage with bassist Pete Wentz of the band Fallout Boy at a nightclub upsets Rose's boyfriend Zach, Sage has to admit that her pursuit of fame is taking a big toll on their social lives. Meanwhile, Laurel gives Marco the money to start his own restaurant, but he realizes that isn't what he really wants. Finally, Megan meets Will's parents, Elliot and Josephine, and feels guilty for involving Will with her own dysfunctional family, but Will surprises Megan with a declaration of his true feelings for her.

Tuesday, February 3rd, 2009

16: All About Confessions

Megan is surprised to hear that Charlie has been accepted to UCSD and is moving to California. She takes him out to celebration his good news, and he shocks her by kissing her and admitting he has been in love with her for years. When Megan tells Will what happened, he is so upset that he ruins Charlie's goodbye party by confronting Charlie and starting a fist fight. Meanwhile, Rose is approached by Miles' daughter, Elyse, who reveals to Rose that Miles is the girls' real grandfather. Sage worries that Luis will be disappointed that she is a virgin, but is surprised to learn that he is deeply religious and does not believe in pre-marital sex. Luis invites Sage to church, which brings up her grief about her parents death and leads to a startling confession.

Tuesday, February 10th, 2009

17: All About Betrayal

Megan is thrilled when Will tells her that his father is starting a new magazine based on Megan and Will's idea. Eager to pitch ideas for the first issue, Megan and Will soon find the magazine's new editor-in-chief, David Besser, is not easy to please. When Marco decides to win Keith back and shows up unannounced at his house, he discovers Keith is now involved with his longtime friend Jennifer. Marco takes dramatic action to keep his true love from slipping away. Meanwhile, Rose tells Sage the shocking news that Miles is their real grandfather. The twins tell Megan what they know, then confront Laurel with the truth. During all the family drama, Rose knows that Sage is keeping something from her and when Sage finally confesses her own personal secret, it causes a profound change in the twin's relationship.

Tuesday, February 24th, 2009

18: All About A Brand New You!

In the first season finale, as Marco and Keith plan for their wedding, Rose and Sage's relationship takes a bad turn when Rose decides to ditch their annual plans for spring break and Sage becomes upset. Zachary too feels that Rose is changing rather quickly, and worries about the future of their relationship. Also, Will and Megan have a fight and break up.