update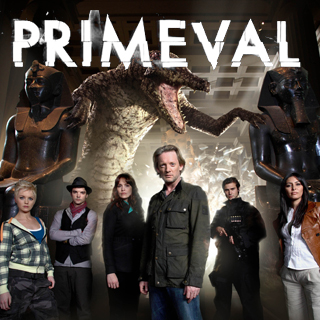 Season 0
not specified

6: Cutters Odyssey

not specified

7: Genesis of a Creature

not specified

8: Through the Anomaly

not specified

9: The Making of Primeval

not specified

10: New Dawn: Making the New Primeval Part 1

not specified

11: New Dawn: Making the New Primeval Part 2

Wednesday, December 22nd, 2010

1: S4 Webisode 1

After the catastrophe of the last mission to find Connor, ARC has suffered greatly.

Wednesday, December 22nd, 2010

2: S4 Webisode 2

New field coordinator Jess welcomes Becker to the new ARC.

Wednesday, December 22nd, 2010

3: S4 Webisode 3

Matt is introduced to the new ARC, Becker and the new ARC boss Phillip Burton.

Wednesday, December 22nd, 2010

4: S4 Webisode 4

Becker and Matt come face-to-face about the new taser guns.

Wednesday, December 22nd, 2010

5: S4 Webisode 5

Jess introduces Matt and Becker to their new tracking device
Season 1
Saturday, February 10th, 2007

1: Leapin' Lizards

Professor Nick Cutter is investigating the sighting of a dinosaur, apparently. A species which has been extinct for 200 million years. With his team, they travel to the region where it was sighted to explain how it appeared. However, as they investigate the dinosaur, a weird creature seemed to be killing anything on its path.

Saturday, February 17th, 2007

2: Underground Infestation

In the London Underground, a cleaner is fatally bitten by a gigantic spider, and Nick Cutter's team investigate. In their search, they come across a maze of unused tunnels, leading to an even scarier event.

Saturday, February 24th, 2007

3: Helen Makes Contact

Swimming pools, inner-city reservoirs, and flooded cellars in suburban homes are being overtaken with prehistoric reptiles, which have all come through the space-time anomalies. The gang go to investigate, but Nick is more concerned with finding his wife.

Saturday, March 3rd, 2007

4: Dodo Madness

Nick discovers that a group of dodos are carrying a deadly ancient parasite that could have devastating consequences for the human population. Meanwhile, Helen is back in the 21st century, and being interviewed by the Home Office, although she isn't being as cooperative as they hoped.

Saturday, March 10th, 2007

5: Ptera-ble News

A prehistoric winged reptile arrives through an aerial time rift on a golf course. Nick goes to investigate, but he ends up trapped in a house with Claudia. Elsewhere, Connor loses Rex, much to Abby's anger.

Saturday, March 17th, 2007

6: Future Foe

Helen returns and claims that a predator from the future is behind a number of disappearances, so Helen and her estranged husband join together on a desperate race through time to prevent further attacks.
Season 2
Saturday, January 12th, 2008

1: Jurassic Mall

While Cutter tries to make sense of Claudia's disappearance, another anomaly appears. Raptors are running wild through a shopping centre, and the team are called in to sort out the problem.

Saturday, January 19th, 2008

2: Mealworms, Indeed

Bizarre shaped giant worms, some of which are large enough to consume a human are moving around in a strange fog.

Saturday, January 26th, 2008

3: Catfight

Nick Cutter and the rest of the ARC have to stop Sabre tooth tigers that are on the loose and are killing people at will.

Saturday, February 2nd, 2008

4: Underwater Menace

A group of creatures called the mer slip into the city's canal system after floodwaters pour through an anomaly to the future.

Saturday, February 9th, 2008

5: Silurian Sands

Giant scorpians are terrorising the team, and they find themselves in serious trouble.

Saturday, February 16th, 2008

6: Traitor Revealed

A woolly mammoth rampages across the M25 motorway.

Saturday, February 23rd, 2008

7: Concrete Menagerie

The team have to deal with the return of the future predator along with other creatures.
Season 3
Saturday, March 28th, 2009

1: Crocodile Fears

Cutter and the rest of the team are still trying to come to terms with Stephen's death. A creature that looks like an Egyptian god comes through an anomaly that opens in the British Museum. Egyptologist Sarah Page and new head of Security Captain Becker attempt to find where the creature has gone.

Saturday, April 4th, 2009

2: Haunted House

Three teenage boys break into the local haunted house. A creature attacks them, and in the aftermath the only survivor is arrested for murder. 14 years later, Cutter discovers that another anomaly will occur in the same building, and the team go to investigate.

Saturday, April 11th, 2009

3: Medical Mayhem

An anomaly opens in a London hospital, causing several Diictodon to come through which cause havoc in the building. Cutter, Abby, Connor and Becker arrive to investigate as does journalist Mick Harper, who wants evidence of the creatures.

Saturday, April 18th, 2009

4: A Gigantic Problem

A Giganotosaurus appears at an airport and the teams leadership is put to the test.

Saturday, April 25th, 2009

5: Future Epidemic

After breaking into the ARC, Danny Quinn is drafted in to help the team when a fast-growing flesh-eating fungus is transferred to the present day by a temp who in turn passes the spores onto his boss who turns into a Fungus Creature

Saturday, May 2nd, 2009

6: For the Birds

The team are forced to flee when the ARC is invaded by Christine Johnson and the military. As they hide out in the woods danger soon shows up.

Saturday, May 9th, 2009

7: Dragon Tales

A Cretaceous-era dinosaur is followed by a medieval knight on horseback when an anomaly opens in the middle of a car breaker's yard. The team have to try and catch the creature and deal with a crazy knight who thinks that he is a new Saint George

Saturday, May 16th, 2009

8: Oh, Brother

After an anomaly opens a large insect-like creature breaks through. The team are pushed to their limits to make sure it returns home. Abby's brother ends up driving through the anomaly when he tries to find out what her job is and team try to rescue him.

Saturday, May 23rd, 2009

9: Herd Logic

This week the team face a huge rhinoceros-like creature and have to deal with a mysterious woman from the future named Eve (who should be very familiar to players of Primeval Evolved ). A herd of embolotherium have come through an anomaly at an off-road motor course, causing one man to have the worst stag night ever. The team arrive but these seven tonne rhinoceros-type beasts from the Eocene do not budge easily. To make matters worse Abby realises someone is trapped in a tent and for some reason one of the embolotherium seems intent of trampling it. Abby and Sarah try to rescue the trapped civilian whilst Connor tries to lure these lumbering creatures back into the anomaly through which they came without causing a stampede or being crushed in the process. Danny finally arrives, with the enigmatic Eve in tow, but is he too late to stop a stampede?

Saturday, May 30th, 2009

10: The Chase Continues

The team split up to face two threats. Danny, Abby and Connor travel back to the future determined to stop Helen before she can hurt anyone else. Meanwhile Sarah and Becker must head to Christine Johnson's headquarters where an anomaly has re-opened. In the future, Danny, Abby and Connor find Helen, but she manages to escape through an anomaly. Connor works out a way to follow her and they endure a harrowing journey back through time via several anomalies, encountering future predators, raptors and pterasaurs along the way. At Johnson's office, Sarah and Becker come under attack by three vicious megopterans. At first they try to fight these dangerous insects, but when Becker loses his weapon in the battle, they have no choice but to run. During Danny, Abby and Connor's prehistoric travels one of them comes face to face with the earliest humans, hominids, in an encounter that will change their life forever.
Season 4
Saturday, January 1st, 2011

1: Back from the Cretaceous

After a year trapped in the Cretaceous period, Abby and Connor finally return to the present, followed by a giant Spinosaurus, the largest known carnivorous dinosaur. The new ARC team responds.

Sunday, January 2nd, 2011

2: Be Inconspicuous

Connor and an old friend track an elusive Kaprosuchus or Boar crocodile to the docks and find evidence of a fresh kill.

Saturday, January 8th, 2011

3: Lockdown

A mysterious group come through an anomaly in a theatre, unknowingly followed by deadly tree creatures. As they attempt to escape, Matt inadvertently brings one of the group – Emily - back against her will. She promises to help him find the creature, in return for going back through the anomaly. In a frantic chase through the city, they track the creature down, only to discover the anomaly has closed, leaving Emily stranded.

Saturday, January 15th, 2011

4: Breakfast Club

Saturday detention is thrown into disarray when a deadly Therocephalian attacks a teacher, allowing the kids to run riot. The team are soon faced with not only tracking down the creatures, but fighting against the antics of a group of terrified students. Finding a Therocephalian nest in the school canteen, Connor enlists the help of the kids to stun the creatures into submission before returning them through the anomaly.

Saturday, January 22nd, 2011

5: The Worm

Connor and Abby are sent to a coastal village, where there have been indications that an anomaly has opened, however it is fluctuating. Once there they discover a Labyrithodont, which has been attacking the local cattle and killed a tourist. Matt follows the tracker Emily carried to a cemetery where Ethan has taken her and finds Emily bound and gagged inside a coffin, but Ethan escapes. Gideon warns Matt that Ethan presents a terrible danger to humanity.

Saturday, January 29th, 2011

6: The Brave Bride

An anomaly allows a pack of Hyaenodons to make their home in the wine cellar of a stately home, where Jenny Lewis is getting married. They eat the wedding planner. Connor, Abby and Matt subdue them after battle using medieval weaponry. Meanwhile Becker narrowly escapes a lethal boobytrap set by Ethan; and Gideon is revealed to be Matt's father and from a post-apocalyptic future, then he dies from illness.

Saturday, February 5th, 2011

7: Surprising Visit

A pair of anomalies opens in a prison, one to the Pliocene allowing a terrorbird to attack, and Danny Quinn to return. He meets Ethan and realises he is his lost brother. Matt reveals he is from the future and trying to prevent an apocalypse involving the anomalies. Emily returns to the 19th C and both Danny and Ethan to the Pliocene. Connor discovers that the incidence of anomalies is increasing and potentially dangerous.
Season 5
Tuesday, May 24th, 2011

1: Matt's Secret

An underground creature brings chaos to the city, forcing the team to chase around the city to track down the movements of this vicious burrowing creature. When the creature strikes for the final time, the team find one of their own in mortal danger and fight to save their life.

Tuesday, May 31st, 2011

2: The Submarine

When a nuclear submarine encounters an anomaly and Liopleurodon in the sea, the team are called aboard to help. They soon find themselves under attack and get sucked back through an anomaly, with Liopleurodons damaging the outside of the sub. The team must not only capture the panicked Eustreptospondylus aboard, but fix the sub exterior in order to get home.

Monday, June 6th, 2011

3: In the Good Old Days

Following a displaced raptor through an anomaly, Matt ends up in Victorian London. Realizing its to blame for several gruesome murders in the area, he tracks it down only to find Emily attempting to do exactly the same thing. Meanwhile, back at the ARC, Abby knows she has to try and reconnect with Connor; they've been spending too much time apart. But a nasty encounter with April on the way to his lab makes her wonder if Matt is right - Connor is up to something in his lab that she isn't meant to know about.

Monday, June 13th, 2011

4: The Prototype

Philip and Connor secretly open an anomaly within the ARC, only to be invaded by a mass of scurrying future-beetles, who force the ARC into lockdown. The team have just moments to save the day before the ARC and the beetle threat is destroyed when Philip threatens to incinerate the building.

Monday, June 20th, 2011

5: The End of the Future (1)

The exhausted ARC team struggle to cope as more anomalies are opening. As the whole team lets Lester in on the secrets of Matt's mission, they're interrupted by worrying news - anomalies are opening everywhere and there are reports of a huge creature loose on the streets. Matt knows this is something important - the time he's been waiting for is now.

Monday, June 27th, 2011

6: The End of the Future (2)

Connor has disappeared through Philip's anomaly, and Matt thinks that his mission is over, Philip has won. But he can't leave Connor to his fate and jumps through the anomaly only to find himself in a barren desert world, with Connor struggling in the immense heat and deadly sun's rays. It's the world of Matt's nightmares, and they are soon being stalked by mutated Future Predators.