update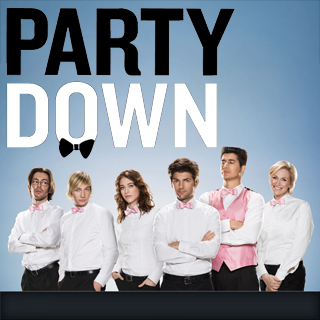 Season 0
Saturday, February 21st, 2009

1: Season 1 Trailer

Sunday, February 22nd, 2009

2: Behind The Scenes

Thursday, March 4th, 2010

3: Season 2 Teaser

Tuesday, April 6th, 2010

4: Season 2 Trailer

Tuesday, April 6th, 2010

5: The Characters

A look behind the scenes at the cast of Party Down Season 2.

Tuesday, April 6th, 2010

6: The Parties

A look behind the scenes at the parties of Party Down Season 2.

Monday, November 25th, 2019

7: A Reunion of Party Down

Earlier this month, 10 years and 8 months after the show's premiered, at Vulture Festival presented by AT&T, the whole team (save Paul Rudd) - Adam Scott, Lizzy Caplan, Megan Mullally, Jane Lynch, Martin Starr, Ryan Hansen, and Ken Marino and its creators Jon Enbom, Dan Ethridge, and Rob Thomas - got together to remember the very special time they had making the show, looking back at their favorite episodes and moments from the show.
Season 1
Friday, March 20th, 2009

1: Willow Canyon Homeowners Annual Party

Failed actor Henry Pollard returns to work at Party Down catering. He meets his fellow employees, led by his old coworker Ron, a clean-living team leader with big dreams.

Friday, March 27th, 2009

2: California College Conservative Union Caucus

At a college conservatives event, students aim to give the Party Down team advice on success. As the event goes on, it turns out the students may not be so bright.

Friday, April 3rd, 2009

3: Pepper McMasters Singles Seminar

The Party Down team caters a senior singles mixer hosted by Pepper McMasters. Constance has an awkward encounter with an old flame and Casey seeks relationship advice.

Friday, April 10th, 2009

4: Investors Dinner

A land tycoon expects flawless service from the Party Down crew, but Ron's dreams of success threaten to ruin everything. Kyle makes a friend whose lifestyle he hopes to emulate.

Friday, April 17th, 2009

5: Sin Say Shun Awards Afterparty

The Party Down team caters a porn awards afterparty. Kyle tries to teach Roman to "play it cool" with the porn stars. A mysterious businessman makes Ron a surprising business offer.

Friday, April 24th, 2009

6: Taylor Stiltskin Sweet Sixteen

Taylor Stiltskin's film producer father is throwing her the perfect sweet 16--only nobody showed up! Henry runs into an old friend. Ron gets business advice from a rap duo.

Friday, May 1st, 2009

7: Brandix Corporate Retreat

When the Party Down team caters the Brandix corporate retreat, Casey strikes up a friendship with the sports star guest speaker, making both Henry and Roman jealous.

Friday, May 8th, 2009

8: Celebrate Ricky Sargulesh

The Party Down team's actors are recognized at a party and treated as stars. But when Roman and Ron discover the host is a mobster, they suspect his screenplay might be a confession.

Friday, May 15th, 2009

9: James Rolf High School Twentieth Reunion

Ron decides to cater his own reunion, and begins to slip back into his old drunken habits. Henry considers moving home, causing Casey to reconsider their "casual" relationship.

Friday, May 22nd, 2009

10: Stennheiser-Pong Wedding Reception

In the season finale, the team is excited to cater a lavish gay wedding, but must take a backseat to the chiseled men of the Valhalla catering company. While Ron falls apart, Henry is forced to take charge.
Season 2
Friday, April 23rd, 2010

1: Jackal Onassis Backstage Party

As the struggling new Party Down team leader, Henry is forced to juggle an incognito rock star, the return of of Ron Donald and Casey, the girl who broke his heart.

Friday, April 30th, 2010

2: Precious Lights Pre-School Auction

Having trouble letting go of his leadership position, Ron and Henry clash at a fundraiser where parents will do anything to get their kids into an exclusive elementary school.

Friday, May 7th, 2010

3: Nick Dicintio's Orgy Night

Catering an orgy proves to be the wrong place for Ron to deal with his recent breakup. Roman seizes the opportunity to help the host create the ideal orgy atmosphere.

Friday, May 14th, 2010

4: James Ellison Funeral

The funeral of a patriarch goes awry when the deceased's mistress arrives to pay her last repects. Kyle is mesmerized by the possibility of learning the blues from a real bluesman.

Friday, May 21st, 2010

5: Steve Guttenberg's Birthday

At his own birthday, Steve Guttenberg volunteers to turn his party into a writing workshop when he overhears Roman and writing partner Kent discussing their script.

Friday, May 28th, 2010

6: "Not On Your Wife" Opening Night

At a community theater, the onstage farce trickles into real life as Kyle promises to help his old mentor by romancing a wealthy female patron with the funds to save the theater.

Friday, June 4th, 2010

7: Party Down Company Picnic

Competition is the word of the day as Ron competes for a job at the head office, Casey for best all around at the events and Roman and Kyle compete with Valhalla Catering.

Friday, June 11th, 2010

8: Joel Munt's Big Deal Party

Roman is less than thrilled when he discovers the party is being thrown by his 'sell-out' writing partner who hired him to rub his face in the sale of his new spec script.

Friday, June 18th, 2010

9: Cole Landry's Draft Day Party

When top college QB Cole Landry unexpectedly slips in the draft, rumors begin circulating that tangle Casey and Henry in the secret lives of college athletes.

Friday, June 25th, 2010

10: Constance Carmell Wedding

Constance is getting married and she's hired her Party Down friends to make sure they attend. Ron, guided by Constance's wisdom to 'follow your heart', makes a desperate bid for love.
Season 3
Friday, February 24th, 2023

1: Kyle Bradway is Nitromancer

Ten years later, Kyle Bradway has just landed his star-making superhero role. He hires Party Down to cater his celebration party, leading to welcome reunions and some unexpected surprises.

Friday, March 3rd, 2023

2: Jack Botty's Delayed Post-Pandemic Surprise Party

Party Down works a surprise party for movie star Jack Botty thrown by his studio exec girlfriend Evie, which turns weird when the team sees something they shouldn't have.

Friday, March 10th, 2023

3: First Annual PI2A Symposium

Ron, desperate to keep Party Down afloat, books an event for an extremely problematic group leading to complications for… everyone.

Friday, March 17th, 2023

4: KSGY-95 Prizewinner's Luau

Hired to work a laid-back radio promotion luau in groovy Malibu, the gang decides to take mushrooms together and things get weird.

Friday, March 24th, 2023

5: Once Upon A Time "Proms Away" Prom-otional Event

Lydia, worried that daughter Escapade missed her childhood, plans a "prom" promotional event for her new movie. Meanwhile, Ron schemes to impress a studio PR bigwig who could make or break Party Down.

Friday, March 31st, 2023

6: Sepulveda Basin High School Spring Play Opening Night

Henry and the Party Down crew scheme to keep their latest party going all night.