update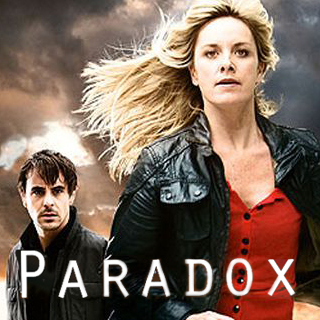 Season 0
not specified

1: Prometheus Bound

A look at the set of Paradox.

not specified

2: The Big Bang
Season 1
Tuesday, November 24th, 2009

1: Episode One

Dr Christian King, a world-renowned astrophysicist, claims to have received a series of images from space. The images show fragments of an event, an explosion in which many are killed. Shockingly, Dr King claims the disaster is yet to happen. It will take place in 18 hours time. Is this an elaborate warning of a terrorist attack, or could it be something else? Uncertain, DI Rebecca Flint and her team investigate Dr King and the images. But as the pieces of the jigsaw puzzle come together, it becomes clear that this is a chain of events which no person could possibly predict or plan. With time running out a tragedy drawing closer DI Flint begins to contemplate the impossible - that the images might not be a coded warning or an elaborate threat, but a genuine glimpse of the future.

Tuesday, December 1st, 2009

2: Episode Two

After her previous failure, Rebecca is determined not to make the same mistakes again. This time, she is desperate to change the future and save a boy's life. But with minutes to spare, Rebecca learns of a second death scheduled to take place at the zero hour - DS Ben Holt's. Not knowing how or when he will die, Rebecca's quest to change the future becomes even more frantic.

Tuesday, December 8th, 2009

3: Episode Three

A serial rapist is due to violently attack and murder in a few hours, and Rebecca is determined not to let this happen. But Rebecca is beginning to feel conflicted about their new role; for the first time, she begins to question the responsibility involved in seeing the future, and worries she might even be helping to cause the incidents they are supposed to stop.

Tuesday, December 15th, 2009

4: Episode Four

The team receive double the amount of images in what appears to be their most unfathomable mystery so far. The images seem to be predicting a robbery, a fire and multiple deaths, but how can they trace so many clues in so little time? One of the images last time was random; are some of these the same? How do they know which images relate to the event they are supposed to stop and which ones they can trust?

Tuesday, December 22nd, 2009

5: Episode Five

Rebecca always suspected she was helping to cause the events they were supposed to stop. Now she is convinced of this and they receive images more intimate than anything they have previously dealt with. Every image points to a member of the team in some way. One shows a photo of some teenagers shot dead - and Rebecca's hand is holding the gun. Will she have the power to change the destiny that matters most, her own?