update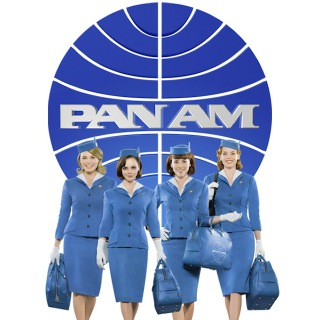 Season 0
not specified

1: Becoming A Pan Am Stewardess

not specified

2: The Berlin Set

not specified

4: Real Stewardesses of Pan Am: The Berlin Set

not specified

5: Real Stewardesses of Pan Am: The Life of a Stewardess

not specified

6: Real Stewardesses of Pan Am: The Plane Set

not specified

7: Real Stewardesses of Pan Am - Interview with Nancy Hult Ganis

Interview with former Pan Am Stewardess and Executive Producer Nancy Hult Ganis.

Tuesday, May 17th, 2011

3: Pan Am: Trailer

The newest TV Drama to air on ABC this fall is Pan Am.
Season 1
Sunday, September 25th, 2011

1: Pilot

Dean takes on his first assignment since his promotion, piloting the Clipper Majestic on its inaugural New York to London flight. Bridget is supposed to be his lead stewardess, until she's a no-show for the flight. Grounded purser Maggie is called in to fill in for her. On the same fateful flight, Kate adds another dimension to her work as she takes on her first assignment from U.S. intelligence. Her stress is compounded when she discovers that newly minted stewardess, Laura, her sister, is also working the same flight.

Sunday, October 2nd, 2011

2: We'll Always Have Paris

On a trip to Paris, Kate and Laura have a surprise passenger—their mom—who has come to settle some unfinished business with Laura; Maggie faces the unwanted attentions of an aggressive passenger, and Dean and Colette share a momentary flirtation as he tries to track down some leads on Bridget

Sunday, October 9th, 2011

3: Ich Bin Ein Berliner

When the crew gets a flight taking journalists to Berlin to cover an important speech by President Kennedy, Maggie, who campaigned for him, is determined to meet JFK no matter what. Meanwhile, when her contact's safety is compromised, Kate tries to help the young woman escape East Germany; and painful memories of World War II force Colette to face her tragic past.

Sunday, October 16th, 2011

4: Eastern Exposure

After a last minute change sends the crew on a flight to Rangoon, a routine courier mission for Kate turns harrowing as she struggles to make a drop by the deadline. Meanwhile, Maggie takes naive Laura under her wing and shows her the wilder side of the city; and news of a space mission leads Ted to reflect on his own past and what his powerful family connections have cost him.

Sunday, October 23rd, 2011

5: One Coin in a Fountain

The Pan Am crew rolls the dice in more ways than one in glamorous Monte Carlo: Kate and Maggie square off for the attentions of a handsome passenger, but things get more complicated when Kate learns the sexy stranger is involved in her next covert mission; and Dean gambles with his career when an attractive, wealthy woman on the flight tempts him -- and he later discovers who her flying companion is.

Sunday, October 30th, 2011

6: The Genuine Article

Maggie is perilously close to losing her job for insubordination, but still manages to maneuver her way onto the flight down to Rio de Janeiro. She reflects back on the rocky path she took to land her dream job, but it's her decision to do whatever it takes to keep it that surprises even her. Meanwhile, Kate has earned her stripes as a courier, but when she is given a difficult mission involving Niko, a Yugoslavian diplomat, she's unsure how to manage the task, as she tries to juggle their deepening personal relationship with her assignment. Finally, Ginny and Dean continue to play with fire in Rio, but Ginny's game playing with both Dean and her boss and lover, a Pan Am executive, is a source of contention with Dean.

Sunday, November 6th, 2011

7: Truth or Dare

Sparks fly between Laura and a sailor on a special – and unusually wild -- Pan Am flight bringing servicemen home, leading Laura to realize what she's really looking for in a man, as well as opening her eyes to the malicious racial climate in the country. Meanwhile Kate's complicated mission to turn Niko to work for the U.S. government culminates in dramatic fashion, threatening their personal relationship.

Sunday, November 13th, 2011

8: Unscheduled Departure

A wealthy passenger charms the stewardesses on a flight to Caracas; when a passenger has a heart attack, the only hope of saving him is to land in turmoil-stricken Haiti.

Sunday, December 4th, 2011

9: Kiss Kiss Bang Bang

Ted asks Laura to help him make a woman from his past jealous; a dangerous mission puts Kate and Anderson in jeopardy; Maggie clashes with a congressman; Colette meets Dean's parents.

Sunday, January 8th, 2012

10: Secrets and Lies

Fate deals a blow to Dean and Colette's budding romance. Maggie writes a critical story for the Village Voice against her congressman's politics but doesn't count on falling for him after she submits it; though she wants to resist, the physical attraction between them is undeniable. Kate finds it hard to move beyond her last spy assignment and is haunted by the repercussions - she faces a fate similar to Bridget's if she cannot fake her way through a lie detector test. And Laura is in a tailspin as Ted thinks he's found the love of his life.

Sunday, January 15th, 2012

11: Diplomatic Relations

Dean is tapped to fly the first-ever commercial flight to Moscow, but the day of departure, a blowhard veteran pilot, Broyles, takes the controls and makes Dean co-pilot. While in Russia, Kate tries to pull off an important mission, but when Laura and another Pan Am stewardess are mistaken for spies, Kate tries to expedite their release with the help of an unlikely ally. Back at home, Congressman Rawlings and his staff work to track down whoever anonymously wrote the negative new story about him, and Maggie agrees to be his date at a fund-raiser. Can she keep her temper dealing with so many conservative political supporters and retain her cover as the article's author? Ted's relationship with Amanda gets serious, but Maggie learns something about her that may hinder this whirlwind romance.

Sunday, January 22nd, 2012

12: New Frontiers

Maggie tells Ted why she has reservations about Amanda, and Dean pines for Colette, who reveals she's asked for a transfer to the Hong Kong hub. On a flight to Rome, Colette befriends a handsome, mysterious man, Omar, and agrees to show him the city. Meanwhile, Dean is accosted by the local customs officials, who are looking for a smuggler; Kate needs to learn a new talent as a pickpocket; and Laura is shocked to discover that the Life Magazine photographer, Graham, sold the nude photos he took of her to a gallery, where they are on display.

Sunday, February 12th, 2012

13: Romance Languages

In their individual quests for adventure, the crew juggle their lives, their loves, their hopes and dreams while flying around the world.

Sunday, February 19th, 2012

14: 1964

Ted becomes increasingly nervous as wedding plans race forward; Kate wrestles with suspicions about those around her; Laura receives a startling offer from Amanda; Maggie is placed is a perilous position.