update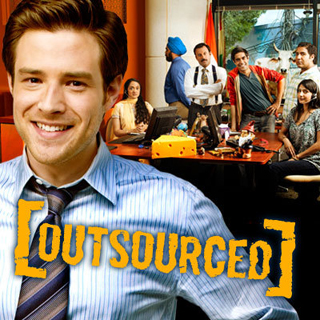 Season 0
Tuesday, September 12th, 2006

0: Outsourced

Thursday, September 9th, 2010

1: Sneak Peak

Thursday, September 23rd, 2010

2: Gag Reel

Thursday, September 23rd, 2010

3: Deleted Scenes: Pilot

Thursday, October 28th, 2010

4: Deleted Scenes: Bolloween

Thursday, November 18th, 2010

5: Deleted Scenes: Temporary Monsanity

Friday, January 7th, 2011

7: Deleted Scenes: Sari Charlie

Thursday, January 20th, 2011

6: Deleted Scenes: A Sitar Is Born

Thursday, February 3rd, 2011

8: Deleted Scenes: Training Day

Thursday, February 10th, 2011

9: Deleted Scenes: Todd Couple

Thursday, February 17th, 2011

10: Deleted Scenes: Guess Who's Coming To Delhi

Thursday, February 24th, 2011

11: Deleted Scenes: Take This Punjab And Shove It

Thursday, April 7th, 2011

12: Deleted Scenes: Charlie Curries A Favor From Todd
Season 1
Thursday, September 23rd, 2010

1: Pilot

When Todd Dempsy finishes management training for his job at Mid America Novelties, he finds that his call center has been outsourced to Mumbai, India, and that in order to keep his job, he must relocate to India and manage the call center there. He is picked up from the corporate housing by Rajiv, his assistant manager, who is interested in replacing him, and meets the rest of his employees. He also meets two other call center managers: Charlie, who gives him advice over lunch, and later Tonya, who immediately shows an interest in him.

Thursday, September 30th, 2010

2: The Measure of a Manmeet

Management tasks Todd with evaluating his team, and laying off an employee due to low revenues. Gupta believes that he will be the one laid off as he incorrectly lip-reads Rajiv and Todd's conversation. Todd is invited by Manmeet to a hotel to eat steak and quickly befriends him. Todd finds out that the reason why revenue is down is because Manmeet flirts with his customers instead of selling products. He confronts Manmeet, who uses his flirtatiousness to sell more novelties and increasing revenue, so no one needs to be laid off.

Thursday, October 7th, 2010

3: Party of Five

Todd and Charlie plan a double date with Asha and Tonya, only to have Gupta tag along.

Thursday, October 14th, 2010

4: Jolly Vindaloo Day

Rajiv attempts to keep Todd out of the office while his potential father-in-law visits. Some of the employees deal with harassment from the A-Team.

Thursday, October 21st, 2010

5: Touched by an Anglo

A shipment of sexual novelties leads to a seminar on sexual harassment. Someone calls the company hot-line to file a complaint against Todd.

Thursday, October 28th, 2010

6: Bolloween

Todd explains Halloween to the employees, and throws a party to get closer to Asha.

Thursday, November 4th, 2010

7: Truly, Madly, Pradeeply

As Asha's arranged marriage process moves forward, Manmeet helps Todd infiltrate her list of potential suitors. Rajiv attempts to end Gupta's new-found addiction to chewing paan.

Thursday, November 11th, 2010

8: Home for the Diwalidays

Todd wonders why everyone is well-dressed and finds out it is Diwali. He asks Management if he can give his employees time off for it and is denied. Todd decides to let them leave, and handle the calls himself, while Tonya tries to invite for a few drinks he declines and says he has to work. She suggests he put the call center on voicemail, they have sex in the break room table but is caught by Asha; who comes back to the office to help Todd out. Meanwhile, Rajiv buys a Sari for his fiancee that gets burned by fireworks and he ends up buying an overpriced sari from Madhuri.

Thursday, November 18th, 2010

9: Temporary Monsanity

Todd pressures the employees in attempt to win the Black Friday sales competition. Charlie challenges Gupta and Manmeet to a game of laser tag.

Thursday, December 2nd, 2010

10: Homesick to My Stomach

Todd gets homesick watching his friends on webcam do a tailgate party for their football team. He learns from Charlie that he can watch his favorite football team's game at a local restaurant that has satellite TV. Todd is seen wearing a custom Chief's football jersey, buys a coconut and pretends to score a touchdown. Asha spots him, they talk and he eats the street food she just bought. Asha reminds him he is not used to that kind of dirty food and gets sick before the football game. After a few visits to the toilet he is carried out of the office by Charlie to the restaurant with Manmeet. At the restaurant Todd misses the game spending much time in the toilet both sick and homesick. Rajiv assumes managerial control when Todd becomes ill from street food. Madhuri, Asha, Charlie, Manmeet and Gupta visit Todd after work to have a tailgating party of their own.

Thursday, January 20th, 2011

11: A Sitar is Born

Todd overhears Madhuri sing in the bathroom and tries to coax her into singing in a local talent show. Gupta misunderstands Todd and volunteers himself as lead.

Thursday, January 27th, 2011

12: Sari, Charlie

Charlie discovers Todd and Tonya's relationship when he catches them kissing. Corporate informs Rajiv that the employees will be reviewing him.

Thursday, February 3rd, 2011

13: Training Day

Todd rewards his workers with a retreat. Tonya tries to help Charlie find a date.

Thursday, February 10th, 2011

14: The Todd Couple

Todd suspends Gupta from work after he becomes angry with callers. Manmeet tries to juggle two online Valentine's Day dates.

Thursday, February 17th, 2011

15: Guess Who's Coming to Delhi

Todd is worried about how the workers will behave when his boss visits the call center. Charlie gets in trouble for being culturally insensitive.

Thursday, February 24th, 2011

16: Take this Punjab and Shove it

When an employee quits, Todd jumps on the opportunity to hire someone new, only to have his recruit poached by someone close to him. Gupta finds himself in financial trouble as a result of him moving out of his parent's house into his own apartment, and must find a way to clear the dues.

Thursday, March 17th, 2011

17: Todd's Holi War

Todd discovers another company is hogging the air conditioning, leaving Mid-American Novelties to suffer through the heatwave. Meanwhile, Rajiv struggles to find an original way to propose to his girlfriend.

Thursday, March 24th, 2011

18: Gupta's Hit and Manmeet's Missus

Manmeet makes a video to send to his girlfriend Ashlynn in New York. Meanwhile, there is trouble between Gupta and Rajiv when Gupta accuses Rajiv of hitting him. World Wrestling Entertainment wrestler The Great Khali appears in a cameo.

Thursday, April 7th, 2011

19: Charlie Curries a Favor from Todd

Todd hires Charlie to work for Mid America Novelties. Rajiv attempts a scam, to get money for his honeymoon.

Thursday, April 14th, 2011

20: Mama Sutra

Tonya's mom comes to India and hooks up with Charlie while Todd and Tonya butt heads over Asha; Madhuri tells Gupta his lifeline is short, leading him to undergo a karmic cleanse.

Thursday, May 5th, 2011

21: Rajiv Ties the Baraat (1)

Todd throws Rajiv a bachelor party; Manmeet nervously awaits his American girlfriend's arrival.

Thursday, May 12th, 2011

22: Rajiv Ties the Baraat (2)

Rajiv worries the wedding may be called off, then considers doing so himself; Manmeet is not on the same relationship page as his girlfriend.