update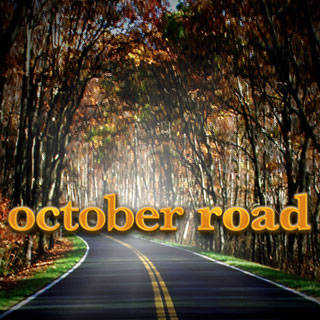 Season 0
not specified

1: Epilogue

not specified

2: Season 2 Bumps in the Road

not specified

3: The Scenic Route: A Behind the Scenes Tour

not specified

4: Road's End: The Final Chapter

not specified

5: October Road: The Journey Begins

not specified

6: Season Two Preview

not specified

7: Season One Bloopers

not specified

8: Season One Deleted Scenes
Season 1
Thursday, March 15th, 2007

1: Pilot

10 years after leaving his hometown, Nick Garrett returns to Knights Ridge, to teach a one-day course at Dufresne College, which he believes is a great way to find out what changes since he was gone. After hurting the ones he loved by writing a book, a best-selling novel, and discovering their secrets, Nick will have to find a way to confront past demons and move on with his life. Nick decides to stay after discovering that his ex-girlfriend, Hannah Daniels, has a 10 year old son named Sam who has a peanut allergy...just like all of the men in the Garrett family.

Thursday, March 22nd, 2007

2: The Pros And Cons Of Upsetting The Applecart

Nick decides to stay in Knights Ridge and tries to convince dean Leslie Etwood to give him a job at the local college, but things keep getting in his way. In a way to get back at Nick for leaving years ago, Eddie pursues Aubrey. Ikey isn't pleased to see Alison and Owen on an annual date. Hannah is mad at Nick after realizing The Commander came in the Veterinary Care with a silly excuse, only to find out if Sam is Nick's son or not.

Thursday, March 29th, 2007

3: Tomorrow's So Far Away

Nick helps Sam get a girl he likes by using a technique from his novel. Physical Phil gets a crush on a pizza delivery girl. Ray wants to buy a house with Hannah. Hannah realizes she still wants Nick. Janet fears Eddie is embarrassed to be on a date with her...

Thursday, April 5th, 2007

4: Secrets and Guys

Hannah and Janet send Sam on a secret mission that leads to a tragic conclusion; Ronnie and Nick find out The Commander's secret; Ikey and Eddie are angry when they find out Big Cat has been stealing their clients; and Physical Phil plans a date with the pizza girl.

Thursday, April 19th, 2007

5: Forever. Until Now

Nick and Hannah bond while waiting for the outcome of Sam's surgery. Eddie tries to deal with the consequences of standing Janet up at their date. Ikey and Alison come to an agreement about their secret relationship. Physical Phil has to find a way to get even with the drunken frat guys that bothered Pizza Girl.

Thursday, April 26th, 2007

6: Best Friend Windows

Nick is torn between Hannah and Aubrey, as Aubrey asks him about his and Hannah's relationship. However, an unexpected visitor occupies Nick. Eddie makes a weird response to a "welcome surprise" by his friends. Physical Phil decides to make a huge change in his life. Ray tells Owen about Alison and Ikey's secret relationship.
Season 2
Thursday, November 22nd, 2007

1: Let's Get Owen

Nick and Eddie go to New York to try bringing Owen back to Knights Ridge and his family. Hannah has to deal with her true feelings for Nick.

Monday, November 26th, 2007

2: How to Kiss Hello

Hannah shares her feelings with Nick and decides to take her life in a new direction. Eddie is having problems showing his feelings for Janet in public. Nick learns that another professor has taken over his class. Physical Phil is on the verge of losing the only connection to the world outside of his house.

Monday, December 3rd, 2007

3: The Infidelity Tour

Owen tries to deal with his wife's infidelity by sending Nick to learn more about it from Ikey. Sam struggles to accept the fact that his mother is getting married. Eddie has a secret that could ruin his upcoming business venture with Nick.

Monday, December 10th, 2007

4: Deck the Howls

Nick is surprised when his father refuses to do the Christmas festivities in the house, and he decides to find a way to learn why. Physical Phil continues his tradition of pretending to be an architect when his parents come for a visit, which irritates his girlfriend. Eddie freaks out when Janet gives him a very personal Christmas gift. Owen and Alison end up in bed, but their happiness as a couple is soon put onto a test.

Monday, December 17th, 2007

5: Once Around the Block

Ray successful ex-wife Christine intimidates Hannah, after she leaves the Cataldo boys in care of an old hippy friend, in order to take a veterinary tech exam. Pizza Girl begs Phil to take her out on a ride with the classic car stored in his garage. Nick sets up Ronnie with Aubrey's friend, but things change when Ronnie realizes he's in love with Aubrey.

Monday, January 7th, 2008

6: Revenge of the Cupcake Kid

Janet and Hannah plan a double date, but their boyfriends can't put their differences behind them. Nick's past comes back to haunt him when he tries to bid on a new project with Eddie, and the person hiring is a man named Cupcake Kid. Ikey decides it's time to reach out to his friends, and Owen is having hard time dealing with forgiveness.

Monday, January 14th, 2008

7: Spelling It Out

Janet is worried because Eddie and her still haven't slept together. Hannah is put in a tough position when Ray tells her that he wants to adopt Sam. Nick thinks that Aubrey is keeping a secret from him.

Monday, January 21st, 2008

8: Dancing Days Are Here Again

The Commander finds out that he is having a health issue. Ray is still trying to convince Hannah to let him adopt Sam. Nick discovers that Aubrey has been secretly visiting her estranged father. Alison and Owen start dating other people.

Monday, February 11th, 2008

9: We Lived Like Giants

Owen, Nick, Ronnie, Aubrey, Gabriel and the Commander take a road trip to find the girl who saved Owen's life, and The Commander uses the opportunity to remind his sons of their childhood, and to finally be able to tell them about his condition. Nick encourages Gabriel to tell the truth about his upcoming departure to his daughter.

Monday, February 18th, 2008

10: Hat? No Hat?

Hannah is troubled when her parents visit to help her prepare for her wedding. Nick learns he's broke. Owen goes out on a date with Jenny, the girl who saved his life.

Monday, March 3rd, 2008

11: Stand Alone By Me

Nick, Phil, Owen and Eddie are shocked when they find out that their childhood crush, Angela Ferilli, is dead. They reminisce about the past they shared together and realize how much Angela affected their lives.

Monday, March 10th, 2008

12: The Fine Art of Surfacing

A visit from Eddie's ex-girlfriend Rory causes problems in his relationship with Janet. Nick receives a great job offer that should take him far away from Knights Ridge. Hannah is arrested for assaulting Ray's ex-wife Christine.

Monday, March 10th, 2008

13: As Soon as You Are Able

A visit from Eddie's ex-girlfriend Rory causes problems in his relationship with Janet. Nick receives a great job offer that should take him far away from Knights Ridge. Hannah is arrested for assaulting Ray's ex-wife Christine.