update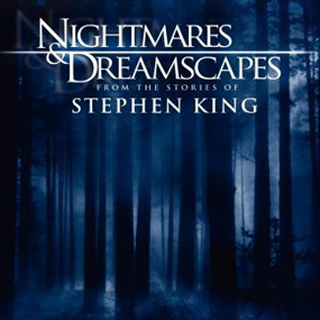 Season 0
not specified

4: Eion Bailey of Crouch End

not specified

5: William H. Macy of Umney's last case

not specified

6: From the mind of Stephen King

not specified

7: Ron Livingstone of The end of the whole mess

not specified

8: The inside look: The road virus heads north & The fifth quarter

not specified

9: Tom Berenger of The road virus heads north

not specified

10: Jeremy Sisto of The fifth quarter

not specified

11: The inside look: Umney's last case & The end of the whole mess

not specified

12: Behind the drama of Nightmares and dreamscapes of Stephen King

not specified

13: Page to picture

not specified

14: Richard Thomas of Autopsy room four

not specified

15: Steven Weber of You know they got a hell of a band

not specified

16: The inside look: Autopsy room four & You know they got a hell of a band

not specified

1: The inside look: Battleground & Crouch End

not specified

2: Battleground special effects

not specified

3: William Hurt of Battleground
Season 1
Wednesday, July 12th, 2006

1: Battleground

A professional hitman, Renshaw, finds himself the target when he kills a toymaker and the victim's mother sends Renshaw a present: a toy foot locker filled with toy soldiers equipped to kill.

Wednesday, July 12th, 2006

2: Crouch End

Lonnie and Doris Freeman, an American couple honeymooning in London, go to a friend's house for dinner but end up stranded in the mysterious Crouch End district. The area is strangely abandoned except for some bikers and children, and the couple soon realize they are trapped in a place where the barriers between dimensions are weak... and they may be the next to be sucked in to somewhere else.

Wednesday, July 19th, 2006

3: Umney's Last Case

In 1938 in Los Angeles, Clyde Umney is a divorced private eye successful with women. On the weirdest day of his life, he sees his world turning upside-down when he discovers that he is a character of a series of novels made-up by the writer Sam Landry. Sam is grieving the loss of his son and wants to swap position with Clyde.

Wednesday, July 19th, 2006

4: The End of the Whole Mess

On November 25, 2011, documentary filmmaker Howard Fornoy tells the story of his family, and more specifically of his younger brother Robert. Bobby, a genius from birth, was troubled with the human race's violent tendencies. One day he discovers a small town in Texas with a non-existent crime rate, and he attempts to find out the cause. He finds chemicals in the local water supply that have a calming effect. In an effort to bring about world peace, he decides to spread the chemical worldwide using a volcano eruption. But Bobby's plan has effects he did not foresee.

Wednesday, July 26th, 2006

5: The Road Virus Heads North

Writer Richard Kinnell is on a way back from a check-up where he's found out he may soon be facing death. On his way home he stops off at a garage sale and is intrigued by a painting of a vicious killer driving a car. Kinnell buys the picture, but as he heads home he realizes that the painting is changing. The car in the picture is following him, and getting closer with every minute...

Wednesday, July 26th, 2006

6: The Fifth Quarter

After a long period in prison, Willie Evans is released on probation and promises a straight life to his wife Karen. However, during the night, his former cell mate, Barney, who had lived with Karen for a period appears in their trailer bleeding. He reveals that he had participated in a 3.5 million dollar heist with four other criminals, the leader hid the money and gave one quarter of the map to each of them.

Wednesday, August 2nd, 2006

7: Autopsy Room Four

A businessman on vacation, Howard Cottrell, is bitten by a snake while playing a round of golf. He is taken to the nearby hospital's autopsy room, but the staff is unaware that he is in a deathlike coma but not dead. Now Howard will have to be a silent but fully conscious witness to his own autopsy unless he can somehow manage to communicate with the doctors.

Wednesday, August 2nd, 2006

8: You Know They Got a Hell of a Band

A wrong turn on a lonely road turns frightening for Clark and Mary Willingham as they stumble upon a town not on any map - Rock and Roll Heaven, Oregon. There is a free concert every night, but the price of admission is high - once the audience enters, it can never leave.