update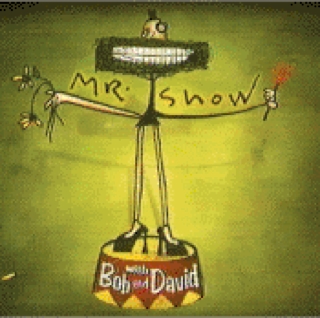 Season 0
not specified

3: The Naked Improv - 1998 Comic Relief Appearance

not specified

5: Before It Was a TV Show

not specified

4: Crack Me Ups! Bloopers Reel

not specified

6: Bob and David at the 1997 US Comedy Arts Festival: Promo 1

not specified

7: Bob and David at the 1997 US Comedy Arts Festival: Promo 2

not specified

8: Druggachusettes

not specified

9: Fuzz The Musical

not specified

10: Original TV Spots

not specified

11: The Grand Reunion

not specified

12: Run Ronnie Run

Run Ronnie Run is a heart warming spin-off from the cult hit HBO series "Mr. Show". It is the story of Ronwell Quincy Dobbs (David Cross), who has a unique talent for getting arrested. A British television personality, Terry Twillstein (Bob Odenkirk), gets sight of Ronnie and brings Ronnie to Hollywood to get him his own TV show. Ronnie must then deal with his new life, while having to deal with missing his ex-wife that he left back home. This is a delightful comedy with countless celebrity cameos by Dave Foley, Jeff Goldblum, and Jack Black to name a few, as well as many appearances by characters from "Mr. Show".

not specified

13: 1997 US Comedy Arts Festival - Promo 1

not specified

14: 1997 US Comedy Arts Festival - Promo 2

not specified

36: Mr. Show Jukebox

Songs from the series, in order: Mr. Show Theme Song, Big Dumb Ape, Blew Moon, David Does Piaf, Don't Beatle Me Up, Dracula's Pajama Party, Eww Girl Eww, Garden of Hate (Bar Band Version), Garden of Hate (Tiny Tim Version), Gettin' The Shaft, Halloween Shindig, Indomitable Spirit (Demo Scratch), Information Jimmy Demo (Part 1), Information Jimmy Demo (Part 2), Kids and Dads, Marilyn Monster (Full Song), Monk Academy, Party Girl, Pharmacist Song, Praying Machine, Red Balloon, Schnell Schnell Deutschland, Superstar Machine (Emotion Lotion), Thank You For The Ride

not specified

15: 1997 US Comedy Arts Festival - On Stage

not specified

16: Original TV Spots - Bite Out Of Herpes

not specified

17: Original TV Spots - Bob vs. David

not specified

18: Original TV Spots - Balance

not specified

19: Original TV Spots - Backwards

not specified

20: Original TV Spots - Elephant

not specified

21: Original TV Spots - Secret Superstar

not specified

22: Original TV Spots - Calendar

not specified

23: Original TV Spots - Chalkboard

not specified

24: Original TV Spots - Who's Better?

not specified

25: Original TV Spots - Jumping

not specified

26: Original TV Spots - Peanut Butter and Egg and Dice

not specified

27: Original TV Spots - Fuzzy Bears

not specified

28: Original TV Spots - Run In Place

not specified

29: Original TV Spots - Big Day

not specified

30: Original TV Spots - Fork In It

not specified

31: Original TV Spots - Bondage

not specified

32: Original TV Spots - Microwave

not specified

33: Original TV Spots - Fun-A-Bration

not specified

34: Original TV Spots - Behind the Scenes With Mr. Show

not specified

35: Season 4 Blooper Reel

Tuesday, October 1st, 1996

1: The Best of Mr. Show: Fantastic Newness

Used as a preview/promo for season 2. Tom plays host Carlin McCree, who hosts "Fantastic Newness". He introduces a product that can be used in the living room, kitchen, and even the bedroom. It's called Mr. Show, and we get to meet the inventors, Bob Odenkirk and David Cross. Carlin says he had no clue that they had, so they show him the "Change for A Dollar Sketch". We then meet Nancy Gumphrey, played by Jill, burning a pot of milk. They show another sketch to the pot. Then they show a sketch that shows why HBO, because they swear alot. Officer Mahoney, played by John, comes down and the boys try to show his police car a sketch to help clean it up. The audience threatens to kill Carlin if they don't get more, so Bob and David show a minute-long preview of Season 2. This doesn't satisfy the crowd, and Carlin is killed.

Saturday, January 4th, 1997

37: The Mr. Show Press Conference

This Mr. Show clip special had clips from season 2, made to promote season 3.

Thursday, October 1st, 1998

2: The Best of Mr. Show: The Incredible, Fantastical News Report

Another compilation episode, featuring some of the best skits of season 3, including Cockring Warehouse, Tittannica, and America Will Blow Up the Moon. The sketches are strung together by footage from a 70's News Show, with voices dubbed by Bob, David, John, Jay, Jill and Brian.

Saturday, September 21st, 2002

39: Mr. Show - Hooray For America!!!

In September 2002, original cast members Bob Odenkirk, David Cross, John Ennis, Brian Posehn and Stephanie Courtney toured in a show called Mr. Show: Hooray for America!!!. The two-month stint included "distillations" of some of Mr. Show's sketches, such as "The Burgundy Loaf", and new material. In the stage show, the large fictitious mega-corporation Globo-Chem ("We own everything, so you don't have to!") sponsors David's stage persona to run for the presidency of the United States.

Wednesday, May 13th, 2020

38: The Mr. Show 'Kidz With Beardz' Presents: Come Join Our Zoomtacular Annual Business Call!

Bob Odenkirk and David Cross are getting the Mr. Show gang back together for a special event type of thing to benefit LIFT, the national organization empowering families to break the cycle of poverty. Featuring Paul F. Tompkins, Scott Aukerman, Tom Kenny, Jill Talley, Jay Johnston, Brian Posehn, Brett Paesel, and John Ennis. With music by Nobel Prize winner Eban Schletter.
Season 1
Friday, November 3rd, 1995

1: The Cry of a Hungry Baby

Ronnie Dobbs for the National Entitilitus Foundation > Bob and David take audience suggestions for the show > "Hitler Sings" > Father Jim, progressive priest, meets an asshole at a party > Change for a Dollar > Ronnie Dobbs – HBO presents "Natural Born Drunk: The Ronnie Dobbs Story" > Incubation Pants.

Friday, November 10th, 1995

2: What to Think

Senator Tankerbell tells "the joke" to underline the inherent perils of federal arts funding > David wears a shock collar to monitor his performances > Ole Swerdlow, folk puppeteer > "Golden Books for Seniors" > The "What to Think" Network's "Good News" program > "Overcome" Renouncing Homo-sin-uality > "The Bible Machine" presents Marshall, the 13th apostle > Voiceover king > "Globo-Chem" advertising presentation featuring Pit-Pat, the pansexual spokescreature > "The Joke: The Musical" with the U.S. Senator Seal of Approval.

Friday, November 17th, 1995

3: We Regret to Inform You

The Unauthorized Biography of Mr. Show > Bob's mail-order bride > "Kiss to prove you're not gay" > The gay porno film > The honeymoon couple > The "Third Wheel" > "Screwballz," the sex partner dating show > Video complaints > Borden Grote, celebrity film extra, goes all the way for a role in a mental institution > Soul singer Larry Black performs "We'll Make Love Tonight" > The "Supermodel Calling Service" > "My Film Festival."

Friday, November 24th, 1995

4: Who Let You In?

Must-see TV – Pope flees homicide accusations in popemobile > A pope expert speaks > Larry learns guitar > I.D.S. (Imminent Death Syndrome) > The trial of the millennium > "Spank," a performance artist, tries to make his statement on the American flag > "Spank" has his day in court > Courtroom experts > The Founding Fathers: A History of the Flag > The Museum of History.
Season 2
Friday, November 15th, 1996

1: Now, Who Wants Ice Cream?

Mr. Show becomes a sovereign nation > Mountain Dougie part 1 > The Peterson Family News > Thrilling Miracles > 8-in-1 Super Pan infomercial > Only the British can fly > New Freelands, Montana: Mountain Dougie part 2 > U.S. Customs > "Take Back the Streets" with F.F. Woodycooks > The Independent Nations Games > The Standoff: Day 4.

Friday, November 22nd, 1996

2: A Talking Junkie

David affects an English accent > "Mr Junkie: The Talking Junkie" > Adopted son > The red balloon > Mom and pop porno store > Three Times One Minus One on "The White People Co-Opting Black Culture" Network > "Rap: The Musical" > The Homage Awards > HBO's Creepy Peeping Videos.

Friday, November 29th, 1996

3: The Biggest Failure in Broadway History

Waiting for David > The Generation Gap > "No Adults Allowed" - Talking to Teenagers > Slacker discrimination > The New Ku Klux Klan > American Ad Awards: NAMBLA "We're Not Killers" > "Drunk Cops: Hammered in Detroit" > Nathan's pet iguana > "Jeepers Creepers - Semi-Star" the musical > Offensive ending.

Friday, December 6th, 1996

4: If You're Going to Write a Comedy Scene, You're Going to Have Some Rat Feces in There

Mr. Show goes public and opens up the floor for questions from you, the shareholders > Child labor script writers > Van Hammersly, champion billiard player > "We love our gay son" > "Work is play!" Greg Sniper, principal stockholder of Mr. Show, plays a visit to the set > Downsizing > The new economics of child labor > Senator Tankerbell speaks > GloboChem presents "San Francisco: The Theme Park" - Family Friendly!

Friday, December 13th, 1996

5: Operation Hell on Earth

Bob and David's daughter, Superstar > Deprived youth > "America First - Operation Hell on Earth" > Anchor family divorce > The basketball recruiters > Blame-a-thon '96 Presents Fartin' Gary > Fartin' Rudy in "Second Wind" > Return of Superstar.

Friday, December 20th, 1996

6: The Velveteen Touch of a Dandy Fop

Good deeds for charity > Helping the non-handicapped > Subway scene > Dr. Sammy's "Old Lady, Biker, Gay Guy, Japanese Man: The 4 Voices Within" > The last donut > Dickie Crickets, The King of Megaphone Crooners > Who greenlighted "Coupon: The Movie?" > The trial > The trailer > The testimonials.
Season 3
Friday, September 12th, 1997

1: Heaven's Chimney

Up Heaven's Chimney led by "The Bob" > Deprogramming > Life after Mr. Show > Crazy Religious Beliefs > "Watch us have sex" > The Devastator > Directions > The 12th Annual Educational Film Festival: The Limits of Science > Hail Satan Network.

Friday, September 19th, 1997

2: Peanut Butter, Eggs, and Dice

A Very Special Episode > David comes out > Off to see the ratings man > Santa's secret > Tatiana the Weather Hermaphrodite > Cock Ring Warehouse > Best friend's marriage announcement > "Fuzz: The Musical" > The Brave Choice Awards > "The Bob Lamonta Story" > Everyone's a winner.

Friday, October 3rd, 1997

3: Oh, You Men

"Who wants a banana?" > Taping "The Lost Episode" with The Mayor of Television > Entertainment 4 Every 1 Productions > East Coast/West Coast ventriloquist feud > Watch more TV > The hanged man > The Delongpre Dannon Show > Ol' Fisherman's Sticky Pads > Lie Detector > Tee-Vee T.V.: The Time Caplet with Sam and Criminy Crafft > "Druggachusettes" > Losing "The Lost Episode" > "Who wants a banana?" reprise.

Friday, October 10th, 1997

4: Flat Top Tony and the Purple Canoes

Mr. Show Morning Show: The Womyn's Solidarity Collective > "Got a Good Thing Going" - The Beetletown Players > V-TV presents "Smoosh" and "Norma Jean Monster" > Young people and their companions > Nooz 6 Blooperz! > Wee-Time Toddler Wear sales meeting > Predicting the future of fashion with Nostradamus > Indomitable Spirit > Apocalypse Drill > "Smoosh" on the moon.

Friday, October 24th, 1997

5: Please Don't Kill Me

The swearing jar > "Swear to God" with The Reverend Winton Dupree > Landlords > The Fad 3 > Hunger strike > Mustard and Mayonnaise > The Dr. X Annual Save the Earth Telethon > Mustmayostardayonnaise.

Friday, October 31st, 1997

6: Goin' on a Holiday

Our families are here tonight > The Coming Age War > A world run by old people > Secret love > Photo shop > "America will blow up the moon" > You're fired > Don Pratt > "Seventies Movie Classics: Bare Ambition & Streak-Dome '97" > Goin' on a Holiday > A kinder, gentler Mr. Show.

Friday, November 7th, 1997

7: Bush is a Pussy

Kedzie Matthews understudies for David > David fires Bob and David > The value of human worth > Value Magazine > The ex-Siamese twins > Bad News Breakers > 24 is the highest number > The Great Bilouza > Mediocrity > Kedzie on Dr. Katz's Couch.

Friday, November 14th, 1997

8: It's a No Brainer

Puny Devil Knee-High Socks> Protesters > Channel 6: We Make the News > "Culture Hunt" > Jack WEbber > Dream of a Lifetime > Catholics and Satanists united > "Let's Get Sloppy!"

Friday, November 28th, 1997

9: A White Man Set Them Free

Viewer Hate Mail > The Mr. Show Cracker Barrel > The Misunderstood Letters of Sharwood Lish > Marriage-Con & Boat Show > Biosphere > Corporate ice cream > The Last Indian > Dying asshole in Vietnam > Night Talk with the Senate Subcommittee > All-Star Solute to The Last Indian > Les Balloons Sportif.

Friday, December 5th, 1997

10: The Return of the Curse of the Creature's Ghost

Guidance Counselor Moe Phelps > Gus Kryzinski, Night Janitor > Local World News > Blowjob > Titanicca > The Pre-Taped Call-in Show > The Return of the Curse of the Creature's Ghost > Chip on the Shoulder Club > A Trip Up My Mother's Ass > The Moe Phelps Guide to Classical Acting.
Season 4
Monday, October 26th, 1998

1: Life Is Precious and God and the Bible

Bob catches David high on "medical marijuana" > Law School: Bob abducts a student and takes his place as assistant to the law-school teacher > Lifeboat: Todd the talk-show host takes his show to the "sea."

Monday, November 2nd, 1998

2: Show Me Your Weenis!

Swingin' Show, The Mr. Show Boys Clubs, Get Your Own News, Fucked Up Kidnapper, Underground Tapes, Wycked Sceptre Party Tape, Menocu Buttplugs, House of the Future, and Racist in the Year 3000.

Monday, November 9th, 1998

3: Rudy Will Await Your Foundation

The Mr. Show ""Bloopers"", Superstar Machine, Phone Sex, Audition, Dad and You, The Pre-Natal Pageant, and the Burgandy Loaf 6-Star Resturant.

Monday, November 16th, 1998

4: The Story of Everest

Lethal Injeksion Production, Sweetie Pie Jonus-New Executive Producer, Larry Cleest:Rapist, Pallies, The Story of Everest, The Movie: The Story of Everest.

Monday, November 23rd, 1998

5: It's Perfectly Understandishable

Rehersal Tape, In the Cage, Trainers to the Stars, Blind Love, Emergency Psychic Hotline, 18 Dalai Lama, Camp Monk Academy, and an In the Cage reprieve.

Monday, November 30th, 1998

6: It's Insane, This Guy's Taint

Tribute, Fat Intervention, Interventionist Intervention, Car Wash Change Thief Action Squad, The Men's Club of Allah, Kalunda, Taint Magazine.

Monday, December 7th, 1998

7: Eat Rotten Fruit From a Shitty Tree

The Mr.Show Watercooler, Smarty Pants, International News Report: The President has Farted, God's biography ""My Life in the Fastlane"", Probings

Monday, December 14th, 1998

8: Like Chickens...Delicious Chickens

David waits for his reparations from the Swiss Government, Edmund Premmington addresses the Gentleman's Hunt Club, Plane Crash, The Civil War:The Re-enactments.

Monday, December 21st, 1998

9: Sad Songs are Nature's Onions

David decides to run away, The Reason Behind the Content Warnings, Inside The Actor with Cyrus, Land of the Lost Parody, The Teardrop Awards.

Monday, December 28th, 1998

10: Patriotism, Pepper, and Professionalism

Globo-Chem Corporate Retreat; Honesty in Motion; Fenderman Documentary; The Week Apart; Marilyn Monster "Fun-Ployees" Training Video.