update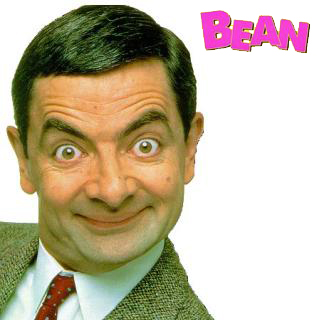 Season 0
Monday, November 5th, 1990

1: The Library

Mr. Bean visits the library, where somebody is foolish enough to let him read a book - one that must be handled with gloves only.

Friday, March 15th, 1991

2: Mr. Bean's Red Nose Day

Bean is in a police station because his car has been broken into. He wears a red nose and has other red nose items, including a mug and a codpiece.

Friday, November 15th, 1991

3: The Bus Stop

Having already missed one bus, Mr. Bean is bound and determined to catch the next one, no matter who suffers in the process.

Friday, April 17th, 1992

4: I Want To Be Elected

Mr. Bean stands for parliament in general elections as the single member of "The Bean Party". The sketch makes fun of the ruthless campaigning used by some activists, as Bean forces his way into peoples' homes or buys their votes by offering them money and a television, sticks his poster on a coffin that is being taken to a waiting hearse and after being spotted by a press photographer gives a lollipop to a random child then forcibly takes it back after the photographer departs, and finally replaces the ballot box with the one brought by himself, full of votes for him only. In the background a band called 'Smear Campaign' (with Bruce Dickinson on vocals) plays an Alice Cooper cover "(I want to be) Elected".

Tuesday, December 29th, 1992

16: Turkey Weight

In this extra scene from "Merry Christmas, Mr. Bean" it is shown how Bean attempts to win the turkey he eventually ended up wearing on his head.

Friday, March 12th, 1993

5: Blind Date

In this episode Mr. Bean. Atkinson's contribution was an 18-minute spoof of the popular series Blind Date, the British equivalent of The Love Connection. Posing as an eligible bachelor, Mr. Bean answered the questions posed by potential dates with utter -- and ridiculous -- honesty, then made a shambles of a romantic night on the town.

Monday, January 10th, 1994

17: The Chair

In this extra scene from "Do-It-Yourself Mr. Bean" Bean is shopping in a department store, when he sees a chair that he wishes to purchase.

Friday, March 17th, 1995

6: Torvill & Bean

In the comedy sketch "Torvill and Bean" -- a play on Torvill and Dean, a famous figure-skating team -- the luckless Mr. Bean wreaks his usual havoc when he attends a performance of "Show on Ice."

Friday, December 15th, 1995

7: The Best Bits of Mr. Bean

Mr. Bean and Teddy venture into the attic to look for an umbrella and uncover items from past experiences, like the time Mr. Bean had to dress himself on the way to the dentist, or the time he fell asleep in church or when the Christmas turkey wound up on his head and even the time a tank crushed his Mini.

Thursday, July 3rd, 1997

8: Bean

Mr Bean, a lazy security guard, is sent to the United States to bring a valued painting to a museum in Los Angeles. The mishaps in his journey lead to comical adventures.

Thursday, July 31st, 1997

9: The Story of Bean

A little documentary which simply chronicles the story behind the television series "Mr. Bean" (1989) and the film Bean (1997), released that year. It tells the story of Rowan Atkinson and shows clips of him as a child, as well as shows skits from "Not the Nine O'Clock News" (1979) and "Black Adder, The" (1983) and, of course, sketches from the Mr. Bean series and clips from the film.

Friday, March 16th, 2007

10: Mr. Bean's Wedding

Mr. Bean causes havoc at a wedding by repeating the vows after the priest instead of the groom, resulting in a fight, the bride being struck, and by his alarm clock sounding during the ceremony. This was specially made in 2007 for the The Big One Comic Relief telethon.

Thursday, March 22nd, 2007

11: Mr Bean's Holiday

Mr. Bean wins a holiday to France and sets out on his journey. Once there, he unknowingly separates a father-son duo and then decides to reunite them.

Saturday, July 28th, 2012

14: 2012 Summer Olympics Opening Ceremony

Mr. Bean tries to accompany the London Symphony Orchestra in performing the theme from Chariots of Fire while taking pictures with his phone and blowing his nose. Then, in a filmed sequence shown during the performance, Bean daydreams of joining the runners in the movie's iconic scene along West Sands at St. Andrews.

Friday, March 13th, 2015

12: Mr. Bean: Funeral

Mr. Bean returns in a sketch for Comic Relief to celebrate his 25th anniversary.

Saturday, September 5th, 2015

13: Mr. Bean's 25th Anniversary: Mr Bean Drives His Car Again!

Mr. Bean celebrates his 25th anniversary driving around in London in his Mini: he drives through St. James's Park, where he stops for a selfie with the London Eye and buys an ice cream. Then he careers down with a police escort, to a halt outside Buckingham Palace where a pile of small presents and a large crowd of sightseers await and he is given a huge cake in the shape of the number '25'. In the end, Bean gives some interviews and poses for pictures.

Saturday, December 5th, 2015

18: Mr. Bean 25th Anniversary Behind The Scenes

Wishing it was Mr Bean's Birthday again? Check out this EXCLUSIVE behind the scenes look at Mr Bean's 25th Anniversary appearance outside Buckingham Palace with interviews from the production team who made it happen!

Monday, January 11th, 2021

15: Happy Birthday Mr. Bean

A celebratory documentary looking back at the 30 years since comedy legend Mr. Bean landed on our screens. This documentary explores the magic behind this unlikely hero.
Season 1
Monday, January 1st, 1990

1: Mr. Bean

Story 1: Mr Bean sits an exam and is blissfully happy until, too late, he realizes that he has studied the wrong maths equations. Story 2: Mr Bean tries to change into his swimming trunks at the beach without anyone seeing his bits. Story 3: Mr Bean tries to stifle a sneeze in church.

Monday, November 5th, 1990

2: The Return of Mr. Bean

Mr. Bean goes to a department store and buys various items. Afterwards, he goes to a fancy restaurant where he tries to dispose his awful-tasting meal. Finally, Bean goes to a Royal greeting and gets into mischief.

Sunday, December 30th, 1990

3: The Curse of Mr. Bean

Mr. Bean goes to a swimming pool, where he finds himself scared to death on the high diving board. When he's done, he tries several different ways to get his car out of the parking garage when he doesn't have enough money to do it the normal way. After that, he sits on a park bench and uses an unusual method of making himself a sandwich. Finally, he goes to a movie theater and tries to survive a terrifying horror with his girlfriend.

Tuesday, October 15th, 1991

4: Mr. Bean Goes to Town

Mr Bean purchases a new TV, only to experience a spot of reception trouble. He then takes a stroll in the park to try out his new camera, which is promptly stolen. This leads to an identity parade, where Bean does his best to discover the identity of the camera thief. Later, Bean's night on the town spells disaster for a stage magician. Lastly, Mr Bean shows of his dancing skills at Club Phut.

Wednesday, January 1st, 1992

5: The Trouble with Mr. Bean

Mr Bean, late for his dental appointment, tries to get dressed and clean his teeth whilst on the way. After arriving just in time for the appointment, he ends up administering an anesthetic to the hapless dentist. After visiting the dentist, Bean has a picnic in the park, where he tangles with a pesky fly and a remote-control toy boat.

Monday, February 17th, 1992

6: Mr. Bean Rides Again

At the bus stop, Mr Bean tries his best to revive a heart attack victim before using an ambulance to jump-start his own mini-car. Later, when posting a letter, he loses his only stamp, but that doesn't stop him from sending his letter on its way. Whilst preparing for his holiday, Mr Bean demonstrates a novel (if not entirely efficient) method of packing, then disposes of a bothersome train passenger, and tries to entertain an airsick boy during a plane flight.

Tuesday, December 29th, 1992

7: Merry Christmas Mr. Bean

While Christmas shopping, Mr Bean purchases a bulky string of tree lights before making a shambles of a department store toy section. He later manages to acquire a free turkey and Christmas tree, and attempts to conduct a Salvation Army band. Finally, during Christmas dinner, Bean has quite a surprise in store for his long-suffering girlfriend.

Wednesday, February 17th, 1993

8: Mr. Bean in Room 426

Mr. Bean goes to a hotel where he causes trouble and seeks competition in his hotel neighbor. After he eats some spoiled oysters, he wakes up at night from some loud noise and ends up being locked out of his room.

Monday, January 10th, 1994

9: Do-It-Yourself Mr. Bean

Mr. Bean hosts a New Year's party with his friends Rupert and Hubert. The next day, Bean buys many tools and appliances to decorate and improve his apartment. He decides to paint his room by covering everything in newspaper and using a firecracker to blow up a paint can and paint his room.

Monday, April 25th, 1994

10: Mind the Baby, Mr. Bean

Mr. Bean spends a rather unusual day at a funfair with a rather unusual baby which he accidentally found. Mr. Bean tries to find ways to keep the baby occupied while he goes on his rides. In the end, the baby is returned to its mother and Mr. Bean calls it a day.

Wednesday, October 26th, 1994

11: Back to School Mr. Bean

Mr. Bean goes back to school for an orientation day while he sees the different projects and activities in which he gets into mischief.

Wednesday, September 20th, 1995

12: Tee Off, Mr. Bean

Mr. Bean goes to a laundromat where he washes his clothes and other various items and ends up causing trouble with the other people and their laundry. Afterwards, he heads off to a mini golf course where he plays but ends up following the ball everywhere it goes and continues to play even when it's not on the course.

Tuesday, October 31st, 1995

13: Goodnight Mr. Bean

Mr. Bean goes to the hospital to have a tea kettle removed from his hand, and while trying to get in faster ends up with him getting in much later. Afterwards, he decorates a British guard so that he can take a picture. After he has insomnia, Mr. Bean finally finds the solution and falls asleep.

Wednesday, November 15th, 1995

14: Hair by Mr. Bean of London

When Mr. Bean has to wait a few minutes for the hairdresser who's called away by the telephone, he starts playing barber, so three consecutive costumers have their hair done by him, but his inverse Midastouch strikes again: woe their hair and the real hairdresser they complain to! Next he goes to a pet show, starting of by cheating at a dexterity game by unplugging the fault-detection and next deciding to play 'hit the headmaster' not just with the provided wet sponges, but wit anything not too heavy for him to lift; then he enters his teddy-bear for the obedience test (meant for kids' dogs). In the train station he stops at nothing to get on without a ticket, and succeeds as a crawling sack of post - but on which train is he carried?