update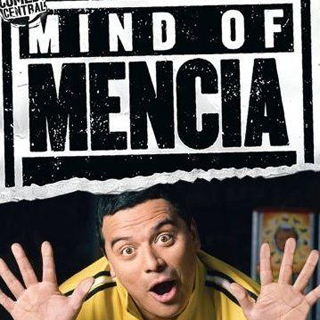 Season 1
Wednesday, July 6th, 2005

1: Episode # 101

In the premiere episode, Carlos enlists the help of fellow comic Peter Boyle to read his hate mail, and then he investigates racist road signs.

Wednesday, July 13th, 2005

2: Episode # 102

Carlos uncovers the world of ""Desperate Gardeners"" and destroys all of your useless, outdated technology with the help of ""mini-Gallagher.""

Wednesday, July 20th, 2005

3: Episode # 103

Carlos "Out the Beaner", lays down the law with stupid people as "Judge Carlos", and discovers the last white guy left in the barrio.

Wednesday, July 27th, 2005

4: Episode # 104

"Cultural Explorer" Carlos takes a look at West Hollywood's gay community, and later reveals his new clothing line, "Sean Juan".

Wednesday, August 3rd, 2005

5: Episode # 105

Carlos' Supreme Court picks; ``Carlos the Dinosaur'' teaches kids about real life; ``Why Aren't You Working'' questions, where Carlos goes around the town and bugs people that don't have jobs.

Wednesday, August 10th, 2005

6: Episode # 106

Carlos and rapper Method Man tackle the ""N word''; Carlos reviews summer movie releases.

Wednesday, August 17th, 2005

7: Episode # 107

Carlos explores what women want in a man, with his special guest Gene Simmons. Carlos also redefines holidays, including Father's Day, Easter, Christmas/ Hannukah, and Thanksgiving.

Wednesday, August 24th, 2005

8: Episode # 108

Carlos hosts the first ""Dee Dee Dee"" Awards, and with the power of freedom of speech let's anyone say anything.

Wednesday, August 31st, 2005

9: Episode # 109

This episode starts out with Carlos giving some helpful advice about tattoos. Carlos learns to tyalk to animals. We have a segment of the ""Newlymets"". Carlos finishes off the episode with another great segment of ""Why the **** is this News?""

Wednesday, September 7th, 2005

10: Episode # 110

The Wetbacks face off against the Crackers in a Biker Build Off. Carlos goes on a rant about white people being too ""soft"" on their children. Carlos goes to a Renaissance fair. He ends this episode with a set of his ""Badass Back to School"" equipment, and we find out who won the Biker Build Off.

Wednesday, September 14th, 2005

11: Episode # 111

Carlos openly proclaims that the American goverment has not been too smart lately with everything that happened with hurricane Katrina. Next, Carlos compares how black and white people do the same things, but what they do are named differently. Carlos has a segment of ""Ask Whitey"", where Asian, black, and Mexican people ask White people questions. Finally, Mariachi Carlos sings songs to various people about how crazy what they're saying is.

Wednesday, September 21st, 2005

12: Episode # 112

High gas prices are a target this week as Carlos sets out to see what people will do to save money at the pump. Also featured is Carlos's brother Joseph with his new DVD collection.

Wednesday, September 28th, 2005

13: Episode # 113

In this episode Carlos goes over the first season and picks out the "Best Of" moments. He gets a few visitors from pervious episodes.
Season 2
Thursday, March 23rd, 2006

1: Episode # 201

Carlos is back for an all new season of Mind of Mencia! This week Carlos takes a look at all the stupid stuff that people did while he was gone. He reveals his big secret in "Wetback Mountain," and he gives a piece of his mind to people who are trying to hang onto their youth in "Act Your Age."

Thursday, March 23rd, 2006

2: Episode # 202

Carlos takes on Kanye West and his huge ego. Then he hits the streets to see if it's harder out there for women or men. He also introduces us to some lady dancers who are not only big on moves but big in a lot of other ways too.

Wednesday, April 5th, 2006

3: Episode # 203

Carlos and special guest Dave Attell argue about who has it harder out there, pimps, hos or "whorves". He also heads to East L.A. to teach some gang bangers the proper way to commit a drive-by. Finally, he gives us an inside look into what immigrant convenience store clerks really think about their customers.

Wednesday, April 12th, 2006

4: Episode # 204

Carlos discusses the hot topic of illegal immigration, hits the streets to investigate if people should hit their kids, and gives spring break tips like only Carlos can. Also, Peter Boyle pays Carlos a visit to help translate the real meaning of bumper stickers.

Wednesday, April 19th, 2006

5: Episode # 205

Carlos hits the street to find out what the race of the future will look like. He also helps people with their problems through the use of cool R&B slow jams as "Carlos Smoov

Wednesday, April 26th, 2006

6: Episode # 206

Carlos sends a special message to baby "Tom-kitten". Then he gives us his answer to The Soprano's with his own version of the show featuring a Hispanic crime family (with special guest star Cheech Marin!). He also whips a group of whiny, stupid people into shape as Drill Sergeant Carlos.

Wednesday, May 3rd, 2006

7: Episode # 207

Carlos hits the streets to ask the question "Is Gay the New Black?," featuring special guest star Robin Williams. He also investigates what it would have been like if Jesus was married, in the first installment of "That's F*cking Historical

Wednesday, May 10th, 2006

8: Episode # 208

Carlos takes a look back with some of his favorite moments from the second season so far and explains how he came up with all this crazy stuff. Featuring clips from "Wetback Mountain," his Kanye West video, and "It's Hard out Here for a Ho" with Dave Attell.

Sunday, July 9th, 2006

9: Episode # 209

Carlos takes us back in time and reveals the real reason the founding fathers signed the 1st Amendment. Also, Carlos introduces a new "music video" by the mega rich "Sheik Rapper." And Carlos shows his new line of workplace gadgets that help with the real problems of office politics.

Sunday, July 16th, 2006

12: Episode # 212

Carlos hits the streets to advise people how to make their dreams come true, and talks with Tony Hawk about how to realise his own skateboarding dreams. Also, we take a trip into the future to see what the news will be like in 2026.

Sunday, July 23rd, 2006

15: Episode # 215

Carlos makes his own version of "Pirates of the Caribbean" starring Jamie Kennedy and Tracy Morgan. Also, Carlos discovers if stereotypes are real by finding unwitting "athletes" to participate in the first-ever installment of "Stereotype Olympics."

Sunday, July 30th, 2006

11: Episode # 211

Carlos hits the street to ask people what America would be without immigrants. Then, the ghost of Johnny Cochran is back for another installment of "Judge Carlos

Sunday, August 6th, 2006

13: Episode # 213

Carlos makes his famous" DeeDeeDee" catch phrase into a music video. Also, Carlos hosts a wrestling tournament that pits religious icons against one another. Tune in to find out who will rule the earth in Carlos' "Royal Religious Rumble" with co-host WWE's The Edge.

Sunday, August 6th, 2006

14: Episode # 214

Carlos takes on advertising and shows what ads would look like if he infused them with truth. Also, Carlos spies on his biggest fan's middle-class white neighbors in a segment Carlos calls "Watching Whitey."

Sunday, August 27th, 2006

10: Episode # 210

Carlos treats a group of senior citizens to a sushi dinner to find out what they think about sex, politics, and immigration in "Dinner for 75 and Over." Also, Carlos takes a look at classic fairy tales and retells them with a Mencia spin

Sunday, September 3rd, 2006

16: Episode # 216

Carlos takes a look back at the most memorable moments from the latest season of his hit show.
Season 3
Sunday, April 1st, 2007

1: Episode #301

Carlos is back for a Third Season on Comedy Central. Carlos's favorite talking dinosaur, Carlosaurus Rex makes a come back to sing his songs for the children.

Sunday, April 8th, 2007

2: Episode #302

Carlos introduces us to his version of Barato. Also included, Carlos heads to TV central for Iraq E!TV, to show us the new line-up for fall.

Sunday, April 15th, 2007

3: Episode #303

"Are You Smarter than a Wetback?" is a new game show that Carlos introduces. Rappers in prison and their experience behind bars, is the music video of the week.

Sunday, April 22nd, 2007

4: Episode #304

Is America ready for a Female President? That is the question that Carlos hits the streets with. Special guests and a poetry event also take center stage.

Sunday, April 29th, 2007

5: Episode #305

Freedom of Speech does it really exist or is it a figment of our imaginations? Club Carlos is introduced with the motto: No Shirt, No Shoes, No Dee-Dee-Dees!

Sunday, May 6th, 2007

6: Episode #306

Carlos takes on a sensitivity training class. Then the world of speed dating where Carlos dresses as a Latina woman trying to find a mate.

Sunday, May 13th, 2007

7: Episode #307

The first Latino Super-Hero makes his way onto the screen, Beaner Man! Then Carlos talks with some friends about jobs they should never have.

Sunday, May 20th, 2007

8: Episode #308

It's highlights from Season 3 with original introductions by Carlos.

Sunday, July 8th, 2007

9: Episode #311

Carlos sets out to expose why people don't want to vote for a black president. Carlos also knows he is not the only one to do racial impressions, so he hits the streets to prove his point.

Sunday, July 15th, 2007

10: Episode #314

Judge Carlos makes a come back...to set everyone straight and lay down the law Carlos Style. Wild animals do not belong in the city, but Carlos is going to show a few how to.

Sunday, July 22nd, 2007

11: Episode #309

The winner of the "So You Think You Can Rant" challenge is announced. The Arab store clerk Punji returns, and Bill Clinton as the "First Man" as seen through the eyes of Carlos.

Sunday, July 29th, 2007

12: Episode #310

A spoof of the television shot "Man vs. Wild" is profiled, which lands its host in the ghetto. Paging Dr. Carlos, don't worry he gets all the Dee-dee-dees.

Sunday, August 5th, 2007

13: Episode #312

Kids and video games are making the news. So Carlos wonders how the kids would handle being sucked into a video game. We see the return of "Future News" with Fernando Rosalindo.

Sunday, August 19th, 2007

14: Episode #315

The Stereotype Olympics are back, as Carlos lights the ceremonial torch. Then Carlos has to ask why there are not more Mexicans in movies.

Sunday, August 26th, 2007

15: Episode #313

Is the human race worth saving, Carlos and the aliens set to find out. Dean Carlos has some heart to heart straight forward guidance for some high school students.

Sunday, September 2nd, 2007

16: Episode #316

Holding tradition Carlos takes a look back at season 3. Highlights from the season are profiled.
Season 4
Wednesday, May 21st, 2008

1: Episode #401

Carlos has developed a children's show that he hosts, that takes place in unknown but developing nation. We also get a peek at what an office would be like if he had Alzheimer's.

Wednesday, May 28th, 2008

2: Episode #402

High gas prices are on Mencia's list this time. He tackles the world of the hybrid-car driver. He has a service offer to the celebrities who decide to fan their drug problem to the world.

Wednesday, June 4th, 2008

3: Episode #403

Want to know how to make a woman happy? Carlos has some suggestions, if you dare. A gay man is a small town is honored in a Carlos way.

Wednesday, June 11th, 2008

4: Episode #404

The rising cost of rice, creates new crime. Who had it harder as kids, teens, or the elderly? Carlos seeks to find out.

Wednesday, June 18th, 2008

5: Episode #405

What would you do if you were president? Carlos hit's the streets and asks that very question. Are you a home owner in crisis? Carlos has some helpful hints.

Wednesday, June 25th, 2008

6: Episode #406

Carlos takes us though the ins and outs of a gay wedding. While Emo Carlos, makes an appearance he sings to us about his mom hugging him...a lot!

Wednesday, July 2nd, 2008

7: Episode #407

Carlos give a tribute to the late George Carlin. With the help of Robert Schimmel they take a look at Jewish culture. Carlos loves the USA and he tells us why.

Wednesday, July 9th, 2008

8: Episode #408

Carlos takes us on a trip to a racial theme park. He also uses a time machine to go back in time and help man kind.

Wednesday, July 16th, 2008

9: Episode #409

Carlos is back reading hate mail. Also, speaking ill of the dead, will they do it? Carlos takes to the streets to find out.

Wednesday, July 23rd, 2008

10: Episode #410

Wrapping up the forth season, we meet a breed of superheroes with disabilities that fight crime. An elderly black man is the center point of a blues song that Carlos sings.