update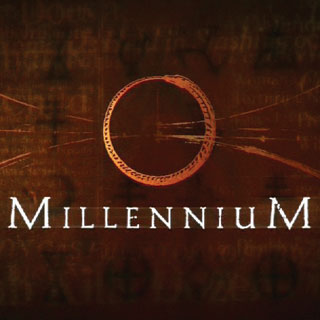 Season 0
Sunday, November 28th, 1999

1: Millennium (The X-Files)

As the year 2000 draws closer, FBI agents Mulder and Scully are up against a man from the Millennium Group who believes that he can bring about the end of the world on the 31st of December if he resurrects 4 former members from the dead. To gain more insight into the group and its practices, Mulder and Scully enlist criminal profiler Frank Black to assist them in the investigation.

Friday, March 20th, 2020

2: Millennium After the Millennium

Millennium after the Millennium is a new documentary focused on Chris Carter's landmark television series Millennium. Set twenty years after the show ended, we look back at what makes Millennium so enduring to fans and critics alike.
Season 1
Friday, October 25th, 1996

1: Pilot

After ten years as an FBI profiler, Frank Black relocates from Washington to his hometown Seattle with his wife, Catherine, and their daughter, Jordan. However, a series of sexual homicides coaxes him from retirement. He offers his support to Lt. Bob Bletcher, a former colleague with Seattle's Homicide Unit, and is in turn offered the resources of the mysterious Millennium Group, a corps of former law enforcement officers. Blessed - or afflicted - with an uncanny ability enabling him to see the world through the killer's eyes, Frank must pursue the murderer through Seattle's underground scene and stop his killing spree.

Friday, November 1st, 1996

2: Gehenna

When human ashes are found in a local park, Frank Black joins an investigation that leads to a cult that kills it's unwilling members. When Frank gets closer to the cult leader he sees the force that may be influencing the killers he seeks.

Friday, November 8th, 1996

3: Dead Letters

Against the initial resistance of the Group, Frank travels to Portland, Oregon, to investigate a murder at an animal shelter. He meets with Jim Horn, a profiler and candidate for the Millennium Group. But Horn is distracted by his imminent divorce, and there is tension between him and Frank. When the killer strikes again, Horn is losing control, and Frank not only has to catch the killer who leaves grisly messages on his victims, but he has to contend with Horn as well who is more than ready to stop the murderer with terminal prejudice.

Friday, November 15th, 1996

4: The Judge

When Annie Tisman opens a parcel containing a human tongue, Bob Bletcher asks Frank Black for help. This is the fourth package within the last four years containing fingers or other members cut from living victims - but no bodies were ever found. When Cheryl Andrews, expert pathologist of the Millennium Group, checks the tongue she discovers that it has been removed postmortem - the killer has changed his MO. When Bardale, a career criminal, is released from prison, a man who introduces himself as the Judge makes him an offer - to carry out his verdicts in exchange for immunity. His first job: to kill his predecessor, a man named Carl Nearman who botched the last job, the killing of former police officer Jonathan Mellen. Mellen's body is discovered in the woods. When Frank visits the morgue, Carl Nearman's body is on the table. In a vision he sees a connection between Mellen and Nearman. When Catherine tells him that Annie Tisman's husband died twelve years ago in prison where h

Friday, November 22nd, 1996

5: 522666

Frank and Peter assist an FBI investigation when a mad bomber terrorizes Washington, D.C, by blowing up buildings then to come out looking like a hero, the bomber goes back into the wreckage to save victims. Frank and Peter help search for the bomber whose attention starved personality may be the key to his undoing.

Friday, November 29th, 1996

6: Kingdom Come

A desperate man sets out on a killing spree taking revenge on the holy men that he believes have led him to stray. Frank can see the man's sense of faith and the lack his faith could be the key to stopping this killer. Frank then puts himself in danger when he walks into a hostage situation at a small town church.

Friday, December 6th, 1996

7: Blood Relatives

A juvenile delinquent begins taking advantage of families grieving the loss of a loved one with the support of a sadistic friend to a murderous end. Frank Black puts himself in the troubled boy's frame of mind to find answers as Catherine looks elsewhere, into the boy's tortured family life.

Friday, December 20th, 1996

8: The Well-Worn Lock

Catherine aids a woman who has been sexually abused by her father for twenty-three years. Catherine however finds it hard to find anyone who will take this case to court, so she turns to Frank for emotional support.

Friday, January 3rd, 1997

9: Wide Open

A young girl whose parents were brutally murdered becomes the last hope in finding a killer. So Catherine encourages Jordan to speak out to the young girl and try to get her to get over the awful experience she has been through. But Bletcher is determined to let the relive what happened so they can get more evidence about what actually happened.

Friday, January 10th, 1997

10: The Wild and the Innocent

Frank searches for answers when a couple kidnap a killer-in-hiding and engage in their own murder spree. Frank must track them down before they find the baby the girl's father sold to a childless couple, because Frank fears they could be next victims.

Friday, January 24th, 1997

11: Weeds

Frank pursues a killer who kidnaps teenagers from an upper middle-class neighborhood and forces them to drink human blood. After one is killed and the other is returned home unharmed because his father admitted to making a mistake, Frank is forced to set up a trap to capture the killer before he can harm the third victim.

Friday, January 31st, 1997

12: Loin Like a Hunting Flame

A pharmacist drugs unsuspecting couples and forces them to enact his sexual fantasies that he cannot carry out with his wife. Will Frank and the Millennium Group be able to end these crimes before he can strike again?

Friday, February 7th, 1997

13: Force Majeure

The Millennium Group investigates the suicides of identical twin girls born seven years apart. They soon find out that a man and his bizarre family of cloned daughters are preparing for the apocalyptic disaster of May 5th, 2000, when a celestial alignment of the planets take place.

Friday, February 14th, 1997

14: The Thin White Line

When Frank links two seemingly unrelated murders he finds that a killer seems to be committing murders in the exact style of serial killer Richard Hance, whom Frank put behind bars twenty years ago. The case warrants Frank's attention, and he is forced to his personal demons before he can help Bletcher track down the copycat killer...

Friday, February 21st, 1997

15: Sacrament

Frank Black's private and professional lives clash when his sister-in-law is abducted by a convicted sex offender at her child's baptism. Although Bletcher orders him to stay out of the investigation because he is too close to the case, he cannot help but become involved. However, even his extraordinary abilities might not be enough to find his brother's wife...

Friday, March 21st, 1997

16: Covenant

A man confesses to murdering his family, but Frank doesn't believe him.

Friday, March 28th, 1997

17: Walkabout

Franks wakes up in an alley with both memory loss and the strange feeling that someone was murdered.

Friday, April 18th, 1997

18: Lamentation (1)

Frank investigates the disappearance of a former nemesis, Dr. Ephraim Fabricant, and learns that his family may be the target of a murderer.

Friday, April 25th, 1997

19: Powers, Principalities, Thrones and Dominions (2)

Frank and Peter investigate a series of Satanic murders and get caught in a battle between good and evil.

Friday, May 2nd, 1997

20: Broken World

Frank tries to stop a killer of horses before he escalates.

Friday, May 9th, 1997

21: Maranatha

Frank and Peter track a Russian killer with links to Chernobyl. They discover that he might be the Antichrist.

Friday, May 16th, 1997

22: Paper Dove (1)

Frank is asked by Catherine's father to investigate a case involving a friend whose son has been convicted of murder, and is soon convinced that the murder is linked to a serial killer called The Woodsman. Having claimed his latest victim, the Woodsman takes the body to a secluded campsite, covers the body in plastic, buries her under a pile of leaves and strikes up a conversation. Later, he is given photos by a mysterious stranger and asked to use them as 'targets' for future killings - one of which includes Catherine Black...
Season 2
Friday, September 19th, 1997

1: The Beginning and the End (2)

When Frank Black discovers that his wife's been taken by the same stalker who has been sending him the Polaroid photos, he and the Millennium Group launch into action. Frank must rely on his visions to track down the polaroid man when his profiling skills fail to work...

Friday, September 26th, 1997

2: Beware of the Dog

A pack of horrible vicious dogs plague a small town and Frank learns more about the motives of the Millennium Group from a mysterious old man.

Friday, October 3rd, 1997

3: Sense and Antisense

Frank helps in a manhunt for a person who is infected with a terrifying deadly disease

Friday, October 17th, 1997

4: Monster

Frank and a new associate Lara Means investigate possible child abuse at a small town's day care center.

Friday, October 24th, 1997

5: A Single Blade of Grass

Frank learns more about his gift while investigating a murder at a Native American excavation site.

Friday, October 31st, 1997

6: The Curse of Frank Black

Strange coincidences plague Frank on Halloween.

Friday, November 7th, 1997

7: 19:19

Frank and Watts participate in a search for a bus load of missing children.

Friday, November 14th, 1997

8: The Hand of Saint Sebastian

Frank and Peter go to Germany in search of a holy relic that may unlock the secrets of the Millennium Group.

Friday, November 21st, 1997

9: Jose Chung's Doomsday Defense

Frank Black helps Jose Chung who is being stalked by a possible murderer and is writing a new book on the millennium.

Friday, December 19th, 1997

10: Midnight of the Century

Frank tries to mend fences with his estranged father on Christmas.

Friday, January 9th, 1998

11: Goodbye, Charlie

Frank and Lara investigate a man who appears to be responsible for a number of "mercy" killings.

Friday, January 23rd, 1998

12: Luminary

Against orders from the Millennium Group Frank searches for a missing boy in Alaska.

Friday, February 6th, 1998

13: The Mikado

Frank and Peter investigate a murder committed live on the internet. Clues lead Frank to the past and a serial killer called Avatar.

Friday, February 27th, 1998

14: The Pest House

Asylum inmates become prime suspects in a series of murders involving urban legends.

Friday, March 6th, 1998

15: Owls (1)

The discovery of the True Cross in Damascus threatens to split the Millennium Group in two.

Friday, March 13th, 1998

16: Roosters (2)

As the schism between the two warring Millennium Group interests deepens, Frank Black discovers the existence of another player in the power struggle.

Friday, March 20th, 1998

17: Siren

A strange Asian woman is the prime suspect in a number of deaths aboard a ship.

Friday, April 3rd, 1998

18: In Arcadia Ego

Frank and Peter attempt to track down two women who escaped from prison and try to help them when they learn that one of them is pregnant.

Friday, April 17th, 1998

19: Anamnesis

Catherine and Lara investigate a girl who appears to be having visions.

Friday, April 24th, 1998

20: A Room with No View

Frank feels that Bletcher's murderer is responsible for the kidnapping of a boy.

Friday, May 1st, 1998

21: Somehow, Satan Got Behind Me

Four demons discuss damnation in the modern world over coffee.

Friday, May 8th, 1998

22: The Fourth Horseman (1)

Frank and Peter are exposed to a dangerous disease and Lara disappears under mysterious circumstances.

Friday, May 15th, 1998

23: The Time is Now (2)

A dangerous plague appears to be spreading throughout the world. Frank learns that he has been vaccinated for the disease. His wife and child, however, have not.
Season 3
Friday, October 2nd, 1998

1: The Innocents (1)

The Marburg virus has apparently run its course. Several months after the death of his wife and a nervous breakdown, Frank rejoins the FBI and investigates a plane crash with a new partner.

Friday, October 9th, 1998

2: Exegesis (2)

Frank and Emma investigate a family of identical women who are apparently being killed off.

Friday, October 16th, 1998

3: TEOTWAWKI

Frank and Emma investigate a survivalist group worried about the Y2K bug.

Friday, October 23rd, 1998

4: Closure

Emma is haunted by memories of the death of her sister while she and Frank hunt a spree killer.

Friday, October 30th, 1998

5: ...Thirteen Years Later

Frank and Emma investigate murders on the set of a movie based on one of Frank's former cases.

Friday, November 6th, 1998

6: Skull and Bones

Frank and Emma investigate a mass grave that may have links to the Millennium Group.

Friday, November 13th, 1998

7: Through a Glass, Darkly

The disappearance of a child leads a town to accuse a recently released sex offender who may or may not be guilty. Frank and Emma arrive to determine the truth.

Friday, December 11th, 1998

8: Human Essence

Emma tries to help her drug addicted sister and learns that local addicts are exhibiting strange mutations linked to tainted heroin.

Friday, December 18th, 1998

9: Omerta

On Christmas, Frank and Jordan go one vacation in Vermont. Unexpectedly, they get involved with a supposedly dead Mafia hit man who appears to be living in the woods with a number of mysterious women.

Friday, January 15th, 1999

10: Borrowed Time

Frank and Emma investigate a number of apparent drownings that occurred on dry land.

Friday, January 22nd, 1999

11: Collateral Damage

Peter's daughter is kidnapped by a Gulf War veteran who hopes to force the Millennium Group into admitting their crimes. Frank and Emma attempt to help, but Peter seems determined not to betray the secrets of the Group.

Friday, February 5th, 1999

12: The Sound of Snow

Frank receives a mysterious cassette tape filled with white noise and a visit from beyond the grave.

Friday, February 12th, 1999

13: Antipas

Lucy Butler returns to torment Frank. This times she is a nanny for a powerful Wisconsin politician.

Friday, February 19th, 1999

14: Matryoshka

Frank and Emma investigate the suicide of a former FBI agent and discover links between the FBI, the Millennium Group, and the Los Alamos nuclear research center.

Friday, March 19th, 1999

15: Forcing the End

A fundamentalist Jewish sect abducts a pregnant woman hoping to raise a pure child for the priesthood and force the coming of the Messiah.

Friday, April 9th, 1999

16: Saturn Dreaming of Mercury

When a new family moves into town, Jordan is filled with the uneasy knowledge that the devil is near.

Friday, April 16th, 1999

17: Darwin's Eye

Frank and Emma attempt to locate a girl who escapes from a mental institution while Emma's father grows ill.

Friday, April 23rd, 1999

18: Bardo Thodol

Emma and Frank investigate the mysterious biological research conducted by a former Millennium Group member who is dying from a mysterious disease.

Friday, April 30th, 1999

19: Seven and One

Frank receives a series of Polaroid photographs showing the face of a drowning victim. The face is his own.

Friday, May 7th, 1999

20: Nostalgia

Frank and Emma investigate a murder in a small town where Emma spent part of her youth.

Friday, May 14th, 1999

21: Via Dolorosa (1)

Frank investigates a series of murders that replicate a serial killer case from his past while Emma moves closer to the Millennium Group.

Friday, May 21st, 1999

22: Goodbye to All That (2)

Frank is held responsible for a man's death while Emma joins with the Millennium Group.