update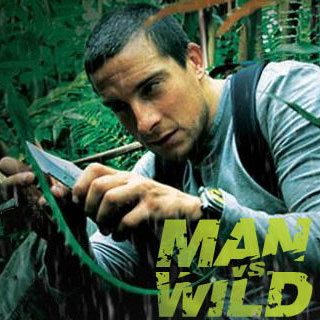 Season 0
Friday, July 20th, 2007

4: Never Before Seen

Bear gets up close and personal with sharks in the Pacific, where he also must deal with rip currents and pounding surf. Included: previously unseen footage and new survival techniques.

Tuesday, September 11th, 2007

1: Bear's Mission Everest Special

In this special, Bear attempts his most daring mission to date when he tries to fly a paramotor glider over Mt Everest, the world's highest mountain.

Tuesday, June 2nd, 2009

2: Sweden with Will Ferrell

This episode features Will Ferrell in a special titled Men vs. Wild, where Ferrell tags along with Grylls as they journey through the frozen wilderness of Sweden. The episode is a tie-in to help promote Ferrell's new movie, Land of the Lost.

Saturday, June 19th, 2010

3: Bear's Top 25 Man Moments

Grylls reveals his top 25 moments -- he sleeps in a camel in the northern Sahara and takes on a risky drop off onto an active volcano in Guatemala.

Monday, August 12th, 2019

5: Man vs. Wild with Bear Grylls and Prime Minister Modi

The plot was to get Modi safely across a shallow river without being attacked by any tiger, crocodile, snake or elephant (whilst his security staff stayed close behind but out of view of the cameras.
Season 1
Friday, March 10th, 2006

1: The Rockies

Host Bear Grylls parachutes alone into a remote area of the Rocky Mountains equipped with only the clothes on his back.

Friday, November 10th, 2006

2: Moab Desert, Utah

Bear is stranded in Utah's Moab Desert, where he must find his way back to civilization through a maze of canyons, avoiding rattlesnakes and quicksand, equipped with only a bottle of water, a knife and a flint.

Friday, November 17th, 2006

3: Costa Rican Rainforest

Bear Grylls, equipped only with a knife and a water bottle, tries to survive in the Costa Rican rain forest after parachuting onto the Osa Peninsula. He faces swarms of insects, poisonous snakes, dense jungle and mangrove swamps.

Friday, November 24th, 2006

4: European Alps

Bear Grylls, outfitted with only a knife, water bottle, cup and flint, parachutes into the French Alps, where he builds a snow shelter and explains how to survive a fall into a frozen lake.

Friday, December 1st, 2006

5: Hawaii - Mount Kilauea

On Mount Kilauea, an active volcano, Bear climbs down a rope from a helicopter and demonstrates how to create a gas mask, escape from a moving lava flow, find water in a lava tube and get honey from a bee's nest.

Friday, December 8th, 2006

6: Sierra Nevada

In the Sierra Nevada's, Bear uses his knowledge of Native American survival techniques to build a shelter, calm wild horses and find food.

Friday, December 15th, 2006

7: African Savannah

Bear parachutes into the Kenyan savannah from a hot-air balloon, where he finds himself surrounded by dangerous animals, including rhinos, lions, leopards, elephants and cape buffalo. He builds a tent from natural materials and traps small birds for food.

Friday, December 22nd, 2006

8: Alaskan Mountain Range

In the Chugach Mountains of Alaska, Bear has only a bottle of water, a knife and a flint as he travels down mountain slopes, over glaciers and through bear-infested forests, navigating a small boat through treacherous ice floes.

Friday, December 29th, 2006

9: Hawaii - Desert Island

Bear Grylls is cast adrift in the Pacific Ocean, encountering coral reefs, rip currents, relentless surf and sharks.

Friday, June 15th, 2007

10: Everglades

Bear drops into the Florida Everglades where he slogs through the swamps, offering survival tips while dodging alligators and rattlesnakes, and dining on frogs and turtles.

Friday, June 22nd, 2007

11: Iceland

Bear braces for the cold of Iceland, offering survival tips that include how to build a snow cave, live through a blizzard and avoid frostbite, and forage for food.

Friday, June 29th, 2007

12: Mexico

In Mexico, Bear must find his way out of Copper Canyon, and his only supplies are a water bottle, a flint and a knife. Included: how to build a compass; catching and eating scorpions; basics of fire-making; fishing without a line.

Friday, July 6th, 2007

13: Kimberly, Australia

In Kimberly, Australia, Bear faces extreme heat, poisonous snakes and the ever present danger of dehydration. Survival tips include how to forage for food, build a shelter and extreme measures to avoid dehydrating.

Friday, July 13th, 2007

14: Ecuador

Bear Grylls offers survival tips in the Ecuadorian jungle. Included: building a bamboo bridge; making a bow and arrow; determining which plants are poisonous.

Friday, July 20th, 2007

15: Scotland

Bear offers survival tips in Scotland's Cairngorms National Park. Included: using moss to purify water; skinning a deer; cooking a rabbit.

Friday, July 20th, 2007

16: Never Before Seen

Bear gets up close and personal with sharks in the Pacific, where he also must deal with rip currents and pounding surf. Included: previously unseen footage and new survival techniques.
Season 2
Friday, November 9th, 2007

1: Sahara

In the sun-scorched Sahara Desert, Grylls uses survival tactics of the indigenous people, including eating a scorpion and a sandfish. He also explains how to escape from quicksand.

Friday, November 16th, 2007

2: Desert Survivor

In the desert, Grylls offers tips on skinning and disemboweling a dead camel for water.

Friday, November 23rd, 2007

3: Panama

Grylls travels to Panama, where he travels in the equatorial heat through mangrove swamps and rain forest, and endures more than 100 mosquito bites and one painful snake bite.

Friday, November 30th, 2007

4: Jungle

Survival techniques for Panama's mangrove swamps and jungle.

Friday, December 7th, 2007

5: Patagonia

Grylls parachutes into Patagonia, the southernmost tip of South America, where he first encounters a vast ice field, then forages in a beech forest, wades through a frozen bog and swims through icy water.

Friday, December 14th, 2007

6: Andes Adventure

In Patagonia, Grylls skins a hare, scales a cliff, tracks a puma, drinks dirty water, and crosses the Perito Moreno glacier, a vast frozen labyrinth of ice caves and crevasses.

Friday, December 21st, 2007

7: Bear Eats

Grylls offers tips on dining in the wild, with some unusual offerings that are not necessarily palatable.

Friday, May 2nd, 2008

8: Zambia

Grylls drops into the mighty Zambezi river.

Friday, May 9th, 2008

9: Namibia

Grylls parachutes into the heart of the Namib desert.

Friday, May 16th, 2008

10: Ring of Fire: Jungle Swamp (1)

Grylls battles the fierce swamps in Sumatra, Indonesia. As he struggles to keep dry and avoid trench foot, he runs into several types of wildlife, including lizards and the deadly mangrove snake.

Friday, May 23rd, 2008

11: Ring of Fire: Castaway (2)

Dropped by helicopter, Grylls has to survive on a remote island located in Indonesia. He hunts for stingrays and land crabs while drinking whatever fresh clean rain water he may get. In the end he builds a small raft out of drift wood of bamboo and heads to the sea.

Friday, May 30th, 2008

12: Siberia (1)

With temperatures dipping to -50°C, Grylls has to keep warm before hypothermia sets in. He uses snares to catch his food, and a fire to keep warm. He puts up a scenario for the great dangers to walk over a frozen lake, and how to survive without drowning and/or before hypothermia sets in.

Friday, June 6th, 2008

13: Siberia: Land of Ice (2)

Grylls is in Siberia, learning survival techniques from the Tuvans and, eating raw yak liver as well as drinking its blood for food.
Season 3
Wednesday, August 6th, 2008

1: Baja Desert

Grylls must cross blistering desert and barren salt plains in Mexico's Baja peninsula. While collecting honey Grylls is stung by a bee and his face becomes severely swollen, nearly blinding him.

Wednesday, August 27th, 2008

2: The Deep South

Grylls enters the swamps of Louisiana where he kills an alligator with a knife, and catches a catfish with his bare hands

Wednesday, September 3rd, 2008

3: Ireland

Grylls jumps from a boat a kilometre off the west coast of Ireland. He travels down the coast before turning inland to cross the bogs. Here he retrieves a sheep carcass from a bog whose skin he uses as a sleeping bag (sheeping bag), a waterproof sack, and a flotation device.

Wednesday, September 10th, 2008

4: South Dakota

Grylls is dropped on a granite peak in the Black Hills where he is caught in a thunder storm with inadequate shelter. Down in the plains Grylls encounters a herd of Bison before entering the desolate area known as the Badlands.

Wednesday, September 17th, 2008

5: Bear's Essentials

A clip-show from previous Man vs Wild episodes highlighting important survival techniques.

Monday, January 12th, 2009

6: Belize

Grylls heads to the jungle where he tackles a boa constrictor, he gets stuck over raging waters, and then he takes to the trees.

Monday, January 19th, 2009

7: Yukon

Grylls wraps up warm as he heads to the frozen wastelands of North Canada. He goes underground to search an abandoned mine, and he takes to some fast moving water.

Monday, January 26th, 2009

8: Oregon

Grylls takes on the deepest river based canyon, Hell's Canyon and the dangerous Snake River.

Monday, February 2nd, 2009

9: Dominican Republic

Grylls has some tips on how to survive the hurricane season and he also eats a tarantula to survive

Monday, February 9th, 2009

10: Turkey

Grylls heads to Turkey where he deals with dangerous animals and he also takes to the water

Monday, February 16th, 2009

11: Romania

Grylls heads to Transylvania where he takes on a bear and dangerous water channels.

Monday, February 23rd, 2009

12: Bears Ultimate Survival Guide Part One

Grylls offers tips for surviving in some of the world's most unforgiving places.
Season 4
Wednesday, August 12th, 2009

1: Arctic Circle

Grylls goes to the Arctic Circle, where he encounters a frozen waterfall, wild reindeer and some of the coldest conditions on the planet.

Wednesday, August 19th, 2009

2: Alabama

Grylls wrestles a pig, squeezes through some tight spots, and survives a forest fire in the swamps of Alabama. It is revealed that Grylls broke his shoulder while in Antarctica two months previously.

Wednesday, August 26th, 2009

3: Vietnam

Grylls demonstrates what it was like for soldiers who had to survive in the jungles of Vietnam, during the Vietnam War.

Wednesday, September 2nd, 2009

4: Texas

In Western Texas, Grylls falls to earth from an upturned biplane into the parched Chihuahuan Desert; he traverses deep gorges, locates an oasis and takes on a diamond back rattlesnake.

Wednesday, September 9th, 2009

5: Alaska

Grylls returns to the wilderness of Alaska to survive the dangerous terrain of the Last Frontier.

Wednesday, September 16th, 2009

6: Bear's Ultimate Survival Guide Part Two

In his ultimate survival guide Grylls takes on dangerous snakes, fishes for catfish using his finger as bait and joins tribes who survive in the worlds toughest terrains, eats raw goats testicles in the Sahara, and hunts porcupines.

Wednesday, September 23rd, 2009

7: The Inside Story

The Man vs. Wild crew who follow Grylls on his travels across the globe, tell how it feels to follow in his footsteps and reveal just how they make Man vs. Wild.

Wednesday, January 6th, 2010

8: Pacific Island

Grylls is on a deserted Panamanian island; he creates fresh water and chooses to use tribal fishing techniques before battling the sea on a makeshift raft. Later in the episode he gives himself an enema in order to stay hydrated on the open seas.

Wednesday, January 13th, 2010

9: China

In Southern China Grylls arrives in the aftermath of a tropical typhoon. He tackles swollen rivers, scales slippery limestone faces, avoids disaster with stinging ants, and utilizes ancient tribal techniques to catch bats for food.

Wednesday, January 20th, 2010

10: Big Sky Country

Grylls takes on Big Sky Country. He paraglides above the Rockies, traverses vast gullies, and makes the most of abandoned debris before making his great escape on a moving train.

Wednesday, January 27th, 2010

11: Guatemala

Grylls rappels onto a live volcano in Guatemala, navigates a waterfall in an underground cave, creates a nest to safely sleep in but gets an unwelcome bed buddy, and encounters ancient Mayan ruins.

Wednesday, February 3rd, 2010

12: Urban Survivor

Grylls is in a post-disaster urban city scenario and he must survive. His thirst to live and survival techniques modified for a city environment keep him alive in a concrete wasteland in Gdynia, Poland.

Wednesday, February 10th, 2010

13: Shooting Survival

Behind the scenes with Grylls's crew.

Wednesday, February 17th, 2010

14: North Africa

Grylls crosses the Sahara desert to the North Africa coast, where he catches an octopus, fashions a shelter out of acacia trees and dines on moths and locusts.
Season 5
Monday, June 1st, 2009

1: Western Pacific

Grylls is on a desert island, south of Papua New Guinea. He wades across a shark-infested tidal channel, climbs crumbling volcanic cliffs, leaps over a 100-foot death drop, and constructs a bamboo windsurfer to make his escape.

Monday, June 1st, 2009

2: Northern Australia

In Australia's Northern Territory, Grylls must rely on many of the skills honed by the Aboriginal people to survive in this sweltering landscape dominated by crocodiles.

Monday, June 1st, 2009

3: Canadian Rockies

While in the Canadian Rockies, Grylls is buried alive in an avalanche, swims long distance beneath an ice-covered lake, and is airvac-ed to the hospital when an icy glissade goes horribly wrong.

Monday, June 1st, 2009

4: Republic of Georgia

Grylls lands in the snow-capped Caucasus Mountains of the Georgian Republic by driving a snowmobile out the back of a hovering helicopter. He ziplines across a river, camps among wolves and trudges through swampy wetlands.

Friday, June 5th, 2009

5: Fan vs. Wild

Grylls takes two fans into the Canadian wilderness for their ultimate survival challenge. They face their fears head on, trek down dangerous glaciers and across a frigid glacial river, build a rustic shelter, and try to swallow typical Grylls fare.

Wednesday, September 2nd, 2009

6: Extreme Desert

In the Mojave Desert, Grylls puts himself in the path of a man-made sandstorm, takes on the full force of a man-made flash flood and HALO jump from 30,000 feet. His body is pushed to the limit as the temperature soars from minus 40 to 110 degrees.

Wednesday, September 22nd, 2010

7: Behind the Wild
Season 6
Thursday, February 17th, 2011

1: Arizona Sky Islands

In Arizona, Bear transforms into a one man high speed glider with a cutting edge wingsuit and flies into the Arizona Sky Islands. Bear shows viewers how to find water in the parched desert landscape, builds a sand-buggy from a wrecked aircraft and crosses heart-stopping rock drops.

Thursday, February 24th, 2011

2: Cape Wrath, Scotland

In Scotland off the rugged coast of Cape Wrath, Bear is dropped into open ocean. After getting ashore, he realises he's on an island and must swim to the mainland. Bear fashions a wetsuit from a seal's hide to withstand the frigid crossing. Well into the trek, he is forced to turn back as an incoming estuary tide nearly cuts him off. After he makes it to dry land, Bear has a close call with the steep treacherous Scottish rock terrain

Thursday, March 3rd, 2011

3: Norway: Edge of Survival

Bear and his team are in Norway. Armed with the latest technology they'll be creating the harshest conditions possible while sensors monitor how Bear copes trying to survive in one of the world's most beautiful but wettest countries.

Thursday, March 10th, 2011

4: Borneo Jungle

In Borneo, Bear heads directly into the wild jungles. Without a place to land his helicopter, he is forced to rappel into the treetops. As the heli peels away, Bear is 100 feet up in the canopy. After finding his way down to the jungle floor, Bear tackles raging waters, big mudslides and deep caves as he fights his way through this impenetrable place.

Thursday, March 17th, 2011

5: Malaysian Archipelago

Bear Grylls is dropped in an archipelago of islands off the coast of Borneo. Fighting dense jungle and scaling towering escarpments, Bear struggles to find freshwater. In his search for food, he tries to spear fish at depths of 20ft and traps a wild boar.

Thursday, March 24th, 2011

6: Global Survival Guide

Bear Grylls travels the world to give you the best tips and techniques so you can survive wherever you're stranded. From skin diving without a mask in the tropics, to finding water in the desert, this is the best of Bear's never before seen footage.
Season 7
Monday, July 11th, 2011

1: Men vs. Wild with Jake Gyllenhaal

In this episode, Bear is joined by movie star Jake Gyllenhaal as he attempts to find his way out of the Icelandic wilderness, doing (and eating) whatever they have to to survive.

Monday, July 18th, 2011

2: New Zealand South Island

This week Bear braves the remote wilderness of New Zealand's South Island, crossing the country's tallest mountains and attempting to start a fire with wood that is soaking wet.

Monday, July 25th, 2011

3: Iceland: Fire and Ice

Bear returns to Iceland to demonstrate the challenge of surviving its many pitfalls. His trek begins on an ice cap covering an active volcano, where food sources are scarce and travels down towards a civilization with swollen rivers between him and safety.

Friday, August 12th, 2011

4: Red Rock Country

Bear treks through Southern Utah's Red Rock Country.

Friday, August 19th, 2011

5: Land of the Maori

Over 100 people drown each year in New Zealand, and Bear must cross a raging river on a tree trunk to head toward civilization. On his journey to safety he runs out of water, is forced to climb up active volcanic ranges and scale down a waterfall.

Friday, August 26th, 2011

6: Working in the Wild

Bear Grylls takes the viewer behind the scenes to meet the crew that follow his every step through the world's wildest environments.
Season 8
Sunday, September 18th, 2011

2:

Sunday, October 2nd, 2011

5:

Sunday, October 9th, 2011

3:

Sunday, October 16th, 2011

4:

Sunday, October 23rd, 2011

6:

Sunday, October 30th, 2011

1: