update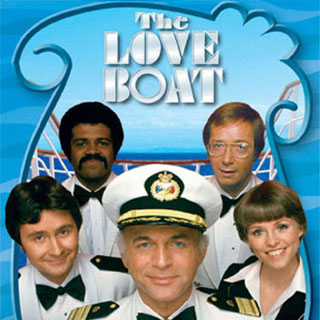 Season 0
Friday, September 17th, 1976

1: The Love Boat - Mona Lisa Speaks/Mr and Mrs Havlicek Abroad/Are There Any Real Love Stories/Till Death Do It's Part

The pilot set aboard the Sun Princess "Acapulco Bound" with newly appointed Captain Thomas Allenford III (Ted Hamilton), seasoned cruise director Geraldine Landers (Terri O'Mara), medical lothario, Dr Adam O'Neil (Dick Van Patten), along with Gopher (Sandy Helberg), Isaac (Theodore Wilson), and your steward and lounge entertainers (Joseph Sicari with Katherine Ish and Richard Stahl) An insurance salesman (Gabriel Kaplan) makes a desperate play for a famous model much to the chagrin of his harried boss (Harvey Korman). An unruly teen (Jimmy Baio) causes havoc. A midwestern couple (Tom Bosley, Cloris Leachman) attempt to find a rich suitor for their daughter. Sparks ignite between a frosty schoolteacher (Karen Valentine) and a driven financier (Hal Linden). A troubled couple (Florence Henderson, Don Adams) go to the extremes as they head for divorce.

Friday, January 21st, 1977

2: The Love Boat II - Unfaithfully Yours/Here's Looking at You, Love/The Heckler/Once in Love with Sandy

The second pilot introduces Quinn Redeker as Captain Madison, Candace Azzara as Amy, the lounge entertainer, and Diane Stillwell as cruise director Sandy Summers. Bernie Kopell, Ted Lange and Fred Grandy step into the roles of Dr. Bricker, Issac and Gopher (revealed to have served with the captain during wartime in the navy). A woman (Hope Lange) is having a second thoughts about an affair with her tennis pro (Lyle Waggoner) as her husband (Robert Reed) pursues them; A daughter (Marcia Strassman) attempts to enrich the life of her recently-divorced mother (Celeste Holm) who reunites with an old friend (Craig Stevens); Two siblings (Kristy McNichol, Diana Canova) are looking for adventure ; Sandy fights off advances from her playboy accountant (Bert Convy); Amy makes a connection with a lonely conventioneer (Ken Berry)

Thursday, May 5th, 1977

3: The New Love Boat - The Newlyweds/The Exchange/Cleo's First Voyage

This third TV-movie pilot introduces the crew that would go on to star in The Love Boat series. Gavin MacLeod and Lauren Tewes make their first appearances, and Bernie Kopell's character has now been changed to Dr. Adam Bricker.

Monday, February 12th, 1990

4: A Valentine Voyage

A team of thieves (Ted Shackelford, "Rowdy" Roddy Piper, Joe Regalbuto, Shanna Reed) attempt to smuggle diamonds aboard as they're pursued by a detective (Tom Bosley). Doc's new nurse (John Terleskey) competes in a bachelor auction with a famous actor (Steve Bond) to win the affections of Kelly Donaldson, the cruise director. Vicki returns to help Captain Stubing through a traumatic anniversary.

Thursday, January 8th, 2015

5: A Home & Family Holiday Reunion Part 1: The Love Boat - Come Aboard

Home & Family's Holiday Reunion Special Part 1. Featuring the Cast of the original Love Boat Series. Prepare to set sail again!! Staring: Gavin MacLeod, Bernie Kopell, Fred Grandy, Ted Lange, Cynthia Lauren Tewes, Jill Whelan

Thursday, January 8th, 2015

6: A Home & Family Holiday Reunion Part 2: The Love Boat - We're Expecting You

Home & Family's Holiday Reunion Special Part 2 of 2. Featuring the Cast of the original Love Boat Series. Continue the sail!! Staring: Gavin MacLeod, Bernie Kopell, Fred Grandy, Ted Lange, Cynthia Lauren Tewes, Jill Whelan
Season 1
Saturday, September 24th, 1977

1: The Captain and the Lady/One If by Land/Centerfold

Captain Stubing is trapped on the cruise with his ex-wife. The future wife of a politician worries over some scandalous photos. A woman is pursued by her boyfriend at all the ship's ports of call.

Saturday, October 1st, 1977

2: Oh, Dale!/The Main Event/A Tasteful Affair

A man must pose as a woman to gain passage on the ship so that he can pursue an ex-girlfriend. A bickering married couple gets trapped in the elevator. A detective falls for a married woman whose husband has hired him to trail her.

Saturday, October 8th, 1977

3: Ex Plus Y/Graham and Kelly/Goldenagers

A divorced couple takes the cruise with new mates, and can't seem to avoid one another or stop arguing. Two adolescents develop an awkward flirtation. A senior group inadvertently interferes with its director's fledgling romance with Julie.

Saturday, October 15th, 1977

4: Message for Maureen/The Acapulco Connection/Gotcha

A wheelchair-ridden tennis star rekindles a romance with a critical sportswriter. A Mexican woman with singing aspirations stows away on the ship. A man annoys his wife and other passengers with his incessant practical jokes.

Saturday, October 22nd, 1977

5: Help, Murder/Isaac the Groupie/Mr. Popularity

A woman gets the wrong idea from her husband's secretive behavior and fears that he is plotting to murder her. Isaac begins a whirlwind romance with an internationally known singer. A couple suspects that a painfully boring passenger is actually a wanted jewel thief.

Saturday, October 29th, 1977

6: The Joker Is Mild/First Time Out/Take My Granddaughter, Please

Julie's family friend turns to her for help reviving his sputtering standup comedy career. A meddling woman tries to interfere in her granddaughter's love life. A young man's fraternity brothers pressure him to lose his virginity during the cruise.

Saturday, November 5th, 1977

7: Identical Problem/Julie's Old Flame/The Jinx

Identical twins pretend to be one person but both fall for Doc. Julie is reacquainted with an ex-lover. The crew believes that an elderly couple who survived the Titanic is cursed.

Saturday, November 19th, 1977

8: Lost and Found/The Understudy/Married Singles

A boy befriends a couple who recently lost a young son. A trainee schemes to steal Julie's job. A bickering married couple takes the cruise and stays in separate cabins.

Saturday, November 26th, 1977

9: The Captain's Captain/Hounded/Romance Roulette

The captain's demanding father leaves the entire crew on edge. A dog traps a passenger in his cabin. Three friends try to meet men through an unusual game.

Saturday, December 3rd, 1977

10: Dear Beverly/The Strike/Special Delivery

An advice columnist neglects her husband. A substitute chef has a bad history with Capt. Stubing. A man and his estranged pregnant wife take the cruise without knowing the other is also on board.

Saturday, December 10th, 1977

11: Lonely at the Top/Divorce Me, Please/Silent Night

It's Christmas on the ship and the captain tries to strike the right balance between leadership and friendship. A married man and woman desperately try to get each other to grant a divorce. An ex-con seeks revenge on the person who framed him. A priest brings a group of orphans on the cruise.

Saturday, December 24th, 1977

12: The Old Man and the Runaway/A Fine Romance/The Painters

A crotchety old man and a teenage runaway form an unlikely friendship. Julie grows frustrated when an old friend of her brother's repeatedly rejects her advances without explanation. A pair of incompetent painters continually screws up the re-painting of Capt. Stubing's cabin.

Saturday, January 7th, 1978

13: Cinderella Story/Family Reunion/Too Hot to Handle

A woman who believes her departed dad was a noble sea captain forms an attachment for a devilish old purser; a newlywed couple are prevented by dislocated backs, sunburn and even poison ivy from enjoying their honeymoon; the crew upgrades a couple with modest means to a luxurious suite without consulting Capt. Stubing, forcing the couple to pose as wealthy socialites.

Saturday, January 14th, 1978

14: Isaac's Double Standard/One More Time/Chimpanzeeshines

Isaac's possessive mother becomes jealous of her son's lady friend, while he objects to his mom sharing a cabin with her latest boyfriend; a divorced comedy team is too busy making jokes to admit they miss each other; Gopher's budding romance is nearly foiled by a jewel-stealing monkey.

Saturday, January 21st, 1978

15: Hollywood Royalty/The Caper/The Eyes of Love/Masquerade (Part 1)

Part 1: A famous Hollywood couple tries to find a balance between their professional and personal lives. Inept thieves try steal an expensive jewel. Blind childhood friends meet up, but one of them can now see. A philandering husband is caught on board with wife and mistress.

Saturday, January 21st, 1978

16: Hollywood Royalty/The Caper/The Eyes of Love/Masquerade (Part 2)

Part 2: A famous Hollywood couple tries to find a balance between their professional and personal lives. Inept thieves try steal an expensive jewel. Blind childhood friends meet up, but one of them can now see. A philandering husband is caught on board with wife and mistress.

Saturday, January 28th, 1978

17: The Congressman Was Indiscreet/Isaac's History Lesson/Winner Take Love

A congressman unjustly accused of being involved in a scandal seeks refuge aboard the Pacific Princess; Isaac and a lovely intellectual snob clash over a colorful old passenger; a beauty pageant contestant's whose chances of winning are jeopardized by her possessive boyfriend.

Saturday, February 4th, 1978

18: Last of the Stubings/Million Dollar Man/The Sisters

Stubing's nephew comes on board to train to be a seaman but doesn't do a good job at anything he does. A man who just stole a million dollars meets a woman who upon learning of what he has done reveals herself to be a cop who plans to turn him in. Two sisters compete for the affections of the same man.

Saturday, February 11th, 1978

19: The Inspector/A Very Special Girl/Until the Last Goodbye

The crew after being informed that an inspector from the line will coming on board to do a report on them, but not knowing who he is, they try to be extra nice to anyone whom they is the inspector but always come up wrong. Two girls, one a stunner, the other, a plain girl. Now when two guys compete for the hot girl and when one of them gets her, the other has to take care of her companion.

Monday, February 13th, 1978

20: Computerman/Parlez-Vous/Memories of You

A slick computer matchmaker proceeds to pair up cruise guests while setting himself up with Julie; two American gold-diggers pretend to be French; a New York advertising executive meets up with a long-lost love.

Saturday, February 18th, 1978

21: Taking Sides/A Friendly Little Game/Going by the Book

An older couple's problems affect the marriage of newlyweds. An elderly man who is riddled with debts, but is desperate to take his wife on a cruise to meet their grandchildren, decides to pay for the trip with a dodgy deck of cards and aims to take the crew for all the money they have. A young man who is very inexperienced with women relies on a self-help book on how to win them over. However, he and Doc Bricker butt heads by going after the same girl.

Saturday, February 25th, 1978

22: Parents Know Best/A Selfless Love/The Nubile Nurse

A couple takes their son on a cruise in an attempt to end his relationship with an unsuitable girl; a May-December couple rethink their romance; an ex-showgirl's glamorous past jeopardizes her new career as a registered nurse.

Friday, May 5th, 1978

23: Musical Cabins

A young bachelor must marry within the week in order to claim a $3 million inheritance; a drab widow poses as a glamorous adventuress and captures the heart of the Captain; a confirmed male chauvinist angers his fiancee, who finds comfort in sick bay with Doc; a scandal sheet reporter sets out to compile material for a sins-at-sea story.

Saturday, May 13th, 1978

24: This Business of Love/Crash Diet Crush/I'll Never Fall in Love Again

A reformed prostitute causes trouble between a one-time "John" and his wife; Captain Stubing re-encounters an old flame; a fun-loving older couple help bring two lovers back together

Saturday, May 20th, 1978

25: Gopher, the Rebel/Cabin Fever/Pacific Princess Overture

A young female passenger encourages Gopher to be his own person and stand up for himself to Captain Stubing. However, neither were expecting the consequences of their actions. A cheating husband is caught when his neighbors from home also board the cruise. However, being holed up in a cabin with his mistress isn't all that he hoped it would be. A businessman uses all his wiles to convince a grieving widow to sell her husband's business to a Japanese conglomerate. But he soon comes to realize that this may not be the best idea.
Season 2
Saturday, September 16th, 1978

1: Marooned/The Search/Isaac's Holiday (1)

On a land excursion, the crew is kidnapped by an eccentric islander and must endure a hurricane.

Saturday, September 16th, 1978

2: Marooned/The Search/Isaac's Holiday (2)

Saturday, September 23rd, 1978

3: Julie's Dilemma/Who's Who?/Rocky

Julie's parents arrive on board the Pacific Princess and announce their plans to divorce; an author of morally uplifting pamphlets and a prim censor fall in love while sharing a cabin; a young girl's tomboy image falters after she receives her first kiss.

Saturday, September 30th, 1978

4: The Man Who Loved Women/A Different Girl/Oh, My Aching Brother

A man romances three women, not knowing they are traveling together; Captain Stubing's godson reconnects with his wife after a long absence; two brothers stage an injury in order to sue the ship's operators.

Saturday, October 14th, 1978

5: Where Is It Written?/Julie's Aunt/The Big Deal

Captain Stubing's uncle pursues Julie; a desperate businessman uses his daughter as bait to close a deal; the neglected wife of a publisher romances a novelist.

Saturday, October 21st, 1978

6: The Kissing Bandit/Mike and Ike/The Witness

A shy young man becomes a completely different person at night; a businessman who doesn't have time for his family learns a valuable lesson; a man who believes his chances of survival are better at sea than as a witness in a gangland trial receives loving sympathy from a fellow passenger.

Saturday, October 28th, 1978

7: Ship of Ghouls

A magician keeps his engagement secret in order to dazzle female audiences, while his neglected fiancee turns to Captain Stubing for comfort; Doc and Gopher pursue a model who is afraid to face people after a recent accident; a boy with a habit of lying can't get anyone to help during a real time of need.

Saturday, November 4th, 1978

8: Accidental Cruise/The Song Is Ended/A Time for Everything/Anoushka

An executive and his secretary are mistakenly assigned the honeymoon suite; a songwriter's music renews a woman's love for her husband; Captain Stubing meets his daughter by a former girlfriend; Julie helps give a Russian commissar a sexy new image.

Saturday, November 11th, 1978

9: Till Death Do Us Part - Maybe/Chubs/Locked Away

A ghost experiences jealousy as his mission to find his wife a new husband appears to be succeeding; overprotective Gopher mistakenly entrusts his kid sister to Doc to stave off the ship's wolves, not realizing that she's all grown up; a long-divorced couple is accidentally trapped in an isolated cabin.

Saturday, November 18th, 1978

10: Tony's Family/Man of the Cloth/Her Own Two Feet

The crew tries to hide six stowaways from Capt. Stubing; a church member disapproves of her minister's new romance; a nearly blind woman refuses to admit her problem until Doc intercedes.

Saturday, November 25th, 1978

11: Heads or Tails/The Little People/Mona of the Movie

A movie queen intimidates a businessman; two swingers make a bet on their chances with Julie; a man takes his diminutive parents on the cruise for their 25th wedding anniversary and finds romance.

Saturday, December 2nd, 1978

12: The Folks from Home/The Captain's Cup/Legal Eagle

Doc must perform a risky operation after an accident; one of the ship's laborers is recruited to replace a missing dignitary; a bitterly divorced man has it in for his ex-wife's attorney.

Saturday, December 9th, 1978

13: Isosceles Triangle/El Kid/The Last Hundred Bucks

A beauty can't choose between Cap. Stubing and Doc; a man and his wife return to the ship with an orphaned boy; a hospital executive falls for a seemingly successful businessman.

Saturday, December 16th, 1978

14: Double Wedding/The Dummies/Julie Falls Hard

Identical twin sisters swap fiances; a separated ventriloquist team use their dummies to rebuild their relationship; a handsome widower proposes to Julie.

Saturday, January 13th, 1979

15: Second Time Around/The 'Now' Marriage/My Sister, Irene

Doc's ex-wife hires an actor to play her fiancé; a philandering marriage counselor's wife seeks solace from Capt. Stubing; a woman pretends to be her own sister for a reunion with a former sweetheart.

Saturday, January 20th, 1979

16: Gopher's Opportunity/Home Sweet Home/The Switch

Gopher quits his job to manage a new hotel; a wealthy eccentric widow books a five-year passage and begins meddling in the crew members' lives; a magician tries to avoid his assistant by sending his brother to perform in his place.

Saturday, January 27th, 1979

17: Like Father, Like Son/Don't Push Me/Second Chance

A father takes too much of a liking to his son's new girlfriend; a bachelor is terrified at the idea of marrying his gung-ho girlfriend; the crew gives a troubled teen a chance at rehabilitation.

Saturday, February 3rd, 1979

18: Disco Baby/Alas, Poor Dwyer/After the War/Ticket to Ride/Itsy Bitsy (Part 1)

Julie's high-school class holds its ten-year reunion on board the ship, but her former teacher is struggling with alcoholism, a past boyfriend is with her former rival, her recently divorced friend is on the cruise thanks to an unknown admirer, one of her classmates is romanced by Doc, the football star reunites with former teammates and a draft dodger meets a wounded Vietnam veteran,

Saturday, February 3rd, 1979

19: Disco Baby/Alas, Poor Dwyer/After the War/Ticket to Ride/Itsy Bitsy (Part 2)

Saturday, February 10th, 1979

20: Dream Boat/Best of Friends/Aftermath

The crew goes overboard to help Capt. Stubing make a good impression when he is up for a job on a prestigious ship; a woman unknowingly makes a date with a friend's fiancé; a disabled surgeon belittles Doc for practicing aboard a cruise ship until Doc makes a surprising diagnosis.

Saturday, February 17th, 1979

21: A Good and Faithful Servant/Secret Life of Burl Smith/Tug of War/Designated Lover

A vacationing chauffeur and his wealthy employer fall in love; Gopher fantasizes that he is various flamboyant heroes; a separated couple vies for their son's affection; Reggie Jackson can't convince anyone that he really is the famous slugger.

Saturday, February 24th, 1979

22: The Decision/Poor Little Rich Girl/Love Me, Love My Dog

A terrier protects its owner from the advances of a gentleman; a waitress inherits a fortune and finds romance and a new life; Isaac laments his ill-fated love affairs.

Saturday, March 3rd, 1979

23: Funny Valentine/The Wallflower/A Home Is Not a Home

A wallflower is secretly followed by a shy milquetoast; Stubing is charmed by a fortuneteller; two honeymooning retirees are unexpectedly joined by their overprotective children.

Saturday, March 10th, 1979

24: Ages of Man/Families/Bo 'n' Sam

Julie is pursued by the teenage son of the head of the cruise line while trying to win over a charming older passenger; a couple has trouble starting a romance because their parents are enemies; the crew pays two men to build a wooden model of the ship, but the gift accidentally gets smashed.

Saturday, March 17th, 1979

25: Sounds of Silence/Cyrano de Bricker/Murder on the High Seas

A rock star falls for Julie's deaf friend; Doc's old friend competes with gambling for her husband's affection; Isaac is convinced that a couple plans to murder Capt. Stubing.

Saturday, May 5th, 1979

26: Super Mom/I'll See You Again/April's Return

April Lopez returns as a singer but wants to become a cruise director; a couple brings its rambunctious children on a second honeymoon; Capt. Stubing's navy buddy meets up with an old flame.

Saturday, May 12th, 1979

27: Third Wheel/Grandmother's Day/Second String Mom

Gopher gives his parents a cruise, but his father is jealous of Gopher's relationship with his mother; an older couple is stunned by an unexpected pregnancy; a widower's teenage daughters reject his new wife, but then need her help.
Season 3
Saturday, September 15th, 1979

1: Alaska Wedding Cruise: Carol & Doug/Peter & Alicia/Julie/Buddy & Portia (1)

The ship voyages to Alaska for the wedding of a wealthy heir and the granddaughter of a fiercely independent oil man.

Saturday, September 15th, 1979

2: Alaska Wedding Cruise: Carol & Doug/Peter & Alicia/Julie/Buddy & Portia (2)

The engaged couple gets married despite numerous obstacles, and Julie encounters heartbreak upon surprising an ex-lover.

Saturday, September 22nd, 1979

3: Oldies but Goodies/The Grass Is Always Greener/Three Stages of Love

An older couple finds its attempts at romance complicated by the presence of her obnoxious, golddigging daughter and his overprotective manservant. Julie's roommate from cruise director training takes a cruise with her young son. Julie and Tina each envy the life the other has chosen for herself. When Tina offers some ideas for an upcoming party, Julie resents her friend for moving in on her territory. A young couple's romance begins to fall apart because the man is obsessed with analyzing the relationship and comparing even the most minor developments to the "stages" he went through with past girlfriends.

Saturday, September 29th, 1979

4: Doc, Be Patient/Dance With Me/Going My Way

A doctor who had planned on taking the cruise as a vacation cares for Doc when he comes down with the flu. He is initially a difficult patient, but soon begins to fall for his physician. A former dancer who has now opened her own school tries to convince her ex-partner to come to Germany to teach for her. He is reluctant to give up his life with his much younger (and very talented) partner/girlfriend, even though he is putting his health at risk and holding her back from a potentially successful career. A free-spirited woman invites a cab driver along on the cruise after her boyfriend stands her up.

Saturday, October 6th, 1979

5: The Audit Couple/The Scoop/My Boyfriend's Back

Capt. Stubing must cope with an IRS audit. Julie believes the feisty auditor is so caught up in her work because she is lonely, and goads the captain into spending time with her. The woman winds up trying to get a little too close to Capt. Stubing. A TV star tries to keep a tabloid reporter from learning that she has a son with a disability, as she believes the press would be cruel to the boy. A man tries to steal his ex-girlfriend away from her new husband.

Saturday, October 13th, 1979

6: Gopher's Greatest Hits/The Vacation/One Rose a Day

Julie is in a bind when the scheduled singer takes ill just before the ship sails. Isaac and Doc overhear Gopher singing in the shower, and Julie tries to persuade him to fill in as the entertainment. Two married sisters continue their tradition of taking a yearly cruise together. However, one of them brings along her uptight husband, who cramps their style and expresses suspicions that his wife has been cheating on him during the previous excursions. A widow finds romance with her longtime florist.

Saturday, October 20th, 1979

7: Crew Confessions/Haven't I Seen You?/The Reunion

Isaac shocks the crew when he writes about them in a tell-all novel; a celebrity lookalike tries to convince a newfound romance that he isn't who she thinks he is; a reunited husband and wife share a deep secret.

Saturday, October 27th, 1979

8: Cindy/Play by Play/What's a Brother For?

Gopher befriends a young woman who is constantly put upon by her mean-spirited stepmother and two gawky step-sisters. Gopher takes note of her singing talent and tries to help her get an audition with the famous singer who is performing on the cruise. A sports broadcaster clashes with his female partner. She grows tired of his sexist remarks and challenges him to a series of athletic contests, with the loser having to quit his or her job. A disabled man demands his brother's constant attention, complicating his potential romance.

Saturday, November 3rd, 1979

9: Never Say Goodbye/A New Woman/Trial Romance

Capt. Stubing receives a letter from his daughter, Vicki. When he tries to call her, he learns that she has run away from her aunt and uncle's home. She shows up on the ship and reveals that she has read her mother's diary, and now knows that the captain is her father. She wants to stay with him, but he feels that it is best that he return her. Vicki's aunt reveals that she is getting a divorce and wants to send her children away for a while so that they won't be affected by the proceedings. Capt. Stubing and Vicki are thrilled by the chance to live together on the ship. Julie plays matchmaker for two shy, old-fashioned people who are unaccustomed to the workings of modern romance. A man is annoyed by the presence of the woman who deadlocked the jury for the attempted murder trial on which they both served, leading to a mistrial. They constantly argue about the case.

Saturday, November 10th, 1979

10: Critical Success/The Love Lamp Is Lit/Take My Boyfriend, Please/Rent a Family/The Man in Her Life (1)

The Dallas Cowboys Cheerleaders come on board as part of a charity fundraiser for an Acapulco orphanage. One of the cheerleaders enlists the help of her friends to dodge the advances of a persistent suito. A cheerleader's mother mistakenly fears that her daughter is trying to steal her boyfriend. A man, who has been lying to his boss about having a family, hires a group of actors to pose as his mother, wife and son for the company's "family cruise." A divorcing couple plots to steal a valuable gem, which is hidden in a lamp that keeps getting passed between crew members. A famous dancer/actress who is helping with the charity event repeatedly declines Capt. Stubing's request that she take part in the performance.

Saturday, November 10th, 1979

11: Critical Success/The Love Lamp Is Lit/Take My Boyfriend, Please/Rent a Family/The Man in Her Life (2)

A jealous Stacy comes to regret pushing Mark away. Wendy and Bill try to stop her mother from leaving after she misinterprets their purchase of wedding rings. Paul tries to keep his boss from learning about his girlfriend; and Lisa from learning about his "family." The Haymans have second thoughts about the diamond heist--and their break-up--after meeting the kids from the orphanage. Stella stings Elliot when she offers her harsh opinion about his play.

Saturday, November 17th, 1979

12: Brotherhood of the Sea/Letter to Babycakes/Daddy's Pride

The crew plans a surprise birthday party for Julie. Isaac, Gopher and Doc try to keep her from getting suspicious by claiming that all of their secretive conversations are part of the "Brotherhood of the Sea," a clandestine organization that only accepts men. This infuriates Julie, who becomes determined to break down the gender barrier at any cost. She winds up ignoring a potential suitor while the guys try to distract her by putting her through an "initiation" process. A philandering man relies on his awkward but sweet assistant to keep his various girlfriends from learning about his activities. A young gymnast grows tired of the pressure placed on her by her overbearing father, who is determined to mold her into an Olympic champion. A lonely rich boy, travelling on the cruise alone, tries to encourage her to have some fun.

Saturday, November 24th, 1979

13: Not Now, I'm Dying/Eleanor's Return/Too Young to Love

A man tries to avoid a wedding by faking a terminal illness. Capt. Stubing hopes for another chance at love with his recently divorced ex-flame. Gopher must keep an eye on two teenagers posing as newlyweds.

Saturday, December 1st, 1979

14: The Stimulation of Stephanie/The Next Step/ Life Begins at 40

A sex researcher doesn't realize his assistant is in love with him. A woman helps her football star husband move on after he is cut by his team. A woman tries to find a husband just before her 40th birthday.

Saturday, December 8th, 1979

15: The Spider Serenade/Next Door Wife/The Harder They Fall

Gopher finds romance with a recently separated passenger--until her estranged husband suddenly shows up and announces his intention of winning her back. A woman tries to pry her soon-to-be-ex-husband away from his girlfriend by coming on the cruise and rooming in the cabin next to theirs. Two distinguished passengers, who squared off in a boxing match decades earlier, renew their rivalry. They schedule a fight on the ship to settle the score once and for all.

Saturday, December 15th, 1979

16: Doc's 'Ex' Change/The Gift/Making the Grade

Doc's most recent wife, Samantha, comes aboard with some shocking news: thanks to a crooked divorce lawyer who never filed their papers, they are still married. A man admits to his wife that he "borrowed" from his company's petty cash to pay for their cruise, as he felt ashamed by the fact that he couldn't give her things. They believe they may have found a way out of their predicament when they find 2000 dollars hidden in a jacket loaned to them by a passenger's wife. The man tries to retrieve his money without letting his wife find out that he is still gambling. A boy is horrified when his mother begins dating his hated history teacher.

Saturday, January 12th, 1980

17: April's Love/Happy Ending/We Three

April returns to the ship with her fiancé, a former used car salesman turned manager whom she has known only a few weeks. The crew is certain that the man is scamming her. A couple comes aboard the ship to finish a script before filing for divorce. A man is shocked to run into the daughter he gave up for adoption and her adoptive mother. He agonizes over whether to tell her the truth about her parentage.

Saturday, January 19th, 1980

18: Kinfolk/Sis and the Slicker/Moonlight and Moonshine/Too Close for Comfort/The Affair (1)

A singer worries that his hillbilly relatives will embarrass him and ruin his chance of catching a record producer's eye. The producer becomes attracted to the singer's sister, who begins to doubt her commitment to her fiancé from back home. An author pictures the family as potential characters for her next book. She poses as a mountain woman to get the grandfather to open up to her. Doc, Isaac and Gopher room with Capt. Stubing after their cabins are flooded. They proceed to drive him crazy, and won't let him get any sleep. Two couples take the cruise together. One of the women tries to convince her friend that their spouses are having an affair.

Saturday, January 19th, 1980

19: Kinfolk/Sis and the Slicker/Moonlight and Moonshine/Too Close for Comfort/The Affair (2)

Danny blames his family when Steve fails to show for his performance, leading to a rift with his father and grandfather. Kitty considers leaving her family to marry Steve. The captain lays down the law to his annoying houseguests, who end up at each other's throats. Dave finds out about Frank and Cynthia's affair, which leaves the future of both marriages in doubt.

Saturday, January 26th, 1980

20: Rent a Romeo/Matchmaker, Matchmaker/Y' Gotta Have Heart

Doc's plans for a rendezvous are spoiled when the woman's recently dumped (and extremely depressed) sister tags along on the cruise. Doc tries to get some privacy by having a playboy romance the sister. Vicki helps a young boy's efforts to reunite his divorced parents. A woman tries to keep her husband on a short leash, as he has recently undergone heart surgery and she fears he will drop dead at any moment.

Saturday, February 2nd, 1980

21: The Captain's Ne'er-Do-Well Brother/The Perfect Match/The Remake

Capt. Stubing is wary of the presence of his brother, a notorious scam artist who seems to have set his sights on a wealthy passenger. A woman uses a computer to track down the perfect father for her child, whom she follows on the cruise. Julie's widowed aunt falls for a man who reminds her of her late husband.

Saturday, February 9th, 1980

22: Not So Fast, Gopher/Haven't We Met Before?/Seoul Mates

Gopher invites his widowed mother onto the ship in the hopes of cheering her up, but is hurt by her seemingly cheerful attitude, which he interprets as an insult to his father. A group of buddies takes a cruise. One of the men meets a woman who is a regular customer at the restaurant where he works. He lies about his identity because he thinks she would be put off by the fact that he is a waiter. A comic's romance with the reporter who is writing a feature about him appears doomed after she takes offense to his act.

Monday, March 3rd, 1980

23: Another Time, Another Place/Doctor Who/Gopher's Engagement

A friend of Capt. Stubing's runs into his long-lost old flame, who has since become a nun. He professes his love for her, forcing her to make a difficult decision about her future. A woman pursues a shy astronomer, mistakenly believing that he is the renowned sex therapist/author who is travelling incognito on the ship. A young woman's pushy mother constantly nags her to find a wealthy husband. Gopher tries to cheer the woman by asking her to dance and giving her what he thinks is a cheap toy ring, unaware that it is actually a passenger's lost engagement ring.

Saturday, March 15th, 1980

24: Dumb Luck/Tres Amigos/Hey, Jealous Lover

Julie worries that her brilliant nuclear physicist friend will never find a man because her intelligence intimidates suitors. She encourages her to act dumb to attract a man's attention. Vicki befriends a wealthy young passenger. While exploring the ship, they discover a stowaway, a young boy who wants to visit his mother in Mexico. A jealous husband terrifies the crew as he constantly threatens the guys, who he suspects are coming on to his wife.

Saturday, March 29th, 1980

25: Celebration/Captain Papa/Honeymoon Pressure

A man spends beyond his means while trying to lavish his recently hospitalized wife with gifts. Capt. Stubing and Vicki face an interview with a child services worker, who will decide whether the captain can have full custody of his daughter. A newlywed couple has trouble consummating its relationship because the presence of the bride's bodyguards (her family is "connected") makes the groom nervous.

Saturday, April 5th, 1980

26: Vicki's First Love/Accident Prone/The High Cost of Loving

Vicki develops a crush on a popular singer, but soon has her heart broken when she misinterprets his kindness as something more. Two extremely clumsy people, who have recently been involved in an auto accident, alternately bicker and romance each other--while everyone else tries to stay out of their way. A man is afraid to become involved with a woman because the court recently forced him to give up a large portion of his income to his last girlfriend. His lawyer tells him that he cannot sleep with any woman unless he first gets her to sign a waiver.

Saturday, April 19th, 1980

27: Invisible Maniac/September Song/Peekaboo

Isaac is nervous about the arrival of a famous model, who was his classmate in the first grade. The woman tries to use Isaac to make her sports-obsessed husband jealous. Two sisters overhear Janet pretending to fend off an attack by Isaac, and come to believe that a sex maniac is loose on the ship. Two attorneys must keep their affair a secret because they work for the same firm. He wants to make the relationship public and get married, but she experiences doubts. An older woman undergoes a drastic makeover to shake out of her humdrum life, and encourages her skeptical husband to do the same.

Saturday, May 3rd, 1980

28: The Caller/Marriage of Convenience/No Girls for Doc/Witness for the Prosecution

In this special 90-minute episode that guest stars theater icon Helen Hayes (and her real-life son), the actress' character navigates romance after becoming a widow. Also, a district attorney falls for the woman he has in protective custody, and Doc swears off his own romances for a while.
Season 4
Saturday, October 25th, 1980

1: Sergeant Bull/Friends and Lovers/Miss Mother

Four men who served together in Korea hold their reunion on the ship. Gopher convinces Julie to pose as his girlfriend to impress his abrasive fraternity brother. A single mother-to-be finds romance with a fellow passenger, but fears that he won't react well to the news of her pregnancy.

Saturday, November 1st, 1980

2: The Family Plan/The Promoter/May the Best Man Win/Forever Engaged/The Judges (1)

The promoter of a marriage cruise is trying to reconcile with his own wife. Doc tricks Gopher into being a contestant judge but then discovers the other two judges are attractive women who vie for Gopher's attention. Another couple has a reputation for being perpetually engaged. Julie's old friend Mark is supposed to be the best man in the mass wedding, but the groom runs off with an ex-girlfriend. A groom's father and bride's mother attempt to talk their children out of marrying, only to fall in love themselves.

Saturday, November 1st, 1980

3: The Family Plan/The Promoter/May the Best Man Win/Forever Engaged/The Judges (2)

Vicki tries to play matchmaker for Capt. Stubing and Emily, whose husband still plans on winning her back. Gopher lands in a Curacao jail after Doc sends him on a wild goose chase so that he can get cozy with the marriage-a-thon judges. Carl and Mary Ann decide that they were wrong to interfere with their kids' wedding plans; Mary considers calling it quits with Tom. Emily accuses Marv of treachery after her fiancé suddenly reappears in Curacao and denies that he planned to leave her.

Saturday, November 8th, 1980

4: The Major's Wife/The Oilman Cometh/Target Gopher/Strange Honeymoon

Julie teaches a Japanese wife some western lessons about keeping her man. A wealthy Arab thinks that a young man's girlfriend is one of his presents. Gopher loses his job when a cheerleader, an object of another man's affection, only has eyes for Gopher. A man who jilted his bride-to-be shares the honeymoon with his best man.

Saturday, November 15th, 1980

5: The Mallory Quest/Julie, the Vamp/The Offer (1)

Famed author Brian Mallory gives three people free tickets to a Caribbean cruise. He then presents each of them--and Gopher--with gold coins. He explains that they are among the last people to have spent time with his nephew; and offers them $100,000 if they can track down the young man, who is believed to be on one of the islands the ship will be visiting. One of the passengers taking part in the quest is about to donate a kidney to his brother. A young woman follows him around and seems to take a special interest in everything he does. Mallory's wife finally grows tired of his aloof and cruel behavior toward her. She leaves him, and seeks comfort with Doc. An old friend asks Capt. Stubing to leave the ship to help him run his business. A jealous woman accuses Julie of trying to steal her fiancé, a man who was a casual acquaintance of Julie's in college.

Saturday, November 15th, 1980

6: The Mallory Quest/Julie, the Vamp/The Offer (2)

As the search for Mallory's nephew continues, a mysterious man begins following Gopher, Marvin, Peter, and Marcia and trying to thwart their efforts. Peter grows suspicious and forces Mallory to come clean about his real reasons for wanting to track down his nephew. A suddenly repentant Mallory tries to make amends with his wife. Peter and his brother's fiancé grow attracted to each other. Capt. Stubing considers taking the job offer so that he can set aside more money for Vicki's college education. Julie's college friend and his crazy girlfriend continue to make her life difficult.

Saturday, November 22nd, 1980

7: The Horse Lover/Secretary to the Stars/Julie's Decision/Gopher and Isaac Buy a Horse/The Village People Ride Again

In preparation for a steeplechase race in Mexico, one of the racers spends more time with his horse than with his wife, who finds comfort in the man's business partner. A Hollywood actress disguises herself as her secretary to obtain privacy but ends up falling for a reporter sent to interview her. A wealthy racer falls for Julie and proposes to her. Gopher and Isaac stable a horse on board. The Village People also have a horse in the race.

Saturday, November 29th, 1980

8: The Baby Alarm/Tell Her She's Great/Matchmaker, Matchmaker Times Two

An unwed mother's infant son has an unusual way of showing his disapproval to men who try to romance her. Isaac gets the crew to bolster his stagestruck aunt's ego, which turns her into an outrageous prima donna and upsets his uncle. Two sets of parents go overboard trying to spark a romance between their respective children.

Saturday, December 6th, 1980

9: She Stole His Heart/Return of the Captain's Brother/Swag and Mag

A kleptomaniac seeks the help of a psychiatrist to deal with her problem. He tries to distance himself from her when they begin falling for each other. Capt. Stubing's brother Marshall returns to the ship to get married. He has second thoughts when his fiancée reveals that she is broke, and is tempted by a past fling. A television star comes aboard the ship to accept a hero award on behalf of his character, a tough detective. A loudmouth begins harassing him, causing him to look bad in front of both his manager/girlfriend and number one fan Vicki.

Saturday, December 13th, 1980

10: Boomerang/Captain's Triangle/Out of This World

A model pretends to be married to keep away annoying suitors. The captain's ex-girlfriend comes aboard the ship and constantly makes passes at him because she feels neglected by her husband. A man is convinced that a fellow passenger is an alien who turns into a plant every night.

Saturday, December 20th, 1980

11: That's My Dad/The Captain's Bird/Captive Audience

A stowaway convinces the crew that a playboy passenger is his father. Capt. Stubing decides to get Vicki a parrot for Christmas. Unfortunately, it hasn't been trained to talk, and Gopher and Isaac's efforts to train it prove disastrous. A father and son, who haven't spoken for ten years resist their wives' efforts to reunite them.

Saturday, January 3rd, 1981

12: Doc's Dismissal/The Frugal Pair/The Girl Next Door

A woman tries to get her husband's attention by claiming that Doc made a pass at her during an examination. A couple takes a cruise to celebrate their 40th anniversary but considers breaking up after the husband learns that his wife secretly invested money in the stock market for years. A man sneaks on the cruise because he doesn't believe the man traveling with his girlfriend is her brother.

Saturday, January 10th, 1981

13: Isaac's Secret/Seal of Approval/The Curse of the Dumbrowskis

Isaac tries to avoid his former English teacher; A man boards the ship with a seal that protests the man's romance with an attractive woman; A married woman, convinced that she has a short time to live, wants to pick the perfect wife for her husband.

Saturday, January 17th, 1981

14: From Here to Maternity/Jealousy/The Trigamist

Doc's love life suffers when an overly expectant father thinks his wife is giving birth; Vicki sees green when her dad falls for a beautiful woman; A judge finds herself attracted to a man she has placed on probation for being married to three women at once.

Saturday, January 17th, 1981

15: First Voyage, Last Voyage/April the Ninny/The Loan Arranger

A young woman traveling with her parents meets and falls in love with a man, but she does not know that she is dying from leukemia. April becomes a nanny to the two children of a TV sportscaster. A loan shark sends a man to collect an outstanding debt from a passenger.

Saturday, January 24th, 1981

16: Gopher's Bride/Love With a Married Man/Not Tonight, Jack!

Isaac and Doc's joke backfires when the girl they have been writing love letters to under Gopher's name shows up; A couple drift apart over work habits; A woman refuses to share quarters with her boyfriend.

Saturday, January 31st, 1981

17: Lose One, Win One/The $10,000 Lover/Mind My Wife

A social-climbing fiancée runs into an old friend; A man stands to lose $10,000 to his friend, who only needs one more romantic conquest to break the world's record; Doc is leery about entertaining his friend's amorous wife.

Saturday, February 7th, 1981

18: Aquaphobic/Humpty, Dumpty/The Starmaker

An aqua-phobic man deathly afraid of water causes havoc among the crew and passengers as he tries to overcome his fear. Julie has a bittersweet reunion with her college sweetheart. Isaac recruits three cabin stewardesses to sing with him so he can win the attention of a talent scout.

Saturday, February 14th, 1981

19: Return of the Ninny/Split Personality/Touchdown Twins

April and her charges accidentally find themselves on board while her employer and his new fiancée set sail. Gopher's college friend tries to please both his boss and the boss' daughter. A man falls for the mother of his old college friend.

Saturday, February 21st, 1981

20: Quiet, My Wife's Listening/Eye of the Beholder/The Nudist from Sunshine Gardens

A female nudist gets help from an attorney when she wants to bare it all. A self-pitying blind woman who is afraid to love meets a man and thinks his attentions are based on pity. A recently divorced man believes that his cabin is wired for sound.

Saturday, February 28th, 1981

21: Clothes Make the Girl/Black Sheep/Hometown Doc

A clothes-conscious mother gets a surprise when she meets the object of her daughter's affection. Isaac is embarrassed when his crooked uncle boards the ship. Doc is deeply concerned about the decision a young doctor and his bride-to-be have made regarding their future.

Saturday, March 7th, 1981

22: Sally's Paradise/I Love You Too, Smith/Mamma and Me

The ship's boutique manager finds plenty of shipboard company when all three of her fiancées join her. Gopher and a hard-nosed customs agent inadvertently discover they have something in common besides insults. A domineering mother tries to break up a romance between her son and a gorgeous girl.

Saturday, March 14th, 1981

23: The Duel/Two for Julie/Aunt Hilly

Doc is in for an exciting adventure when he becomes the target of a jealous lover. Julie is dazzled by the affections of two executives who are accompanied by their boss. The captain's wealthy Aunt Hilly wants to take Vicki away with her and send her to a private school.

Saturday, April 11th, 1981

24: That Old Gang of Mine/Love with a Skinny Stranger/Vicki and the Gambler

Three members of an old-time bank-robbing gang hilariously try to rob the ship's vault. A formerly fat man's fat girlfriend is jealous of his new thin physique. Captain Stubing becomes concerned about Vicki and her gambling.

Saturday, May 2nd, 1981

25: This Year's Model/The Model Marriage//Vogue Rogue/Too Clothes for Comfort/Original Sin (1)

A husband and wife who own a model agency spar over the use of one of the models who has captured the Captain's eye. A cosmetics king searching for a unique woman to represent his new product finds two competing candidates. A couple tries to keep their marriage secret from the woman's father.

Saturday, May 2nd, 1981

26: This Year's Model/The Model Marriage/Vogue Rogue/Too Clothes for Comfort/Original Sin (2)

As the fashion show extravaganza takes place, a couple is in frantic search of some designer clothes that they have misplaced, while Julie gets the limelight when she stands in for a model friend who has fallen in love.

Saturday, May 9th, 1981

27: Maid for Each Other/Lost and Found/Then There Were Two

Two fun-loving bachelors find out that money isn't everything when they meet a beautiful maid. An employee of the ship leaves his infant son with Captain Stubing. Gopher's Aunt Loretta fears that the truth about her money will be discovered.

Saturday, May 16th, 1981

28: Tony and Julie/Separate Beds/America's Sweetheart

Julie falls for a handsome veterinarian. A divorced couple is forced to share quarters. Vicki becomes a stand-in for a bratty television star.
Season 5
Saturday, October 10th, 1981

1: The Expedition/Julie's Wedding/The Mongala/Julie's Replacement/The Three R's/The Professor's Wife (1)

Julie prepares to marry Tony in Sydney and asks Merrill and the crew to join her bridal party. Anthropologist Milo and his wife Vivian are off to a South Pacific dig where his colleague Deke plans to unveil a find. Gopher and Doc pursue Julie's successor.

Saturday, October 10th, 1981

2: The Expedition/Julie's Wedding/The Mongala/Julie's Replacement/The Three R's/The Professor's Wife (2)

Julie and Tony give the crew a tour of the Rossmore Animal Preserve. Isaac finds a flaw in the wedding gift that he bought on the crew's behalf. Barbara feels jealous of Connie and Ralph's relationship. Vivian issues an ultimatum to Milo.

Saturday, October 17th, 1981

3: Two Grapes on the Vine/Aunt Sylvia/Deductible Divorce

The Virgin Islands serve as a backdrop for the Grand Prix Wine-Tasting Competition, whose winner receives a $25,000 prize. Judge Alan Curtis starts a shipboard fling with Marion Blake, without getting to know her well. Julie's Aunt Sylvia Duvall is on the cruise with her friend, Betsy Boucher. Their scheme is for Betsy to meet the wine competition's sponsor Elliott Banning, marry him, and become a wealthy bride. But their efforts may be in jeopardy due to Sylvia's well-intentioned bumbling. Also among the judges is snobbish judge Vincent Van Durling

Saturday, October 24th, 1981

4: The Incredible Hunk/Isaac, the Marriage Counselor/Jewels & Jim

A guy whom Julie booked to entertain the passengers, is a male stripper. He's also a teacher and runs into the head of the PTA and tries to keep her from seeing him perform. A guy, whose wife just divorced him, comes on board and is suicidal. Isaac tries to help by calling his wife but she refuses to talk to him. So Isaac tries to set him up with some girls but then his ex-wife shows up. And the Captain recognizes one of the passengers as a known jewel thief. And when another passenger's diamond pendant is stolen, the Captain suspects him.

Saturday, October 31st, 1981

5: Country Blues/Daddy's Little Girl/Jackpot

Gopher finds some money and fantasizes how he'll spend it; a country singer meets an old friend , who's now a politician and traveling with a female companion; a father and daughter come aboard and she meets a veterinarian.

Saturday, November 7th, 1981

6: Chef's Special/Beginning Anew/Kleinschmidt

The head chef is jealous of a new rival chef in the kitchen; a bumbling detective is assigned to protect a client's jewels; two friends reunite.

Saturday, November 14th, 1981

7: The Lady from Laramie/Vicki Swings/Phantom Bride

An earthy woman comes between a socialite and her escort; psychic researchers search for a ghost aboard the ship; Vicki meets an older boy traveling alone.

Saturday, November 21st, 1981

8: Farnsworth's Fling/Three in a Bed/I Remember Helen/Merrill, Melanie & Melanesia/Gopher Farnsworth Smith (1)

The crew is in Australia to work on one of the cruise line's ships based there. And a wealthy man named Farnsworth has decided to invite his whole family for a reunion. But, in actuality, he wants to see who, among them, he should keep in his will. And among them is his niece, Marcia, who is not exactly fond of him, because she believes that, because of him, her father became penniless. And she brings along a friend, Jessica, who has a knack of getting wealthy men to marry her, for the purpose of getting him to marry her, so that she could get what Marcia ...

Saturday, November 21st, 1981

9: Farnsworth's Fling/Three in a Bed/I Remember Helen/Merrill, Melanie & Melanesia/Gopher Farnsworth Smith (2)

After having spent time with his family, William Farnsworth has finally decided who will be kept in his will.

Saturday, November 28th, 1981

10: Love, Honor, and Obey/Gladys and Agnes/Radioactive Isaac

A couple plan to renew their marriage vows aboard the ship; a tooth filling interferes with Isaac's romantic pursuits with his girlfriend and he also has a rival from a male passenger; two sisters take the cruise together and one sister develops a relationship with another passenger.

Saturday, December 5th, 1981

11: He's My Brother/Zeke and Zelda/Teach Me Tonight

Two stowaways pretend to be another couple and they start charging things, not knowing that the crew members, who approve of the charges, will have to pay for items they charge but don't pay for. A woman meets the author of a book she's reading. And Doc's brother and sister-in-law come aboard and his brother has a lot of pent-up resentment against him.

Saturday, December 12th, 1981

12: Take a Letter, Vicki/The Floating Bridge Game/The Joy of Celibacy

Vicki feels unneeded on the ship and begs Captain Stubing to give her a job, so he "hires" her as his personal secretary. But she gets carried away with enthusiasm and prompts the crew to make her workload a little less enjoyable. Three members of a floating bridge game get annoyed when their new fourth member, Shirley Simpson, meets dentist Frank Leonhardt on the cruise and decides she would rather get to know him better than play bridge. Emotionally cold Linda Trent turns down all possible male suitors in no uncertain terms. So fellow ...

Saturday, January 2nd, 1982

13: Doc Take the Fifth/Safety Last/A Business Affair

Doc returns from his vacation and introduces Tania, his new wife of a couple of hours, to the crew. Don Adams is a safety inspector taking a vacation and finds danger around every corner on board the ship, but then falls in love with fellow passenger Alice. The president of a financial group comes aboard to talk his female VP out of resigning, due to untrue rumors about them having an affair.

Saturday, January 9th, 1982

14: Good Neighbors/Captain's Portrait/Familiar Faces

Two passengers meet during the boarding and although attracted to one another, they find they live at the same address and the lady has a rule about dating someone who lives in her own apartment building. The Captain is to greet a famous female artist aboard, who has been commissioned by the ship line to paint his portrait. A romance begins and the artist decides to paint an unconventional portrait of the captain, naked, and from memory. When a couple on their honeymoon come aboard, an older passenger vaguely recognizes the younger man's face,...

Saturday, January 23rd, 1982

15: I Don't Play Anymore/Gopher's Roomate/Crazy for You

Gopher thinks he knows a female passenger but just can't remember from where. When she reveals how they know each other, it shocks him. A man, who feigned being mentally ill so that he could get his full pension, is being followed by a woman who tasked with proving he's faking. A concert pianist, who has stopped playing because he has arthritis in his hands, is being pestered by some fans to play. Initially, he refuses but, upon meeting one of the ship's staff who needs an operation, he agrees to give a performance.

Saturday, January 30th, 1982

16: Green, But Not Jolly/Past Perfect Love/Instant Family

A fellow believes he was married to a woman in a past life; Julie decides to change her hairstyle, which results in a shade of green; a high school coach is attracted to a woman with a hyperactive son.

Saturday, February 6th, 1982

17: The Return of the Captain's Lady/Love Ain't Illegal/The Irresistible Man

An old flame of the Captain's returns for a cruise. As the captain prepares to propose, Doc and Isaac discovers some news, which will cause the Captain some distress. Two business partners and their secretary are on the cruise to celebrate winning a large contract. One partner is not as honest as he seems and tries to use his secretary's love for him to cover his underhanded tricks. In an attempt to get the attention of a woman he cares for, a passenger reports that he had been sexually attacked by an unknown female passenger in a...

Saturday, February 13th, 1982

18: His Girls Friday/A Wife for Wilfred/The Girl Who Stood Still

A businessman takes his prissy secretary on a business trip. When he meets a dizzy blonde, his problem is how does he get his secretary to quit, so he can hire the blonde. Wilfred offers the crew $10,000 if they can find him a pretty wife. He's soon surrounded by five beautiful women, all fighting for his attention, and the crew trying to win a quick ten grand. When the crew find out Wilfred lied about paying the money so he can meet girls, the crew get the flower shop girl to pretend to be his wife. Two childhood sweethearts, separated since school, ...

Saturday, February 20th, 1982

19: New York, A.C./Live It Up/All's Fair in Love and War

Three divorced men swear off serious relationships; a married man's girlfriend gives him an ultimatum.

Saturday, February 27th, 1982

20: The Musical/My Ex-Mom/The Show Must Go On/The Pest/My Aunt, the Worrier (1)

The crew surprises Captain Stubing with the news that they are putting on a musical revue as entertainment for the passengers, with a script co-written by Gopher and Isaac. Gopher's mother Ros, Julie's Aunt Sylvia, Isaac's mother Millie, and Doc's former mother-in-law Connie Carruthers are all planning to take part but also expecting to star in it. The Captain publicly declines to play the lead role in it, but privately fantasizes about being in it and even practices for it. Also aboard are film star Victor Moncrief, who retired from show ...

Saturday, February 27th, 1982

21: The Musical/My Ex-Mom/The Show Must Go On/The Pest/My Aunt, the Worrier (2)

Lionel promises to give Isaac an executive position, if Millie marries him. Doc's in-laws help him make up with Gopher. A stranger paid for Victor's passage. The crew's relatives squabble over who's going to star in the musical.

Saturday, March 6th, 1982

22: Pride of the Pacific/The Viking's Son/Separate Vacations/The Experiment/Getting to Know You (1)

A competition pits Merrill, his rival Gunner, and their crews against each other and reignites a rivalry. Divorcing Harry and Dot take separate vacations. Dr. Skip and Megan need a guinea pig to try out an aphrodisiac.

Saturday, March 6th, 1982

23: Pride of the Pacific/The Viking's Son/Separate Vacations/The Experiment/Getting to Know You (2)

Ellen and Jesse annoy each other. It turns out that Gunner rigged the games, so Merrill becomes as tough as Gunner is, upsets Vicki, and drives the crew relentlessly to physical exhaustion.

Saturday, March 20th, 1982

24: Isaac Gets Physical/She Brought Her Mother Along/Cold Feet

Nurse Charlene gives company physicals and Isaac fears for his job. Debbie brings mom Millicent to meet boyfriend Ted. Julie's cousin Carter wants to dump his fiancee Muffy for being "very nice".

Saturday, March 27th, 1982

25: Burl of My Dreams/Meet the Author/Rhymes, Riddles, and Romance

A publisher (Jared Martin), trying to sign up a famous author (Alan Hale Jr.), becomes involved w/the author's niece (Georgia Engel); 2 passengers (Joanna Pettet and Paul Williams) hunt for treasure; Vicki's friend (Rad Daly) comes aboard.

Saturday, April 10th, 1982

26: Pal-I-Mony-O-Mine/Does Father Know Best?/An 'A' for Gopher

A doctor is uncomfortable when his companion is too friendly with his ex-lover; Gopher pines after his H.S. teacher; father and son pick up girls.

Saturday, May 1st, 1982

27: April in Boston/Saving Grace/Breaks of Life

April is a Spanish tutor to school headmaster Brad York. Lonely Grace Bostwick plans to jump overboard but white-clad Gabriel claims to be a guardian angel. Newly divorced George and Gwen Finley land in the infirmary together.

Saturday, May 8th, 1982

28: A Dress to Remember

One dress affects three people. Model Donna is to wear it to display her diet success. Poor flower vendor Rose's daughter Carol thinks her mom is rich. Norman dodges his ex-wife Nancy's homicidal father Tom.

Saturday, May 8th, 1982

30: A Dress to Remember

Saturday, May 15th, 1982

29: Mothers Don't Do That/Marrying for Money/Substitute Lover

Divorced Marian reunites with her son Danny, who reads her diary and avoids her. Gopher and Isaac think Lola is trying to kill husband Orville to inherit his money. Bert is taken with Marla and pretends to be her pen pal.

Saturday, May 15th, 1982

31: Mothers Don't Do That/Marrying for Money/Substitute Lover
Season 6
Saturday, October 2nd, 1982

1: Venetian Love Song/Down for the Count/Arrividerci, Gopher/The Arrangement (1)

The crew goes to Italy to work on a cruise ship there. Among the passengers is a family whose patriarch and matriarch (Ernest Borgnine and Shelley Winters) originally came from Italy and accompanying them are their 2 daughters (Candice Azzara and Meredith Baxter) and granddaughter (Marie Osmond). Into the trip, the couple bicker to the point that they're considering separating. One of the daughters (Baxter) is meeting someone on a sort of blind date but, not known to her, is a gigolo (David Birney). And the granddaughter (Osmond), who's been promised to another guy back home, meets a local (John James) and is attracted to him. And Gopher meets a local woman (Christopher Norris), who says he reminds her of someone she knows. While on shore, the man, who's the spitting image of Gopher, kidnaps him and assumes his identity.

Saturday, October 2nd, 1982

2: Venetian Love Song/Down for the Count/Arrividerci, Gopher/The Arrangement (2)

Conclusion. The ship cruises to Rome, Capri and Venice as an aristocrat (John James) finds romance; and a married couple (Ernest Borgnine and Shelley Winters) considers separating.

Saturday, October 16th, 1982

3: The Anniversary Gift/Honey Bee Mine/Bewigged Bothered & Bewilderedd

An woman secretly plans to have a child as a 30th anniversery gift for her husband, even though he is ecstatic over their new-found freedom in being retired and, especially, having their older children grown and out of the house; Julie sneakily sets Honey Bee, an old high school friend who always tried to steal her boyfriends, after Gopher (newly smitten with a girl ashore) so that she can concentrate on a handsome new officer; Captain Stubbing wears his hat everywhere in an attempt to keep an old high school flame from finding out he is bald, and she thinks he has a full head of hair because she saw him hatless when he was wearing a toupe for a shipboard costume party.

Saturday, October 23rd, 1982

4: The Same Wavelength/Winning Isn't Everything/A Honeymoon for Horace

Psychic Tess entertains passengers and meets Mike, who's separated from his wife. Merrill's friend Jack brags of his son Chip's accomplishments, but Chip has a secret. Elderly Horace worries about his honeymoon with wife Twinky.

Saturday, October 30th, 1982

5: Command Performance/Hyde and Seek/Sketchy Love

A young girl who's infatuated with Gopher pretends to be her older sister. An artist meets a unhappily married guy. And the ship's comic runs into the wife and daughter he left years ago.

Saturday, November 6th, 1982

6: The Groupies/The Audition/Doc's Nephew

A psychiatrist, who is on vacation is followed by four of his patients. An actor pursues the writer of a soap opera, who rejected him for a role on her show. Doc's nephew is making a move on his girlfriend.

Saturday, November 13th, 1982

7: The Spoonmaker Diamond/Papa Doc/The Role Model/Julie's Tycoon (1)

A priceless diamond is stolen in Turkey; the crew sets sail on the Aegean Sea; an eccentric married couple insists they know a fellow passenger; a woman is in love with a reporter who wrote nasty things about her mother; Doc contemplates marrying an unwed pregnant woman; a man entices his ex-wife aboard with promises of a lavish photo shoot; Julie runs into an old pen pal who has hit it big in Greece.

Saturday, November 13th, 1982

8: The Spoonmaker Diamond/Papa Doc/The Role Model/Julie's Tycoon (2)

Julie's old friend and new love interest pops the question; the secret association between two passengers is revealed; the photographer who tricked his ex-wife to come aboard rekindles the old flame; Vicki contemplates a modeling career; the famous diamond ends up in the ocean.

Saturday, November 20th, 1982

9: Too Many Dads/Love Will Find a Way/The Best of Friends

A father and his adopted son try to evade the boy's biological father; an older couple comes to terms with their future son-in-law's disability; the crew members argue and end up not speaking with each other.

Saturday, November 27th, 1982

10: The Man in the Iron Shorts/The Victims/Heavens to Betsy

Gopher is trapped in a suit of armor while trying to romance a young lady; the daughter of a woman whose husband was killed by a drunk driver falls for the son of the man responsible; an eligible minister draws the romantic attention of two of his congregation.

Saturday, December 4th, 1982

11: The Tomorrow Lady/Father, Dear Father/Still Life

A man meets a woman with clairvoyant powers; a single man borrows a friend's daughter to score points with a single mother; Isaac is scared that he is going deaf.

Saturday, December 11th, 1982

12: Baby Talk/My Friend, the Executrix/Programmed for Love

A woman is jealous of her husband's relationship with a surrogate mother they hired. Julie's aunt is shadowed by the executrix of a fortune she inherited. A man's obsession with his robot blinds him to love.

Saturday, December 18th, 1982

13: The Christmas Presence

A con man schemes to get his gold past the custom's agents by using a pair of traveling nuns. A young married couple consider separating. A mysterious stranger seems to be able to help people at just the right moment.

Saturday, January 8th, 1983

14: Paroled to Love/First Impressions/Love Finds Florence Nightingale

a man confesses his guilt to the lawyer who defended him. Two women impersonate celebrities after a booking mix-up. An actress finds love with a man who doesn't think much of her business.

Saturday, January 15th, 1983

15: The Captain's Replacement/Sly as a Fox/Here Comes the Bride – Maybe

A scheming captain is out for Capt. Stubing's job; two bumbling men compete for a woman's foxhound and her affection; a working-class girl must hide her status from her wealthy fiancé and his family.

Saturday, January 22nd, 1983

16: Doc's Big Case/Senior Sinners/A Booming Romance

Doc feels inadequate when a successful doctor friend is aboard. The children of an unmarried older couple object to their cohabitation. A computer expert finds love with a friend.

Saturday, January 29th, 1983

17: Gopher's Daisy/Our Son, the Lawyer/Salvaged Romance

A college girl hides in Gopher's cabin as part of a sorority initiation. A feuding couple tries to get their lawyer son to handle their divorce. A woman is reluctant to date after having a mastectomy;

Saturday, February 5th, 1983

18: Isaac's Aegean Affair/The Captain and the Kid/Poor Rich Man/The Dean and the Flunkee (1)

On a Greek cruise, Isaac falls in love and quits his job, the captain is upset when Vicki talks about marriage with her boyfriend, a college valedictorian who finds out his aunt is not wealthy keeps her identity a secret, and a college senior tries to persuade his dean to let him graduate.

Saturday, February 5th, 1983

19: Isaac's Aegean Affair/The Captain and the Kid/Poor Rich Man/The Dean and the Flunkee (2)

Saturday, February 12th, 1983

20: The Zinging Valentine/The Very Temporary Secretary/Final Score

A girl delivers a singing valentine to a rude man whom she falls for; a secretarial agency owner plays assistant, and then lover, to a writer; a womanizing former pro football star finds love with a straight-laced English professor.

Saturday, February 19th, 1983

21: The Captain's Crush/Out of My Hair/Off-Course Romance

The captain rekindles an old flame with a glamorous celebrity. A woman must decide between her wealthy fiancé and a passionate lover. Two men compete for one woman.

Saturday, February 26th, 1983

22: Abby's Maiden Voyage / He Ain't Heavy / I Like to Be in America

An inexperienced young woman contemplates getting physical; a rude man discovers the man he has been harassing is actually his long-lost older brother; April Lopez is too nervous to take her U.S. citizenship test.

Saturday, March 5th, 1983

23: Vicki's Dilemma/Discount Romance/ Loser and Still Champ

Vicki's friend Mark abuses pills. Gopher's Uncle Jim endangers the job of a gift shop attendant to whom he's taken a liking. Tom travels with girlfriend Stacy but is emasculated because she's better at his hobbies than he is.

Saturday, March 12th, 1983

24: So Help Me Hanna/The Maid Cleans Up/C.P.R. I.O.U

Hannah clashes with Jarvis over his son Kent's future. Maid Didi is in love with her boss Greg, whose girlfriend Meredith mistreats them. Gopher persuades Merrill to offer CPR. Retired plumber Fenley argues with son Dwayne over business.

Saturday, March 26th, 1983

25: Going to the Dogs/Putting on the Dog/Women's Best Friend/Whose Dog Is It Anyway?

A woman thinks that a dog belonging to another passenger is the dog she lost some time ago. Isaac's Aunt Tanya enters her pet and is pampering him so much that her husband is feeling neglected. Gopher and Isaac get a dog and enter him in the contest but they have trouble training him. And the mail clerk from the dog food company is sent by the dog food company president to deliver some contest information to Captain Stubing.

Saturday, April 2nd, 1983

26: The Professor Has Class/When the Magic Disappears/We, the Jury

Noble-winning professor Roscoe's ex-pupil Helen was hired to replace him. Magician Stellini thinks his daughter's suitor Joe wants to steal his secrets. The crew simulates a small claims court for landlady Minnie and former tenant Harlan.

Saturday, April 30th, 1983

27: Hits and Missus/Return of Annabelle/Just Plain Folks Medicine/Caught in the Act/The Real Thing/Do Not Disturb/Lulu and Kenny (1)

A popular songwriter secretly writes better songs for his former lover than for his wife, both performers. A country star traveling with her "adopted" children has to choose between the kids and her boyfriend. Doc deals with a country-folk doctor who insists on practicing medicine on board, while at the same time chasing her beautiful daughter. A married woman's affair haunts her as she claims an expensive broach is only costume jewelry. Gopher tries his best to get his picture taken with a privacy-seeking female country music star. Two overweight performers who love food come to love each other.

Saturday, April 30th, 1983

28: Hits and Missus/Return of Annabelle/Just Plain Folks Medicine/Caught in the Act/The Real Thing/Do Not Disturb/Lulu and Kenny (2)

Saturday, May 7th, 1983

29: The Fountain of Youth/Bad Luck Cabin/Uncle Daddy

Aged Dwight bilked Henry years ago and wants to see the fountain of youth that keeps Henry young. Newlyweds Cora and Ed are booked into Fiesta Cabin 213, a bad luck cabin for newlyweds. Isaac's widowed friend Gayle has marriage in mind.
Season 7
Saturday, October 1st, 1983

1: China Cruise: The Pledge/East Meets West/Dear Roberta/My Two Dumplings (1)

The crew and passengers are embroiled in intrigue when "The Love Boat" sets sail for the ancient palaces and splendors of China in a special two-hour premiere. Romance comes to an international fugitive (John Forsythe) when he meets a beautiful woman (Ursula Andress) with a secret.

Saturday, October 1st, 1983

2: China Cruise: The Pledge/East Meets West/Dear Roberta/My Two Dumplings (2)

An international fugitive finds love when he meets a beautiful woman with a secret, while a divorcee meets an intriguing man (Lee Majors) who conceals his identity from her and Isaac. Meanwhile, Doc falls for a woman who resists his advances after learning about his past. Finally, a two-timing man finds himself in a predicament when he must choose between his two girlfriends.

Saturday, October 8th, 1983

3: Bricker's Boy/Lotions Of Love/The Hustlers

The professional escort of an older woman (Vera Miles) dallies with a young woman (Constance Forslund); an advertising whiz tries to impress his best client despite putdowns from her daughter.

Saturday, October 15th, 1983

4: Prisoner Of Love/Youth Takes A Holiday/Don't Leave Home Without It

An Army captain (Beth Howland) sets her sights on Gopher; a married couple (Charlotte Rae, Louis Nye) meet up with two swingers (Jamie Farr, Heather Locklear).

Saturday, October 22nd, 1983

5: Rhino Of The Year/One Last Time/For Love or Money

When an organization wants to give a crew member an award, Captain Stubing suggests Isaac. Meanwhile, a fun-loving guy tries to help out his heartbroken friend but finds himself in trouble after meeting an unusual woman. Plus, a man tells his soon-to-be ex-wife that he's planning on getting remarried.

Saturday, October 29th, 1983

6: Friend Of The Family/Affair on Demand/Just Another Pretty Face

A married couple finds out that their daughter is in love with the father's best friend, while a progressive woman (Florence Henderson) agrees to help her romantic partner have an affair. Plus, Gopher tries to thwart the advances of a major cruise line's heiress.

Saturday, November 5th, 1983

7: Japan Cruise: When Worlds Collide/The Captain and the Geisha/The Lottery Winners/The Emperor's Fortune (1)

On a Japanese junket, a teacher (Mariette Hartley) impersonates a geisha to stay near the Captain; lottery winners carry their rags-to-riches routine to comic heights; a girl and her mother (Nancy Morgan, Jean Marsh) fall in love with two strangers (John Ritter, Harvey Korman). Filmed in Tokyo, Kyoto and Kobe.

Saturday, November 5th, 1983

8: Japan Cruise: When Worlds Collide/The Captain and the Geisha/The Lottery Winners/The Emperor's Fortune (2)

On a Japanese junket, a teacher (Mariette Hartley) impersonates a geisha to stay near the Captain; lottery winners carry their rags-to-riches routine to comic heights; a girl and her mother (Nancy Morgan and Jean Marsh) fall in love with two strangers (John Ritter and Harvey Korman). Filmed in Tokyo, Kyoto and Kobe.

Saturday, November 12th, 1983

9: Long Time No See/The Bear Essence/Kisses and Makeup

A carnival entrepreneur is approached on the Pacific Princess by a woman who knows a shocking secret about his past. Meanwhile, a comedy duo with a bear act competes for the affection of the same woman. Plus, newlyweds board the ship for a working honeymoon but the bride gets jittery when she's forced to reveal her true self.

Saturday, November 19th, 1983

10: Julie and The Bachelor/Intensive Care/Set Up for Romance

When Julie falls for her idol (played by Engelbert Humperdinck), he's forced to tell her what's really going on between him and his secretary. At the same time, a grouchy man interferes in his nurse's love life. Plus, a young man (Mark Harmon) meets up with a co-worker and learns the truth about his boss.

Saturday, November 26th, 1983

11: The Reluctant Father/Don't take My Wife Please/The Worlds Greatest Kisser/Mata

A jilted fiance hires a Mata Hari (Elaine Joyce) to find the crew member that ruined his wedding plans; a junior executive (Parker Stevenson) suffers in silence while his boss (David Doyle) lusts after his bride.

Saturday, December 3rd, 1983

12: The Prize Winner/Dee Dee's Dilemma/Julie's Blind Date

Julie's blind date turns out to be an overweight, uncouth misfit whose advances drive her crazy, that is, until he rejects her; a woman travelling incognito to avoid testifying at a trial falls in love with a man on board, while when disguised in a wig and a childs' dress she tries to avoid that same man's flirting son; a prize-winning author is blackmailed for love by his secretary, who is travelling with him and his jealous wife.

Saturday, December 10th, 1983

13: The Misunderstanding/Love Below Decks/The End is Near

An estranged mother and daughter mend their relationship after a secret about their past is revealed. Then, an attractive widow finds herself falling for a burly crew member, while a couple of newlyweds cause havoc aboard the ship after the groom believes the world will end at midnight.

Saturday, December 17th, 1983

14: Last Case/Looking for Mr. Wilson/Love on Strike

Everyone is a suspect when a passenger goes missing about the Pacific Princess. Meanwhile, when Julie's high-school friend boards the ship with her son, they learn an important lesson after running into the woman's father and another passenger. Plus, an engaged couple is the subject of a protest put on by the man's ex-lover.

Saturday, January 7th, 1984

15: No More Alimony/How Do I Love Thee/Authoress Authoress

A man bound by alimony wants to make sure his ex (Michelle Phillips) goes through with her marriage; Julie's Aunt Sylvia and her pal Betsy try to interest a publisher in Betsy's memoirs. Carol Channing, Betty White, Cesar Romero, Rue McClanahan, Dick Van Patten.

Saturday, January 14th, 1984

16: The Buck Stops Here/ For Better or Worse/Bet On It

A gambling cruise for charity proves a chancy thing for a teacher (McLean Stevenson), two honeymooners (Shea Farrell, Leah Ayres), and the drive chairwoman (Celeste Holm).

Saturday, January 21st, 1984

17: Aunt Emma I Love You/First Romance/Hoopla

The Harlem Globetrotters sail to Mexico but must compete against the crew's basketball team. Meanwhile, a man (Sid Caesar) gets angry with his wife when she insists on hanging a portrait of her deceased aunt in their honeymoon suite. Plus, a son takes his father's place on the cruise, only to fall in love with his dad's secretary.

Saturday, January 28th, 1984

18: Ace In the Hole/Uncle Joey's Song/Father in the Cradle

Captain Stubing hires a handsome new photographer who draws the attention of two sisters who were visiting Doc and Gopher. Then, a young man is shocked to meet his mother's (Lee Meriwether) new boyfriend, who is the same age as him. Finally, Isaac helps a children's performer make a little boy feel better following the death of his father.

Saturday, February 4th, 1984

19: Hong Kong Cruise: Polly's Poker Palace/Shop Ahoy/Double Date/The Hong Kong Affair/Two Tales of a City (1)

A U.S. Presidential-hopeful Senator falls for a businesswoman who intends on opening a large casino in Hong Kong, as his aide tries to derail the affair for P.R. reasons; a woman who simply can't stop shopping bets her husband $25,000 that she can go the entire cruise without buying anything; Julie and Vicki double date, though Vicki secretly falls for Julie's date; an retired spy finds love in the form of a woman secretly hired to keep him safe from revenge-seeking former adversaries; Gopher and Isaac, trenchcoats and all, tail the former spy through Hong Kong and see all sorts of potentially evil stalkers.

Saturday, February 4th, 1984

20: Hong Kong Cruise: Polly's Poker Palace/Shop Ahoy/Double Date/The Hong Kong Affair/Two Tales of a City (2)

Saturday, February 25th, 1984

21: Ace's Valet/Mother Comes First/Hit or Miss America

Isaac becomes enamored with a high-school friend's pal, who happens to be Miss America winner Vanessa Williams. Meanwhile, a vivacious young woman hopes to make a romantic match when she pairs Gopher up with her cranky mother. Plus, Ace is embarrassed when his wealthy parents have sent a butler to tend to his every need.

Saturday, March 3rd, 1984

22: Love Is Blind/Baby Makers/Lady & The Maid/Luise Rainer

A rich widow comes face to face with her estranged sister, who's working on the ship as a made and whose boyfriend the wealthy woman stole and married 40 years earlier. Meanwhile, a childless couple hatches a plan to become parents but their methods backfire. Plus, Isaac is attracted to a woman in his bartending class, but she's only got eyes for her blind classmate (LeVar Burton).

Saturday, March 10th, 1984

23: Side By Side/Rub Me Tender/Fish Out Of Water

A boy who thinks his grandmother (Glynis Johns) is terminally ill will do anything to ensure her happiness; a man (Ed Begley Jr.) who's uncomfortable around women falls in love with a mermaid (Mary Crosby).

Saturday, March 17th, 1984

24: A Rose Is Not a Rose/ Novelties/ Too Rich and Too Thin

A man (Rich Little) impersonating a female singer gets double trouble when a passenger falls for the singer and Julie falls for him; a novelty salesman (Don Adams) has difficulty separating business from pleasure.

Saturday, May 5th, 1984

25: Dreamboat/Gopher, Isaac & the Starlet/The Parents/The Importance of Being Johnny/Julie and the Producer (1)

A movie director (Ben Vereen) filming a musical aboard the ship tries to keep his star (Juliet Prowse) happy at Doc's expense; Julie is pursued by the lookalike brother (Dean Jones) of a man she almost married; the Captain falls for the mother (Alexis Smith) of a self-doubting rock star (Jimmy Osmond) on his first acting job.

Saturday, May 5th, 1984

26: Dreamboat/Gopher, Isaac & the Starlet/The Parents/The Importance of Being Johnny/Julie and the Producer (2)

Saturday, May 12th, 1984

27: Best Ex-Friends/All the Congressman's Women/Three Faces of Love

Isaac's budding relationship with a new crew member becomes complicated when Gopher tells him to fire her. Meanwhile, a congressman and his wife bring their daughter (Tori Spelling) aboard the Pacific Princess after receiving letters threatening her young life. Plus, a make-up artist's habit of disguising himself as other men to test his actress girlfriend's fidelity finally drives her to a breaking point.
Season 8
Saturday, September 22nd, 1984

1: The Crew's Cruise Director/What a Drag/Doc's Slump

A bevy of beauties, including a stunning new cruise director (Patricia Klous), board the Pacific Princess for an all-woman voyage to Alaska. Then, two men get in touch with their feminine side to try and spy on the female festivities. Meanwhile, Doc rethinks his womanizing ways when he's forced to juggle too many stunners.

Saturday, September 29th, 1984

2: Vicki and the Fugitive/Lady in the Window/Stolen Years/Dutch Treat (1)

A man who appears to be running gets the papers of one of the ship's deck hands and goes onboard. Vicki's attracted to him. But they soon discover that he is wanted by Interpol and when he explains that he paid the deck hand for his papers, and that he's a prince who just wanted to get away from his duties, she doesn't believe. Eventually he is taken away. Laterwhile out walking she sees a Royal entourage and sees that he was telling the truth. A woman runs into the man she was involved with during the War and it seems that she turned him into the Nazis. While she remembers him, he doesn't recognize her. And somehow they end spending time together and she senses that he still harbors ill feelings for the girl who turned him in. She later reveals who she is and he shuns her. Later when they run into each other again, he says that he forgives her, that she did it to save herself. She then says that she didn't do it to save herself but to save him. It seems that after she pointed him out.

Saturday, September 29th, 1984

3: Vicki and the Fugitive/Lady in the Window/Stolen Years/Dutch Treat (2)

Saturday, October 6th, 1984

4: Ace Meets the Champ/Why Justin Can't Read/Call me a Doctor

Isaac, Gopher, and Ace face off in the ring with a boxing champ, while a tutor discovers that her student is dyslexic. Plus, a mother causes trouble for her daughter when she tries to play matchmaker.

Saturday, October 13th, 1984

5: Only The Good Die Young/ Honey Beats The Odds/Light Of Another Day

Isaac tries to comfort a recent widow and her young son, while a blind woman is convinced another passenger is her former idol. A mild-mannered man befriends a woman to try and get information on her traveling companions.

Saturday, October 20th, 1984

6: Soap Gets in Your Eyes/A Match Made in Heaven/Tugs of the Heart

Captain Stubing's neighbor joins the cruise to tell her friend she's dying, only to fall for a man with questions about the afterlife. Then, a woman from Gopher's past hopes he'll propose marriage, while an overprotective mother is concerned when an actor who plays a TV villain develops a crush on her daughter.

Saturday, October 27th, 1984

7: And One to Grow On/Seems Like Old Times/I'll Never Forget What's Her Name

On her 18th birthday, Vicki is surprised to learn that her father is a recovering alcoholic. Meanwhile, a widow hires a private detective to track down her college sweetheart. Plus, a man faking amnesia boards with his ex-fiancee who's trying to help him regain his memories.

Saturday, November 3rd, 1984

8: Aerobic April/The Wager/Story of the Century

April Lopez (Charo) returns and makes it her mission to get the crew in ship shape, while two wealthy brothers make wagers which one of them can avoid falling in love with a pair of fetching females. Plus, a reporter thinks he's on the trail of a career-making scoop.

Saturday, November 10th, 1984

9: The Last Heist/Starting Over/Watching the Master

Doc's romantic plans with a woman (Delta Burke) are ruined by his ex-wife's fiance. Meanwhile, Judy's divorced friend shares a secret after meeting a potential suitor, and a niece traveling with her uncle is shocked to find out what he really does for a profession.

Saturday, November 17th, 1984

10: By Hook or By Crook/Revenge With the Proper Stranger/Don't Get Mad, Get Even

Gopher and Isaac are suspicious of Judy's new love interest. Meanwhile, a consumer advocate considers a new venture when his wife thinks about working for her best friend. Plus, a married woman accompanied by her husband insists on having an affair.

Saturday, November 24th, 1984

11: My Mother, My Chaperone/The Present/The Death and Life of Sir Alfred Demerest (1)

A renowned author disapproves of her daughter's affair with a married man, while a mother reveals to her son the truth about his famous father. Plus, a couple has their love tested by a blonde bombshell (Catherine Oxenberg) and the cruise director is surprised to discover her vindictive ex-husband is on board.

Saturday, November 24th, 1984

12: My Mother, My Chaperone/The Present/The Death and Life of Sir Alfred Demerest (2)

In "My Mother, My Chaperone" written by Hai Ackerman, a famous writer (Ms.Palmer) voices displeasure over her daughter (Ms. Alicia) having an affair with a married man (Stevens). In "The Death and Life of Sir Albert Demerest," written by Lan O'Kun, a son (Barton) suddenly learns from his mother (Ms.Dewhurst) that his father (Howard) is a famous actor who drinks too much. In "The Present", written by Howard Albrecnt and Soi Weinstein, a married couple (Ms. Swit and Holahan) learns more about their love when a sexy blonde (Ms. Oxenberg) is on hand for the husband's birthday. In "Welcome Aboard", written by Art Baer and Sol Veinstein, the cruise director (Ms. Klous) discovers that her vindictive ex-husband (Singer) is aboard.

Saturday, December 1st, 1984

13: Paying the Piper/Baby Sister/Help Wanted

A fed-up homemaker (Rue McClanahan) presents her unappreciative husband with a bill for services rendered, while a teen girl's infatuation with a young man leads to a revelation about her older sister. Then, Captain Stubing gives his friend's beautiful niece an internship aboard the Pacific Princess.

Saturday, December 8th, 1984

14: Country Blues/A Matter of Taste/Frat Brothers Forever

A cute country girl who aspires to be a singer falls for a young country music star, but his manager knows that his star can only write songs when sad; two interior designers, former lovers, compete to redecorate the ship and eventually end up together again; one of Doc's womanizing fraternity brothers from his college days arrives on board, but with his male lover secretly in tow.

Saturday, December 15th, 1984

15: Santa, Santa, Santa/Another Dog Gone Christmas/Noel's Christmas Carol

On a Christmas cruise, Captain Stubing discovers the crew has hired too many Santas, while a struggling comedian gets a new lease on life. Plus, Ace is enlisted as a passenger's fake fiance when she tries to impress her mother.

Saturday, January 5th, 1985

16: Instinct/Unmade for Each Other/BOS

Two older men, Leslie and Shelley, paired up by a confused blind dating service, chase the same woman; instead of meeting her fiance, a young woman gets a "present" of her fiance's friend to console her because her fiance has dumped her; Isaac chases a passenger who follows a silly, cult-like philosophy "Being Of Self", and in the process alienates the crew and almost gets fired.

Saturday, January 12th, 1985

17: Ace Takes the Test/The Counterfeit Couple/The Odd Triple

One of Ace's old high school girlfriends, now married to an impotent man, wants an embarrassed Ace to father her child; Gopher falls in love with an older woman, while that woman's daughter falls for Gopher; two total strangers share the honeymoon suite because they independently bought their tickets from a couple whose wedding was cancelled.

Saturday, January 26th, 1985

18: Love on the Line/Don't Call Me Gopher/Her Honor the Mayor

A shy woman pursues her selfish boss (Cesar Romero), while Gopher becomes self-conscious about his name when he runs into an ex-girlfriend. Then, a female mayor gets involved with her defeated opponent, which makes her campaign manager jealous.

Saturday, February 2nd, 1985

19: Scandinavia Cruise: Girl of the Midnight Sun/There'll Be Some Changes Made/Mr. Smith Goes to Stockholm (1)

An American woman pretends to be Swedish when she meets an executive who's searching for a company spokesperson. Meanwhile, a woman mistakenly believes a man (Jack Klugman) has undergone a sex change. Plus, an untrustworthy scientist (Terry Savalas) uses an actress (Janet Jackson) in a scheme to stage a heist. Finally, Gopher finds romance with an affluent socialite.

Saturday, February 2nd, 1985

20: Scandinavia Cruise: Girl of the Midnight Sun/There'll Be Some Changes Made/Mr. Smith Goes to Stockholm (2)

In "Girl of the Midnight Sun", written by Ray Jessel and Cynthia Thompson, an American (Ms. Norris) pretends to be Swedish in order to become a spokeswoman for an American executive (Davidson). In " There'll Be Some Changes Made" written by Donald Ross, a woman (Ms. York) discovers women's clothes in the closet of an American (Klugman), and believes his recent Stockholm surgery was a sex change operation. In "Too Many Isaacs," written by Mike Marmer from a story by Sid Morse, a scientist (Savalas) uses a beautiful woman (Ms. Jackson) to involve Isaac (Lange) in a scheme in which a look-alike robot steals an expensive racehorse. In "Mr. Smith Goes to Stockholm," written by Richard Goldman, Gopher (Grandy) gets ready to leave the ship for the good life when he falls in love with a wealthy socialite (Ms. Barnes).

Saturday, February 9th, 1985

21: Ace Takes a Holiday/The Runaway/The Courier

Ace suffers an injury that leads to a romance with a pretty passenger, while Gopher attempts to fill Ace's shoes as a photographer. At the same time, a young woman frets over telling her mother (Florence Henderson) that her stepdad is a womanizer. Plus, a courier has his loyalties tested by an attractive woman.

Saturday, February 16th, 1985

22: Getting Started/Daughter's Dilemma/The Captain Wears Pantyhose

Two inexperienced friends mistake a pretty young woman for a sexy seductress, while a businessman happens to fall in love with someone whom his daughter disapproves of. Meanwhile, Captain Stubing mysteriously rejects a qualified woman who wants to be a ship's captain.

Saturday, February 23rd, 1985

23: Vicki's Gentleman Caller/Partners to the End/The Perfect Arrangment

When an older man gives Vicki attention, she thinks it's a sign of potential romance, but his advances aren't actually a sign of affection. Meanwhile, a bi-coastal couple learns that their relationship only works long distance. Then, a woman unintentionally comes between two business partners who are plotting an insurance scam.

Saturday, March 23rd, 1985

24: Judy Hits a Low Note/Love Times Two/The Problem With Papa

A TV producer casts Judy in a singing commercial, unaware that she can't sing. Then, a husband tries to reconcile with his wife on a cruise, but finds himself attracted to her best friend instead. Plus, a caring daughter (Jessica Walter) worries her father is becoming senile.

Saturday, March 30th, 1985

25: Charmed, I'm Sure/Ashes to Ashes/No Dad of Mine

Ace has a bittersweet reunion with a free-spirited young woman in a wheelchair. Meanwhile, a married couple tries their hardest to quit smoking. Plus, a father and daughter disguise their real relationship in an attempt to get another woman's attention.

Saturday, May 4th, 1985

26: Caribbean Cruise: Call Me Grandma/A Gentleman of Discretion/The Perfect Divorce/Letting Go (1)

a very proper and stiff British ex-military officer is put in charge of the fun-loving and energy-filled Menudo group; a young couple is confouded because Doc seems very much in love with his visiting ex-wife, a fact Doc attributes to the fact that he is divorced; Vicki falls for a young man who is continually coddled by his mother, who seems not to want to let him grow up.

Saturday, May 4th, 1985

27: Caribbean Cruise: Call Me Grandma/A Gentleman of Discretion/The Perfect Divorce/Letting Go (2)
Season 9
Saturday, September 28th, 1985

1: A Day in Port

A group of eight new dancers, called The Mermaids, join the cruise and Isaac falls for their choreographer (Phylicia Rashad), who also happens to be his ex-fiancé. Meanwhile, Gopher helps solve a dispute among the ship's laundry workers, and Judy falls for a rich man with shady connections.

Saturday, October 5th, 1985

2: Your Money or Your Wife/Joint Custody/The Temptations

Vicki is thrilled when The Temptations board the ship and tries to convince their manager to let them perform for the passengers. Also, a custody battle on board becomes a matter of kidnapping, and a loan shark tells an overdue customer he'll forgive the debt in exchange for a date with the man's wife.

Saturday, October 12th, 1985

3: Hidden Treasure/Picture from the Past/Ace's Salary

A passenger does all she can to stop Andy Warhol (guest starring as himself) from telling her husband she was in one of his films. Meanwhile, a married couple (Cloris Leachman and Andy Griffith) scour the boat in search of a rare stamp, and Ace leads the charge on pay raises for the crew.

Saturday, November 2nd, 1985

4: German Cruise: The Villa/The Racer's Edge/Love or Money/The Accident (1)

Doc is the target for a swindle by a lovely tourist guide and her deceitful brother, while the wife of a retired champion cyclist gives her husband an ultimatum if he returns for one more race. Plus, a financially strapped woman reunites with a former flame, and Ace is caught in the middle of two women who both hope to snag a rich husband.

Saturday, November 2nd, 1985

5: German Cruise: The Villa/The Racer's Edge/Love or Money/The Accident (2)

In "The Racer's Edge," written by Christopher Vane and Jill Baer, a championship racer (Coleman) on his honeymoon with his wife (Ms. Whelchel) goes against her wishes to help his former coach (Morgan) by competing in a bicycle race. Unfortunately, this decision could mean the end of the couple's short marriage. Romance abounds as a woman (Ms. Smith) beset by sudden financial difficulty meets a former flame (Ferrer), a gambler who once left her. However, an adversary (Stevens) may come between the reunited lovers, in "The Villa," written by Michael Grace. Handsome ship's photographer Ace (McGinley) has an interesting time with two American women (Audrey Landers and Judy Landers) who are out to snag wealthy husbands, creating some confusion in "All For One," written by Mike Marmer.

Saturday, November 16th, 1985

6: Forties Fantasy

Gopher dreams that he's living in the 1940s, the cruise ship is a World War II troop carrier en route to France, and he has to outwit plotting Nazis.

Saturday, November 23rd, 1985

7: Good Time Girls/The Iron Man/Soap Star

Three college girls try to put the moves on Ace, while Doc reveals a surprising diagnosis for a professional athlete in training. Then, Judy's soap-opera star aunt, Sylvia (Carol Channing), finds out her best friend (Betty White) is trying to go behind her back to get on the same daytime show.

Saturday, November 30th, 1985

8: Trouble in Paradise/No More Mister Nice Guy/The Mermaid and the Cop

Former cruise director Julie returns when her marriage is in trouble. Meanwhile, a Mermaid dancer (Teri Hatcher) worries that a cop on board may recognize her from a past crime. Plus, Ace has to prove he's ready for more responsibility by firing two employees.

Saturday, December 7th, 1985

9: Roommates/Heartbreaker/Out of the Blue

While Vicki and Judy's friendship is put to the test when they become roommates, a professional golfer (Jeff Conaway) discovers a disheartening truth about the woman he loves. Meanwhile, a multimillionaire traveling aboard the Pacific Princess promises to make everyone's dreams come true.

Saturday, January 11th, 1986

10: Father of the Bride/The Best Man/Members of the Wedding

A private wedding cruise takes over the ship and the bride-to-be has a history with Ace. At the same time, the bride's father faces bankruptcy, the best man falls for the bride's sister, and a wedding crasher is on the lookout for potential conquests.

Saturday, January 18th, 1986

11: Dare Devil/ Picture Me as a Spy/ Sleeper

When Ace meets a Russian girl who's traveling with her father, he's not sure whether to trust them or suspect them of spying. Also, an international daredevil (Peter Scolari) learns that his love interest (Courtney Cox) isn't impressed by his hijinks, and Doc discovers a senator's wife is a sleepwalker.

Saturday, January 25th, 1986

12: Hippies and Yuppies/ Frat Wars/ Return of the Lambdas

Two rival college fraternities wage war during a reunion held on the ship. At the same time, two old college buddies reunite and discover one of them hasn't moved beyond their hippie days.

Saturday, February 1st, 1986

13: Miss Mom/ Who's the Champ/ Gopher's Delusion

As Hulk Hogan guest stars, two pro wrestlers vie for a spot in the ring, but things get out of hand when one of them romances the other's sister. Meanwhile, Gopher has been hypnotized to believe he's the captain. Finally, a woman has to decide whether she should tell the man she's dating that she recently become pregnant via artificial insemination.

Saturday, February 8th, 1986

14: Egyptian Cruise (1)

The captain reminisces with a dear friend's widow, while Doc gets an Egyptian souvenir that may turn out to be extremely valuable. Then, a woman leans on a former student when she loses patience for her inattentive husband, and an actress matches wits with a reporter.

Saturday, February 8th, 1986

15: Egyptian Cruise (2)

!n "Egypt," written by Duane Poole and Tom Swale, the captain (Gavin MacLeod) has a bittersweet reunion with the widow (Jean Stapleton) of one of his dearest friends. She is trying to get over her spouse's demise, and Stubing and another man (Campanella) make life more meaningful for her. When Doc (Bernie Kopell) purchases an Egyptian souvenir, it turns out to be of extreme value. Soon, Doc, Gopher (Fred Grandy) and Isaac (Ted Lange) are caught in a web of mystery and mummies when they meet a beautiful woman (Ms. Oxenberg) and a mysterious man (Putch), both claiming to be representatives of the Egyptian government. When a teacher (Ms. Harper) meets a handsome younger man (Show), she and her cold, inattentive husband (Sloyan) learn more about their unhappy marriage of many years. While on location for a movie, a beautiful but jaded actress (Ms. Adair) meets her match in a reporter (Everett) who has been hired by the film's producer (Astin) to write a behind-the-scenes story.

Saturday, February 15th, 1986

16: Hello Emily/ The Tour Guide/ The Winning Number

A widow named Emily Haywood (Marion Ross) grows fond of Captain Stubing but doesn't handle rejection well. Meanwhile, a tour guide gets so distracted, she loses her tour group in Acapulco. Finally, a recent lottery winner lets newfound wealth go to his head.

Saturday, February 22nd, 1986

17: The Second Time Around/ Hello, Spencer/ Runaway, Go Home

Captain Stubing welcomes back Emily Haywood (Marion Ross) and, this time, he might be more receptive to romance. Meanwhile, The Gatlin Brothers play themselves as they hide a 16-year-old runaway. Plus, a comedian is crushed to find he hasn't actually been booked to perform on the ship.

Saturday, March 1st, 1986

18: The Art Lover/ Couples/ Made for Each Other

Gopher accidentally breaks a passenger's ancient statue, while Judy helps a newlywed couple acknowledge their marital problems. Then, Ace takes a picture of two lovebirds that tells a different story about who is attracted to who.

Saturday, March 8th, 1986

19: Second Banana/The Prodigy/What Goes Around

A passenger gives one last show with his performing orangutan before the ape retires, while Capt. Stubing helps a passenger overcome a gambling addiction. Then, Doc works with a radio talk-show psychologist to help her overcome her own personal problems.

Saturday, March 15th, 1986

20: Gothic Romance/Whatever Happened to Crazy Joe Flash?

A rockstar goes incognito while on vacation aboard the cruise, but falls for a woman who fantasizes about being romantically involved with his alter ego. Then, Ace is at the center of a romance novelist's fantasies, while a couple celebrates their 10th anniversary... just not with either of their spouses.

Saturday, March 22nd, 1986

21: The Will/Deja Vu/The Prediction

The crew frantically take care of last minute business when a famous newspaper psychic arrives and predicts that the world will end during the cruise; while on his way to wed in Mexico, a young tycoon with amnesia who disappeared a few years earlier falls in love with his wife from his previous life; a woman whose husband is deceased is courted by a former boyfriend, only to find out that her husband's will called for the liason.

Saturday, May 3rd, 1986

22: Spain Cruise: The Matadors/Mrs. Jameson Comes Out/Love's Labors Found/Marry Me, Marry Me (1)

In this episode set aboard the Vista Fjord, a woman reporter who thinks bullfighting is immoral falls in love with a young man destined to be a matador because of his obligation to the family patriarch, Portugal's greatest matador; Isaac meets and falls in love with a wacky woman who is conning everyone, including him, but her real problem is that she has run away from her boyfriend and is pregnant; a young womanizer cleverly pursues both Vicki and Judy and, as it turns out, many other women on the ship; an older woman, just out of prison for murdering her husband, reunites with her daughter, incognito at first.

Saturday, May 3rd, 1986

23: Spain Cruise: The Matadors/Mrs. Jameson Comes Out/Love's Labors Found/Marry Me, Marry Me (2)

Saturday, May 17th, 1986

24: My Stepmother, Myself/ Almost Roommates/ Cornerback Sneak

Vicki becomes jealous of Captain Stubbing's bride-to-be (the sequel to this episode is "Happily Ever After..."); the new Assistant Cruise Director-Entertainer finds out that he has to share his cabin with a gruff cook instead of with the girlfriend that he brought along; a pro football has-been tries to romance the team's new owner, a woman, with a mind to get her to keep him on the next season's roster.

Saturday, May 24th, 1986

25: Happily Ever After/Have I Got a Job for You/Mr Smith Goes to Minikulu

Captain Stubbing prepares for his shipboard wedding and then gets married (this episode continues the storyline initiated in "My Stepmother, Myself"); as Gopher vacillates about his plans to leave, Ace is continually nominated and unnominated for Gopher's job; Gopher's bids farwell to his job and Loveboat friends when he accepts a job managing a South Pacific resort, Minikulu.
Season 10
Friday, November 21st, 1986

1: The Shipshape Cruise

Doc marries a younger woman only to run into his ex-wife while on his honeymoon. Meanwhile, a voluptuous diet doctor hires a svelte fitness instructor to impersonate her, and a man has to tell his partner their relationship may be over.

Thursday, December 25th, 1986

2: The Christmas Cruise (1)

While the new Mrs. Stubing wonders what to get the captain for Christmas, a comedic Santa suffers from depression. Then, a couple reunite after a long time apart, and a mother-daughter con-artist duo prey on passengers.

Thursday, December 25th, 1986

3: The Christmas Cruise (2)

Friday, February 27th, 1987

4: Who Killed Maxwell Thorn?

After secretly gifting six strangers a cruise, a billionaire goes missing, and Ace suspects one of the six is a murderer. Meanwhile, Mrs. Stubing wants to feel she's more than just the captain's wife.