update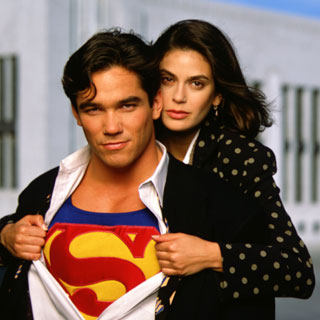 Season 0
6: Lois & Clark: The History Of Romance

not specified

1: Pilot Presentation

This is a video that Deborah Joy LeVine showed at the San Diego Comic Con before the series aired. She introduces the video and discusses the reaction she got while there.

not specified

2: From Rivals to Romance: The Making of Lois & Clark

A half hour look at the making of the series. The cast and crew are interviewed, including Hatcher, Cain, Scoggins, and Shea. They talk about how they cast the show, how they handled the wire tricks, and more. There are bloopers, scenes without effects, and other goodies.

not specified

3: Taking Flight: The Visual Effects of Lois & Clark

An interesting featurette discussing the flying effects, x-ray vision, and the other visual effects used in the show.

not specified

4: Lois & Clark: Secrets of Season 2

not specified

5: Marveling Metropolis: The Fans of Lois & Clark
Season 1
Sunday, September 12th, 1993

1: Pilot (1)

Clark Kent arrives in Metropolis and tries to get a job at the Daily Planet. The editor-in-chief, Perry White, is not impressed with his work from the Borneo Gazette, and therefore does not hire him. In his own time, Clark writes a story about an old theatre that is closing and Perry is blown away. He hires him on the spot. He is teamed up with with world-class journalist and egotist, Lois Lane to investigate a possible sabotage of the space program's Space Station Prometheus project.

Sunday, September 12th, 1993

2: Pilot (2)

Clark Kent arrives in Metropolis and in his second try, he gets the job of reporter in the Daily Planet, one of the greatest newspapers in the world. In the work, he meets Perry White, Jimmy Olsen, Cat Grant and Lois Lane, a reporter with a strong genius, who doesn't like to work with partners. Perry send Lois and Clark to investigate alleged sabotage of the space program's Space Station Prometheus project. Lois and Clark also meet Lex Luthor, one of the world's richest and dangerous man. Lex is very impressed with Lois' beauty, but Clark feels that Lex is a person that they can't trust.

Sunday, September 26th, 1993

3: Strange Visitor (from Another Planet)

Jason Trask, who works for the government, is obsessed with Superman and wants to study and kill him. He kidnaps Lois and Clark because he's sure that Superman has a connection with them. Clark begins to learn about Krypton when he finds the spaceship that brought him to earth.

Sunday, October 3rd, 1993

4: Neverending Battle

Lex Luthor develops several tests to see how strong Superman is. In the Daily Planet, Lois steals Clark's story about Superman. Clark moves into a new apartment.

Sunday, October 10th, 1993

5: I'm Looking Through You

Lois and Clark are investigating burglaries being made by invisible men. A scientist developed a suit that could make a person invisible, but his suits were stolen by a man wanting to commit crimes. Lois and Clark have to uncover who is behind these burglaries before it is too late. Clark also feels that he is losing his identity to Superman.

Sunday, October 17th, 1993

6: Requiem for a Superhero

Dr. Sam Lane, Lois' father, is involved with the fabrication of really strong bionic boxers. Lois becomes involved after a beloved family friend is murdered for knowing too much. Lois and Clark are able to stop the boxers after revealing their findings to the boxing commission. Lois and Clark are also ""officially"" made partners.

Sunday, October 24th, 1993

7: I've Got a Crush on You

Lois and Clark go undercover at a nightclub to find out about a connection between the owners of the club and a group of arsonists called the "Toasters". Superman is able to put out the "Toasters" permanently.

Sunday, October 31st, 1993

8: Smart Kids

A group of children who are drugging themselves by an experimental drug to increase the intelligence begins to bring problems to Metropolis. Clark is worried because the children told him that they know he is Superman.

Sunday, November 14th, 1993

9: The Green, Green Glow of Home

A friend of Jonathan and Martha has found a strange meteorite. Jason Trask is back and now he is in Smallville, looking for this meteorite that can destroy Superman. Lois and Clark go to Smallville to investigate the story and Clark introduces her to his parents.

Sunday, November 21st, 1993

10: The Man of Steel Bars

Metropolis is hit with a strong heat wave in the middle of winter, and people believe that Superman is the cause. Lex Luthor is ultimately behind the heat and wants to see Superman gone. Clark decides to leave Metropolis, but Lois finds out that the Luthor nuclear plant is to blame.

Sunday, November 28th, 1993

11: Pheromone, My Lovely

An ex-lover of Lex Luthor spreads a perfume in the Daily Planet and everybody begins to fall in love with each other. Lois falls for Clark, the only one who isn't affected by the perfume and he tries not to take advantage of her. Without the perfume effects, Lex tells Nigel that he is in love with Lois.

Sunday, December 12th, 1993

12: Honeymoon in Metropolis

Lois and Clark go undercover as honeymooners to a Metropolis hotel in an attempt to find out about a possible conspiracy which seems to involve a powerful congressman. They also need to learn how to share their lives with someone.

Sunday, January 2nd, 1994

13: All Shook Up

Superman needs to stop a giant asteroid from colliding with Earth, but when Superman collides with the asteroid, he gets amnesia. Clark goes at the Daily Planet with Lois, who is helping him with his ""new job"" and ""new friends"" that he can't remember. And Martha and Jonathan need to make Clark remember that he is Superman, otherwise, the ""still-alive"" asteroid will colide with the Earth.

Sunday, January 9th, 1994

14: Witness

Lois' life is in danger when she witnesses the murderer of a scientist who was claiming to know the secret to increased male potency. Now, Clark and Perry need to protect her from the murderer Mr. Make-up and from the scientist's affair from the past : Barbara Trevino.

Sunday, January 23rd, 1994

15: Illusions of Grandeur

Lois and Clark need to find out the truth about the kidnapping of rich children who are disappearing in a magic box. A magician hypnotizes Superman and Lois, who is now in risk of life.

Sunday, February 6th, 1994

16: The Ides of Metropolis

Lois helps a convicted murderer (but he is innocent) allowing him to stay at her house. He is the only one with the cure for a destructive new computer virus that is a menace for Metropolis. Jonathan worries that Martha might be having an affair and comes to Clark's apartment.

Sunday, February 20th, 1994

17: Foundling

The globe from Clark's spaceship begins to give him some information regarding his past, but the globe is stolen for two kids before he can learn much. Lex Luthor buys the globe from Jack and begins to learn something about Superman, but not too much.

Sunday, February 27th, 1994

18: The Rival

A Lois' ex-colleague is working for another newspaper who is strangely getting the major news before the Daily Planet and Lois gets jealous when she shows interest on Clark.

Sunday, March 13th, 1994

19: Vatman

Lex Luthor builds a clone of Superman, and teaches him to do what he wants, and what Lex wants is to destroy the real Superman.

Sunday, March 27th, 1994

20: Fly Hard

A group of terrorists take Clark, Lois, Perry, Jimmy, Jack and Lex hostage in the Daily Planet and Clark is not able do anything with his Superman powers or the others will figure out his secret identity.

Sunday, May 1st, 1994

21: Barbarians at the Planet

The Daily Planet is financially troubled and Lex buys the newspaper to get closer to Lois. After saving everyone's jobs, he makes some changes : Jack and Jimmy are now working downstairs in the printing of the newspaper, and hires a young just graduated man named Chip to be Perry's boss. Perry gets really mad and leaves the Planet. Lex puts a bomb in the Planet and the it explodes. He blames Jack, who gets arrested. Lex proposes to Lois, and Clark tells her he loves her, but she says that loves him too but only as a friend. When Lois ask if she and Superman have a chance to stay together, he says to Lois they can't stay together because she only loves him because he's Superman. Then, Lois accepts Lex's proposal.

Sunday, May 8th, 1994

22: The House of Luthor

Clark, Perry, Jack and Jimmy begin to search for the truth about the downfall of the Daily Planet. They are sure that Lex is guilty. Lex gets some Kryptonite, captures Superman, and locks him in a cage with Kryptonite bars. The wedding is about to start, but Lois has doubts about what she really wants to do. Lois realizes that Clark is the man she loves. When the Archbishop asks if she takes Lex as her husband, she says she can't, and at that moment Perry interrupts the wedding with Inspector Henderson and they tell Lex they know he is a criminal. Lex escapes, and goes to the room where Superman is trapped, but Superman has escaped. Lois walks out of the building crying, and hugs Clark (he just escaped from the cage). Lex throws himself off the top of his building, but Clark can't save him because he is weak from Kryptonite exposure. The Daily Planet is bought a by a rich man, who promises to make it better than ever. Before Lois can tell Clark she loves him, Clark says that he was lyi
Season 2
Sunday, September 18th, 1994

1: Madame Ex

Luthor's ex-wife, Arianna, comes to Metropolis and creates an exact, but evil copy of Lois. The real Lois, with Clark, begins to investigate who's behind this creation. She discovers that Lex was already married when he tried to marry her. Arianna tries to kill Superman, because she believes he is responsible for Lex Luthor's death.

Sunday, September 25th, 1994

2: Wall of Sound

A man genious in the sound area creates a sound weapon that can affect Metropolis and Superman. Clark is nominated for the Kerth Awards, and Lois gets mad because she won this prize three years in a row and now she won't get the prize.

Sunday, October 2nd, 1994

3: The Source

When Lois fails to protect her source, she is suspended from the Daily Planet. Now, Lois and Clark need to work to find the criminal and restore her good reputation as reporter.

Sunday, October 9th, 1994

4: The Prankster

Clark needs to protect Lois against a man she sent to jail five years ago, and what this man wants more is revenge.

Sunday, October 23rd, 1994

5: Church of Metropolis

The ""Intergang"", a new criminal organization tries to control south Metropolis and Superman is powerless because of their threats against everyone closest to him. Lois gets jealous when the investigator in charge, Mayson Drake, begins to show interest in Clark.

Sunday, October 30th, 1994

6: Operation Blackout

Lois and Clark discover an terrorist operation to infiltrate the military Fort Truman and hijack a satellite. Now, they are targets of a supposely dead boyfriend of one of Lois' best school friends.

Sunday, November 13th, 1994

7: That Old Gang of Mine

Al Capone, John Dillinger, Bonnie and Clyde return from the dead by the hands of a scientist. They start a crime wave in Metropolis and when one of them shoots Clark, he needs to fake his own death to protect his identity.

Sunday, November 20th, 1994

8: A Bolt from the Blue

When Superman tries to save a man from suicide, a lightning strikes both. Few minutes later, the man is very strong and can fly...yeah, now he has Superman's powers too. Then he decides to be a superhero, and tries to make money with his ""advantages"", leaving Superman very mad about this. As soon as Dr. Gretchen Kelly finds out about this, she makes a plan to re-duplicate the lightning incident and kidnaps Lois to attract Superman.

Sunday, December 4th, 1994

9: Season's Greedings

A fired and vengeful toyman creates a toy which can make the adults act like children, and sure, all the Daily Planet gang will be affected too, even Clark.

Sunday, January 1st, 1995

10: Metallo

Lucy Lane is working in Metropolis again, and now she has a new boyfriend named Johnny. He's turned into a cyborg body powered with kryptonite by the hands of two doctors. When Johnny finds out what he really is now, he tries to defeat Superman.

Sunday, January 8th, 1995

11: Chi of Steel

Lois and Clark investigate several robberies commited by a thief who is a ninja with mystical bracelets. These bracelets can give to a person power to kill Superman, using a mystical power named Chi.

Sunday, January 22nd, 1995

12: The Eyes Have It

Two scientists make Superman blind with a beam of light in his eyes, now Lois needs to take care of him on her house, while everybody think that Clark is in the mountains with Mayson Drake.

Sunday, February 12th, 1995

13: The Phoenix

Lex is back from the dead by the hands of Dr. Gretchen Kelly, and now he wants to get Lois back and destroy Superman. Clark asks Lois out on a date, but, when she accepts, Perry sends them in a stakeout. Then, Lois and Clark call it the ""almost first date"".

Sunday, February 19th, 1995

14: Top Copy

When a famous television reporter (and also an assassin from the Intergang) finds out Superman's true identity, she wants to show the information to the world. How will Clark hide the truth from the world now?

Sunday, February 26th, 1995

15: Return of the Prankster

When the Prankster escapes the prison, he continues with his plans to torment Lois' life, and now he also wants to kidnap the president of the United States.

Sunday, March 12th, 1995

16: Lucky Leon

When Jimmy is falsely accused by murder, Lois and Clark need to prove that he is innocent and clear his name. And they finally go to their ""real"" first date. Everything was going well, but when Clark takes Lois home, she closes the door on his face...because the date was great and because her fears about what will happen with their relationship. After they prove Jimmy's innocence, Lois explains to Clark what she felt when she closed the door on his face, and recognizes the mistake. When they finally kiss, a shocking and tragic thing happens.

Sunday, March 19th, 1995

17: Resurrection

A scientist develops a pill to ""ressurrect"" some ""dead"" criminal men in Metropolis. Clark is jealous because a man who is trying to solve Mayson's murder shows interest on Lois, and she thinks he is attractive.

Sunday, March 26th, 1995

18: Tempus Fugitive

Lois and Clark need to travel to 1966 with the help of H.G. Wells and his time machine to prevent a villain from the future who wants to destroy the baby Superman. The villain tells Lois about Clark's most important secret...his secret identity!

Sunday, April 2nd, 1995

19: Target: Jimmy Olsen!

Jimmy becomes a part of a experimental project by two ladies who want to put the people at their control. Lois is mad with all the Clark's suddenly disappearances and begins to date Scardino.

Sunday, April 16th, 1995

20: Individual Responsibility

The Intergang, now headed by Bill Church Jr., kidnaps Perry when Franklin Stern refuses to sell the Daily Planet and Superman allows the kidnap because he's affected with the strange ""Red Kryptonite"" effects. When Clark gets upset with Lois and Scardino's dates, he asks her out again.

Sunday, May 14th, 1995

21: Whine, Whine, Whine

Superman saves the life of a musician, but instead of ""thank you"", the musician wants to sue him because he ""broke"" his arm. Then, many people of Metropolis begins to fake injures caused by Superman. After finally give up of her love for Superman, Lois needs to choose who's the one she is going to be together with : Clark Kent or Dan Scardino.

Sunday, May 21st, 1995

22: And the Answer Is...

Jace, a blackmailer, with Tempus' diary, finds out about Clark's identity and forces him to steal and do everything more that he wants...and one thing more (by Nigel's suggestion)....to kill Lois, or he kills Martha and Jonathan. Lois tells Clark the only way to save his parents is to freeze her, then she will look like a dead person, and he tells her this can be very dangerous to her life, but, even so, she tells him to freeze her. Superman gives Lois (appearly dead) to Jace and Nigel, then they lock Superman in the same place where his parents are locked in. Jace kills Nigel. After Superman finally saved his parents and himself, Lois still did not open her eyes, then, he begins to beg to her life and she finally opens it, slowly. After Clark realizes he almost lost Lois, he proposes to her.
Season 3
Sunday, September 17th, 1995

1: We Have a Lot to Talk About

Lois tells Clark she already realized that he is Superman. In a moment after the surprise, Lois and Clark have an arguement. She is mad at Clark because he didn't tell her his identity secret, and he gets mad at her because she's not sure yet about marriage and declined his proposal. Bill Church, now married with his nurse Mindy, wants to be a ""good guy"" and creates a security team to fight against the crime in Metropolis, but his wife and his son think he lost his mind. Martha tells Lois and Jonathan tells Clark the problems that they had before their marriage. Bill Jr. and Mindy succeed on their plan to put Bill Church on jail, (yeah, his own father..) but, in the time the police arrests Bill, they arrest Bill Jr. too. Mindy Church is now the head of the Intergang. Lois and Clark decide to wait more time until get married.

Sunday, September 24th, 1995

2: Ordinary People

Perry gives Lois and Clark some time off to spend more time together, to relief to pressure about marriage. But Spencer Spencer, a ""Love expert"" with a deformed body, has a plan to put Lois and Clark in danger to bring Superman to his hands, then he will be able to get Superman's body.

Sunday, October 1st, 1995

3: Contact

Lois believes that she was abducted by ET's, but, in truth, she was captured by a young executive, who is now using her in very dangerous situations to distract Superman. When she gets injured, Clark decides to break up with her.....for her own good.

Sunday, October 15th, 1995

4: When Irish Eyes Are Killing

Lois tries to convince Clark that his decision to break up is a mistake. When an old Lois' friend comes to Metropolis, she tries to make Clark jealous. But this friend has plans to use her in a Druid sacrifice. Clark finally realizes that he can't stay without Lois, but that may be too late now.

Sunday, October 22nd, 1995

5: Just Say Noah

Lois and Clark go undercover as husband and wife to investigate missing couples in the Larry Smiley Institute, a place to help couples to repair problems in their marriages. They will find Larry's true plans and will find their romance again.

Sunday, November 5th, 1995

6: Don't Tug on Superman's Cape

Lois and Clark decide to forget the word ""marriage"", at least for the time. One of the richest couples of Metropolis has a plan to capture and add Superman to their collection of treasures. They capture Lois to get Superman. In the cage, Lois and Clark begin to talk, and the conversation makes them start to lose their fears about marriage.

Sunday, November 12th, 1995

7: Ultra Woman

The Newtrich sisters want to hit Superman with a ""Red Kryptonite"" beam (the kryptonite from the episode Individual Responsabilty). But instead of make Superman apathetic, the beam transferred his powers to Lois. Now, she needs a secret identity...to do Superman's job. After a while, Clark begins to feel upset because he has no powers anymore. Perry's wife Alice leaves him. When Lois feels what is to be a super-hero, she realizes that she loves Clark even more and proposes to him.

Sunday, November 19th, 1995

8: Chip Off the Old Clark

Now engaged, Lois and Clark get relationship problems when a woman claims to have had a child of Superman. Clark tells Lois the kid isn't his, but when Lois is interviewing the woman, the kid pick up a sofa. In who will Lois believe now?

Sunday, November 26th, 1995

9: Super Mann

When Lois and Clark finally begin with the wedding plans, they must stop again and investigate a Nazi organization which is trying to take over Metropolis.

Sunday, December 10th, 1995

10: Virtually Destroyed

Lex Luthor's illegitimate son, a genius in the computer area, traps Lois and Clark in his virtual world. There, he is strong, and Clark is not Superman. Before finally realize that they are still in the virtual world, Lois and Clark share their secrets about their past sexual relationships....well, at least, one of them had sexual relationships...

Sunday, December 17th, 1995

11: Home Is Where the Hurt Is

Lois and Clark's parents show up to spend Christmas with them. Mindy Church reorganizes the Intergang and creates a Kryptonian virus to make Superman die. Now and for the first time in his life Clark is sick, but this sickness can kill him, unless Sam Lane helps him with a risky recovering process.

Sunday, January 7th, 1996

12: Never on Sunday

Ellen Lane hires a wedding coordinator to help on Lois and Clark's wedding, now the plans for a small ceremony are gone...And a magician with designs on vengeance is now in Metropolis against some people, including Clark.

Sunday, January 14th, 1996

13: The Dad Who Came in from the Cold

Jimmy's father appears in Metropolis and Jimmy introduces him to Clark, Lois and Perry. When Lois and Clark discover that he is a spy, they must tell the truth to Jimmy, but he doesn't believe them. Clark gets worried about the ""father"" subject...he doesn't know if he is going to be a good father because of his job.

Sunday, January 21st, 1996

14: Tempus, Anyone?

Tempus is back and now he kidnaps Lois and takes her to an alternate world, where there is more violence, Tempus is running to presidency against Perry, and Clark is engaged...with Lana Lang, his former girlfriend from Smallville. With the help of an older H.G. Wells, Lois tries to stop Tempus from killing Perry and go back to her world, but for this, she needs to teach the alternate Clark how to be Superman.

Sunday, February 11th, 1996

15: I Now Pronounce You...

Lois and Clark are finally getting married. At the same time they are assigned to cover a story about the theft of exotic frogs from a pet store. They discover a plot against the president using clones created with an enzyme from the stolen frogs...

Sunday, February 18th, 1996

16: Double Jeopardy

At the end of the last episode Clark waits for Lois in bed on their wedding night while we learn that Lois Lane was replaced by a clone made using the frog enzyme. Meanwhile the real Lois is a prisoner of Lex Luthor. Will Clark catch on? What nefarious plan does Lex have up his sleeve? Will Lois escape and reunite with Clark?

Sunday, February 25th, 1996

17: Seconds

Lois, still suffering from amnesia after striking her head while escaping from Lex, thinks that she's Wanda Detroit, a fictional character from a novel she was writing. At the end of the last episode she dumped Clark for Lex and left with him. Clark and the clone now become friends, while Lex plots to make sure Lois stays with him for good. Will Lois ever recover her memory of who she really is?

Sunday, March 10th, 1996

18: Forget Me Not

Lois has now amnesia, and Clark puts her in a clinic. But Dr. Maxwell Deter's treatment has extremed methods, one of them is that Clark can't tell Lois they are engaged and love each other. And another doctor is programming patients of the same clinic to kill people that he has been hired to kill (Perry is in the list). Later, Dr. Deter restrits Clark's visits to Lois because he wants her love. When Lois remembers only her work partnership with Clark, she tells him that she's in love with Dr. Deter.

Sunday, March 24th, 1996

19: Oedipus Wrecks

Lois is still in love with Deter, and even with her return to the Daily Planet, he doesn't tell her nothing about her relationship with Clark. Bad Brain Johnson's brother Herkimer has created a machine that makes people act very strangely, just to impress his mother. Clark can't hold himself and tells Lois that he loves her. Deter makes Lois believe that she must go with him to the south of France, and when Perry is ready to kick his ass, the Herkimer machine begins to work and Lois remembers her relationship with Superman only. When Deter and Lois try to stop Herkimer with the machine, they suffer effects from the machine, and in this confusion Lois finally remembers all her life, including her love for Clark.

Sunday, April 28th, 1996

20: It's a Small World After All

Lois and Clark go to Lois' high school reunion, and there, she finds out about the disappearing of two of her classmates' lovers. They are disappearing because another classmate of Lois wants revenge for her bad school time, then she's shrinking their ex-colleagues' mates. She hates Lois, and puts Clark as the next on her shrink list. Now, Lois needs to find out what and who is doing this, or Clark will be small until disappear.

Sunday, May 5th, 1996

21: Through a Glass, Darkly

Superman is subjected to many tests of his powers by Zara and Ching, Kryptonians who need a new leader to the planet New Krypton. Lois and Clark discuss about buying a house.

Sunday, May 12th, 1996

22: Big Girls Don't Fly

After being approved in Zara and Ching's tests, Superman learns that they want him to leave the Earth (and Lois) and go back with they to rule New Krypton, or the planet will be ruled by the evil Lord Nor, who has sent an assassin to kill Clark. When Clark defeats the assassin, he and Lois decide that he must go with Zara and Ching. Superman says goodbye to his parents, to Earth and to Lois, and leaves with Zara and Ching.
Season 4
Sunday, September 22nd, 1996

1: Lord of the Flys (1)

Clark is gone to New Krypton, but the evil Lord Nor comes to earth to take over the planet. First of all, he takes over Smallville, and his next target is Metropolis. Now, Clark must go back to Earth to stop him, but before that, he wants to see Lois. Lord Nor discovers about Clark being on earth and captures his parents.

Sunday, September 29th, 1996

2: Battleground Earth (2)

Lord Nor accuses Clark of treason, and wants him on trial for the Kryptonian Law. Clark is sentenced guilty, and sentenced to death. Ching tells the tribunal that there is one law saying that Clark can have a duel with Nor, that saves his life. When they are dueling, Coronel Cash releases a Kryptonian gas to kill Nor and Superman, but, for Clark's luck, before the release of the gas, Nor's men appear. Then, they and Nor absorb most of the gas because they knocked out on Superman. After the defeat of Nor and his men, Zara and Ching leaves to rule New Krypton, and Clark makes a final proposal to Lois.

Sunday, October 6th, 1996

3: Swear to God, This Time We're Not Kidding

Few days before their wedding, Lois and Clark must face with Myrtle Beech AKA ""The Wedding Destroyer"" and her therapist. She doesn't want them (and no one else) to get married, and will do shocking things to stop it because years ago, Lois wrote the story which sent her to jail. When Lois and Clark finally stop Myrtle, they finally get married on the mountains, with the help of the angel Mike.

Sunday, October 13th, 1996

4: Soul Mates

In their wedding night, Lois and Clark are interrupted by H.G. Wells, who says that before consumate their marriage, they must go back in time to destroy a curse, otherwise Lois will die from a disease.

Sunday, October 20th, 1996

5: Brutal Youth

A scientist discovers a way to steal the youth of young people and transfer it to old people, and one of their victims is Jimmy, who becomes an old man. Lois and Clark must find a way to revert the process and give Jimmy his youth back, but then Lois finds out that Superman's lifetime is longer than hers. After resolve the youth problem, Lois and Clark buy a new house.

Sunday, October 27th, 1996

6: The People v. Lois Lane (1)

When Lois and Clark are decorating their new house, a former Lois' informant calls and tells her to go to a park, then he will show her how a murder happened. When he puts the gun on her hand to show how the crime happened, a former professor that Lois sent to jail years ago makes the gun shoot, killing Lois' informant, and she is caught with the gun. Now, Lois is arrested and being accused of homicide.

Sunday, November 10th, 1996

7: Dead Lois Walking (2)

Superman breaks Lois out of jail and now, she is a fugitive. Everyone is looking for the ""mad dog killer"" (Lois). Now, Lois and Clark must find out who is the one framing her, and it looks like professor Jefferson Cole has evil plans regarding Metropolis' fate.

Sunday, November 17th, 1996

8: Bob and Carol and Lois and Clark

When finally Lois and Clark find another couple with things in common, they start a friendly relationship with Bob and Carol. But what Bob and Carol really want is revenge against Grant Gendell, Bob's former boss, and the person who can take them to Gendell is Lois because she's going to interview him. And Superman needs to defeat Deathstroke, a man who can kill people of heart attack. In fact, Deathstroke is the secret identity of Lois and Clark's new friend Bob (things in common, remember?).

Sunday, November 24th, 1996

9: Ghosts

A con artist tries to scare Lois and Clark with fake hauntings in an attempt to buy their house. The ghost of a dead woman who lived on Lois and Clark's house years ago enters on Lois' body, and she wants to have Lois' life and Lois' husband.

Sunday, December 8th, 1996

10: Stop the Presses

Perry gets promoted to a job upstairs and picks Lois to be the new Editor-in-Chief of the Daily Planet. She ends up killing one of Clark's stories and they have their first fight after marriage. And Superman must deal with Ethan Press, a man who wants to kill him because of Lex Luthor's death, and with the (forced) help of his brother Eric, Ethan creates a powerful weapon, and now, only the sun light can save Superman.

Sunday, December 15th, 1996

11: 'Twas the Night Before Mxymas

The annual Daily Planet Christmas Party is underway, and everyone but Lois is in the spirit of the season. Perry has bought a gigantic tree, Jimmy is showing off his new girlfriend, and the Kents have finished their Christmas shopping. Clark tries to get his wife to embrace the Christmas spirit but is sidetracked by a couple superhero rescues he must perform. He is on his way back to the party when he meets Mister Mxyzpltlk, a imp from the fifth dimension. Mxyzplitlk has plans for this planet and starts a time loop that soon has the whole world on the brink of chaos. Only Clark knows what is going on, and he must find a way to get Lois out of her funk so that she can help him break the time loop and restore hope on this Christmas Eve.

Sunday, January 5th, 1997

12: Lethal Weapon

While playing strip poker, Clark leaves to answer a bank alarm, but upon arrival, a man exposes him to red kryptonite and he burrows 50 feet under the pavement. After two more exposures at two more robberies, his powers become increasingly stronger and when he accidentally hurts Lois, he stays away from her. Superman goes to Dr. Klein to find out why his powers have gone into overdrive, and Dr. Klein encourages him to look inward and relax, instead of acting on his anger. Perry's son, Jerry, is out of prison and has been showering Perry with gifts from the money he has made by being paid to mess Superman up with red kryptonite. Jimmy and Jerry are each jealous of the other's relationship with Perry, and Jimmy investigates Jerry's possible involvement in the robberies. He gives the information to Lois, who warns him to tread carefully with his circumstantial evidence, but when she follows Jerry, she sees him get paid for a job. Mr. Gadget and his son are planning to level every building

Sunday, January 19th, 1997

13: Sex, Lies and Videotape

Randy Goode, philanthropist and owner of a tabloid, is jealous when Superman wins the International Peace Prize, and he vows to ruin Superman's reputation. He sends Samantha, a reporter to find incriminating dirt on Superman and when she sees that he and Lois get awfully close during an interview, she decides to investigate further. She snaps pictures of Lois and *Superman* kissing in a hotel room. The film is ruined, but she fakes the photo and prints the story anyway, resulting in a huge media scandal. Two Middle Eastern countries are primed for nuclear war, and Superman is mediating their peace talks. The media scandal discredits Superman and the warring countries decide to stop the peace talks because they don't trust his advise anymore. When the peace talks fail, Clark decides that the only way to regain the world's trust is to tell the world that Clark Kent is Superman. Lois, with Jimmy's help, tracks down the photo lab that faked the photo and connects Mr. Goode to the lab, but

Sunday, March 2nd, 1997

14: Meet John Doe (1)

Tempus escapes from a home for the criminally insane and with a new technology from the future he plants subliminal messages into the minds of the people saying that ""John Doe is a darn nice guy"". In truth, John Doe is Tempus, and now with this fake identity, he is running for presidency of the United States. There are only a few people who doesn't believe him: non-users of telephone, and Lois and Clark, but he will do everything to solve this problem, including banish Superman into a time window.

Sunday, March 9th, 1997

15: Lois and Clarks (2)

Lois needs to find a way to bring Clark back to this world, and she will count with the help of H.G. Wells and the Clark from the alternate world, but they need to act quickly, or the real Clark will disappear in time, forever.

Sunday, March 16th, 1997

16: AKA Superman

Penny Barnes, a young woman obsessed with Superman discovers that he is Jimmy Olsen! Seduced by her beauty, Jimmy ends up not telling her the truth, and when her boss thinks that she is Superman's girlfriend, he kidnaps her and forces Superman to reactivate ""the annihilator,"" a deadly weapon the government had scrapped before it was completely built.

Saturday, April 12th, 1997

17: Faster Than a Speeding Vixen (1)

The Daily Planet is purchased by Leslie Luckabee, a misterious young man from Australia, and at the same time, a super-powered woman named Vixen arrives in Metropolis to fight against the crime, but instead of give the criminals to the police, she kills them. In truth, Leslie Luckabee is Lex Luthor's son and with the help of the Troll/Mr. Smith, he's using Vixen to kill those who bought his father's companies.

Saturday, April 19th, 1997

18: Shadow of a Doubt (2)

Leslie attempts to cause a fight in Lois and Clark's wedding by making a play for Lois, and it works. A shadow-murderer is killing the creators of Vixen, and when this guy discovers that there is no antidote to set him free from the shadows, he tries to kill Lois, because she is the woman that Leslie doesn't want to hurt. Superman talks to Dr.Klein about the his compatibility with an Earth woman. When Superman destroys the shadow-man and makes up with Lois, they realize that Leslie is son of Lex Luthor, while that, Leslie and the troll discover Superman's true identity.

Saturday, April 26th, 1997

19: Voice from the Past (3)

Lois and Clark are investigating Leslie Luckaby and Lex Luthor Jr.'s pasts, while Leslie Luckaby and The Man in the Sewer are plotting to make Superman a Lex Corp employee and force Lois to marry Leslie. The villains detonate a bomb in a Lex Corp building and Superman finds the trigger that a signal was sent to. He gives it to Dr. Klein to work on, while Superman continues to be tested for his ability to have children. The Man in the Sewer reveals that he is Lex Luthor Jr. and Leslie has merely been hired as an actor. Leslie doesn't want to be ordered around and threats between the two villains escalate the tension. Leslie tells Lois that he is really Lex Luthor Jr. and he later announces it at a press conference. Lex Luthor Jr. uses an electronic device to see and hear everything that Lois does, as well as speak into her mind and inflict pain on her. When Leslie strays from the script that Lex set up for him, Lex uses the device to manipulate Lois into leaving Clark and running away w

Saturday, May 31st, 1997

20: I've Got You Under My Skin

In a attempt to escape from a mob, Woody Samms uses a mystical stone to exchange his body with Clark's, and Clark goes to his body. While Clark tries to find out what is happening, Woody decides to stay with Clark's body, because obviously, he found out that Clark is Superman. And this time Clark will need to convince Lois that he is in another body and needs her help to get back to his.

Saturday, June 7th, 1997

21: Toy Story

The Toyman is kidnapping children from orphanages, and taking them to what he believes to be ""a better place to live"". He also kidnaps Dr.Klein because he needs his help to create a new machine called ""the reintegrator"" to help to kidnap the children of his former employers. Lois accidentally touches a toy with the reintegrator effects and ends up in the Toyman secret place. She and Dr.Klein are now in danger and can only be saved by Superman, but first, he needs to find where Lois and Klein are. Alice and Perry get back together.

Saturday, June 14th, 1997

22: The Family Hour

Lois and Clark receive a special delivery : a baby cradle sent by Martha. She had decided to send it because of the conversation she had with Lois before (in Toy Story). While that, Dr. ""Fat Head"" Mensa is released from the prison, and now he has a big head and the power of realize things by his thoughts, then he kills a guard and an old ""friend"". Unfortunately, Clark arrives in the Daily Planet and tells Lois that they can't have children. After she cries, she decides to ask help for her father, and they tell him Clark's secret. Another old ""friend"" from Dr.Mensa is Misha, Sam's research assistant, but when Misha tells Mensa that he is developing a weapon which will allow him to bend everyone's will to his own, Mensa decides not to kill him. When Mensa leaves Sam and Misha's office, Misha is desperate because he lied about the weapon, and then he tries to find out what Sam is doing, but Sam doesn't tell him. The adoption counselor tells Lois and Clark that they cannot adopt a child.