update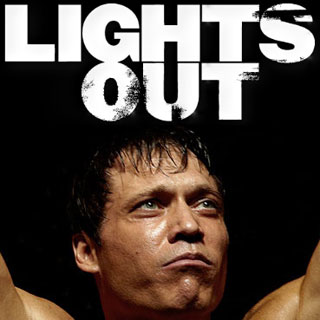 Season 0
not specified

1: Split Decision

Get an in-depth look at former heavyweight champion Patrick "Lights" Leary. Follow his epic rise and high-stakes reign with insight from his trainer and manager, plus rival in the ring - Death Row Reynolds.
Season 1
Tuesday, January 11th, 2011

1: Pilot

Former heavyweight boxing champion Patrick "Lights" Leary struggles to find his identity after retiring from the sport. He also wonders how he is going to support his medical resident wife Theresa, and their three daughters. The series premiere begins five years after Leary's retirement following a controversial split-decision loss to Richard "Death Row" Reynolds. The Learys' once charmed life is on shaky ground; the IRS is determined to take away their mansion, and Patrick's brother/manager Johnny wants him to make a comeback, despite him showing signs of pugilistic dementia.

Tuesday, January 18th, 2011

2: Cakewalk

When Leary is threatened with criminal charges, he must do the bidding of bookmaker Hal Brennan to make them go away. Lights is also being coy with his suspicious wife Theresa, and Mike Fumosa, a pesky reporter—both having heard rumors that he will return to the ring to fight Reynolds. Meanwhile, his daughter Daniella finds out about her father's diagnosis and confronts him.

Tuesday, January 25th, 2011

3: The Shot

Lights struggles to help train his father's young fighter, Omar "The Armenian Avenger" Assarian for the middleweight championship against Monte "The Hurricane" Harris. Omar may be the best hope for Leary Gym of becoming a champion since Lights retired. However, promoter Barry K. Word is only interested in getting Omar into the fight if Johnny agrees to a deal involving Lights' return. Meanwhile, Patrick's family makes him a memory book for his 40th birthday and he spends the rest of the night watching the outcome of the fight.

Tuesday, February 1st, 2011

4: Bolo Punch

Johnny gets himself in a life-threatening situation when he is unable to pay his gambling debt after betting on Omar's fight. So Lights has to put himself on the line to bail him out by fighting an MMA fighter named Dokaj in order to make the money and save his brother. Meanwhile, Theresa offers to donate $50,000 to help rebuild a clinic that her church is involved with in Haiti, but she soon discovers that the family's $12 million from Lights' fighting career is all gone.

Tuesday, February 8th, 2011

5: The Comeback

The Learys' financial situation turns more desperate and they are advised to consider bankruptcy. However, Lights decides to make a comeback with a few easy fights, but discovers Johnny's deal with Barry Word. Despite this, Lights tries to find his own fight enlisting Reynolds' old sparring partner Jo Jo Reade for his next opponent. But an unfortunate accident causes him to take on a harder challenger in the dangerous ex-con Javier "El Diablo" Morales and the aftershock threatens Lights' and Theresa's marriage.

Tuesday, February 15th, 2011

6: Combinations

Lights starts training for his fight with El Diablo—his first fight in five years, while dealing with the heartbreak of being away from his family. While sparring, he receives an injury from a thumb to the eye, causing him to see double. This gets him into trouble hanging out with Johnny who tries to help his brother's well-being by setting him up with a call girl. When stories fly about his night out and that the fact he has been cage fighting for money, Lights seeks advice from reporter Mike Fumosa to make the story go away, but he wants to write about Lights' private life in return.

Tuesday, February 22nd, 2011

7: Crossroads

As the fight with Morales nears, Lights finds himself at a crossroad in his life and career. He is about to attempt a comeback both in the ring trying for his 36th win, and at home trying to gain the support of his family. But when he asks Theresa to be in his corner for the fight, he instead gets unwanted support from an unlikely ally.

Tuesday, March 1st, 2011

8: Head Games

When his father decides not to train him because he does not think he is capable of fighting at a professional level anymore, Lights turns to Ed Romeo, Reynolds' former trainer for some heightening of his skills. Not only does Ed train him in an unorthodox style, he tries to make Lights realize he should fight for his wife and girls, and cut his father, brother, and sister out for the fact that they are suffocating him. Lights takes this into account when he grows suspicious of their sudden interest to help him with his big fight in an effort to fire Romeo.

Tuesday, March 8th, 2011

9: Infight

Lights alliance to Ed Romeo, his new boxing mentor comes between him and his family. Although, Romeo likes Teresa and the girls, he wants Lights to cut his father and brother out because he thinks they are weighting him down. This does not sit well with Lights, who in return, tells Romeo he doess not feel free of them, but feels controlled by him and decides to free himself of his eccentric trainer. Meanwhile, at the gym, Johnny and Romeo get into a fight, which ends up in an unfortunate accident for Lights.

Tuesday, March 15th, 2011

10: Cut Men

After being accidentally stabbed with scissors by Johnny, Lights' injury puts his comeback, his health and Theresa's medical career in jeopardy, especially when Barry Word can not postpone the fight because of the penalty fees. As his family's expenses pile up, Lights tries to speed up the healing process by secretly seeing a doctor to give him a potent "medicine cocktail" mixed with prednisone. Lights tries to recover from his unfortunate injury, but finds out from Mike Foster—now a TV reporter—that Word is already setting up Reynolds' next fight with a Ukrainian Muslim boxer named Mustafa. Meanwhile, Lights and Johnny find out that Margaret is seeing gangster Hal Brennan, and think he is playing her to get closer to Light's and backing his fight.

Tuesday, March 22nd, 2011

11: Rainmaker

Lights tries to help a hard-up former champ, Jerry "The Rainmaker" Raynes, but the punchy boxer ends up helping him. Meanwhile, Councilman Randall Hess is brought in for questioning in a prostitution scandal and is all of a sudden "talkative" with the FBI. Hess threatens Lights' future by trying to get him to confess his involvement in having the councilman take a bribe when he delivered a cake box full of cash from Brennan. However, Lights gets arrested for bribing a public official and has to find a way out without jeopardizing his family and his upcoming fight.

Tuesday, March 29th, 2011

12: Sucker Punch

Things are heating up two weeks before the big fight when Lights is no longer the favorite to win and is a 6 to 1 underdog. This makes Barry Word worried and tells him take a dive. Further more, Lights gets a surprise visit from his estranged mother, Mae, who has left the family several times over the years. Though Margaret considers her mother dead and Johnny suspects her of wanting a handout, Mae claims she just wants her family back, so Lights and Pops try to reunite with her.

Tuesday, April 5th, 2011

13: War

After all the trials and tribulations that led up to the championship fight, Lights goes to "war" when he finally faces off with "Death Row" Reynolds for the heavyweight title. Before the big fight, Hal Brennan gathers all the former champs that have been burned by Barry Word and starts a war against him by starting a new boxing alliance called United Boxers. But in order for Lights to be a part of it, he suggests a 10 percent cut for a health fund to help all the boxers in need of medical care. Meanwhile, Word has a pre-fight talk with Lights, and it is not very inspiring the night before the fight. Theresa has her own talk with Reynold's wife, Jennifer. As soon as the third round begins, Lights manages to K.O. Reynolds and wins back his title, but suffers a severe concussion. After the fight Theresa makes a shocking discovery about Lights: she goes to his side and watches in horror as he groggily asks her "Who won?".