update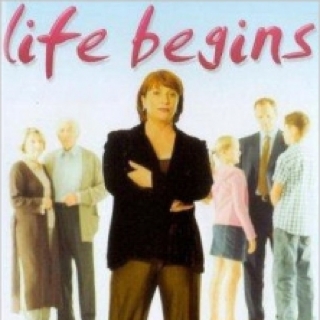 Season 1
Monday, February 16th, 2004

1: Maggie & Phil

During a holiday with friends Clare and Guy, Phil Mee tells his wife Maggie that he's leaving her. And when he moves out and gets his own flat, finances force her to look for a job.

Monday, February 23rd, 2004

2: Maggie, Brenda & Eric

Maggie starts work at the travel agency, but finds she's no good at her job and then explodes when Phil comes in to book a romantic weekend break with Anna. Boss Jeff is prepared to let her go – but colleagues Karen and Helen launch a protest. Meanwhile, Maggie learns about her father's serious health problems.

Monday, March 1st, 2004

3: Maggie, Kathleen & Sam

Maggie and Phil see a mediator (Sam Kelly) to divide up the assets but Maggie discovers Phil is being less than honest about his earnings and she threatens to bring in the Child Support Agency. Later, she goes out with her colleagues – who now regard her as Mother Hen – and she wakes up with a sexy young man.

Monday, March 8th, 2004

4: Maggie, Clare & Guy

Maggie is embarrassed about asking for the morning-after pill following her one-night stand with Smudge. She decides she needs companionship not sex, so her friends arrange for her to meet a blind date at a dinner party, but then Maggie starts spending time with Guy (jogging, climbing, motorbiking), making Clare jealous. Maggie is also angry that Anna has moved in with Phil, while the kids are exploiting the situation.

Monday, March 15th, 2004

5: Maggie & Helen

Maggie goes speed dating with Helen (Chloe Howman) but it's a disaster for them both and Phil isn't happy when he finds out from the kids and Anna thinks she's just doing it to make Phil jealous. But Maggie's love life takes an upturn when she is approached by James's history teacher Paul Winston (Danny Webb).

Monday, March 22nd, 2004

6: Maggie & Paul

Maggie begins a tentative relationship with teacher Paul, but her attempt to keep it a secret is almost ruined when Phil turns up with the kids after a relationship-ending row with Anna. Maggie's friends throw a surprise 40th birthday party for her, while she has to make a decision between the two men in her life.
Season 2
Wednesday, February 16th, 2005

1: Things Are Changing

Maggie's branch of the travel agency takes over another branch – so abrasive Genevieve and disgruntled Kevin join the staff, and Jeff has to decide who'll be his deputy. Cuts are being made in Phil's office by his ex-girlfriend Anna, Guy takes a risk by expanding his business, and Maggie goes to school with her dad who is giving a talk about his wartime experiences.

Wednesday, February 23rd, 2005

2: From the Past

Jeff's new deputy Maggie clashes again with Genevieve at work; old flame Frank (Roy Dotrice) re-enters her mother Brenda's life; Phil leans on Maggie for support as his redundancy looms; and Maggie disapproves of daughter Becca's boyfriend, and when the neighbours are away, Samantha has a party that gets out of hand.

Wednesday, March 2nd, 2005

3: Time Goes By

Guy gets the wrong end of the stick when he sees Maggie comforting Phil, Maggie learns the reasons behind Genevieve's poor timekeeping at the travel agency (and it's a very touching moment), and Maggie and Paul's plans to spend some intimate time together go awry yet again.

Wednesday, March 9th, 2005

4: Under Pressure

Something unbelievable happened in last week's episode. Maggie's estranged husband Phil, who's just been fired, started spending more time in the marital home than when they were married, which her new partner, history teacher Paul, didn't seem to mind. And Maggie, who had such a tough time after Phil left her, is oozing sympathy for his predicament. It just doesn't seem right. Fortunately, things look as though they're returning to normal. Phil has agreed to move into Paul's flat to ease his financial problems, while Paul gets to move into Maggie's home to give the pair more opportunities to get cosy. But with Phil's depression over his job prospects reaching crisis point, you'll have to hope Maggie can restrain her compulsion to get all motherly and move him back into her life.

Wednesday, March 16th, 2005

5: Break for Love

Maggie realises the stress her mother is under looking after Eric, and suggests that he comes to stay for a weekend to give Brenda a break. Then Maggie discovers that Brenda isn't out enjoying the sea air with her friend Nancy - but with her old flame Frank. Clare challenges Maggie about Phil, telling her she is being foolish and could lose Paul - but Maggie is defensive and won't talk about it.

Wednesday, March 23rd, 2005

6: Hidden Pain

Fed up with her mum and dumped by her boyfriend, Becca goes next door to be cheered up by Samantha. But when her friend's back is turned, Becca takes some pills and ends up in hospital. Phil takes it out on Paul who was supposed to be looking after her.

Wednesday, March 30th, 2005

7: When Lifes Collide

Maggie plans a Christmas holiday with Paul, the kids, her parents and Clare's family. But Phil sees signs that he can rekindle his relationship with Maggie when Paul gets a visit from his ex-wife Paula (Sally Dexter).

Friday, May 6th, 2005

8: Episode 8
Season 3
Monday, September 4th, 2006

1: Episode 1

Maggie moves into a new house with Phil and the kids and endeavouring to make a fresh start. But not everything is back to normal - Maggie still doesn't feel ready to have sex with Phil yet. Encouraged by the girls in the travel agency, Maggie tries to re-ignite the flame, but their attempts keep getting thwarted - if it's not Brian interrupting them, it's the kids or the curtains setting on fire! Finally, it's an uncomfortable encounter with the next door neighbours that gets them laughing together again. With the barriers down, Maggie feels at ease and they rekindle their passion for one another. Things finally seem to be looking up for Maggie and Phil.

Monday, September 11th, 2006

2: Episode 2

Maggie decides to leave her job as Phil is working so often and she wants to spend time with the children. A startling discovery makes her consider her options and elsewhere Brian has to sleep in the garage.

Monday, September 18th, 2006

3: Episode 3

Maggie won't go on a day out as she has her suspicions that Phil is not being entirely faithful. Phil turns her around but further evidence leads her to believe she was right.

Monday, September 25th, 2006

4: Episode 4

Maggie is starting to wonder if she and Phil did the right thing by getting back together, so Mia suggests that they find something new to do together – like the Spanish class that she's starting. Phil's not keen so Maggie decides to brave it without him. Meanwhile, Maggie agrees to help colleague Kevin by volunteering to baby-sit his nephew, which prompts Phil to latch onto the idea that they can save their marriage by having a baby! Can she be persuaded?

Monday, October 2nd, 2006

5: Episode 5

Maggie's got really bad morning sickness and is having doubts about keeping the baby. Helen drives her to the abortion clinic, but can she go through with it? And, how will she break the news to Phil either way? Later, Phil is sacked and, depressed over the loss of his job, turns to Nick the neighbouring therapist for help – who inspires him to set up on his own. It doesn't take long for him to secure Penny as his first client. Meanwhile, Jeff introduces the team to Aidan Trigg the new regional manager. Genevieve's got history with him – he's the father of her son. And there's more change when Jeff decides to sack Kevin because he had to make cutbacks – so Helen quits in protest!

Monday, October 9th, 2006

6: Episode 6

Will cannot go travelling so Phil says he wants to go and as Mia is now single she says she will look after the kids. Everything looks like it will fall into place when Maggie's parents look set to move in next door, but will everything go to plan?