update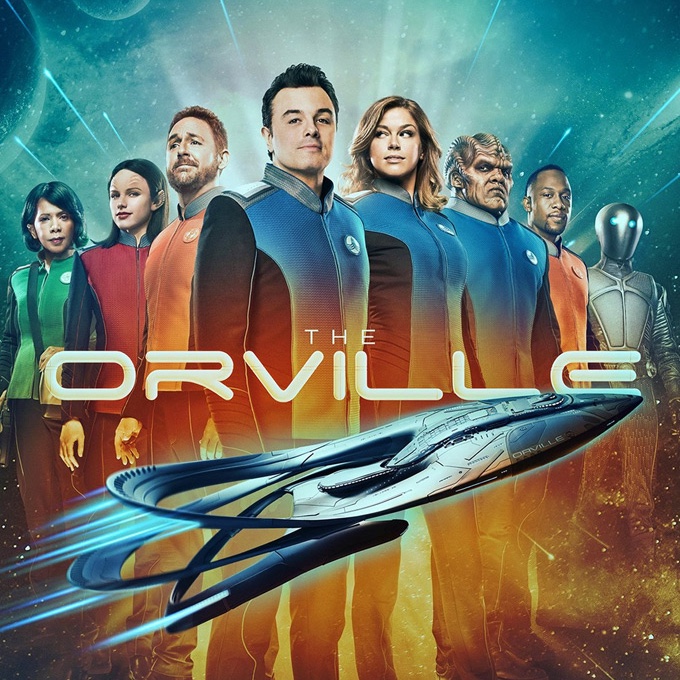 Season 0
not specified

8: The Orville Takes Flight

The Orville herself is an actual, physical model. Go behind the scenes to see how the crew of the show uses the model to make the show feel more real.

Thursday, October 26th, 2017

2: The First Six Missions

Get caught up on the first six adventures of The Orville and her crew. Originally released ahead of episode 7, this supercut was intended to quickly catch new viewers up-to-speed on the first half of Season 1.

Saturday, March 17th, 2018

1: The Orville Panel at PaleyFest 2018

The cast and crew of "The Orville" host a panel at PaleyFest 2018 where they have a Q&A and discuss the show, its future, and more.

Tuesday, December 11th, 2018

3: The Orville Inside Look

Go behind the scenes of "The Orville", featuring interviews with the cast and creative team behind the series.

Tuesday, December 11th, 2018

4: The Science of The Orville - Alien Life

More than a rubber mask, the aliens of "The Orville" are rooted in scientific principals about what life might look like beyond our solar system.

Tuesday, December 11th, 2018

5: The Science of The Orville - Quantum Drive

The speed of light is the greatest limiting factor of any science fiction series, The Orville overcomes that limit with something that is closer to fact than fiction.

Tuesday, December 11th, 2018

6: Crafting Aliens

Go behind the scenes with the makeup team responsible for turning human actors into otherworldly beings.

Tuesday, December 11th, 2018

7: Directed By

Interview with the pilot's director Jon Favreau.

Tuesday, December 11th, 2018

9: A Better Tomorrow

Seth McFarlane explains why it is important that science fiction should be about a more optimistic future.

Tuesday, December 11th, 2018

10: Designing the Future

Seth McFarlane discusses the set and how the set reflects an aspirational future.
Season 1
Sunday, September 10th, 2017

1: Old Wounds

It's 2418 and the Planetary Union promotes Ed Mercer to Captain of the exploratory vessel The U.S.S. Orville. Ed's enthusiasm for his new position is dampened when his ex-wife, Kelly Grayson, is assigned to be his First Officer. While on their first routine mission, the Orville crew is ambushed by the Krill, a vicious alien race, who are bent on stealing a device that can cause time to accelerate.

Sunday, September 17th, 2017

2: Command Performance

When Ed and Kelly are tricked by a hologram of a ship in distress and find themselves prisoners in a replica of their former home, Alara must step up in her first command of the Orville and attempt a heroic rescue. Meanwhile, Bortus and Klyden receive some happy, yet unexpected news.

Thursday, September 21st, 2017

3: About a Girl

The Orville crew is divided between cultures when Bortus and Klyden debate if their newly born offspring should receive a controversial surgery.

Thursday, September 28th, 2017

4: If the Stars Should Appear

Ed and the Orville crew encounter a massive vessel adrift in space, which is in danger of colliding with a star. While some of the crew set out to help the ship's inhabitants, Bortus, Gordon, and John stay behind and fend off a Krill attack on another Union ship.

Thursday, October 5th, 2017

5: Pria

After the crew saves a stranded ship and its attractive captain, Ed becomes smitten with the Orville's new guest, while Kelly suspects all is not what it seems. Meanwhile, Gordon attempts to teach Isaac the art of pulling off a practical joke.

Thursday, October 12th, 2017

6: Krill

After the Orville crew defeats a Krill attack on a brand-new colony, the Union sends Ed and Gordon on a dangerous undercover mission to infiltrate a Krill ship and obtain a copy of the Krill bible, the "Anhkana," to better understand the enemy.

Thursday, October 26th, 2017

7: Majority Rule

When two Union anthropologists go missing on a planet similar to 21st century Earth, Ed sends a team led by Kelly to find them, but the mission quickly goes awry when they realize the society's government is completely based on a public voting system to determine punishment.

Thursday, November 2nd, 2017

8: Into the Fold

Ed and the crew set out to save Dr. Finn, her two sons and Isaac after their shuttle gets thrown into unchartered space and they crash-land on a moon that is light years from the Orville.

Thursday, November 9th, 2017

9: Cupid's Dagger

The Orville is called to mediate a peace treaty between two warring cultures, but tensions run even higher between Ed and Kelly when a familiar face boards the ship. Meanwhile Yaphit declares his love for Dr. Finn with surprising results.

Thursday, November 16th, 2017

10: Firestorm

When a fire breaks out on The Orville and a crew member dies, Alara begins to question if she is fit for her job, just as unusual and terrifying things start happening on the ship.

Thursday, November 30th, 2017

11: New Dimensions

Kelly discovers that Lt. John Lamarr is smarter than he lets on. So, she pushes Ed to consider him for a key leadership position on the ship after The Orville gets damaged by a mysterious spatial anomaly causing harrowing effects to all things living.

Thursday, December 7th, 2017

12: Mad Idolatry

Ed and Kelly seriously reconsider getting back together. However, while Kelly is on a mission with Isaac and Gordon to investigate the origins of an uncharted star, they suddenly crash-land on a planet from another universe. Kelly then makes a decision with unforeseen long-term consequences for the planet, putting Ed in a difficult position.
Season 2
Sunday, December 30th, 2018

1: Ja'loja

The Orville heads towards Moclus for Bortus' special once-a-year ceremony, Ed discovers Kelly has moved on and has started dating. Gordon asks for John's help in getting game. Claire turns to Isaac for parenting advice.

Thursday, January 3rd, 2019

2: Primal Urges

Ed and the crew race to save a small group of survivors on a planet about to be destroyed by its sun. Bortus and Klyden start marriage counseling when Bortus' obsession with the ship's simulation room gets out of hand.

Thursday, January 10th, 2019

3: Home

Ed, Gordon, and Alara visit Alara's home planet of Xelayah.

Thursday, January 17th, 2019

4: Nothing Left on Earth Excepting Fishes

Ed finds himself behind enemy lines when he crash-lands on a mysterious planet. Kelly questions why Gordon wants to take the Command Test.

Thursday, January 24th, 2019

5: All the World is Birthday Cake

The Orville makes First Contact and a new crew member joins the ship.

Thursday, January 31st, 2019

6: A Happy Refrain

The Orville crew is surprised when Claire's personal life takes an unexpected turn. Gordon makes an unusual grooming suggestion to Bortus.

Thursday, February 14th, 2019

7: Deflectors

Kelly breaks up with Cassius, while the Orville has its deflectors upgraded by a Moclan engineer who used to be Bortus' boyfriend.

Thursday, February 21st, 2019

8: Identity (1)

Ed and the crew travel to Isaac's home planet, Kaylon.

Thursday, February 28th, 2019

9: Identity (2)

The Kaylons take control of the Orville with the intention of destroying all biological lifeforms.

Thursday, March 7th, 2019

10: Blood of Patriots

Ed must initiate peace talks with the Krill.

Thursday, March 21st, 2019

11: Lasting Impressions

The Orville crew members open a time capsule from 2015.

Thursday, April 11th, 2019

12: Sanctuary

Ed discovers that Moclans aboard The Orville are harboring a secret.

Thursday, April 18th, 2019

13: Tomorrow, and Tomorrow, and Tomorrow

A time distortion affects Ed and Kelly's relationship.

Thursday, April 25th, 2019

14: The Road Not Taken

The crew must contend with the disastrous fallout from Kelly's decision.
Season 3
Thursday, June 2nd, 2022

1: Electric Sheep

The crew deals with the aftermath of the Kaylon battle.

Thursday, June 9th, 2022

2: Shadow Realms

The Orville explores a mysterious region of space.

Thursday, June 16th, 2022

3: Mortality Paradox

The Orville crew makes a new discovery.

Thursday, June 23rd, 2022

4: Gently Falling Rain

The Orville crew leads a Union delegation to sign a peace treaty with the Krill.

Thursday, June 30th, 2022

5: A Tale of Two Topas

Tensions between Kelly and the Moclans result when she helps Topa prepare for the Union Point entrance exam.

Thursday, July 7th, 2022

6: Twice in a Lifetime

The crew must rescue Gordon from a distant yet familiar world.

Thursday, July 14th, 2022

7: From Unknown Graves

The Orville discovers a Kaylon with a very special ability.

Thursday, July 21st, 2022

8: Midnight Blue

The Orville crew visits Heveena's sanctuary world and embarks on a journey that may leave the entire Union more vulnerable.

Thursday, July 28th, 2022

9: Domino

The creation of a powerful new weapon puts the Orville crew — and the entire Union — in a political and ethical quandary.

Thursday, August 4th, 2022

10: Future Unknown

A celebration is underway aboard the ship.

Thursday, August 11th, 2022

11: Future Unknown (2)