update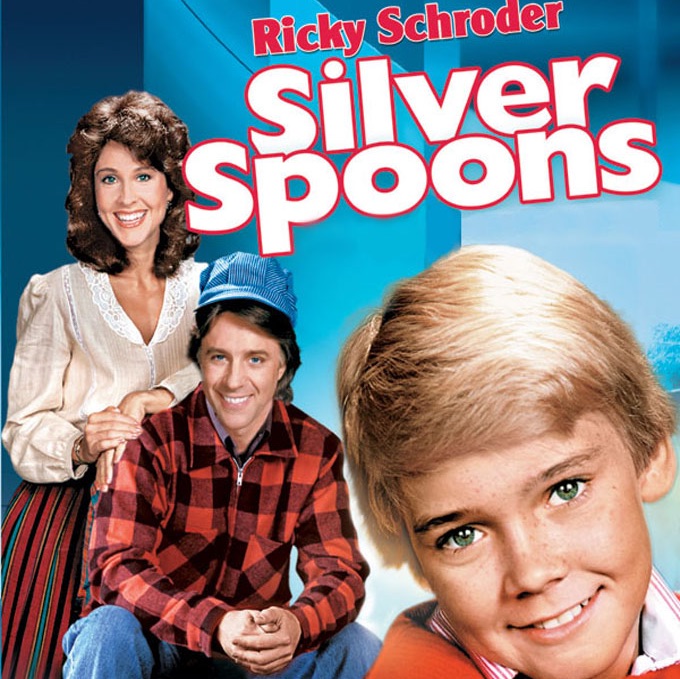 Season 1
Saturday, September 25th, 1982

1: Pilot

The wealthy Edward Stratton III (Joel Higgins) has a big surprise: Ricky (Ricky Schroder), the 12-year-old son he's never known.

Saturday, October 2nd, 1982

2: Boys Will Be Boys

Ricky's friend Derek moves into the neighborhood and convinces him that the only reason Edward doesn't punish him is because his father doesn't love him.

Saturday, October 9th, 1982

3: Grandfather Stratton

Ricky wants to meet his grandfather (John Houseman), a stodgy curmudgeon who doesn't get along well with his son Edward.

Saturday, October 16th, 1982

4: Me & Mr. T

When Ricky is bullied at school, Edward hires Mr. T as a bodyguard to make sure the problem never happens again.

Saturday, October 23rd, 1982

5: Takin' a Chance on Love

Ricky gets his first taste of puppy love when a new girl named Sally Frumble transfers to his school.

Saturday, October 30th, 1982

6: Evelyn Returns

Ricky's mother Evelyn arrives to challenge Edward for custody.

Saturday, November 6th, 1982

7: The Great Computer Caper

Ricky is interviewed by a school reporter and goes on the run after hacking into a top-secret government file.

Saturday, November 13th, 1982

8: I'm Just Wild About Harry

Ricky and Derek find a lost orangutan and Ricky wants to keep it.

Saturday, November 20th, 1982

9: Honor Thy Father

Ricky forces Edward to attend a banquet honoring Edward's father.

Saturday, November 27th, 1982

10: Father Nature

Ricky convinces Edward to take him camping so he can earn his badger paws.

Saturday, December 4th, 1982

11: A Little Magic

Convinced that Kate is in love with him, Ricky decides to set her up with Edward.

Saturday, December 11th, 1982

12: Falling in Love Again

Kate goes on a grudge date to make Edward jealous. It works, and the two admit their feelings for each other in the middle of Carnegie Hall.

Saturday, December 18th, 1982

13: The Best Christmas Ever

Edward and Ricky play Santa to a family living in a cave on their property.

Saturday, January 8th, 1983

14: The Most Beautiful Girl in the World

After Derek saves his life, Ricky is forced to pose as his date at a co-ed party.

Saturday, January 15th, 1983

15: Twelve Angry Kids

Ox, the school bully, takes Ricky to court for whiplash, but Ricky insists that the jury be made up of twelve kids.

Saturday, January 22nd, 1983

16: The Toy Wonder

Ricky pretends to like an obnoxious girl so Edward can hire her as a toy consultant.

Saturday, February 5th, 1983

17: Popcorn

Ricky volunteers Edward to buy 1,000 bags of popcorn to send his band to Washington.

Saturday, February 12th, 1983

18: Junior Businessman

Edward gives Ricky an ice-cream parlor to run for a week as a school assignment.

Saturday, February 19th, 1983

19: Three's a Crowd

Ricky feels left out when Kate joins Edward and him on a ski trip.

Saturday, February 26th, 1983

20: The Empire Strikes Out

Ricky's grandfather tries to get Kate to move to California so that Edward will marry someone else who can expand the family fortune.

Saturday, March 5th, 1983

21: Won't You Go Home, Bob Danish?

A man Kate had previously used to make Edward jealous crashes his airplane in the Strattons' backyard to impress her.

Saturday, April 30th, 1983

22: The ''X'' Team

Kate catches Ricky, JT and Freddy watching an X-rated movie while Edward is sleeping.
Season 2
Saturday, October 15th, 1983

1: Passports to Pleasure

Derek and Ricky pick up cheerleaders while in Chicago for a Badger Patrol convention.

Saturday, October 22nd, 1983

2: Attack of the Giant Frog People

Derek and JT put frogs in Freddy's sleeping bag during a slumber party. Ricky hurts Freddy by saying that he isn't his friend.

Saturday, October 29th, 1983

3: A Fair to Remember

Ricky impresses his science teacher by doing a project with laser beams. Kate is promoted to Vice President of Eddie Toys.

Saturday, November 12th, 1983

4: Hospital

Edward is hospitalized when he has a gallstone attack.

Saturday, November 19th, 1983

5: Mr. President

Ricky daydreams that he is the President of the United States.

Saturday, November 26th, 1983

6: Driver Ed

While Edward and Kate are away Grandfather tries to teach Ricky to drive.

Saturday, December 3rd, 1983

7: Menudo Madness

To impress a girl, Ricky promises to have the pop group Menudo play at his private party.

Saturday, December 10th, 1983

8: Happy Birthday

The family celebrates Ricky's 13th birthday with an evening of arguments.

Saturday, December 17th, 1983

9: Sounds of Silence

Ricky pretends to play in the school orchestra's production of Peter and the Wolf so Edward won't be disappointed that he isn't musical.

Saturday, January 7th, 1984

10: Rick the Greek

Ricky gets in over his head when he, Derek and Freddy bet on football games.

Saturday, January 14th, 1984

11: Uneasy Rider

Ricky manipulates Evelyn into buying him a motor bike after Edward said he couldn't have one.

Saturday, January 21st, 1984

12: The World's Greatest Father

JT's father is offended by how much time Edward is spending with his son.

Saturday, January 28th, 1984

13: I Want to Be Alone

Dexter gets dragged to the country for a camping trip by the family.

Saturday, February 4th, 1984

14: Mr. Cool

Ricky turns punk rocker to try to impress a girl.

Saturday, February 11th, 1984

15: St. Louis Blues

After his parents have an argument, Derek hides out at Ricky's. His mother arrives to take him to St. Louis. ** This is Jason Bateman's final appearance.

Saturday, February 18th, 1984

16: A Hunting We Will Go

Against his better judgment Edward agrees to let Ricky go hunting with Grandfather.

Saturday, March 3rd, 1984

17: Changes

Ricky thinks that a fellow baseball player likes him when in all actuality it's Edward that she wants.

Saturday, March 10th, 1984

18: A Summer's Romance (1)

Edward's former girlfriend decides she wants him back.

Saturday, March 17th, 1984

19: A Summer's Romance (2)

Edward is forced to choose between Kate and Veronica.

Saturday, March 24th, 1984

20: Spare the Rod

Ricky discovers that a friend is being beaten by his father.

Saturday, March 31st, 1984

21: Blazing Hotel Rooms

Edward, Ricky and Dexter are trapped as their hotel catches on fire during a toy convention.

Saturday, April 7th, 1984

22: Hi, Mom

Kate's mom arrives for a surprise visit and discovers that Kate and Edward are involved.
Season 3
Sunday, September 16th, 1984

1: Best Friends

Ricky meets Alfonso, Dexters nephew.

Sunday, September 23rd, 1984

2: Survival of the Fittest

Ricky starts his first day in high school.

Sunday, September 30th, 1984

3: Growing Pains (1)

Rick is outraged by being treated like a "child" when Edward becomes furious with him for breaking his curfew, in part one of a special two-part story.

Sunday, October 7th, 1984

4: Growing Pains (2)

Rick exhibits his independence by running away, but he soon begins to appreciate what he's left, in the conclusion of a special two-part story.

Sunday, October 28th, 1984

5: A Dark and Stormy Night

When the television goes out on a stormy Halloween night, Rick, Alfonso and Freddy use their imaginations to create their own late-night horror story.

Sunday, November 4th, 1984

6: I Won't Dance

Rick plays Cupid by introducing Grandfather Stratton to his history teacher, played by Barbara Billingsley of ""Leave It To Beaver.""

Sunday, November 11th, 1984

7: Voyage of the Darned (1)

Edward, Rick, Dexter, Alfonso and Kate are faced with one small detour on their way to the Caribbean when Kate pilots the plane through the Bermuda Triangle, in part one of a two-part story.

Sunday, November 18th, 1984

8: Voyage of the Darned (2)

After their plane crashes on a deserted island, Rick Alfonso, Dexter, Edward and Kate must battle Mother Nature to survive, in the conclusion of a two-part story.

Sunday, November 25th, 1984

9: The Call of the Wild

Rick's mom shows up with an ex-pro football player as a boyfriend and a ""new"" outlook on life.

Sunday, December 9th, 1984

10: Beauties and the Beasts

In an effort to save the freshman newspaper, Rick, Alfonso and Freddy create a freshman beauty pageant, hoping everyone will ""read all about it.""

Sunday, December 16th, 1984

11: Twas the Night Before Christmas

Edward's true Christmas spirit is tested when the Strattons welcome Freddy and his family after a tragedy leaves them homeless.

Sunday, December 30th, 1984

12: Lulu's Back in Town

Pearl Bailey as Lula Baker, Edward's former governess returns to the Stratton household and becomes the foil in Rick and Alfonso's secret scheme.

Sunday, January 6th, 1985

13: The Trouble with Grandfather

Edward, Kate and Rick have their hands full when Grandfather Stratton trades his empire for a beautiful blonde and a powerful Porsche.

Sunday, January 13th, 1985

14: Special Friend

Rick finds out that he can't ""save the world"" when he gets involved with a peer-counseling program.

Sunday, January 27th, 1985

15: What's Cookin'?

Lulu holds the key to solving a rift between Rick and his grandfather.

Sunday, February 3rd, 1985

16: Marry Me, Marry Me (1)

Edward pops the question to Kate when she receives a job offer, in the first of a special two-part story.

Sunday, February 3rd, 1985

18: Rick and the Legend

Rick is estatic when a hip 16-year-old wants to hang around him, but Edward is suspect of his motives - especially when his gold pen suddenly disappears.

Sunday, February 10th, 1985

17: Marry Me, Marry Me (2)

Edward and Rick successfully persuade Kate to change her mind, bringing long-awaited wedding bells to the Stratton household, in the conclusion of a special two-part story.

Sunday, February 10th, 1985

21: Return of the Paisley Conspiracy

Rick surprises his dad for his 40th birthday with a reunion of his college singer partner, which prompts Edward to take the old act on the road again.

Sunday, February 24th, 1985

19: Trouble with Words

Bruce Jenner helps solve the puzzle of Alfonso's poor school performance - the missing piece is the learning disorder dyslexia.

Sunday, March 3rd, 1985

20: Hot Shot

Consumer advocate, David Horowitz helps Rick ""fight back"" against a crooked mail order camera company.

Sunday, March 10th, 1985

22: All the Principal's Men

Rick must choose between getting suspended or revealing his source when he exposes a cafeteria scandal on his school's cable news show.

Sunday, March 24th, 1985

23: The Secret Life of Ricky Stratton

A blind date with a computer pen pal panics Rick after they exchange photos.

Sunday, April 7th, 1985

24: The Babysitters

While babysitting, Rick suspects that 6-year-old Beth is a victim of parental kidnapping.
Season 4
Sunday, September 15th, 1985

1: Head Over Heels

Whitney Houston gets more than she expects during a visit to the Stratton household when Dexter decides to move to Los Angeles with the singing star.

Sunday, September 22nd, 1985

2: Mrs. Stratton Builds Her Dreamhouse

As new wife and mother, Late begins making changes in the Stratton household that Edward supports and Rick resents.

Sunday, October 6th, 1985

3: Poor Evelyn

Rick coerces Edward into offering his mom a job, after an embezzler takes all her money.

Sunday, October 13th, 1985

4: Promises, Promises

Rick's girlfriend has something in mind for their relationship that is a serious step for Rick.

Sunday, October 27th, 1985

5: The Great Baseball Card Scheme

Grandfather Stratton schemes with Rick to corner the baseball card market.

Sunday, November 3rd, 1985

6: The Trouble with Harry

Kate's Uncle Harry uses the Stratton family in a deceptive maneuver to impress an old Army buddy.

Sunday, November 10th, 1985

7: One Strike and You're Out

Rick leads his friends in a picket line against Grandfather Stratton for paying unfair wages to student employees.

Sunday, November 17th, 1985

8: Race with Eagles

In an effort to prove that he is athletic, Edward decides to participate in a race up to the top of the Empire State Building.

Sunday, November 24th, 1985

9: Magnificent Obsession

Rick loses his girlfriend to the captain of the football team, and then loses his dignity in an effort to win her back.

Sunday, December 1st, 1985

10: Judgment Day

Sunday, December 8th, 1985

11: The Barbarians

On a trip with Grandfather's exclusive club members, Rick and Edward see a different side of Grandfather

Sunday, December 15th, 1985

12: Three Musketeers

Freddy writes a letter that catches the attention of Congressman Tip O'Neill.

Saturday, December 21st, 1985

13: Second Class Parent

While Edward is away, Kate allows Rick to go with friends to Fort Lauderdale for winter vacation.

Sunday, January 5th, 1986

14: The Lady Is a Tramp

Rick invites a bag lady home for dinner, where she makes a distinct impression on one of Edward's key clients.

Sunday, January 12th, 1986

15: Stratton and Stratton

Rick invents a board game called Rock Express, but refuses to take Edward's advice on how to market it.

Sunday, January 19th, 1986

16: Daddy Rick

Rick takes part in a marriage with a student, but is shocked when his ""wife"" gets pregnant.

Sunday, February 2nd, 1986

17: One for the Road (1)

Rick's new friend encourages him to try alcohol.

Sunday, February 9th, 1986

18: One for the Road (2)

Rick gets grounded, which effectively ends his experience with alcohol, but he soon learns that Greg is still drinking.

Sunday, February 16th, 1986

19: Movie Madness

Rick is bent on winning the annual student filmmaking contest.

Sunday, February 23rd, 1986

20: Rick Sings

Rick's the manager of his friend's band, Splat! When Rick gets them on Rock Search, the lead singer has laryngitis. The band convinces Rick to step in for him & sing that tune.

Sunday, March 2nd, 1986

21: The Way We Weren't

With Kate and Rick both out of the house, Edward is left alone with his ex-wife.

Sunday, March 16th, 1986

22: A Family Affair

As prom night approaches, Rick jilts a girl whose father is rumored to be associated with the mob.

Sunday, May 4th, 1986

23: Rick at 16

Rick wants to invite Nicole Desmond to be his date at his 16th birthday party but Brad accidentally gives the invitation to Julie Warren. When Nicole gets herself invited anyway Rick has to balance his time between two dates without letting either girl find out about the other.

Sunday, May 11th, 1986

24: Second Best

Rick feels inferior to his girlfriend.
Season 5
Monday, September 15th, 1986

1: Who's the Boss?

Edward resents Kate's success after he promotes her to President of Eddie Toys.

Monday, September 22nd, 1986

2: Lost and Found

Kate's grandmother gets lost in New York City.

Monday, September 29th, 1986

3: The Live-In

A new housekeeper from Sweden steals Rickys heart.

Monday, October 6th, 1986

4: Rick Sells His Sole

Rick takes a job at shoe store, only to become a victim of nepotism when he loses a promotion to his employer's nephew.

Monday, October 13th, 1986

5: The Beach House

Rick's promise to stay true to his girlfriend while on vacation is tested when he meets the beautiful girl next door.

Monday, October 20th, 1986

6: Rick Moves Out

Rick moves into the guest house for some privacy, but that's easier said than done.

Monday, October 27th, 1986

7: Man to Man

Edward doesn't feel like celebrating his birthday after Rick beats him at tennis for the first time, making him feel old.

Monday, November 3rd, 1986

8: Hey, Mrs. Robinson

Kate feels left out when her old college friend, now an editor for a rock magazine, seems to have more in common with Rick.

Monday, November 10th, 1986

9: Rick's Learning Problem

A football championship rests on Rick's shoulders as he tutors the star player, who won't be playing if he fails a history test.

Monday, November 17th, 1986

10: The Triangle

A triangle ensues when Rick falls for his friend Brad's girlfriend, who then asks Rick to take her to a concert when he gets grounded.

Monday, November 24th, 1986

11: Kate Lassos a Longhorn

Rick agrees to care for a boa constrictor, which soon becomes an uninvited guest at Kate's business dinner.

Monday, January 26th, 1987

12: Get the Hook

Rick's strong ambition to become a comic threatens his grades.

Monday, February 2nd, 1987

13: Rumors are Flying

Rick tells a tall tale that endangers the reputation of a girl.

Monday, February 9th, 1987

14: The House Guest

When Brad's father goes out of town for a few days, Rick invites him to stay with the Strattons despite Edward's misgivings.

Monday, February 16th, 1987

15: Band on the Run

Alfonso quits Rick's band after they refuse to take his new girlfriend's suggestion of having Alfonso do the lead vocals for a Battle of the Bands contest, instead of Brad.

Monday, February 16th, 1987

18: Fallen Idol

Rick's basketball idol is arrested for possession of narcotics.

Tuesday, February 17th, 1987

19: Baby Blues

Rick fixes up an old classmate, now an unwed mother, with a contractor who has no idea he's dating a parent.

Monday, February 23rd, 1987

16: Author, Author

Edward's ex-wife writes a novel about a woman's stormy relationship with a character to whom he bears a strong resemblance.

Wednesday, February 25th, 1987

17: Mother's Day

When Rick decides to cook an elaborate Mother's Day dinner for his mother, Kate fears that her place in Rick's life is secondary.

Thursday, February 26th, 1987

20: Thoroughly Modern Mildred

When Kate's grandmother arrives with her new boyfriend, everyone is shocked that they are sharing a bedroom.

Friday, February 27th, 1987

21: Pardon My French

Grandfather Stratton returns from France, surprising everyone with his much younger fiancée.

Monday, March 2nd, 1987

22: Educating Rick

Disappointed by Rick's interest in party schools, Edward steers him toward a more rigorous all-male college.

Tuesday, March 3rd, 1987

23: Edward's Big Adventure

Edward finds himself in danger of bodily harm after he loses his wallet and owes $400. to a pool shark. However, when he calls Rick and asks him to bring the money, Rick believes it to be just another one of his dad's April Fools Day pranks.

Wednesday, March 4th, 1987

24: Let It Snow, Let It Snow

Kate and Edward try to have a romantic weekend in the snow, but Rick, Alfonso, Brad and Dexter spoil their plans.