update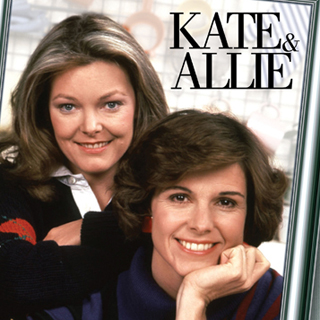 Season 0
not specified

1: A Conversation with Susan Saint James and Bill Persky

not specified

2: Season 1 Gag Reel
Season 1
Monday, March 19th, 1984

1: Allie's First Date

Monday, March 26th, 1984

2: The Very Loud Family

When the kids are assigned a class project to show ""change"", Emma makes a video on her family.

Monday, April 16th, 1984

3: Odd Boy Out

Allie discovers that Chips friends think hes a sissy because of his background.

Monday, April 23rd, 1984

4: The Family Business

When Kate gets a promotion at the travel agency, Allie starts to feel she may have missed out on life.

Monday, April 30th, 1984

5: Dear Diary

Kate's curiosity gets the best of her when she finds a diary which belongs to Allie.

Monday, May 7th, 1984

6: A Weekend to Remember

Allie finds herself alone when Kate goes on a ski trip with her ex-husband and the kids are off doing their own thing.
Season 2
Monday, October 8th, 1984

1: Baby

Excited about a co-worker's pregnancy, Kate seriously considers having another baby.

Monday, October 15th, 1984

2: Landlady

Kate and Allie face a rent increase when their landlady realizes that there are two families occupying a one-family dwelling.

Monday, October 22nd, 1984

3: Diner

Allie finally has someone who wants to buy her house... but, is she willing to sell?

Monday, October 29th, 1984

4: Lottsa Luck

Kate's elderly aunt Ofelia dies, leaving behind a cryptic will

Monday, November 5th, 1984

5: Candidate

Allie offers to be a campaign volunteer to a would-be congressman

Monday, November 12th, 1984

6: Kate and the Plumber

Kate's relationship with plumber Ted runs hot and cold -- the only thing they can agree on is a mutual attraction.

Monday, November 19th, 1984

7: The Safe Caper

After finding a 55-year-old love letter hidden in the wall, Kate and Allie try to rekindle the romance by mailing the letter.

Monday, November 26th, 1984

8: Pirates

When Jennie and Emma vie for the same part in the school production of ""Pirates of Penzance,"" their friendship is tested along with their acting skills.

Monday, December 3rd, 1984

9: Country Dog

Chip's birthday causes problems when Charles goes overboard on presents.

Monday, December 10th, 1984

10: Piano Lesson

When Max leaves for L.A., Emma inherits the piano, complete with a handsome piano teacher who soon has the whole family interested in ""music"" — but who strikes a note of discord when he becomes more interested in Kate than in his pupil.

Monday, December 31st, 1984

11: New Year's Eve

Dateless, Kate and Allie spend New Year's Eve at home together.

Monday, January 7th, 1985

12: Back to School

Monday, January 14th, 1985

13: Charles Marries Claire

Allie has new hope of a reconciliation after ex-husband Charles becomes suddenly attentive because he has broken up with girlfriend Clare.

Monday, February 4th, 1985

14: If She Goes, I Go

Despite Kate's doubts about working with her friend, Allie gets a job at Sloan Travel and quickly fouls up so completely that she is fired—whereupon Kate threatens to quit.

Monday, February 11th, 1985

15: Rear Window

Chip's imagination could get him into trouble when he ""witnesses"" a murder from his bedroom window.

Monday, February 18th, 1985

16: Lovely Rita

Guess who's coming to dinner? Kate's potential step-mom. But when Kate takes an instant dislike to her father's fiancée, he calls the engagement off.

Monday, February 25th, 1985

17: Sons and Lovers

Allie begins dating Steven, a cute graduate student, but resists getting serious. Her doubts about age-differences are confirmed when she accidentally meets Steven's mom at his apartment and finds she has more in common with her that with her son.

Monday, March 4th, 1985

18: Author, Author

Kate and Allie's crush on an old college professor is rekindled when each imagines she is the inspiration for his recently published romantic novel.

Monday, March 11th, 1985

19: Dead Cat

Kate brings a stray kitten home.

Monday, March 18th, 1985

20: The Bad Seed

Jenny falls into bad company but finds herself all alone at the police station.

Monday, April 8th, 1985

21: Goodbye, Plumber

Ted proposes to Kate.

Monday, May 6th, 1985

22: My Dinner With Kate and Allie

After Allie's ex Charles remarries and Kate breaks up with Ted, they try to cheer themselves up with a lobster dinner.
Season 3
Monday, September 30th, 1985

1: The Reunion

Invited to their 20th high school reunion, Kate & Allie both go determined to settle old scores.

Monday, October 7th, 1985

2: Make Mine Mink

Kate ""inherits"" a lovely mink coat from a lover's quarrel and finds that it changes her lifestyle.

Monday, October 14th, 1985

3: Whatever Happened to Romance?

Allie's advertisement for part-time work ends up in the Personals Column by mistake, and the return mail brings such bizarre responses that she is appalled.

Monday, October 21st, 1985

4: Evening in Paris

On a free trip to Paris, Allie comes down with the flu while Jennie plans a rendezvous with a Frenchman.

Monday, October 28th, 1985

5: Picture of an Affair

Allie receives devastating news about her father.

Monday, November 4th, 1985

6: The Maltese Chotchke

Max sends Emma a mystery for her birthday, and Allie is soon in on it, catching up the family in an exotic world of menacing art dealers and homicidal maniacs.

Monday, November 11th, 1985

7: Allie's Affair

Allie's new professor from Ohio begins visiting on ""academic business"" but their relationship soon heats up, with surprising results.

Monday, November 25th, 1985

8: Thanksgiving

Kate and Allie invite a crowd for Thanksgiving dinner/disaster.

Monday, December 2nd, 1985

9: Max's New Girlfriend

Kate is worried that Max's new girlfriend, Darla, is turning Emma's head in a glamorous world of celebrities and premieres.

Monday, December 16th, 1985

10: Kate's Friend

Kate's old friend Betsy visits, and far outstays her welcome.

Monday, December 23rd, 1985

11: Dress to Kill

Invited to the Russian Ballet, Kate searches frantically for the perfect dress. She finds it, but it costs more than Kate and Allie's combined monthly salaries.

Monday, January 6th, 1986

12: Dark Victory

Trapped in her dentist's office during a blackout, Kate makes a date with a stranger—and then discovers he's black.

Monday, January 13th, 1986

13: Grand Central Station

A singing telegram provided more information than intended when Kate and Allie referee another family's dispute.

Monday, January 20th, 1986

14: Chip's Divorce

Chip feels he's being replaced when he finds out Charles' girlfriend Claire is pregnant.

Monday, January 27th, 1986

15: Too Late the Rebel

A protest rally gives Allie a taste of what she missed during the '60s, while for Kate it's a march down memory lane.

Monday, February 3rd, 1986

16: The Croissant Jungle

Jenny gets more than she bargained for in her new job: a bonus of sexual harassment.

Monday, February 10th, 1986

17: Privacy

Allie jumps to conclusions when she discovers Kate with a former boyfriend who's now married.

Monday, February 17th, 1986

18: High Anxiety

Allie is so afraid of appearing on a talk show about modern families that she follows Kate's advice and goes to a hypnotist.

Monday, February 24th, 1986

19: Thank You, Shirley

Kate and Allie are both attracted to the same lawyer.

Monday, March 3rd, 1986

20: Ted's Back

Faced with a lonely Saturday night, Kate calls former boyfriend Ted on the pretense of returning a sweater.

Monday, March 17th, 1986

21: Chip's New Friend

Chip befriends a mentally handicapped man who's homeless and invites him to sleep in the basement.

Monday, April 7th, 1986

22: Winning

Emma questions the importance of being elected class president when she learns that her opponent has leukemia.

Monday, May 12th, 1986

23: Late Bloomer

Kate takes a cooking class given by a woman who also teaches acting, and studies psychology when not arguing with her mother about moving home.
Season 4
Monday, September 22nd, 1986

1: The Trouble With Jason

Brash new transfer student Jason Crawford takes a shine to Emma and won't accept her lack of interest in him, muc h to the amusement of the rest of the family -- particularly when he showers her with gifts of food deliveries. Jennie advises Jason to back off a little, but he shows up again with flowers -- for Jennie.

Monday, September 29th, 1986

2: Found Money

Kate and Allie find a wallet containing $5,000 in cash, and the grateful owner gives them a $500 reward -- so Kate challenges Allie to spend her half on something frivolous she will enjoy.

Monday, October 6th, 1986

3: The Bully

Chip's scrapes are not all due to baseball: he's being bullied at school, but is embarrassed to admit that his tormentor is an apparently sweet little girl.

Monday, October 13th, 1986

4: General Hospital

Kate's surprise birthday party is delayed while she recuperates in hospital, so Allie checks in to keep her company.

Monday, October 20th, 1986

5: Rx for Love

His bedside manner's irresistible, so Kate's in love...

Monday, October 27th, 1986

6: Halloween II

The kids plan a Hallowe'en haunting -- and so do their mothers.

Monday, November 3rd, 1986

7: Jennie and Jason

Jennie's boyfriend is pressing her to go all the way, so it looks like time for the dreaded mother-daughter conversation.

Monday, November 10th, 1986

8: Bringing Up Charles

Allie gives Charles a lecture on responsibility when Chip and Jenny feel he has abandoned them for his new family, but Allie discovers that Clare and baby Stuart aren't seeing much of him either.

Monday, November 24th, 1986

9: Emma's Coming Out Party

Kate and Allie recall their most famous fight, seventeen years ago -- during which Kate went into labour.

Monday, December 1st, 1986

10: Stage Mother

Jennie gets a chance to sing on cable tv -- if she can leap the hurdle of Allie's excessive enthusiasm.

Monday, December 8th, 1986

11: The Goodbye Girl

Allie and her boss Eddie are stranded in the studio by a blizzard -- and must keep the show on the air.

Monday, December 15th, 1986

12: Dates of Future Past

While Kate's away on a business trip, an ex-football player makes a play for Allie.

Monday, January 5th, 1987

13: Gift of the Magi

Kate and Allie buy each other third-anniversary gifts, but with an O. Henry twist: Allie pawns her camera to buy a shade for Kate's antique lamp, while Kate sells the lamp to buy Allie a camera lens.

Monday, January 26th, 1987

14: Allie's Graduation

Allie triumphantly graduates from college, but learns that a diploma isn't necessarily a ticket to the job of her choice.

Monday, February 2nd, 1987

15: Upstairs, Downstairs

Jennie arranges a date for Emma. Kate and Allie interfere in Jennie and Emma's latest spat.

Monday, February 9th, 1987

16: Emma Goes to College

Emma has to decide between going to college at Columbia or UCLA.

Monday, February 16th, 1987

17: Allie and the Three Wolves

At a singles bar, Allie becomes the target of a bet between three men on the prowl.

Monday, February 23rd, 1987

18: Louis in Love

Kate tries to explain love to Louis. The family meet Louis' mentally challenged friend Catherine, who clearly has a crush on him, so Kate tries to persuade Louis that a woman really likes him and he assumes she means herself.

Monday, March 2nd, 1987

19: Reruns

Allie dreams that she and Kate are characters in ""I Love Lucy."" Mail forwarded to Allie from Connecticut contains a perfumed envelope addressed to Charles, marked ""Private and Personal"". Struggling to keep from opening it, Allie falls asleep in front of late night TV and dreams herself and Kate into old episodes of ""I Love Lucy"" and ""Mary Tyler Moore.""

Monday, March 16th, 1987

20: Send Me No Flowers

The arrival of a bouquet with a card saying simply ""I'm sorry"" prompts everyone to recount how badly they were treated that day -- by clerks, bank personnel, schoolmates -- and to speculate on who exactly is apologizing to whom.

Monday, March 23rd, 1987

21: Dearly Beloved

To dig up enough money for a date, Chip opens a pet cemetery. To finance a date, Chip starts a pet-burial service.

Monday, April 6th, 1987

22: Allie on Strike

Fed up with constant demands from the kids and Kate, feeling overworked and unappreciated, Allie goes ""on strike"" -- then gets worried when the others start to cope without her.

Monday, May 4th, 1987

23: Kate Quits

Emma asks Kate to talk about her work as a travel agent for her school's ""Women's Career Day,"" causing Allie to realize how much she hates her job at the movie theatre -- until it burns down. When Kate encourages her to find a job she wants, such as the museum job she has always wanted, Allie finds a position in the gift shop of the ""Museum of Contemporary Art"" -- and her happiness causes Kate to realize how much she hates her job. Kate's talk turns into a rant about needing the courage to quit her job & then Allie arrives home to say the Museum's sprinklers causes a flood and she is unemployed too.

Monday, May 11th, 1987

24: Charles' Dinner

Kate and Allie cater Charles' and Claire's anniversary dinner.

Monday, May 18th, 1987

25: Allie's Surprise Party

Kate and Allie deal with a demanding socialite's children's party, while Allie mopes over turning 39 without a surprise party of her own.
Season 5
Monday, September 14th, 1987

1: Fathers and Sons

An adult Chip brings his son Scotty to the old apartment just before the building is demolished, and reminisces a bout the day he tried to conceal a report card showing that he had failed science -- convincing him that he would always be a failure.

Monday, September 21st, 1987

2: The Dilemma with Emma

Everyone has date problems: Emma has no date for the college dance and must go with Jennie and Jason & Jennie breaks up with Jason & Chip has a fight with Amy upstairs because she was drooling over Matt Dillon in the movie they rent ed & Kate's chiropractor date was a self-centered bore; and Allie has no date at all. But Emma meets someone at the dance: a self-satisfied, arrogrant business major whom everyone else hates on sight.

Monday, September 28th, 1987

3: Kate and the Cab Driver

Kate falls for a charmingly immature cab driver who quit his job as an advertising executive to become an artist -- and who wants Kate to go on impulse with him to Brazil.

Monday, October 5th, 1987

4: Mother's Day

Resenting their daughters' taking them for granted, Kate and Allie guiltily invite their own mothers to lunch -- then regret it when Marion won't stop talking about the food on her recent cruise and Joan won't stop criticizing Allie.

Monday, October 12th, 1987

5: Return of Bob Barsky

After an unexplained absence, Bob Barsky calls to ask Allie out on a date and explains that he is moving back to New York -- and is also seeing someone else.

Monday, October 19th, 1987

6: Brother, Can You Spare a Dime?

While Kate and Dennis take old clothes to Goodwill, Allie rushes across town to pay Jennie's school fees but l eaves her purse in the cab and is left stranded and penniless in Manhattan.

Monday, October 26th, 1987

7: Ted's Fix-Up

Kate and Angela fix each other up with each other's ex's, with surprising results.

Monday, November 9th, 1987

8: Jennie's New Deal

After Emma moves into the college dorm, Jennie feels cooped up living at home under her mother's rules.

Monday, November 16th, 1987

9: Hired Wife

Businessman Bill Connor comes with a startling proposition: he is single but pretending to be married in order to get a promotion, and needs someone to impersonate his non-existent wife at an executive party. Kate agrees with his stand against prejudice on the basis of marital status but then is attracted to a man who turns out to be a co-worker of Bill's. The whole farce turns out to be moot when Bill finds out the promotion was never available--the company was hiring from the outside--and quits, leaving Kate free to date Peter.

Monday, November 23rd, 1987

10: The Marriage Counselor

Bob suggests marriage counseling for the constantly bickering Kate and Allie.

Monday, December 7th, 1987

11: The Triangle Has Four Sides

Kate tries to date Dennis and Peter at the same time, but they end up finding out about each other. When Kate realizes they don't care she is dating other men, she dumps them both and starts dating Ted, again.

Monday, December 14th, 1987

12: The Nightmare Before Christmas

Kate, Allie and the kids work overtime buying and wrapping gifts for the catering clients, promising themselves a skiing vacation in Vermont & but the apartment is burgled and everything stolen, leaving them to redo it all in just one day.

Monday, January 4th, 1988

13: A Catered Affair

Monday, January 11th, 1988

14: The Band Singer

Jenny is enamored of classmate Howard, auditions for his band, and becomes their lead singer. While the band rehearses in their basement, Kate and Allie give combined French dinners/French lessons and worry that Jenny is not willing to be herself with Howard -- to the point where she won't admit she can't rollerskate when he wants her to sing dressed as a skating '50s carhop.

Monday, January 18th, 1988

15: Almost Married (a.k.a.) And Then There Were None

Ted invites everybody to his friends' cabin in the Adirondacks, but there's an escaped convict on the loose.

Monday, February 1st, 1988

16: My Day With Paul Newman

A film crew asks to use the front door in a movie

Wednesday, February 3rd, 1988

17: The Namath of the Game

Sports nut Kate becomes Joe Namath's personal assistant

Monday, February 8th, 1988

18: The Mouse That Squeaked

Kate and Allie panic when Chip's mouse gets loose.

Monday, February 15th, 1988

19: Inside Park Avenue

Kate and Allie get a taste of how the other half lives---and loves---when they cater a society couple's 25th-anniversary party.

Monday, February 22nd, 1988

20: Working Women

Arrogant businessman Jack Brompton hires the women to cater ""an authentic early American dinner for 24"" at his place in the Hamptons, then repeatedly changes the theme and menu from American Civil War to Victorian England. Jenny's video project on working women for her women's study course prompts fantasy sequences with Kate and Allie as immigrant women in a sweatshop and as WWII factory workers. Inspired to stand up for themselves, they confront Brompton about his shoddy treatment of them -- and discover that he is a henpecked husband only obeying his shrewish wife's whims.

Monday, March 14th, 1988

21: I Don't, I Don't

Bob is in a panic because he feels he's not ready for marriage---which no one has mentioned.

Monday, March 21st, 1988

22: Bob Smells the Roses

Shaken by a friend's heart attack, Bob decides he should live life to the fullest---with Allie as his wife. Part 1 of two.

Monday, March 28th, 1988

23: Allie Makes Up Her Mind

Conclusion. Allie can't decide whether to accept Bob's marriage proposal.

Monday, May 23rd, 1988

24: The Clip Show

The series' 100th episode is celebrated with clips from past shows.
Season 6
Sunday, December 11th, 1988

1: Wedding Belle Blues

As the nervous bride-to-be, Allie has nightmares about meeting her fiancé's parents.

Monday, December 12th, 1988

2: Kate Gets Dumped

While honeymooners Allie and Bob fly off to Hawaii, Bob dumps Kate.

Monday, December 19th, 1988

3: Allie Doesn't Live Here Anymore

As Allie moves into her new high-rise condo, Kate interviews a potential housemate.

Monday, December 26th, 1988

4: The Odd Couples

Kate is saved from perky Haven and Blair when Allie suggests that Kate move in.

Monday, January 9th, 1989

5: Anchor Away

Watching a tape of Bob's sportscast, Allie notices an attractive anchor making an on-air play for her husband.

Monday, January 16th, 1989

6: Better Never Than Late

Bob's mother questions Allie about having another child.

Monday, January 23rd, 1989

7: Moving On

Kate spends her 40th birthday wondering what she has done with her life -- and, shaken by Emma's transfer to UCLA, decides to join the Peace Corps.

Monday, January 30th, 1989

8: A Tree Grows on West 56th Street

Kate organizes a block association to save a park.

Monday, February 6th, 1989

9: The Nearlyweds

Allie's reaction upon hearing that Jennie and her boyfriend are sharing a dorm room doesn't compare with her reaction when they announce they're getting married.

Monday, February 13th, 1989

10: Wanted: One Husband

A rich neighbour offers a hefty sum to Kate and Allie if they can find her ""a Bob..""

Monday, February 20th, 1989

11: What's Love Got to Do With It?

Kate is dating a man with no charm, looks or personality, yet everyone loves him -- except Kate.

Monday, February 27th, 1989

12: I've Got a Secret

Kate has trouble keeping quiet about Bob's broadcasting future.

Monday, March 6th, 1989

13: Chip's Notes

Chip is so thrilled to be associated with the ultracool Mike Sheridan that he becomes his partner in a scam.

Monday, March 13th, 1989

14: Love Thy Neighbor

Trying to mend a broken romance, Kate feigns love in front of the woman who dumped her neighbor -- but he thinks Kate's serious.

Monday, March 20th, 1989

15: Trojan War

Allie discovers a condom in Chip's pocket.

Monday, March 27th, 1989

16: Loan-some Bob

Kate and Allie get a loan from Bob.

Monday, April 10th, 1989

17: The Review

When Allie's sushi draws a bad review from a critic, Kate determines to please the man's palate to gain a retraction.

Monday, April 24th, 1989

18: The Wedding

Kate reluctantly agrees to accompany Lou to his cousin's wedding.

Monday, May 1st, 1989

19: The Last Temptation of Allie

While Allie prepares her entry for Cousin Cabot's Country Cookbook contest, Kate cooks up a way to help Lou.

Monday, May 8th, 1989

20: Hockey Team

Bob lets Chip join the hockey team without consulting Allie.

Monday, May 15th, 1989

21: My Boyfriend's Back

Allie's ex-boyfriend returns to New York for the opening of his off-Broadway play, which turns out to be based on their romance. Unfortunately for Allie, he has eyes only for Kate.

Monday, May 22nd, 1989

22: What a Wonderful Episode (a.k.a. It's a Wonderful Episode a.k.a. Kate and Allie Go to Hell)

A job offer and a $2000 check from a man named Gabriel prompt Kate and Allie to take account of their lives.