update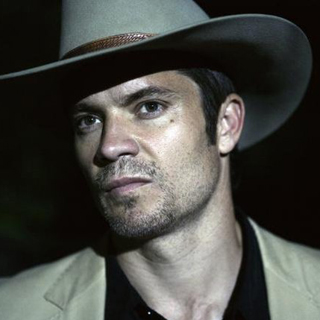 Season 0
Tuesday, January 18th, 2011

1: What Would Elmore Do?

Exploring Elmore Leonard's influence on the series.

Tuesday, January 18th, 2011

2: The Story of Justified

Background on the Elmore Leonard story.

Tuesday, January 18th, 2011

3: Justified: Meet the Characters

An overview of the main characters on the show.

Tuesday, January 18th, 2011

4: Shooting for Kentuky

Shooting locations in Kentucky.

Tuesday, January 18th, 2011

5: The Marshals

US Marshal advisors on the set.

Tuesday, January 18th, 2011

6: "Long Hard Times to Come" Music Video

Music video tied to the show.

Tuesday, January 18th, 2011

7: Season 2: A Look Ahead

What to expect in Season 2.
Season 1
Tuesday, March 16th, 2010

1: Fire in the Hole

Gunslinging U.S. Marshal Raylan Givens faces off against his oldest friend in Harlan, Kentucky, a 21st Century Wild West.

Tuesday, March 23rd, 2010

2: Riverbrook

Raylan hunts an escaped prisoner who is determined to reunite with his ex-wife...and his stashed fortune.

Tuesday, March 30th, 2010

3: Fixer

In tracking a vanished confidential informant, Raylan goes against a pair of violent ex-cons who are just dying for a showdown with "The Kentucky Cowboy."

Tuesday, April 6th, 2010

4: Long in the Tooth

Raylan leaves to California to follow the trails of a criminal who has evaded him twice in the past, and Raylan is determined that the third time won't be the same.

Tuesday, April 13th, 2010

5: The Lord of War and Thunder

Raylan's father is arrested in the wake of a confrontation with the tenant of a house he and Raylan's stepmother own.

Tuesday, April 20th, 2010

6: The Collection

After an apparent suicide on an opulent Kentucky horse farm, Raylan must resist the sexy widow as he searches for the dead man's missing art.

Tuesday, April 27th, 2010

7: Blind Spot

Raylan foils an attempt on Ava's life and vows to find out who was behind it. Later, Raylan finds out that Ava may not have been the target.

Tuesday, May 4th, 2010

8: Blowback

When a murderous inmate takes hostages, Raylan must scramble to defuse the situation before the bullets start flying.

Tuesday, May 11th, 2010

9: Hatless

Raylan has a few drinks and gets himself beaten up, after being suspended as a Marshall. He pulls himself together and decides to jeopardise his career further by going after the thugs who have been harassing his ex-wife's new husband.

Tuesday, May 18th, 2010

10: The Hammer

Determined to repair the damage he's done, Raylan takes time away from his assignment bodyguarding an eccentric judge to track down an old lead.

Tuesday, May 25th, 2010

11: Veterans

When Boyd Crowder and his crusaders become vigilantes, Raylan takes it upon himself to try to shut them down.

Tuesday, June 1st, 2010

12: Fathers and Sons

In order to work for the Marshal's Office, Raylan's dad Arlo agrees to become a double agent and work for Bo Crowder. Meanwhile, Bo sets up a meth lab to get back in business.

Tuesday, June 8th, 2010

13: Bulletville

In the season finale, things come to a head in Harlan when the worlds of Raylan, Boyd and Bo Crowder collide.
Season 2
Wednesday, February 9th, 2011

1: The Moonshine War

Raylan tangles with a ruthless Harlan County crime family while hunting for a fugitive sex offender.

Wednesday, February 16th, 2011

2: The Life Inside

Raylan chases a pregnant fugitive who has fallen into the hands of human traffickers.

Wednesday, February 23rd, 2011

3: The I of the Storm

The hijacking of a bus full of drugs ends in murder, and Raylan pursues the likely culprit: Boyd Crowder.

Wednesday, March 2nd, 2011

4: For Blood or Money

When Rachel's brother-in-law makes a violent escape from a halfway house, Raylan is forced to hunt him down. Boyd entertains a dangerous offer in Harlan.

Wednesday, March 9th, 2011

5: Cottonmouth

Raylan's hunt for a killer puts him on a collision course with the Bennett clan, while Boyd plots a heist with treacherous new partners.

Wednesday, March 16th, 2011

6: Blaze of Glory

When a terminally ill ex-con is linked to a bank heist, Art and Raylan must find him before he and his young henchmen can strike again. However, the manhunt is complicated when Winona worries that a hundred-dollar bill she took from an evidence room locker will be traced back to her after it is taken in the robbery.

Wednesday, March 23rd, 2011

7: Save My Love

Winona's blunder could put her behind bars, unless Raylan can weave his way through a federal courthouse locked down over death threats.

Wednesday, March 30th, 2011

8: The Spoil

Raylan must protect a cunning coal executive who is out of her element when negotiating with the powerful Bennett clan.

Wednesday, April 6th, 2011

9: Brother's Keeper

Just as the bad blood between the Bennetts and the coal company threatens to boil over, Raylan must thwart one of Mags' sons.

Wednesday, April 13th, 2011

10: Debts and Accounts

Raylan and Winona's idyll is shattered by violence, as Boyd and the Bennetts struggle to rise from the ashes of chaos in Harlan.

Wednesday, April 20th, 2011

11: Full Commitment

Raylan realizes he wasn't the sole target of an attempted assassination, and confronts the unlikely culprit once and for all.

Wednesday, April 27th, 2011

12: Reckoning

A deadly home invasion hits Raylan personally, placing him in a race with Boyd and Arlo to find the killer. Mags is forced to make decisions about her involvement in the Bennett family's criminal activities and the fate of Dickie, who has a deadly plan to absolve himself of responsibility.

Wednesday, May 4th, 2011

13: Bloody Harlan

The Crowder and the Bennett clans go to war over control of Harlan, a move that leaves dead and dying on both sides.
Season 3
Tuesday, January 17th, 2012

1: The Gunfighter

The arrival of a Detroit mobster in Lexington puts Raylan on a collision course with a sadistic Dixie Mafia hit man. Raylan also has another altercation with Boyd.

Tuesday, January 24th, 2012

2: Cut Ties

The murder of a fellow marshal throws Raylan together with a former female colleague, and Art leaves the office to track down another angle of the case. Meanwhile, Boyd engineers a showdown with Dickie Bennett, despite Raylan's effort to prevent it.

Tuesday, January 31st, 2012

3: Harlan Roulette

Raylan faces off with a tyrannical Oxy dealer, putting him on a collision course with the new head of the Dixie Mafia. Meanwhile, Boyd fights to regain part of his family's empire, but his methods could rip his crew apart.

Tuesday, February 7th, 2012

4: The Devil You Know

A daring prison escape puts Raylan on the trail of two old foes. Meanwhile, Boyd confronts a traitor in his inner circle.

Tuesday, February 14th, 2012

5: Thick as Mud

Raylan races to save Dewey Crowe from a gang of vicious organ harvesters. Boyd faces off with a new adversary.

Tuesday, February 21st, 2012

6: When the Guns Come Out

As Boyd fights for control of the Harlan oxy trade, Raylan works to keep the battle from becoming an all-out war while also battling a personal issue.

Tuesday, February 28th, 2012

7: The Man Behind the Curtain

Raylan's tactics put him at odds with the FBI as he intensifies his efforts to take down Quarles and the Detroit mob.

Tuesday, March 6th, 2012

8: Watching the Detectives

A shocking murder forces Raylan to face past mistakes. Meanwhile, Boyd goes up against Harlan's corrupt sheriff.

Tuesday, March 13th, 2012

9: Loose Ends

Raylan pursues a Dixie Mafia soldier who could be the key to nabbing Quarles; Ava protects an imperiled prostitute by any means necessary.

Tuesday, March 20th, 2012

10: Guy Walks into a Bar

Raylan struggles to keep Dickie Bennett in prison while contending with an increasingly violent and unpredictable Quarles.

Tuesday, March 27th, 2012

11: Measures

Raylan squares off with a pair of merciless Detroit hit men. The battle between Boyd and Quarles comes to a head.

Tuesday, April 3rd, 2012

12: Coalition

While Raylan closes in on an ever-more-unpredictable Quarles, Boyd enters into an unlikely alliance with Dickie Bennett in a last-ditch attempt to recover Mags's fortune.

Tuesday, April 10th, 2012

13: Slaughterhouse

After the murder of his friend, Raylan is a man on fire as he goes after any- and everyone he holds responsible on the way to a bloody final showdown.
Season 4
Tuesday, January 8th, 2013

1: Hole in the Wall

Raylan turns to affable but inexperienced Constable Bob for help securing a bail jumper from Tennessee, and finds evidence his family is at the center of a legendary unsolved mystery.

Tuesday, January 15th, 2013

2: Where's Waldo?

As Raylan tangles with a dangerous family keeping a dark secret, Boyd takes on a snake-handling preacher.

Tuesday, January 22nd, 2013

3: Truth and Consequences

Drew Thompson's widow turns up and gets Raylan in hot water with the FBI, while Boyd's strike at the snake church is met with a surprising strike back.

Tuesday, January 29th, 2013

4: This Bird Has Flown

Raylan's hunt for his stolen money leads to a confrontation with a bareknuckle brawler; while Boyd and Ava face a decision that threatens to destroy them.

Tuesday, February 5th, 2013

5: Kin

The search for Drew Thompson leads Raylan into the remote wilds of Kentucky hill country with unexpected and dangerous results.

Tuesday, February 12th, 2013

6: Foot Chase

Raylan's discovery of a severed foot sets off a race against time, while Boyd and Ava work to break into Harlan high society.

Tuesday, February 19th, 2013

7: Money Trap

Raylan finds himself caught between a foxy grifter and an old nemesis out for revenge, while Boyd and Ava come face-to-face with the decadence of Harlan's elite.

Tuesday, February 26th, 2013

8: Outlaw

Bodies start dropping and no one is safe as the search for Drew Thompson enters its home stretch.

Tuesday, March 5th, 2013

9: The Hatchet Tour

Boyd discovers he still has an Ellen-May problem, while Raylan goes off-book to do some dynamite-fishing with unexpected results.

Tuesday, March 12th, 2013

10: Get Drew

Drew Thompson slips through the fingers of Raylan, Boyd, and the Detroit mob, and sets off a breakneck race to find him.

Tuesday, March 19th, 2013

11: Decoy

Boyd and the gang from Detroit Mob use dirty tricks to keep Raylan and Drew Thompson alive.

Tuesday, March 26th, 2013

12: Peace of Mind

The Drew Thompson case becomes a fiasco that Raylan can fix only by besting Boyd in a hunt for the unwitting woman caught in the middle.

Tuesday, April 2nd, 2013

13: Ghosts

Raylan has a last, lethal showdown with the Detroit mob, while Boyd and Ava try to keep an incriminating secret dead and buried.
Season 5
Tuesday, January 7th, 2014

1: A Murder of Crowes

In the swamplands of Florida, Raylan tangles with a deadly branch of the Crowe Family Tree, while Boyd goes into the dark heart of the collapsing Detroit Mob.

Tuesday, January 14th, 2014

2: The Kids Aren't All Right

Dewey's ruthless cousin Darryl descends upon Harlan, as Raylan tries to undo a young friend's unfortunate mess, and Boyd struggles to free Ava from jail.

Tuesday, January 21st, 2014

3: Good Intentions

Raylan is king for a day in the seized mansion of a notorious mob accountant, while Boyd tries to regain his stranglehold on the Harlan heroin market.

Tuesday, January 28th, 2014

4: Over the Mountain

Raylan ventures into wild country on the hunt for a missing informant, while Boyd's last living relative threatens his life and livelihood.

Tuesday, February 4th, 2014

5: Shot All to Hell

Raylan's secrets are at stake when a mob revenge plot descends upon Kentucky, and Boyd's recent successes are tempered by a crushing defeat.

Tuesday, February 11th, 2014

6: Kill the Messenger

An attack on Alison sends Raylan to Harlan in search of payback, while Boyd scrambles to arrange protection for Ava.

Tuesday, February 25th, 2014

7: Raw Deal

Boyd and the Crowes fly South for a crucial drug score, while Raylan pursues a small time grifter with big time enemies.

Tuesday, March 4th, 2014

8: Whistle Past the Graveyard

Raylan chases a missing Crowe, while Boyd and his new partners fight their way back across the border.

Tuesday, March 11th, 2014

9: Wrong Roads

Raylan partners with a maverick DEA agent whose bad behavior feels uncomfortably familiar, while Boyd makes a hard choice to protect Ava.

Tuesday, March 18th, 2014

10: Weight

Raylan and Boyd collide on the hunt for Dewey Crowe, while bad blood simmering in the Crowe family finally boils over.

Tuesday, March 25th, 2014

11: The Toll

A shooting close to home forces Raylan and Boyd to decide which lines they're willing to cross.

Tuesday, April 1st, 2014

12: Starvation

Raylan puts pressure on every criminal in town as a ploy to arrest Darryl Crowe Jr., while Boyd and Duffy enlist an unlikely ally to fight off cartel killers.

Tuesday, April 8th, 2014

13: Restitution

Raylan has one last shot at taking down Art's would-be assassin, while cartel killers have Boyd's back against the wall.
Season 6
Tuesday, January 20th, 2015

1: Fate's Right Hand

Raylan guides Ava through the process of informing on Boyd and tries to turn Boyd's old ally Dewey Crowe against him as well, all while Boyd works to pull off a daring heist right under Raylan's nose.

Tuesday, January 27th, 2015

2: Cash Game

Raylan's investigation brings him into conflict with a paramilitary outfit, while Boyd and his partners try to salvage a profit from their heist.

Tuesday, February 3rd, 2015

3: Noblesse Oblige

Raylan follows a trail of illegal explosives in an attempt to pin Boyd, who discovers he's run afoul of a dangerous new player in town.

Tuesday, February 10th, 2015

4: The Trash and the Snake

Raylan declares war on the deadly men who are forcing Harlan's most valuable real estate to change hands, while Boyd and Duffy seek out a crackpot safecracker to help do their dirty work.

Tuesday, February 17th, 2015

5: Sounding

When Ava makes a drastic decision, Raylan turns to an old friend for help. A suspicious Duffy looks into Ava's release from prison.

Tuesday, February 24th, 2015

6: Alive Day

Raylan investigates a murder that has sown discord in Markham's camp. Boyd's latest heist forces him to revisit his mining days.

Tuesday, March 3rd, 2015

7: The Hunt

A visit from his baby daughter threatens to pull Raylan away from the hunt for a dangerous fugitive. Boyd, having learned that Ava's been lying to him, takes her on a hunting trip that she may never come back from.

Tuesday, March 10th, 2015

8: Dark as a Dungeon

Raylan extends an unexpected offer to Markham. Boyd and Ava find themselves in Walker's dangerous company.

Tuesday, March 17th, 2015

9: Burned

Raylan and Boyd each test Ava's loyalty, and Markham's plans to win over Harlan go awry.

Tuesday, March 24th, 2015

10: Trust

As Raylan puts more pressure on his CIs, Boyd makes a move on Markham's money, and Ava finds herself caught in the crossfire again.

Tuesday, March 31st, 2015

11: Fugitive Number One

Raylan and the Marshals scramble to deal with a crisis that threatens all of their careers. Duffy, Mike, and Katherine question the meaning of loyalty.

Tuesday, April 7th, 2015

12: Collateral

Raylan and Boyd's paths cross as they search for Ava in the mountains. Markham recruits an unlikely ally to his cause.

Tuesday, April 14th, 2015

13: The Promise

Raylan, Boyd, and Ava fight one last, bloody battle to find out who leaves Harlan alive.