update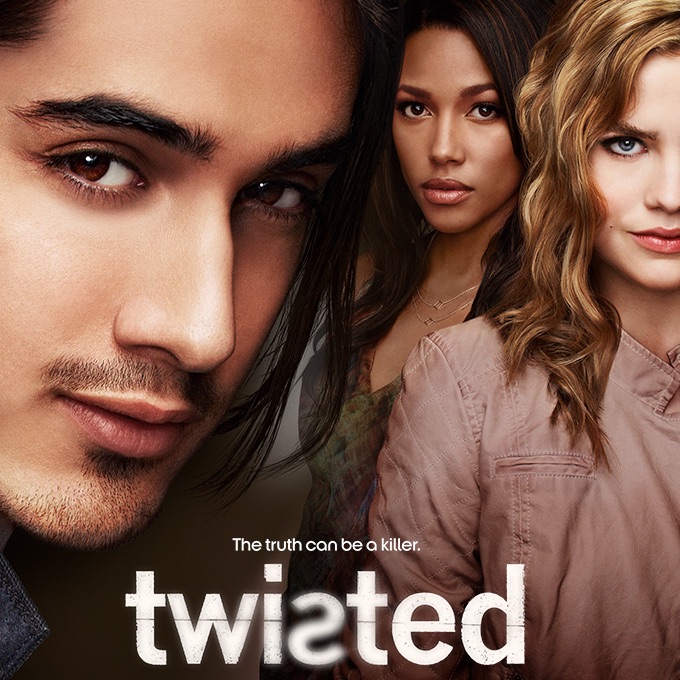 Season 0
Tuesday, August 20th, 2013

1: Twisted: Socio Studies 101

Series star Ashton Moio narrates a recap of the first 10 episodes of Season 1, which spotlights crucial moments in Regina's murder investigation and looks at Danny's first day back in town.
Season 1
Tuesday, March 19th, 2013

1: Pilot

In the series premiere of this drama, a teen who served time in a juvenile-detention center returns home and reconnects with his close friends, but soon he finds himself a suspect in a classmate's death.

Tuesday, June 18th, 2013

2: Grief is a Five-Letter-Word

As everyone at school tries to move on with the aid of grief counselor April, Jo battles with her father over her friendship with Danny as she and Rico set out to prove Danny's innocence. In an effort to show that he is a normal kid, Danny and Jo set up a dinner between their two families, which goes awry when the adults drudge up past grievances. Meanwhile, Lacey struggles to cope with her emotions and bristles when former 'frenemy,' Phoebe attempts to bond with her.

Tuesday, June 25th, 2013

3: PSA de Resistance

Jo decides to break out of her anti-social routine at school, which comes as a disappointing surprise to her devoted study buddy, Rico. When Jo and Danny volunteer to take part in an anti-drunk driving skit for the school's Sobriety Awareness Day, Jo might get more attention than she bargained for, while Danny seeks out an opportunity to reconnect with Lacey. Meanwhile, as his case drags on and strains his relationships with Tess and Jo, Kyle is determined to track down a piece of evidence that incriminates Danny.

Tuesday, July 2nd, 2013

4: Sleeping with the Frenemy

Lacey's mom Judy invites Jo to a sleepover, much to Lacey's dismay. Despite the promise of an incredibly awkward evening, Jo seizes the opportunity to get closer to Regina's friends and uncover potential evidence that points to another suspect in her murder. Tess persuades Karen to reconnect with her old friends, only to have it end in humiliation when Regina's mother Gloria viciously confronts Karen about Danny. Meanwhile, Danny has his first soccer match and struggles to stay on civil terms with Archie and his teammates, and Kyle steps up his investigation.

Tuesday, July 9th, 2013

5: The Fest and the Furious

As Green Grove prepares for the annual Fall Festival, the town residents are at odds over whether Danny should be allowed at the Festival. When Danny shows up, tensions escalate into a riot, which Kyle has to quell. Green Grove's Mayor Rollins chastises Kyle about the lagging case and Jo's increasing involvement with Danny. Father and daughter find it increasingly difficult to see eye to eye when Jo questions the significance of the necklace in the murder investigation. Lacey also wonders about the necklace and approaches Regina's mother, Gloria, for information. Meanwhile, Jo and Rico's friendship is strained as Jo spends more and more time with Danny.

Tuesday, July 16th, 2013

6: Three for the Road

When new evidence in Regina's murder mystery points to Connecticut, Danny, Jo and Lacey decide to hit the road, without telling their parents. The trip could well end in disaster: Jo and Lacey are at odds, with Danny struggling to play peacemaker, and Danny is blatantly violating his parole by crossing state lines. Meanwhile, Kyle is determined to track Jo down, and Karen and Tess bond over an impromptu pottery lesson.

Tuesday, July 23rd, 2013

7: We Need to Talk About Danny

When Phoebe's brother Tyler holds a party at the cemetery, Jo and Lacey press Danny to reveal the secrets he's been keeping and end up spilling one of their own. Danny suffers the consequences of a mishap on the soccer team and Lacey defends Danny against Archie's increasingly vicious verbal attacks. Meanwhile, Rico confronts Jo about her obsession with Danny's case. Karen fails at a job interview, and Kyle seizes an opportunity to win her trust.

Tuesday, July 30th, 2013

8: Docu-Trauma

Danny finds himself besieged by a group of masked pranksters and feels increasingly alone as the town of Green Grove continues to vilify him. Tyler asks to interview Danny for his new documentary about the town's reaction to Danny's return. In an effort to fit in, Danny decides to throw a party with Tyler's help, in exchange for the interview, but things do not go smoothly. Meanwhile, Jo goes on a date with Tyler, while Rico struggles with his feelings for his best friend. Kyle steps up the pressure on Karen to causing her to make a stunning revelation.

Tuesday, August 6th, 2013

9: The Truth Will Out

When a major development in the murder investigation threatens to send Danny away from Green Grove for good, Danny and Kyle find a reason to work together and Jo and Lacey contemplate whether to reveal a major piece of evidence. Lacey's aloof and disapproving father, Samuel, arrives in town for Lacey's sister's birthday party hiding a major secret. Meanwhile, Danny is keeping his own secret from his best friends and realizes it may be time to come clean. And Rico is alerted to a shocking video that has the potential to destroy friendships and reputations.

Tuesday, August 13th, 2013

10: Poison of Interest

When Coach Chandler takes the blame for covering up the soccer team poisoning scandal, Regina's mother Gloria targets Danny for expulsion, leaving even his friends unsure if they should defend him. Meanwhile, Kyle finds a troubling connection between the Desai family and Green Grove City Hall, and is even more dismayed when he learns the mayor has hired another investigator to look into Regina's murder. And Rico scrambles to stop the spread of a revealing video that could rip friendships apart and hurt someone he cares about deeply.

Tuesday, August 27th, 2013

11: Out with the In-Crowd

A confrontation between Danny and Archie at a soccer team party reveals treachery lurking among the in-crowd. Lacey must make a choice to keep her popular friends, at Danny's expense, or speak out for what she thinks is right. Tyler continues to pursue Jo and Jo makes a decision she might regret. Lacey also discovers that Phoebe may hold the key to unlocking new clues about Regina's mysterious past. Meanwhile, Kyle's suspicions rise when private investigator Marilyn unearths shocking new evidence to refute Karen's confession. And Tess realizes it's time to call on the help of an old friend.

Tuesday, February 11th, 2014

12: Dead Men Tell Big Tales

Jo is still struggling with her conflicted feelings about Danny when he turns to her for help while hiding out from the police. Danny overhears some surprising information about his father, which leads him on a quest to find out if his father is indeed alive. Lacey brings some information to Kyle regarding Regina, which she doesn't realize points to a surprising new suspect in Regina's murder. And Danny shocks Jo and Lacey when he finally reveals the details of what happened with his Aunt Tara all those years ago. Meanwhile, Karen turns to an old friend for help in locating her presumed dead husband, not realizing Tess may hold the key to his whereabouts. And while searching for Danny, Lacey encounters new Green Grove resident Charlie, who quickly ingratiates himself into her life.

Tuesday, February 18th, 2014

13: Sins of the Father

Danny struggles to come to terms with the latest development in the search for his father. While he is determined to come clean, he wonders if he truly deserves the chance to start his life over. Lacey becomes convinced of a connection between Gloria Crane and Vikram, while Charlie becomes increasingly interested in Lacey's actions. Meanwhile, tension builds between Karen and her old friend Jack, and Karen questions the wisdom of letting the past back into her life. The hunt for Regina's murderer uncovers an unsettling connection to Mayor Rollins.

Tuesday, February 25th, 2014

14: Home Is Where the Hurt Is

With the Homecoming dance quickly approaching, tension mounts between Danny and Lacey as Danny wonders if he can ever get over recent events. When Jo realizes cute but nerdy Andie has a crush on Rico, she gives her friend the nudge he needs to make the first move. Danny recognizes a familiar face in town and makes a mysterious connection to his time in juvenile hall. Meanwhile, Jack moves in on a conflicted Karen, and Tess finds it increasingly difficult to hide her secrets from Kyle.

Tuesday, March 4th, 2014

15: Danny Indemnity

A massive cover-up leads Danny and Jo to wonder if someone is out to help or hurt them, and Kyle can't quell his suspicions that things aren't at all what they seem. Danny comes into a sizable amount of money, which puts the spotlight on him again in town and complicates his relationship with Karen. Jo confronts Tess about the tension between her parents and Tess drops another huge revelation on Kyle.

Tuesday, March 11th, 2014

16: The Son Also Falls

Jo bonds with Charlie and realizes that she needs to move on with her life without Danny. Jo surprises everyone, including herself, when she decides to run for student body president, which complicates things with Rico, whose girlfriend Andie is also vying for the job. Danny is still haunted by Vikram, and Lacey, knowing something is up, confronts him about what he's hiding. Jack's daughter, Whitney, who has returned to Green Grove after being kicked out of boarding school, encounters Karen and strikes up a quick friendship with Lacey.

Tuesday, March 18th, 2014

17: You're a Good Man, Charlie McBride

As Jo gets closer to Charlie and learns more about his and Danny's time in juvenile hall, Danny's concern mounts. Karen gives Danny some powerful advice on turning his life around. Meanwhile, Whitney's wild side starts to rub off on Lacey, leaving Lacey uncertain about their complicated new friendship. Karen helps Tess with a personal matter and Kyle turns his suspicions on Jack.

Tuesday, March 25th, 2014

18: Danny, Interrupted

With his guilty conscience becoming too much to bear, Danny is determined to uncover the truth about who was responsible for covering up the murder and visits an old confidant for some valuable insight. Jo's own sense of guilt leads her to question the motives of a friend. Lacey tries to be a good friend to Whitney while struggling to define their complex new relationship. Tess receives some devastating news as she and Kyle try to move on with their lives.

Tuesday, April 1st, 2014

19: A Tale of Two Confessions

Kyle's investigation culminates with a series of shocking and contradictory confessions and potentially deadly consequences. The complicated triangle between Jo, Danny and Charlie comes to a shocking head. Karen and Tess uncover more of Vikram's secrets, including a piece of evidence that has major implications for Tess and the Masterson family. Meanwhile, Whitney's mother Gretchen shows up to bring her daughter back to the city, and her candor about Whitney's past causes Lacey to question her friend. And Rico makes a major faux pas in his first meeting with Andie's parents.