update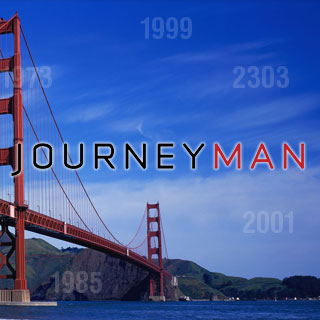 Season 0
Monday, April 29th, 2013

1: Flashing Backwards

A comprehensive retrospective documentary about the making of "Journeyman" (75 mins).

Monday, April 29th, 2013

2: The Back Nine

Featurette that explores with cast and writers what might have happened on the series had it not be cancelled (20 mins).
Season 1
Monday, September 24th, 2007

1: A Love of a Lifetime

Dan Vasser's life is about to change forever, as he discovers he is being pulled into the past without warning, with no understanding as to why it is happening. As he continues to jump back and forth in time, his past comes into focus as his present unravels before his eyes.

Monday, October 1st, 2007

2: Friendly Skies

Not sure if his time travel is imagined or real Dan goes to get an MRI. Dan disappears during the flight when he and Katie decide to get away for a few days. Dan finds himself on another plane in a different year.

Monday, October 8th, 2007

3: Game Three

Romance is put on hold for Dan and Katie when Dan finds himself back in 1989 in time to warn everyone about a disaster, and save an addict from ruining his life. Katie finds out that Dan has seen Livia but didn't tell her.

Monday, October 15th, 2007

4: The Year of the Rabbit

While Katie sets up for her big charity event, she is stunned to find that Dan has yet again disappeared. This time around, Dan travels back to the year 1995 in order to help a woman on a blind date, but when Livia arrives to assist Dan with his mission she seems more interested in Dan's relationship with Katie.

Monday, October 22nd, 2007

5: The Legend of Dylan McCleen

While alone with Zach Dan gets one of his headaches. In the past Dan finds himself digging into the life of Dylan McCleen, an Army Ranger who stole money for a good reason. Katie is questioned about a robbery that happened the night of her big party.

Monday, October 29th, 2007

6: Keepers

Dan goes back to help two brothers who have been abused by their father. Jack gets suspicious of Dan and thinks he might be gambling again. While in the past Dan and Livia overhear a conversation between Jack and Katie.

Monday, November 5th, 2007

7: Double Down

Dan isn't happy when Katie considers going back to work as a television journalist. In the past Dan tries to save a witness from being killed. Livia shows up just in time to save Dan's future. Jack keeps looking into what's going on with Dan.

Monday, November 12th, 2007

8: Winterland

Dan meets a hippie who was involved in a crime in which someone dies. Katie finds something out about Livia's past. When Dan is involved in an investigation it causes more problems between Dan and Jack.

Monday, November 19th, 2007

9: Emily (1)

In the 1990s Dan finds himself tracking a serial kidnapper. When Katie gets called into Zack's school, she wonders how much Dan's traveling is affecting him. Jack is beginning to believe Dan is traveling in time. This episode is the first part, the conclusion is Blowback

Monday, November 26th, 2007

10: Blowback (2)

Dan finds himself once again tracking Aeden Bennett. This time it's 1980 and Dan gets to see what made Aeden the way he is. In the present, the kidnapper seeks revenge by going after Katie. Livia tries to figure out what her purpose is in life. This is a conclusion to the previous episode Emily.

Monday, December 10th, 2007

11: Home by Another Way

On Christmas Eve the newspaper is hit by layoffs and Dan's new mission involves saving it. Meanwhile, Katie deals with the aftermath of Aeden's home invasion, and Jack and Theresa get startling news.

Monday, December 17th, 2007

12: The Hanged Man

While Dan struggles to save a mother and child in the past, Katie has to deal with her well-meaning sister who wants to help, just as Zack disappears.

Wednesday, December 19th, 2007

13: Perfidia

Dan's newest mission requires him to deal with a man who claims he's a time traveler. While Livia finds herself on a separate mission too, just before her wedding to Henry. Meanwhile, Jack talks to Elliot Langley, and Katie thinks that Dan has been wounded again after she discovers blood in the house.